Recipe for a German cucumber salad that is traditionally made with dill and vinegar. In this vegan cucumber salad, we do not use any oil. So that you have a low-fat alternative to a creamy cucumber salad.
Very finely chopped cucumbers, dill, vinegar and spices make this cucumber salad a great side dish or inclusion for BBQ, potlucks, picnics or family gatherings.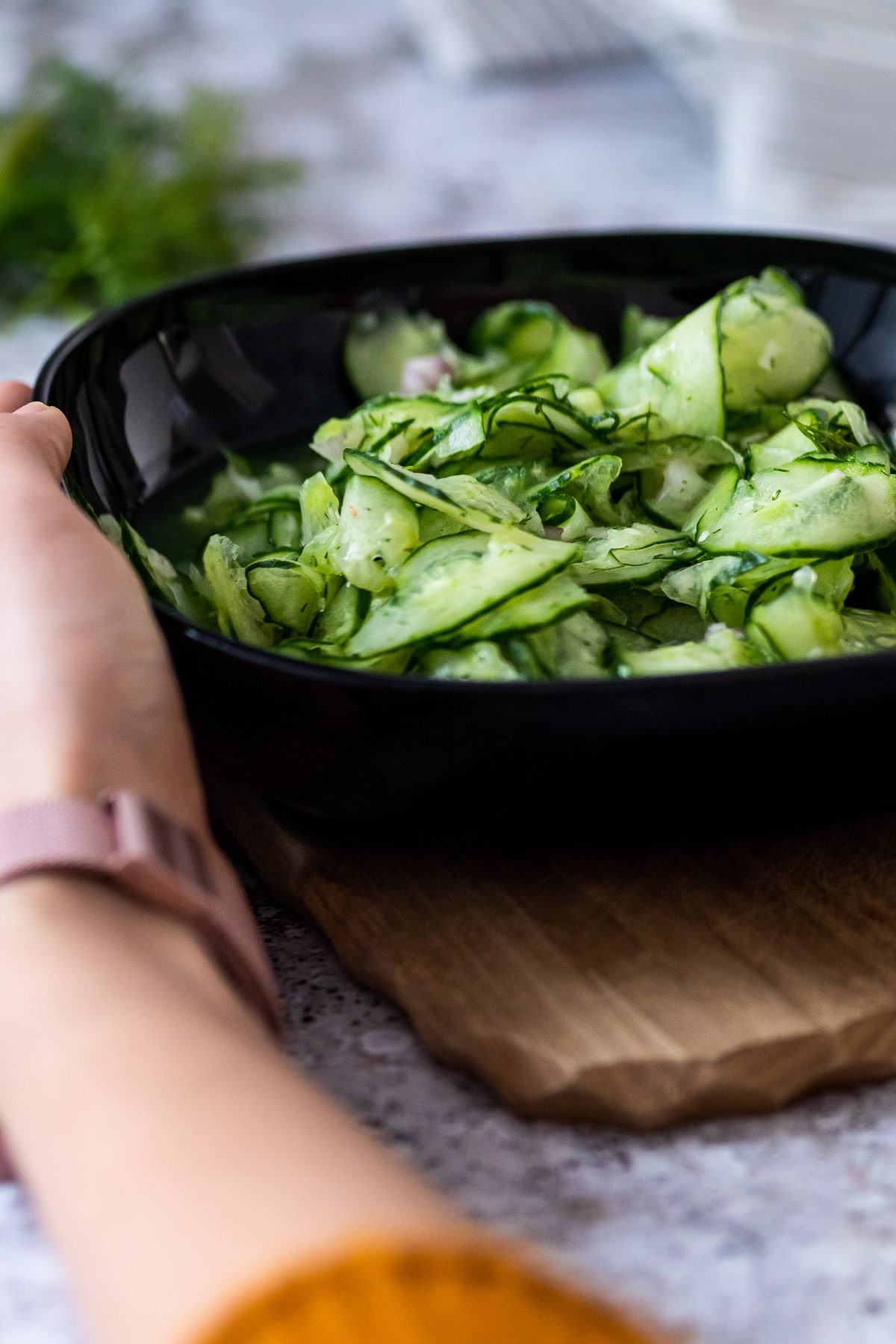 As an Amazon Associate, I earn from qualifying purchases. This post may contain affiliate links. Read More
Jump to:
Everyone has their own twist on a cucumber salad. There are many recipes that use sugar, for example. Here I want a light, oil-free and sugar-free cucumber salad, a light German cucumber salad.
This cucumber salad is my version of the classic German cucumber salad with vinegar and oil. This recipe is oil-free, sugar-free, gluten-free, vegan, dairy-free, healthy, and low carb.
This cucumber salad takes 5 minutes of your time and is a budget-friendly recipe.
You can of course combine the recipe with other ingredients. For example, add plant-based yogurt to make a creamy cucumber salad.
The recipe that I am sharing here is the recipe that we have always prepared in Germany. My family, grandma, my mom, usually made this recipe with oil.
Jump to:
I love quick side salads like the red cabbage salad, white cabbage salad a good daikon radish salad, or green bean salad.
If you are preparing a salad buffet with pasta salad, potato salad, Caesar salad, this German cucumber salad is a great addition.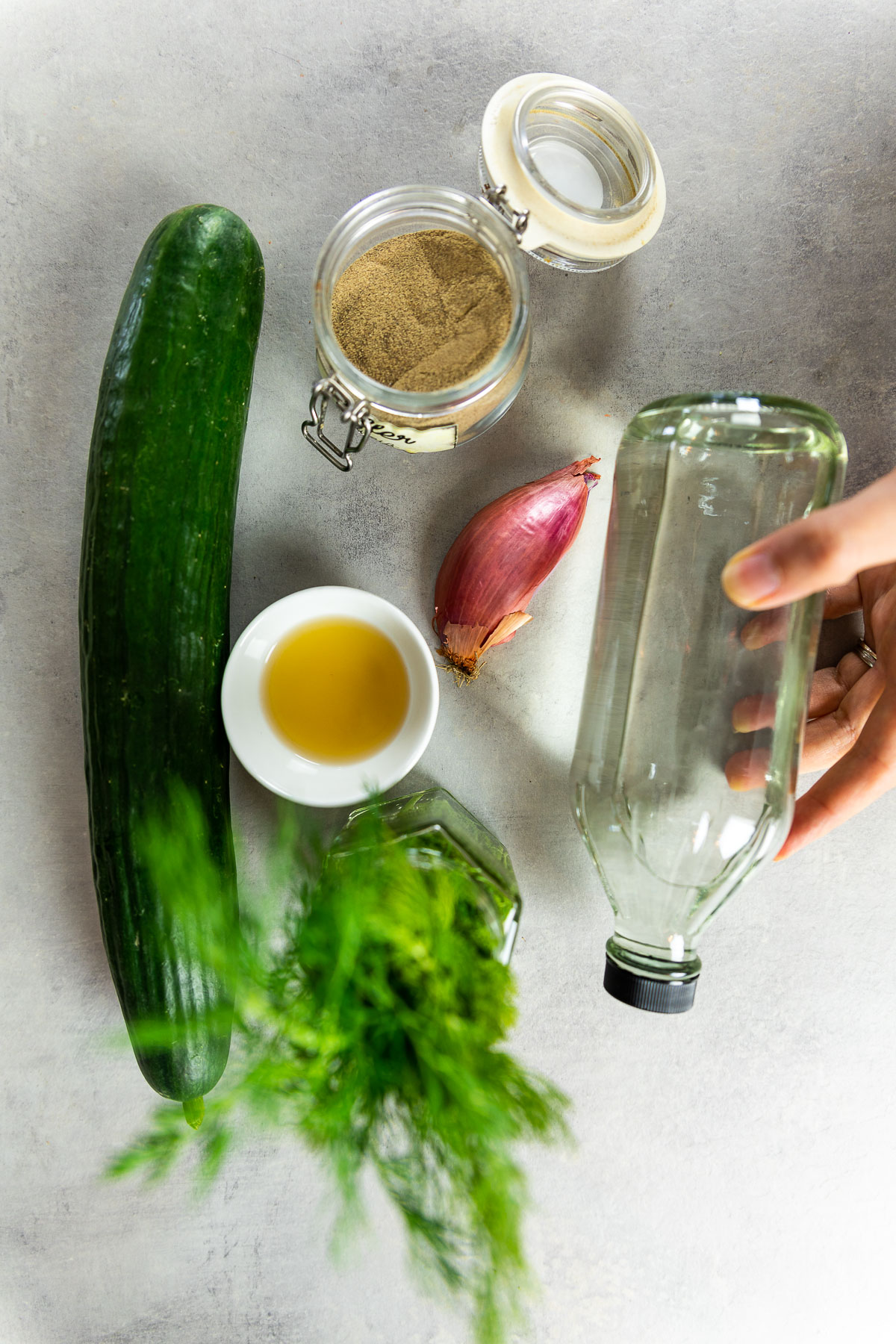 Ingredients
Now let's take a look at exactly which ingredients are in this great German cucumber salad. You will see there are only a handful of ingredients.
The exact quantities for the cucumber salad can be found below in the recipe card.
English Cucumber
Red Onion or Shallot
Dill
Vinegar
Vegetable Broth
Salt
Pepper
Substitutions
There isn't really much to replace here. But here, too, I would like to give you a few options.
English Cucumber
I like to use the English cucumber because it has a thinner skin. You can of course use the regular cucumber if you want.
Red Onion
The red onions or shallots have a milder taste. You can also use a regular yellow onion. I usually use the onions that I have on hand.
You can also add green onions.
Dill
Don't want to use dill? Then just use parsley or other herbs that you like to add to the salad.
Vinegar
You can use a dash of vinegar essence or a household vinegar like white wine vinegar or apple cider vinegar. In the recipe I used vinegar that has 5% acidity.
Sea Salt
For a low-salt version of the recipe, use some lemon peel or lemon juice for extra flavor. You can also add another tablespoon of vegetable stock.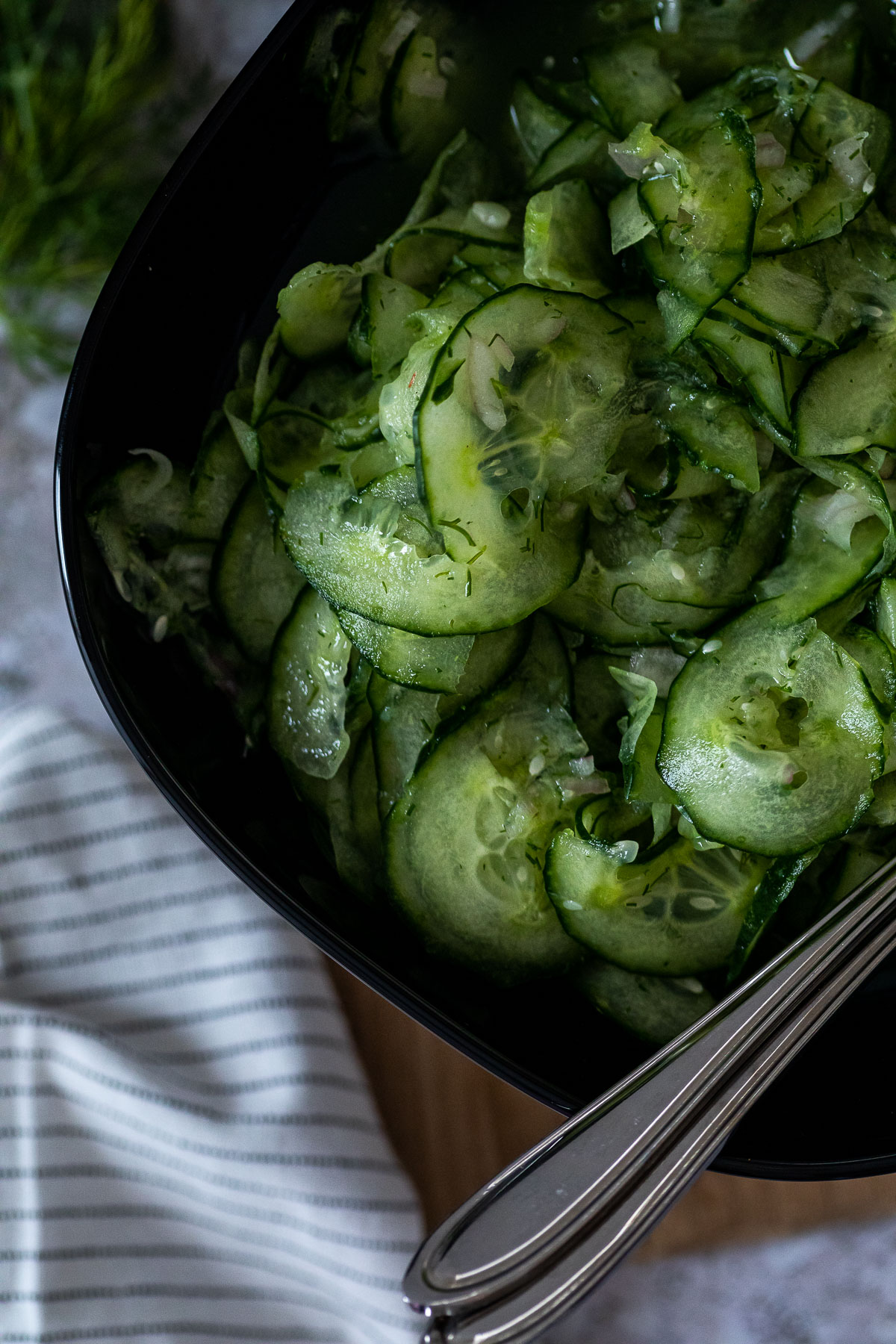 Variations
Here I usually show how you can adapt the recipe to certain types of nutrition. This cucumber salad is already:
Soy Free
Nut Free
Gluten Free
Low Carb
Oil Free
Low In Salt
Sugar Free
Paleo
Keto
No adjustments are required to meet the above criteria.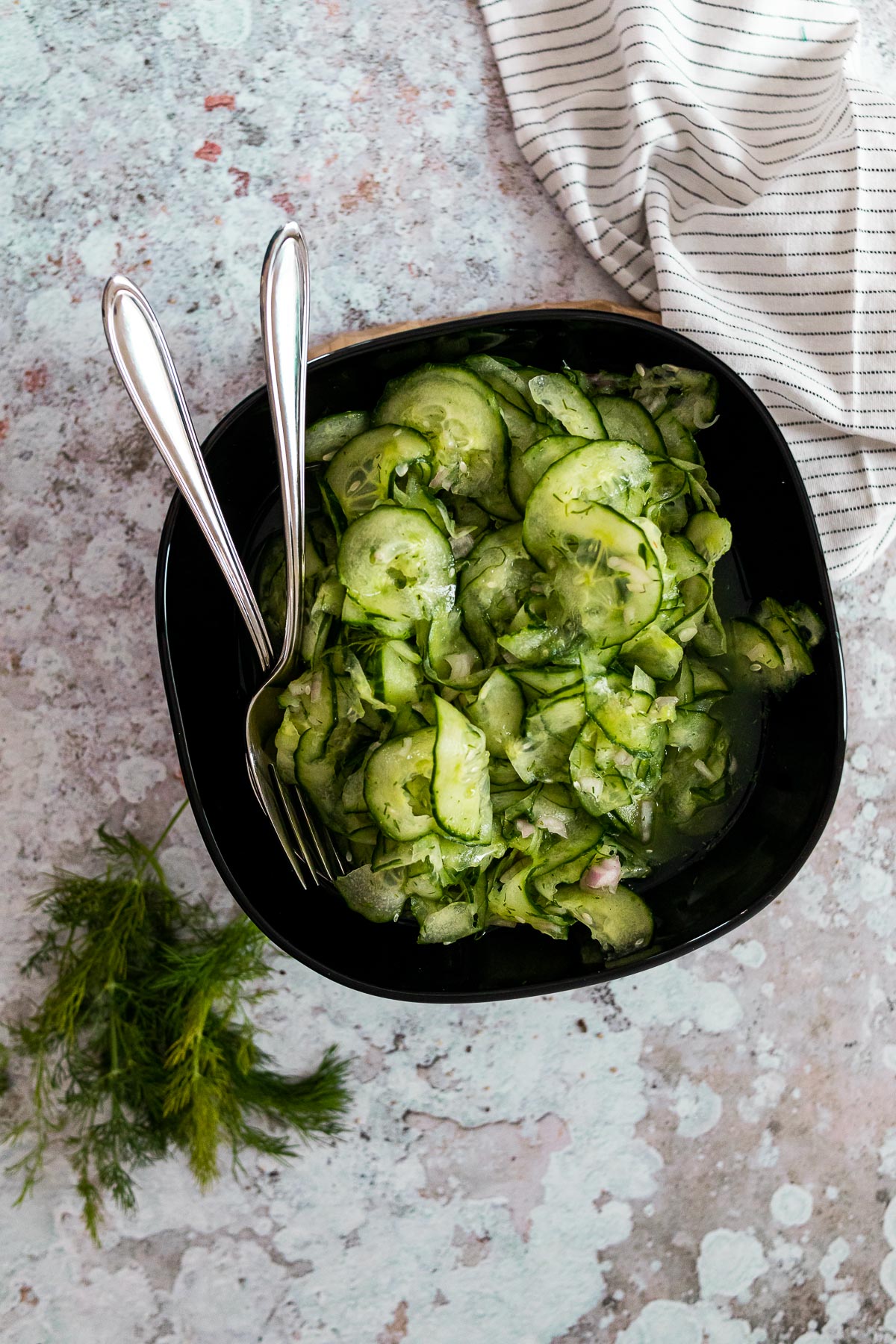 Instructions
Cut the cucumbers into thin slices using either a knife or a grater. Finely chop a shallot and add it to the cucumber.
Add a ½ bunch of dill, 4 tablespoons of white wine vinegar or apple cider vinegar, 1 tablespoon of vegetable stock and a pinch of white pepper.
Let the salad sit for 3 minutes and season with sea salt. And let it sit for another 15 minutes.
Prepare in advance
This cucumber salad is great to prepare in advance and eat during the week. Therefore, the cucumber salad is a great meal prep.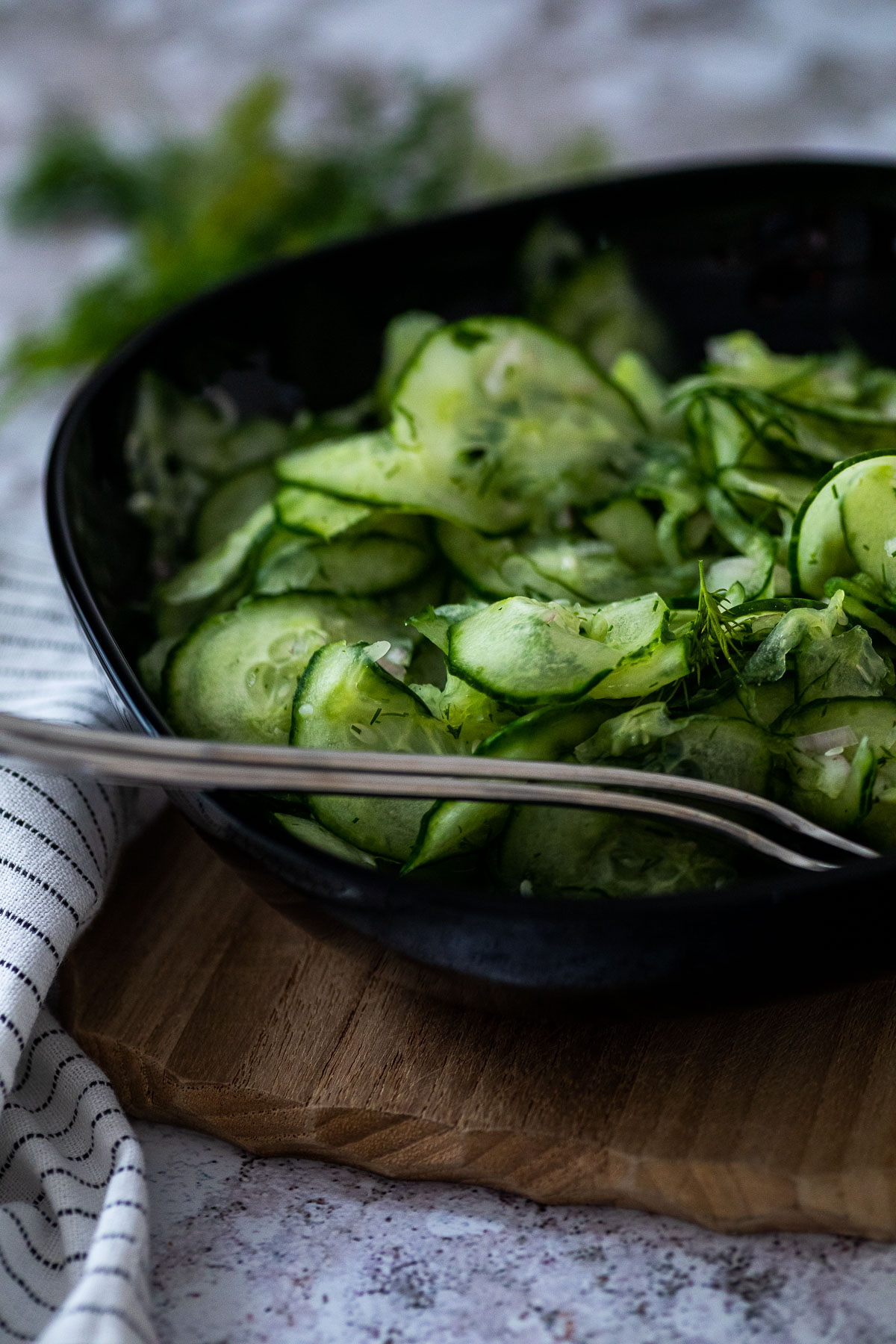 Recommended Equipment
For this vegan cucumber salad you need a bowl, spoon, knife, board or grater.
Serving Options
You can bring the cucumber salad with you for a BBQ, potluck, or other family gathering. Or just serve it during the week.
You can serve the salad with the following vegan dishes:
Spaetzle with Stroganoff with Mushrooms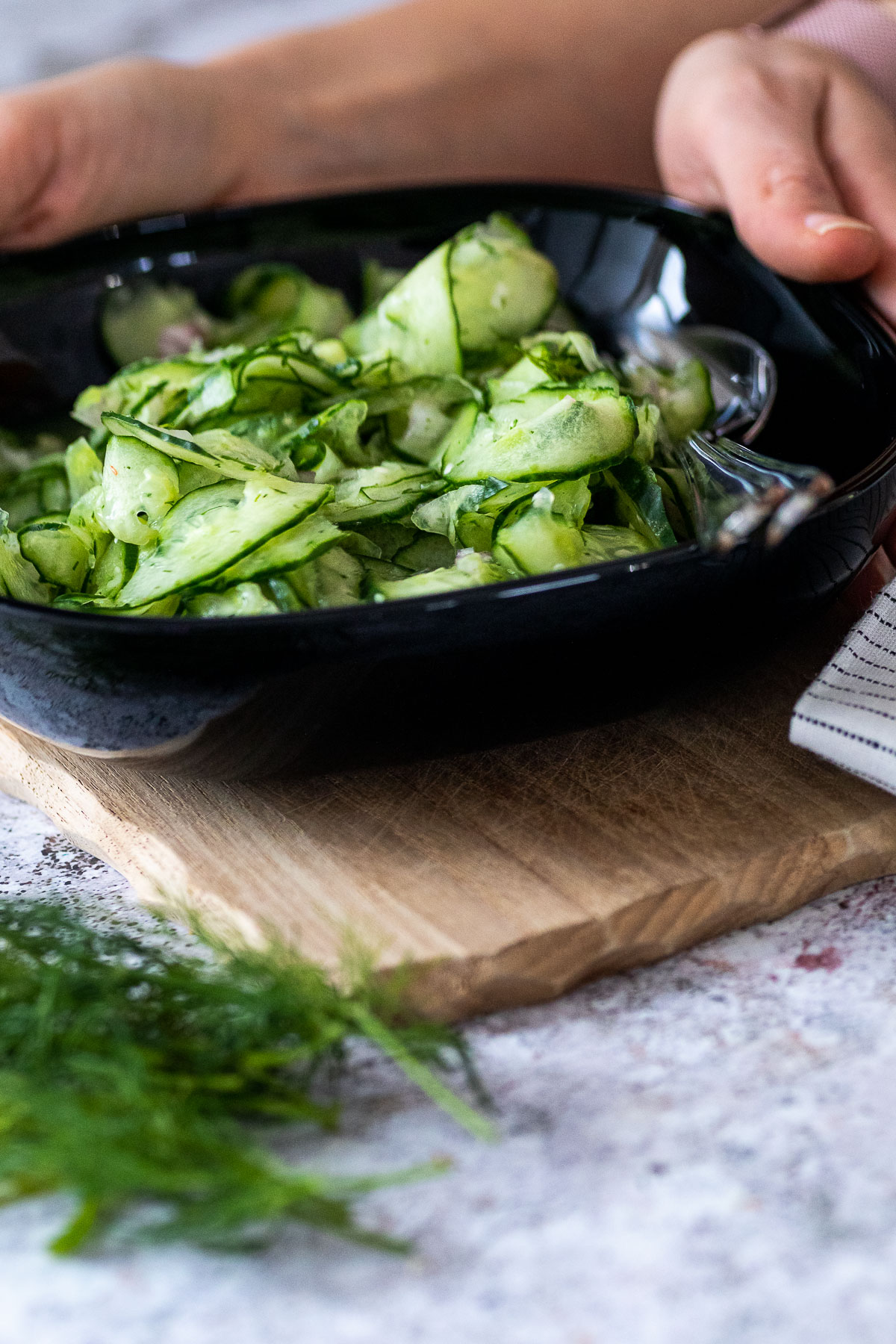 Storage
Let's take a look at how you can store the cucumber salad.
How to refrigerate it?
The cucumber salad can be kept in the refrigerator for about 3-4 days. But remember, the longer the cucumber salad stands, the more water it draws.
I think it's delicious when it's done well. I have to say I also like to drink the dressing.
How to freeze it?
I don't recommend freezing the cucumber salad. Because the cucumbers consist almost entirely of water. The consistency will change.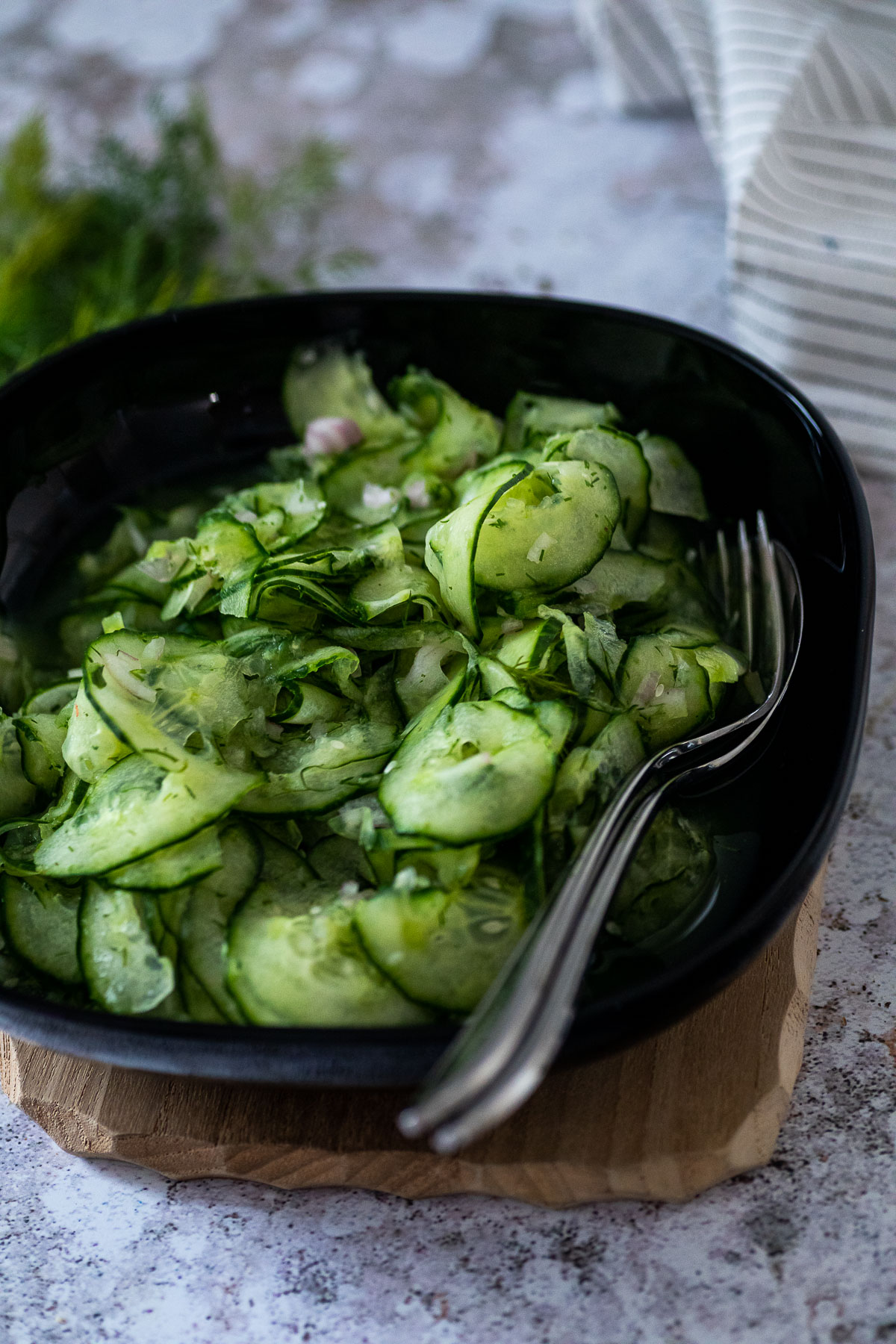 Tips
Depending on how thin you cut the cucumber, the consistency of the cucumber salad changes. I love to slice the cucumber very thinly with a grater. This is how it tastes best for my family and me.
Of course you can do it as you like it most.
You can also peel the cucumber or not. I prefer not to peel. Less kitchen waste.
If you'd like to add more to the cucumber salad, you can also add beans, chickpeas, tomatoes, and bell peppers. I like that this cucumber salad is so easy and usually I do not add more. Sometimes I add some cherry tomatoes.
More vegan recipes