Get ready for a flavorful and vibrant German vegan cucumber salad that is deliciously oil-free, sugar-free, gluten-free, dairy-free and low in carbs! In just 5 minutes, you can transform the classic recipe with vinegar into an exciting new dish by adding plant based yogurts or spices.
Grandma's secret ingredient was always some light oil, but now it's time to master this traditional family side without it - perfect accompaniment who need healthy alternatives at picnics BBQs or potlucks. Don't miss out on your chance to impress everyone passionate about superb, flavorsome food made easy!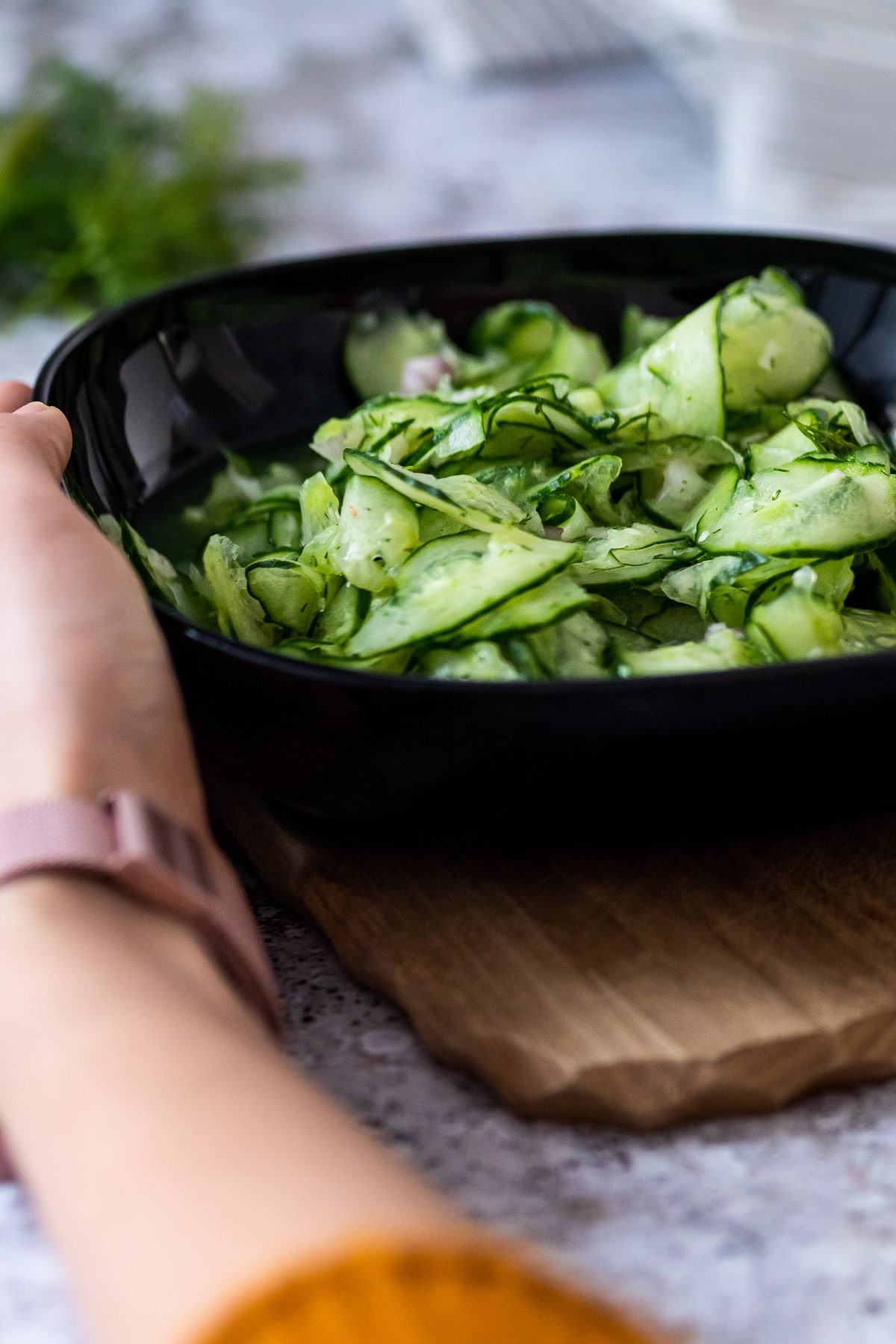 I love quick side salads like the red cabbage salad, white cabbage salad a good daikon radish salad, or green bean salad.
If you are preparing a salad buffet with pasta salad, potato salad, Caesar salad, this German cucumber salad is a great addition.
As an Amazon Associate, I earn from qualifying purchases. This post may contain affiliate links. Read More
Jump to: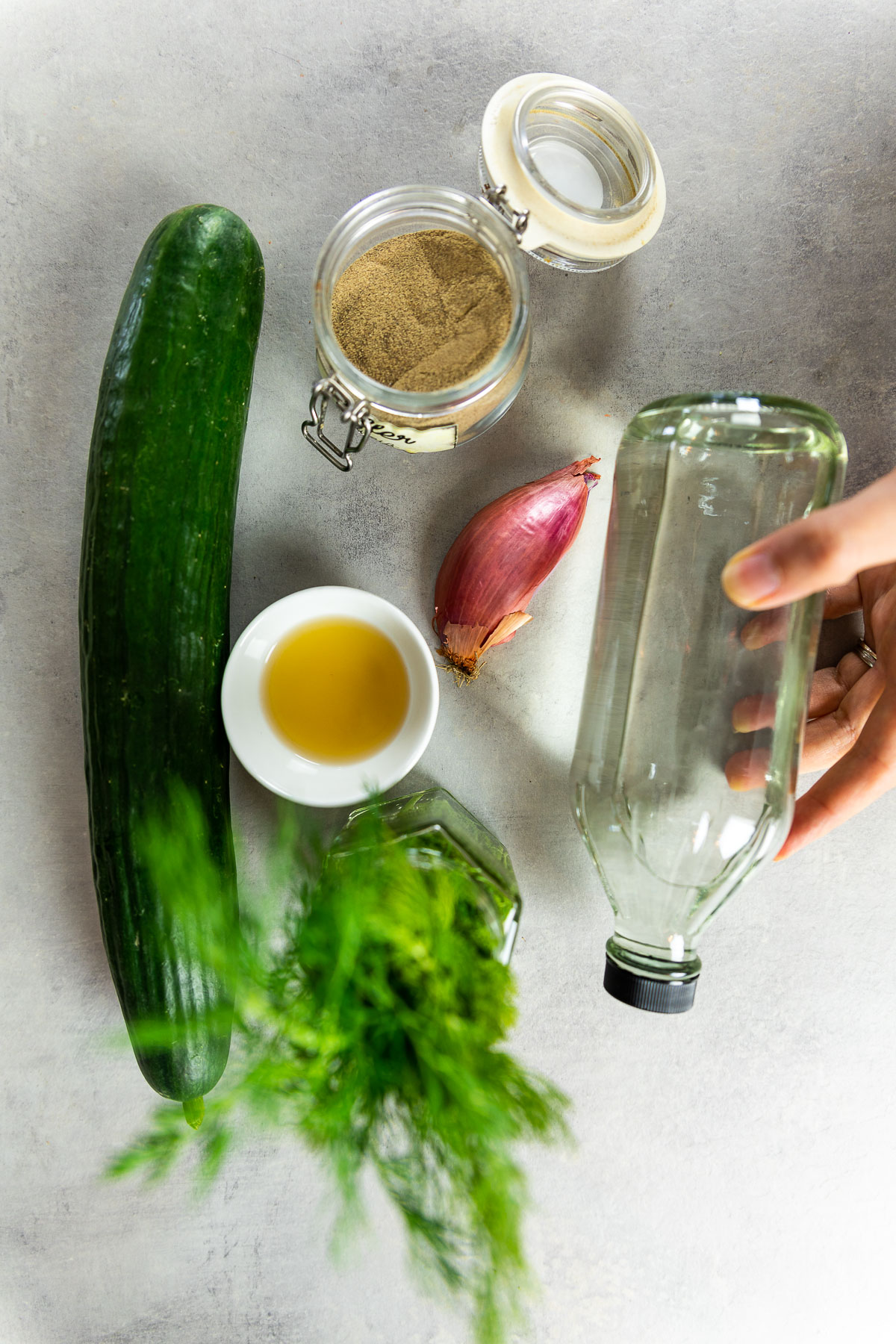 Ingredients
A quick list of the simple ingredients you will need to make this simple cucumber salad.
You can find the ingredients with quantities and the recipe to print out on the recipe card below.
English Cucumbers
Red Onion or Shallot
Fresh Dill
White Vinegar
Vegetable Broth
Salt
Pepper
Instructions
Cut the cucumbers into thin slices using either a knife or a grater. Finely chop a shallot and add it to the sliced cucumber in a large bowl.
Add a ½ bunch of dill, 4 tablespoons of white wine vinegar or apple cider vinegar, 1 tablespoon of vegetable stock and a pinch of white pepper.
Let the salad sit for 3 minutes and season with sea salt. And let it sit for another 15 minutes.
Make this recipe check out my German potato salad, artichoke pasta salad, cobb salad, chicken salad, egg salad and my other vegan salad recipes.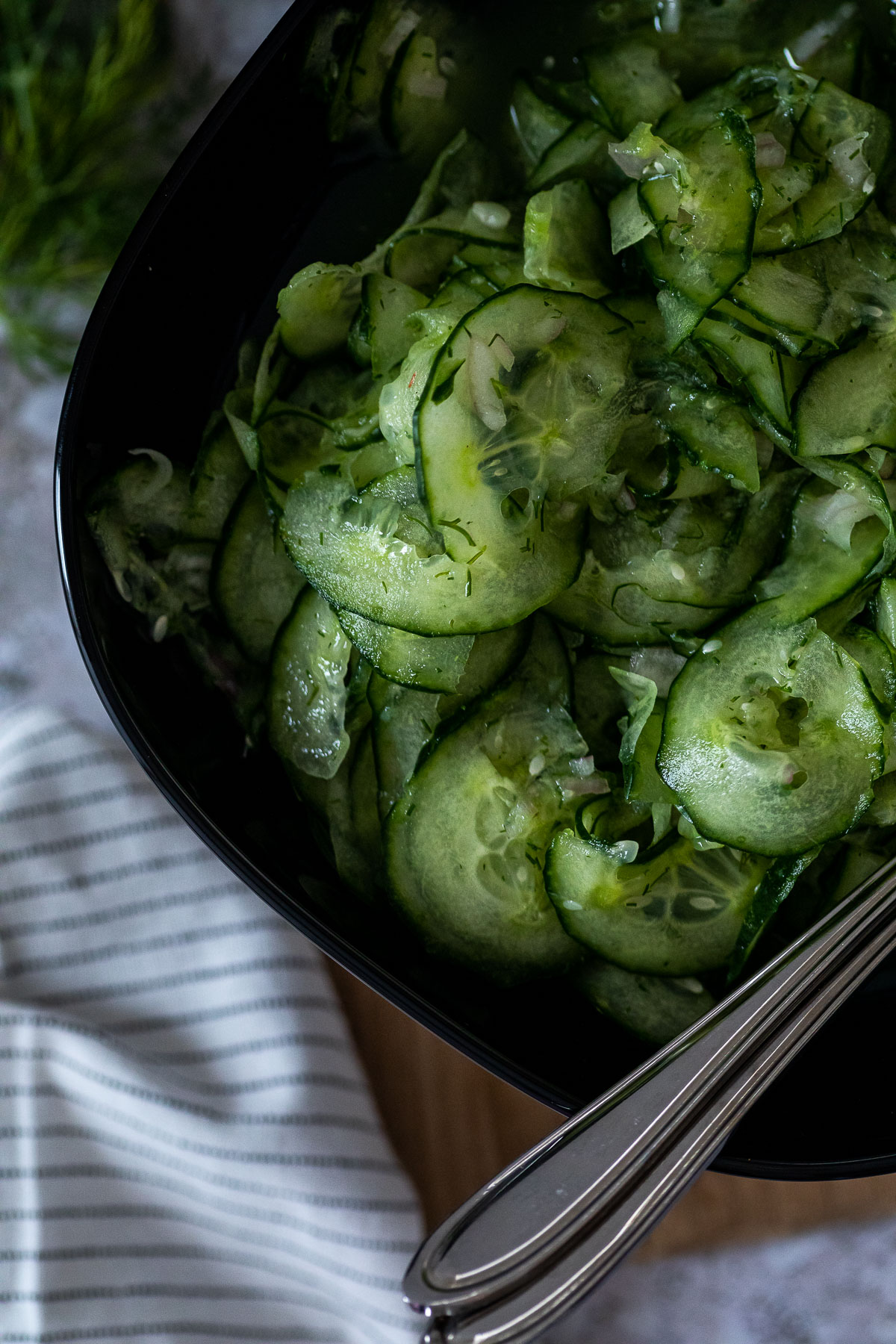 Substitutions
There isn't really much to replace here. But here, too, I would like to give you a few options.
English Cucumber: I like to use the English cucumber because it has a thinner skin. You can of course use the regular cucumber if you want.
Red Onion: The red onions or shallots have a milder taste. You can also use a regular yellow or white onions. I usually use the onions that I have on hand. You can also add green onions.
Dill: Don't want to use dill? Then just use parsley or other fresh herbs that you like to add to the salad. You can also use dried herbs.
Vinegar: You can use a dash of vinegar essence or a household vinegar like white wine vinegar or apple cider vinegar, red wine vinegar. In the recipe I used vinegar that has 5% acidity.
Sea Salt: For a low-salt version of the recipe, use some lemon peel or lemon juice for extra flavor. You can also add another tablespoon of vegetable stock.
Variations
Creamy Dressing: to make a creamy vegan cucumber salad, add some cashew cream, vegan mayo or plant-based yogurt to your crunchy cucumber.
Asian Cucumber Salad: Add some soy sauce, roasted sesame seeds, red pepper flakes, green onions to your fresh cucumber salad.
Tomato Cucumber Salad: Add some tomatoes and vegan feta cheese to this simple recipe.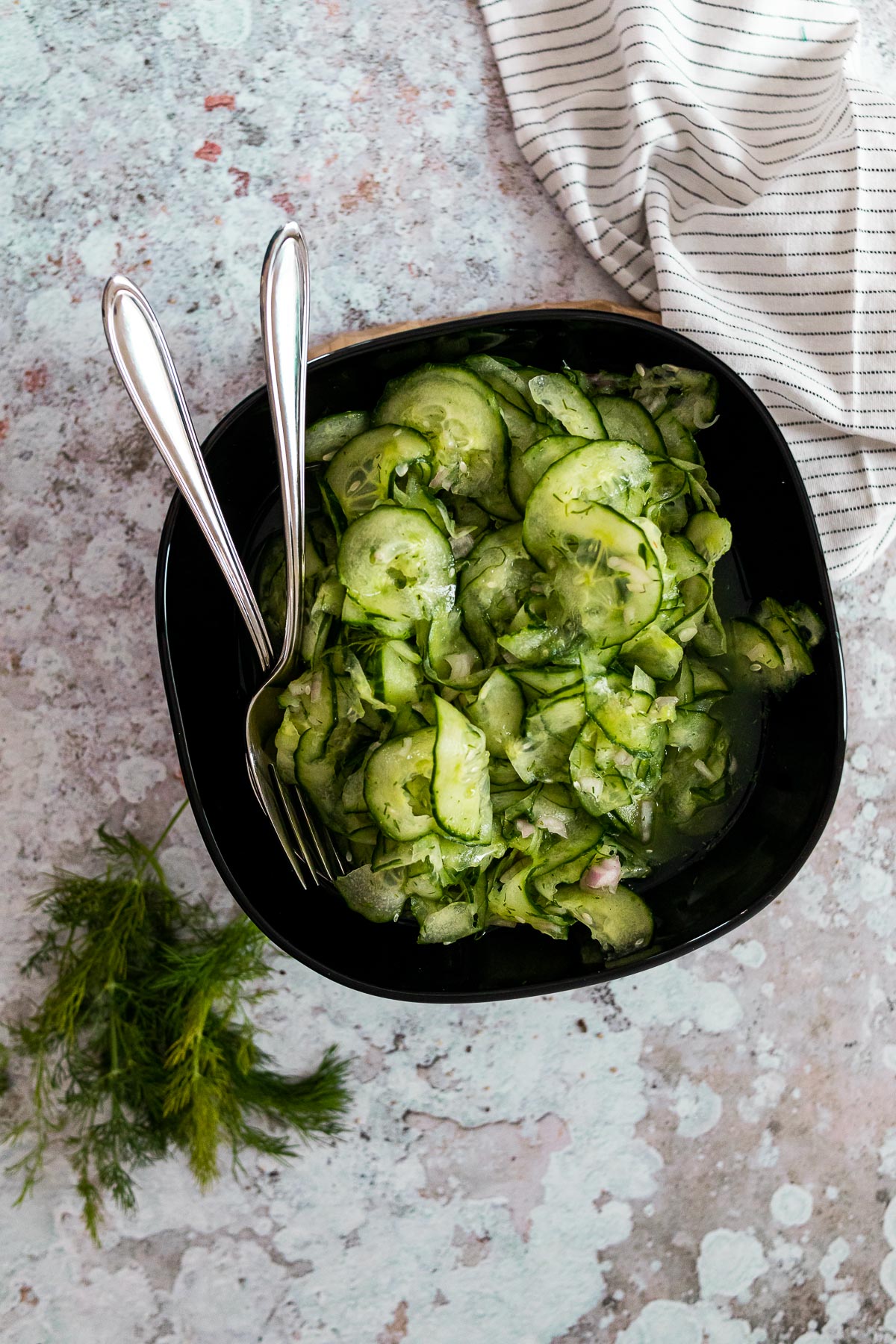 Serving Options
You can bring this cucumber dill salad to your next BBQ, potluck, or other family gathering. Or just serve it during the week.
You can serve it as the perfect side dish. Try some of these following vegan dishes to serve along this side salad: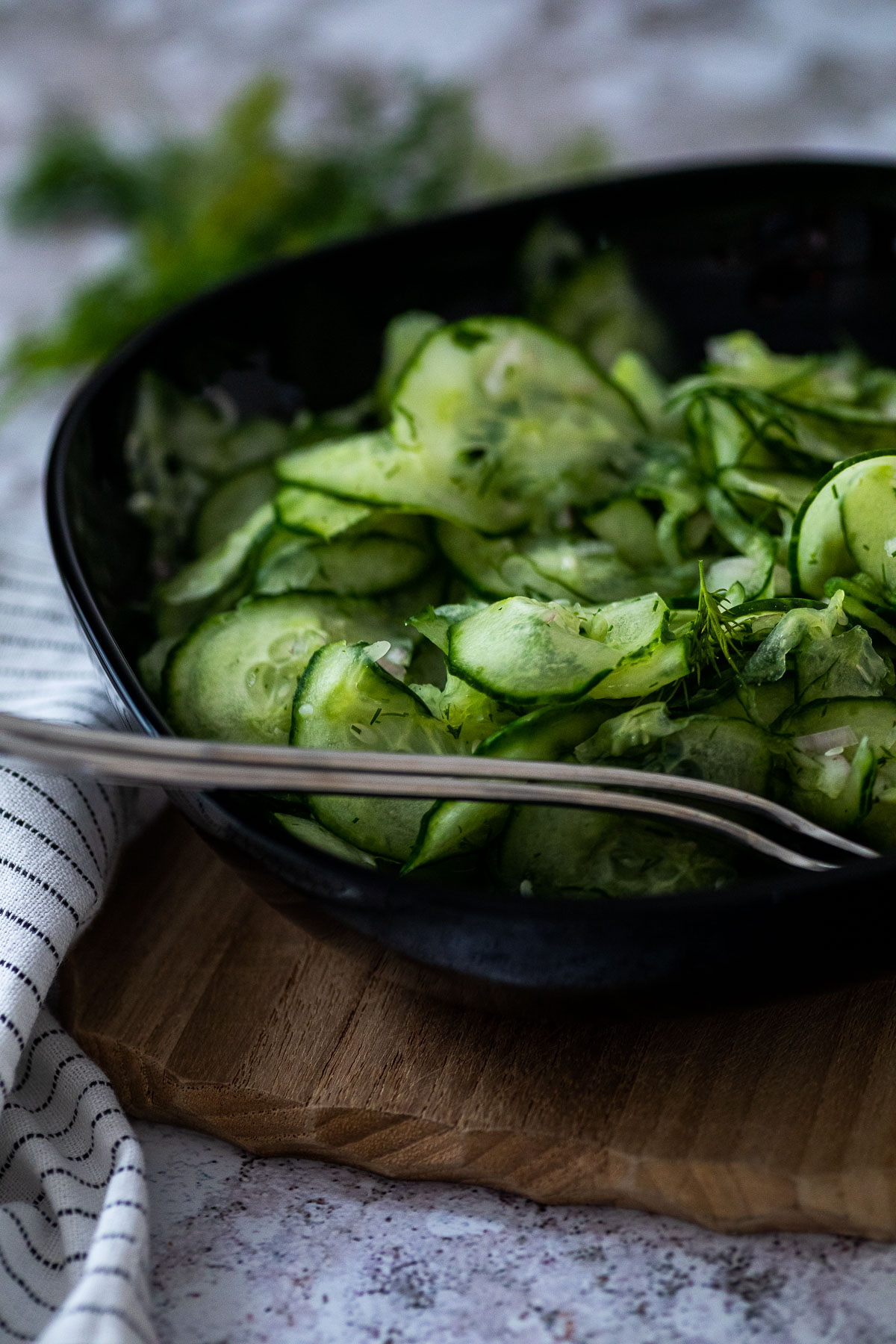 Storage
Let's take a look at how you can store the cucumber salad.
How to refrigerate it? The cucumber salad can be kept in the refrigerator in an airtight container for about 3-4 days. But remember, the longer the cucumber salad stands, the more water it draws. I think it's delicious when it's done well. I have to say I also like to drink the dressing.
How to freeze it? I don't recommend freezing the cucumber salad. Because the cucumbers consist almost entirely of water. The consistency will change.
Prepare in advance
This cucumber salad is great to prepare in advance and eat during the week. Therefore, the cucumber salad is a great meal prep.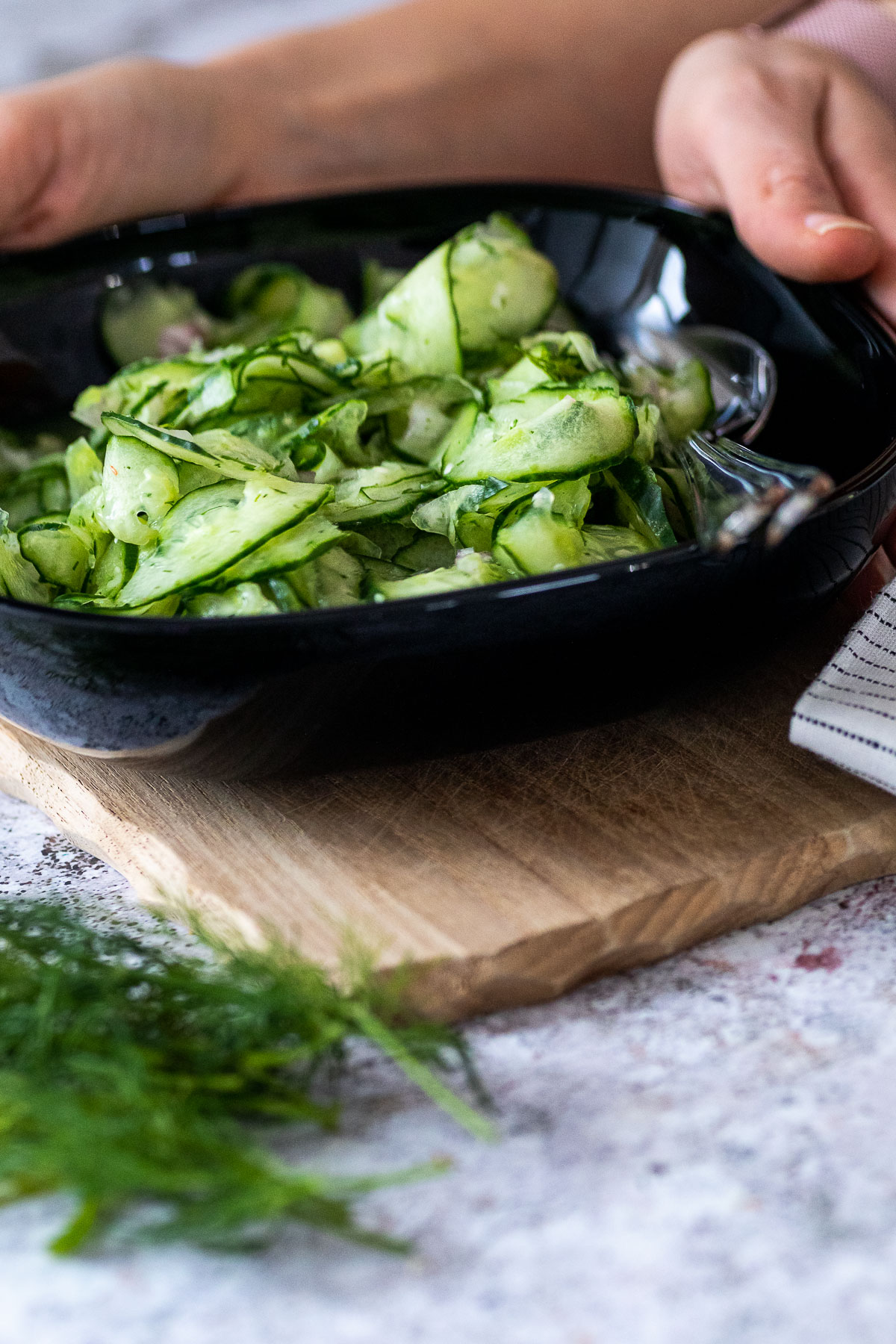 Tips
Depending on how thin you cut the cucumber, the consistency of the cucumber salad changes. I love to slice the cucumber very thinly with a grater. This is how it tastes best for my family and me.
You can also peel the cucumber or not. I prefer not to peel. Less kitchen waste. And we get more nutrition in this healthy salad.