Crispy potato wedges are quick and easy to make vegan and oil-free. You just have to follow a few steps to create ultra crispy potato wedges. Thanks to the spice combination of garlic, onions, peppers, paprika and turmeric, these potato wedges are a real taste experience, whether as a side dish or as a filling snack.
vegan | vegetarian | oil-free | sugar free | milk-free | fully fledged | healthy
Potatoes are one of my favorite foods for a lifetime. Sweet, red or yellow. I must confess that I could eat potatoes daily no matter in which shape. I would not need more than some steamed potatoes with some herbal yogurt sauce.
And if you like to eat baked potatoes in all shapes, but you want to finally give up the oil or just want to consume less oil, then you're happy about oil-free recipes, right?
And these crispy potato wedges get by without oil. Thanks to the tahini, we even get a few more nutrients on our way.
Potatoes are just great. They are not only super nutrient rich, they are also filling for a long time. And who could not live on potatoes completely ?! Hands up, if that's where you are.
However, we know the store-bought fries rather belong to the unhealthy variant of the potato dishes. Especially with all the oils, preservative additives and tons of salt, ready-made fries are anything but healthy.
And with homemade french fries (British chips) or potato wedges you can even pay attention to what food you want to add. And we can completely do without oil and preservatives. We use less sea salt than the purchased ones.
You really do not need much to create these delicious, crunchy, crispy country potatoes. Most of the ingredients you will probably already have at home.
What do you need to bake oil-free potato wedges?
Potatoes, Yukon Gold

Tahini

Water

Garlic powder

Onion powder

Sea-salt

Turmeric powder

Black pepper

Paprika powder

Almond Flour

Chopped parsley fresh.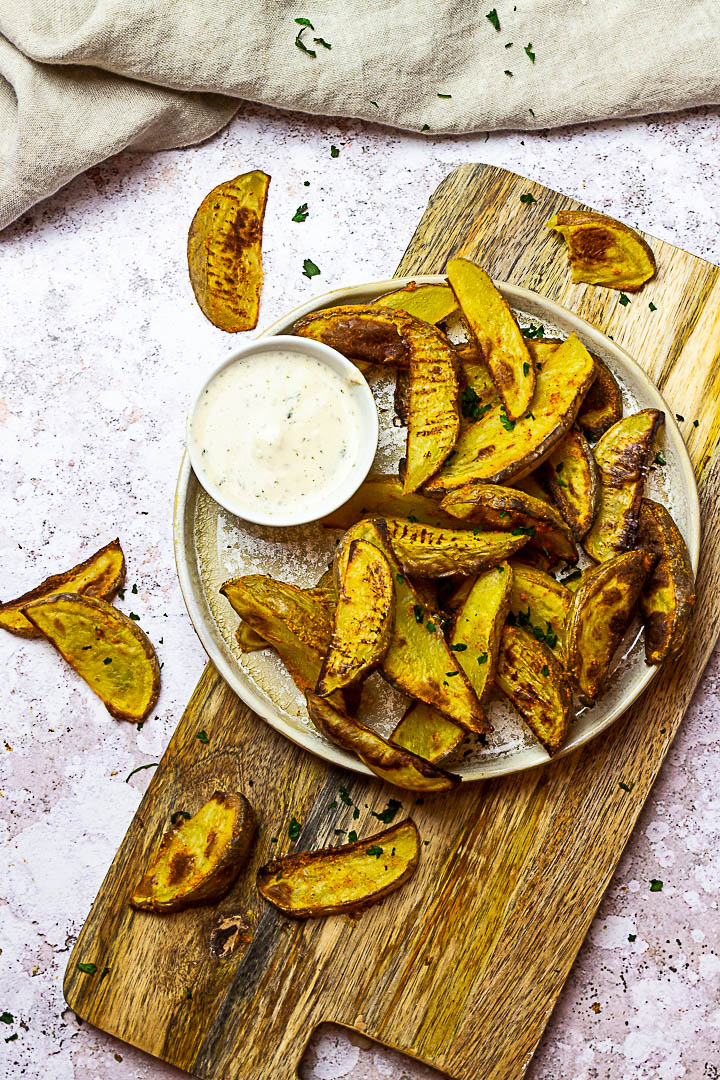 Which potatoes are best?
We want the potatoes to keep their shape and not fall apart when baking, so use potatoes with less starch. It is hard sometimes to find some, depends where you live. But I love to use the Yukon Gold Potatoes as an all-around potato. Nice yellow and delicious. You can also try sweet potatoes to make some potato wedges.
You do not have to peel the potatoes and you can simply brush them with the peel and then cut them. Make sure you remove all eyes and green spots on the potato. This is very important.
Of course, if you do not like the peel on your potato wedges, you can peel them too. Without peeling, you have one less step.
How are vegan potato wedges prepared?
First, fill a large bowl or pot with enough hot water and cut the potatoes into potato wedges. I cut them relatively thin, so they do not need so much time in the oven. Now leave the potato wedges in the hot water for about 20 min.
You can preheat the oven to 400°F (200°C). After the 20 minutes you can sieve the potatoes and dry with a tea cloth.
Now add all ingredients for the spice marinade and add the potatoes. Now mix the potatoes with the marinade so that all the potatoes are evenly covered with it.
Spread the potato wedges on a baking sheet lined with parchment paper. Please make sure that there are no potatoes on top of each other. Bake the potatoes for about 40 minutes. Turn the potatoes after the first 20 minutes.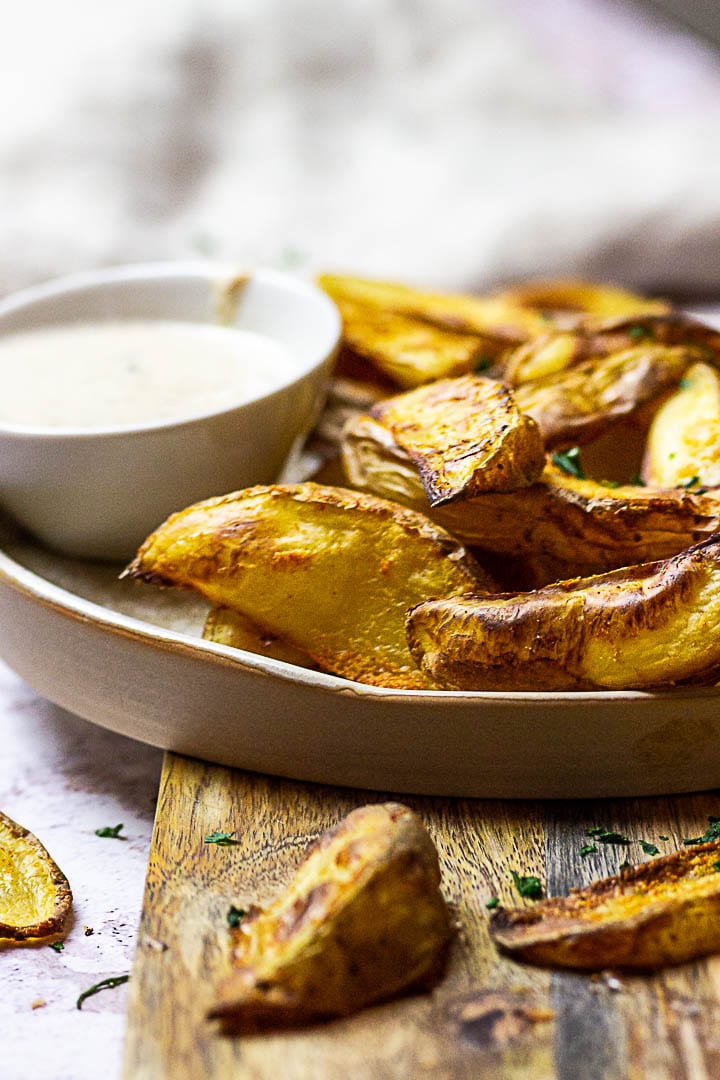 Do you have to cook the potatoes first?
As you have heard, you do not have to boil the potatoes with this recipe. Some recipes require precooking, we soften the potatoes so that the starch is washed off a bit. This makes the potatoes even crisper.
Can you reheat potato wedges?
Heat the potato wedges for 10 minutes at 400°F (200°C) in the oven. Check the potatoes after about 5 minutes and watch out that the potato wedges do not burn.
How do the potato wedges get crispy without oil?
Crunchy potato wedges without oil is absolutely no rocket science. The most important thing is to let the potatoes soak in hot water. It releases some starch, and it absorbs moisture, which helps keep the potatoes crispy on the outside and tender and soft on the inside.
If you want to go fast, you can also omit the step. The potato wedges just will not get as crispy as when you soak them. They still taste good. It's potatoes, after all. 😉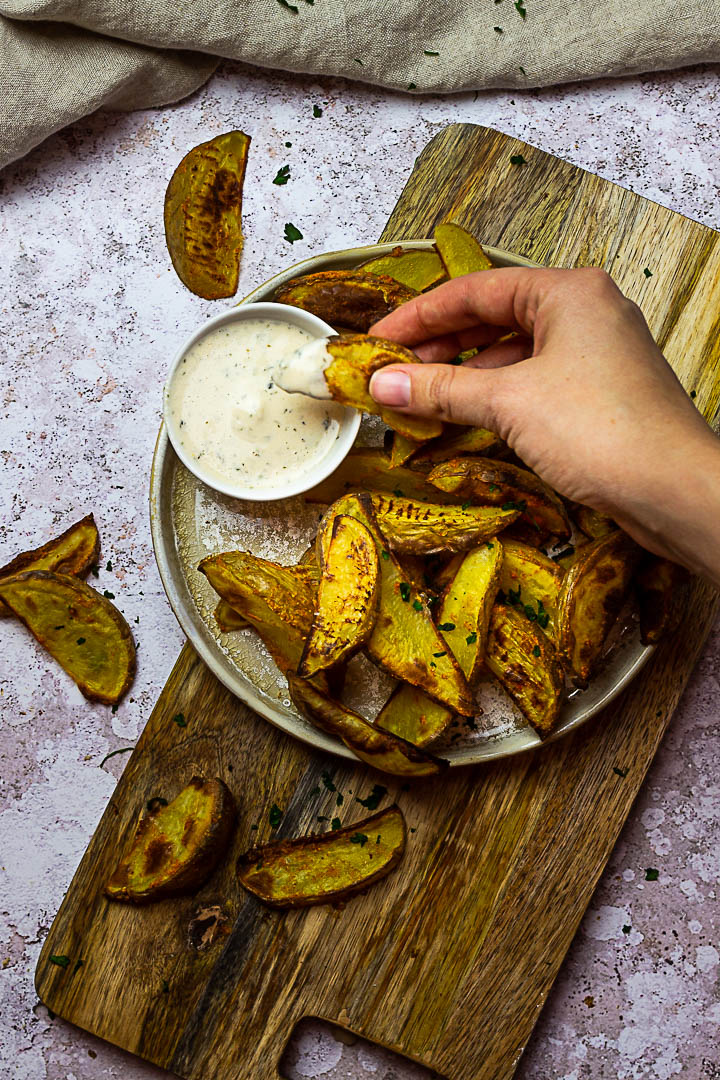 Tips to prepare the best potato wedges without oil
Take a potato variety with little starch (waxy), so you get the best result. In Germany it is quite simple, since most potato varieties are hard boiling, mainly hard boiling and starchy are labeled. Just check out on the labels in your grocery store to see what you can find out.

Cut the potatoes into equal wedges. So the potatoes bake evenly.

First quarter the potatoes and cut potato wedges from the quarters. So you get even potato wedges.

Use potatoes of about the same size

Soak the potatoes for about 10-20 minutes. I just take hot tap water, that's enough.

Season the potato wedges to your own taste and variations.

Spread potatoes evenly on a baking tray without letting them touch. So the potatoes can best evenly bake.

If not all potato wedges fit on a baking tray, just use a second.

Turn the potato wedges halfway through the baking time to get even crispier potato wedges.

Do not take the potato wedges out too soon. They should turn brownish and crispy.

Try a potato here and there to see if they are like how much you love them.

Garnish the potato wedges with parsley, sesame seeds or similar herbs.
With what can you serve the oil-free potato wedges?
Eat the potato wedges as a dinner or as a snack with different dips.

Eat them with a homemade black bean burger

Falafel with pita bread

Vegan kebab or kebab bowl and homemade potato wedges

With vegan chili.
More Vegan Potato Recipes:
Do not forget to Pin on Pinterest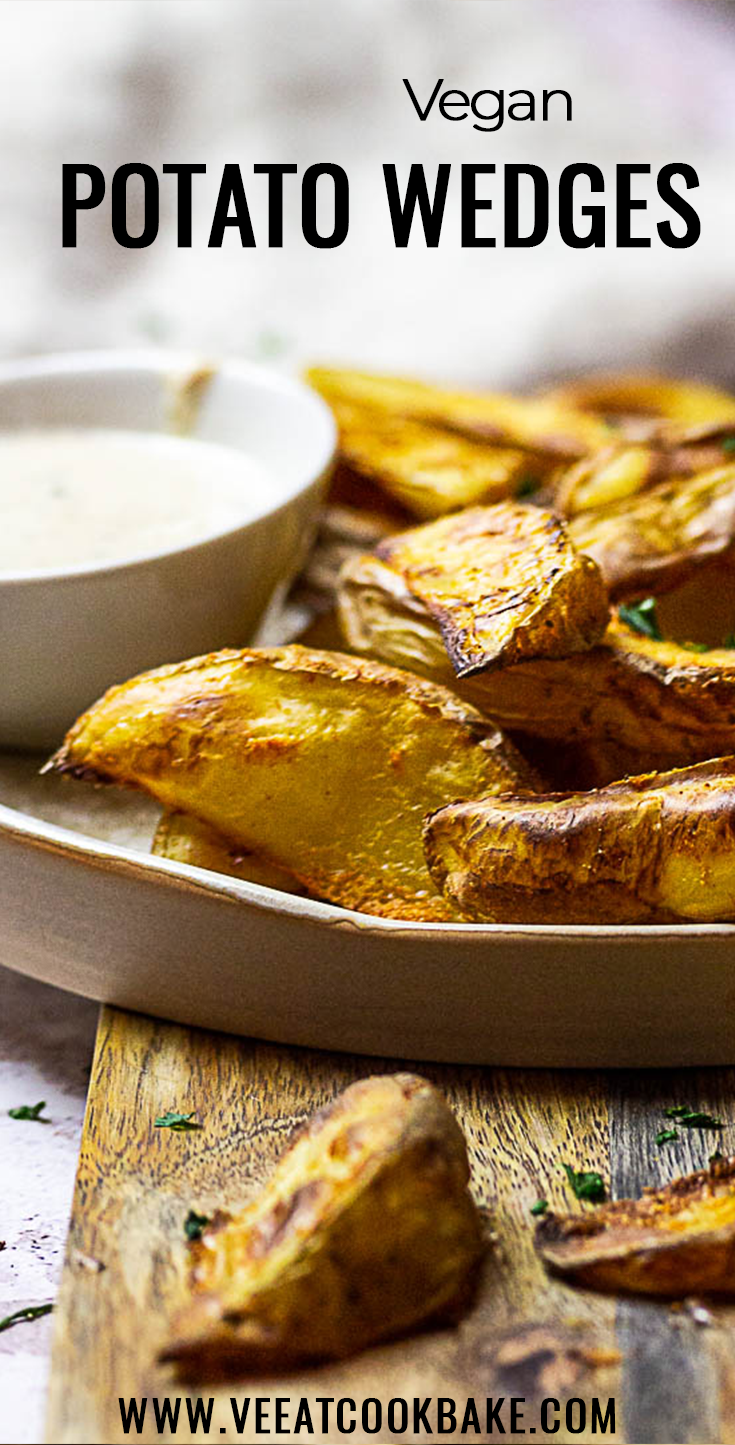 Have you tried the recipe?
If you tried the vegan Potato Wedges, be so nice ♥ and let me know by rating the recipe and writing what you think about it in the comments. Tag me on Instagram too. I am @veeatcookbake and my hashtag is #veeatcookbake. So that I can see your creation. Did you know you can add photos on Pinterest under the recipe Pin? I can't wait to see a photo of your creation there. You find me with @veeatcookbake. I also would love to hear your feedback, so I can share it on my social media channels.

This post may contains affiliate links and I may receive a very small commission if you buy through these links at no extra cost. Thank you very much for supporting Ve Eat Cook Bake! More information can be found here.
---