This quick and easy vegan burger sauce is made from cashews, tomato paste, pickles. It takes your average veggieburger to a whole new level!
We all know the classic combination of mayo, relish and spices that makes up a Big Mac. But how does it taste without eggs?
Well now you can enjoy this burger sauce on any dish! It's easy-peasy with just 5 minutes from start to finish - creamy but not rich or heavy at all thanks in part because there's no dairy used here either so don't worry about those stomachaches before their time biting into your meal again (or ever).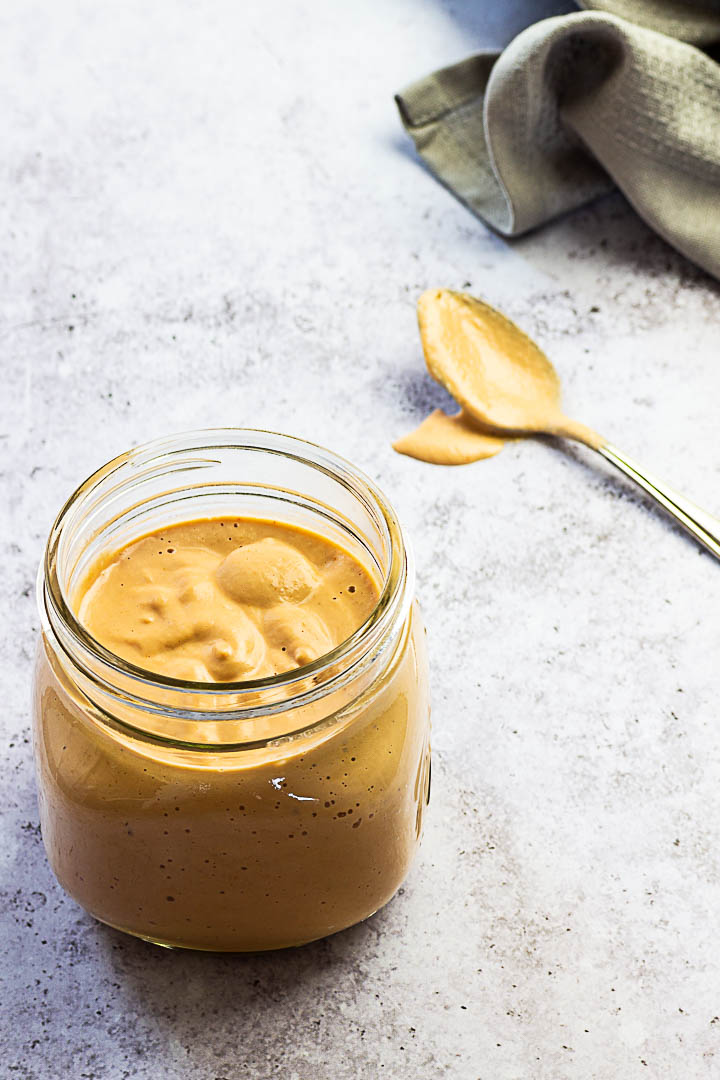 As an Amazon Associate, I earn from qualifying purchases. This post may contain affiliate links. Read More
Jump to:
You will be addicted to this sauce after one try. That's what happened when I worked on my recipe, and there is no way you can resist it once you've tried!
You invest under 5 minutes of your valuable time that gives such an amazing result - but remember: Once we start eating these burgers with this yummy sauce (especially topped off by some crunchy onions or roasted mushrooms), they'll become part-of our regular menu plan for sure.
Do you love making your own burgers with delicious patties and topped off in all different ways? Do they need some extra flavor that will take them over the edge, or maybe just enough kick to be enjoyed by even picky eaters? Well I have great news!
This quick sauce has only four ingredients, so there's no excuse not try out our new favorite way of enjoying a classic American dish-the Hamburger ! It becomes indescribably creamy when mixed together but contains nothing too complicated thanks also because we can make lots at once without having leftovers like other sauces do (plus its really easy)!
And if you have some sauce left over, just take it and eat to your next Buddha Bowl or dip fries in. Most hamburger sauces are made with a lot of mayonnaise - but thanks cashews which can make creamy when mixed together our new "creamy" vegan option doesn't contain any oil or dairy!
Ingredients List
Just a quick list of the ingredients we use. The detailed information with the amounts is in the recipe card below.
Cashews
Water
Tomato paste
Pickle juice
pickles
Tahini
Sea salt
Pepper
Dijon mustard
Garlic clove
Onion powder
Substitutions
Cashew
If you have a nut allergy, or have no cashews on hand, you can also use plant-based yogurt.
To prepare it with yogurt, I would then add 2-3 tablespoon more Tahini and leave out the water, so that the sauce is still creamy and not too thin.
If you like tofu, you could also try using silken tofu instead of cashews. Simply leave the water to get a creamy sauce. Finally, At the end I would season with sea salt and pepper.
If you do not to forgo mayo, you can just use the same amount of mayo here instead of the cashews and the water. Or use my oil free Mayonnaise Recipe. 
Instead of Cashews you could also use Sunflower Seeds.
Water
You can add more flavor with some veggie broth.
I usually use water, but sometimes I use some vegetable broth. Depends on if I have to use up some veggie broth or not. 
Tomato Paste
We are using Tomato Paste instead of Ketchup. If you want to use Ketchup. I prefer the no sugar added one.
In case you add Ketchup adjust the water amount, tomato paste is much thicker than Ketchup. 
Pickle Juice
In case you do not have some pickle juice (brine of the pickles) than add some vinegar like white wine vinegar or apple cider vinegar. And some dill. The Pickle Brine adds a nice flavor to the Burger Sauce though.
Pickles
You could also use some pickle relish instead of pickles. Usually we have pickles at home and not relish, that is why I use pickles in the recipe. You can just throw them whole in the blender.
Tahini
Instead of tahini you could also use some cashew butter or almond butter.
Sea salt
This is optional and you can season to your own taste. You could also add lemon juice instead of salt.
Pepper
I love to season it with some Black Pepper. You can also use some white pepper.
Dijon mustard
Use your favorite mustard brand. You could also add yellow mustard. Dijon Mustard is my favorite one. It reminds me more of the German medium hot mustard I am used too.
Variations
Let us take a look how we can adjust the vegan Burger Sauce to accommate other diets.
Nut free
The first ingredient you see is cashews. Instead of cashews you can also use sunflower seeds to make it nut free.
Gluten free
This recipe is already gluten free and does not need further adjustments.
Low Sodium
Use low sodium pickles as well as low sodium tomato paste. You can always add more flavor with lemon juice, lemon zest or vinegar. 
How to make the vegan Burger sauce
This does not require much.
First, you have to soak the cashews in hot water for about 10 minutes. If you got a really good high speed blender omit the soaking. While they are soaking, you can prepare the remaining ingredients.
Simply add all ingredients to a high speed blender.
After ten minutes, you can drain the cashews, rinse and add to the other ingredients in the blender. Now blend everything until it is creamy and smooth, without pieces.
Season the sauce again with sea salt and pepper.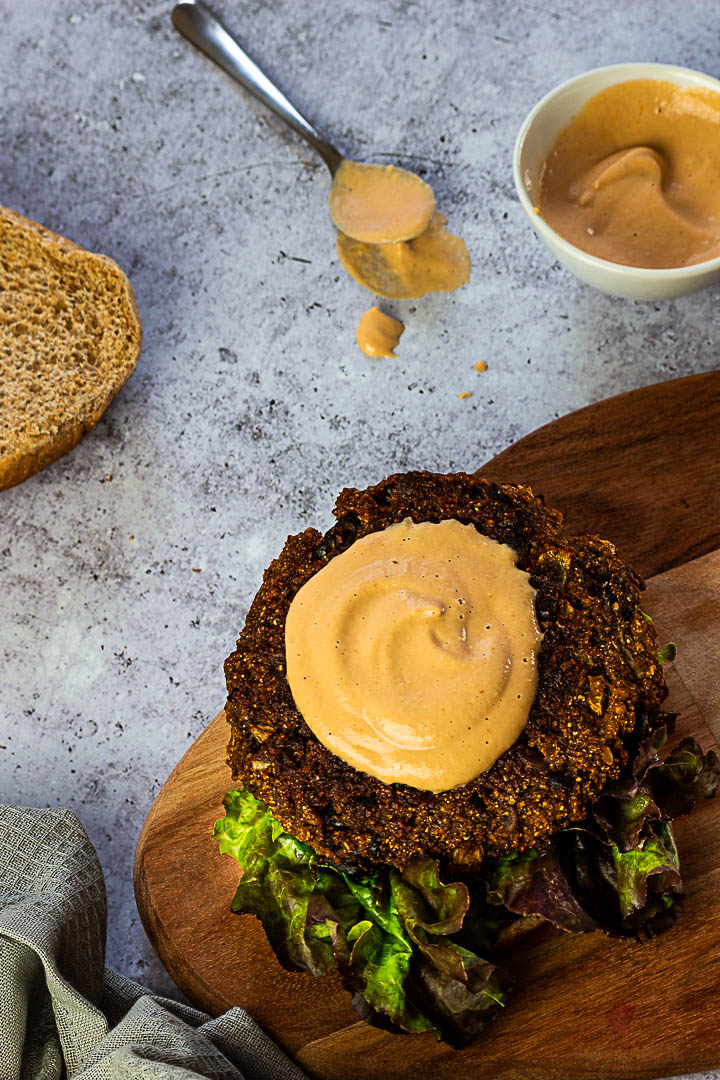 Prepare in advance
I love to make this Burger Sauce in larger quantities and freeze. It is my kind of meal prep, and we have always some sauce and my black bean patties on hand in case we get munchies on a good burger. 
Recommended equipment
For this dairy free burger sauce, you will need a high speed blender to get the creamiest result. 
Serving Options
There are more option to serve this amazing vegan burger sauce than just on a burger. Here are some of my favorite ways to enjoy this sauce:
Roasted vegetables
Buddha bowls
On your next sandwich
Storage
How to refrigerate it?
In an airtight container, the sauce lasts for a few days. After 5 days we usually have used all of the burger sauce.
How to freeze it?
You can also freeze the sauce portion by portion and just take out the evening before.
It freezes perfectly, which I enjoy doing with my cashew-based sauces like the one for Mac and Cheese.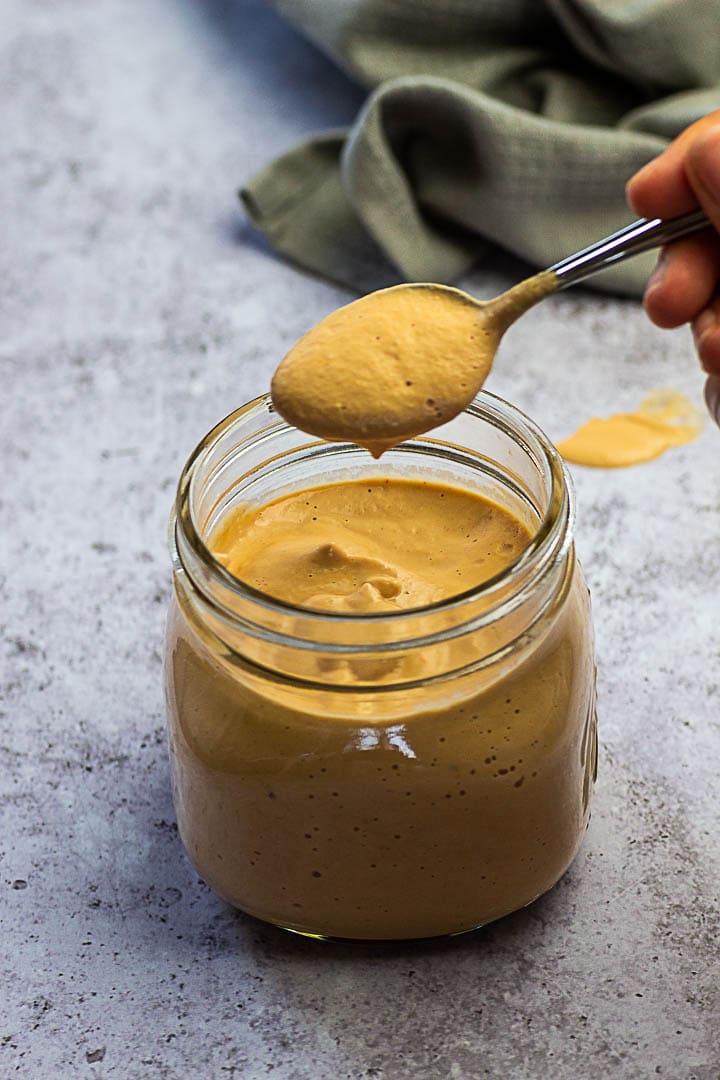 Tips
Soaking the cashews is an easy way to get more flavor out of them. You can either do it overnight, which allows time for planned cooking projects tomorrow; or just boil some water in a kettle and pour over raw batch before letting sit 10 minutes on average - this often goes well with rest preparation!
And if you got a high speed blender that can blend it creamy without soaking prior, just do that. I often do that when we decide last minute to enjoy a vegan Burger.
The pickle juice is a great addition to your sauce and will give it that extra kick. You can use this in pasta salads or potato salad as well! Give them all a try- you might be surprised at how good they taste with the added flavor from pickles
You can easily replace the need for ketchup in your vegan burger sauce with some tomato paste. Tomatoes are an excellent natural flavor enhancer and will let you save on sugar while still getting that signature red-taste everyone loves!
More vegan Recipes:
Pin for Later!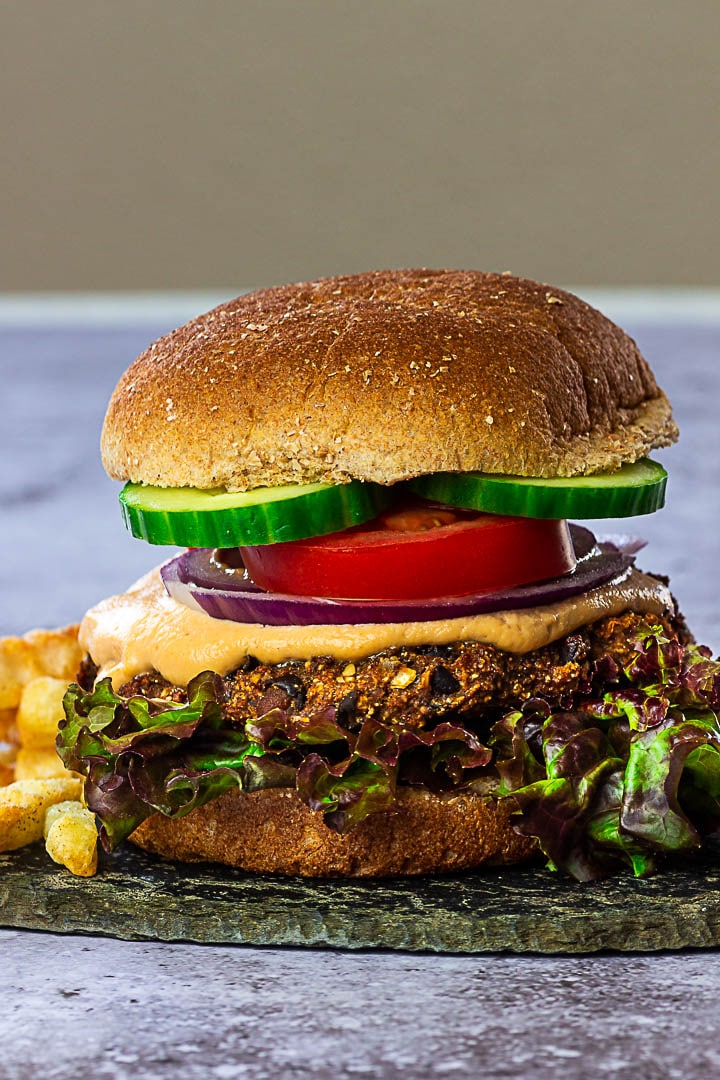 Have you tred the recip
If you tried the vegan Recipebe so nice ♥ and let me knw byrating the recipe and writing what you think about it in the comments.  I would love to see your photo on Instagram orFacebook. To do this tag me with @veeatcookbake andmy hashtag is #veeatcookbake. So that I can see your creation. Did you know you can add photos n Pinterest under the recipe Pin? I can't wait to see a photo of your creation here. You find me with @veeatcookbake