Vegan mashed potatoes - a quick dairy free mashed potatoes recipe made in no time and with only 4 ingredients.
These mashed potatoes are the classic variant that my mom and grandma prepare only without butter, margarine or cow's milk.
Thus, these lactose-free mashed potatoes can also be eaten those lactose-intolerant or all those who want to eat a lighter version of the popular purée, but do not want to miss any creaminess.
Prepare this quick mashed potatoes with no milk during the week or as a side dish at Thanksgiving or Christmas. It will always be the hit.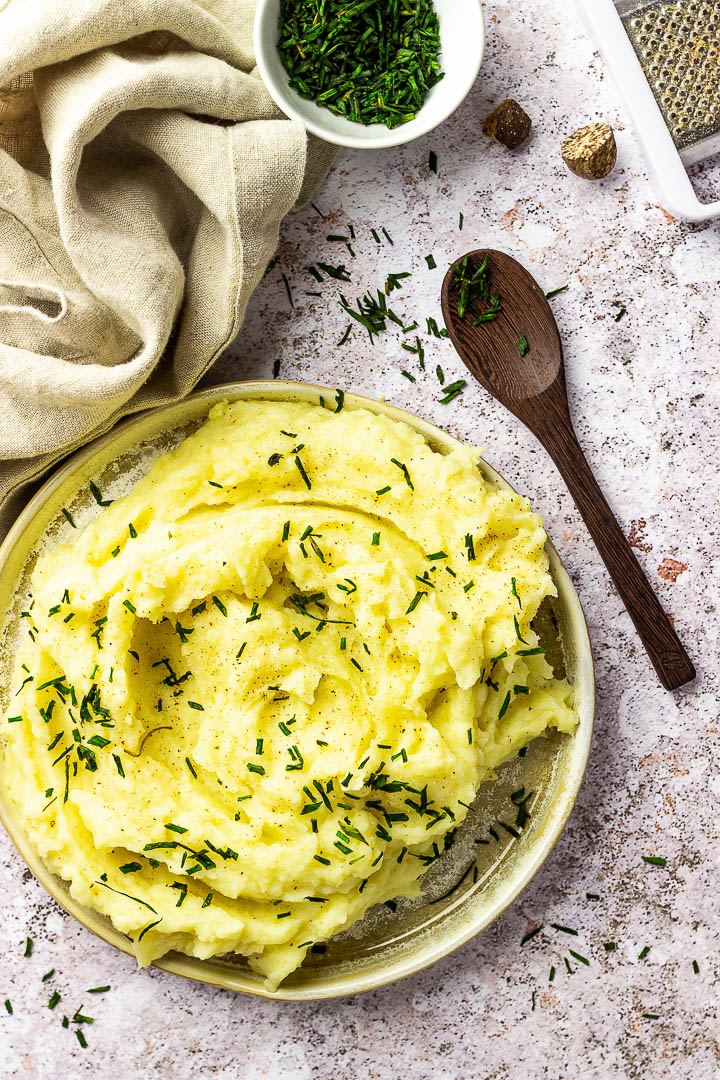 As an Amazon Associate, I earn from qualifying purchases. This post may contain affiliate links. Read More
Do you still have your inner child and love mashed potatoes? Let's face it, mashed potatoes are not just for kids. I could eat them daily.
I could eat a portion or two almost every day.
We used to cook with milk and butter before we changed our diet.
Today we can do it without any animal products and we do not need any highly processed margarine.
And believe me, the vegan version of the mashed potatoes is devours your cravings.
I have to admit, I've never made instant mashed potatoes made from potato powder in my life.
For one, I can't imagine that it tastes good. Everything tastes better with fresh ingredients, don't you think?
And if you've ever made mashed potato from fresh potatoes, you surely know it's not rocket science.
Fresh mashed potatoes are full of nutrients, less wasted energy and less packaging waste.
I know the most popular version here in the states is mashed potatoes with roasted garlic.
But why don't we bring some change in our kitchen and try something new?
I am sure you will love the hint of nutmeg in your mashed potatoes.
And it you want to go crazy you can combine your version of roasted garlic with some nutmeg. What do you think?
Don't scroll to far down. You do not just find a quick recipe for no milk mashed potatoes.
You will also find here how to make mashed potatoes without milk and use instead.
And some mire Tips and Tricks to help you achieve creamy mashed potatoes without oil or vegan butter.
Ingredients
As already mentioned, you only need a few ingredients to prepare delicious mashed potatoes.
You can find the exact amount the recipe card below.
Let's see what you need:
Potatoes high in starch (Yukon gold or russet)
Nutmeg
Sea Salt
Plant drink
Cashew cream opt
Instruction
First you have to peel and quarter the potatoes and put them in a pot.
Now you fill the pot with water. But only about 1.5" (4cm) high. The potatoes are cooked with steam.
For this we put the lid on the pot. When the water is boiling, you can steam them on lower heat.
After 15-20 minutes you can stab a knife into a potato. If these are soft, they are cooked through.
Now you take a hand mixer or just a classic masher and prepare the mashed potatoes.
We leave the cooking water in the pot. You will see how incredibly creamy this will be.
Now slowly add the plant drink (milk) while constantly pounding or stirring.
Stir in more plant drink until you get it how creamy you want it.
Instead of milk you can also give some cashew cream but add the cashew cream before you use the cooking water.
Taste with nutmeg and salt.
The vegan mashed potatoes are ready.
Cream or Milk Substitute
I rarely use cashew cream or other vegan cream alternative for my mashed potatoes.
Usually, if I have any left over from other recipes, I use it.
As a milk substitute, I prefer almond or soy.
Both are neutral in taste, which of course we want in these mashed potatoes.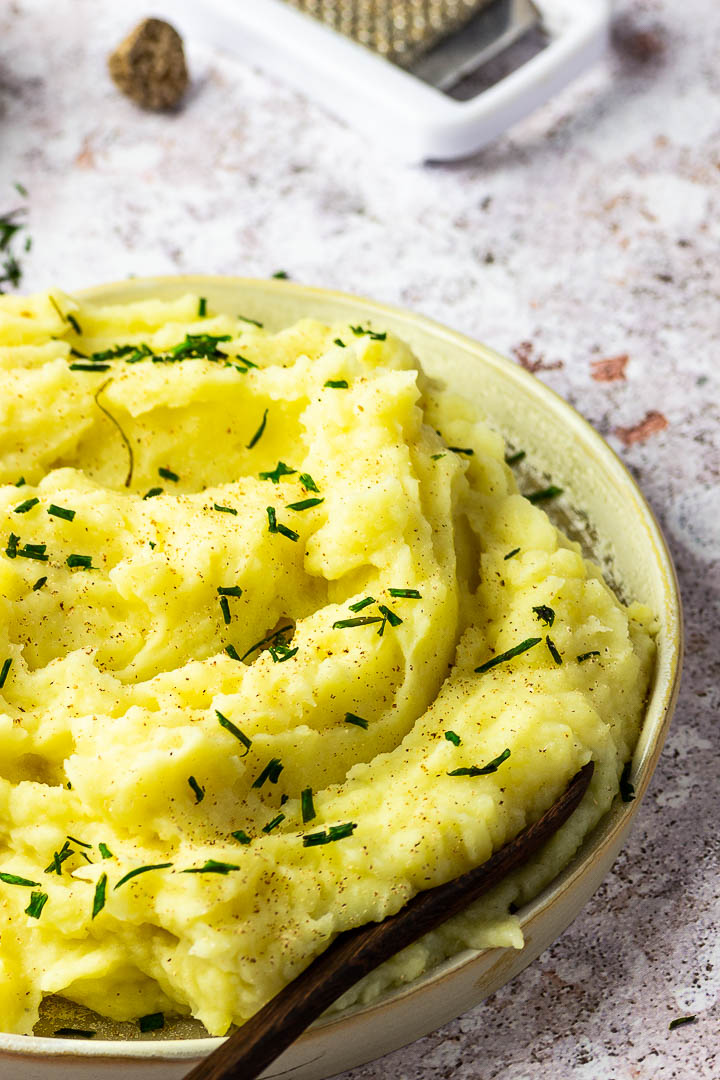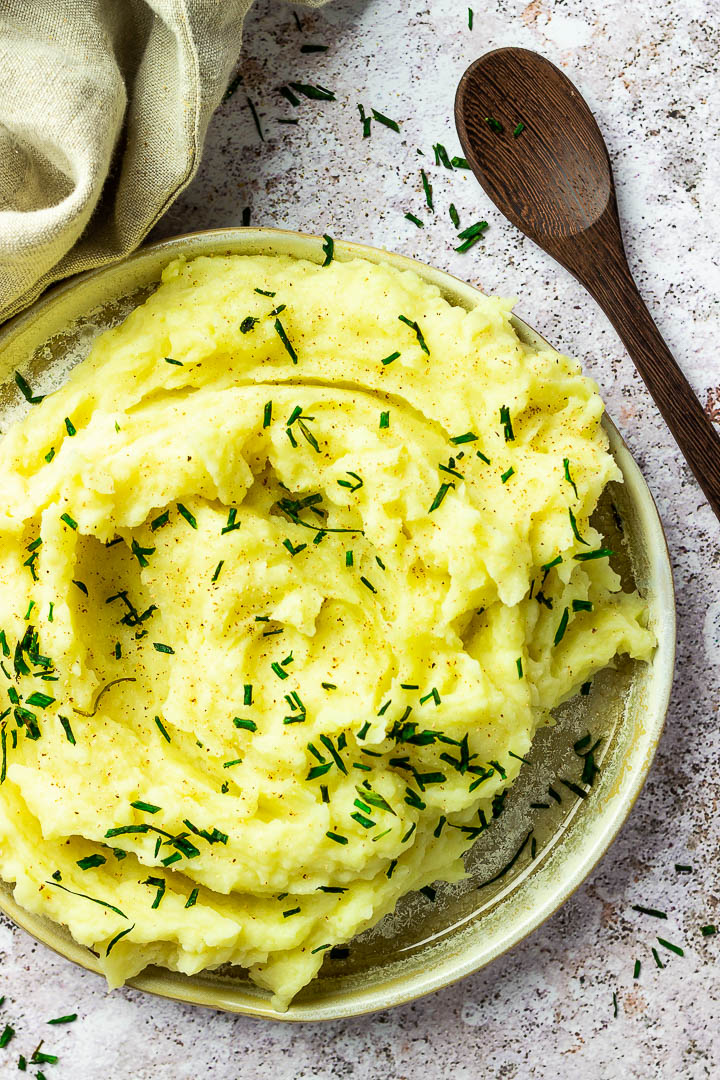 How many potatoes should I expect per person?
In general, I expect about 4 potatoes per person.
But it depends on how hungry we are. Mostly I prepare the puree by feeling.
How are the potatoes cooked?
I more or less steam the potatoes.
This leaves more vitamins in the potatoes and the starchy cooking water is a veritable miracle ingredient.
To steam the potatoes, you put the potatoes in a sufficiently large pot with a lid. Add so much water that it is about 1.5" (4cm) high and steam as with lid on the pot.
Potato Variant
Pay attention to the choice of your potatoes.
You should use potatoes with a lot of starch. This way your mashed potatoes will be super creamy.
In the United States, I suggest Yukon gold or russet. I actually always use Yukon gold. I love the beautiful yellow color and light buttery flavor.
While russet do not have a special taste, it's more watery and white.
And I at least want yellowish mashed potatoes. The less starch it contains, the less creamy it gets. And mashed potatoes must be creamy, don't you think?
Butter substitute
If you use the starchy cooking water, you do not necessarily need a butter substitute.
Thanks to the starch your mashed potatoes will be totally creamy.
What makes the mashed potatoes so creamy?
As mentioned above, it is crucial for the creaminess that the potatoes contain a lot of starch.
You do not necessarily need extra fat to achieve this.
Tips & Tricks
If you cook the potatoes with less water, as the recipe prescribes, more vitamins will stay in your potatoes.
Use the cooking water, which is a miracle ingredient for the mashed potatoes, and possibly add a little almond milk or cashew cream to get the desired creaminess.
Instead of pounding the mashed potatoes by hand, use a hand mixer. My mama does it this way and the mashed potatoes are getting so much creamier than mashing by hand.
You can vary the ingredients. You can also add roasted garlic (as the Americans love it) or herbs.
If you like your mashed potatoes even more creamy add more cashew cream or plant-based milk.
If you decide to add cashew cream, try to do this before adding the cooking water. Fat in before water. So that the fat stays nicely on the potatoes.
Serving Suggestions
So what to eat with mashed potatoes for a vegetarian or vegan meal? You can serve a lot with it.
I love, for example, mashed potatoes with creamed spinach and fried mushrooms.
Or pour gravy over your mashed potatoes, so yummy.
Of course, you can also serve other side dishes like this.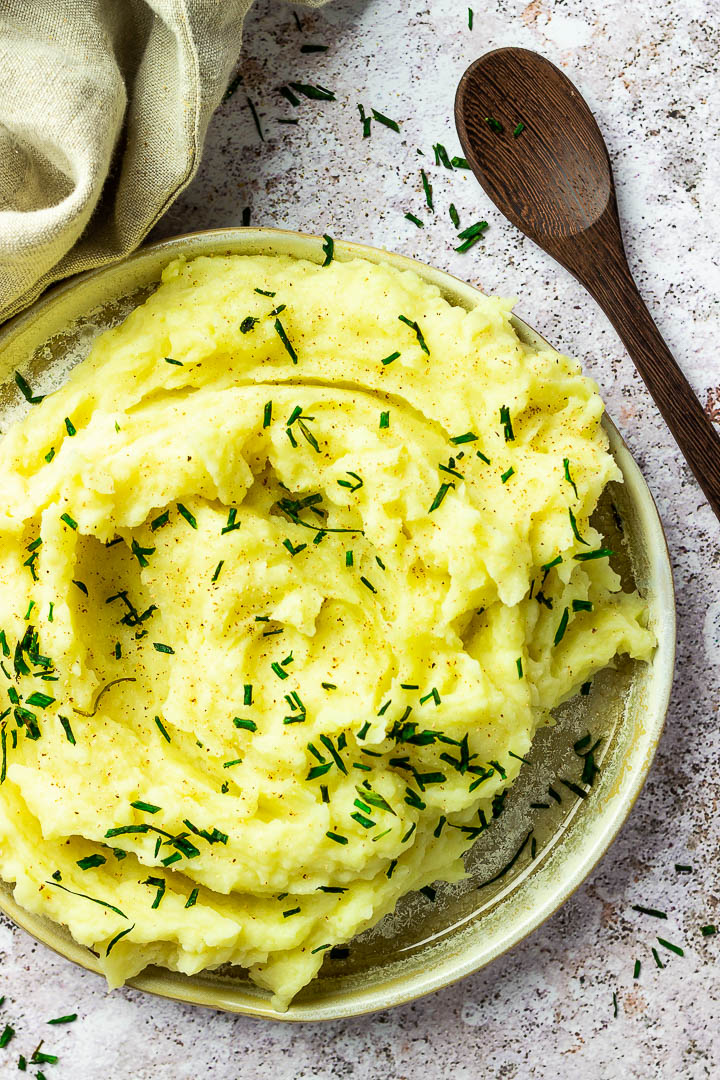 Cooking Potatoes in Advance
I would not advise to cook the potatoes for the whole food plant based mashed potatoes in advance.
I would prepare the mashed potatoes right after cooking and proceed as below.
It tastes best if you mash your potatoes when they are still hot. You get the full craeminess this way.
Prepare the mashed potatoes the day
A definite yes.
You can prepare the mashed potatoes the day before, which is great for Christmas, Thanksgiving or other festivities.
During the day, just warm the potatoes in a pot while stirring.
Storage
The mashed potatoes will stay in the fridge in a sealed container for 3-4 days.
But I have to say, the fresher the mashed potatoes, the better they taste.
Some dishes taste even better after a few days, which is not the case here.
I mean you can still eat it and it tastes really good too. But not as good as freshly cooked.
What can I do with leftovers?
You can warm up the mashed potatoes as stated above and serve with the recipes from above.
Or you can take the mashed potatoes and fry them briefly in a non-stick pan.
More vegan Potato Recipes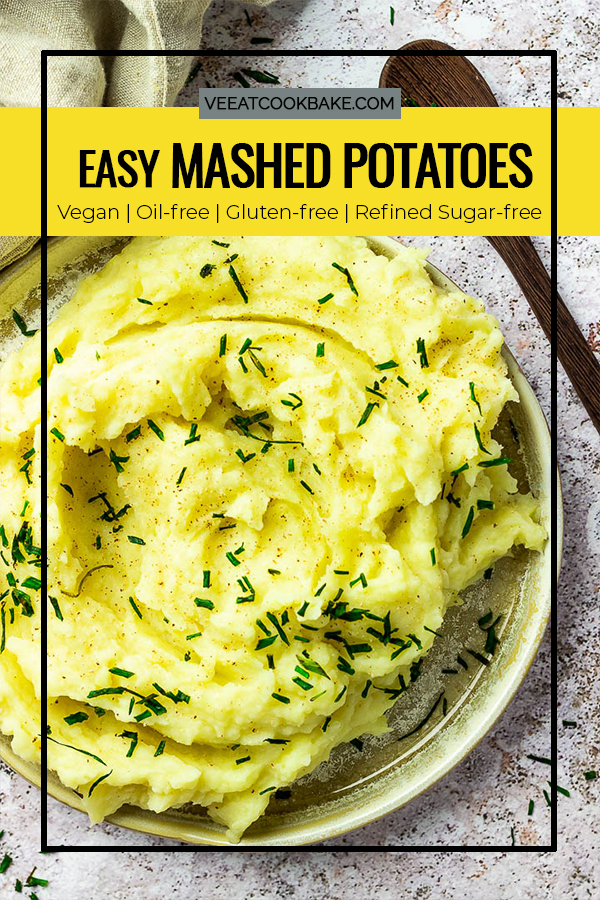 Have you tred the recip
If you tried the vegan Recipebe so nice ♥ and let me knw byrating the recipe and writing what you think about it in the comments.  I would love to see your photo on Instagram orFacebook. To do this tag me with @veeatcookbake andmy hashtag is #veeatcookbake. So that I can see your creation. Did you know you can add photos n Pinterest under the recipe Pin? I can't wait to see a photo of your creation here. You find me with @veeatcookbake