Vegan Artichoke Pasta Salad is a quick and easy dish. Prepared with palm hearts, tomatoes, olives, cucumber with a creamy, oil-free balsamic dressing.
This pasta salad is great for your next BBQs, potlucks, picnics or as a quick lunch on the go at work or school.
The artichokes as well as the palm hearts give the vegan pasta salad without mayo a great taste note.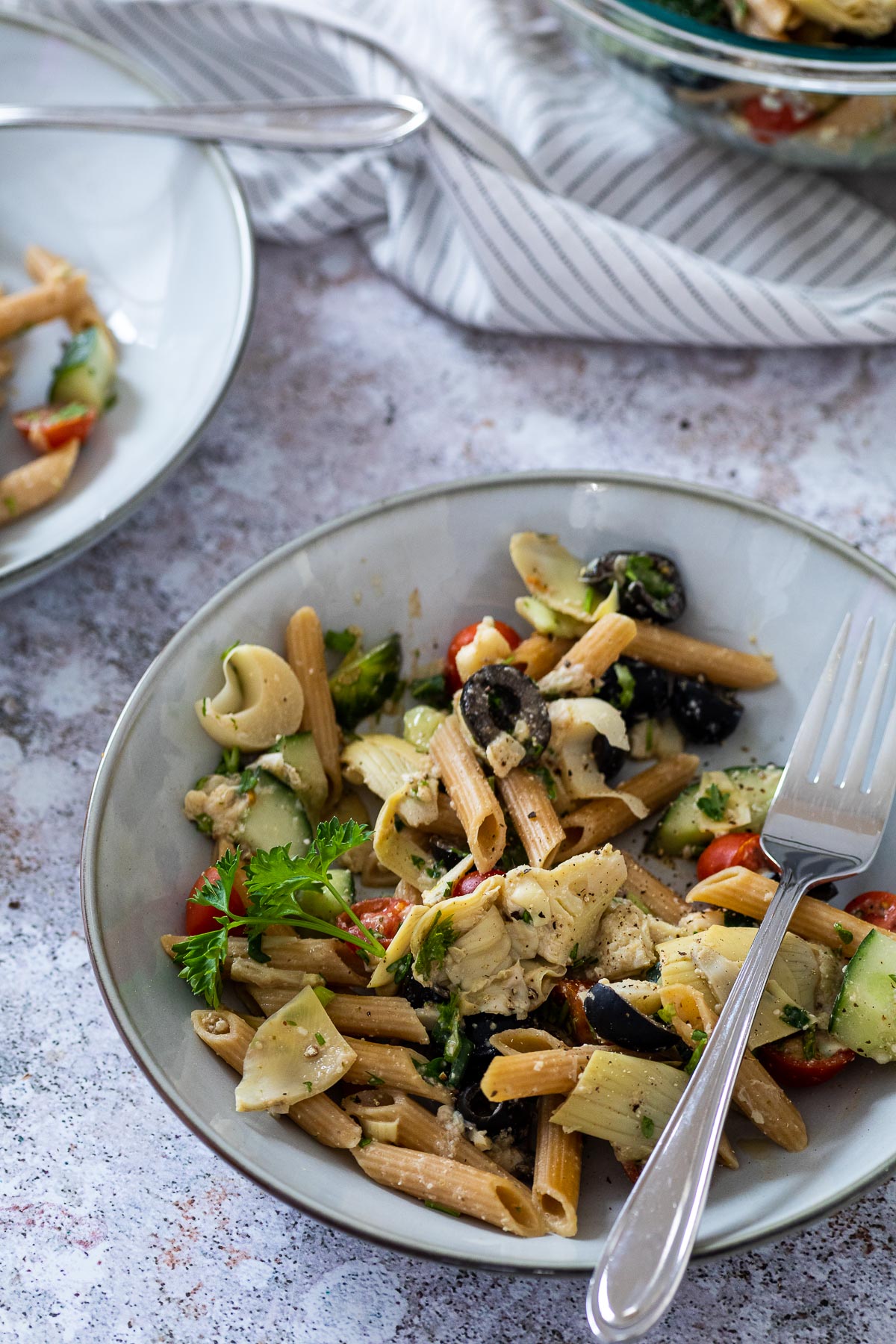 As an Amazon Associate, I earn from qualifying purchases. This post may contain affiliate links. Read More
Jump to:
Artichoke and Olive Pasta Salad is easily prepared in gluten-free, nut-free. And it does take just 15 Minutes to be ready.
No matter whether you like a chicken artichoke pasta salad or classic pasta salads like the macaroni salad, you should definitely give this oil-free vegan pasta salad a chance.
This creamy salad with pasta of your choice is filling and ideal for a summer dinner on hot days.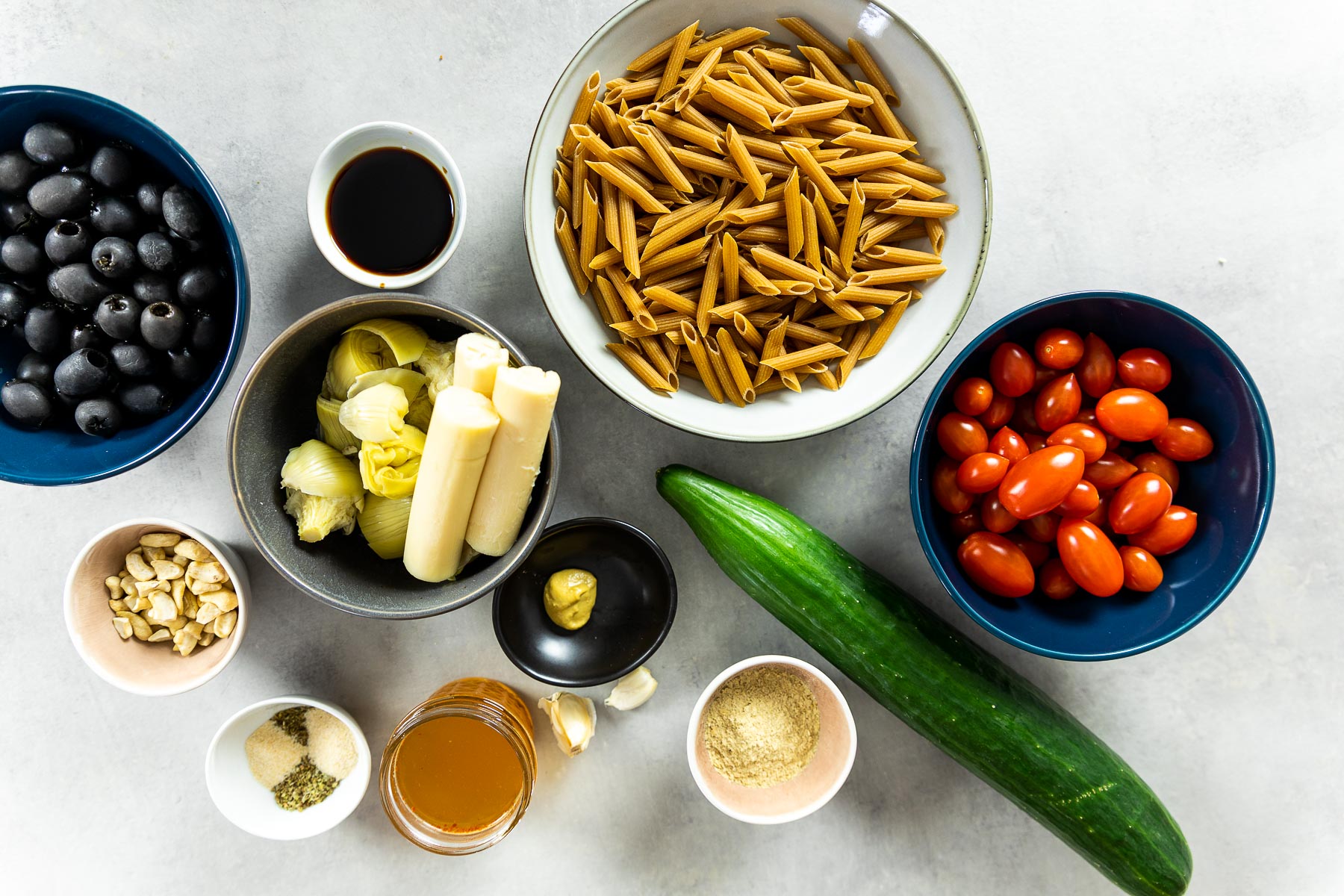 Ingredients
Now let's take a look at the ingredients in this great dairy-free artichoke noodle salad. As always, the exact quantities can be found below in the recipe card.
Pasta
Black Olives
Artichoke Hearts
Palm Hearts
Cherry Tomatoes
Cucumber
Parsley,
Spring Onions
Cashews
Water
Balsamic Vinegar
Garlic Cloves
Dijon Mustard
Majoran
Oregano
Sea-salt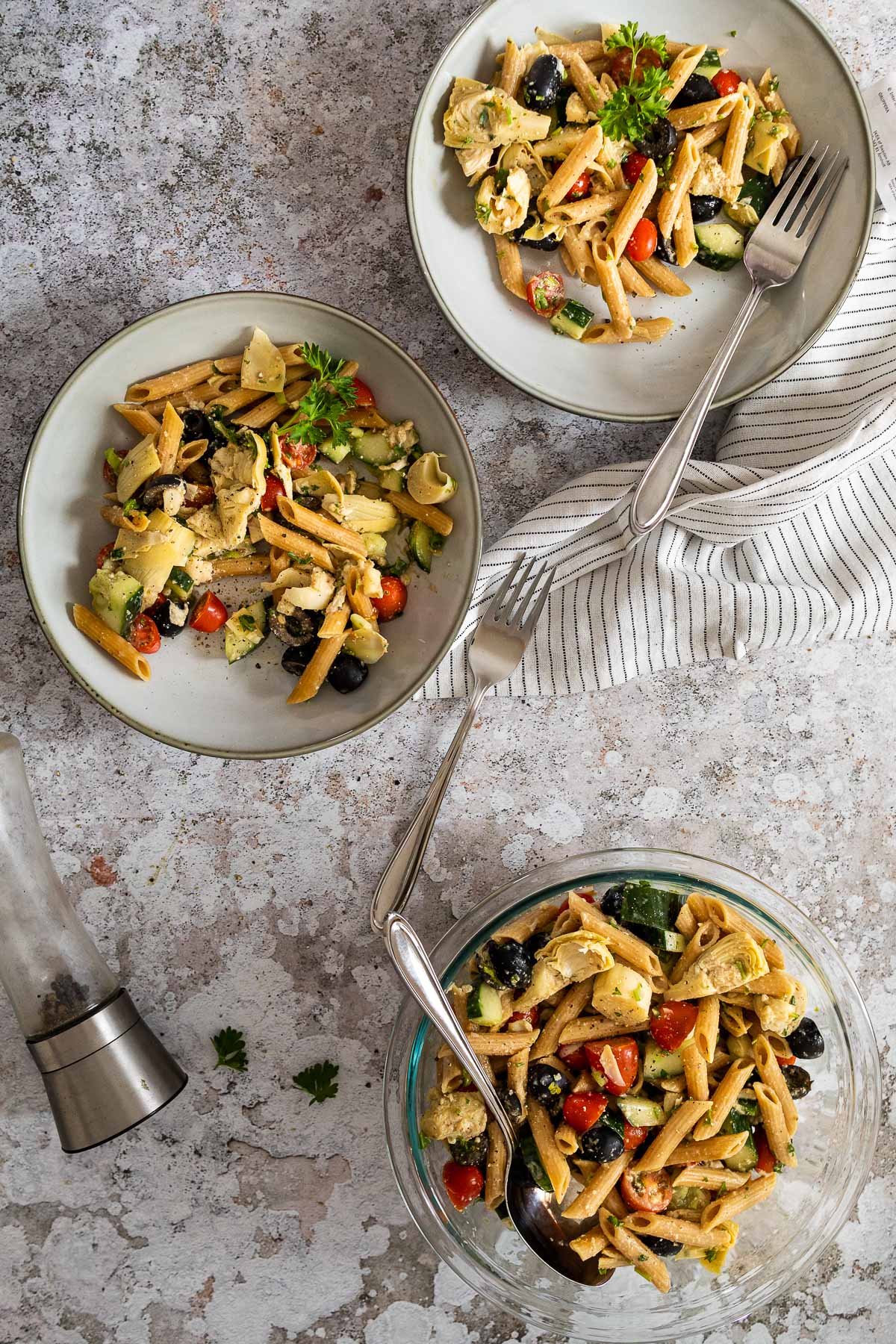 Substitutions
Here we take a look at what options you have to replace certain ingredients.
Pasta
I like to use whole grain pasta. But you can use your favorite pasta here. Lentil noodles and cherry pea noodles are great gluten-free alternatives.
Black Olives
Instead of black olives, you can also use Kalamata olives or green olives. This artichoke and olive noodle salad will also taste with different varieties of olives.
Palm Hearts
The palm hearts basically serve as a chicken substitute for a chicken artichoke noodle salad if you can't get palm hearts now.
I know that I can find these by my parents in a well-stocked supermarket. You can also use jackfruit and shred it into fibers with a fork if you can't get your hands on a can of palm hearts.
Parsley
You can also use other herbs here, for example you can use dill instead for the salad. If you want to do this mexican style, I can also imagine cilantro.
Cashews
Again, you can replace the cashews with sunflower seeds. It's not just a budget-friendly alternative. It'll be creamy, and you'll have a nut-free alternative.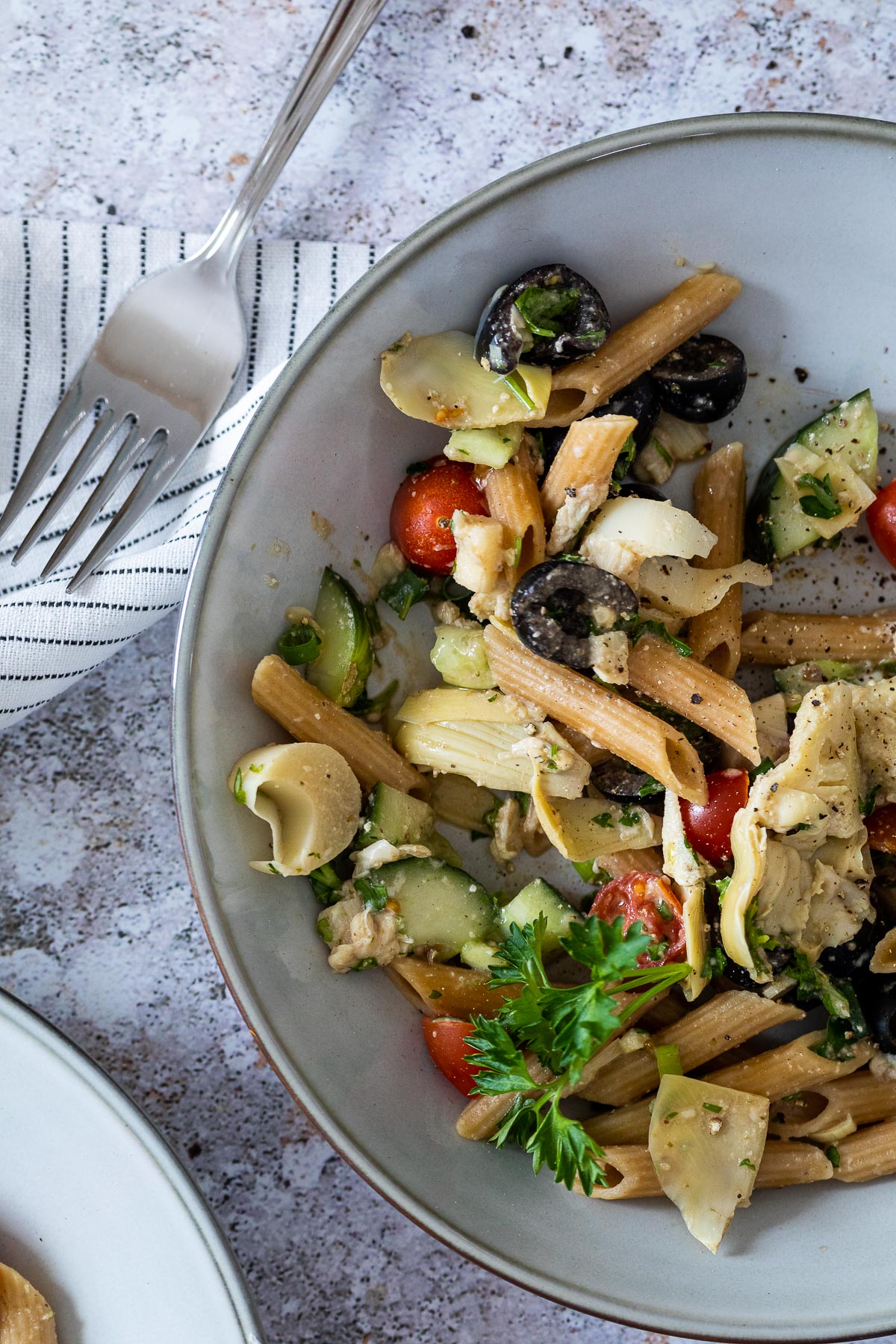 Variations
Now let's take a look at how we can adapt this great vegan artichoke pasta salad to different diets.
Gluten free
It's super easy to make this pasta salad gluten-free and vegan. All you have to do is use a gluten-free type of pasta.
Nut free
As mentioned above, you need to replace the cashews. For example, you can use sunflower seeds here, they also make the dressing so super creamy. Just give it a try
Soy free
We do not use any foods containing soy in this pasta salad. So this pasta salad is not only vegan, but also soy-free.
Salt-free / low-salt
Use vegetable broth in place of the water to save on salt. This gives you more flavor and allows you to adjust the amount of salt.
If the dressing doesn't have enough taste for you, I recommend adding a little more vinegar. Lemon can help too.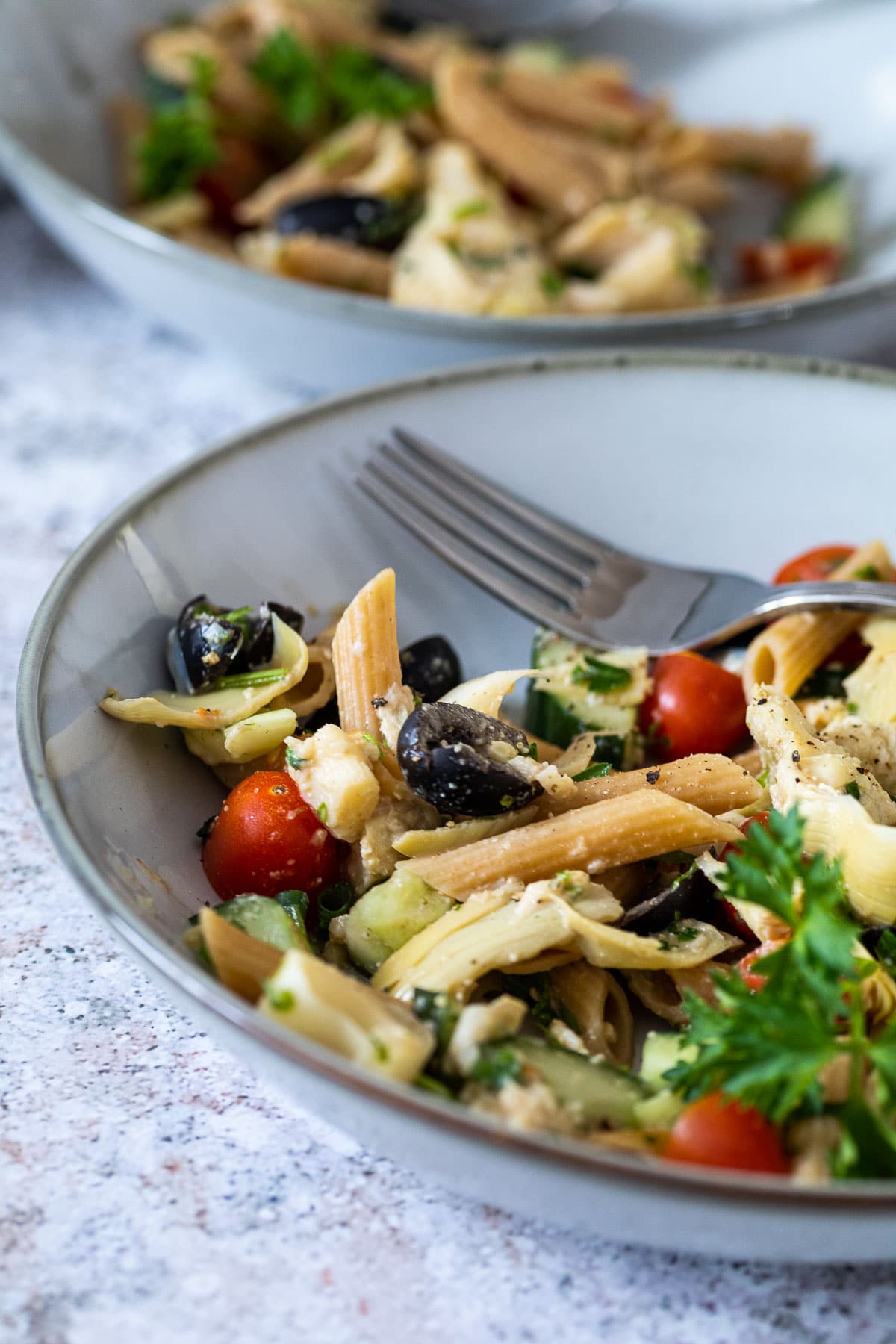 Instructions
To get started, cook your favorite pasta.
In the meantime, prepare the dressing. Put cashew nuts, water or vegetable broth, balsamic vinegar, garlic cloves, Dijon mustard, yeast flakes, garlic powder, onion powder, marjoram and oregano in a high speed mixer and mix until very creamy. Transfer the dressing to a large bowl.
Cut a can of extra large black olives in half and add to the dressing.
Take artichoke hearts and quarter them and add them too.
Dice the palm hearts and add them to the vegetables.
Halve or quarter the cherry tomatoes, dice half a cucumber and add both to the bowl.
Chop fresh parsley and add to the vegetables. Chop 2 spring onions and add to the bowl.
Add the cooked noodles and mix the noodles with the dressing until everything is covered with the dressing.
Prepare in advance
The pasta salad is ideal for preparing in advance. Whether for lunch as a meal prep or for a picnic or for the next potluck where you bring something to eat.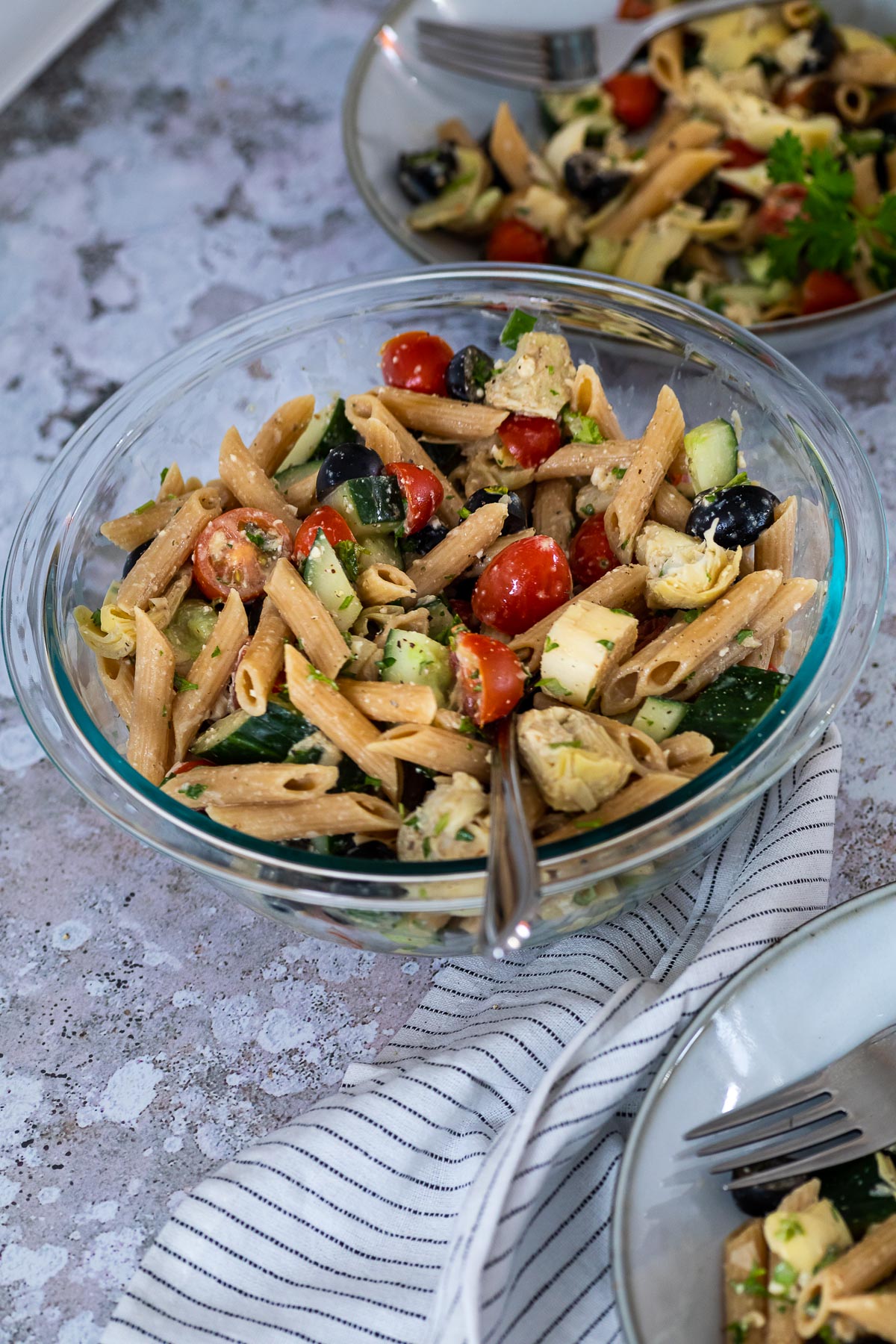 Recommended Equipment
For this pasta salad you will need a large bowl, knife, board, high speed blender.
Serving Options
You can enjoy this artichoke pasta salad as a complete meal, whether for lunch at work or for dinner.
You can also serve other salads with it like
Green Salad
You can also serve a baguette with the salad.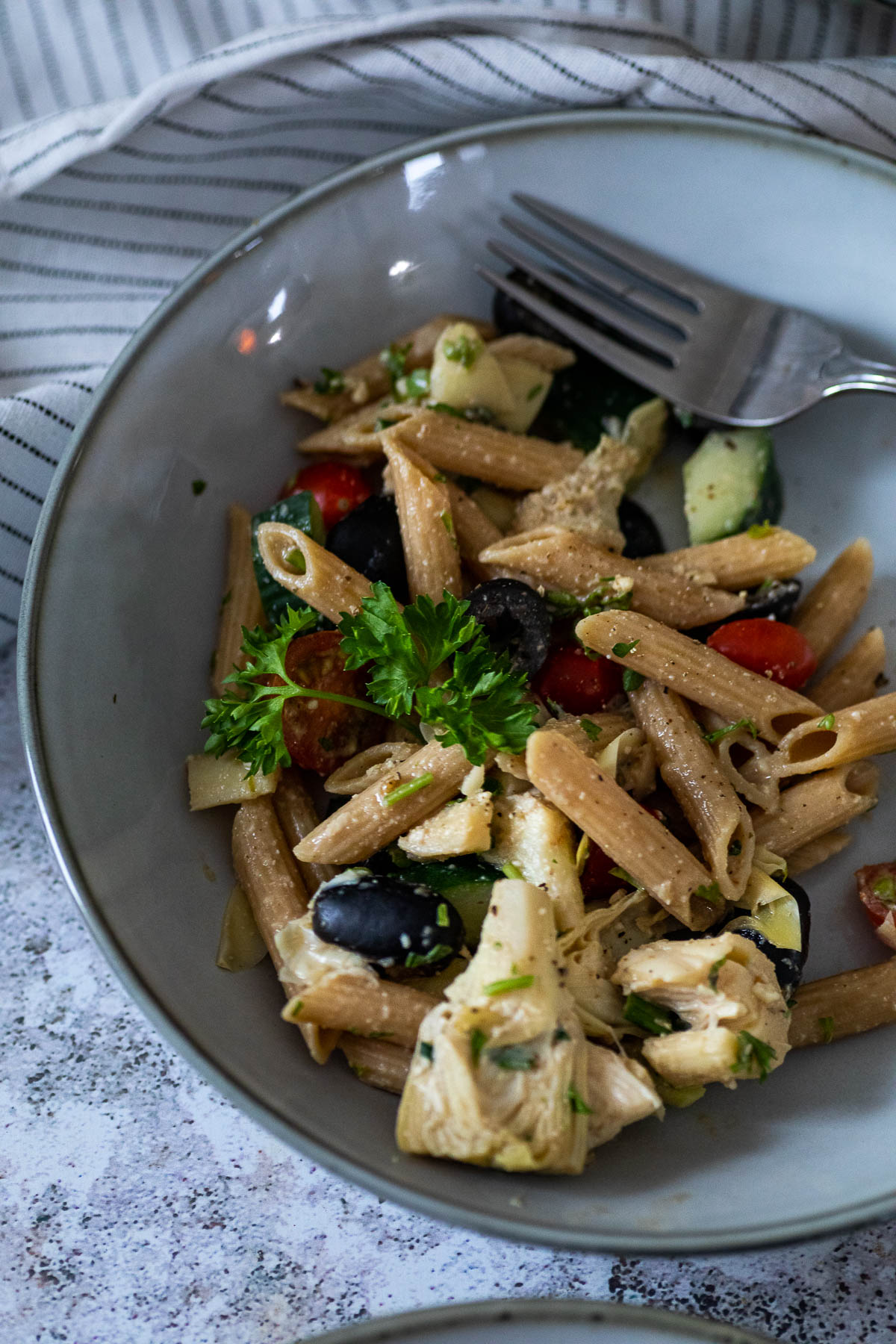 Storage
Now let's take a look at how you can store leftovers.
How to refrigerate it?
In an airtight container the pasta salad lasts for approx. 5 days. To do this, store the salad in the refrigerator.
How to freeze it?
I haven't frozen it yet. Since we use cucumber and artichokes, I doubt this will freeze well.
However, you can prepare the dressing in larger quantities and then freeze it.
Tips
Make more or save some of the dressing.
Especially if you prepare the salad in advance, the pasta will soak up the dressing and then the pasta salad could get a little dry.
That's why I like to have a little more dressing, which I add again shortly before serving.
More Vegan Recipes
Cucumber Salad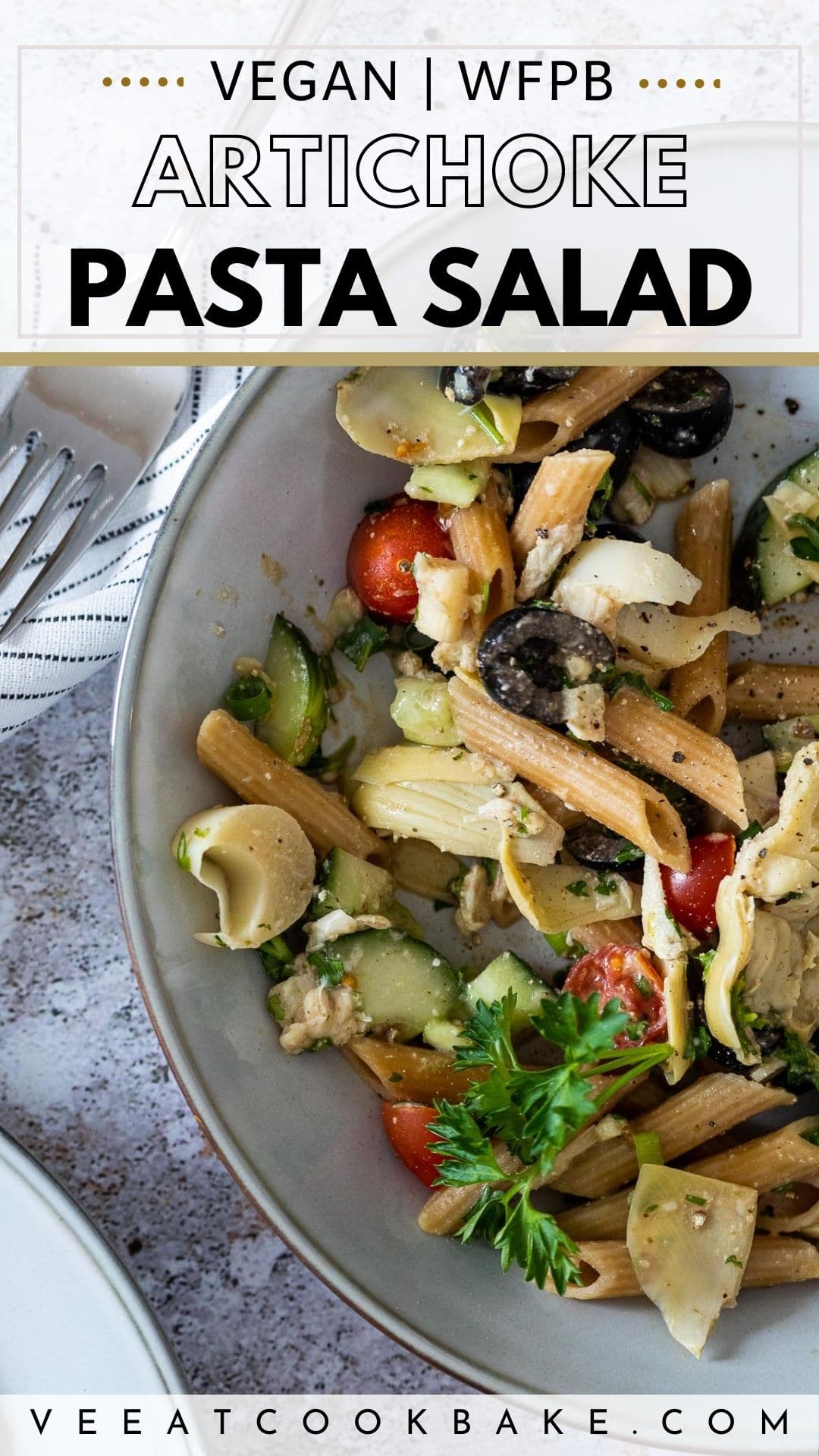 Have you tred the recip
If you tried the vegan Recipebe so nice ♥ and let me knw byrating the recipe and writing what you think about it in the comments.  I would love to see your photo on Instagram orFacebook. To do this tag me with @veeatcookbake andmy hashtag is #veeatcookbake. So that I can see your creation. Did you know you can add photos n Pinterest under the recipe Pin? I can't wait to see a photo of your creation here. You find me with @veeatcookbake