Grab a plate and pack it full of these delicious, aromatic vegan Sloppy Joe's made with tasty, healthy black lentils, crunchy walnuts and hearty mushrooms, green peppers, and onions mixed in a perfect easy tasting homemade tomato sauce without ketchup bur rather with tomato passata, smoky spices, Chili and full of umami flavor, known from Worcester sauce, served with a classic oil-free simple coleslaw made from red cabbage, white cabbage and carrots in a light tahini lemon celery dressing. Prepared in a whole grain bun or gluten-free roll.
Vegan | vegetarian | milk-free | refined sugar free | gluten free | egg free | oil-free

Why not just use lentils in this vegan Sloppy Joe as in other vegan recipes?
I just love mixing different ingredients to create a true taste experience. Usually Sloppy Joe's are made with grounded meat and a full-sugar BBQ sauce. As a grounded meat substitute, I like to use black Beluga lentils, mushrooms and walnuts to make a mass with a bite like these vegan Sloppy Joe's. Black lentils taste heartier than the green lentils. But you can also use the common plate lentils, if you have no others at home.
How do you make a healthy Sloppy Joe's?
As you've probably heard, I love adding vegetables to classic dishes, whether as a side dish or like in the vegan Sloppy Joe's, integrated into the dish. Here in the US many eat Sloppy Joe's with the famous coleslaw. The classic Coleslaw is prepared with a high-fat mayonnaise here I have a healthier alternative without oil for you with the delicious Tahini.
Quick tip to make your vegan Sloppy Joe's even faster
You can boil the lentils in larger portions and then freeze them in portions. So you always have something ready, if it needs to go fast. Or you can soften the lentils overnight. This shortens the cooking time by about half.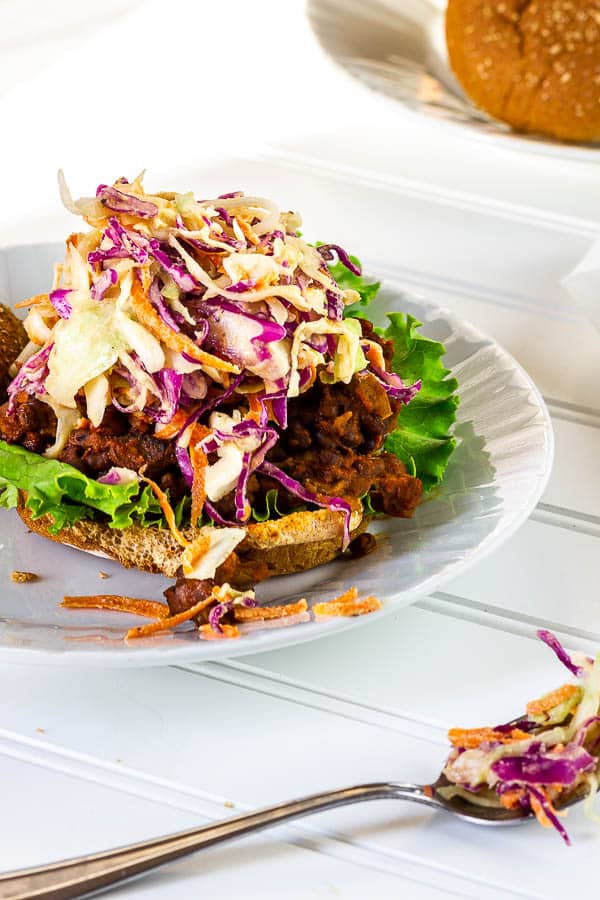 Where does the name come from?
In a cafe in Sioux City, Iowa, chef Joe added tomato sauce to his grounded meat sandwich and so the Sloppy Joe sandwich was born.
Can sloppy Joe's be frozen?
Lentils and mushrooms can be frozen well as this vegan Sloppy Joe's. To freeze it in portions and take is the evening before out. Add a fresh coleslaw and fresh rolls and you have conjured up a quick dish.
What else should I serve besides Coleslaw?
Picnic salads
Green salads
Other vegetables, e.g. oven roasted
How do I thicken Sloppy Joe's?
With simple ingredients, you can dock the vegan sloppy joe's and you've conjured up a quick meal in about 30 minutes.
You can thicken sloppy. Mix 1 tablespoon of cornstarch with 3 tablespoons of warm water and stir it under the hot Sloppy Joe's. Let it boil with constant stirring. If it is still too fluid, repeat the process.
What other recipes could I like?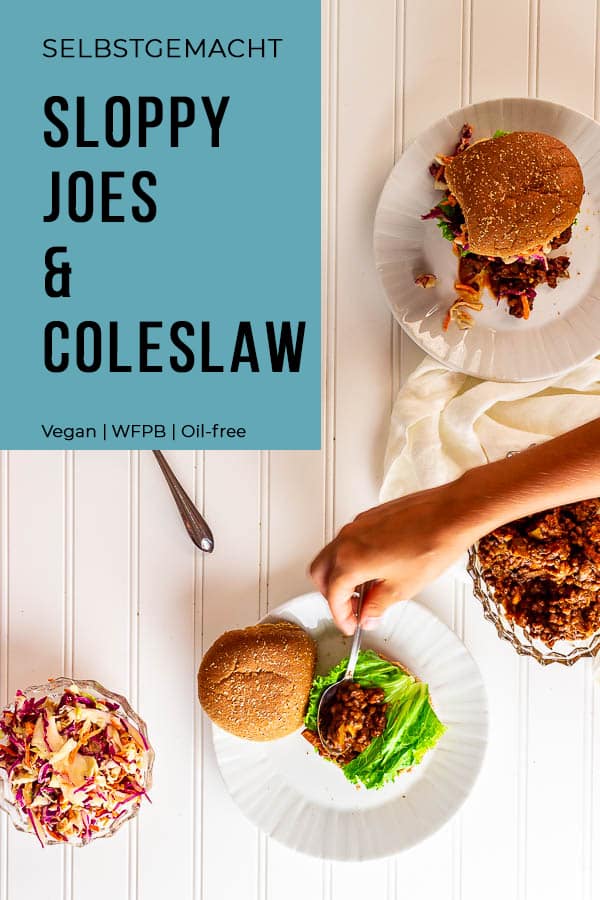 ---
Have you tried the recipe?
If you have, be so nice ♥ and let me know by rating the recipe and writing what you think about it. Tag me on Instagram or Facebook too. I am @veeatcookbake and my hashtag is #veeatcookbake. So that I can see your creation. Did you know you can add photos on Pinterest under the recipe Pin? I can't wait to see a photo of your creation there. You find me with VeeatCookBake. I will share your photos on Instagram and Facebook.
---
---
---