Vegan Black Bean Burger - you do not have to miss a good veggie burger anymore?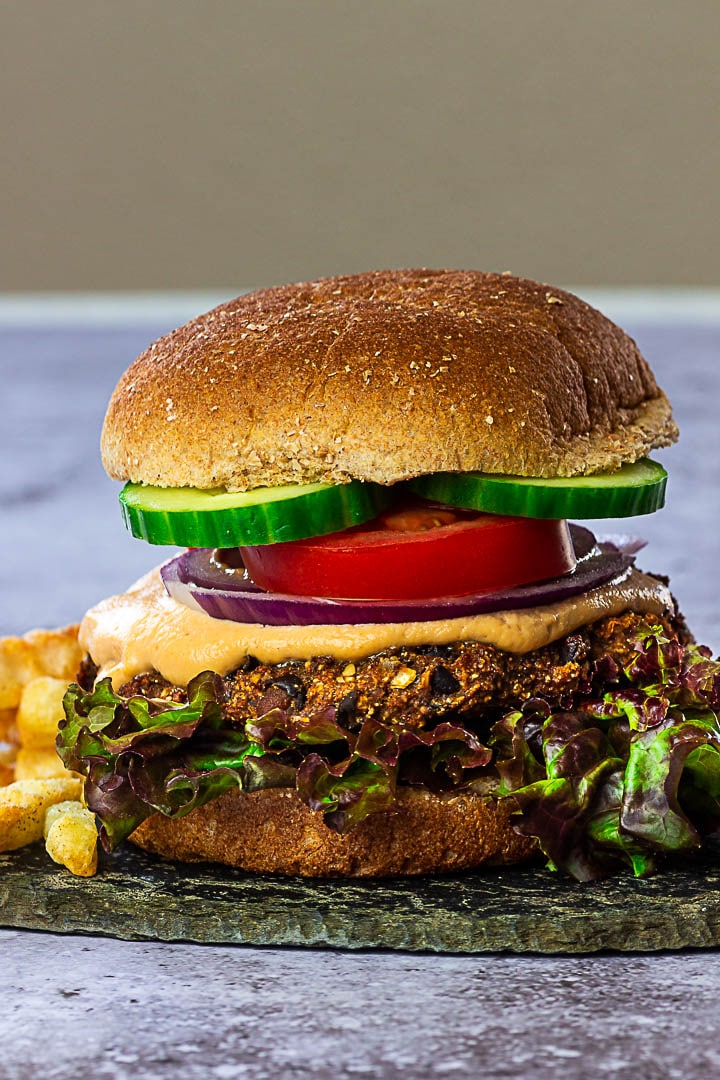 As an Amazon Associate, I earn from qualifying purchases. This post may contain affiliate links. Read More
Here I provide you with a grillable vegetarian Black Bean Burger that keeps its great shape. These easy Black Bean Patties will turn into a real taste sensation thanks to spices such as paprika, mustard, tomato paste, miso and more that will not let you miss the classic burger.
The texture of this healthy plant based bean burger is perfect, soft but not too soggy, mushy on the inside and crispy yummy outside.
It is made without oil and easily to make in gluten free. You get a whole food plant based burger recipe.
Do you sometimes crave a really good burger that does not fall apart when you lift it?
Often, if you order a veggie burger at the restaurant or you buy vegan veggie patties without an egg in the store, they will collapse when you pick them up or bite into the burger patty.
And don't you find that often the burgers are seasoned relatively bland, and they could have more taste?
So I decided to create a vegan, smoky Black Bean Burger, which convinces not just in terms of taste and consistency but that we can even throw on the grill in the summer.
Learn here how to make this flavorful oil free vegan black bean burger and get more Tips and Tricks on the way.
Jump to:
Are black beans healthy?
Black bean burgers are healthier than traditional, high-fat burgers, especially those from a restaurant. Black beans are full of fiber, vitamins, minerals and they have a much lower fat and cholesterol content than traditional meat burgers.
For example, black beans are supposed to:
Ingredients
The list may seem a bit long, but on a closer look, most of the ingredients are spices and you may, like me, already have them in your pantry at home.
These spices are essential to create a burger that tastes perfect.
Get the exact quantities in the recipe card below.
Black beans or kidney beans without liquid
onion
cloves garlic
tomato pastepecans or walnuts
oat flour
ground flaxseed
soy sauce or tamari
liquid smoke or smoked paprika
dark miso paste or 1 tsp. Marmite
pepper, ground white
paprika, sweet
turmeric, ground
ginger, ground
Cayenne pepper
chipotle paprika
Dijon mustard
cumin
allspice
marjoram
Sea salt and pepper to taste
Instruction
Drain the black beans and rinse briefly. Place the black beans on a baking sheet lined with baking paper and roast briefly in the oven. Bake them for about 15 min at 212 F (100 °C).
In the meantime, cut the onion and garlic into very fine cubes, which I gladly use my little chopper for. While the beans are roasting in the oven, fry the onions and garlic briefly in a pan until golden brown.
Remove the black beans from the oven and press the finished beans with a fork roughly. We want to have some rough pieces of beans and not just puree.
Add all the remaining ingredients and knead them by hand into a homogeneous dough.
Now make 5-6 patties
You can bake the burgers in the oven, grill or fry in a pan. I roast / bake each side for about 5-10 min until they are firm enough to flip.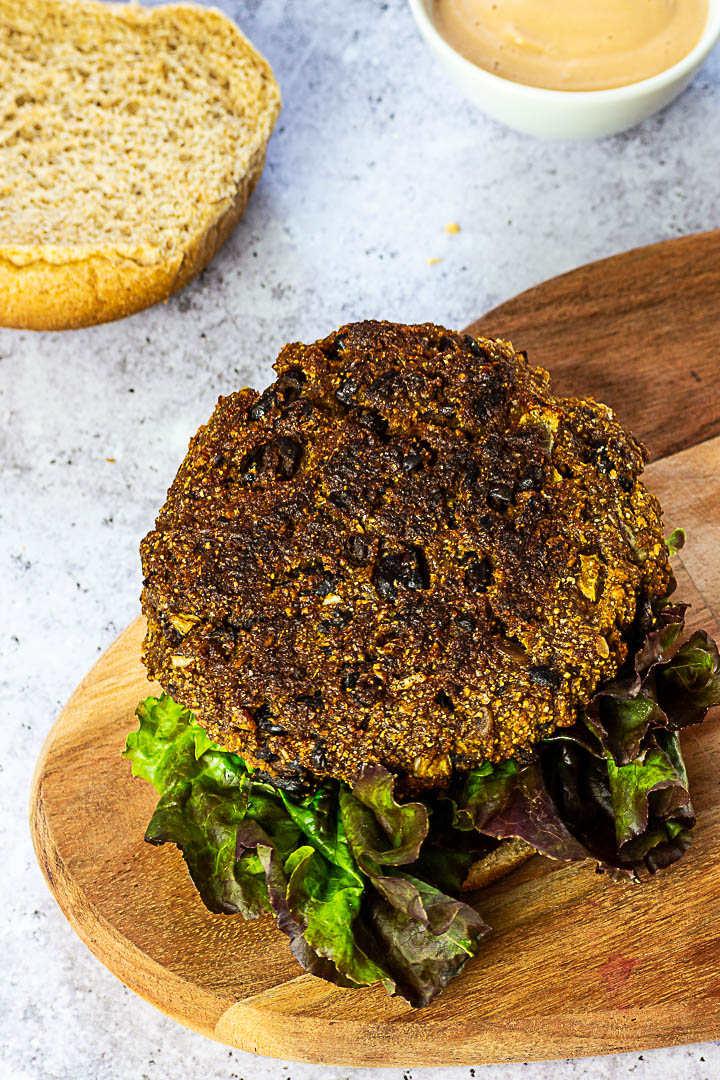 Shape and cook black bean meatballs
The size of the patties is flexible. Just make them as big or as small as you want them to be.
I like to make 5-6 burgers out of the dough or even smaller ones for parties. I like to use a ⅓ cup of my American measuring cups. I think that size is best.
You can bake or grill the burgers, further down I'll go back to the procedure.
You can also just prepare and freeze the burgers.
I bake before freezing the patties for about 5 min and then freeze them first one by one and when they are frozen, I put them in a silicon ziploc bag.The frozen burgers are perfect for baking / grilling or roasting.
How to grill vegan burgers with black beans?
If you are worried that the burgers will stick on the grill, you can pre-cook the black bean patties in the oven for about 10 minutes.
Just bake at 350° C (175° C). Put the burgers on a hot grill or pan, so the vegan patties get a crust and do not fall apart.
Just put so many burgers as fit in a pan, and that they have enough space to cook through and to flip. Roast the burgers that do not fit in the pan on the next go-around or use a second pan.
If you have the burgers on the grill, let them grill for about 5-10 minutes before you turn them.
This makes the burger firmer and easier to flip them. Please note that vegetarian burgers fall apart easier than "normal" meat burgers. Therefore, be careful when flipping them.
Use two forks or a spatula and a fork.
The burgers are ready when they are crunchy on the outside and soft on the inside.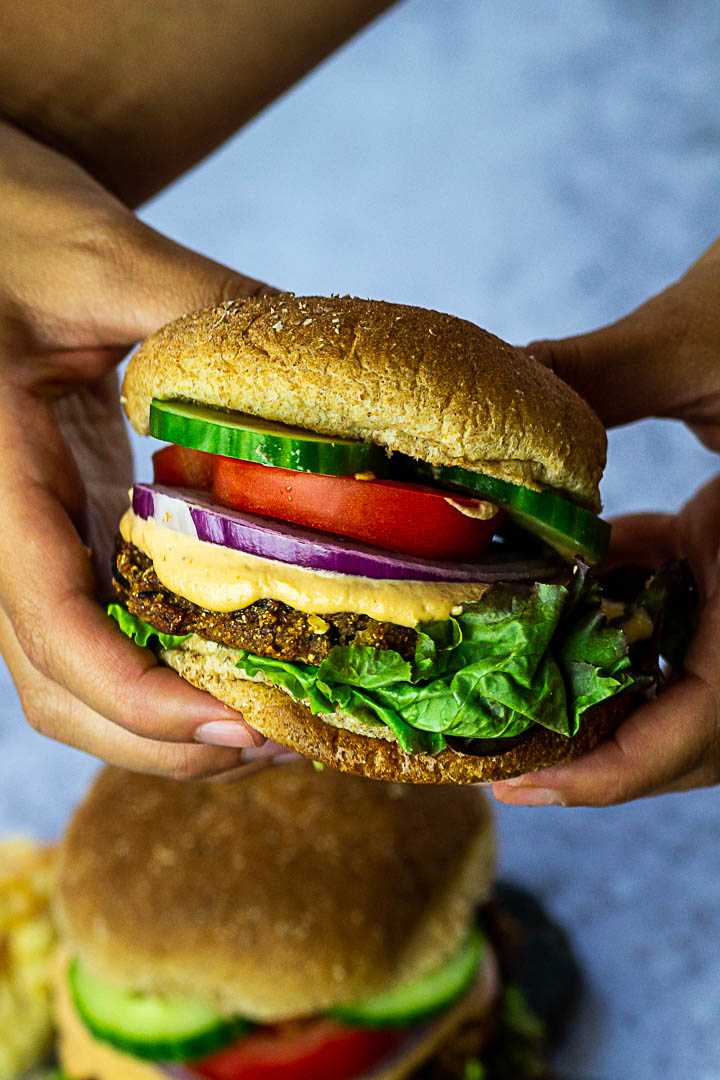 Tips to prepare the best burger with black beans
If you let the black beans dry in the oven beforehand, the black beans will not taste mushy afterwards in the burgers. This step is optional and does not have to be done.
Saute the onions in advance to get an even more intense taste. This gives the burger its unique flavor and this is the basis for the other spices.
Pay attention when pressing the beans that you do not crush all, we want rough pieces in the patties
In order to get a proper taste in a veggie burger, we need spices. Spices are the nuts and bolts to flavor a dish.
If you put the burger patties in the freezer for about 30 minutes before frying, then they keep their shape better when roasting or frying.
Let the black bean burgers first simmer for about 5 minutes on one side before you flip the burger, so it holds its shape better.
Depending on how well you drain the beans, you will need more or less oat flour. Slowly add the oat flour when mixing.
The burger should be a bit damp / wet, but not too much.
If you like thicker burgers, then just prepare 4 patties instead of 6. The middle of the Black Bean Burger remains a bit soft.
I like to use two forks to flip the patties. Just see what works best for you.
Jump to:
How do we prevent black bean burgers from falling apart?
Oat Flour and pecan - grains, almond flour or other nut flours help to ensure that the patties do not fall apart.
Watch out for gluten-free oats if you eat gluten-free.
Tomato paste - Tomatoes are not only a natural flavor enhancer, but also help ensure that the burger patty does not fall apart.
Flaxseed or chia seeds - these seeds also help keep the burgers from falling apart while searing.
Flaxseed and chia seeds are often used as an egg substitute in vegan cuisine, and they still provide you with omega 3.
Topping Suggestions
How can I eat the black bean patties?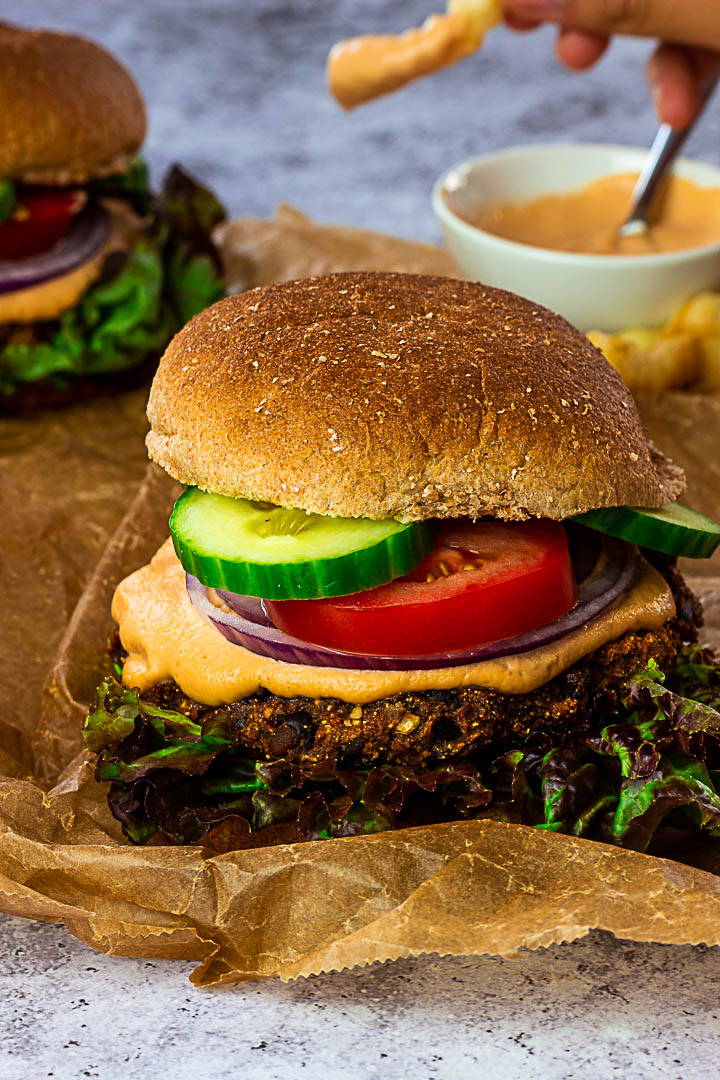 Storage
Prepare the veggie burger and store in a sealed container in the refrigerator for 4-5 days.
The patties also taste amazing cold.
If you prepare a larger quantity, you can also freeze the burgers. So you always have a delicious healthy alternative on hand.
Serving Suggestions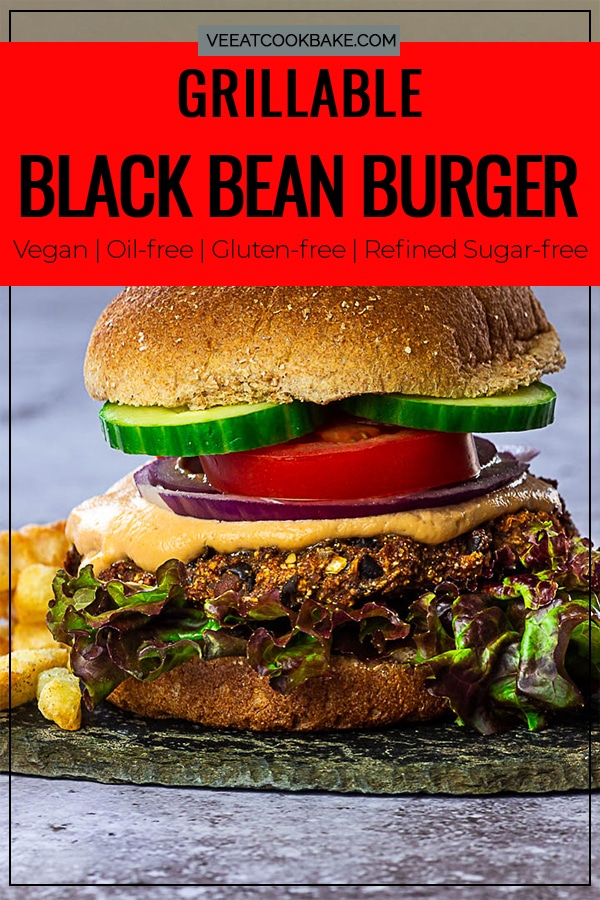 Have you tried the recip
If you tried the vegan Recipebe so nice ♥ and let me knw byrating the recipe and writing what you think about it in the comments.  I would love to see your photo on Instagram or Facebook. To do this tag me with @veeatcookbake andmy hashtag is #veeatcookbake. So that I can see your creation. Did you know you can add photos n Pinterest under the recipe Pin? I can't wait to see a photo of your creation here. You find me with @veeatcookbake

Jump to: