I'm always on the hunt for an easy, healthy vegan dressing for my green salad that doesn't taste like there's something special in it.
You know how sometimes you get this amazing flavor and then realize it's just store bought dressings? Yeah…not cool with me!
This recipe takes all of 7 ingredients (plus salt & black pepper) to make some rich creamy goodness but has no added oil (no olive oil) or whatever else so kicks up your listing game instantly - promise!!!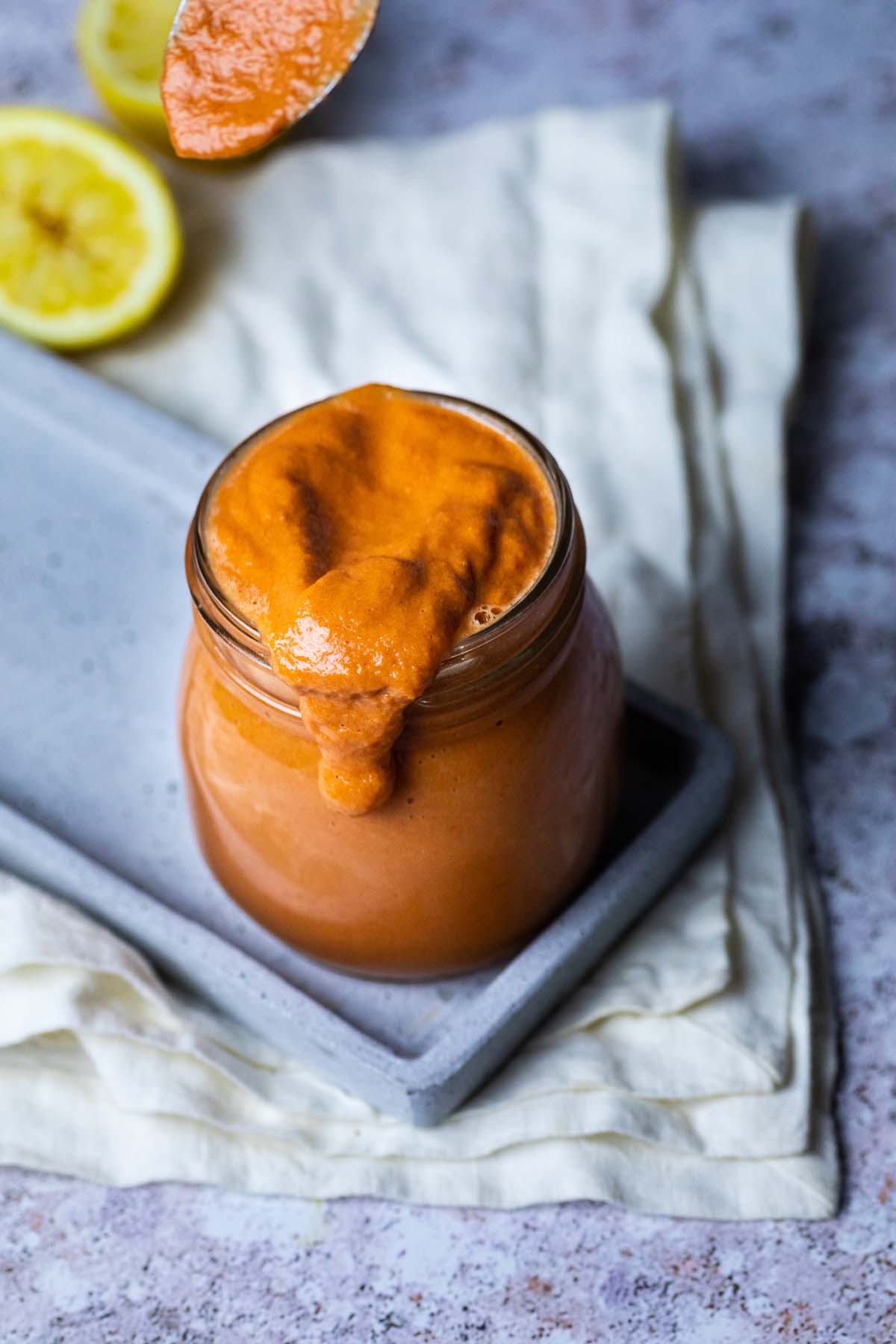 As an Amazon Associate, I earn from qualifying purchases. This post may contain affiliate links. Read More
Jump to:
And if you are looking for a new way to spice up your salad game, then this French dressing is exactly what the doctor ordered.
This healthy twist on an old classic will have even veteran appetites coming back again and again!
With perfectly seasoned umami notes that hook with each bite; it's thick enough so as not water down anything else in their dish (or yours), but light enough not overwhelm them either—making every ingredient count without weighing down their taste buds or feeling heavy after eating one serving like some dressings can sometimes do.
I've always loved a good salad bowl with a lot of veggies and a good salad dressing. And now we need some good oil-free salad dressings. A salad stands or falls with the dressing, and this French Dressing is mouthwatering.
It makes also a healthy oil free condiment for dips and sandwiches. Easy recipe to prepare in advance.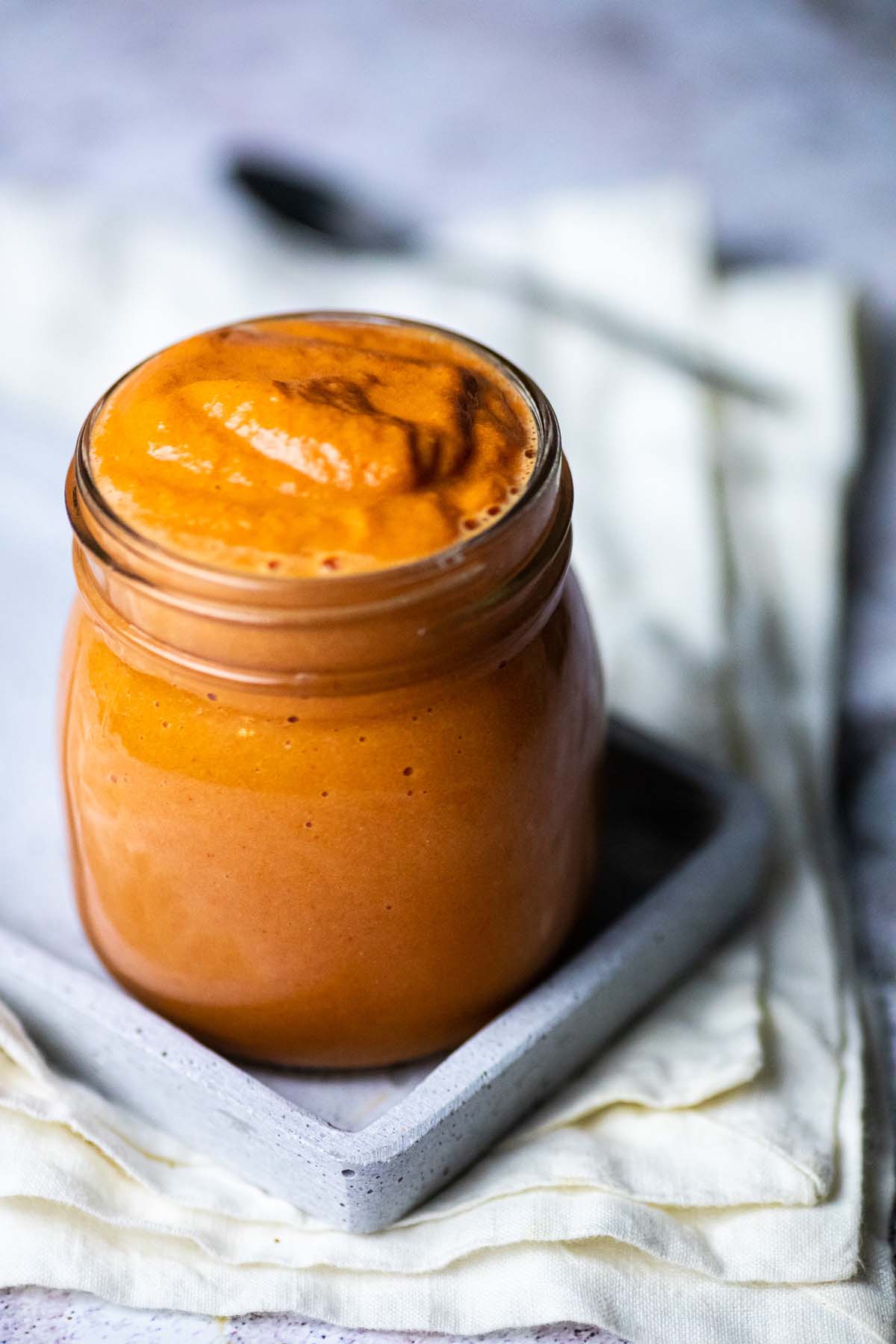 Catalina vs French
What makes one dressing different from the next? The answer is simple: flavor. French and Catalina dressing both use red wine vinegar, but in different amounts to give them their distinct tastes;
for example, french tends towards being thicker with more creaminess whereas catalina relies heavily on spices such as onion powder or celery flakes (among others).
They also vary by occasion - if you're looking at recipes then chances are good your favorite will be described under "french" because that's what most people associate it with!
Why should you make your own dressing?
Often times store bought dressings are full of unhealthy ingredients including additives, artificial flavors, preservatives and high fructose corn syrup.
No need to go to the grocery store. When making the recipe yourself, it's easy to control what goes into each ingredient thanks to creativity!
This version of a tasty French Dressing uses maple syrup or date paste for a natural sweetness that won't affect blood sugar levels too much like high fructose syrup while still offering up some flavor without added sugars or calories like typical store brands do - plus you do not have canola oil or other unhealthy oil in it instead we are leaving out the oil completely.
To make it whole food plant based.
You are going to love this Healthy French Dressing Recipe. It's
very delicious
easy homemade dairy-free
tangy
creamy
rich
healthy (whole food plant based)
versatile to use.
Ingredients List
Check out these simple ingredients to make your own tasty creamy dressing!
You'll be amazed at how much healthier and delicious it can taste than the store bought kind. No need for vegan mayo.
tahini
vegetable broth
tomato paste
red wine vinegar
dijon mustard
maple syrup
soy sauce
smoked paprika
garlic powder
onion powder
Substitutions
Let us take a look how we can substitute some ingredients of this oil free French Dressing without sacrificing taste.
Tahini
If you do not have any tahini on hand, you can also use almond or cashew butter. Both are pretty neutral in taste.
You can also use raw cashews, use ⅔ tablespoon cashews for 1 tablespoon tahini.
Veggie Broth
If you do not have any veggie broth at home or don't want to open a box, then just use water instead.
Vegetable Broth adds a nice flavor, but water works well too.
Tomato Paste
Typically, you find Ketchup in French Dressing.
We are using Tomato Paste because it is healthier and not full of sugar like the Ketchup you are buying.
Red Wine Vinegar
You can use White Wine Vinegar or Apple Cider Vinegar instead.
Use what you have on hand to and a delightful zing to your dairy free French Dressing.
Maple Syrup
You can use either way Date Sugar or Date Paste (blended Dates) for your salad dressing.
Variations
Let us take a look at how you can adjust the recipe to accommodate certain dietary restrictions.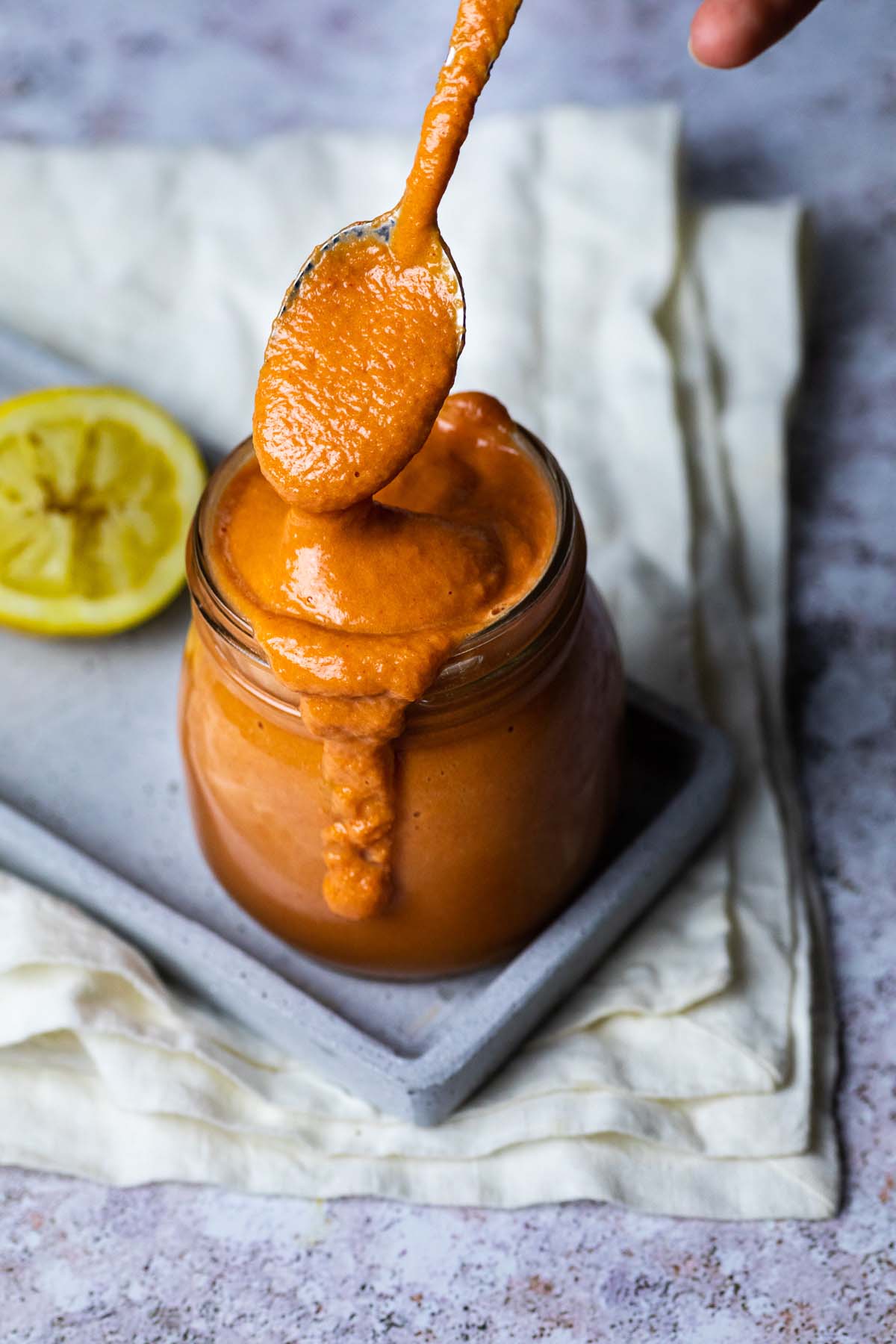 Gluten-free
In this recipe, I am using soy sauce. It is not gluten-free. But you can also use Tamari or Coconut Aminos for a gluten-free option.
Nut free
We are using Tahini to make it already nut free. No other adjustments needed.
Low Sodium
Use a low sodium vegetable broth. Thanks to the broth and the vinegar usually will not need to add more salt.
This recipe is already dairy free and oil free.
Instructions
This recipe is a lifesaver! It's easier, cheaper and healthier than buying it. Plus you get to make your own tasty dressing so that means no more store bought chemicals for us thank goodness!!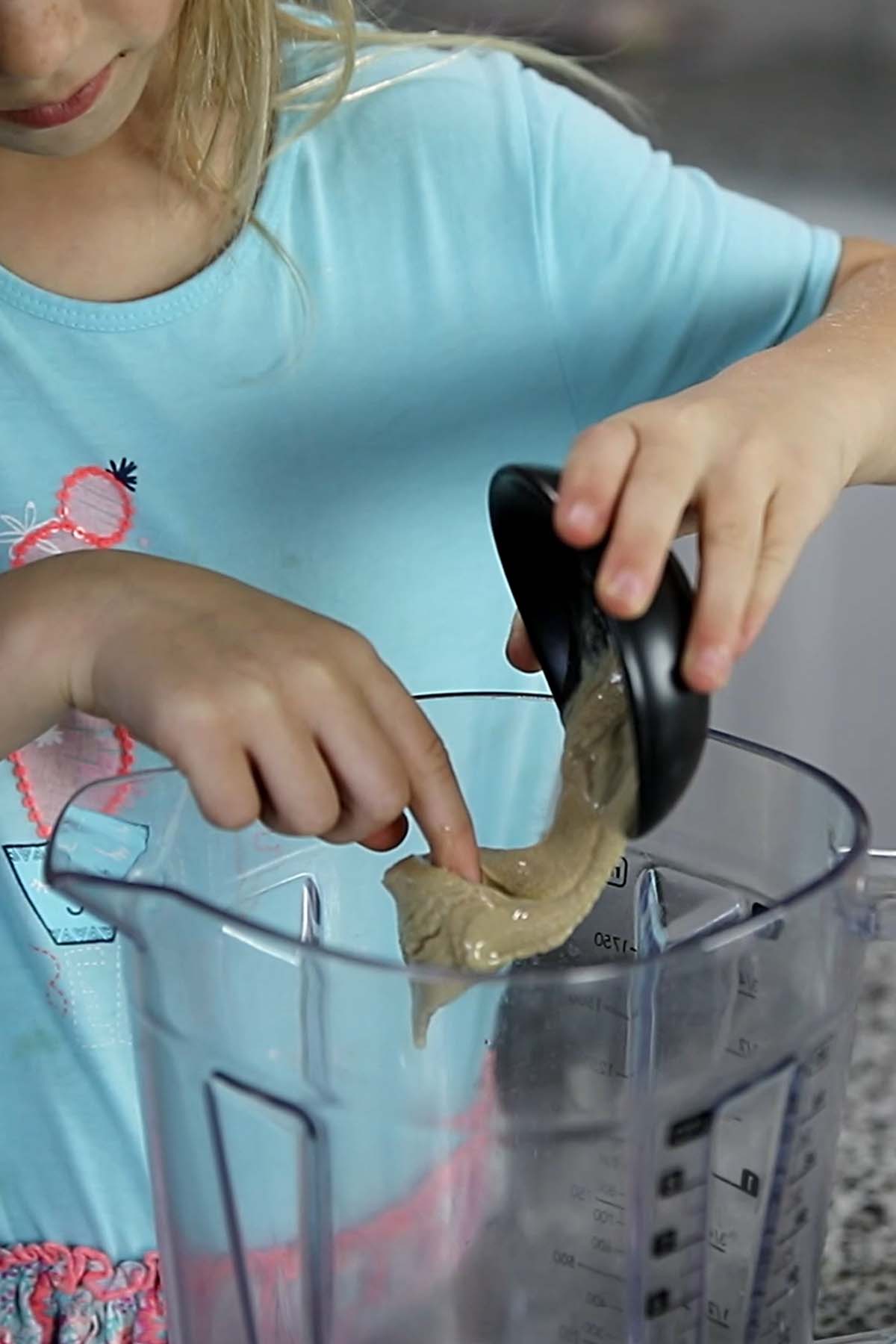 Simply place all ingredients into a high speed blender or food processor, then blend until smooth.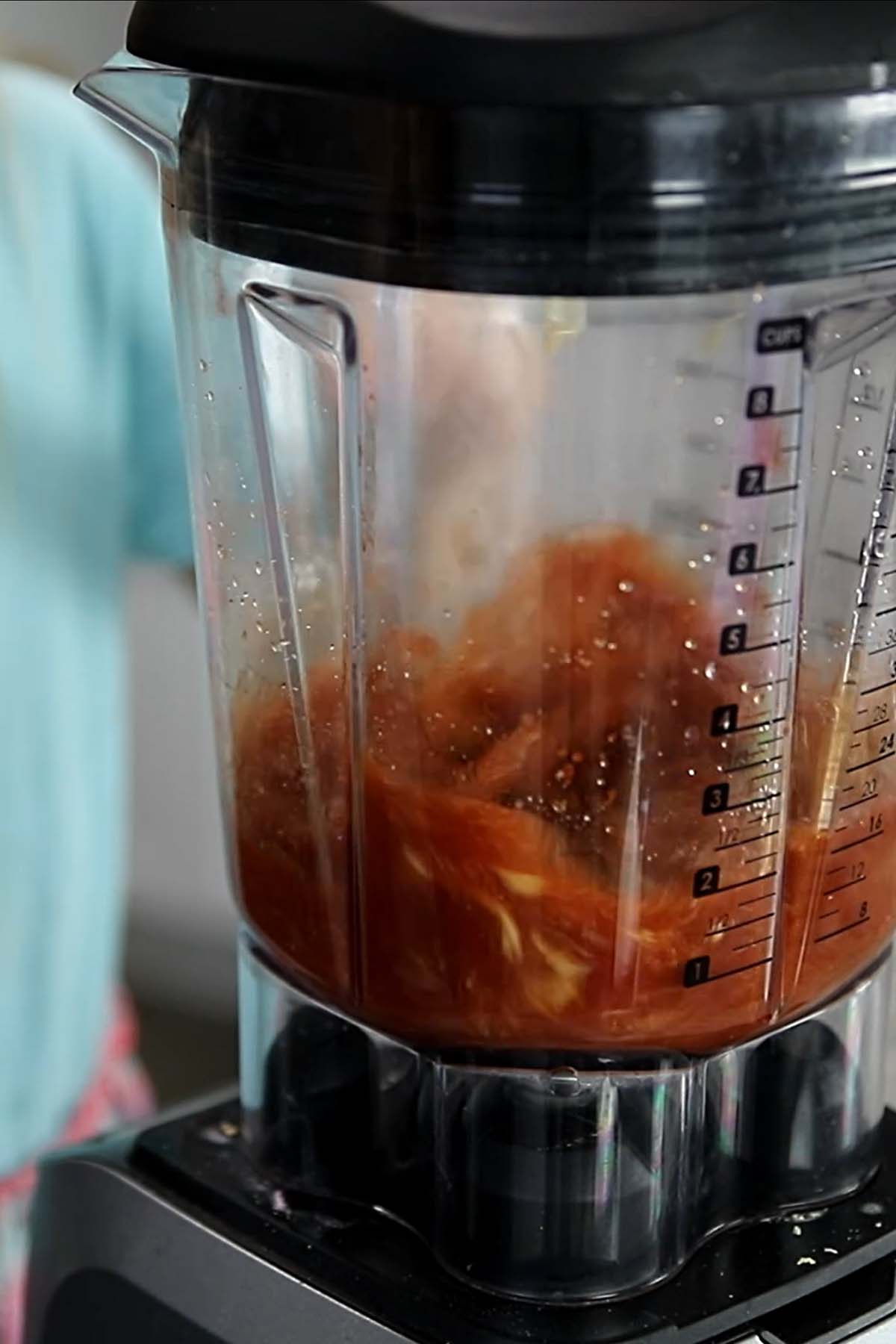 Taste test the dressing before adding additional seasonings if needed, but don't forget about those extra flavors will really add some flair when mixed together !!!
Told you it was easy. Don't be afraid to experiment with the ingredients and make them fit your taste! Want something sweeter?
Add maple syrup or vinegar until satisfied, etc...you get my drift!!
Prepare in advance
You can always prepare this oil free French Dressing in larger quantities for meal prep
Recommended equipment
I recommend using a high speed blender. You could also whisk it creamy in a bowl with a whisk and a bowl.
Serving Options
I love using this French Dressing as a Salad Dressing on a huge creamy vegan Salad Bowl with Spinach and other leafy greens You can use it on your favorite salad and also as a condiment, dip or marinade.
My favorite ways to eat this Dressing with:
Taco Salad
Pasta Salad
French Fries or Potato Wedges
Storage
How to refrigerate it?
The best thing about this vegan french dressing is that you can enjoy it up to a week after making.
All it takes are some shakes and stirs before putting back in your fridge! Leave it in a glass jar or airtight container.
How to freeze it?
You can freeze it portion-sized in ice cubes. Just thaw what you need. This way you have always a healthy prepped salad dressing on hand.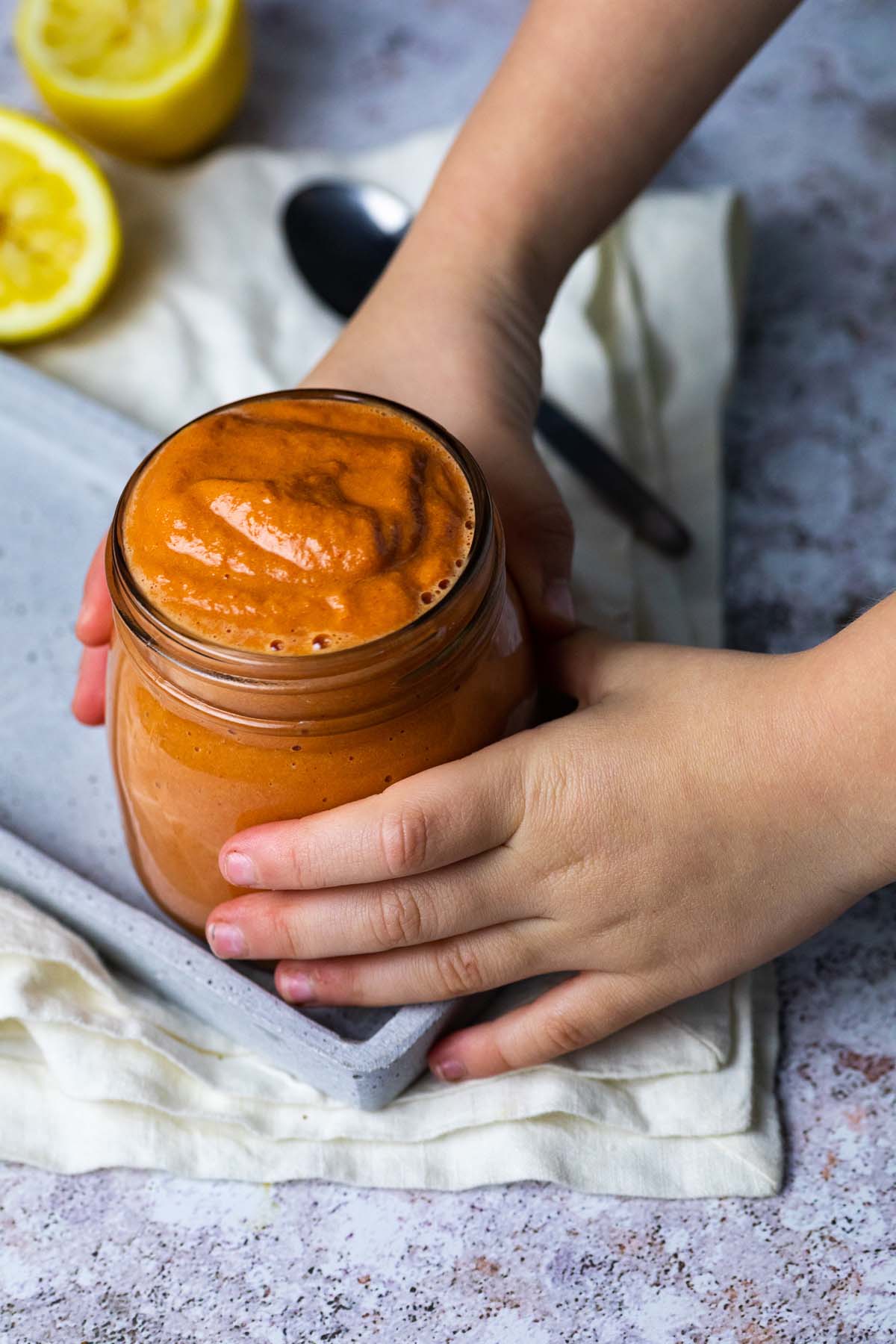 Tips
If you have homemade ketchup or store bought ketchup at home, and you want to use it. Use ½ cup ketchup and reduce the veggie broth by ½ cup.
You can completely leave out the maple syrup if you want to. I do not add it every time I make it.
Add a little bit of lemon juice to add some more zing to your dressing.
More vegan oil-free Dressings
Ranch Dressing
Tahini Red Wine Vinegar Dressing