Vegan Caesar Salad is anything but complicated to prepare and the dressing is totally addictive. We prepare the vegan caesar dressing with tahini, garlic, lemon and nutritional yeast flakes. This salad dressing is creamy, oil-free, egg-free, without anchovies and wfpb.
With fresh romaine lettuce, crispy chickpeas and homemade vegan parmesan, this salad is perfect as a lunch, picnic, light dinner or as an appetizer.
vegan | vegetarian | oil-free | sugar-free | dairy-free | egg-free | lactose-free | gluten-free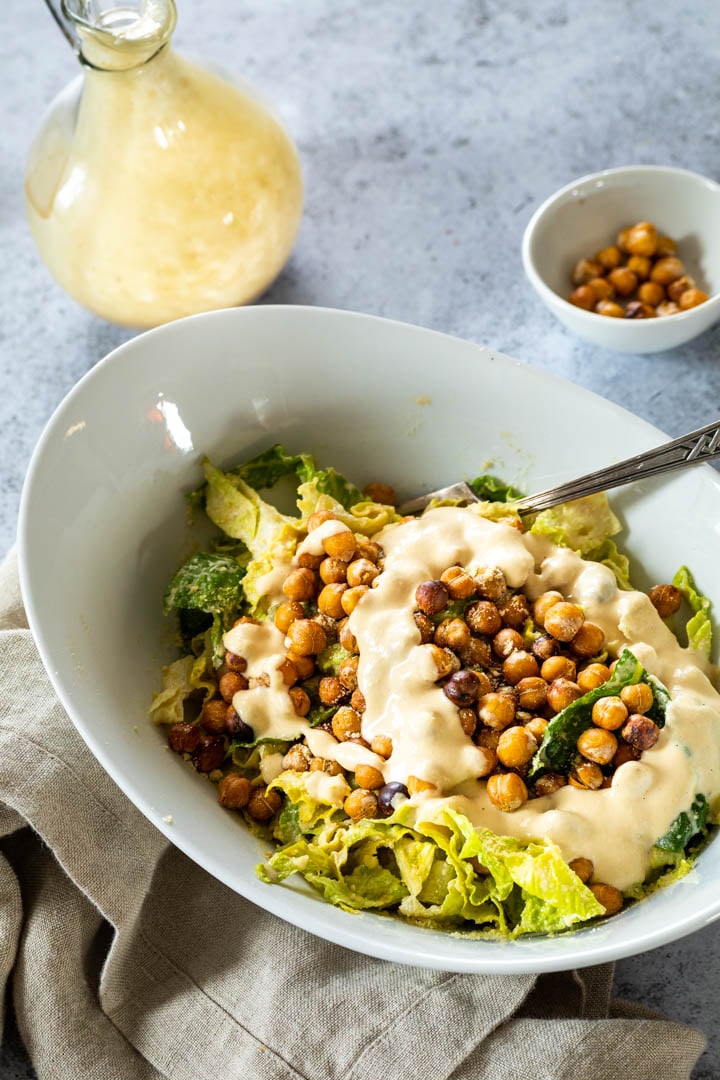 The best thing about this Caesar recipe is that you only need a few ingredients and you can find them in a well-stocked supermarket. This salad dressing is one of my favorite dressings at the moment and it tastes heavenly.
A Caesar Dressing usually contains anchovies. Even if the dressing tastes great, it used to stop me from eating a Caesar salad.
I had to try a plant-based version of the Caesar salad and I have to say that this version tastes excellent. My children love it too and usually take a second portion of the salad.
What do I need for a vegan Caesar salad?
Here is an overview of what you need, below you will find an exact list:
Lettuce e.g. romaine lettuce
Vegan parmesan
Chickpeas, cooked
Garlic
Salt
Aquafaba
Cashews
Tahini
Water
Almond milk, unsweetened
Nutritional yeast
Lemon juice
Soy sauce, tamari or coconut aminos
Dijon mustard
Garlic powder
Clove of garlic
Sea salt and pepper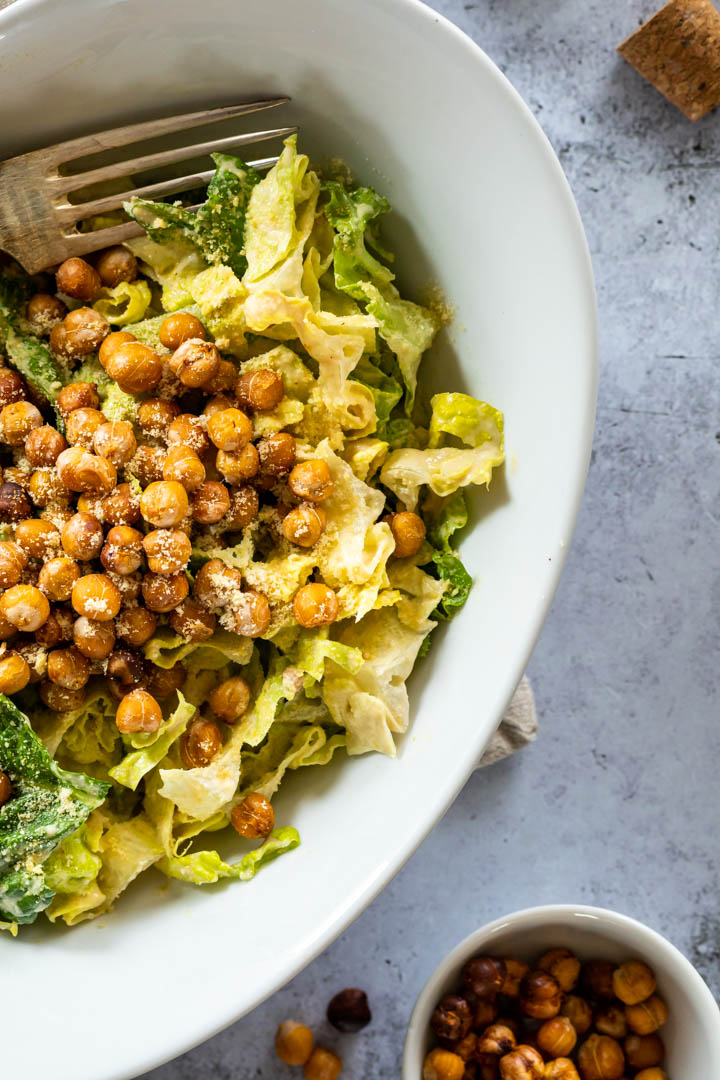 How do I prepare a vegan caesar salad?
You start soaking the cashews. Simply soak the cashews in hot water for approx. 30 min.
In the meantime, you can clean the lettuce and cut it into small pieces. Dry the chickpeas and put them in the oven for about 30 minutes at 400°F (200°C). Then mix the chickpeas with garlic, salt and Aquafaba and then bake again for about 10-20 minutes until they are crispy.
Sieve and rinse the cashews for the dressing and put them in a high speed blender with the other ingredients for the dressing. Now mix until the dressing is creamy.
Serve the salad with the crispy chickpeas "croutons", vegan parmesan and the dressing.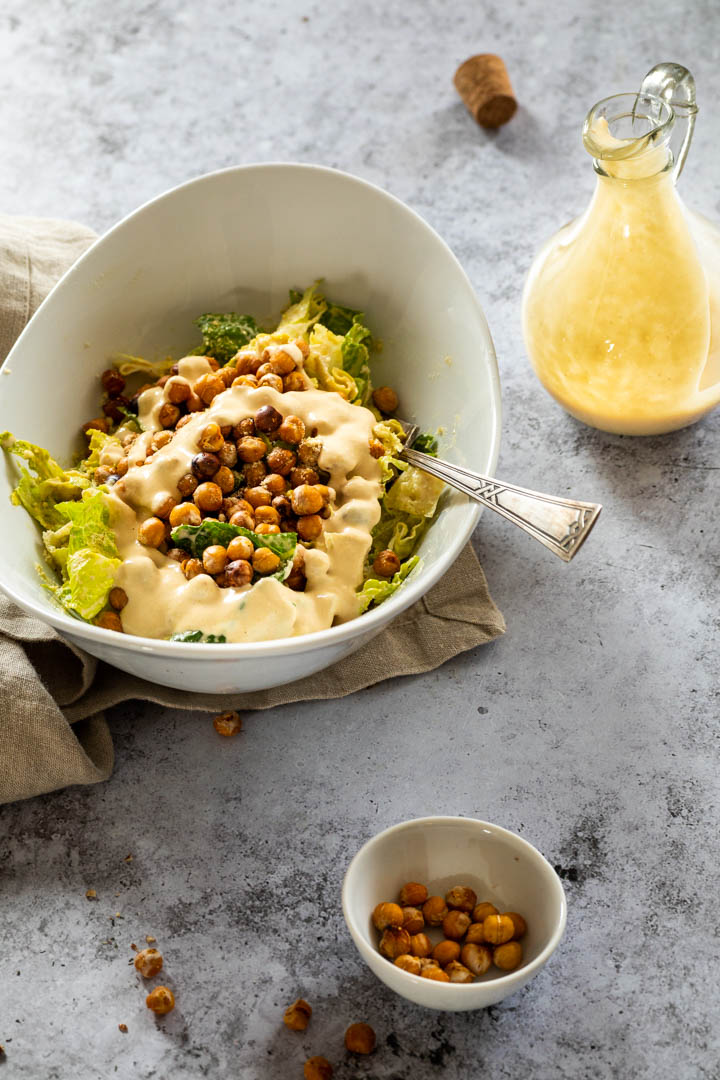 How can I prepare the vegan Caesar Dressing nut-free, without cashews?
You can also use sunflower seeds instead of cashews. Soak the sunflower seeds just like the cashews and then mix until creamy. The sunflower seeds take a little longer than the cashews, but they also become nice and creamy. Use raw sunflower seeds that are not salted or roasted.
Is the Caesar Dressing gluten free?
The Caesar Dressing is easy to prepare in gluten-free. The only thing that has gluten here is soy sauce, which you can easily replace with tamari or coconut aminos for a soy-free alternative.
Can I prepare the vegan Caesar salad in advance?
Here I can give a big fat yes. Prepare the salad dressing in advance. And you can roast the chickpeas beforehand. And then just put together and mix just before serving.
How long does the vegan Caesar salad dressing last?
The dressing lasts about 1 week in the refrigerator. You can also freeze the dressing in portions, e.g. in ice cube containers or in small mason jars.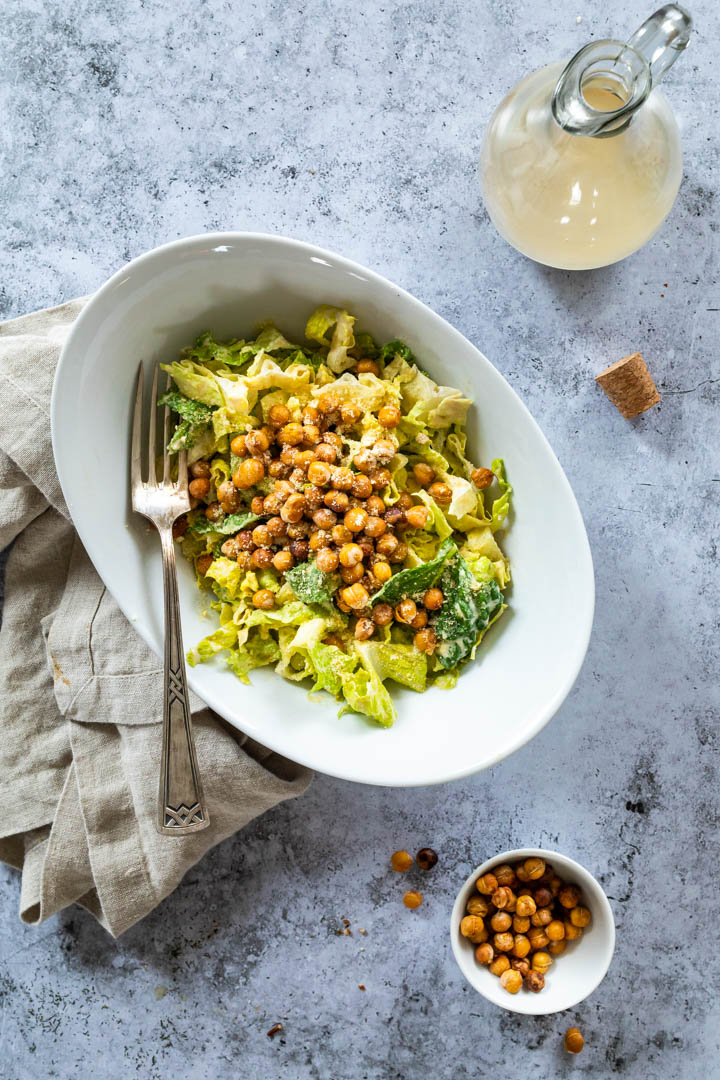 How to serve the vegan caesar dressing
Marinate tofu: simply press the tofu and marinate in the salad dressing overnight

Take the Caesar Dressing and season vegetables and potatoes with it that you want to roast in the oven.

Prepare it with a little less liquid and serve it as a dip with other vegetables or crackers.

Use it as a dressing for e.g. Pasta salad

Use the sauce as a sandwich sauce instead of tartar sauce or ranch

Prepare a chickpea salad with this dressing

Prepare these Buffalo Cauli Wings with the Caesar sauce instead of the hot Buffalo sauce.

Take my corn on the cob recipe and drizzle the dressing over it
More vegan salad recipes:
Spring salad with wild garlic crepes rolls
Do not forget to Pin on Pinterest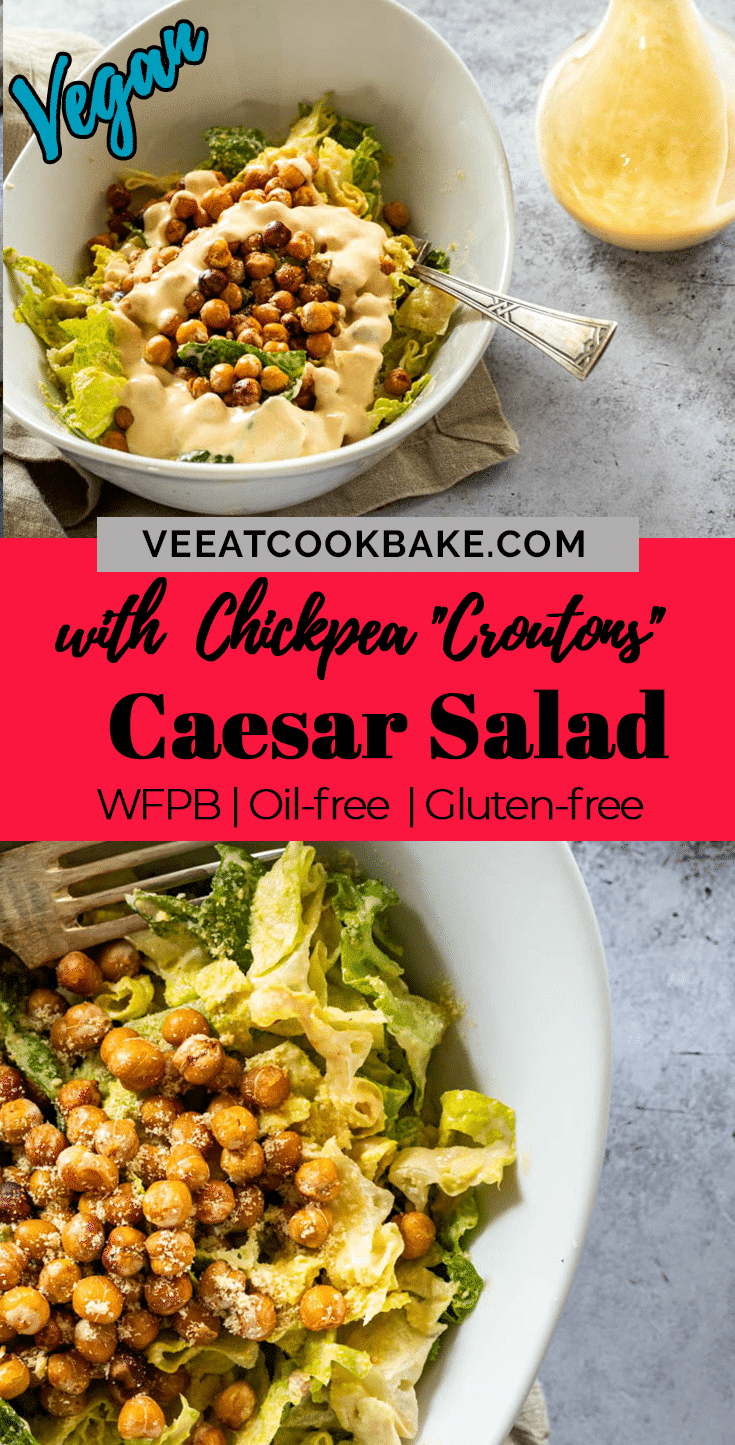 Have you tried the recipe?
If you tried the vegan Caesar Salad, be so nice ♥ and let me know by rating the recipe and writing what you think about it in the comments. Tag me on Instagram too. I am @veeatcookbake and my hashtag is #veeatcookbake. So that I can see your creation. Did you know you can add photos on Pinterest under the recipe Pin? I can't wait to see a photo of your creation there. You find me with @veeatcookbake. I also would love to hear your feedback so I can share it on my social media channels.

This post may contains affiliate links and I may receive a very small commission if you buy through these links at no extra cost. Thank you very much for supporting Ve Eat Cook Bake! More information can be found here.
---