This vegan Cobb Salad is inspired by the Traditional Cobb Salad. This delicious salad plate is served with juicy tomatoes, creamy avocado, vegan bacon, vegan chicken tofu in place of chicken and crispy chickpeas dressed in a creamy tahini red wine vinegar dressing as an alternative to a red wine vinaigrette.
This vegetable and protein-rich salad is not only ideal for lunch for work or school, but also as a light and refreshing dinner. It makes a great summer salad.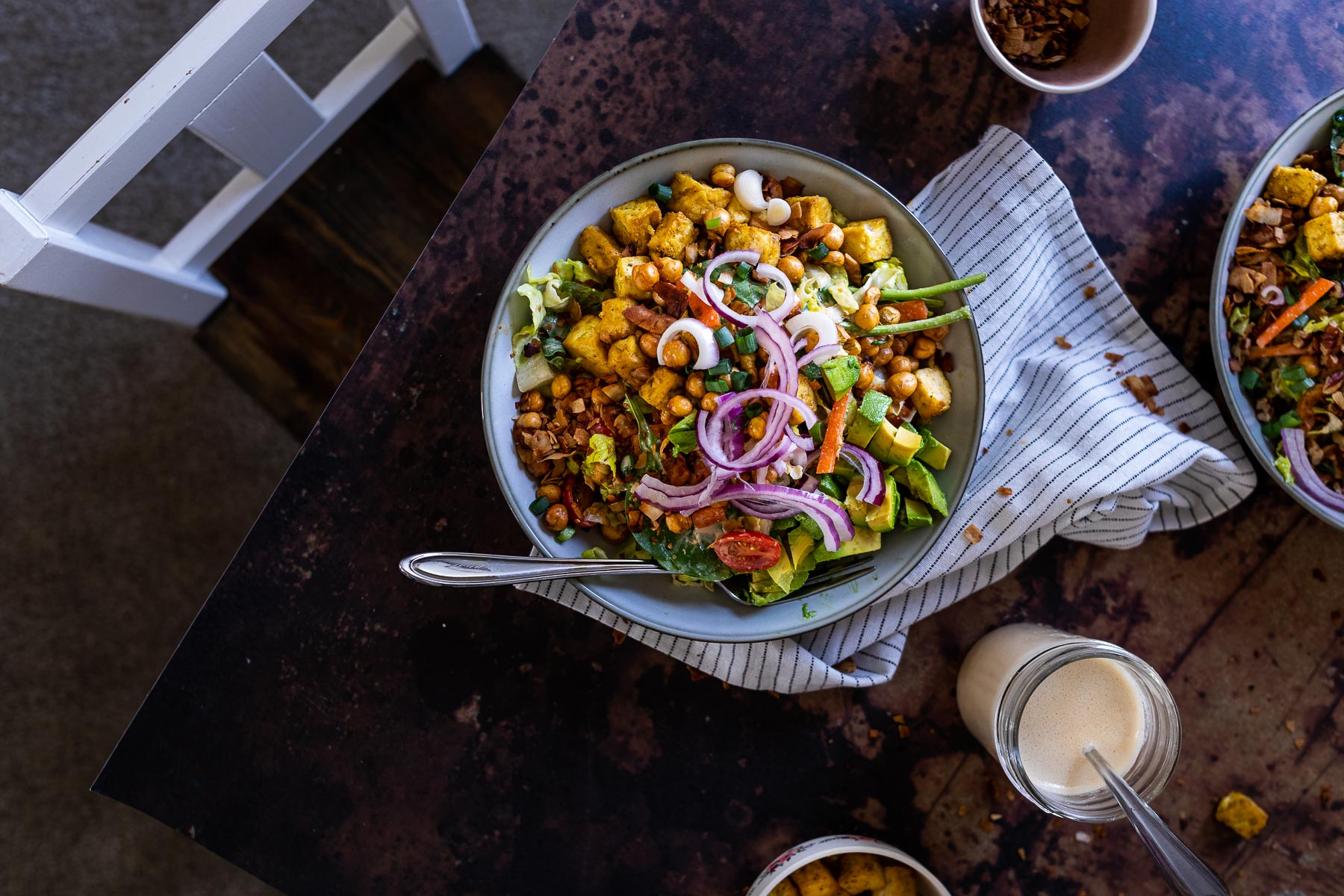 As an Amazon Associate, I earn from qualifying purchases. This post may contain affiliate links. Read More
Jump to:
I love such fully packed salad platters with so many different foods and this plant based Cobb Salad does not contain any eggs, meat or other animal products. Thanks to the oil-free creamy dressing, this salad is not only healthier but also whole food plant-based.
Here I would like to show you how to prepare the vegan Cobb Salad with tips and tricks for the best preparation.
What is Cobb Salad made of? The well known Classic Cobb Salad is made with bacon, avocado, chicken breast, tomato, egg, chives and lettuce. You'll see it is easy to make in vegan without sacrificing in taste.
Some flavors you will get here are lemon juice, liquid smoke, nutritional yeast.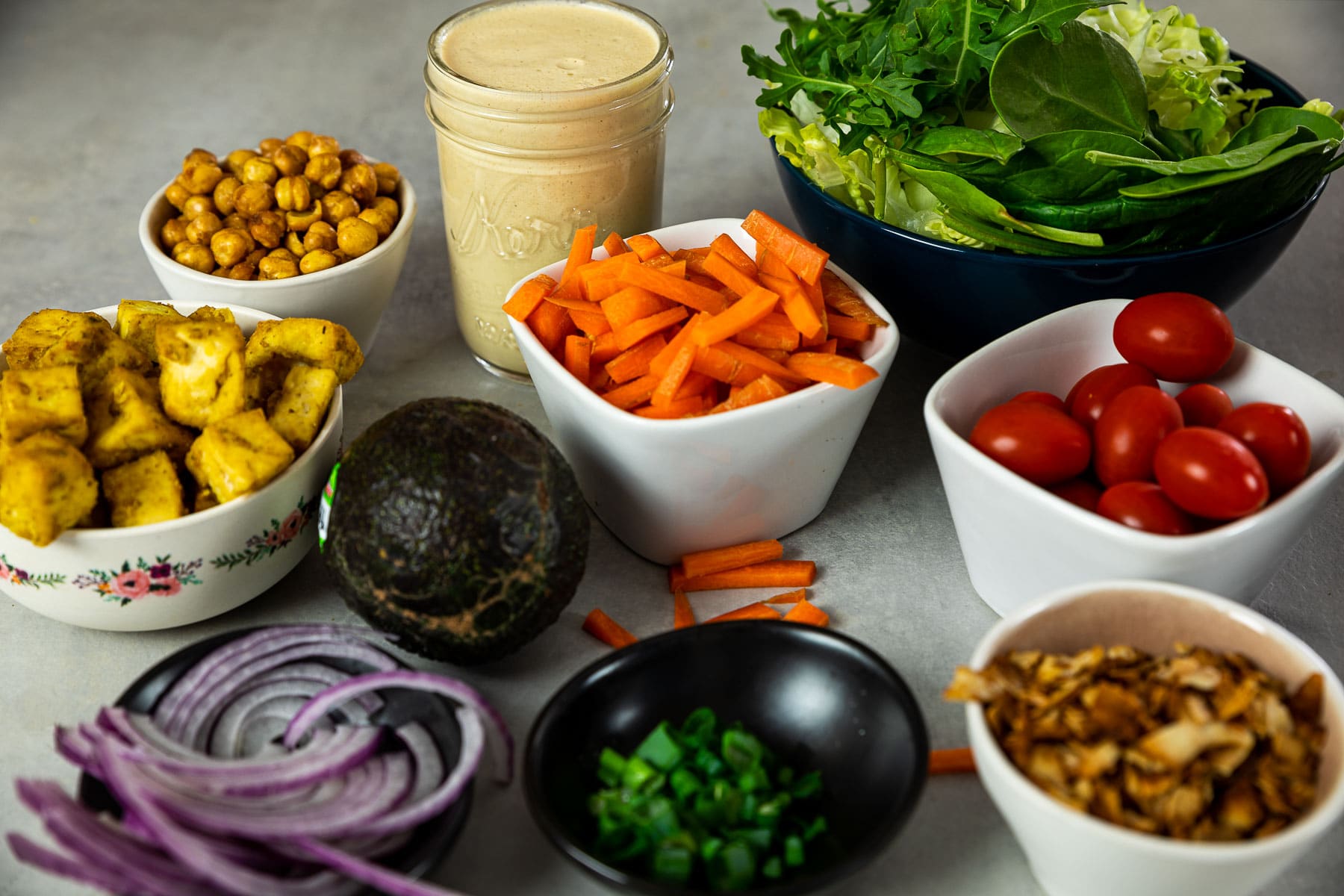 Salad Ingredients
Here is a quick list of the healthy ingredients for the vegetarian cobb salad. The detailed list with quantities is below in the recipe card.
Crisp Lettuce or Spring Mix
Whole Cherry Tomatoes
Carrots
Crunchy Chickpeas (Garbanzo Beans)
Smoky Coconut Bacon with Coconut Flakes
Walnuts
Avocado
Red Onion
Spring Onions
Tahini Red Wine and Vinegar Dressing
Substitutions
Lettuce
Here is what you have at home. From lettuce, baby kale, baby spinach, rocket and endive, there are all sorts of green leafy vegetables.
You can vary here and use what you have at home or what you plant in your garden.
Cherry Tomatoes
You can of course also use Roma tomatoes and dice them into small cubes. It is up to you which tomatoes you want to use.
Walnuts
You can also use other seeds or nuts here. For example, you can also use pecans.
Red Onion
Instead of red onions, you can also use shallots or simply use the typical yellow onion.
Spring Onions
If you don't have spring onions, you can use chives or wild garlic instead. You don't have to buy extra spring onions for this if the other products mentioned have.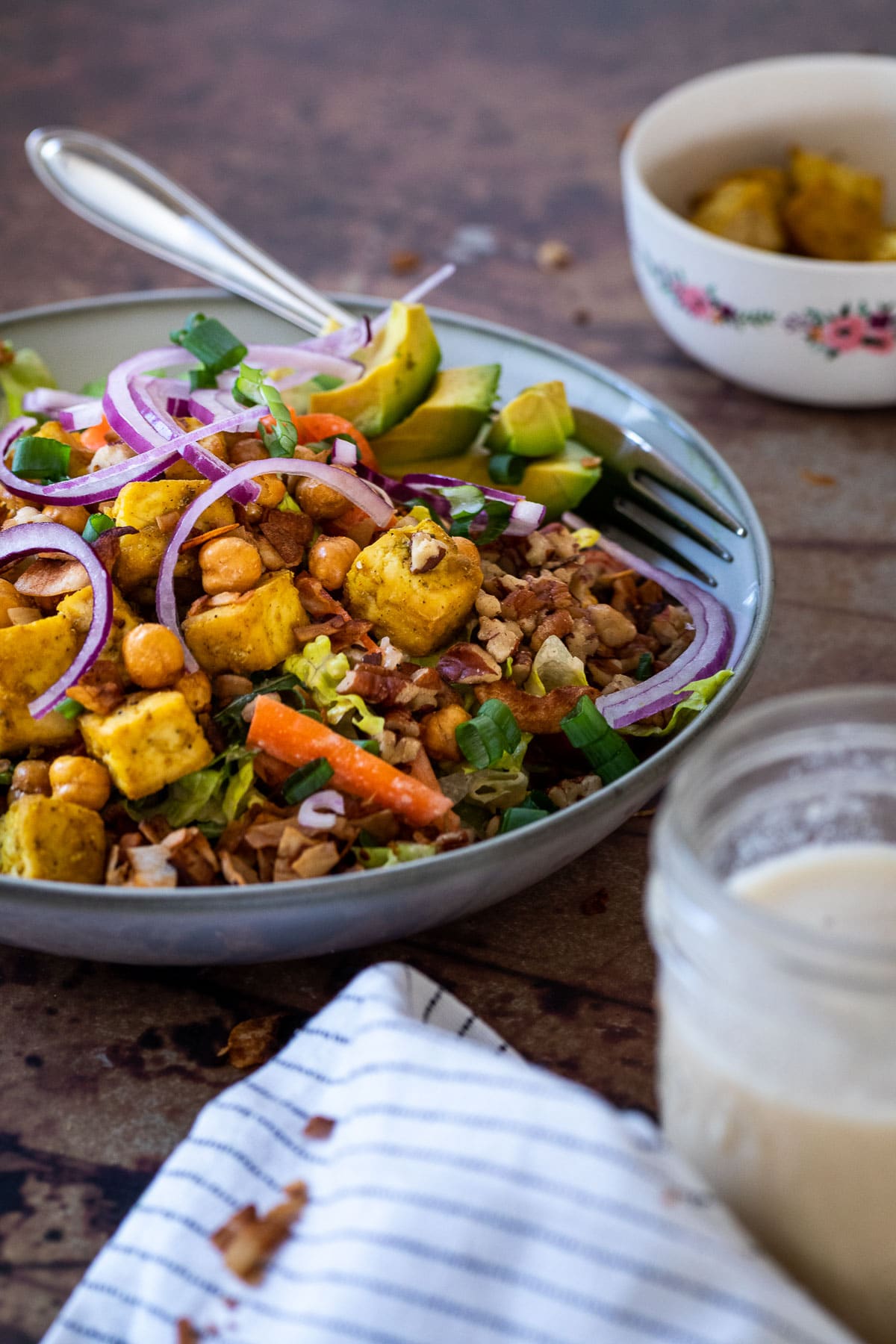 Variations
Here in this section I would like to show you how the salad adapts to the following diets.
Gluten free
Since we don't use foods that contain grains, no adjustment is required with this vegan Cobb Salad. This healthy salad plate is naturally gluten-free.
Soy free
As you can see, this salad contains tofu. You can either omit it or replace it as described in the recipe for the chicken tofu.
Nut free
You just have to replace the walnuts with seeds such as pumpkin seeds or sunflower seeds or even hemp seeds.
Instructions
Start by preparing the chicken tofu, coconut bacon, and chickpeas and salad dressing first.
Then cut your vegetables into small pieces.
Now put the lettuce like iceberg lettuce or romaine lettuce in a large bowl and the cherry tomatoes. Add the carrots and mix it with the salad dressing.
Now top the base of lettuces with the tofu, coconut bacon, chickpeas, walnuts, avocado cubes, red onion and spring onions.
Also watch my video how I make this vegan Cobb Salad.
Prepare in Advance
You can also prepare the salad in advance and put it together just before serving.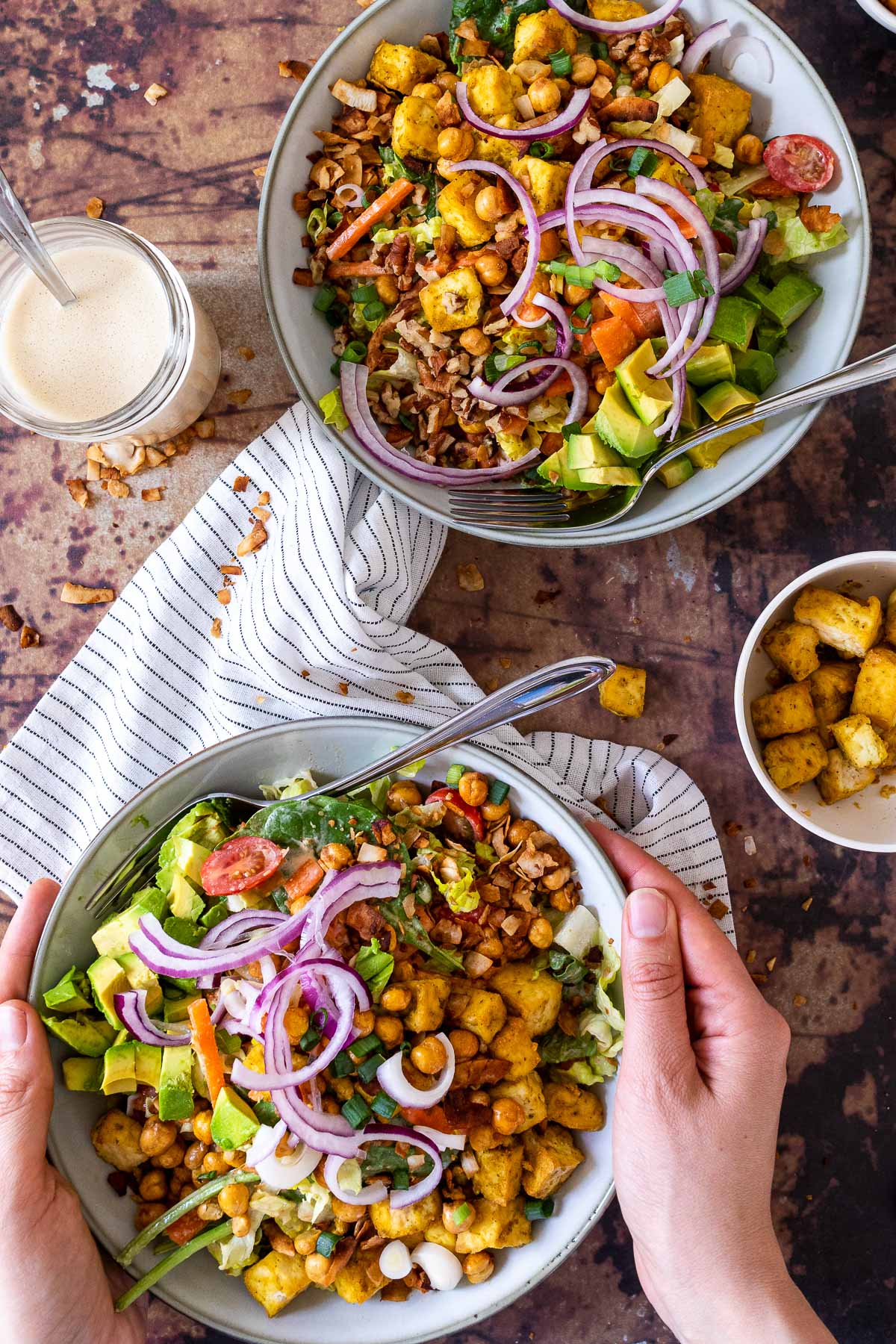 Recommended Equipment
For this recipe, you will need:
Serving Options
This Garden Salad inspired by the Cheesecake Factory Cobb Salad can be served as a main dish in a big serving bowl. If you do not want to eat a big salad you can also serve it in smaller bowls as a side or appetizer.
You can serve the following dishes with this salad:
Other Vegan Dressings to serve with this good salad:
Homemade Ranch
Balsamic Dressing
French Dressing
Storage
I recommend that you only mix as much salad as you want to eat. You can store the rest.
How to refrigerate it?
Keep the salad dressing separate from the rest of the ingredients for the vegan Cobb salad. These last in closed containers for approx. 5 days.
How to freeze it?
You can freeze the salad dressing, as well as the tofu and coconut bacon. I don't recommend freezing the rest.
Stored separately, most of it will last a long time, and you won't necessarily need to freeze it.
Tips
You can either cut the carrots into sticks with a knife and board, or you can use a julienne slicer and cut carrot sticks quickly.
I like to keep all the ingredients separately and put everything out like a salad bar, so we can put the salad together ourselves.
More Vegan Salad Recipes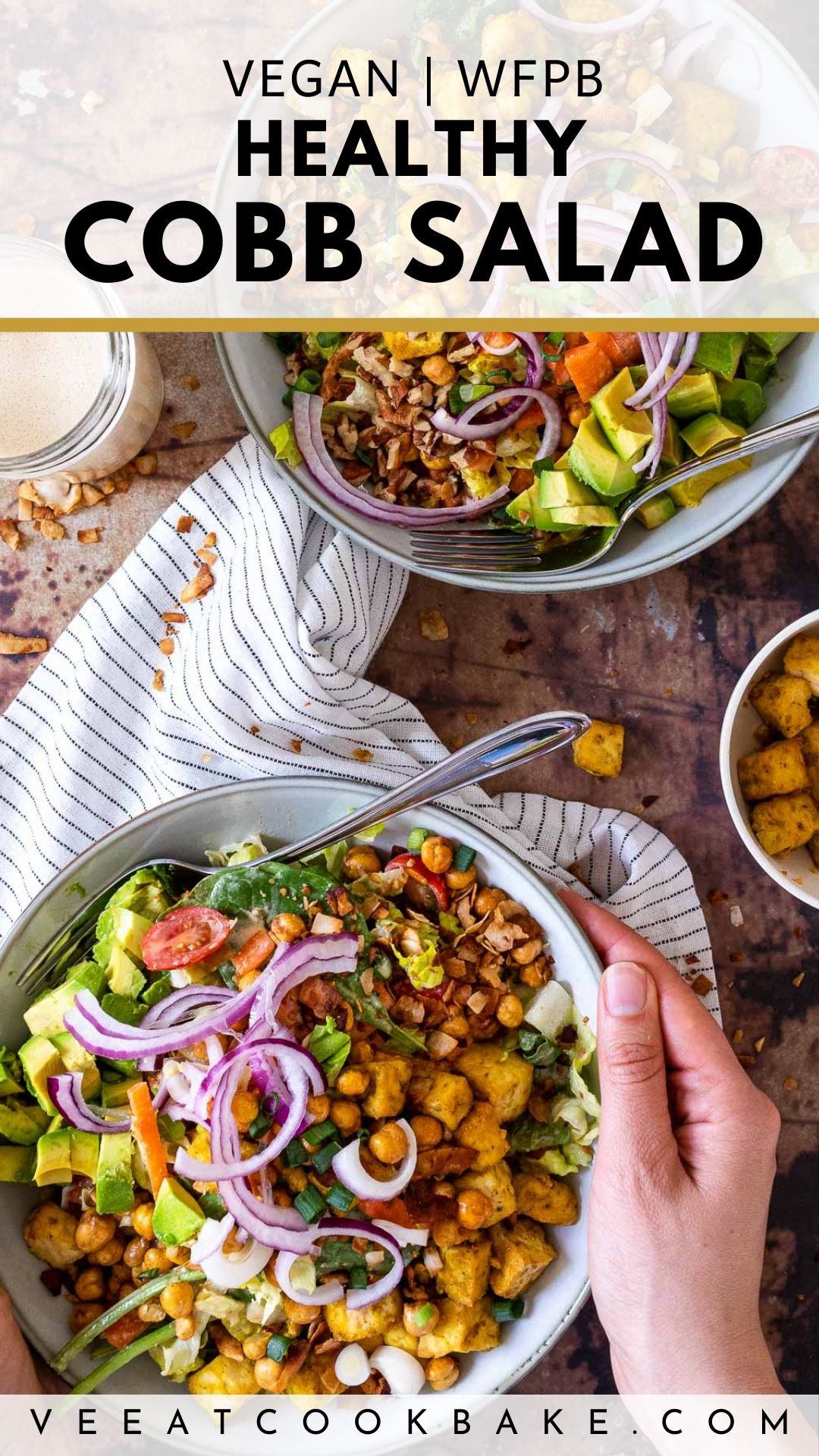 Have you tred the recip
If you tried the vegan Recipebe so nice ♥ and let me knw byrating the recipe and writing what you think about it in the comments.  I would love to see your photo on Instagram orFacebook. To do this tag me with @veeatcookbake andmy hashtag is #veeatcookbake. So that I can see your creation. Did you know you can add photos n Pinterest under the recipe Pin? I can't wait to see a photo of your creation here. You find me with @veeatcookbake