Shepherd's Pie is a ground meat casserole with a mashed potato topping. This vegan lentil Shepherds pie made from lentils, mushrooms, pecans and vegetables is covered with creamy mashed potatoes. You're making a vegetarian cottage pie as the Irish and British call it, full of flavor and nutrients. This vegan casserole will appeal to all your family and friends and is perfect as a quick midweek dinner or for special occasions like Thanksgiving or Christmas.
vegan | vegetarian | wfpb | plant-based | oil-free | sugar-free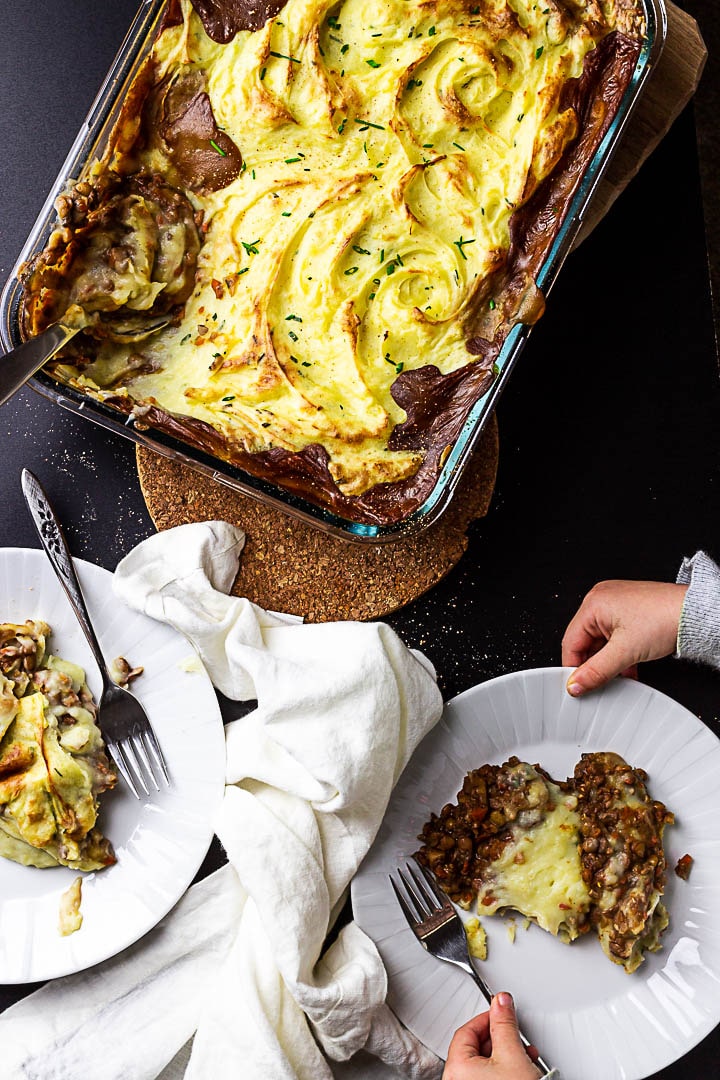 Don't you love cozy dishes like this tasty vegetable casserole that everyone will love? Thanks to the combination of mushrooms, lentils, and pecans, you do not even realize that this vegan Shepherd's Pie is made completely without animal products.
And everyone who loves mashed potatoes (I do not know anyone who does not like them) should definitely try this great dish.
I must confess, when I ate a Shepherd's Pie for the first time, I really do not know why I did not try it earlier. It tastes just perfect and is an ideal comfort food for rainy and cool days or just when you crave a good comforting meal.
What do you need to prepare a vegan Shepherd's Pie?
You do not need many ingredients. Here is a small overview for you what you need:
Mashed potatoes:
Yukon Gold Potatoes

Cashew cream (cashews and water)
Almond milk
Chives (opt)
Sea salt and nutmeg to taste
Filling:
Onion, finely diced

Cloves of garlic
Mushrooms, diced
Chopped pecans
Carrots, chopped
Celery stalks, chopped
Red wine or balsamic vinegar
Tomato paste
Whole wheat flour or spelt flour
Vegetable stock
Sage, dried
Thyme, dried
Dark miso paste (opt)
Bay leaf
Rosemary, dried
Juniper berries
Cooked lentils
Frozen peas (optional, I forgot mine)
Sea salt and pepper to taste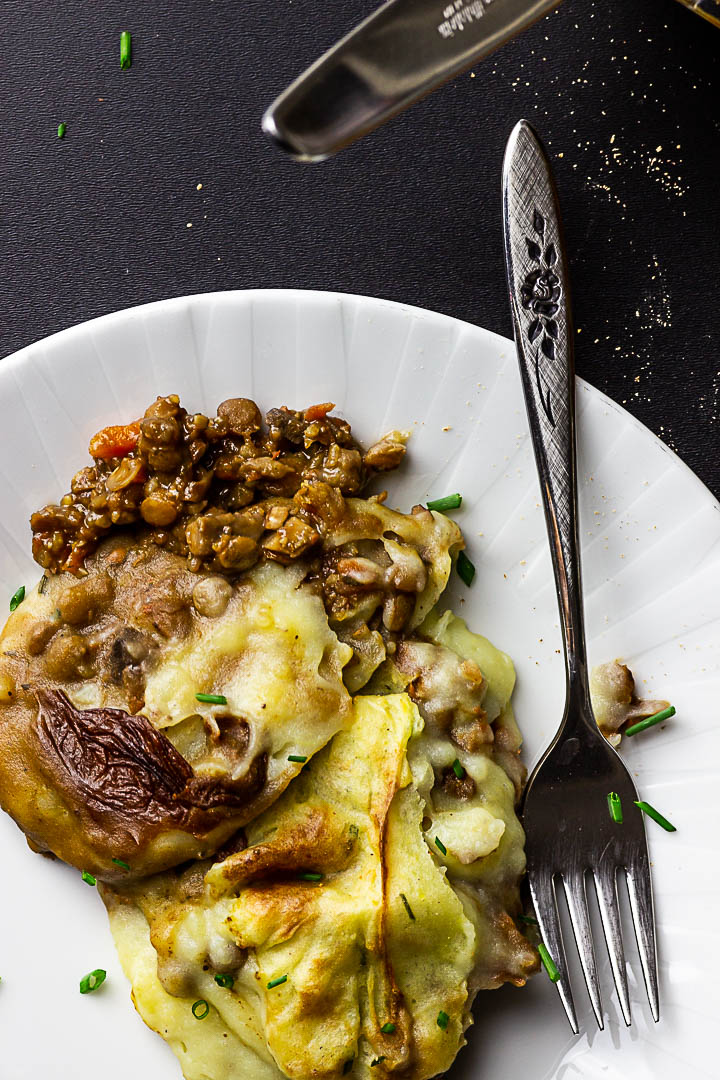 How to prepare the vegan Shepherd's Pie?
First, fry the chopped ​​onions, garlic and mushrooms in a pan with a little water. To do this, let the water evaporate completely and add some more water when the onions start browning. Do not forget to stir.
Now deglaze the mushrooms with red wine. If you do not use this, you can simply add the balsamic vinegar later.
Add the flour and tomato paste and stir well. Slowly add the vegetable broth, stirring constantly. Now you can add all the remaining ingredients except the lentils and peas. And let it simmer for about 15 minutes
In the meantime, prepare the mashed potatoes. Just cook the cut and peeled ​​potatoes in a pot with a little water (2 inch / 4cm high) with lid. Takes about 15 minutes until they are tender. When the potatoes are super soft. Strain the potatoes, add the remaining ingredients and pound them into creamy mashed potatoes. You can also use a hand mixer. Season with salt and nutmeg.
Remove bay leaf and juniper berries from the filling and add the lentils and peas. And taste good again.
Now put everything in a sufficiently large casserole dish. First the filling then the mashed potatoes and bake it in the oven to golden brown (about 25 -30 min)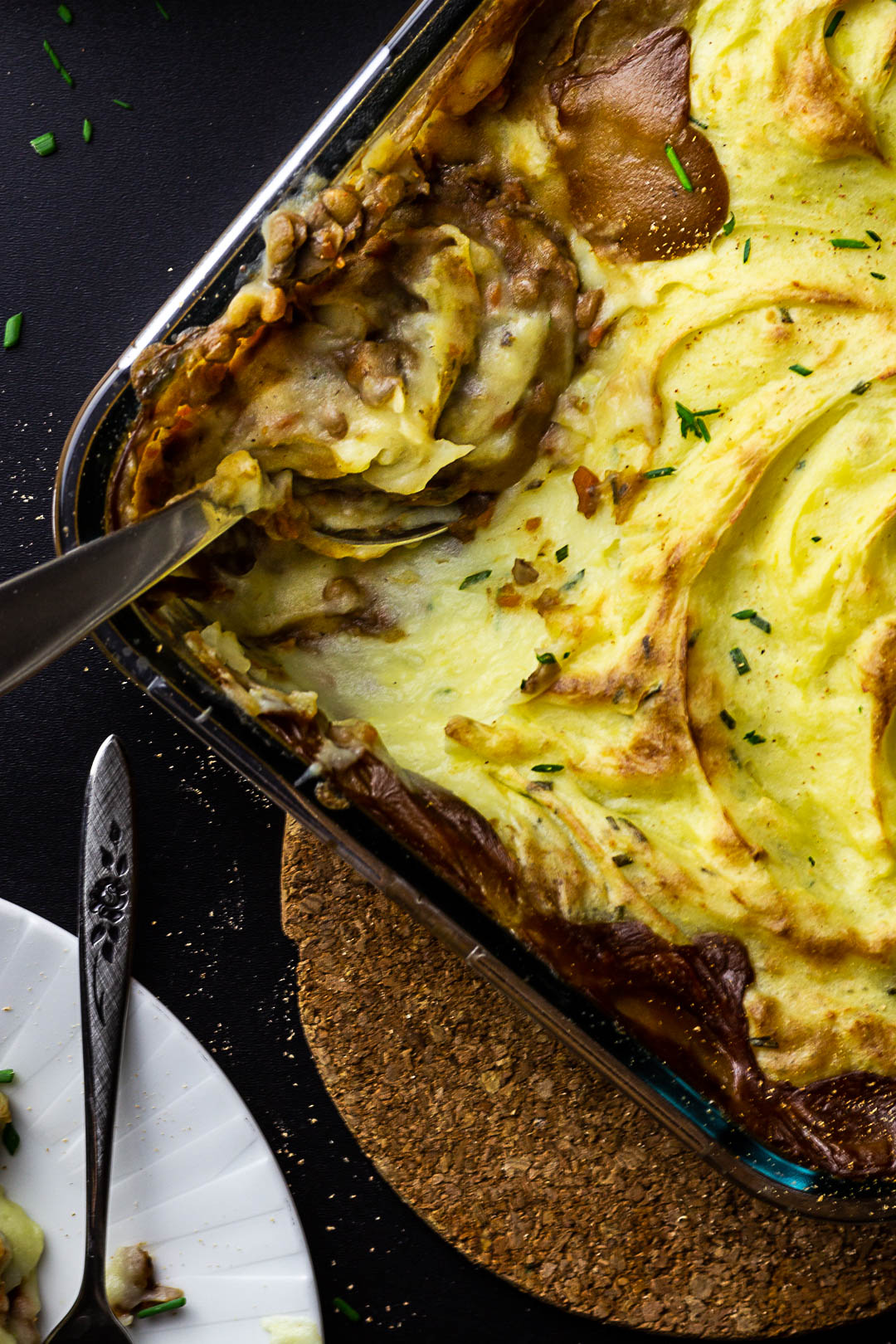 What is the difference to Cottage Pie and Shepherd's Pie?
Basically, Cottage Pie and Shepherd's Pie are the same dish, a mince casserole with a mashed potato topping. There is no difference for the vegan version. In fact, the difference is in the meat. For the Shepherds Pie use lamb and for the cottage pie beef. And as we refrain from meat, we can call this tasty vegetarian casserole Shepherds Pie as well as Cottage Pie.
Can you freeze the vegan Shepherd's Pie?
When it comes to storing leftovers, you can easily store them in the fridge for several days. But if you want to freeze the Shepherd's Pie, I would only do the "filling" and not the mashed potatoes. Freezing potatoes can change the consistency and taste.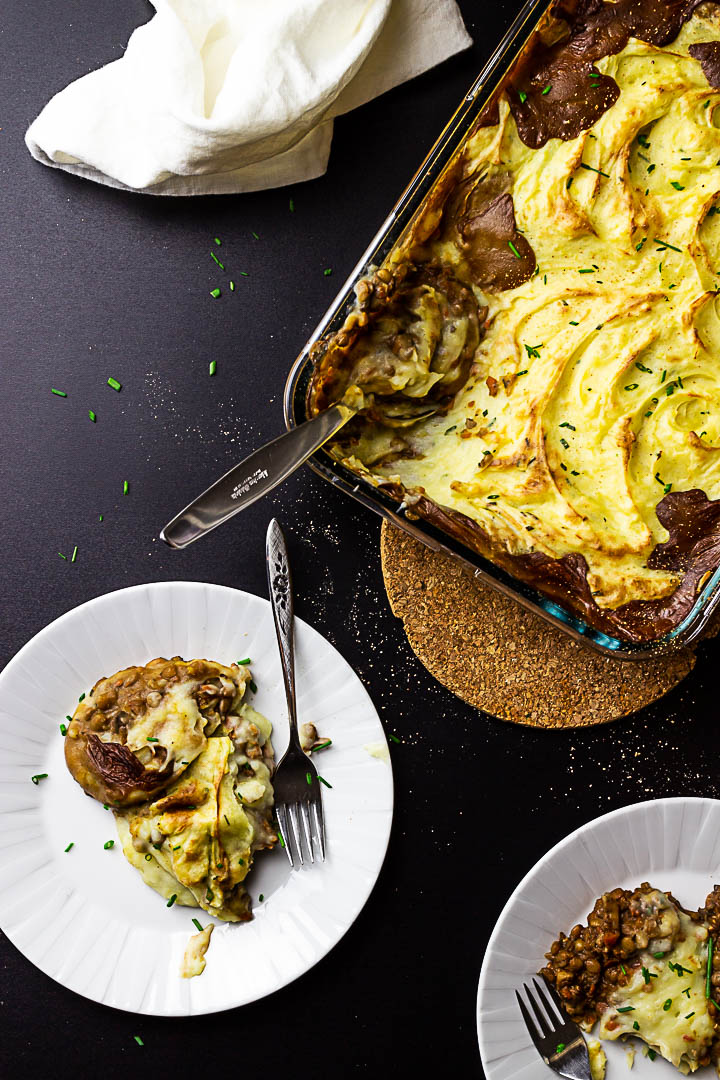 Can you prepare the vegan cottage pie ahead?
You can even prepare the casserole very well by simply preparing everything 1-2 days in advance and then bake as instructed.
What can I serve as a side dish to a vegan Shepherd's pie?
I look at the Shepherd's Pie as a complete dish. I like to serve a green lettuce salad. You can also serve other vegetable side dishes like these maple glazed carrots, balsamic brussels sprouts.
More comforting vegan meals:
Do not forget to Pin on Pinterest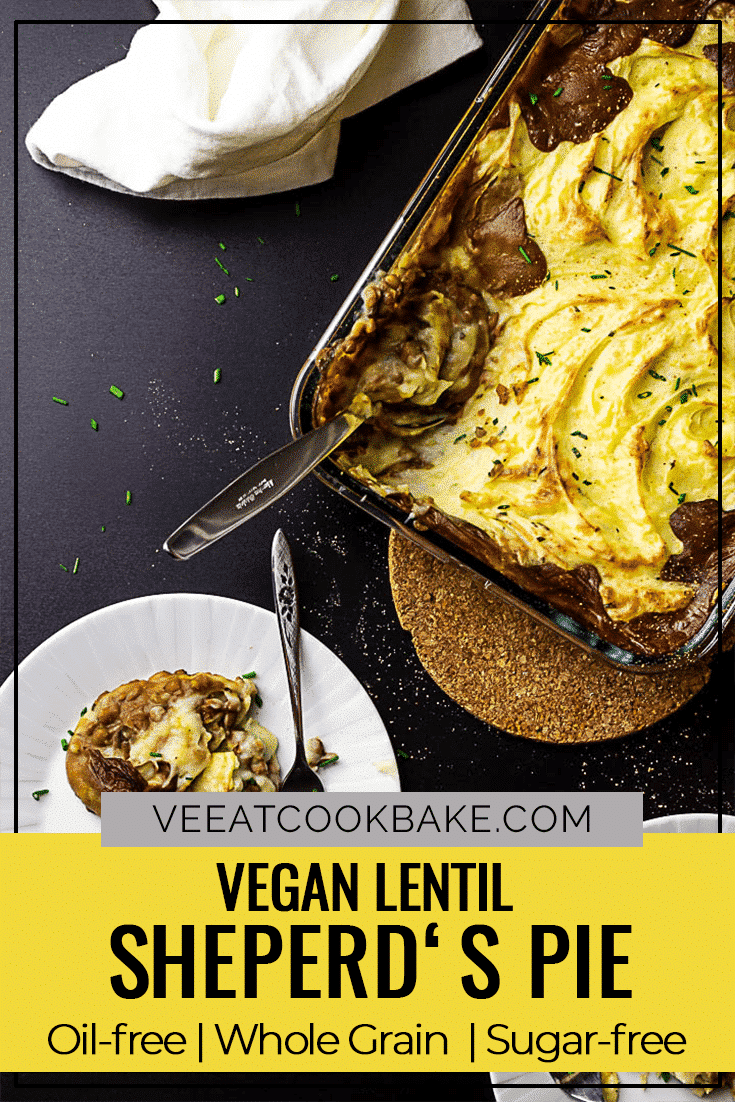 Have you tried the recipe?
If you tried the vegan Sheperd's Pie, be so nice ♥ and let me know by rating the recipe and writing what you think about it in the comments. Tag me on Instagram too. I am @veeatcookbake and my hashtag is #veeatcookbake. So that I can see your creation. Did you know you can add photos on Pinterest under the recipe Pin? I can't wait to see a photo of your creation there. You find me with @veeatcookbake. I also would love to hear your feedback so I can share it on my social media channels.

This post may contains affiliate links and I may receive a very small commission if you buy through these links at no extra cost. Thank you very much for supporting Ve Eat Cook Bake! More information can be found here.
---