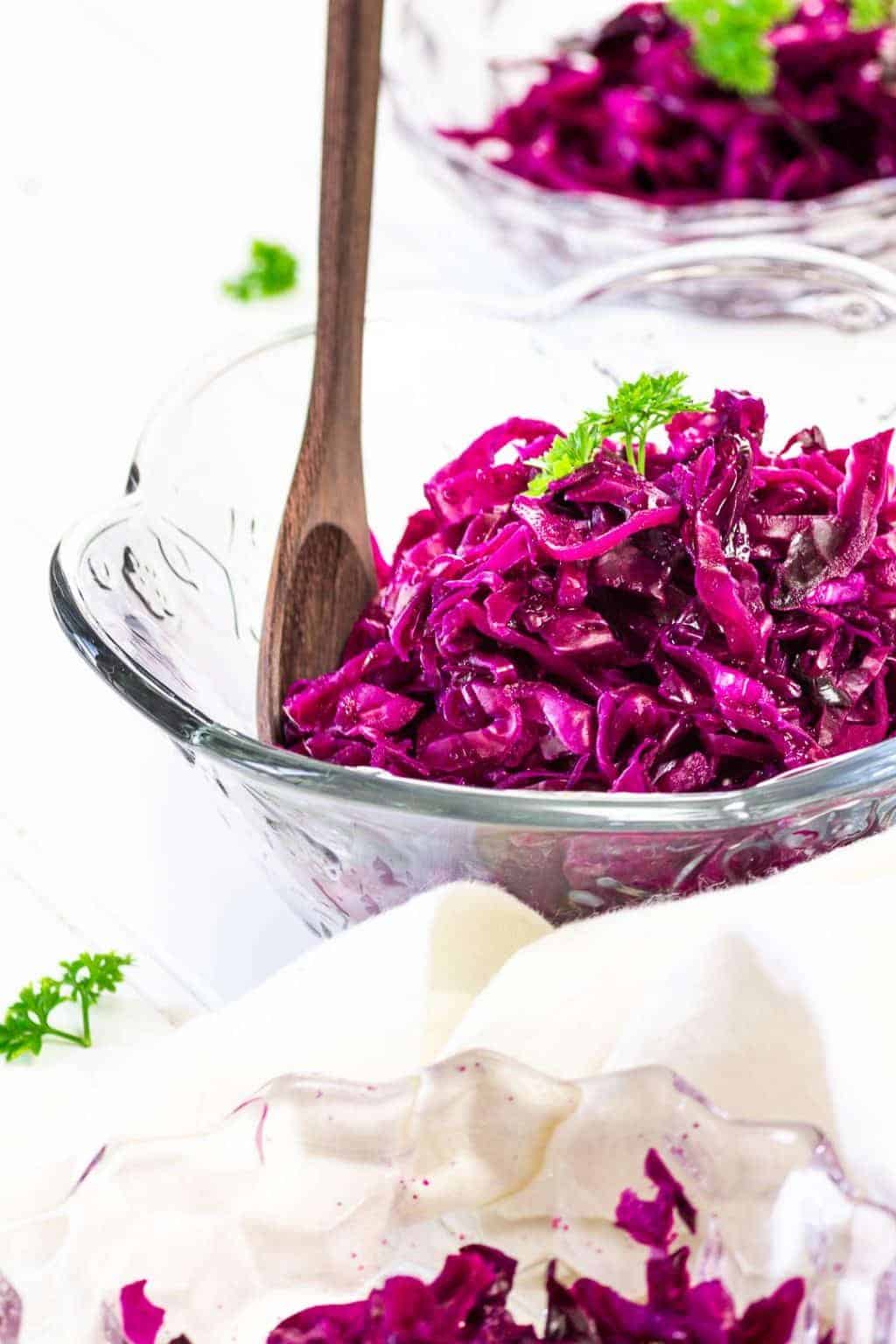 Here's a great recipe for a light vegan red cabbage slaw with sweet and sour dressing thanks to the sweet and sour apple cider vinegar and mild shallot. This coleslaw not only tastes great as a side dish for your next dinner, but also for the next barbeque party. You only need a few ingredients and a bit of time to create this fast but tasty coleslaw.
vegan | oil-free | dairy-free | gluten-free | sugar free | wfpb
Do you love refreshing salads as much as I do? Then you should definitely try this fruity red slaw. This well-received party salad not only tastes great and is quick to prepare, it is even budget-friendly and costs only a few dollars.
With six to seven ingredients and a few minutes, you have made this oil-free, sweetish red cabbage salad without sugar.
Ingredients of the oil-free salad?
Red cabbage: For this light salad you only need a small red cabbage. The cabbage is full of vitamin C, which is a welcome vegetable in autumn and winter to boost your immune system in the cold season. Likewise, this cabbage sort also serves as a good potassium and vitamin K supplier. Vitamin K is perfect for supporting vitamin D uptake, especially in the season, when the sun does not shine for long. Incidentally, this cabbage is a low-calorie ingredient, making this nutrient-rich salad the perfect accompaniment to your dinner.

Shallots:

In this variant of cabbage salad we use shallots. A milder version of the onion, which sweetens this red cabbage salad and yet reflects the great umami flavor of the onion.
Apple Cider Vinegar: We also use a milder vinegar and apple cider vinegar here. This vinegar variant is sweeter in taste and harmonizes perfectly with the taste of red cabbage.
Spices: In order to support the incredibly fruity and sweetish taste of red cabbage, we do not need much more than sea salt & black pepper. In addition, you can add some caraway, which helps your digestion and gives the salad a certain touch.
How is the vegan red cabbage salad prepared?
You do not have to do much to prepare the red cabbage salad. Do you have a food processor? Then you save even more time. And if not, it does not matter, you only have to invest a few more minutes to create this great, simple salad. You have to cut the red cabbage into fine strips. To do this I take the red cabbage, quarter it and remove the stalk. Now you can take a knife and cut very fine strips or you take your food processor and run the cabbage through the machine. The latter method is much faster. You can do this with the shallot as well. Finally, all you have to do is add the remaining ingredients and briefly knead / massage the cabbage salad. And voila your oil-free, vegan slaw is almost done.
When should I start with vegan coleslaw?
I like to start the evening before, so that it absorbs through and the structure softens. All you have to do is add the ingredients to the sliced ​​cabbage and knead vigorously. This softens the structure. I leave the salad on the counter top over night and knead it again shortly in the next morning and taste the coleslaw again briefly.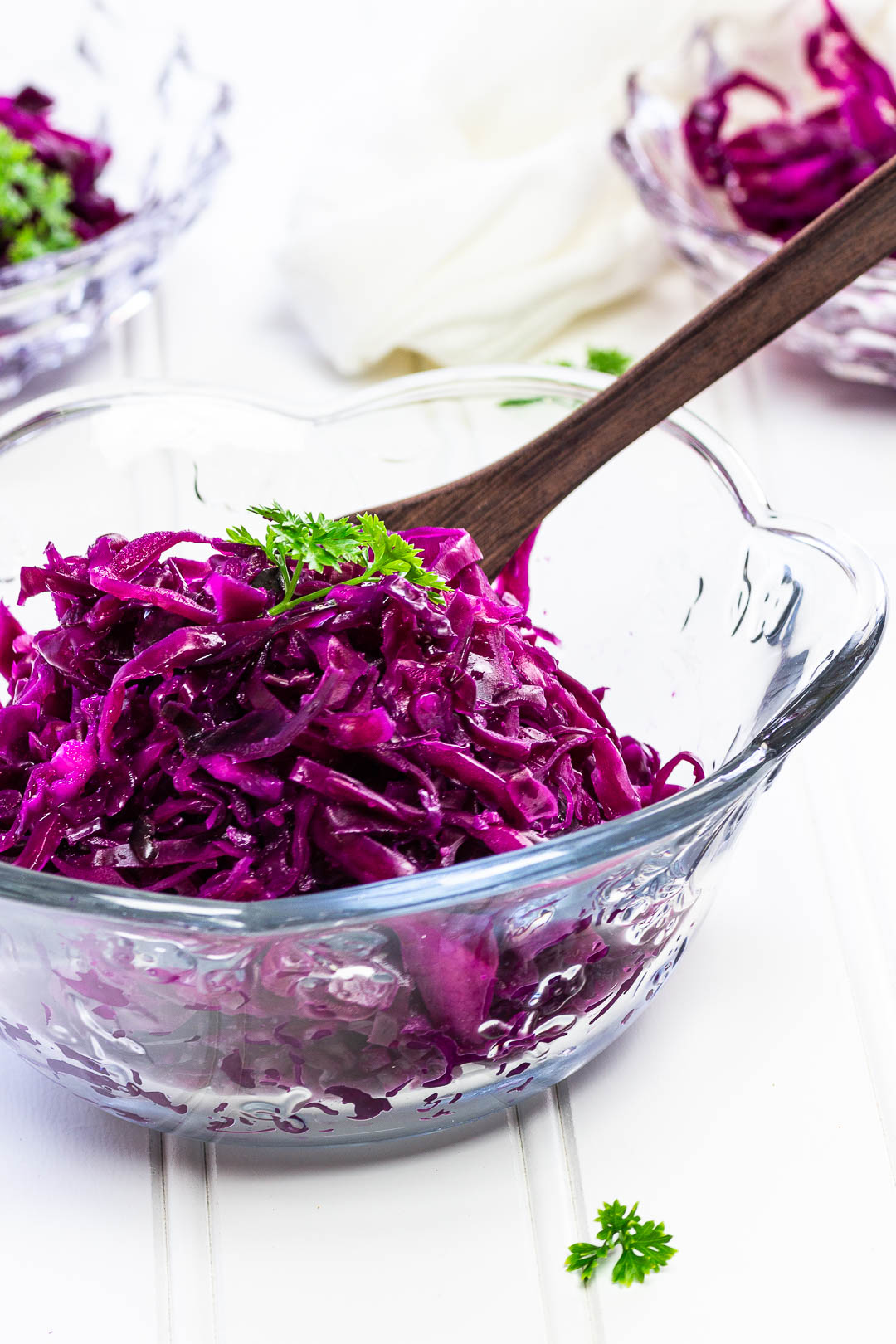 Is the red cabbage salad made raw?
The red cabbage salad, as well as this vegan version, is prepared raw. All you have to do is mix and slice the ingredients and voila your tasty salad is prepared in minutes. And thanks to the raw food, it is still full of nutrients.
How is the dressing prepared for the vegan cabbage salad?
This is a super fast salad dressing prepared in seconds. Here you just mix the sweet apple cider vinegar, water, salt, pepper and caraway and you get with a few ingredients a tasty, oil-free dressing, which fits to more than just red cabbage. Try this with endive salad or Chinese cabbage. For this you cut both types of salads such as the red cabbage salad in fine strips and massage the salad with your hands.
What fits with the coleslaw?
This armotic, vegan salad goes perfectly with your home-made kebab. You can find a super delicious recipe here on my blog.

This red cabbage salad, which tastes like Grandma's cabbage salad, goes well with your next dinner as a side dish.
Create a delicious salad plate with this tasty cabbage salad.
How long does the red slaw last?
The red cabbage salad lasts in the fridge for about 1 week. I even think the salad tastes even better after a few days, when the dressing is properly absorbed through.
You like the recipe? Do not forget to Pin on Pinterest!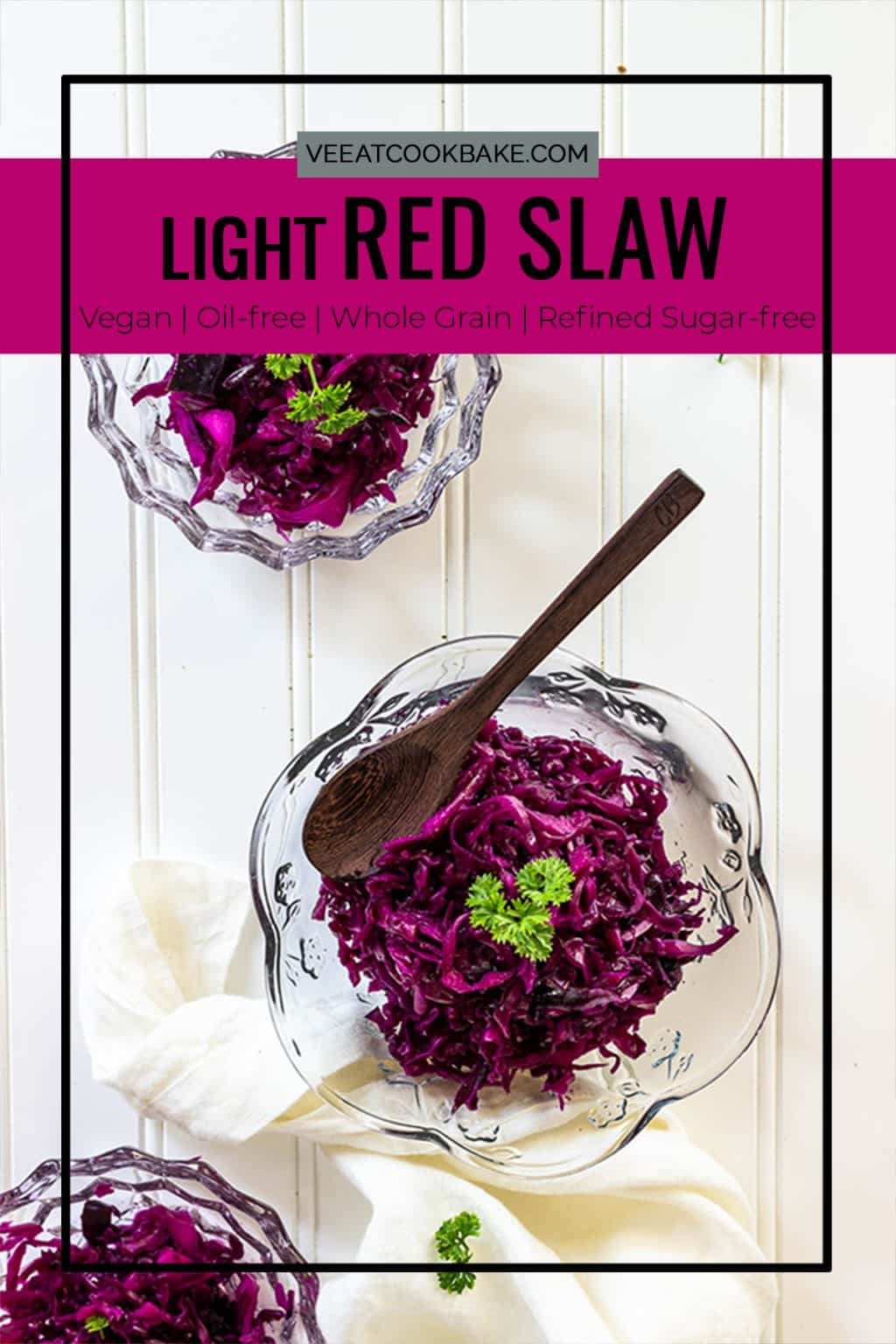 ---
Have you tried the recipe?
If you tried the vegan red slaw, be so nice ♥ and let me know by rating the recipe and writing what you think about it in the comments. Tag me on Instagram too. I am @veeatcookbake and my hashtag is #veeatcookbake. So that I can see your creation. Did you know you can add photos on Pinterest under the recipe Pin? I can't wait to see a photo of your creation there. You find me with @veeatcookbake. I also would love to hear your feedback so I can share it on my social media channels.
---

This post may contains affiliate links and I may receive a very small commission if you buy through these links at no extra cost. Thank you very much for supporting Ve Eat Cook Bake! More information can be found here.
---