Recipe for whole foods vegan chicken salad with palm hearts, jackfruit, apples, grapes coated with a creamy vegan dressing.
This salad tastes incredibly delicious thanks to the spices that are often used for poultry.
You can eat this plant based chicken salad on sandwiches, wraps or simply use it as a side salad.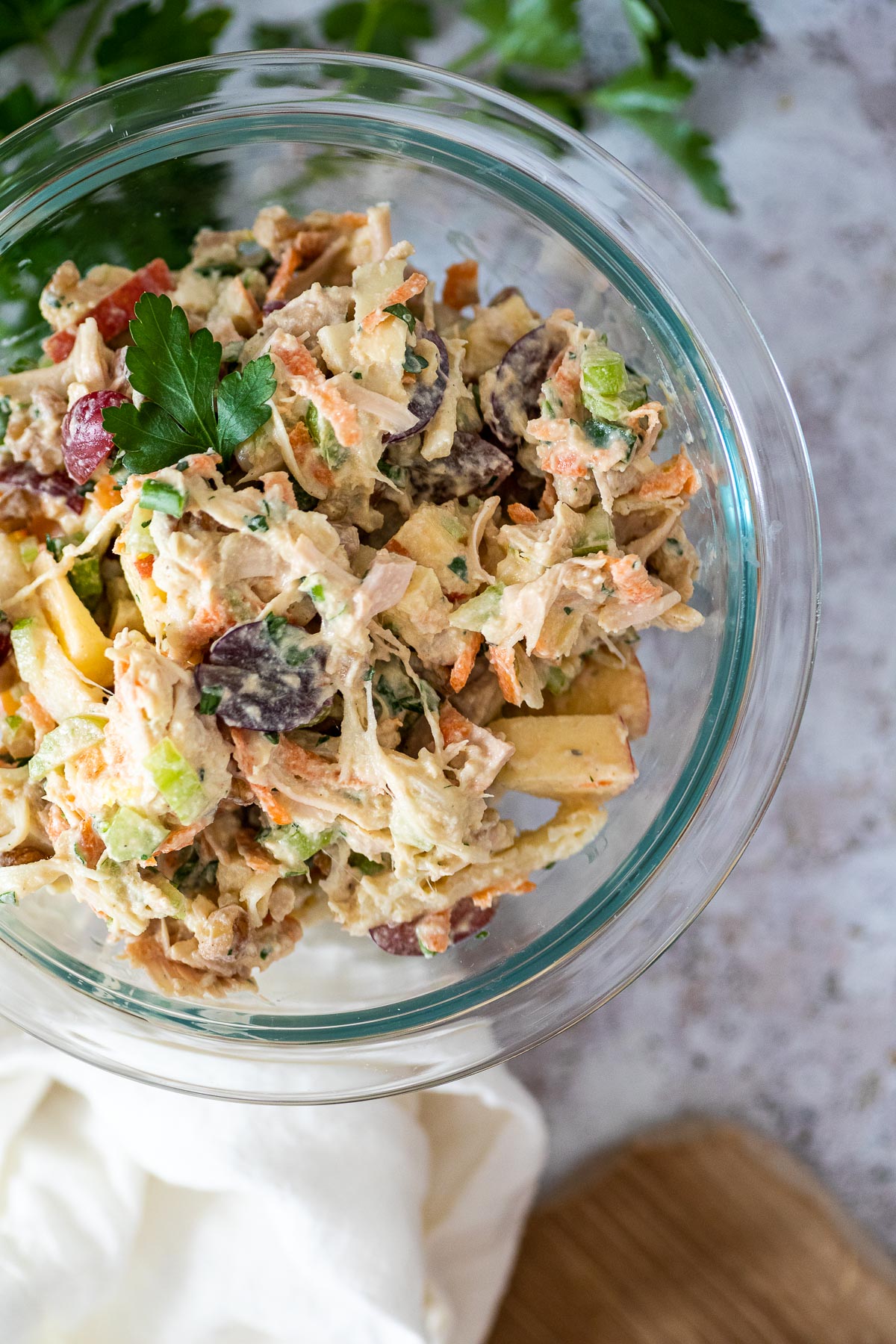 As an Amazon Associate, I earn from qualifying purchases. This post may contain affiliate links. Read More
Jump to:
You don't have to turn the oven on with this vegan chicken salad, which makes it a great summer dish.
We prepare it with whole food plant-based (wfpb) ingredients. The dairy-free salad is gluten-free, oil-free and soy-free.
You can also make this salad great for a picnic, potlucks, buffets.
The best thing about this great recipe, it's super quick to prepare because you basically throw all the ingredients into a bowl and then stir them together.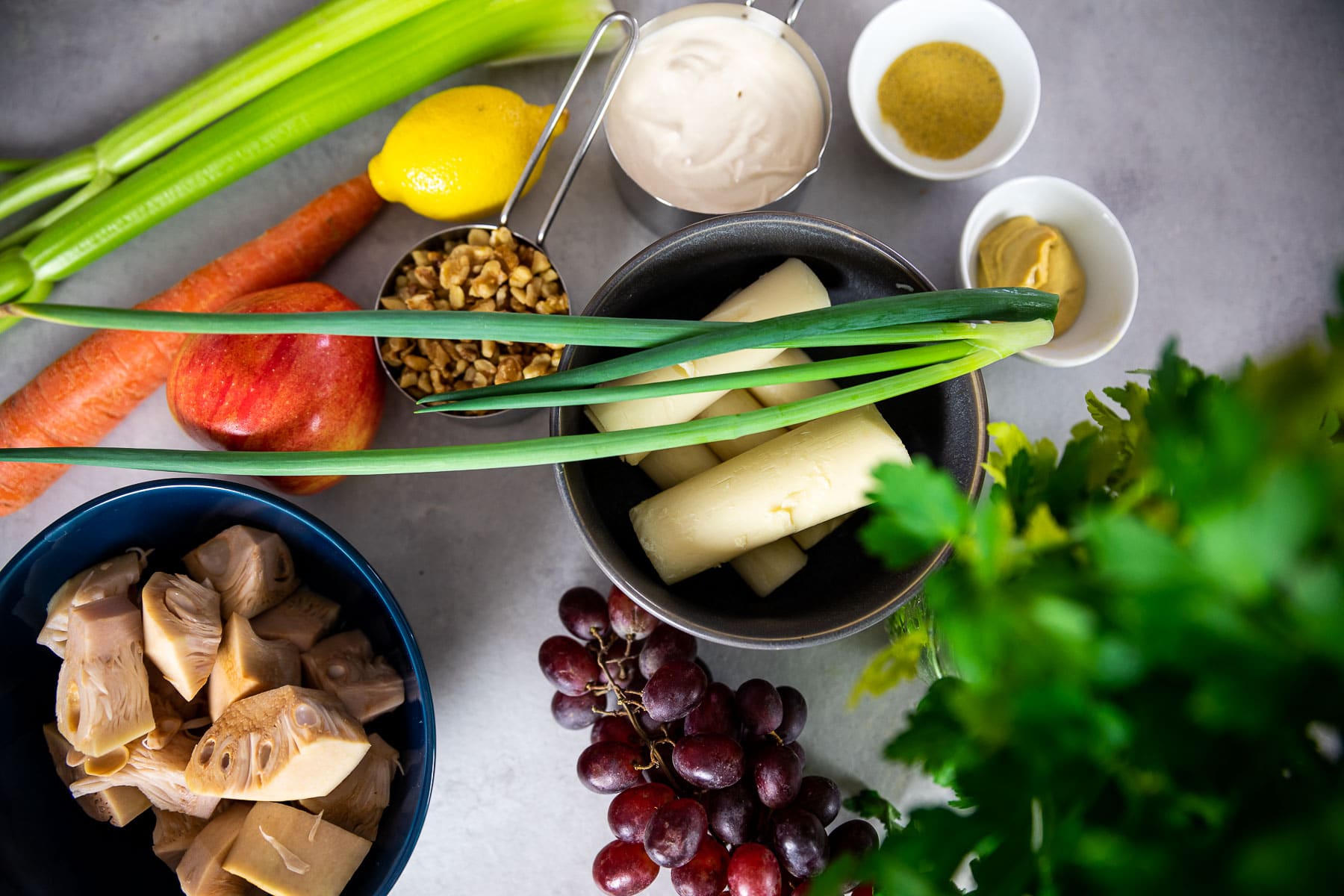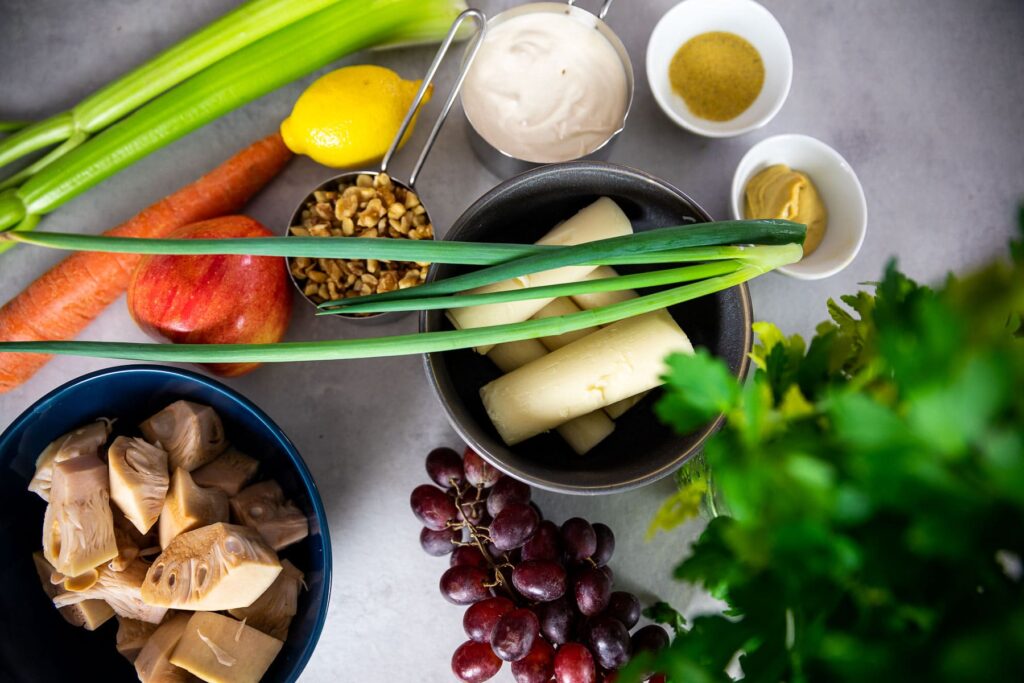 Ingredients
Let's take a look at what's actually in this vegan chicken salad. You can find the exact quantities below in the recipe card.
Palm Hearts
Jackfruit
Walnuts or Pecans
Mayonnaise (without oil if possible)
Dijon Mustard
Red Grapes
Apple
Celery
Carrot
Spring Onions
Parsley
Chicken Stock Powder, vegan
Lemon Juice
Lemon Peel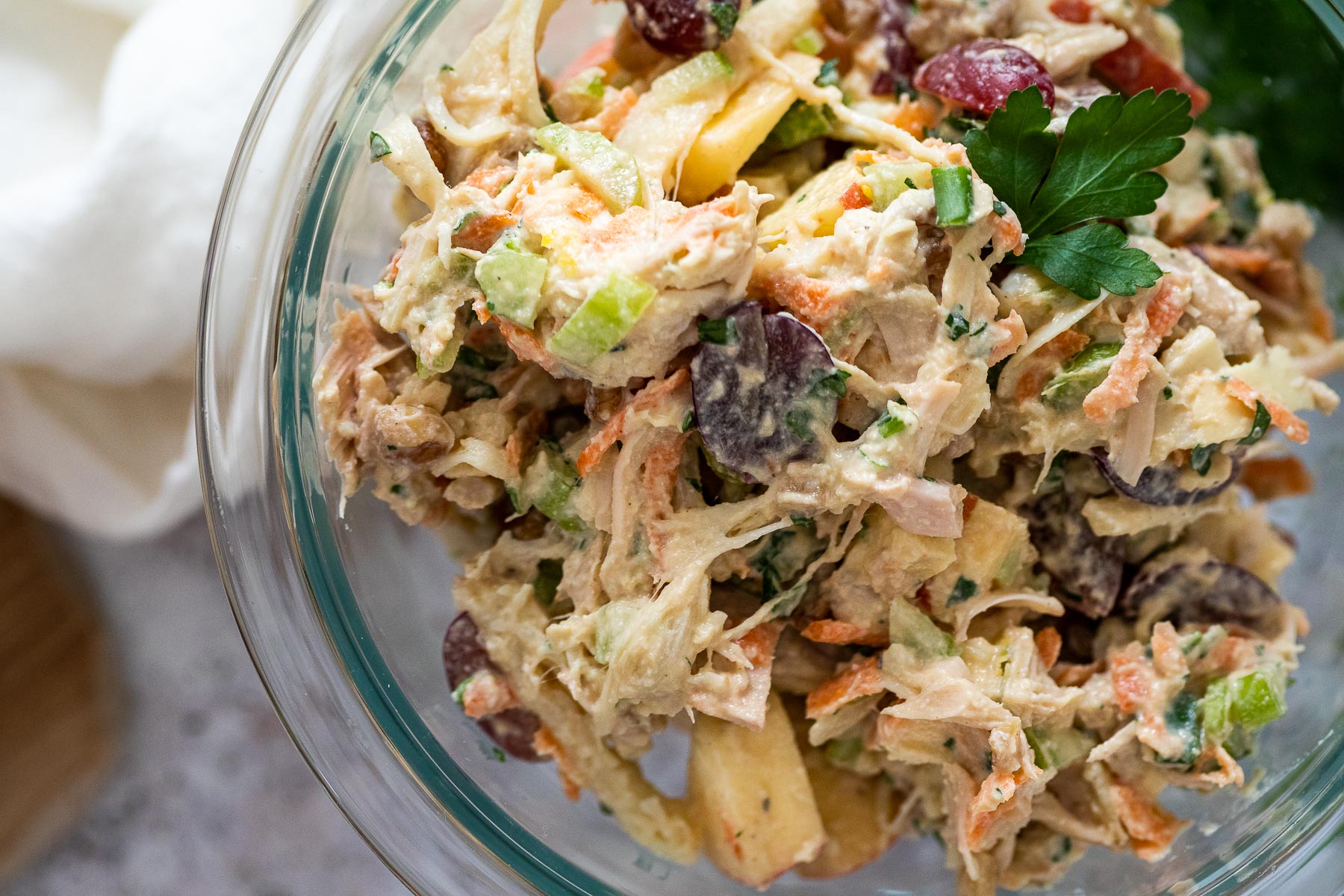 Substitutions
Let's take a look at which ingredients you can exchange.
Palm Hearts
I love the palm hearts, if you shred them with a fork they have a great texture. If you don't want to use palm hearts, you can of course use more jackfruit. I can also imagine the soy curls would taste good here.
Jackfruit
You can swap the jackfruit for palm hearts or soy curls or seitan.
Walnuts
If you don't want to use nuts, you can also use pumpkin seeds or other seeds here.
Mayo
Instead of mayo, you can also use cashew cream, vegan yogurt or avocado cream.
Vegan Chicken Broth Powder
I like to use my homemade powder here. If you don't want to use this, you can also use a poultry herb seasoning mix.
Is poultry seasoning vegan?
You might be wondering if ready-made poultry seasoning is vegan? Yes it is. It usually consists only of the herbs and spices that are used to flavor the poultry.
But if you are looking for chicken broth, it is not vegan. Because poultry is used there. Therefore, I have put together my own chicken bouillion powder, which consists of wholesome spices.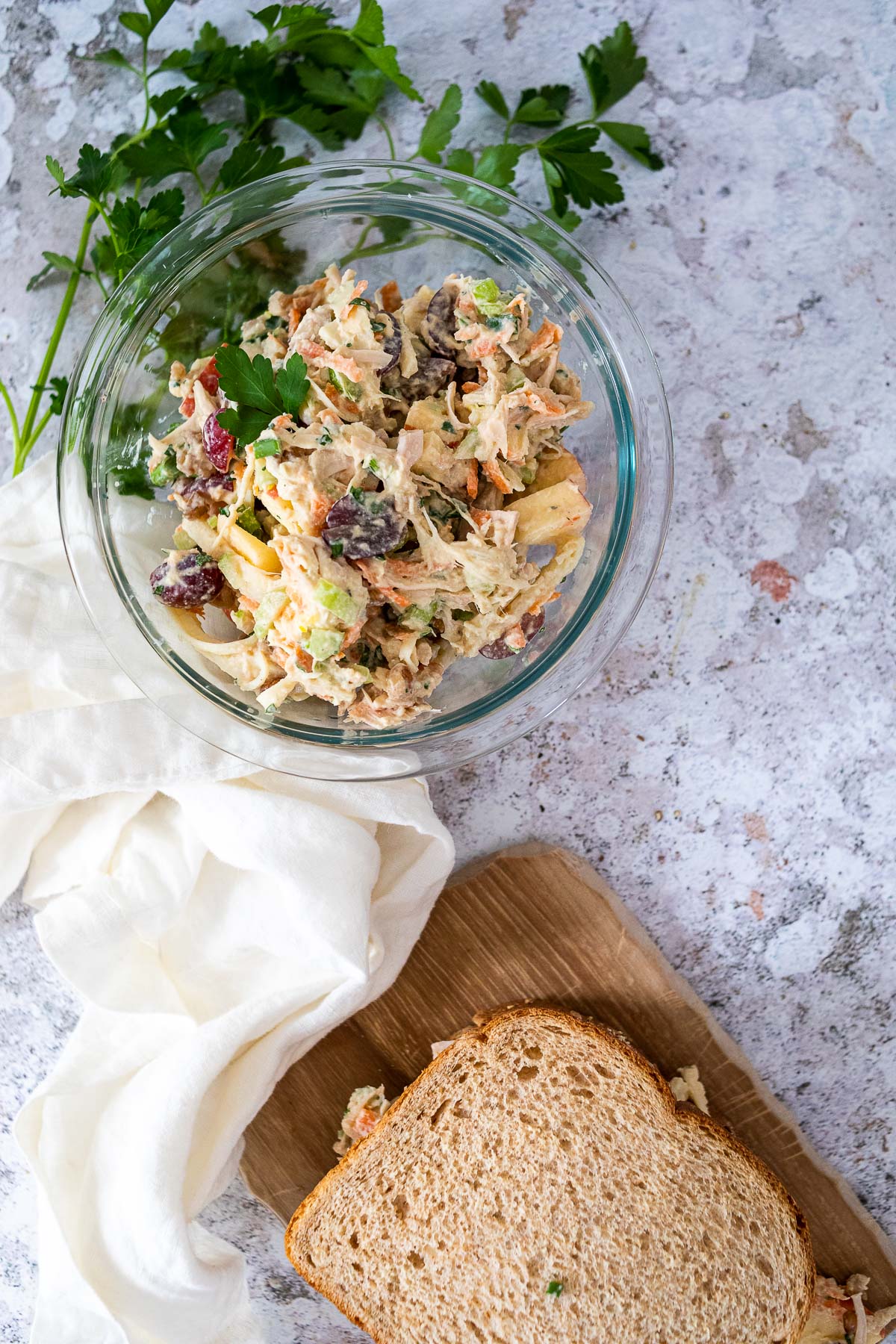 Variations
Let's take a look at which diets we can adapt this vegan chicken salad to.
Gluten free, soy free, oil free
As already mentioned above, this vegan chicken salad is already a gluten-, soy- and oil-free chicken salad made from wfpb ingredients.
Keto
Jackfruit and palm hearts are keto-friendly and are ideal as meat substitutes on a vegan keto diet.
However, you have to leave out the apple and grapes as they are high in carbohydrates. Instead, you can use clementines or peaches, for example.
Paleo
The ingredients in this vegan chicken salad are paleo friendly. You don't have to adjust anything here.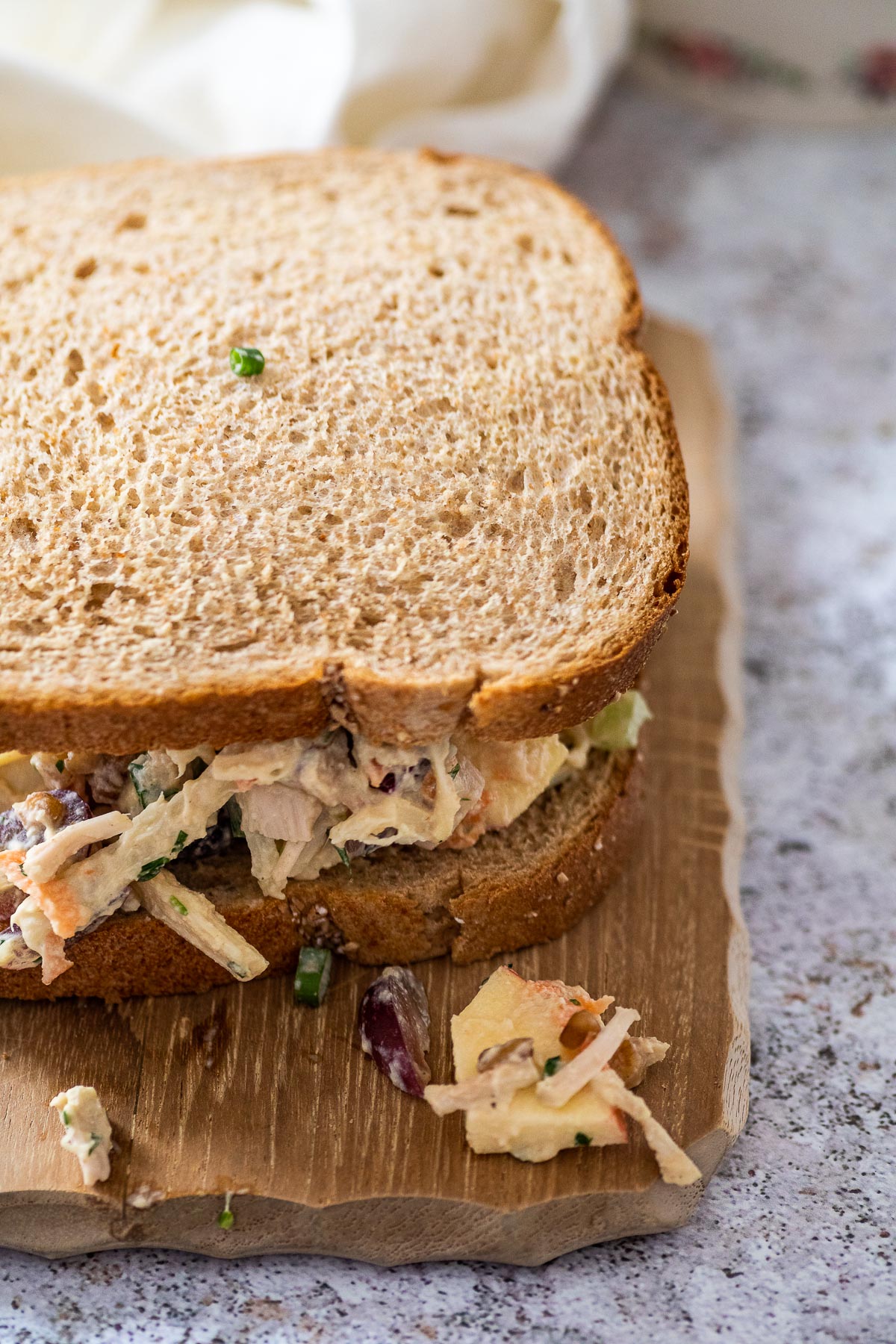 Instructions
Mix vegan mayo with Dijon mustard, chopped parsley, vegan powdered chicken stock, lemon juice and lemon zest in a salad bowl until everything is well mixed.
Quarter red grapes, do this until you get 1 cup worth of grapes. And add it to the cream.
Dice an apple and add it to the grapes.
Grate the peeled carrot, dice the celery stalks and add it to the salad.
Use a fork to shred the palm hearts. Take the jackfruit and remove the hard part. Now also shred the jackfruit with a fork.
Put both in the salad bowl with the chopped walnuts.
Cut 3 green onions and add them to the bowl.
Now stir the salad until it is completely covered with the mayo dressing.
Prepare in advance
This vegan chicken salad is very suitable as a meal prep and can be prepared a few days in advance.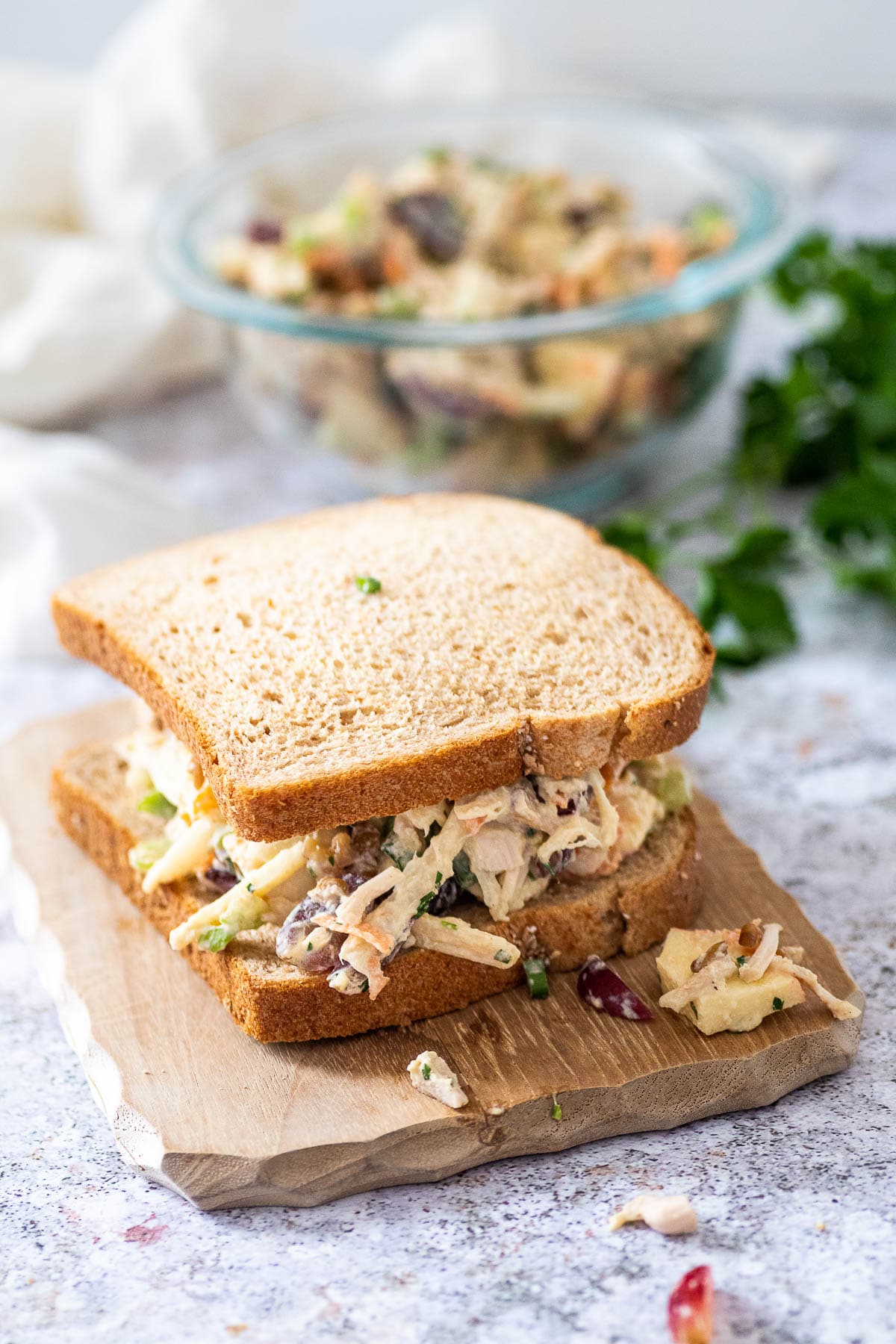 Serving Suggestion
This great salad is really versatile. Here I will show you a few ideas on how to enjoy the vegan chicken salad.
Sandwich: You can eat this salad as a sandwich between 2 slices of bread or simply as dinner on a slice of bread.
Wraps: I love wraps. Here you can fill the wraps with other vegetables and enjoy.
Salad: Take a bowl, add lettuce and other vegetables and top it with a good portion of the vegan chicken salad.
Storage
How to refrigerate
You can store the vegan chicken salad in a closed container in the refrigerator for about 5 days.
How to freeze
Depending on which mayo you use, you can also freeze this salad. An oil-free mayonnaise is easy to freeze. Just freeze it in portion sizes.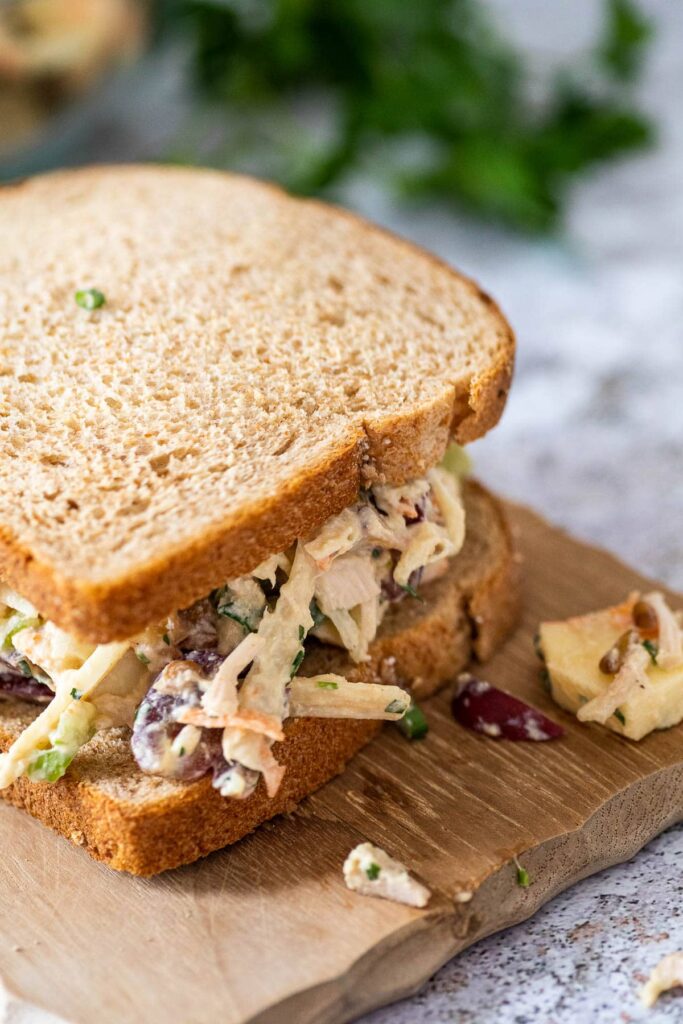 Tips
You can also put the palm hearts and jackfruit in a food processor and then shred with the pulse function.
Although I prefer it with a fork, it doesn't get too small and you have the perfect texture.
In order to only need one bowl, I recommend that you first add the dressing to the salad bowl and then add all the other ingredients.
More vegan Salad Recipes: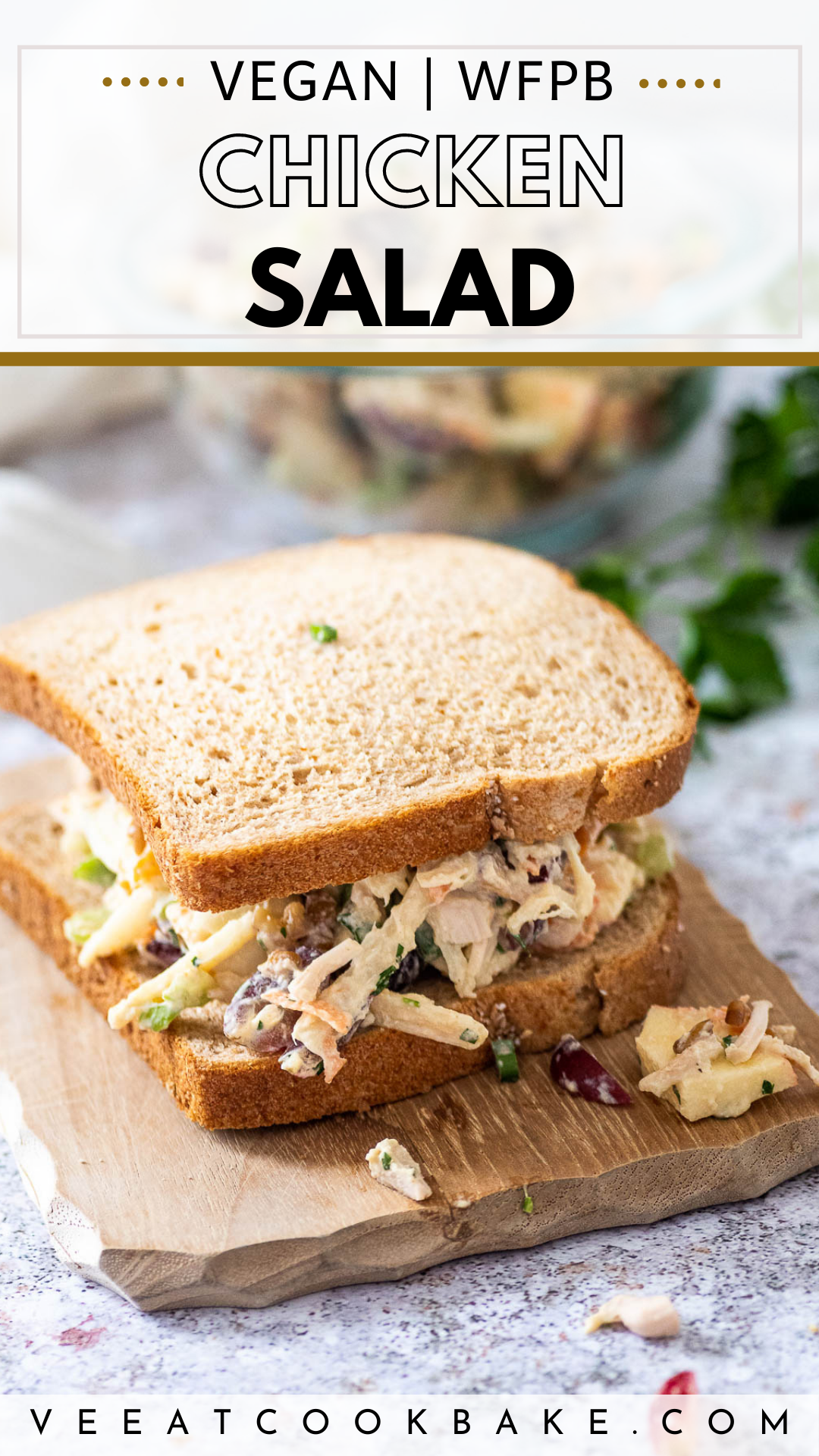 Have you tred the recip
If you tried the vegan Recipebe so nice ♥ and let me knw byrating the recipe and writing what you think about it in the comments.  I would love to see your photo on Instagram orFacebook. To do this tag me with @veeatcookbake andmy hashtag is #veeatcookbake. So that I can see your creation. Did you know you can add photos n Pinterest under the recipe Pin? I can't wait to see a photo of your creation here. You find me with @veeatcookbake