Bavarian vegan potato salad - who does not love potato salads at barbecues, picnics or other events ?! And this Bavarian vegan potato salad will not miss the spot in any way a traditional potato salad (with oil, Mayo) does. Thanks to the strong vegetable broth and the remaining ingredients, the salad comes out completely without oil and tastes smoky and full of flavor.
Vegan | Vegetarian | oil-free | gluten free | lactose free | dairy-free | nut free

How do you prepare vegan Bavarian potato salad?
A Bavarian or generally German potato salad is always prepared with steamed potatoes. To do this you steam the potatoes with peels in a pot until they are cooked. To check when they are done, I always do the knife test. Slice the potato, if it is soft and the knife is easy to remove, the potatoes are ready. Now you can peel it hot or let it cool down a bit more when it's easier for you. Now slice the potatoes ​​and put in a bowl. When making the sauce, make sure that it is hot. The potatoes absorbs it easier when it is hot. And the Bavarian vegan potato salad is ready.
Which potatoes are best for a vegan potato salad?
Since we want the potatoes to stay relatively whole and not break, we need potatoes with little starch. Germans use yellow and buttery potatoes and not those white watery potatoes like the russet potatoes you find here in America. That is why you should use golden/ yellow potatoes like the Yukon gold potatoes. Those are the closest you get here in the states.

How do I get the authentic taste in the vegan Bavarian potato salad?
Bavarian potato salad is prepared with beef broth, oil and bacon. To keep it authentic, I heat the vegetable stock and add some dark miso paste to it to get that umami flavor. Furthermore, we can add some smoked salt or we use liquid smoke. We'll top it all off with some coconut bacon and parsley.
When can I serve the vegan Bavarian potato salad?
You can serve it almost with anything. In buffets, at barbecues, picnics or if just you crave a good potato salad.
How long does the potato salad last?
This will last in the fridge for a few days. Unfortunately I can not say exactly how long, because we ate the leftovers of this the next day.

Pro tips to prepare the potato salad
Take firm, yellow potatoes
If the potatoes are too hot, take a fork and stab in the potato and hold the potato with the fork.
When peeling you just have to pull over the potato with a knife, the peel dissolves almost by itself.
Often the potato salad tastes better the next day.

What else could you like?
Do not forget to Pin on Pinterest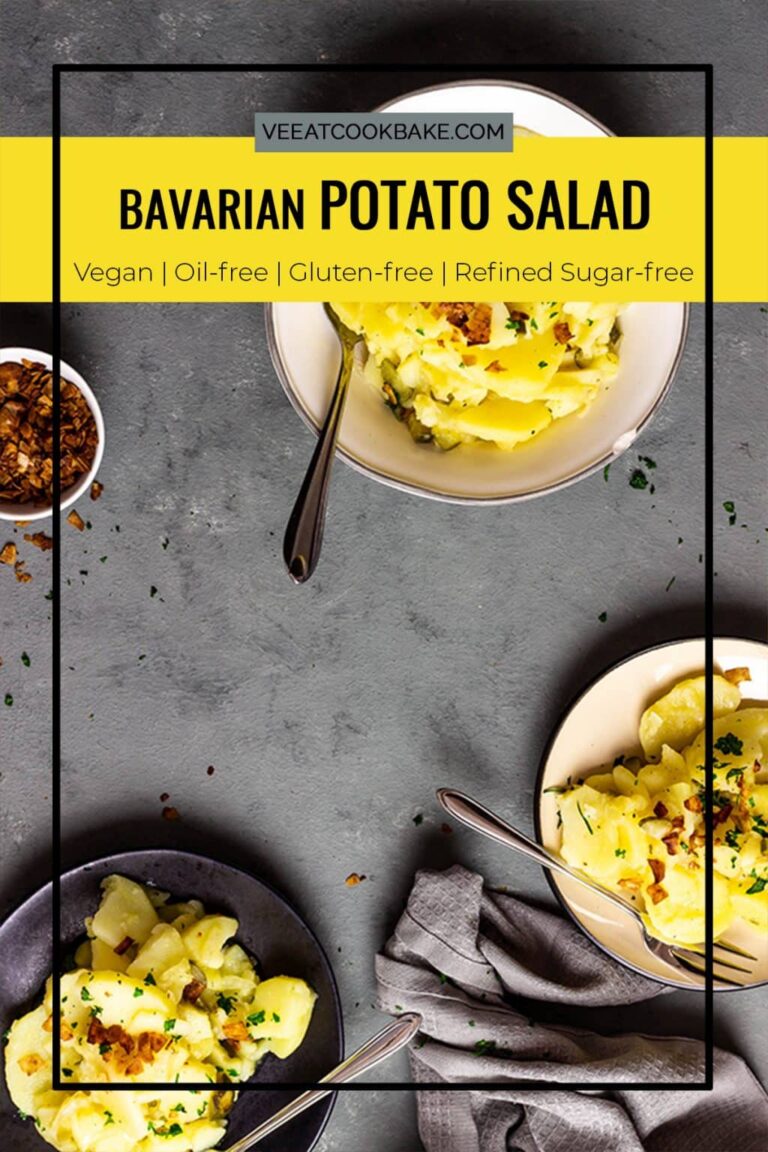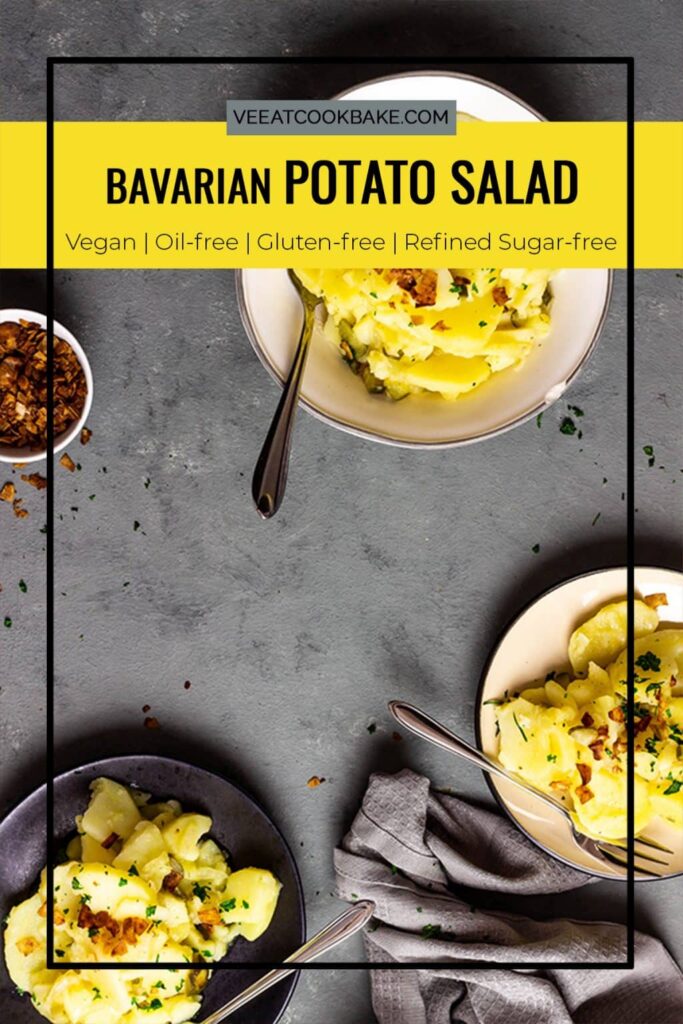 ---
Have you tried the recipe?
If you tried the vegan Parmesan, be so nice ♥ and let me know by rating the recipe and writing what you think about it in the comments. Tag me on Instagram too. I am @veeatcookbake and my hashtag is #veeatcookbake. So that I can see your creation. Did you know you can add photos on Pinterest under the recipe Pin? I can't wait to see a photo of your creation there. You find me with @veeatcookbake. I also would love to hear your feedback so I can share it on my social media channels.
---

This post may contains affiliate links and I may receive a very small commission if you buy through these links at no extra cost. Thank you very much for supporting Ve Eat Cook Bake! More information can be found here.
---