This vegan green bean salad is one of my favorite salads when it comes to fast and you do not have time to prepare anything else with vegetables. You need just 7 ingredients and you've created this delicious vegan green bean salad. It not only tastes great with grilled foods, but as a side for just about any other main course. Especially on hectic days, this oil-free salad is always welcome.
vegan | vegetarian | oil-free | dairy-free | gluten-free | sugar-free | nut-free | whole food plant-based

What do you need to make a vegan green bean salad?
For one thing, you clearly need green beans. Because without these beans we could not make green bean salad. In addition, you need savory, a delicious herb, which emphasizes the delicious taste of the beans. You also need diced onion, garlic, sea salt, pepper and some vinegar. Here you can use vinegar essence or e.g. Use white wine vinegar. I like to use vinegar. I love it when the salads have a strong sour taste.

Can I take fresh green beans or canned for the vegan green bean salad?
Here you can choose. Out of the jar, the canned beans are definitely the fastest, since you do not have to cook them anymore. You only have to mix the ingredients. If you have fresh beans and want to use them. Then you can cook these bite-proof and then use like the boiled green beans. The recipe below calls for green beans from the jar/ can.
Where should I keep the vegan green bean salad?
Please take a lockable box here and keep the vegan green bean salad in the fridge. So far, the bean salad has kept 4 days. It doesn't last longer for us than 4 days, than we have eaten it up.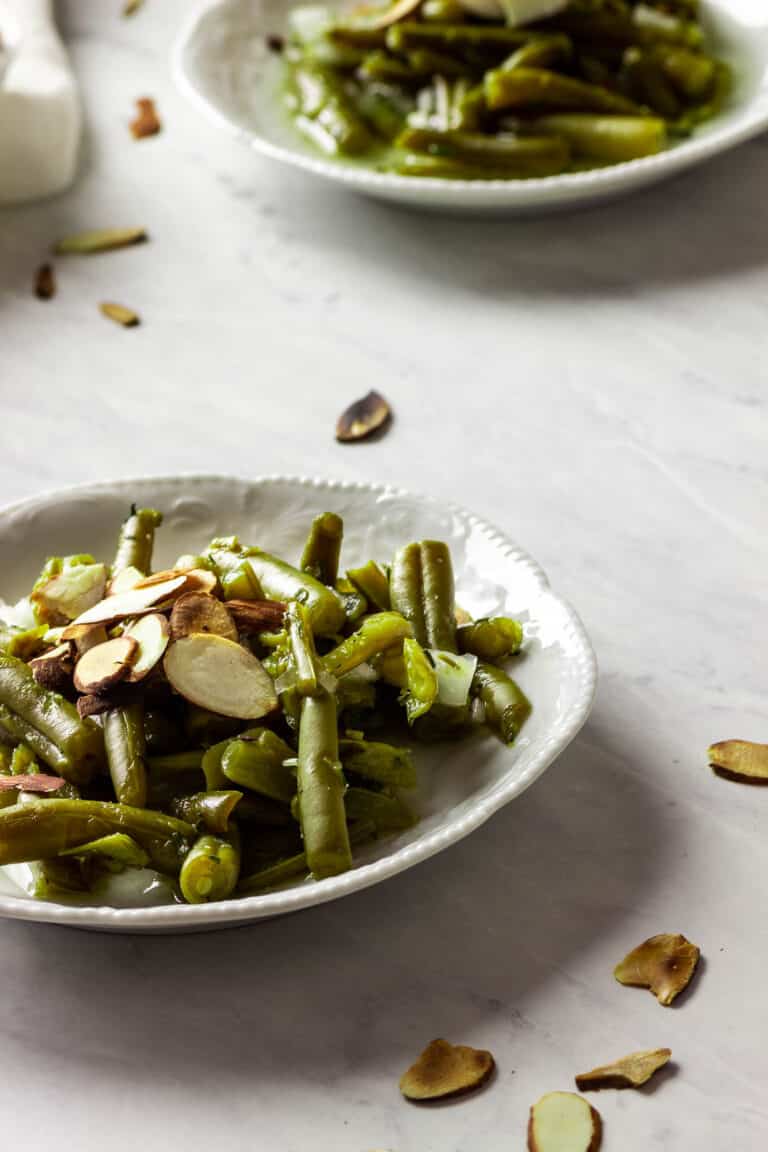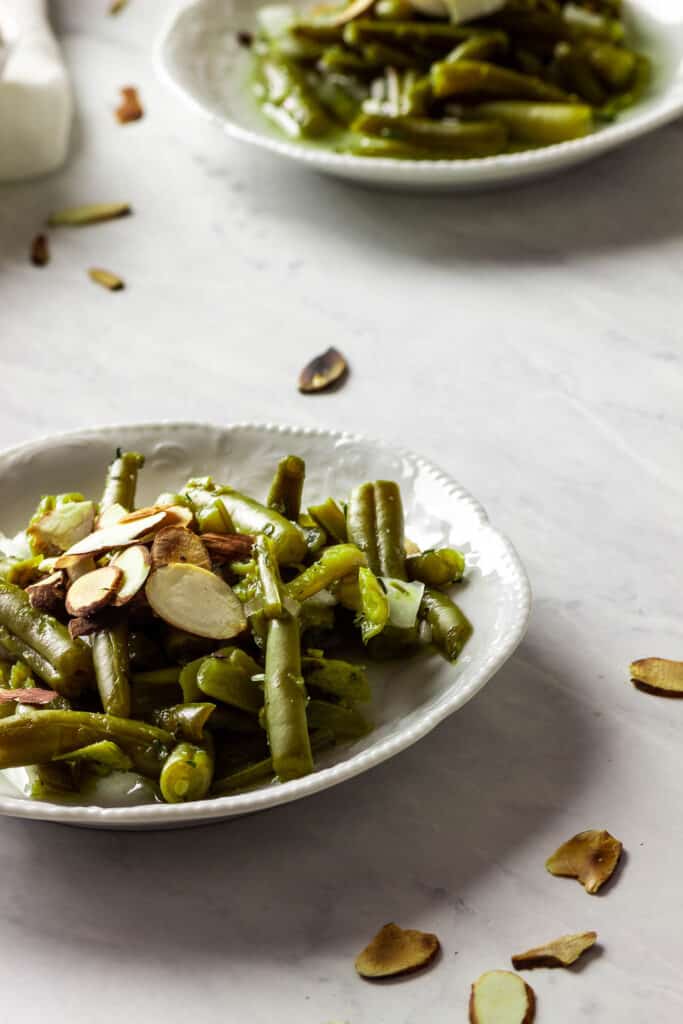 What other salads could I enjoy?
Do not forget to Pin on Pinterest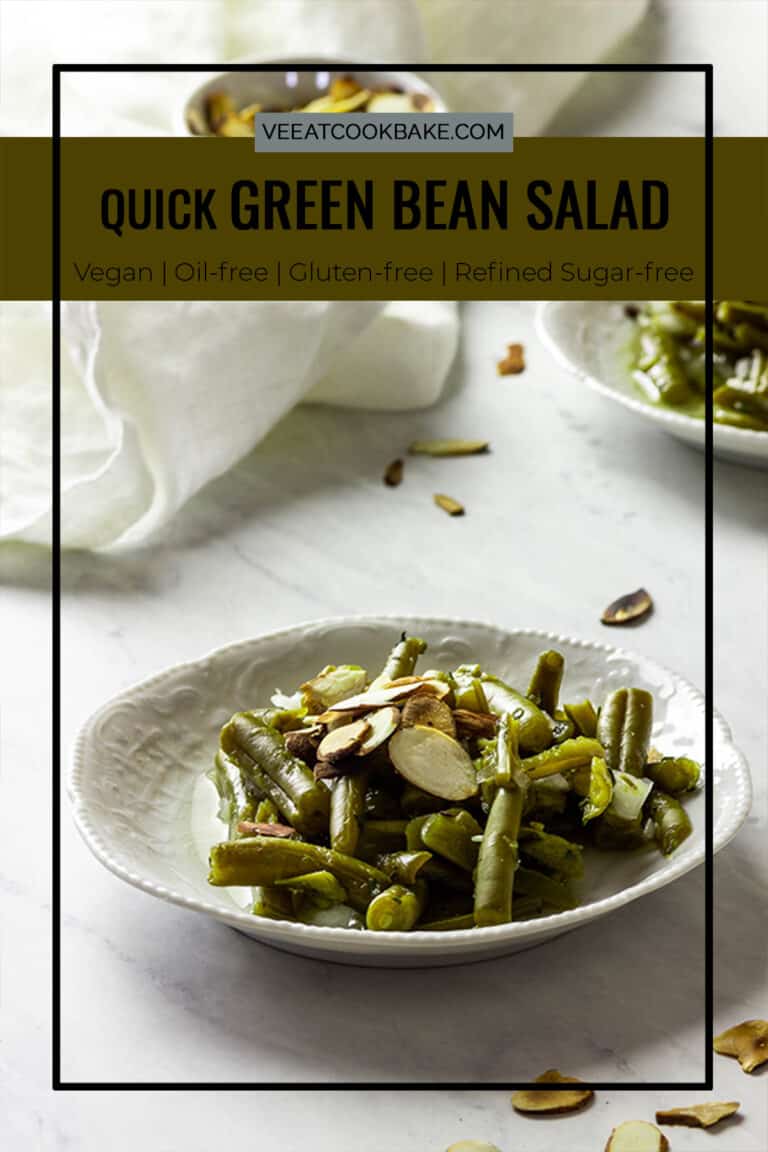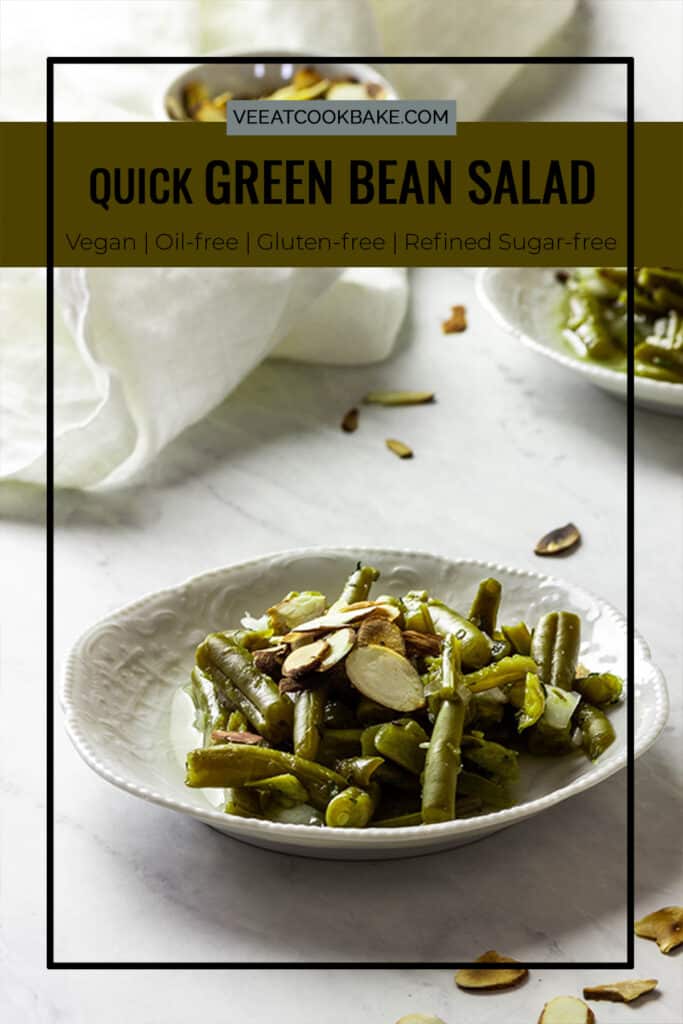 ---
Have you tried the recipe?
If you tried the vegan green bean salad, be so nice ♥ and let me know by rating the recipe and writing what you think about it in the comments. Tag me on Instagram too. I am @veeatcookbake and my hashtag is #veeatcookbake. So that I can see your creation. Did you know you can add photos on Pinterest under the recipe Pin? I can't wait to see a photo of your creation there. You find me with @veeatcookbake. I also would love to hear your feedback so I can share it on my social media channels.
---

This post may contains affiliate links and I may receive a very small commission if you buy through these links at no extra cost. Thank you very much for supporting Ve Eat Cook Bake! More information can be found here.
---