Vegan pizza with the perfect pizza crust from wholegrain flour (eg spelt) and a pizza sauce, which is not just quick to prepare, but also a real taste experience. This pizza should not be missed on your next movie night or pizza night.
There are so many options with vegan pizza that I'm sure you will like it.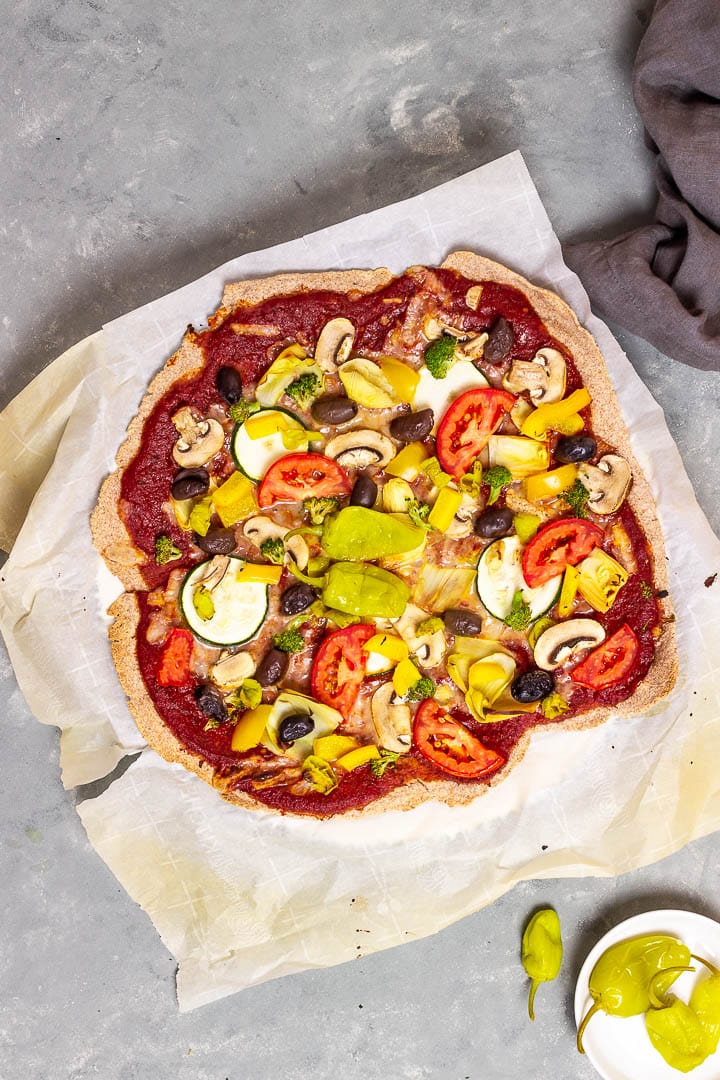 Do you love pizza and regularly bake fresh pizza at home with homemade pizza dough and pizza sauce? Then you have probably already noticed that a homemade pizza just tastes better than store bought and most restaurant pizzas.
And if you like to try new recipes, which I suspect, since you are reading this and browsing for recipes, then you should definitely try this delicious pizza. I promise you, you will not regret it.
My kids love to roll out the dough and make their pizza. So why not make some family fun out of the "annoying" cooking for young and old?!
What do I need for this vegan pizza?
You do not need many ingredients to bake this delicious and authentic Italian-style pizza.
The most important thing about pizza dough is that you have whole grain flour, yeast, water and a little salt at home. I always have these ingredients as a supply at home.
For the world's best pizza sauce, you do not need exceptional ingredients to create a tasty sauce that you would love to spoon out until it's empty. You should have tomato passata/puree, tomato paste, balsamic vinegar, onion, garlic, oregano, basil, pepper and some salt at home.
How is a healthy, whole grain pizza made?
Especially with whole grain doughs, it is important that you knead the dough for a long time and the dough becomes elastic. This helps the pizza dough to rise later.
What you should also note is that you add the salt after kneading a while. Otherwise, prepare the yeast mixture first, mix lukewarm water with yeast and let it stand for a few minutes.
You will see the yeast is already starting to work. Next you can weigh and mix the remaining ingredients. Do not forget to add the salt later.
The key to a tasty whole grain pizza dough is kneading it for a long time. For this I like to use the Kitchen-Aid with the dough hook, as it takes about 10 minutes. And by hand it would probably take a little longer.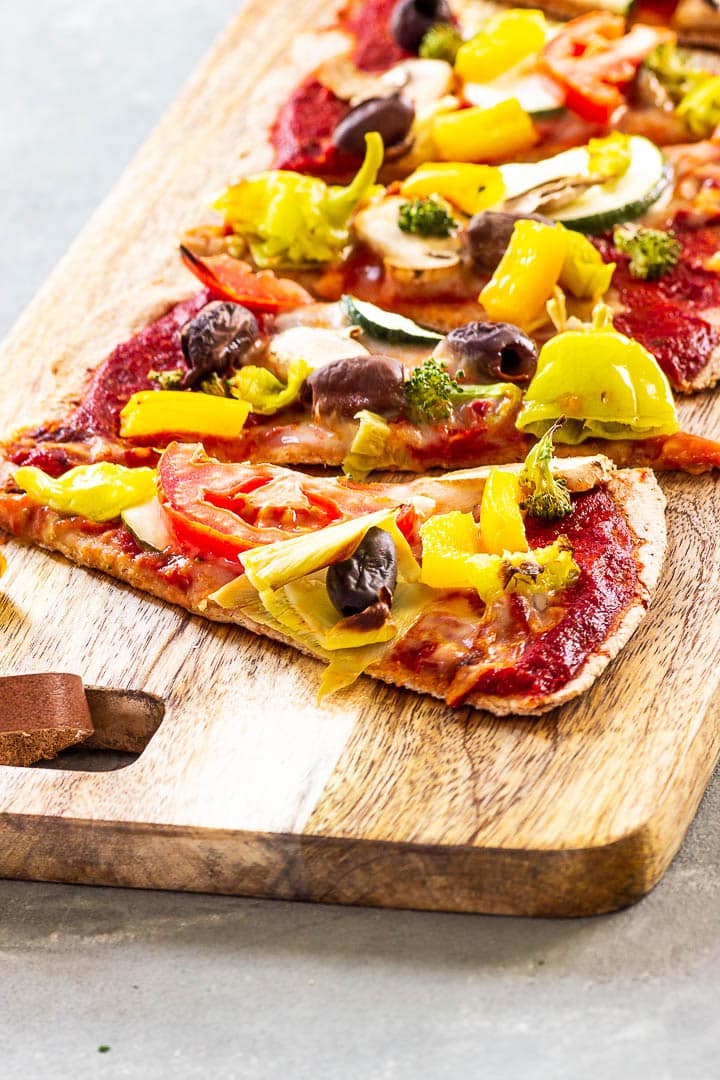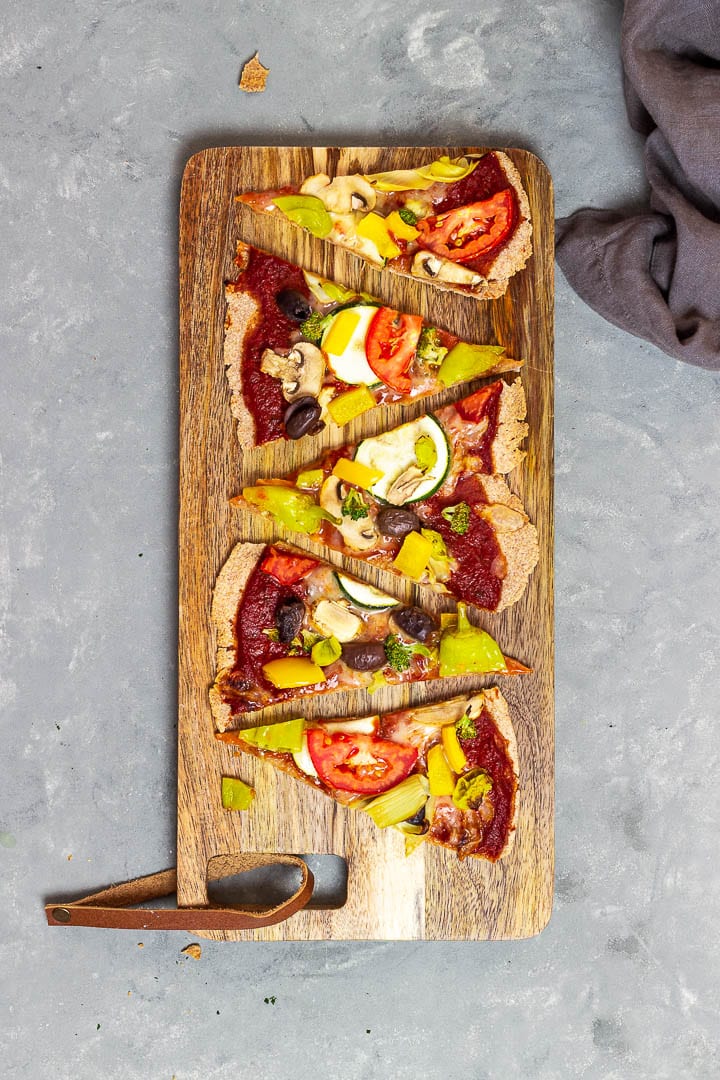 Which flour is best for a vegan pizza?
As pizza flour, I use my spelt kernels, which I mill into fine flour in my high speed blender.
The spelt gives the vegan pizza a special taste and goes perfectly with my sauce recipe. You can also use whole wheat flour or whole white wheat flour.
Vegan Pizza Sauce - What should I use?
Of course you can go back to a store bought pizza sauce, which I do not like. I like homemade sauces best.
Purchased sauces I always season up and then I would have almost the same effort as if I directly make a homemade pizza sauce made of tomato puree, tomato paste, balsamic and a few spices.
This sauce is prepared in no time. You can put all ingredients in a bowl and then mix to a delicious sauce.
What can I take as a cheese substitute for this delicious vegan pizza?
A pizza without cheese is that possible? And how does it work? Thanks to the tasty sauce and whole grain dough, you basically do not need cheese or any cheese alternative.
The delicious toppings suffice and you have created a fast and healthy pizza.
But if you want to have a cheesy pizza. Then you can either try this with vegan cheese substitute. Or prepare a cheese sauce like the vegan deep dish pizza.
Note, however, with the cheese sauce that you add a little more liquid to get a sauce-like consistency.
Why is this vegan pizza the best vegan pizza?
What causes me to call this pizza the best?! Have you ever had a brick oven pizza at the Italian restaurant? Then you'll surely know how good that kind of pizza tastes. And we do exactly that kind of pizza at home.
Now you may think, Jasmin, but I do not have a stone oven?!
Do not worry, I do not own one either. But I found a great alternative for you, which is also great for baking bread. A baking stone that really does a lot. I love mine and do not want to miss it anymore.
The pizza is perfect and tastes like the real Italian pizza and is that not exactly what we wanted to achieve? You can order one relatively cheap here and I have. We also bought a pizza peel, like this one.
Not only do you have a super delicious pizza, but a real family experience during the preparation.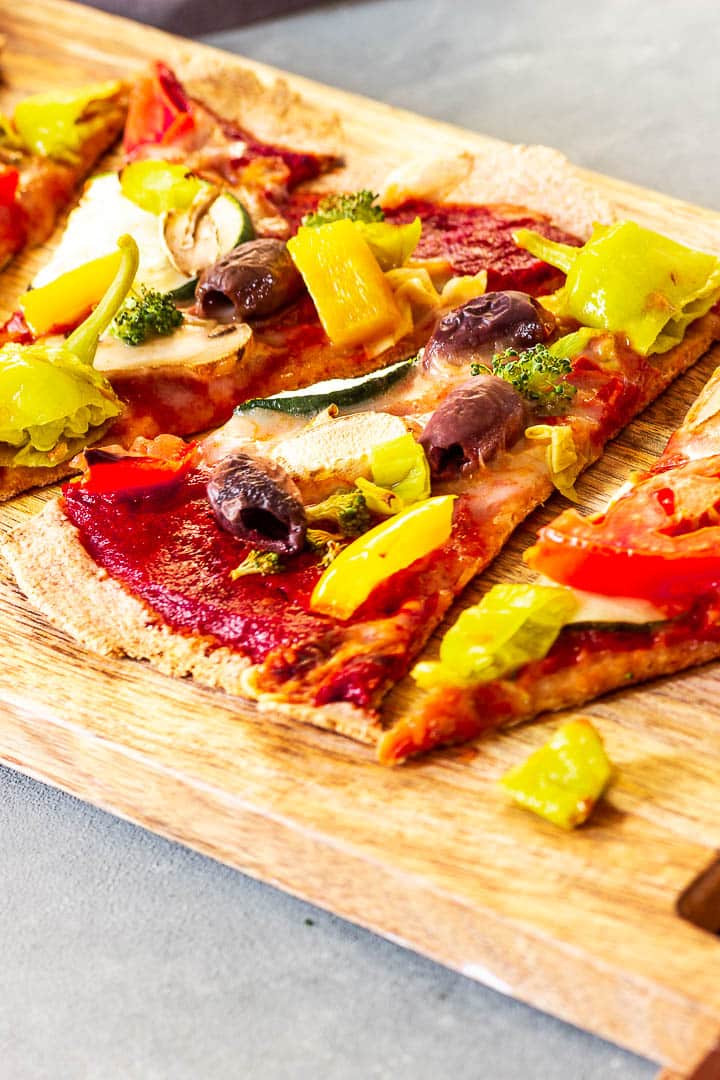 How should I top the pizza?
You can top the vegan pizza according to your preferences. Our favorite pizza toppings are:
Mushrooms, peppers, tomatoes, artichokes, peppers, onions, olives, broccoli

Toasted mushrooms in balsamic vinegar with oregano, salt and pepper

Mediterranean braised vegetables such as zucchini, egg plant

My pesto cream sauce with tomatoes and spinach
How do I prepare the pizza on a stone?
Here, roll out the dough so big that it fits on the pizza peel. Now you can flour the pizza shovel a bit and lay the dough on it loosely. Now, top the pizza with your favorite toppings and gently push the pizza onto the preheated pizza stone.
It takes some practice and it may not work so easily in the beginning. But after 2-3 pizzas, you'll get the hang of it and you'll feel like a true Italian pizza maker.
Important: you have to preheat the stone properly so that it can pass the heat to the pizza. For this I heat the oven with stone to 250 degrees Celsius for about 45 min.
I hope you like this pizza, it is:
Not just healthier than any restaurant pizza, it tastes even better

Thin and crispy, like an Italian pizza

Varied with different toppings
More vegan Recipes:
Do not forget to Pin on Pinterest
---
Have you tried the recipe?
If you tried the vegan Pizza, be so nice ♥ and let me know by rating the recipe and writing what you think about it in the comments. Tag me on Instagram too. I am @veeatcookbake and my hashtag is #veeatcookbake. So that I can see your creation. Did you know you can add photos on Pinterest under the recipe Pin? I can't wait to see a photo of your creation there. You find me with @veeatcookbake. I also would love to hear your feedback so I can share it on my social media channels.

This post may contains affiliate links and I may receive a very small commission if you buy through these links at no extra cost. Thank you very much for supporting Ve Eat Cook Bake! More information can be found here.
---