Get ready for a delicious vegan treat with this one-pot mushroom stroganoff! It's the perfect recipe to whip up if you're in need of something healthy, satisfying and fast. Made with flavorsome chanterelles, porcini mushrooms, creamy cashew cream alternative and an unbeatable combination of spices - this dish is sure to tantalize your taste buds.
Plus it packs all the goodness without added oils or sugar plus it's gluten-free and plant based friendly (oil free version), so everyone can enjoy! As seen in traditional German cuisine – Cream Mushrooms are definitely worth serving tonight too.
It is inspired by my German Cream Mushroom Gravy. It pairs well with homemade vegan Spaetzle.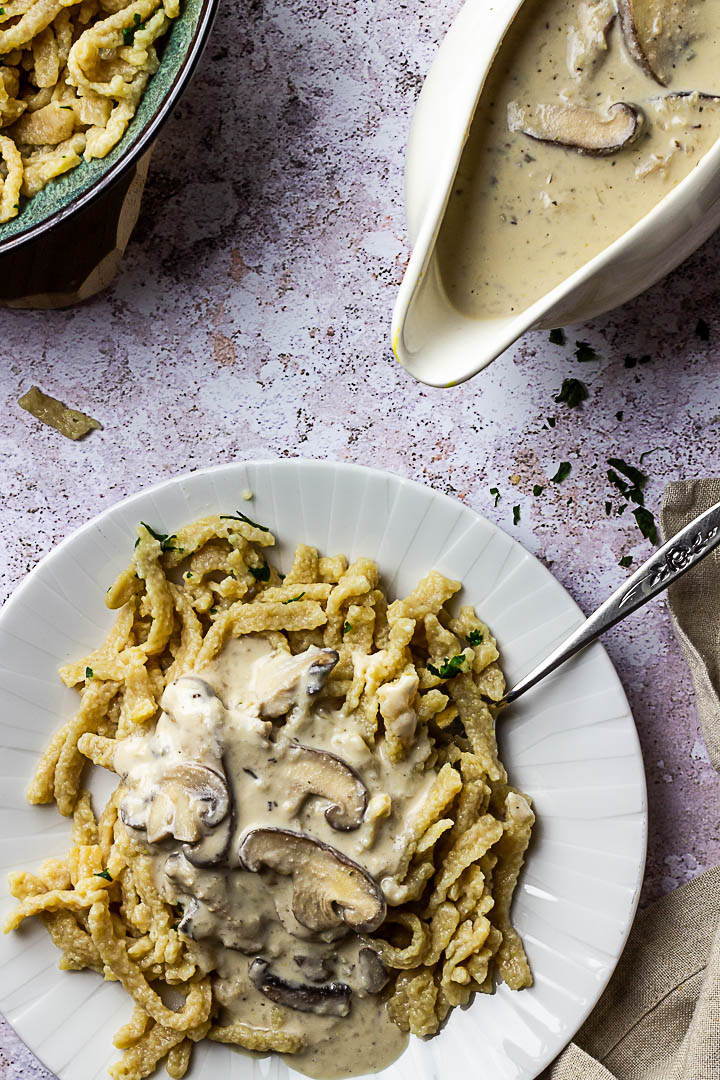 As an Amazon Associate, I earn from qualifying purchases. This post may contain affiliate links. Read More
Jump to:
Ingredients
A quick list of the simple ingredients you will need to make this savory stroganoff sauce.
You can find the ingredients with quantities and the recipe to print out on the recipe card below.
Do not be scared of the long list, most of them are spices that you may even have at home in your pantry.
Pasta
1 medium onion
Mixed mushrooms like baby bella mushrooms, chanterelles, oyster mushrooms, white button mushrooms, shiitake mushrooms
Garlic cloves
Dry White wine or white balsamic
Vegetable stock
Cashews, raw
Dijon mustard
Dried marjoram
Dried thyme
Onion powder
Garlic powder
Tarragon, dried
Soy sauce or Tamari
Dark miso paste
Nutritional yeast
Salt and Black pepper
Lemon Juice
Garnish: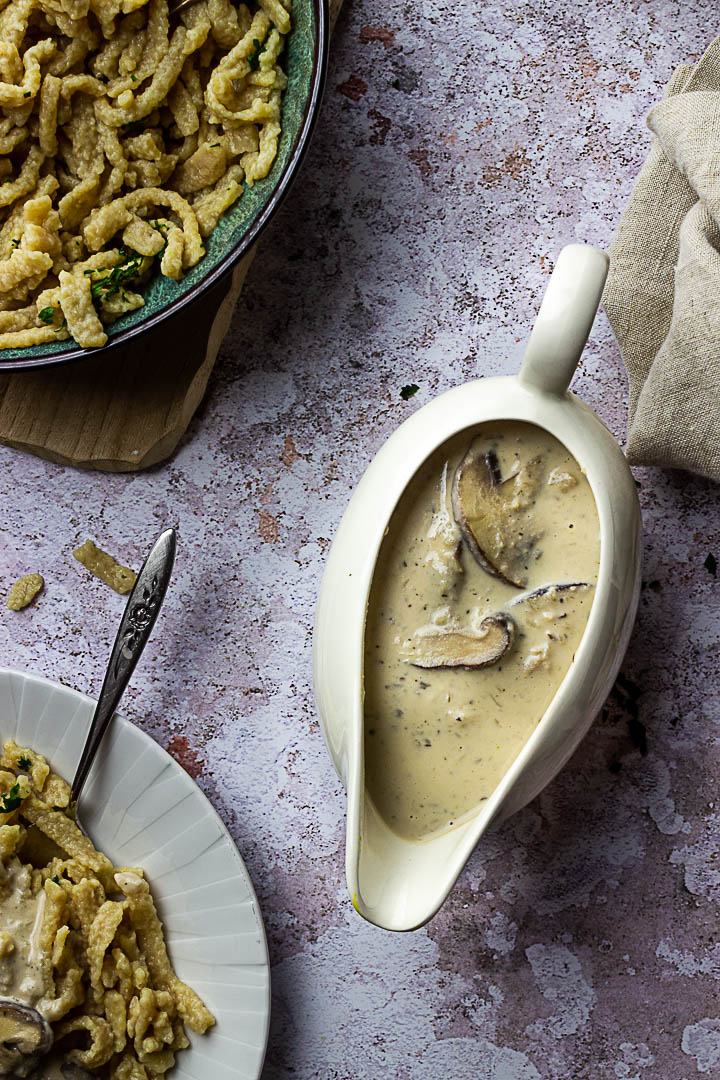 Instructions
First pour boiling water over the cashews and leave them for at least 10 minutes. Cook the pasta al dente according to package instructions.
Add 1 tablespoon of water, allow the onions and garlic to sauté in a large sauté pan on medium heat. When they start to stick to the bottom, add some more water and stir briefly, now the onions should slowly get color.
Repeat this step until the onions turn golden brown.
In the meantime, cut the mushrooms into slices and add to the onions and fry vigorously on medium-high heat. Repeat the same steps as for the onions.
Now deglaze the onions mushrooms with the white wine until it is cooked off. If you do not use white wine, you can later add the white balsamic to the cream, just skip this step.
Now drain the cashews and blend them with the vegetable broth in a high speed blender until they are creamy, smooth and without pieces.
Add the cashew cream with all the remaining ingredients to the mushrooms and stir vigorously.
Now let the sauce simmer briefly on medium-low heat and taste with some sea salt and pepper.
If the sauce is too thick, add some more water, if it is too liquid, let it simmer a little longer, it should thicken thanks to the cashews.
Serve with pasta, rice or bread dumplings
Hint: Very important for a tasty ragout, is that you first let the onion, garlic and mushrooms sauté properly. These are the basics for a tasty sauce.
Make this recipe, check out my other vegan mushroom recipes like bread dumplings with mushroom sauce, Mushroom Gravy, Bolognese Sauce, Asparagus Toast, Mushroom Lentil Loaf, Vegetable Jambalaya.
Substitutions
Mushrooms: I do not like mushrooms, what can I use instead? You can use vegetables instead of mushrooms. To be precise, this is a vegetable ragout, but why not?! Variety is the nuts and bolts. And if you do not like mushrooms, but still want to try this sauce, then you should just use vegetables as you wish. I can well imagine that a vegetable Stroganoff would taste very good with peppers, zucchini, green asparagus and eggplant. What do you think? You can even add some smoked paprika powder.
Pasta: You can use store bought pasta, gluten-free pasta or homemade pasta like my spaetzle recipe.
Cashew Cream: Instead of making blended cashew cream, you can use full-fat coconut milk to get a creamy texture.
Soy Sauce: It will add a savor flavor, umami flavor to that creamy mushroom sauce.
Mushrooms: You can use all kinds of mushrooms, I love to use different kinds of mushrooms. Sometimes it is hard to find different varieties of mushrooms in the classic grocery store. You can always use dried wild mushrooms and rehydrate them.
Herbs: You can also use fresh herbs instead of dried. Like fresh thyme.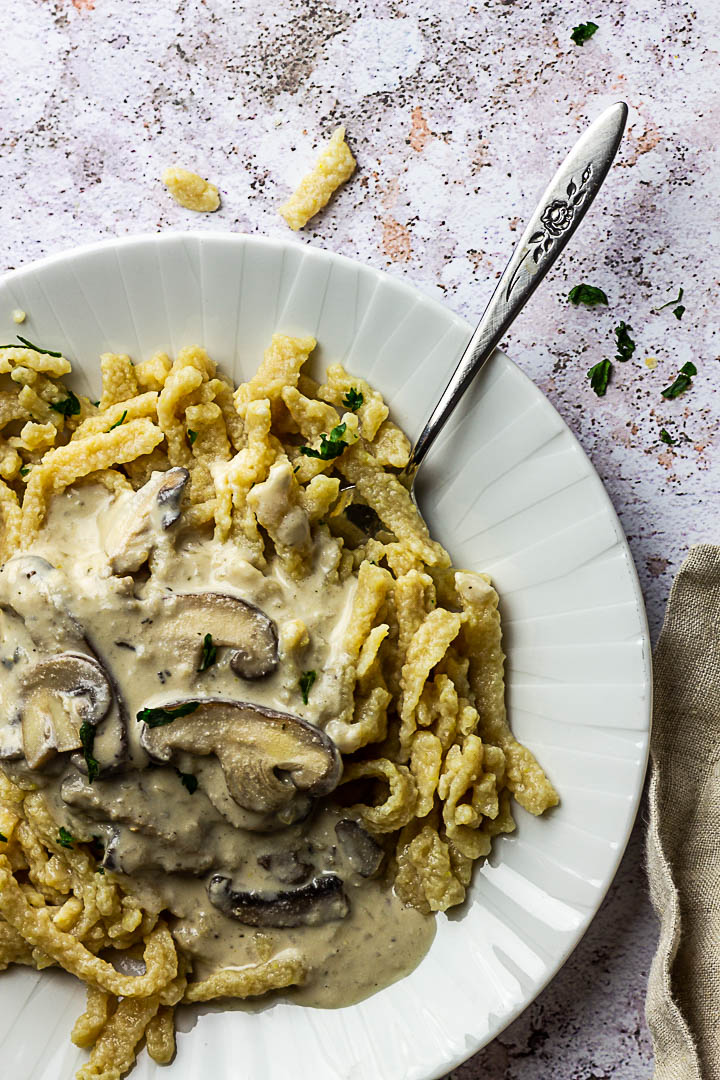 Equipment
Some kitchen tools that will help making this one-pot recipe.
Serving suggestions
Some ideas what to serve with this creamy vegan mushroom stroganoff recipe: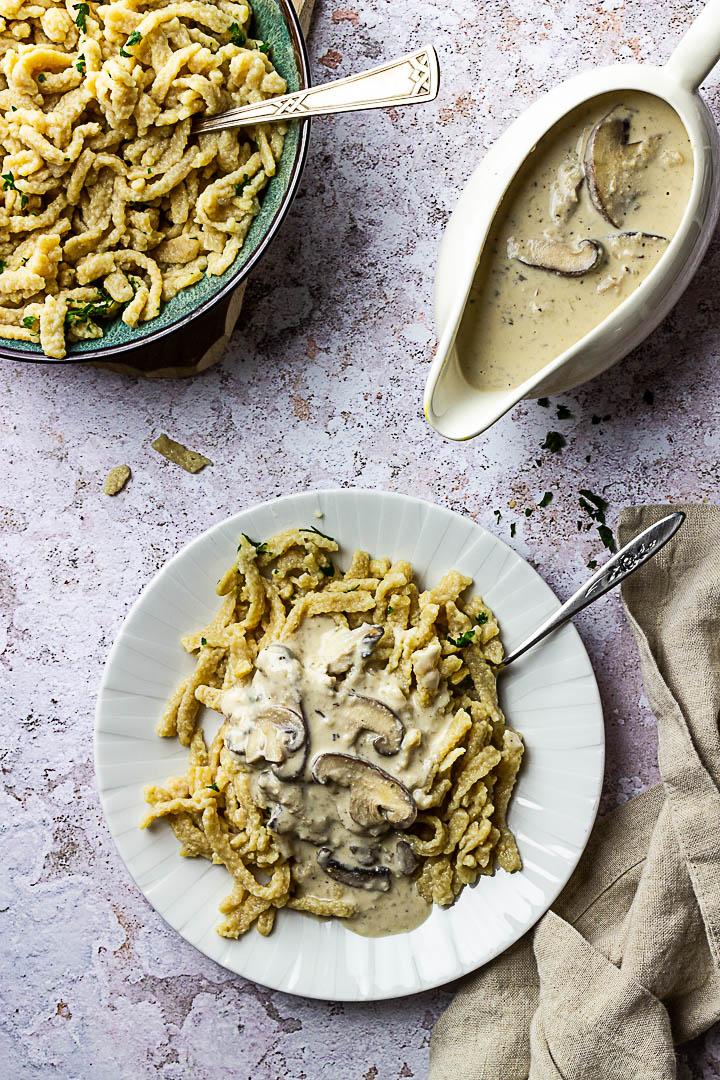 Storage
You can store the best vegan mushroom stroganoff recipe in the fridge or freezer. The sauce will thicken a bit, just add some water when heated and voilà your sauce is as fresh as it can be.
In both options, store the Stroganoff in an airtight container. In the fridge, the sauce holds about 3 days.
In our household, the sauce lasted just for a couple of days. Too good to not eat, don't you agree with me? And in the freezer, the sauce lasts even a couple of months.
Tips
To get more flavor in the sauce, let the sauce sit for about 30 min and then heat it again briefly. This is how all the herbs and spices develop their full taste.
I can not stress often enough that every dish falls or stands with the selection of the right spices and taste buds differ from person to person. Feel free to add and omit spices and herbs to your own taste.
FAQ
Stroganoff vs Ragout
Do you wonder why I write Stroganoff and Ragout in some places? Stroganoff is basically the Russian version of a mushroom ragout.
The original Russian stroganoff is traditionally made with beef. And it is made with a creamy sauce, which is usually based on sour cream.
There are so many variations of stroganoff and ragout that each dish has its own uniqueness.
And that's the way it is and it always turns into something special. So you can already find Creamed Mushrooms (a version of a stroganoff) with my bread dumplings (Semmelknödel) and in many other dishes you will find similar recipes, but each time something is modified.
I think a dish should taste good, and therefore you can always change some ingredients or sub, according to your own preferences. And as long as a recipe tastes good, everyone is happy, right?