Vegan mushroom stroganoff is not just a perfect recipe for beginners, but is also prepared fast and versatile to serve. This mushroom ragout pairs well with everything from homemade vegan spaetzle, to bread dumplings, and rice or other noodles. This hearty vegetarian stroganoff is made with a mushroom mixture of chanterelles, porcini mushrooms and others and a very creamy cream alternative made from cashews, as well as the right combination of spices.
vegan | vegetarian | oil-free | dairy-free | lactose-free | gluten-free | sugar-free | wfpb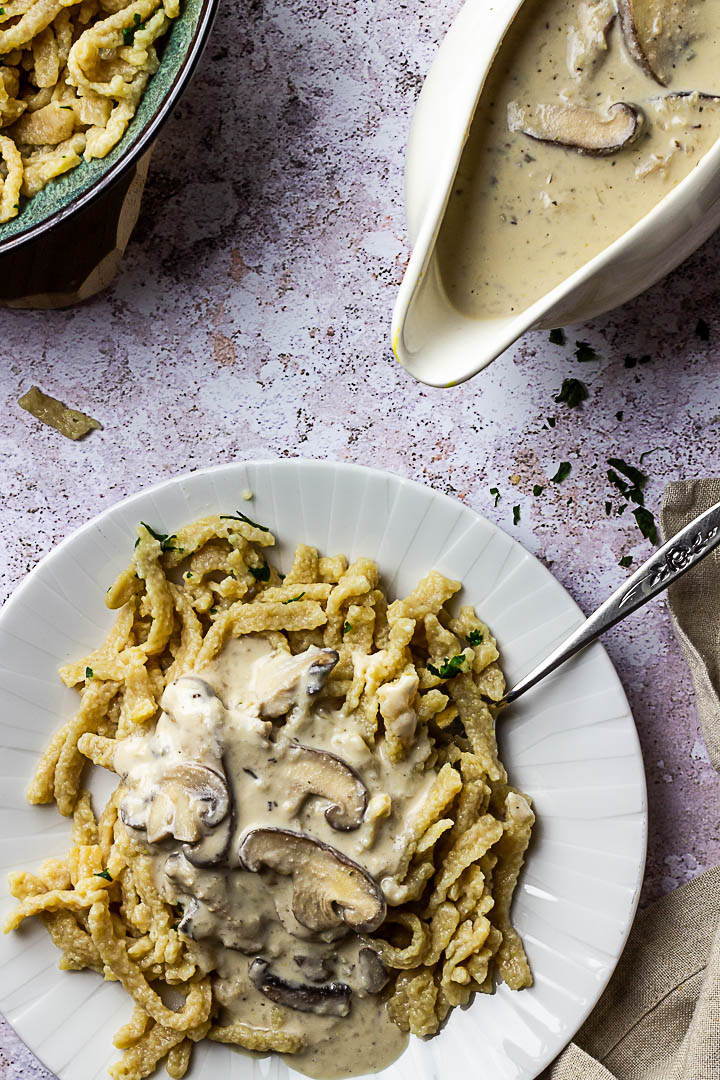 In German cuisine, cream mushrooms are common to serve. Whether to homemade spaetzle or egg noodles, rice or bread dumplings, creamy mushrooms are a tasty alternative to classic meat sauces and it can be quite easy to create a vegan version of the vegetarian mushroom sauce.
It is hard to believe that I did not like mushrooms as a child. Even the mushrooms that my grandfather had picked in the forest, I did not like. I have never been able to tolerate the consistency of mushroom, but always liked the taste of mushrooms. Isn't it crazy?
And then, as I started to eat more and more plant-based, I began to like mushrooms. As I said, I have always liked the taste. So I began to dice the mushrooms very finely, almost as fine as onion and then roasted them. So I did not really have to chew on it, and could still enjoy the taste of mushrooms.
And now I could eat mushrooms for almost any dish, especially chanterelles, but I miss them here in the US. I have found them only once at a farmers market. So I indulge in oyster, white, crimini and portobello mushrooms.

What do I need for a vegan mushroom ragout?
As you may have already noticed in my recipe, I love to use spices and herbs to get the proper taste. And it is the same with this mushroom Stroganoff. Do not be scared of the long list, most of them are spices that you may even have at home in your pantry.
Pasta

1 medium onion

Mixed mushrooms

Garlic cloves

White wine or white balsamic

Vegetable stock

Cashews, raw

Dijon mustard

Dried marjoram

Dried thyme

Onion powder

Garlic powder

Tarragon, dried

Soy sauce or Tamari

Dark miso paste

Nutritional yeast

Salt and pepper
How do I prepare a mushroom ragout?
First pour boiling water over the cashews and leave them for at least 10 minutes. Now put the onion and garlic in a coated pan. Add 1 tablespoon of water, allow the onions to fry until they begin to stick to the pan, then add some more water and stir briefly, now the onions should slowly get color. Repeat this step until the onions turn golden brown.
In the meantime, cut the mushrooms into slices and add to the onions and fry vigorously. Repeat the same steps as for the onions.
Now deglaze the onions mushrooms with the white wine until it is cooked off. If you do not use white wine, you can later add the balsamic to the cream, just skip this step.
Now sieve the cashews off and blend them with the vegetable broth in a high speed blender until they are creamy and without pieces. Add the cashew cream with all the remaining ingredients to the mushrooms and stir vigorously. Now let the sauce boil briefly and taste with some sea salt and pepper. If the sauce is too thick, add some more water, if it is too liquid, let it boil a little, it should thicken thanks to the cashews.
Serve with pasta, rice or bread dumplings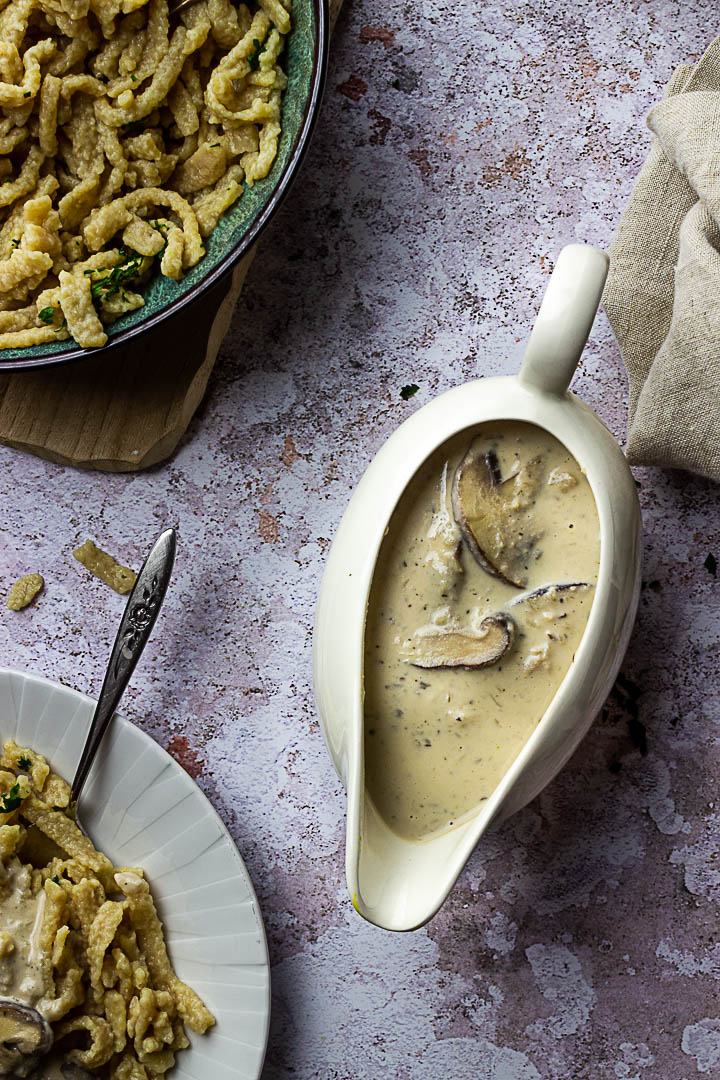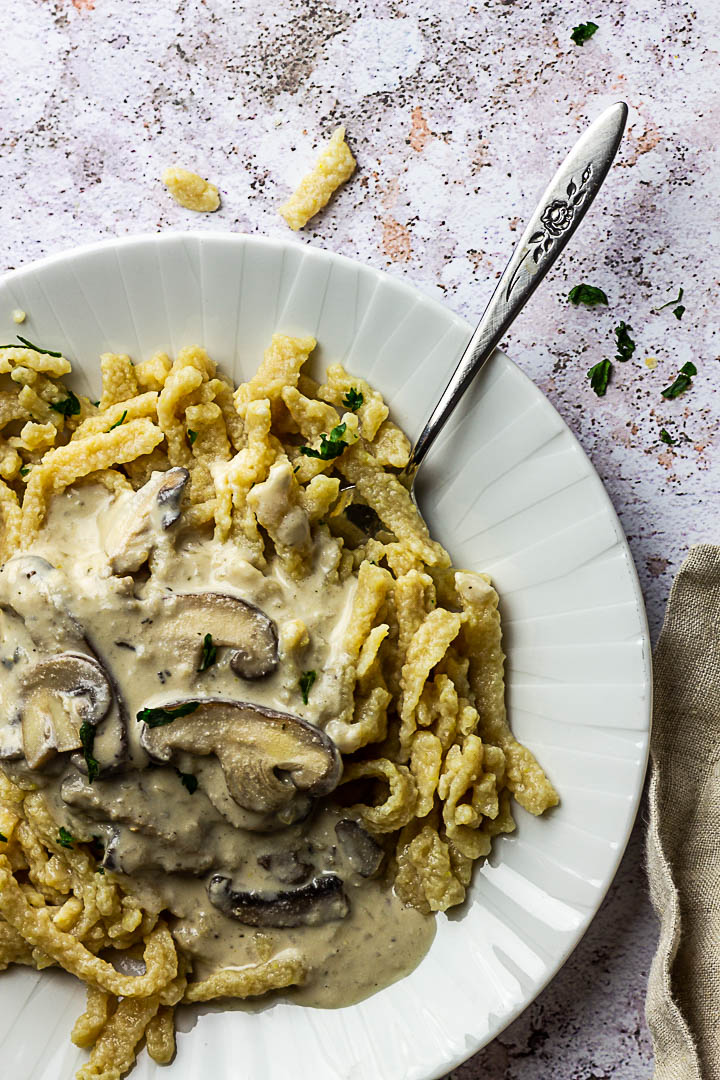 What is Stroganoff and Ragout?
Do you wonder why I write Stroganoff and Ragout in some places? Stroganoff is basically the Russian version of a mushroom ragout.
The original Russian stroganoff is traditionally made with beef. And it is made with a creamy sauce, which is usually based on sour cream.
There are so many variations of stroganoff and ragout that each dish has its own uniqueness. And that's the way it is and it always turns into something special. So you can already find Creamed Mushrooms (a version of a stroganoff) with my bread dumplings (Semmelknödel) and in many other dishes you will find similar recipes, but each time something is modified.
I think a dish should taste good and therefore you can always change some ingredients or sub, according to your own preferences. And as long as a recipe tastes good, everyone is happy, right?
How to Serve Mushroom Ragout (Mushroom Stroganoff)
Mostly mushrooms are served with rice or pasta. Both taste incredibly delicious. If you do not like creamy pasta, then you should absolutely serve this mushroom ragout with pasta, maybe even as in the photos with spaetzle. The vegan spaetzle recipe is coming soon. So be excited for it.
And who does not love a good risotto, creamy rice with mushrooms. This is also a dish that I could eat every day.
Or try a completely different version and serve this incredibly delicious sauce with my bread dumplings or potato dumplings.
I do not like mushrooms, what can I use instead?
You can use vegetables instead of mushrooms. To be precise, this is a vegetable ragout, but why not?! Variety is the nuts and bolts. And if you do not like mushrooms, but still want to try this sauce, then you should just use vegetables as you wish. I can well imagine that a vegetable Stroganoff would taste very good with peppers, zucchini, green asparagus and eggplant. What do you think? You can even add some smoked paprika powder.

TIPS to make the perfect Mushroom Stroganoff:
Very important for a tasty ragout, is that you first let the onion, garlic and mushrooms fry properly. These are the basics for a tasty sauce.

To get more flavor in the sauce, let the sauce sit for about 30 min and then heat it again briefly. This is how all the herbs and spices develop their full taste

To make our sauce so incredibly creamy, we use cashews. But if you can not eat cashews, just take coconut milk or coconut cream. Depending on that, use more coconut milk instead of vegetable broth.

I can not stress often enough that every dish falls or stands with the selection of the right spices and taste buds differ from person to person. Feel free to integrate your own twist.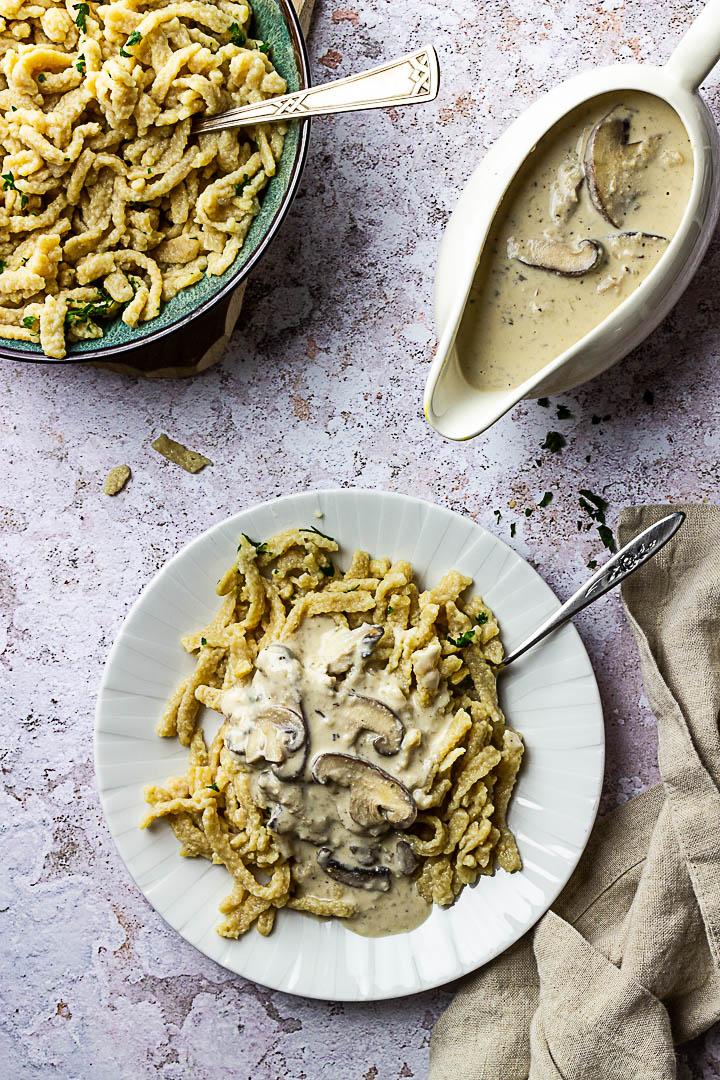 How to store the mushroom ragout?
You can keep the sauce in the fridge or freezer. In both variants, the sauce will thicken a bit, just add some water when heated and voila your sauce is as fresh.
In both cases, keep the Stroganoff in an airtight container. In the fridge, the sauce holds about 3 days. In our household the sauce lasted just for a couple days. To good to not eat, don't you agree with me? And in the freezer, the sauce lasts even a couple months.
So, feel free to make a larger batch and freeze them, so you always have something on hand.
Do not forget to Pin on Pinterest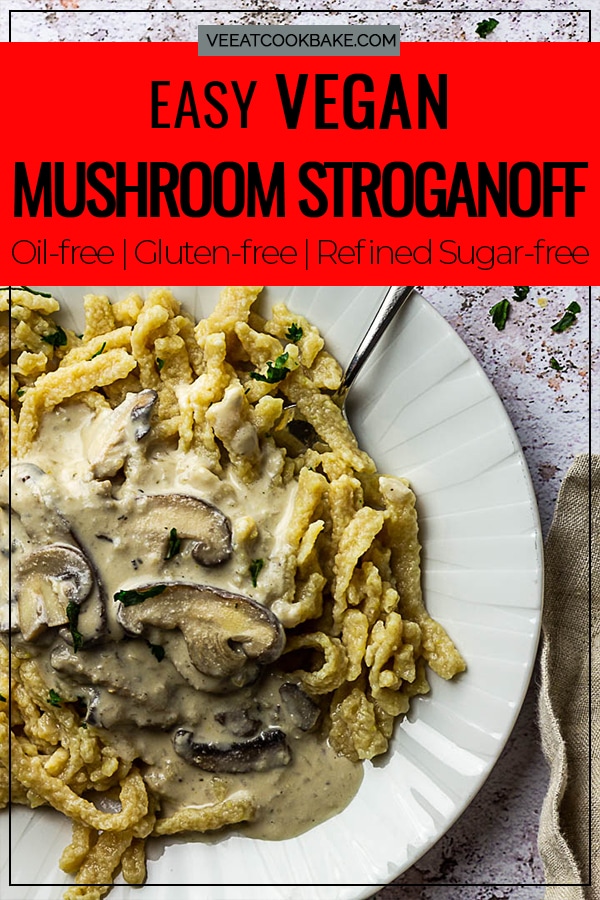 Have you tried the recipe?
If you tried the vegan Mushroom Stroganoff, be so nice ♥ and let me know by rating the recipe and writing what you think about it in the comments. Tag me on Instagram too. I am @veeatcookbake and my hashtag is #veeatcookbake. So that I can see your creation. Did you know you can add photos on Pinterest under the recipe Pin? I can't wait to see a photo of your creation there. You find me with @veeatcookbake. I also would love to hear your feedback so I can share it on my social media channels.

This post may contains affiliate links and I may receive a very small commission if you buy through these links at no extra cost. Thank you very much for supporting Ve Eat Cook Bake! More information can be found here.
---