Did you like to eat egg salad before you changed your diet? I created a creamy egg salad that is full of flavor. This eggless egg salad is conjured up with tofu and palm hearts.
Thanks to the black salt also known as Kala Namak, this egg salad is not just satisfying with its texture, but also with its taste. Prepare a delicious sandwich with the vegan and glutenfree egg salad as a quick lunch or breakfast.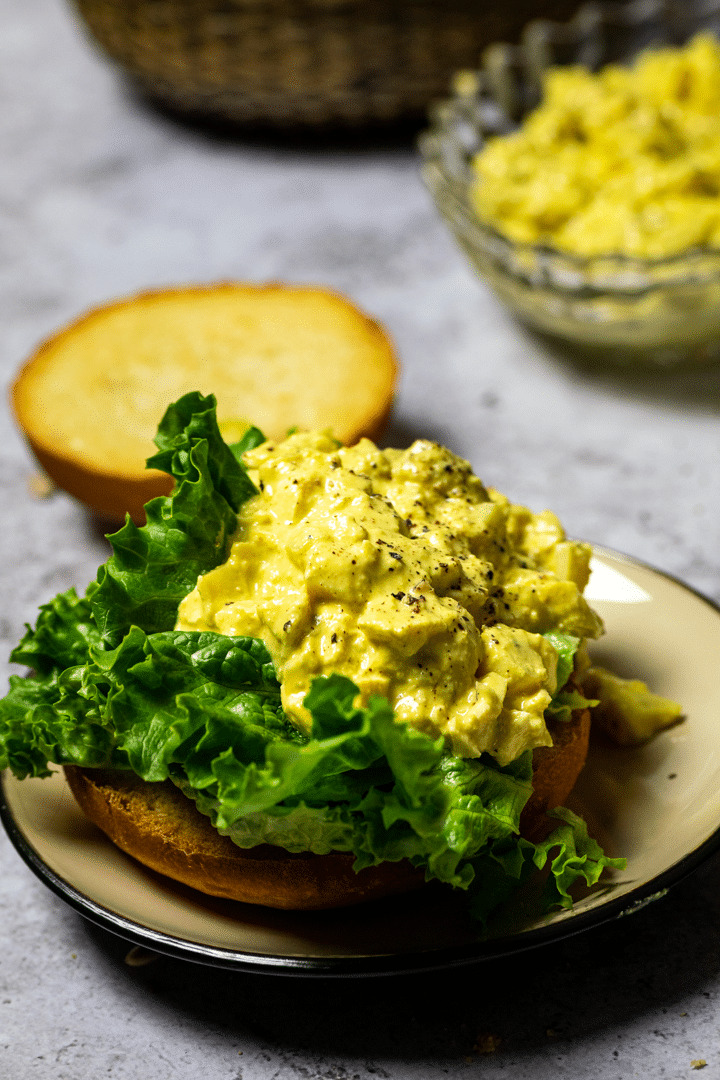 Thanks to this egg salad, you no longer have to miss a good egg salad sandwich. Get a delicious slice of bread, and top it with lettuce.
This vegan egg salad is packed with plant-based protein and you created a delicious lunch for on-the-go, whether for work or school. The egg salad consists of a creamy cashew sauce with mustard and other spices.
Try this salad as a wrap with vegetables as an alternative to a sandwich.
The egg salad is super easy to prepare, and even easier and faster than the classic egg salad. You only need a few ingredients, you don't have to turn the stove on to cook eggs and the dressing is blended quickly.
And the best thing about this egg salad is that it is cholesterol free.
I have to confess, I've never been a fan of eggs. I've never liked the consistency of hard-boiled egg whites.
But since my husband eats plant-based and I like to serve him classic dishes that he knows from his childhood or just classic comfort meals, I prepared this egg salad. And I have to say, it even tasted good to me. And we will for sure make it again for a quick sandwich recipe.
What do I need for a vegan egg salad?
medium-firm tofu
palm hearts (gf) or super-soft mussel pasta
1 shallot chopped, super fine
Dressing:
cashew nuts
water
nutritional yeast
Dijon mustard
black salt (Kala Namak)
celery salt or celery powder
turmeric
apple cider vinegar
Sea Salt and pepper to taste (optional)
For the sandwiches:
bread (gluten-free if desired)
lettuce leaves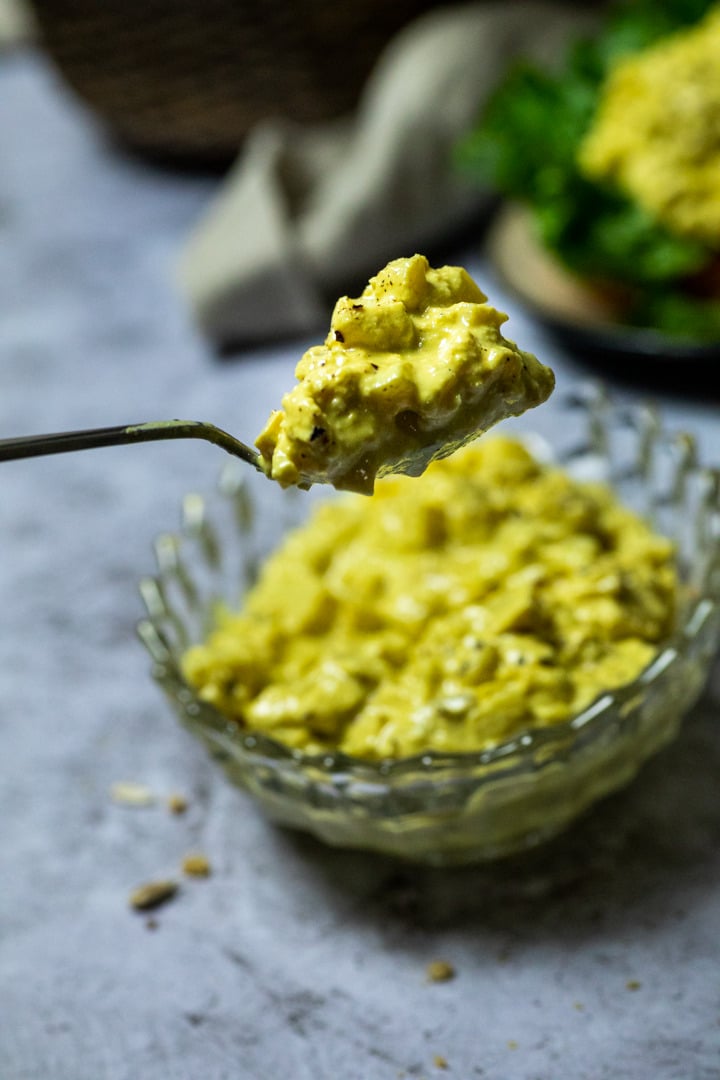 How do I prepare a vegan egg salad?
You start by soaking the raw cashews in water. In the meantime, chop the tofu and palm hearts (or noodles).
Finely chop the shallots and place the tofu, palm hearts and shallots in a bowl.
Now blend all the ingredients for the dressing in a high speed blender and season the sauce.
Stir the sauce into the tofu mixture. And let it sit for a moment to absorb the full taste. I like to put the salad in the fridge for about 30 minutes. And then season the egg salad again.
For the sandwich: Top a slice of bread with lettuce leaves and put the vegan egg salad on it. And put another bread slice on it; your sandwich is ready. You can also put tomatoes or other vegetables on it.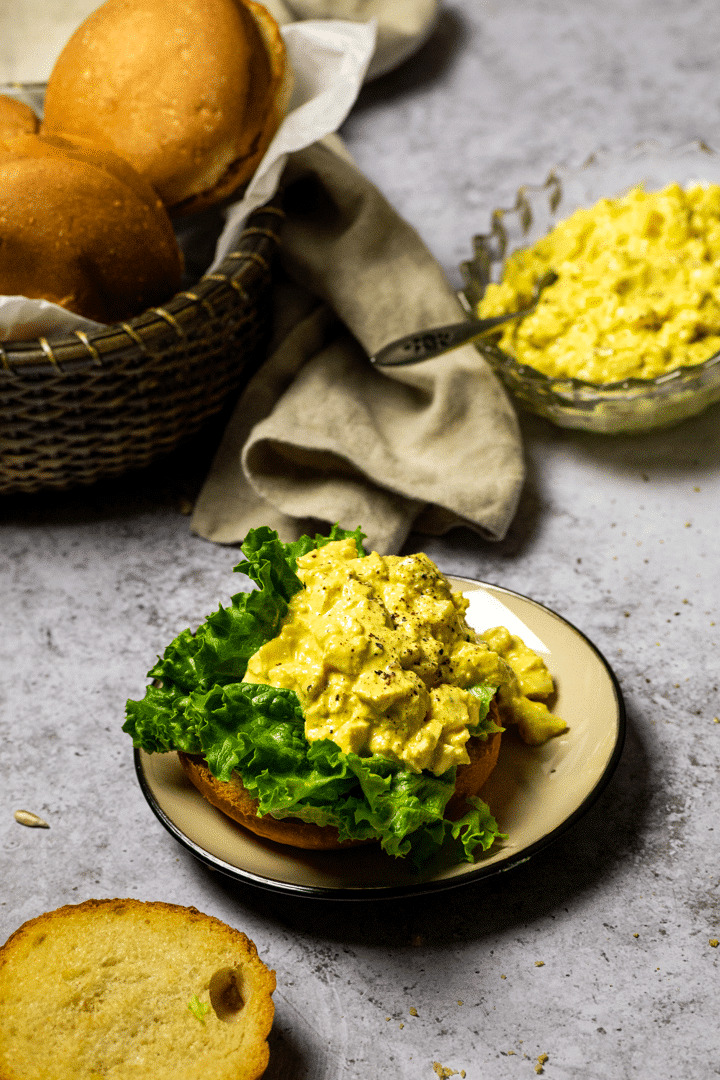 How do we get the authentic texture for the vegan egg salad?
Tofu is a great egg replacement for this egg salad. Tofu is available in different textures, I have to say that soft or also silken tofu is more suitable as scrambled eggs, because it is very soft and does not really correspond to that of hard-boiled protein.
Then there is firm and extra firm tofu, which in turn is too firm for a protein imitation.
So I tried medium tofu, which has the best egg-like consistency. This tofu is perfect for this dish.
Furthermore, I have palm hearts or soft-boiled (overcooked) pasta for us. Which makes the salad incredibly satisfying.
Where does the egg taste come from?
If we only made the dish with tofu, palm hearts and the cashew cream with turmeric, salt, mustard and pepper, it would still taste great, but the classic egg taste would be missing, right?
So the magic salt "Kala Namak" comes in, and we create an authentic vegan egg salad.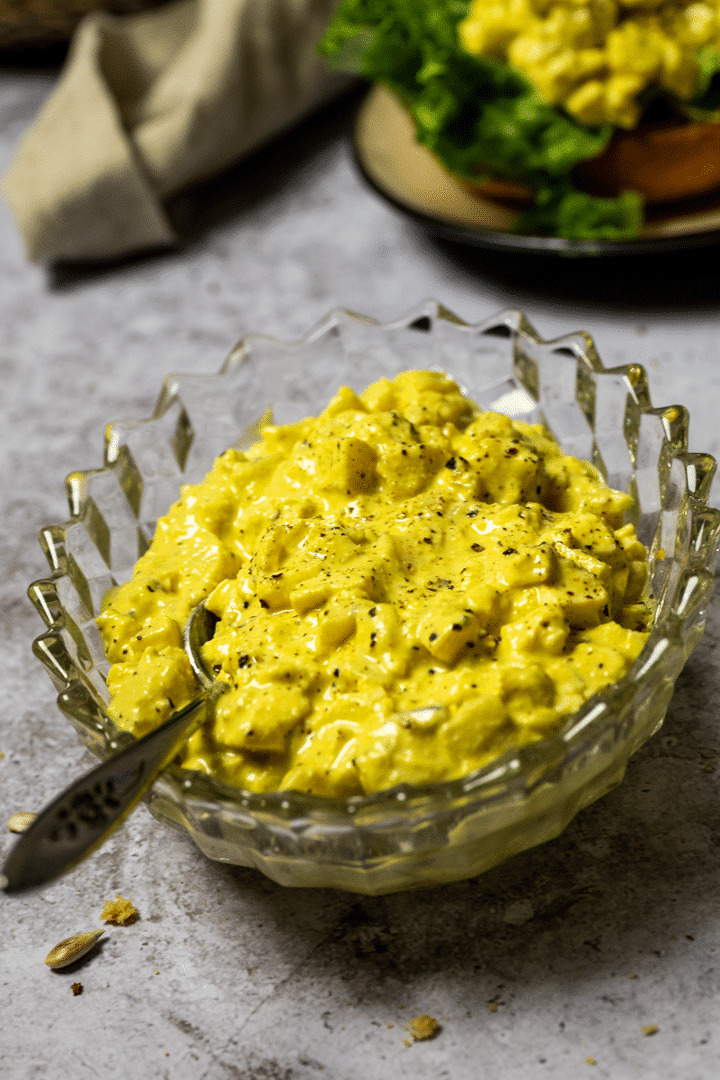 Can I prepare the vegan egg salad in advance?
Here I can give a big fat yes. This egg salad is perfect for meal prep. I have to say that it tastes even better when it has time to absorb all the flavors.
How long does the vegan egg salad last?
Place the egg salad in an airtight container and keep the vegan egg salad in the fridge for 5 days.
What bread tastes best with this tofu egg salad?
You can use your favorite bread here. Whether rolls, sourdough bread, rye bread. Everything tastes good with this egg salad.
A few tips to make the vegan egg salad:
Use the mustard you like best; I prefer Dijon mustard.

Let the egg salad steep so that the tofu takes on the full taste of the dressing.

Instead of the cashew cream, you can also go for vegan mayo.

If you don't like cashews, replace them with raw sunflower seeds. These take a little longer in the blender and it takes a little longer until the taste is absorbed, so that you no longer taste the seeds.
Bring Pep in your egg salad:
Pickles, horseradish, or other salty pickles

Carrots, peppers

Olives, Mediterranean herbs

Other spices such as caraway seeds, smoked paprika powder, herbs
Is Tofu Healthy?
Tofu contains calcium, protein, selenium and even some omega-3 fats. However, there are divided opinions about soy. I like to read about it here.
More vegan sandwich recipes:
Chickpea jackfruit Tuna Sandwiches
Do not forget to Pin on Pinterest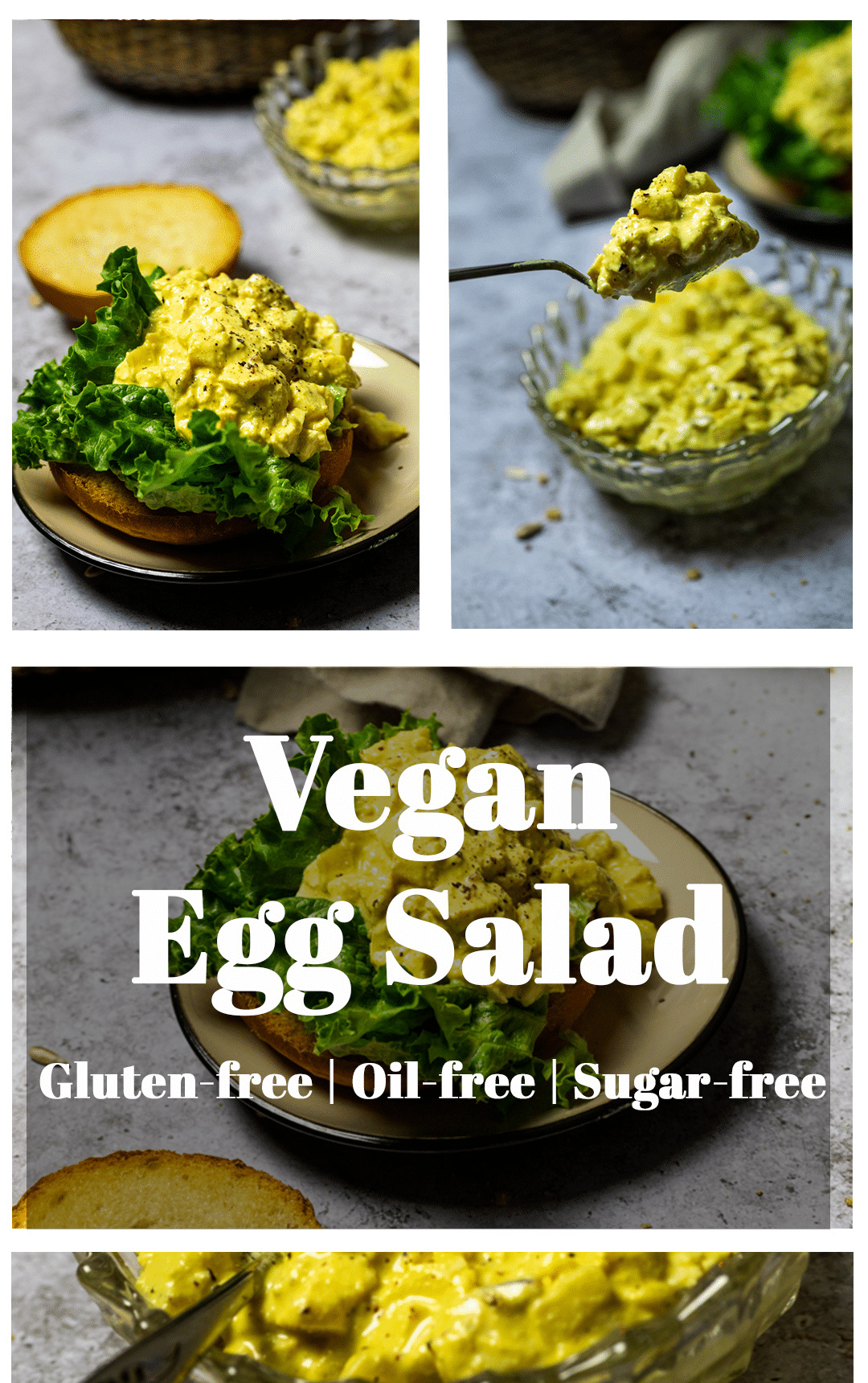 Have you tried the recipe?
If you tried the vegan Egg Salad, be so nice ♥ and let me know by rating the recipe and writing what you think about it in the comments. Tag me on Instagram too. I am @veeatcookbake and my hashtag is #veeatcookbake.
So that I can see your creation. Did you know you can add photos on Pinterest under the recipe Pin? I can't wait to see a photo of your creation there. You find me with @veeatcookbake. I also would love to hear your feedback, so I can share it on my social media channels.

This post may contains affiliate links and I may receive a very small commission if you buy through these links at no extra cost. Thank you very much for supporting Ve Eat Cook Bake! More information can be found here.
---