Vegan fish tacos are easy to prepare with jackfruit and palm hearts.
We don't have to resort to vegan fish substitutes to enjoy a delicious, tasty plant-based alternative to the popular fish tacos from the USA.
With whole food plant based ingredients, we can create a great taste that won't let you miss the actual fish.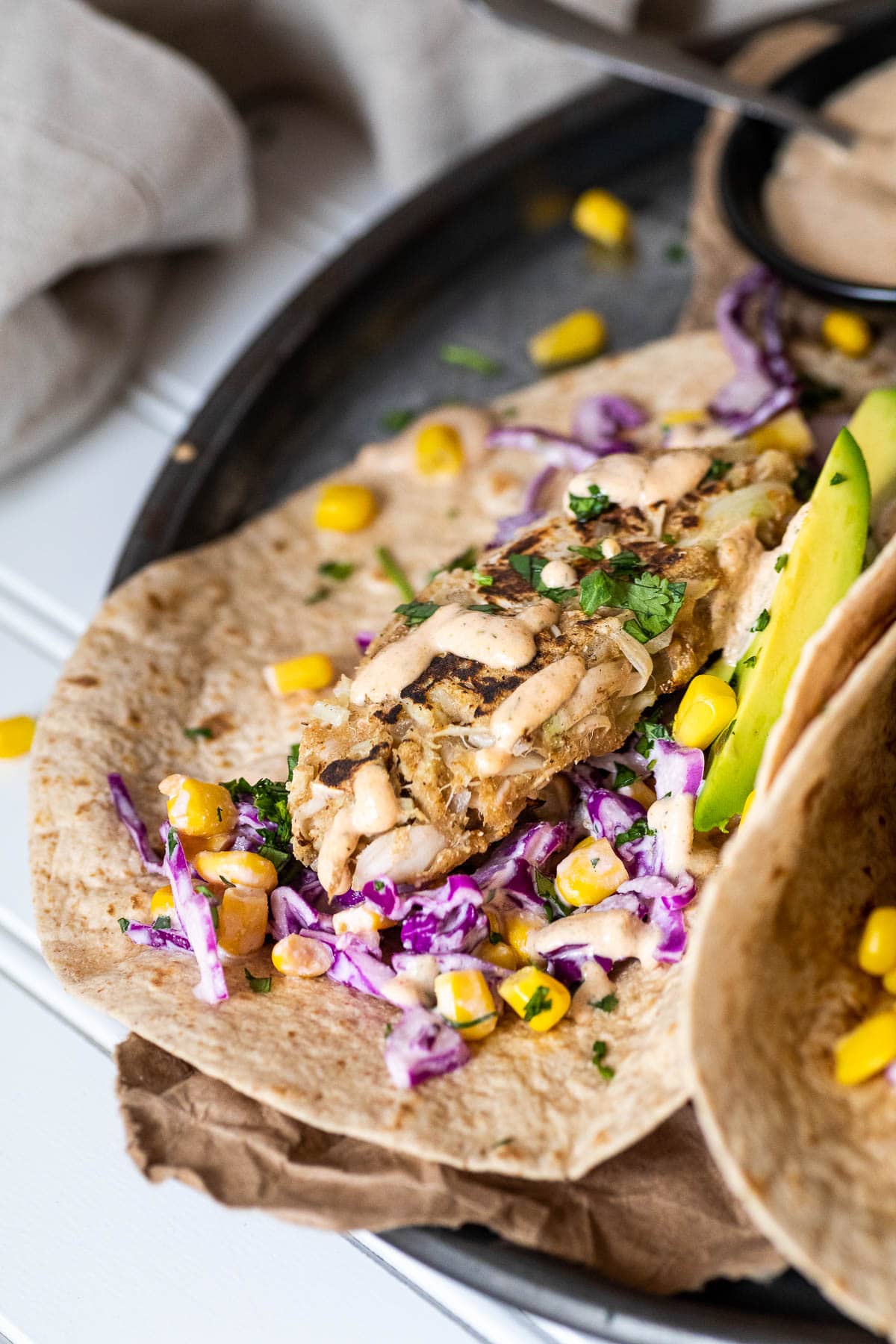 As an Amazon Associate, I earn from qualifying purchases. This post may contain affiliate links. Read More
Jump to:
If you love tacos, like my lentil tacos, then you should definitely try these whole food plant based fish tacos for the next Taco Tuesday.
Our jackfruit and palm hearts are deliciously seasoned with Old Bay spices and kelp powder.
These are then shaped into fish fingers and then fried. If you want to bread this vegan fish alternative made from whole foods, you are welcome to do so.
You can serve these delicious fish tacos with corn tortillas or wheat tortillas. We conjure up a delicious red coleslaw that goes great with the fish tacos.
We do not use tofu or ready-made products for these tacos. This way you have a soy-free dish that is also very easy to prepare in gluten-free.
Ingredients
After telling you that we are using jackfruit and palm hearts for these vegan fish tacos, I would like to show you the remaining ingredients. The exact quantities can be found below in the recipe card.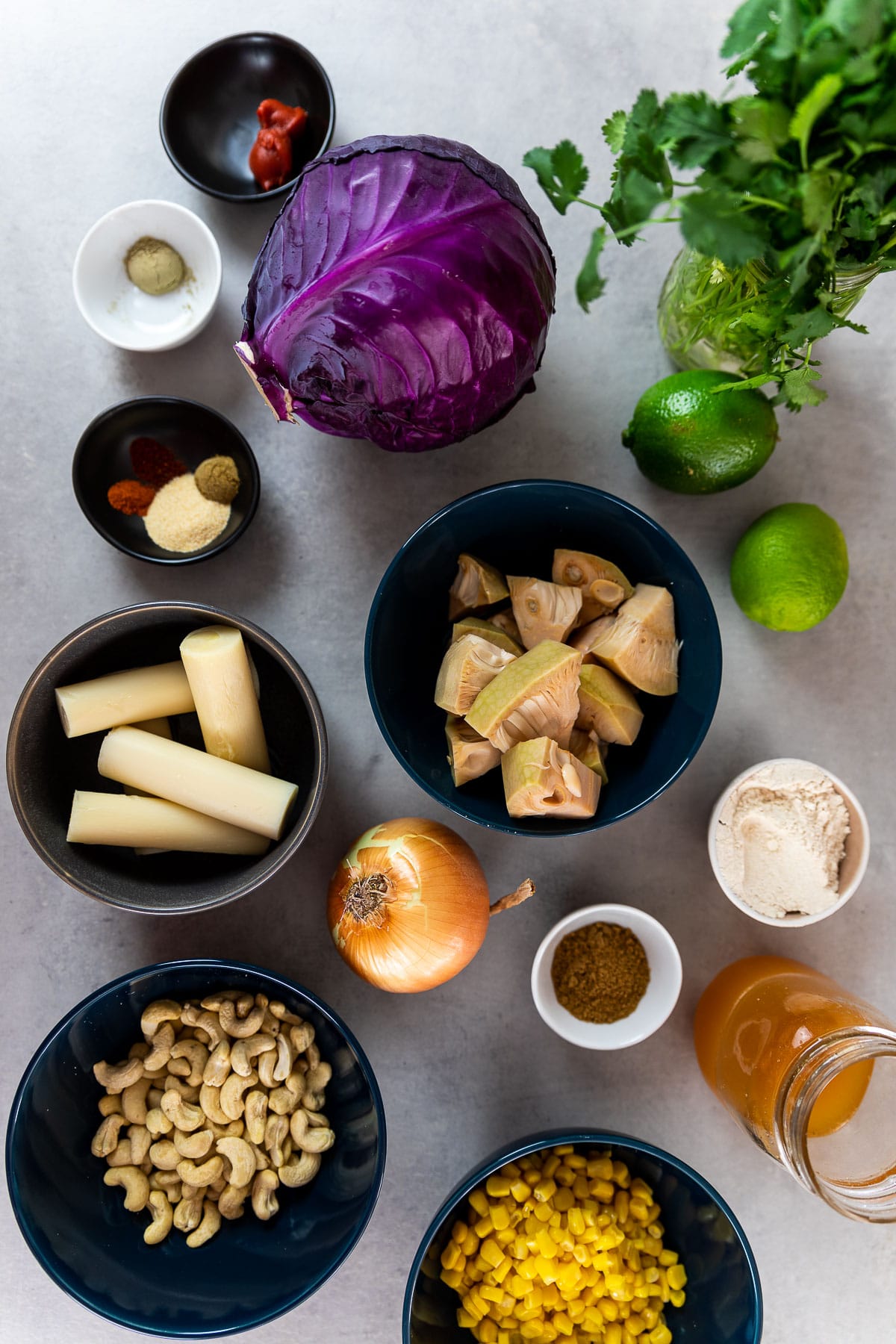 Tortillas
Palm Hearts
Jackfruit
Onion
Whole Wheat Flour
Old Bay Spice
Kelp Powder
Lemon Juice
Cayenne Pepper
Sauce
Cashews
Water
Lime Juice
Cumin
Garlic Powder
Tomato Paste
Cayenne Pepper
Paprika Powder
Coleslaw
Cashews
Water
Red Cabbage
Corn
Lime Juice
Garlic Powder
Coriander
Jalapenos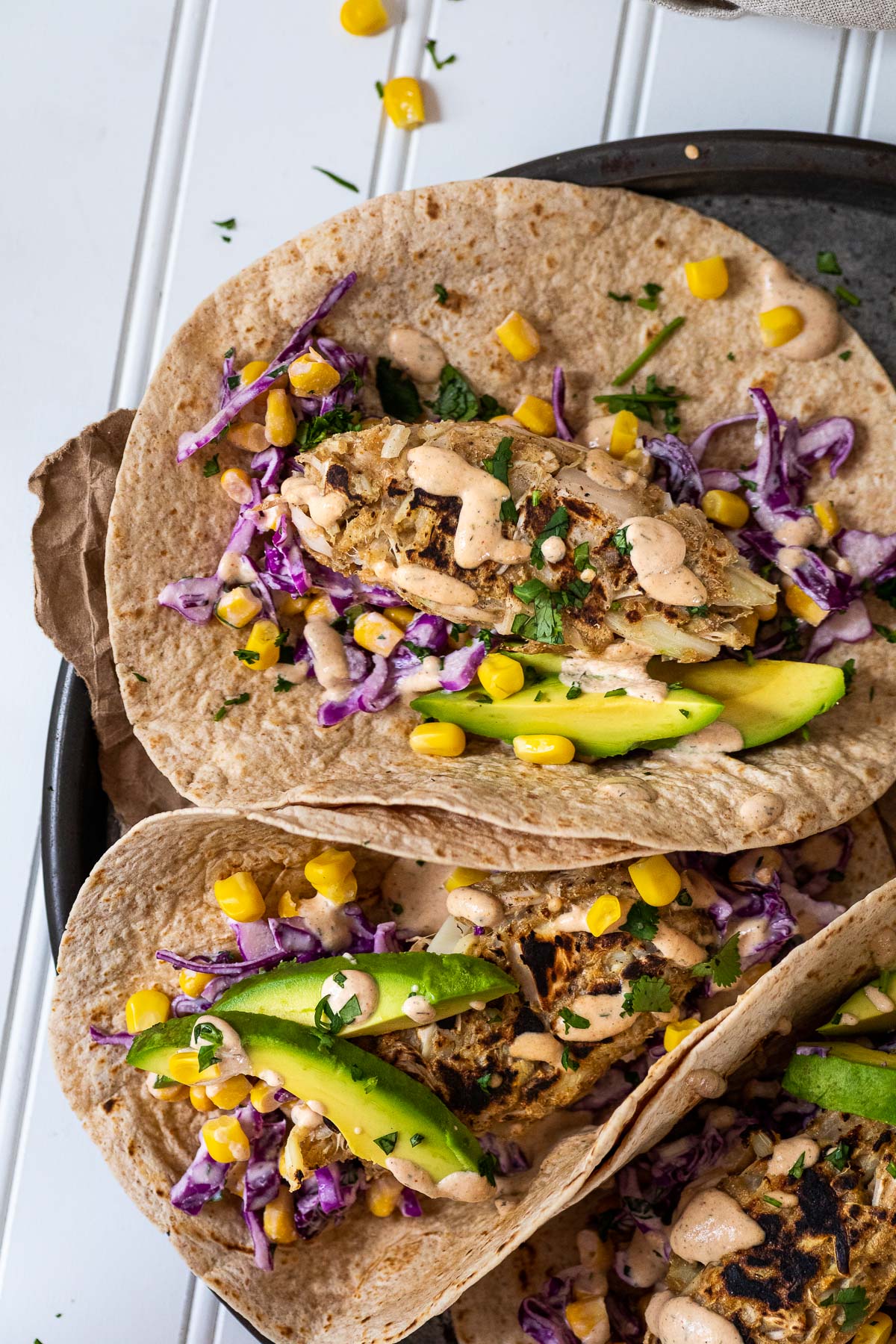 Substitution
Now let's take a look at which ingredients you can exchange.
Jackfruit And Palm Hearts
Instead of jackfruit and palm hearts, you can of course also use tofu or banana blossoms. You can often find banana blossoms in the Asian department in the supermarket or online.
I think it is easier to find palm hearts and jackfruit and the way we process them you get a great fibrous consistency that is reminiscent of fish.
Whole Wheat Flour
If you now want to prepare the fish tacos gluten-free, I recommend using a gluten-free flour mixture. Or you can use oatmeal.
Kelp Powder
If you are a sushi lover and you don't have kelp powder in stock. Just use a finely chopped nori sheet that you add to the vegan fish.
Old Bay Spice Mix
I advise you to use this seasoning, as this makes the taste of the fish tacos. In the recipe card I write down how you can make the old bay seasoning yourself. Like us, you will probably have most of the spices at home.
Coriander
If you don't like coriander, you can also use fresh parsley or other herbs. People seem to either like it or hate it.
Cashews
If you don't want to use cashews, I recommend using sunflower seeds and white beans. Use one half of the sunflower seeds and the other half of the beans and process it the same way as with the cashews, so that you get a creamy consistency.
Lime
If you don't want to buy extra limes now, and you have lemon juice at home, then you can of course use lemon juice. If you don't have both at home, but you still want to prepare it, you can also use vinegar or apple cider vinegar.
We use the lime juice so that we get a great taste. This gives the whole thing that certain something.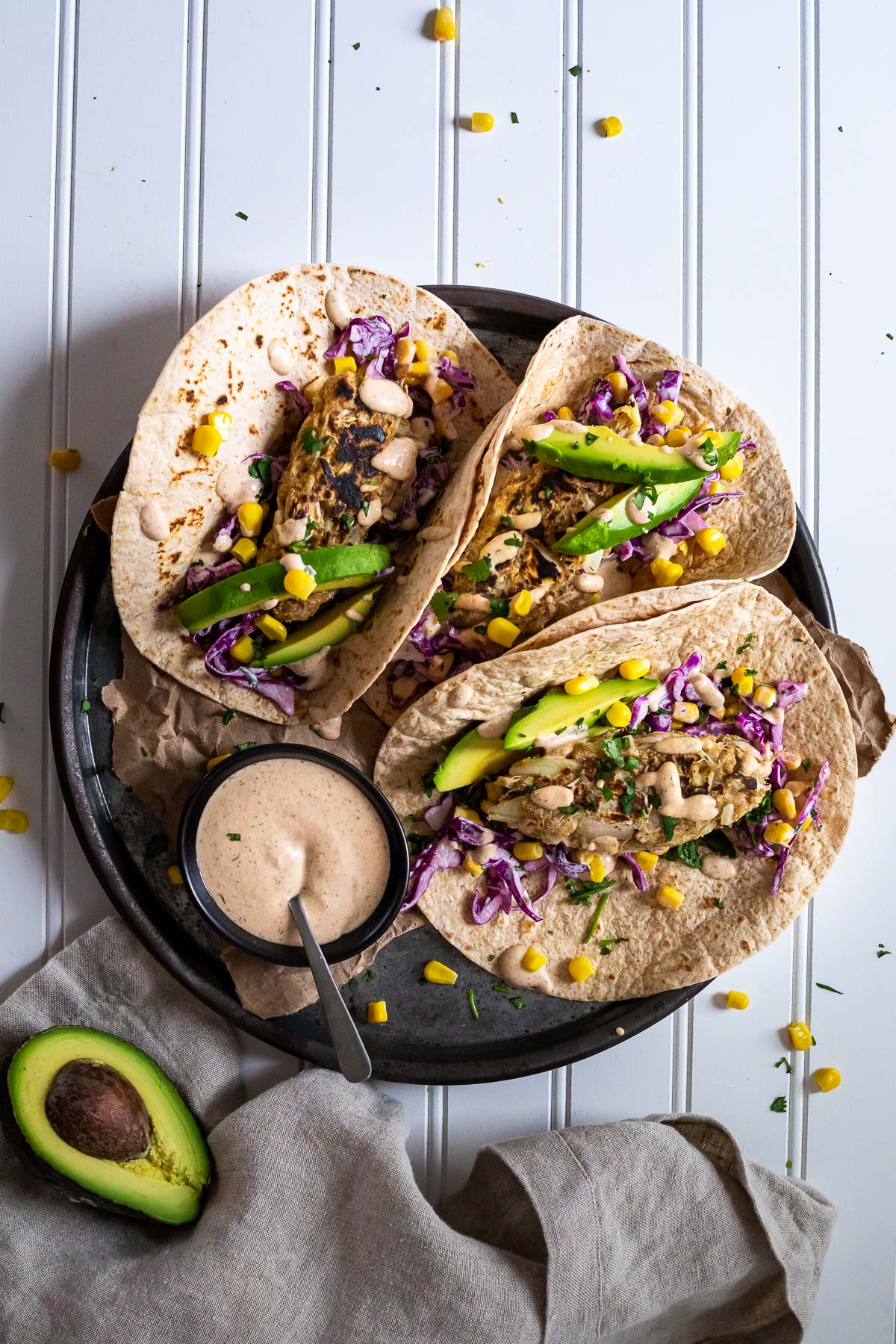 Variations
Let's take a look at how you have to adjust the dish so that you can use it in gluten-free, nut-free.
Gluten free
As mentioned above, you can easily make this gluten-free dish. For this purpose use corn tortillas instead of flour tortillas.
Furthermore, you can also use an alternative to the flour, you are welcome to use your gluten-free flour mixture that you use for baking. I can also imagine that it can taste good with oatmeal. I haven't tried it myself yet.
Nut free
To make these nut-free vegan fish tacos, you have to make the sauce without cashews and the cabbage salad without cashews. I recommend using white beans and sunflower seeds for this. This is how you get a totally creamy sauce.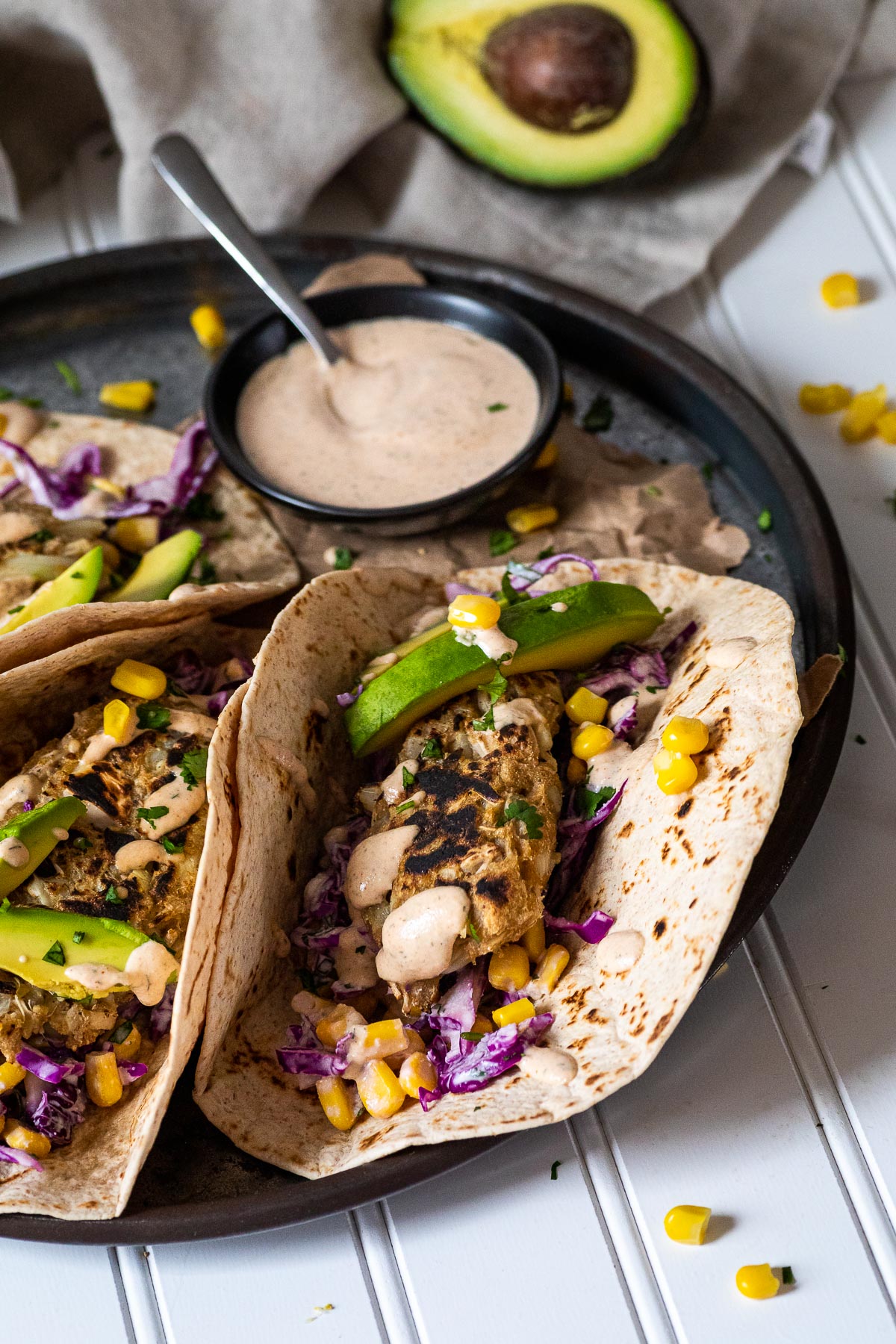 Instructions
Start draining the jackfruit and palm hearts. Remove the hard part of the jackfruit and discard it.
Chop the jackfruit and palm hearts with a fork. Finely dice the onion.
In a large bowl, stir together the palm hearts, jackfruit, onion, Old Bay seasoning, kelp powder, and lime or lemon juice until well mixed. Slowly add whole wheat flour.
Just add 1-2 tablespoons at a time until the dough comes together and you can shape fish fingers. If you want, you can bread the fish fingers or just leave them as they are.
Mix the cashew nuts and vegetable stock in a high speed mixer until super creamy. Measure 80 ml of this cream and set it aside.
Put the rest of the cream in a bowl and mix with the juice of a lime, garlic powder, cumin powder, paprika powder, a pinch of cayenne pepper powder and tomato paste until creamy. If desired, season with a little white pepper and apple cider vinegar.
For the coleslaw, cut the red cabbage into fine strips until you have a volume of about 500 ml cabbage (approx. ¼ cabbage).
Add the juice of 1 lime and the cashew cream that you set aside and massage the cabbage. Add 1 cup of corn, 1-2 tablespoons of freshly chopped coriander, and ¼ teaspoon of chopped jalapenos. Mix until everything is well mixed.
Now fry the fish fingers until they are brown.
To serve, heat the tortillas and fill them with fish fingers, coleslaw and sauce. Garnish with a little coriander, corn, onions, and avocado.
Prepare in advance
These vegan fish tacos can also be prepared in advance. Simply prepare the sauce 1-2 days in advance. You can also prepare the coleslaw 1-2 days in advance.
Prepare the fish fingers and store the batter in a sealed container in the refrigerator. Shape fish fingers just before serving and fry them.
The recipe is very suitable as a meal prep recipe.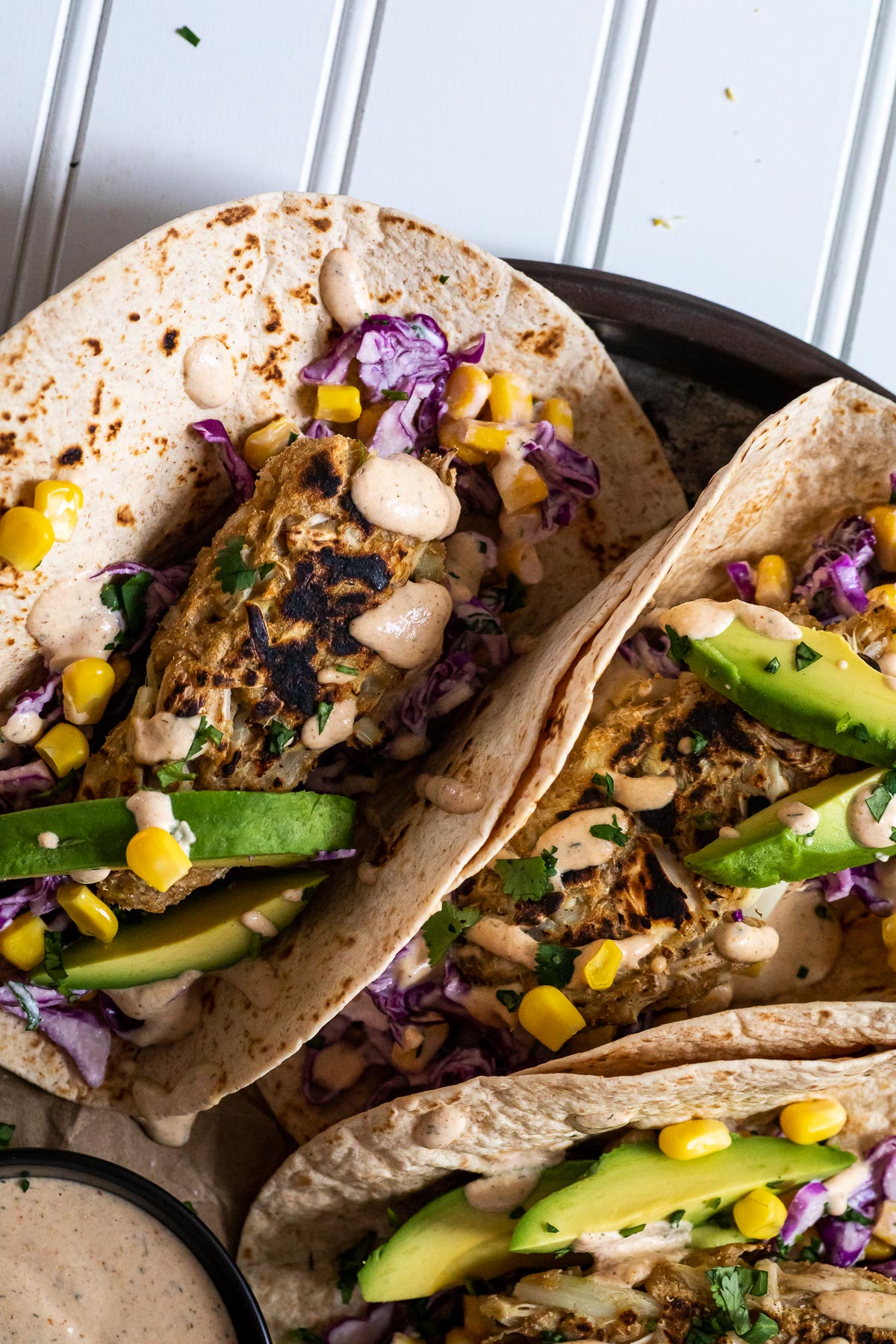 Serving Options
In my opinion, these vegetarian fish tacos are a full dish. I have a few more ideas you can serve as a side dish to the vegan fish tacos. You can also make more of the coleslaw and eat it as a side dish.
I can imagine that you can also eat the following side dishes with the fish tacos.
Lime Coriander Rice
Mexican Rice
Refried Beans (Mexican bean puree)
Black Bean Soup
Tortilla Chips, Salsa and Guacamole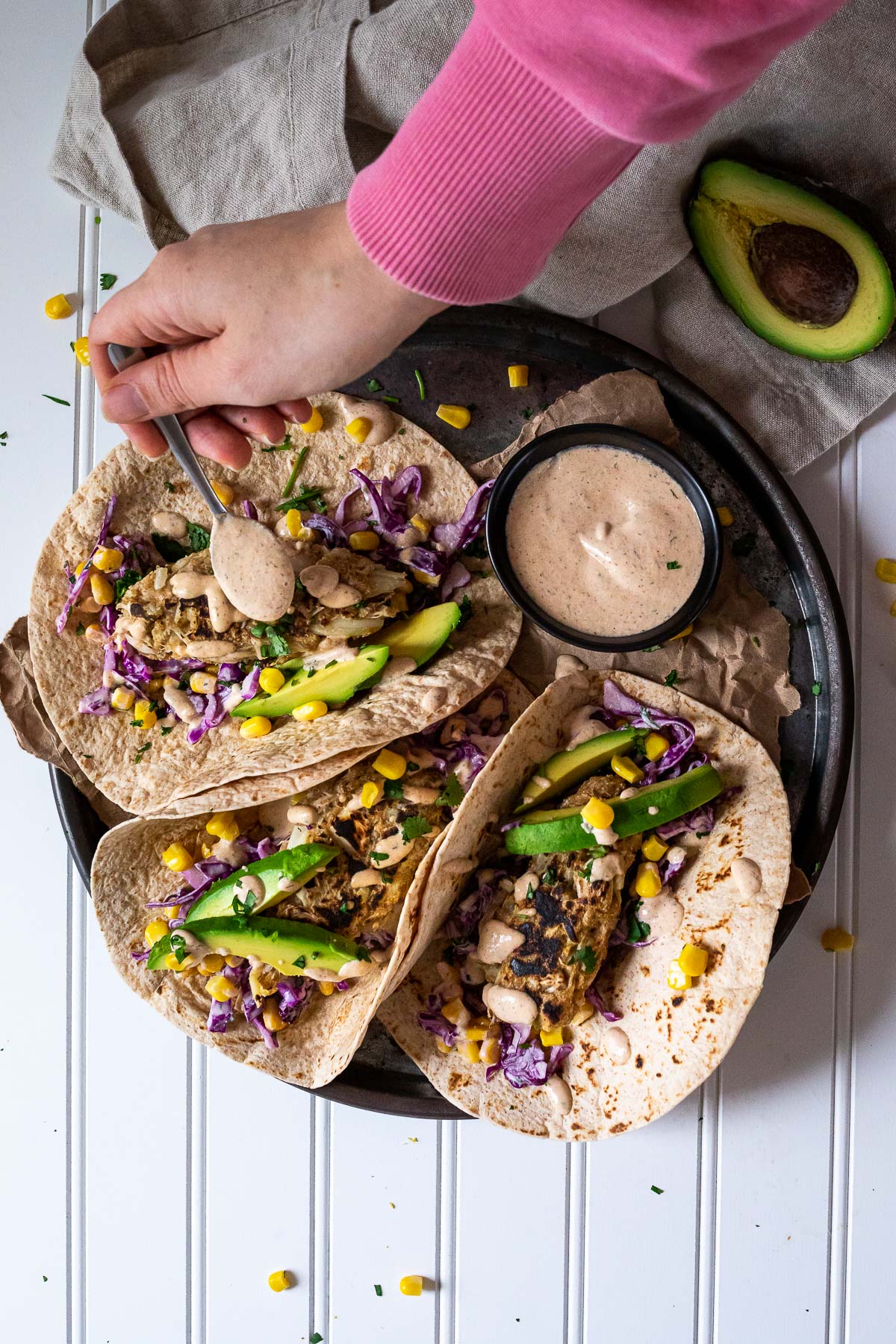 Tips
You can also bake the vegan fish fingers in the oven, simply preheat the oven to 400°F (200°C) and bake the vegan fish for about 15 minutes. Check every now and then so that it doesn't burn.
Buy large tortillas for burritos and use them to make vegan fish burritos. I like to add lime rice, tomatoes, and avocado to the filling.
More Vegan Recipes: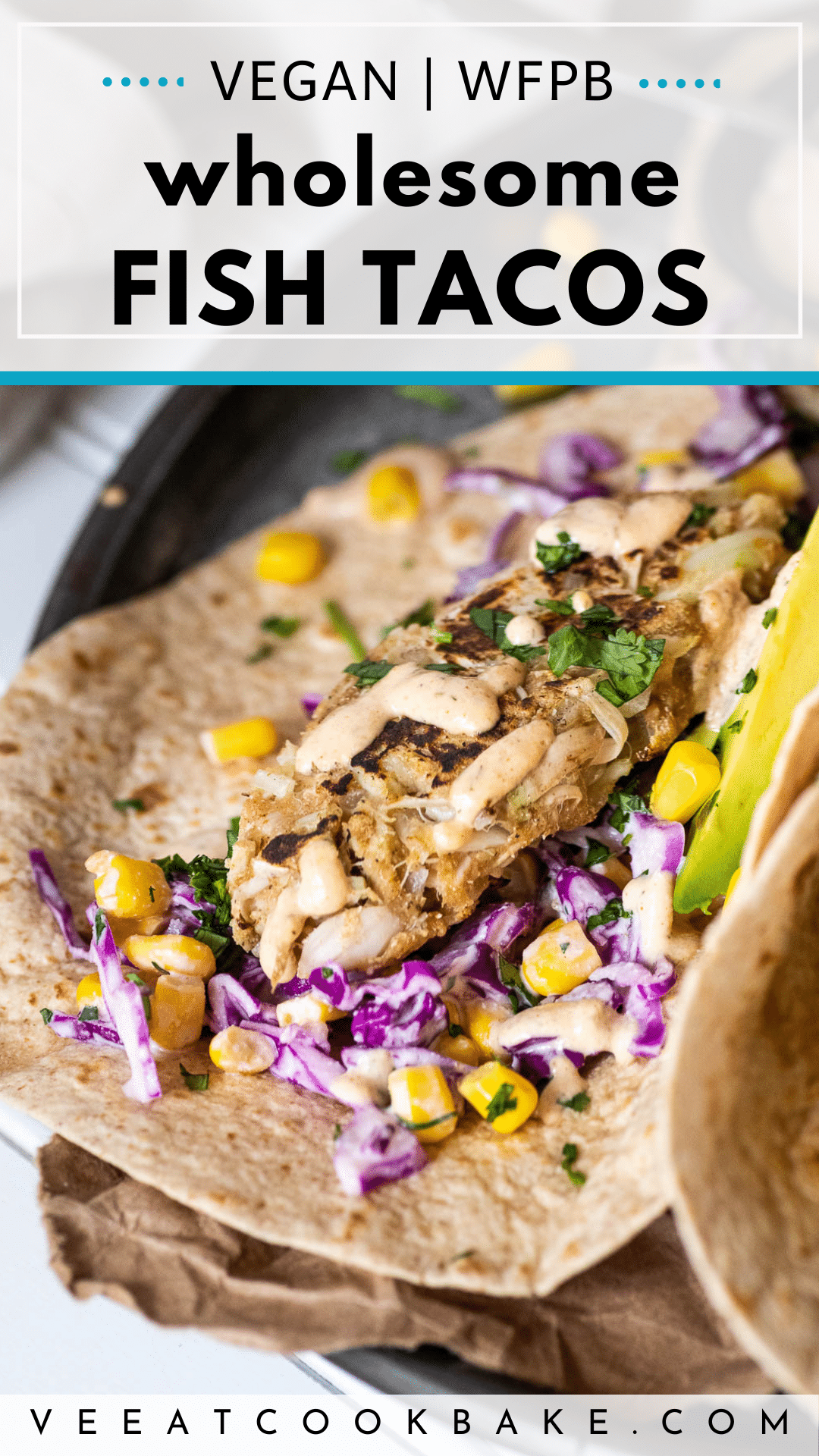 Have you tred the recip
If you tried the vegan Recipebe so nice ♥ and let me knw byrating the recipe and writing what you think about it in the comments.  I would love to see your photo on Instagram orFacebook. To do this tag me with @veeatcookbake andmy hashtag is #veeatcookbake. So that I can see your creation. Did you know you can add photos n Pinterest under the recipe Pin? I can't wait to see a photo of your creation here. You find me with @veeatcookbake