Vegan onion tart or pie is so easy to prepare without animal products, without missing anything if you enjoy an onion cake German style with Federweiser.
We make a yeast dough and top it with sautéed onions and a cream of cashews and silken or soft tofu with a slightly smoky taste.
This onion tart is great to prepare as a dinner or for freezing or as a party meal in large quantities.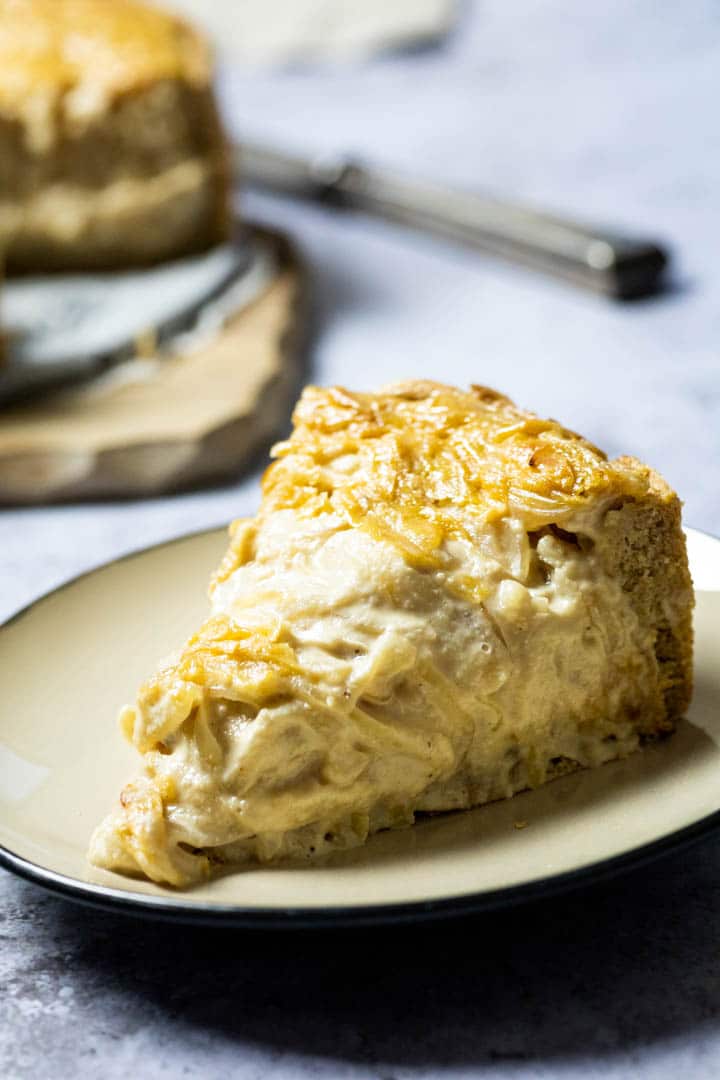 As an Amazon Associate, I earn from qualifying purchases. This post may contain affiliate links. Read More
On my birthday it became a tradition to have onion tart and Federweiser (young wine).
Since my birthday is exactly in the Federweiser season, it is almost a must. I have to say that although I eat vegan, I do not have to celebrate without such a delicious classic comfort meal.
Of course, I don't want to withhold this vegan variant of the popular German Zwiebelkuchen.
I'm still amazed at how good this Quiche style cake tastes. And on my birthday, no one complained about the onion cake being vegan, on the contrary, it usually didn't stay with one portion.
Now that I live in the USA and we cannot buy Federweiser here, I usually make it myself quickly and I am so happy to have found a way to make some homemade young wine.
What is Federweißer?
Federweiser, or known as young wine, is a traditional German drink, which you can buy just in Fall when the winemakers make new wine.
And they sell it before the fermentation is finished, when the grape "juice" still has some sugar in it.
Usually the Federweiser or young wine is still fermenting and you have to drink it within a couple days.
And you buy with an open bottle because the fermentation is still so active.
Ingredients
Here is a small overview of which ingredients you need:
Dough:
Water
Sea salt
Yeast
Flour (whole wheat or spelt or take a gluten-free flour mixture or make gluten-free pizza Dough
Topping:
Onions
Water
Cashews
Almond milk
Juice of a lemon
Apple Cider Vinegar
Sea salt
Nutritional yeast
Garlic powder
Tapioca starch
Silken tofu
Pepper
Liquid smoke (optional)
White wine (optional)
Caraway seeds (whole)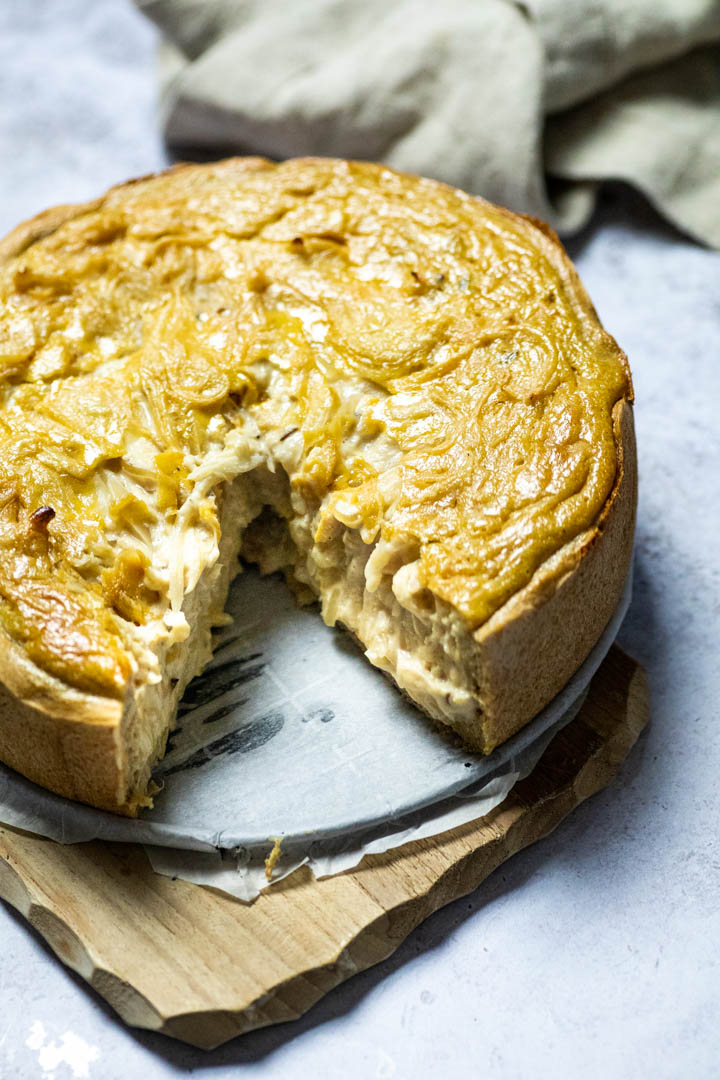 Instruction
Dough
Place the water and yeast in a mixing bowl. And let it stand for about 10 minutes.
Now weigh the flour and add it to the yeast water. Knead with the kneading hook of a kitchen mixer for approx. 4 min.
You may need to add a little more flour until the dough no longer sticks on the edge of the bowl but is still slightly sticky.
Now add the sea salt and knead for another 3 minutes.
Leave the yeast dough to rise, covered for at least 1 hour.
Cream
Put the soaked cashews in your blender. You can pour the soaking water away or give it to your plants.
Add water and almond milk and mix it in a high speed blender until a cream is achieved without pieces. Should be really creamy.
Press the silken or soft tofu and weigh it.
Now add all the other ingredients apart from the caraway and onion and mix thoroughly again. Now you can taste the sauce again.
Onion topping:
Peel the onions and grate them roughly. You can use a hand grater, KitchenAid accessories, or a food processor.
Place them in a sufficiently large saucepan and braise them with 1 teaspoon of caraway.
Preheat the oven to 350°F (180°C). Now take the dough and roll it out evenly round so that the dough fills covers the springform pan.
Spread the onions evenly over it. Take the sauce out of the fridge. I like to taste it again. If it is seasoned enough for you now, spread the sauce evenly over the onions.
Put the onion cake in the oven and bake for about 20-30 minutes or until they have reached the desired color.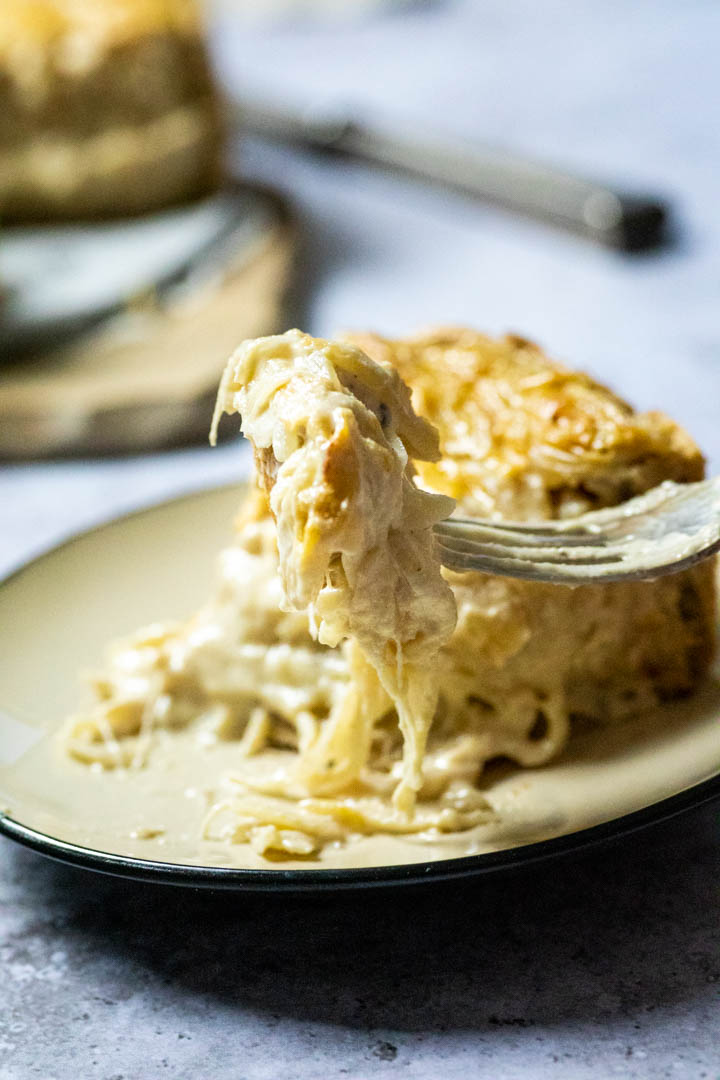 Why do I need caraway seeds for the onion tart?
The caraway helps make the onion cake easier to digest.
You don't need a lot of caraway seeds for the onion tart. The cumin also gives it a special note.
The secret that makes the onion pie so incredibly tasty?
The secret ingredient of the vegan onion cake is the nutritional yeast and the liquid smoke, which make the Zwiebelkuchen so incredibly authentic.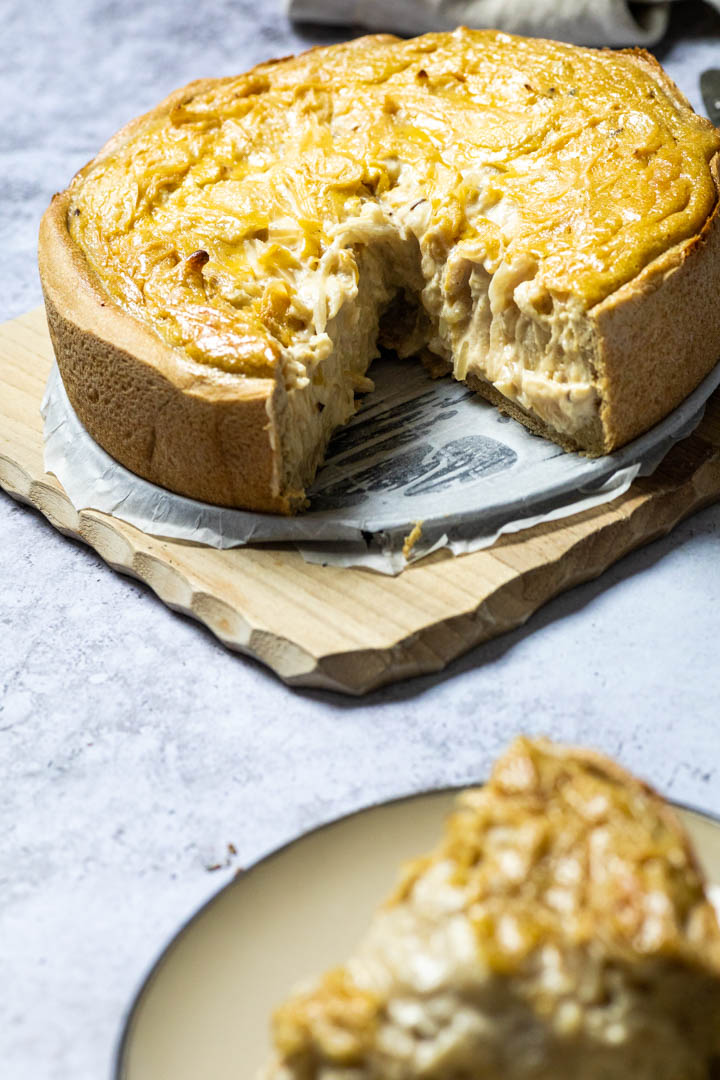 How do we get the smoky taste without using bacon?
As mentioned above, the cream contains liquid smoke, which gives the onion tart the smoky taste that is achieved in the classic onion cake recipe with bacon.
Tips
If the onion cake is not eaten directly, bake for 15 minutes.
Just warm up again in the preheated oven for 10-15 minutes just before serving. This way the onion cake doesn't get too dry and can still be served warm.
So that the onion cake does not burn or become too dark, the quiche or cake pan can be covered with a piece of aluminum foil after ⅔ of the baking time.
Storage
The onion pie can even be frozen very well. I often do that for my birthday.
So that I don't have to cook anything on my birthday and we can still enjoy my tradition with onion cake and Federweiser.
In the freezer, the onion tart lasts about 3-4 months.
More vegan Recipes: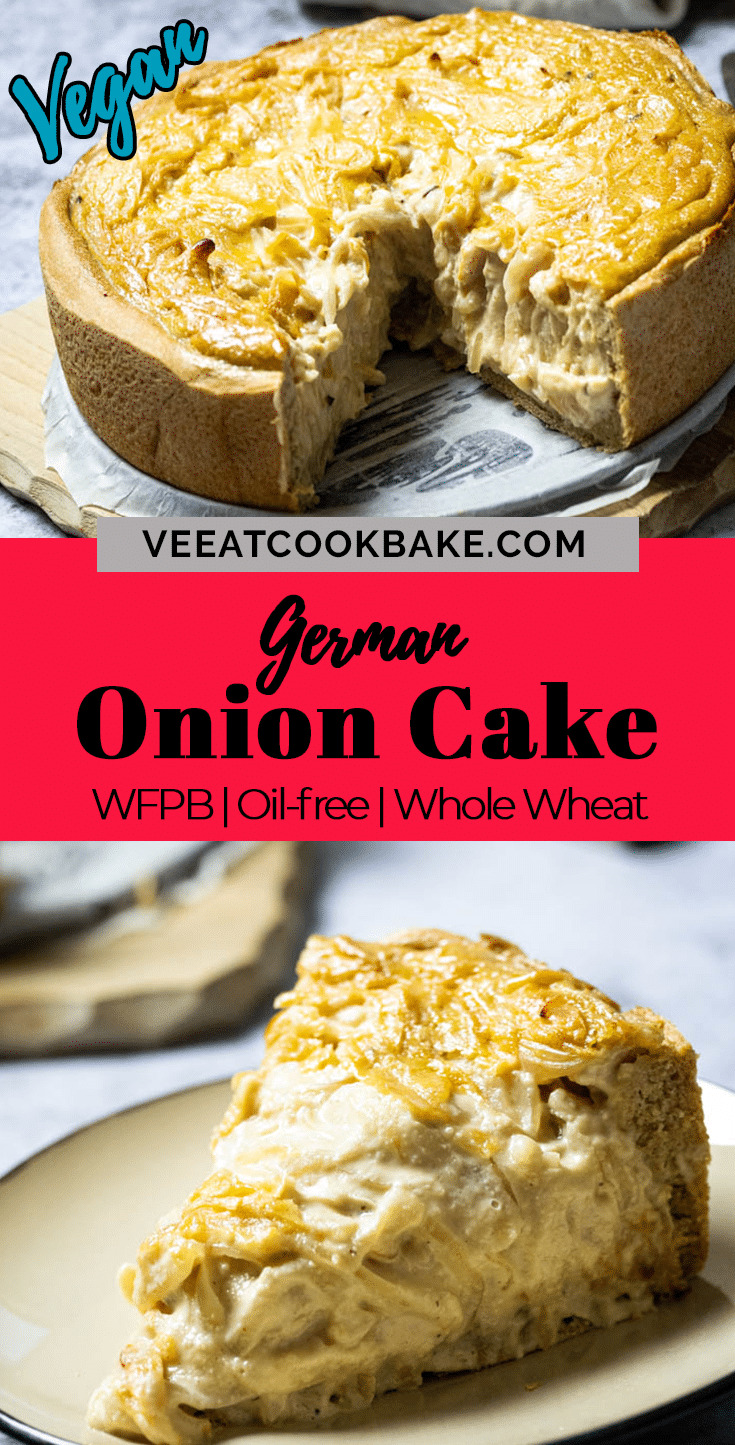 Have you tred the recip
If you tried the vegan Recipebe so nice ♥ and let me knw byrating the recipe and writing what you think about it in the comments.  I would love to see your photo on Instagram orFacebook. To do this tag me with @veeatcookbake andmy hashtag is #veeatcookbake. So that I can see your creation. Did you know you can add photos n Pinterest under the recipe Pin? I can't wait to see a photo of your creation here. You find me with @veeatcookbake