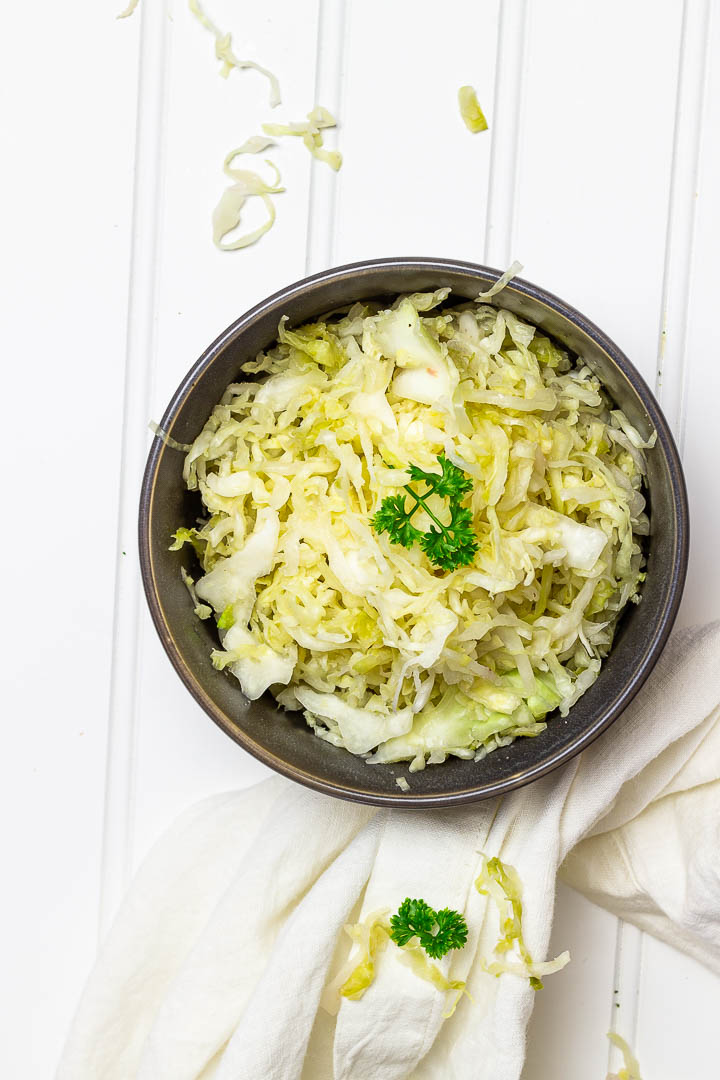 Vegan white coleslaw with vinegar dressing - a simple recipe for a quick salad that tastes amazing. This vitamin C bomb, thanks to the crisp white cabbage, should not be missing in the autumn and winter cuisine. Prepare this white cabbage salad as a side dish for your Sunday lunch or as a quick midweek dish.
vegan | vegetarian | oil-free | dairy-free | sugar-free | wholesome| low-calorie | whole food plant-based (wfpb) | gluten-free
A cheap salad, which also tastes good? What more do we want than a salad which doesn't just need a few ingredients, but is also ready-made. And best of all, thanks to the massage that you give the cabbage, the white cabbage salad gets its special taste and a very tasty consistency.
Have you ever had a coleslaw prepared or eaten elsewhere and it was pretty dry and stiff? You had to chew for ages, and the taste was simply not so convincing? This is exactly what I want to prevent and want you to have seconds with this slaw.
Ingredients of the light salad:
You only need a handful of ingredients to make this delicious, vegan cabbage salad. This tasty raw salad tastes great with more than just kebabs.
White cabbage: This tasty winter vegetable is not only delicious as just sauerkraut. And thanks to its high vitamin C content, it cannot be missed in winter. Whether as a salad, sauerkraut or stewed vegetable, you get an incredible amount of nutrients such as potassium, vitamin K, magnesium and selenium. Furthermore, like all other cabbages, white cabbage is known to contain a lot of fiber and is therefore filling and promotes healthy digestion.
Vinegar (without oil): Grandma's coleslaw is prepared in most cases with a good shot of oil or mayonnaise. But not this white cabbage salad. We conjure a healthy, vegan variety without oil. We need just vinegar essence. You will see, you will not notice that the oil is missing. In terms of taste, it does not detract from the salad and you will thus receive a calorie-reduced and healthy version.
Onion: To add something to the coleslaw, we will add an onion into the salad. This gives the salad an umami flavor. Onions not only have an antibacterial effect, they are also full of vitamin C. Did you know that onions can help to regulate blood sugar levels? Onions are for healthy bones and provide strong bones. Here, not just the white cabbage is good for digestion, the onion also helps with the fiber content too.

Caraway

: Caraway is an essential part of cabbage dishes. Not just with sauerkraut, the caraway assists with digestion, but also with coleslaw or other cabbage dishes. Do not confuse caraway and cumin. Although they are very similar in their effect, they taste very different. I personally experienced this while shopping. Cumin is more commonly used in Oriental dishes and tastes more bitter-spicey, while cumin is peppery-sweet.
How do we prepare Coleslaw?
You do not need much to make the delicious vegan coleslaw. You cut the cabbage into thin strips. Here I like to use a food processor. It is not only faster, the stripes are also consistently wide. And if you let the cabbage through the machine, you can use it for the onion as well. You also need vinegar essence, cumin, salt and pepper. The most important thing now is to massage the cabbage properly.
What do I have to do that cabbage does not stay hard and stiff?
If you like the coleslaw softer like me, not a stiff cabbage that isn't full of flavor, then you only have to pay attention to two things:
You have to massage / knead the cabbage properly. For this, it is best to take your hands and knead as if it were a yeast dough. Then the coleslaw is beautifully soft and tastes great with kebab and other dishes.

Afterwards it is important that the coleslaw can absorb the flavor and gets soft. For this I like to leave the white cabbage salad on the counter for a few hours, better overnight. Please note to use a lockable bowl.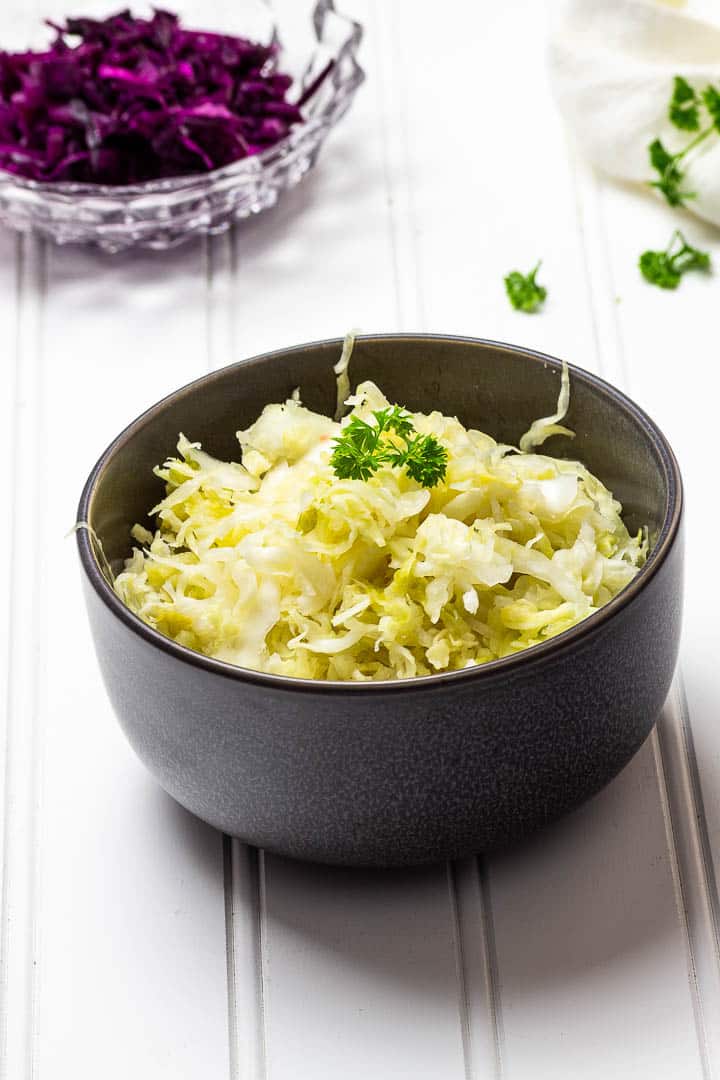 What to use as an oil substitute for the white cabbage salad?
As you've probably seen from the ingredients list, we do not use oil in this recipe. Now you may be wondering where the taste of coleslaw comes from. My grandmother used to tell me that fat is important in food because it carries flavors better and makes the food taste better. I think, however, I find this coleslaw absolutely does not need oil and you do not recognize that you do not use any oil. However, if you want to get some flavor in the coleslaw. You can first play with the amount of vinegar and other spices. Otherwise you can also add a sip of vegetable stock.
Fine cabbage salad: How is white cabbage salad so fine?
That's totally easy. If you do not have a food processor, you can easily take a sharp knife and cut the cabbage finely. It may take a little more time, but you will see that with a knife it is possible, too.
When to prepare coleslaw?
It is best to prepare the coleslaw an evening before. Then you have less work the next day and the coleslaw has absorbed its full flavor. The next day you can taste the salad again and, if necessary, massage / knead briefly.
How long does the homemade cabbage salad last?
For us, the cabbage salad lasts in the fridge for about 1 week, and it is important to keep the white cabbage salad in a sealable container. Older than 1 week it has not been in our household so far, as we have eaten this byl then.
Is cabbage salad made with sugar?
This vegan coleslaw needs absolutely no sugar. The cabbage naturally has a sweetish taste. And in order not to ruin the taste of delicious cabbage and to make a healthy variation, we will not use any sweetener or sugar.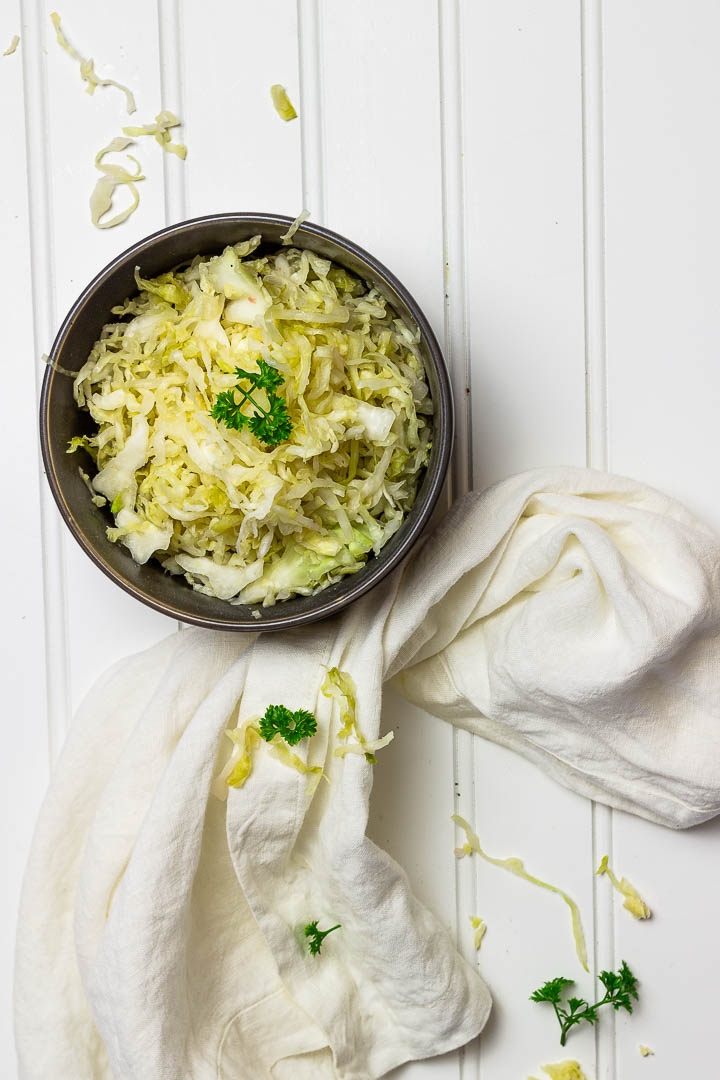 Tips for making the oil-free salad:
Massage the low carb coleslaw for about 3-5 min. The longer you massage the cabbage, the better the consistency the cole slaw will have.

Let it soak overnight. Make sure you let the salad go for a few hours if you do not have time to prepare it a evening before.

Play with the spices, you may also like to use other spices or herbs to bring some change.

A low calorie and healthy salad does not need much. You can completely do without sugar and oil. If you would like to get a little creamier, you may also like to use a dash of coconut milk or vegan cream.
Vegan Coleslaw - what to eat it with?
Coleslaw in kebab. This variant of Coleslaw tastes great with a home-made kebab.
As a side dish to a delicious vegan meatloaf.

Serve the coleslaw for your next vegan barbecue.

How about serving the coleslaw to vegan gyros.

The salad tastes like the American Coleslaw excellent to Burgers, Pulled Pork (jackfruit) and more.
What can I prepare with vegan cabbage salad leftovers?
As mentioned above, you can add the coleslaw to other dishes. Or you just make a quick noodle cabbage salad pan,which you briefly fry in a pan.
Is coleslaw the same as sauerkraut?
Coleslaw is not the same as sauerkraut. Coleslaw is in the end the precursor of sauerkraut. For the sauerkraut, add the kneaded cabbage to jars and place in a cool and dark place for a few weeks to ferment. If you are interested in a homemade sauerkraut recipe, then let me know in the comments or by email. I have a very delicious recipe, which I prepare every year.
You like the recipe? Do not forget to Pin on Pinterest!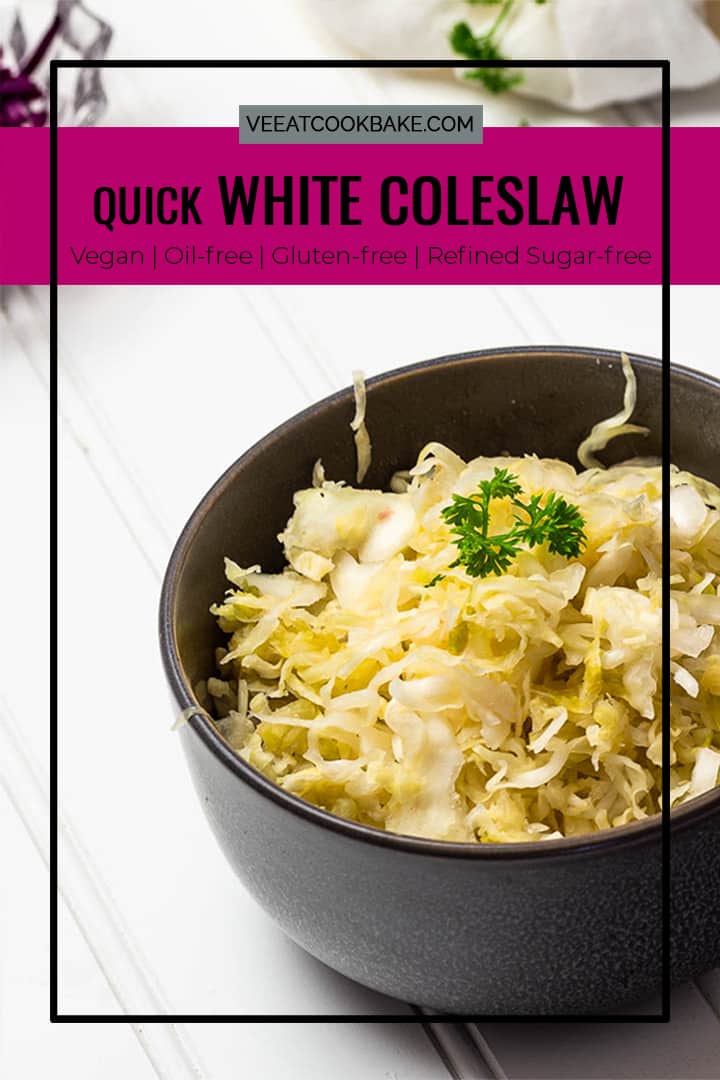 Have you tried the recipe?
If you tried the vegan white coleslaw, be so nice ♥ and let me know by rating the recipe and writing what you think about it in the comments. Tag me on Instagram too. I am @veeatcookbake and my hashtag is #veeatcookbake. So that I can see your creation. Did you know you can add photos on Pinterest under the recipe Pin? I can't wait to see a photo of your creation there. You find me with @veeatcookbake. I also would love to hear your feedback so I can share it on my social media channels.

This post may contains affiliate links and I may receive a very small commission if you buy through these links at no extra cost. Thank you very much for supporting Ve Eat Cook Bake! More information can be found here.
---