Time to throw a vegan-friendly BBQ! Whip up this delicious and creamy macaroni salad with plenty of veggies but no mayonnaise or oil. Instead, use tahini-white bean dressing for an extra yum flavor. All you need is some pasta and get creative with the vegetables - it's easy-peasy lemon squeezy!
This tasty filling salad makes a perfect side dish at buffets, picnics, potlucks & more - sure to be a crowd pleaser every time. And if that ain't enough? Well, then just prepare it as your meal prep lunch box companion or even dinner choice instead – simple yet satisfyingly scrumptious all around!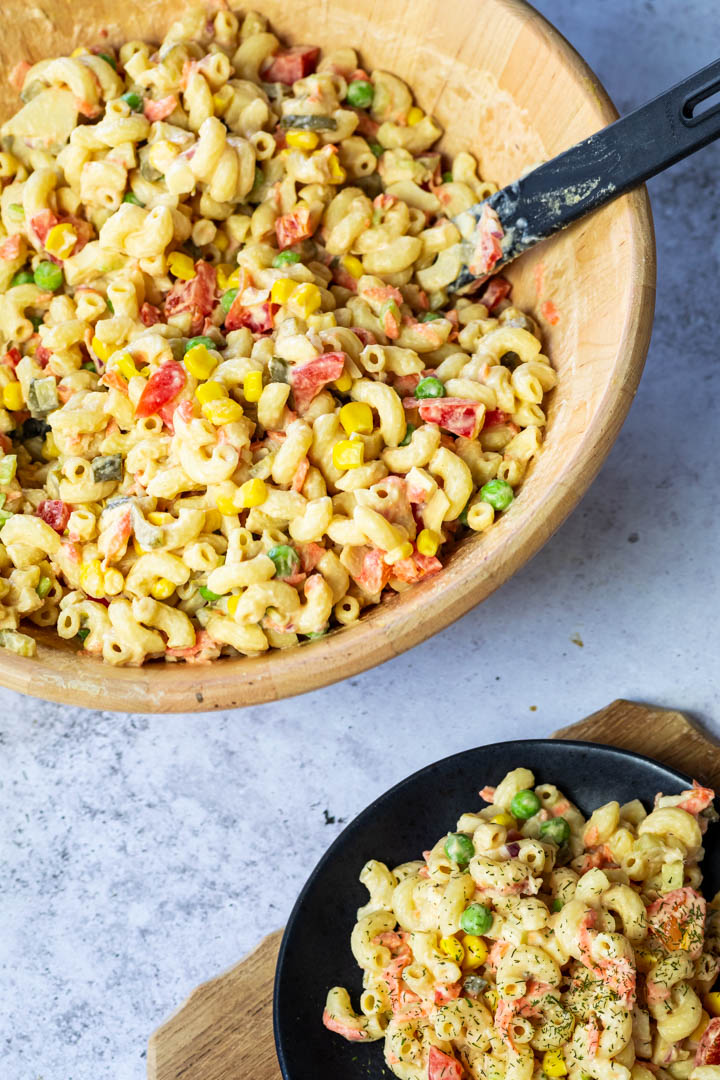 This creamy vegan pasta salad is inspired by my artichoke pasta salad. It pairs well with carrot dogs, black bean burgers.
As an Amazon Associate, I earn from qualifying purchases. This post may contain affiliate links. Read More
Jump to:
Ingredients
Here is an overview of the salad ingredients.
You can find the ingredients with quantities and the recipe to print out on the recipe card below.
Pasta
Palm hearts (opt)
Celery
Carrots
Red pepper
Corn
Peas
Red onion
Dill pickles
For the dressing:
White beans
Tahini
Pickle juice /brine
Dijon mustard
Garlic powder
Cayenne pepper
Sea-salt
White pepper
Parsley (optional)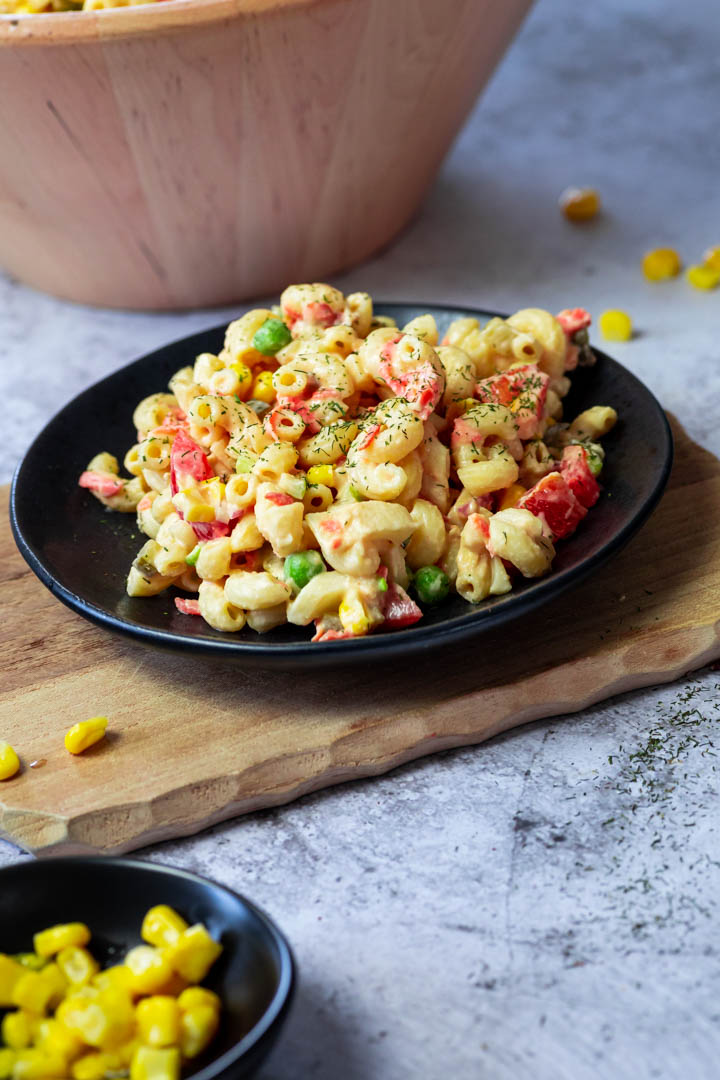 Instructions
First, you cook the pasta al dente according to the package instructions. And let them cool for a bit. Chop the vegetables and put them in a large bowl.
Now prepare the dressing. Add all the ingredients to a high speed blender and mix until you got a creamy dressing without pieces. Season to your own taste.
Now add the slightly cooled cooked pasta to the vegetables and mix everything with the dressing. If the pasta salad seems a bit dry, you can add a little pickle juice.
Hint: Do not cook the pasta too long, we do not want mushy pasta that falls apart.
Make this classic macaroni salad, check out vegan potato salad, green bean salad and my other vegan salad recipes.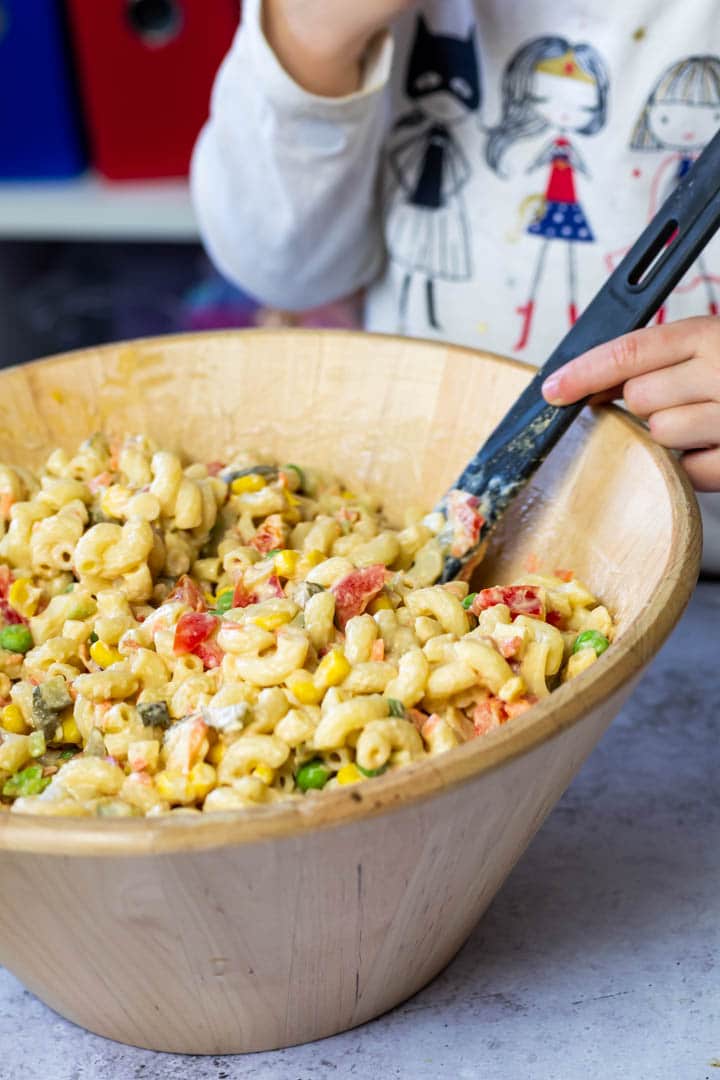 Substitutions
Pasta: I love whole wheat elbow macaroni pasta. You can either use gluten-free pasta, lentil pasta, chickpea pasta or even spiralized zucchini.
Tahini: You do not like Tahini? Use some cashews or sunflower seeds instead. You can also use my vegan mayonnaise.
Pickle Juice: I love the flavor of pickle juice in my dressing. But if you do not like it, use red wine vinegar, white wine vinegar or apple cider vinegar.
White Beans: You can use cannellini beans or northern white beans or navy beans. Those are all white beans.
Variations
Big fan of pasta salad? I always love to make different varieties. You might be surprised and create the best vegan pasta salad.
Lemon: Add some fresh lemon juice to add a refreshing note to your creamy pasta salad recipe. Perfect for summer picnics.
Summer Veggies: Use veggies that are in season. Be flexible and add some of your favorite veggies like red bell pepper.
Fresh Dill: You love Dill Pickles? Add some fresh dill to make a creamy dill dressing.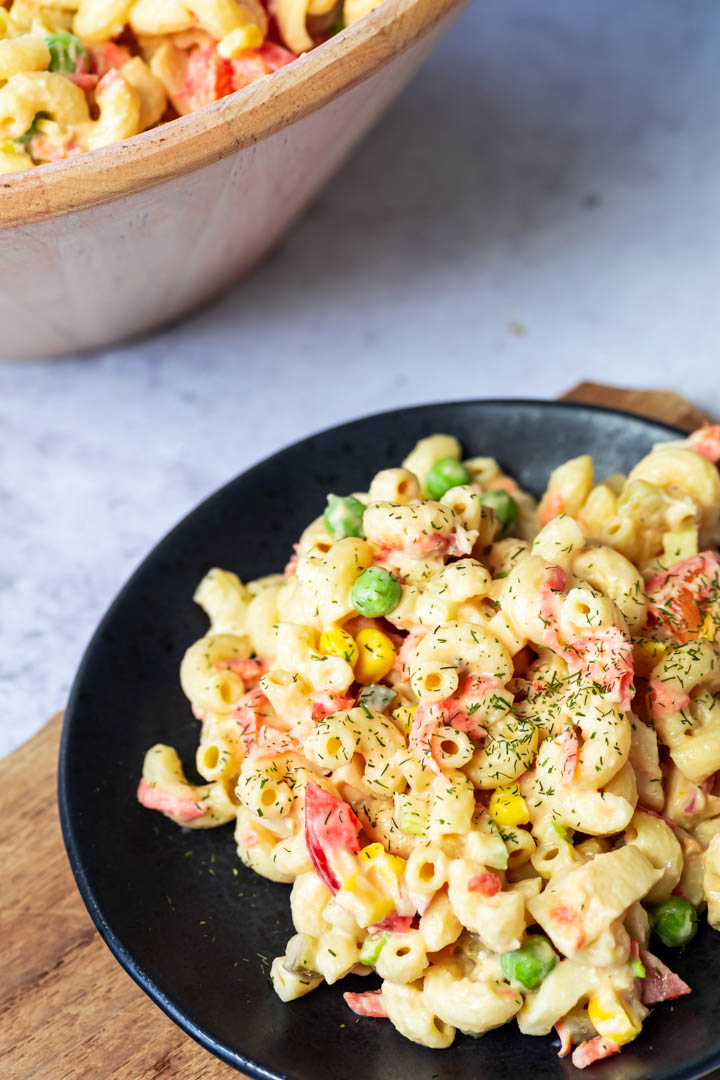 Equipment
Some kitchen tools that will help to make this easy pasta salad recipe.
Storage
Store this creamy vegan macaroni salad in an airtight container for 4-5 days in the fridge. Right before serving, add some pickle juice or veggie broth to make it more creamy. The easy vegan pasta salad can become a little dry in the fridge.
You can prepare this vegan macaroni salad recipe in advance for your next meal prep. Awesome to prep ahead of time for your Summer Gatherings.
Meal Prep
You can easily prepare it 1-2 days in advance. I would save some dressing and then fold in just before serving, it could be that the pasta salad gets a little dry otherwise.
Tips
If you prepare the best vegan macaroni salad in advance, make sure to keep some dressing on the side. You can also put the entire dressing on the salad right before serving.