Jambalaya is an American comforting dish that originated in Louisiana. Here I show you a vegan Veggie Jambalaya recipe that is full of flavors.
We prepare this quick one-pot dish with mushrooms, kidney beans, artichokes and use spices that are included in the traditional dish.
You do not celebrate Mardi Gras? You can still enjoy this traditional recipe anytime of the year.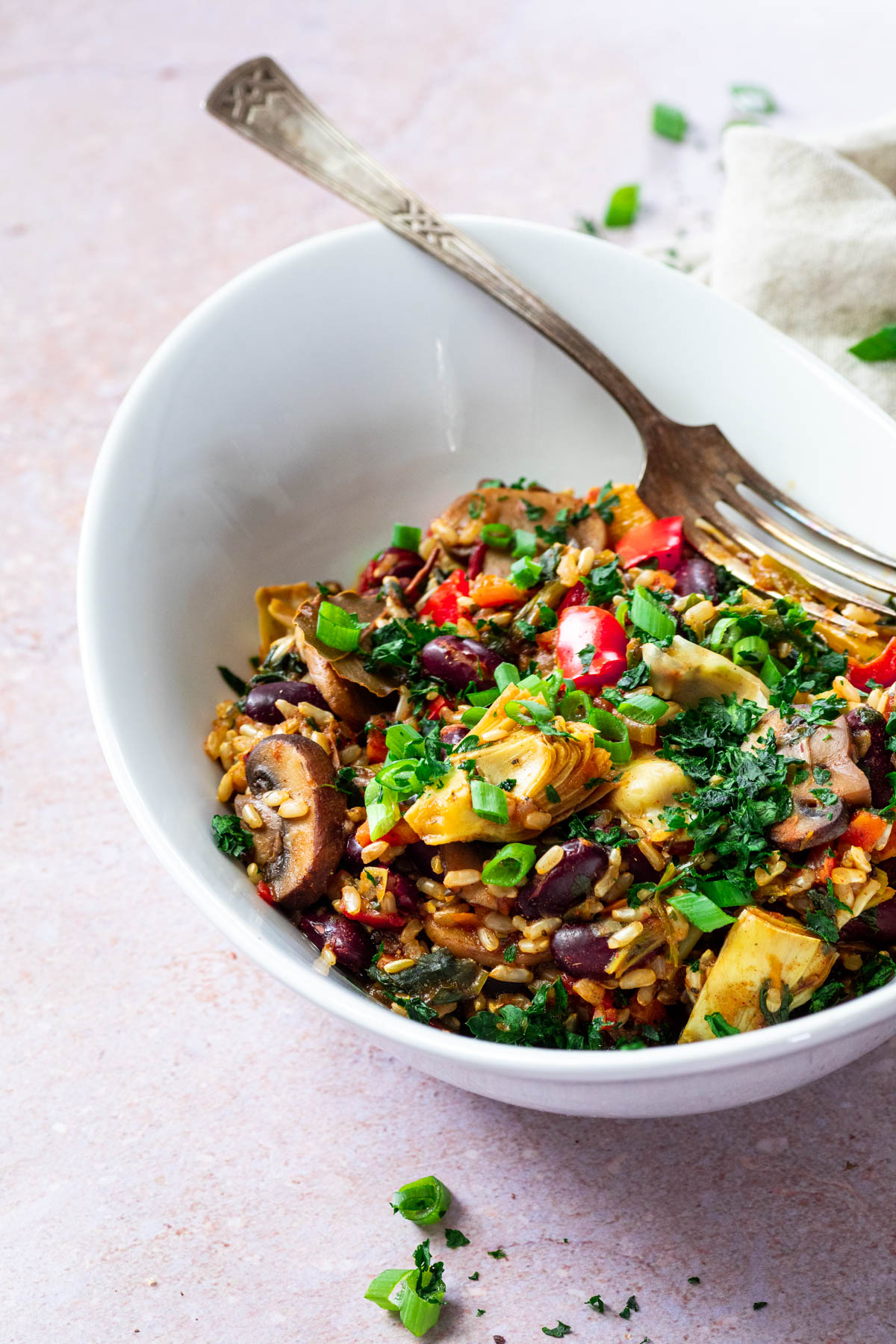 As an Amazon Associate, I earn from qualifying purchases. This post may contain affiliate links. Read More
Jump to:
Perfect for dinner on busy weekday evenings that you can prepare in advance. The recipe is gluten-free and nut-free. And easy to prepare in a slow cooker or instant pot.
The great thing about the dish, it is prepared in one pot, and you have less to wash off after eating. This vegetarian Jambalaya is a real comfort food.
Our vegan version is quickly prepared and is full of spices and therefore full of taste. This oil-free dish comes without shrimp and sausage, and we use mushrooms, beans, and artichokes instead of buying a vegan sausage for it. 
My plant based version of the traditional jambalaya is healthier and is made with brown rice instead of white rice. Instead of sautéing in olive oil, we use vegetable stock.
Add some extra kick in your Veggie Rice Dish with some chopped Jalapeño Peppers.
Origin
Where does Jambalaya come from?
Jambalaya is a classic rice dish from New Orleans, Louisiana, which has its origins in Spain and France. And came to the states through the French influences.
More specifically, from the Spanish dish paella and the French Jambalaia.
Thanks to kelp powder, we can recreate the light sea taste so that we don't need seafood for it or a vegan Worcestershire sauce.
What is Jambalaya exactly?
The Jambalaya dish is traditionally prepared from rice, vegetables, shrimps and sausages.
The classic version is prepared with andouille sausage. In the dish you will often find vegetables such as celery, bell peppers, tomatoes, onions and garlic.
With authentic spices from the Andouille sausage, we can create a tasty vegan recipe with smoky flavor and aromatic spices.
Difference to Gumbo
What is the difference between jambalaya and gumbo?
Both dishes are well-known dishes from Louisiana.
Both recipes have many similar ingredients like vegetables, sausages, seafood, and spices. Gumbo also contains okra, which is not contained in Jambalaya.
And in Gumbo, the rice is cooked separately and not served as a one-pot meal.
Ingredient List
A brief overview of which foods are contained in this simple vegan Jambalaya. You can find an exact amount below in the recipe card.
Instead of the spices you can also use a creole seasoning or Cajun seasoning.
Mushrooms
Garlic Cloves
Onion
Cayenne Pepper
sweet paprika powder
smoked paprika powder
Green Bell Pepper
Clove
Pimento
Dried Thyme
Mustard Powder
Beer
Carrot
Celery Sticks
Vegetable Broth
bay leaves
Roasted Tomato Cubes, diced
Soy Sauce, Tamari or Coconut Amino Acids
Brown Rice
red Beans
Spinach or Kale
Artichoke Hearts
Green Onions
Fresh Parsley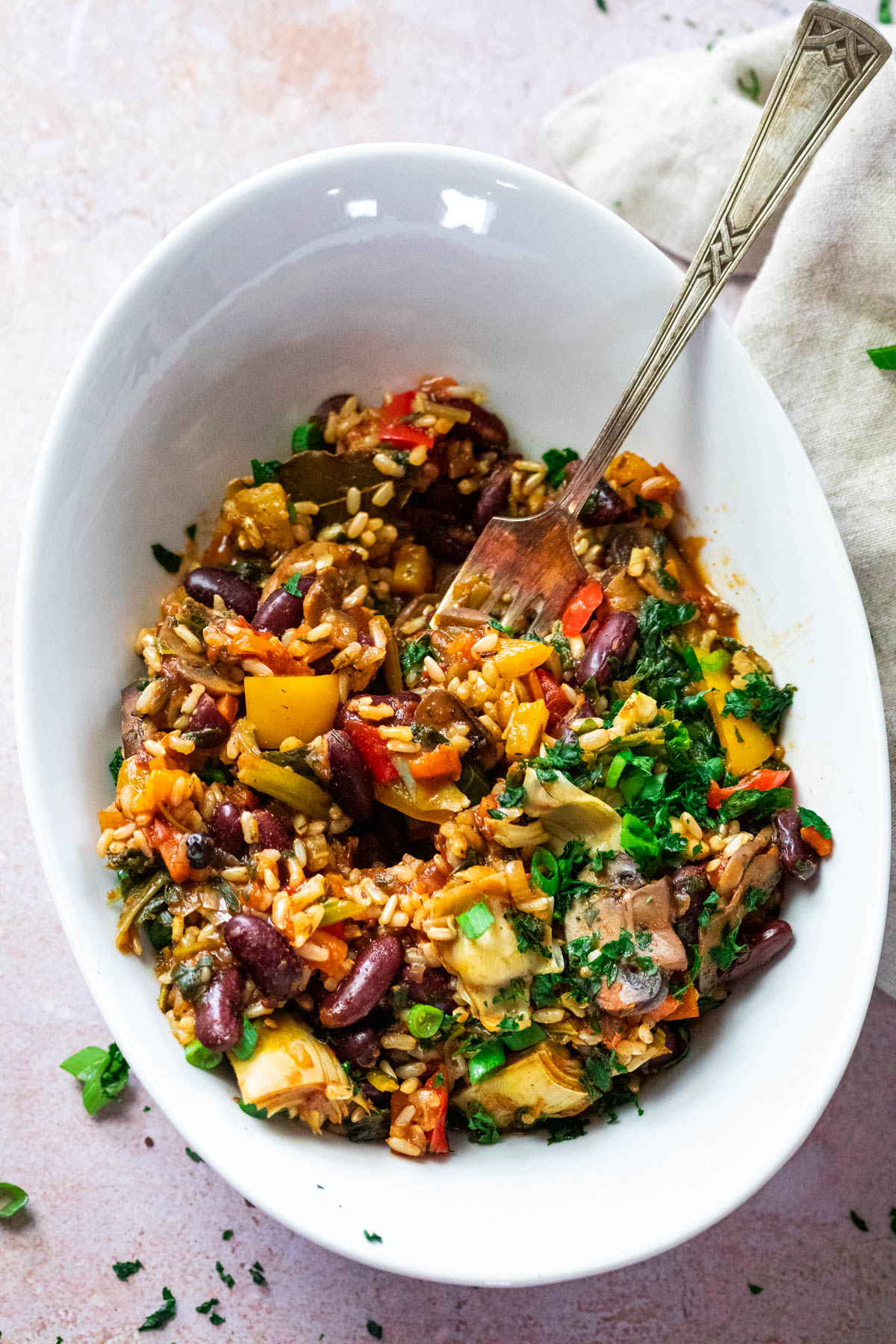 Cooking Process
Chop the onions, mushrooms, and garlic. Fry them well in a large pot. Add a sip of water sporadically.
Add cayenne pepper, paprika, clove, allspice, dried thyme, and mustard powder. Sauté until the mushrooms are colored.
Now deg laze the mushrooms with the beer (non-alcoholic beer optional) and wait until it is overcooked. Add the chopped carrots and celery and let them sauté briefly.
Add all the remaining ingredients like the uncooked rice except spring onions, parsley and spinach and let it simmer until the rice is soft.
Depending on the type of rice, the cook time can take between 20 and 50 minutes. When the rice cooks, make sure there is always enough liquid in it, but not too much liquid either.
Finally, add the scallion, parsley and spinach. Season the jambalaya with Tabasco sauce as a hot sauce, sea salt and black pepper.
Recipe Notes and Tips
Make sure you have always enough liquid in your pot to cover the rice while it is cooking.
But also do not add too much water, that the rice swims in it. When you notice the rice gets softer, add less water or veggie broth, so the rice can later absorb the liquid, and you get an amazing Jambalaya vegan.
You will notice the end of the cooking time will be when the rice is almost soft, and you will not need to add more liquid to it. Remember, we do not want a soup, more like risotto style dish.
When the rice is soft, taste it to your own taste. Do you have some Cajun spices in your cabinets?
Add those to add some more flavor to your Jambalaya. I believe vegan recipes stand or fall with the spices and everyone has a different taste.
Feel free to add some other spices as you feel will taste incredible in this whole food plant based dish.
You got different colors of bell peppers, feel free to add red bell pepper or other colors.
You do not like mushrooms, feel free to add soy curls or even field roast chipotle sausage if you like to add a vegan sausage. To keep it whole foods, you can also add more beans.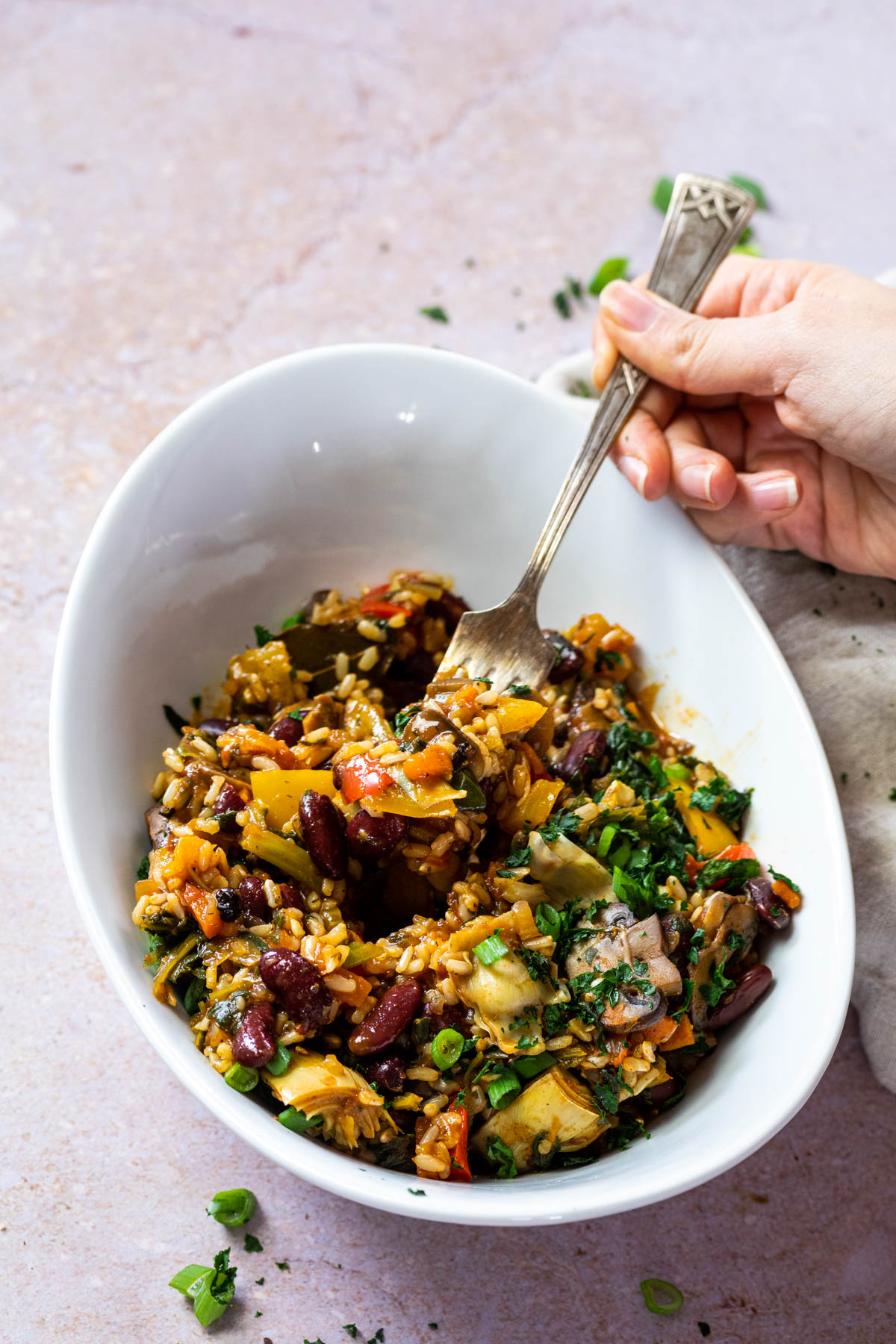 Storage
What do I do with Jambalaya leftovers?
You can keep the leftovers in the fridge in a container and eat them during the week. Or you freeze it in portions. So you always have something on hand.
This Rice Meal is ideal for your weekly meal preparation, just prepare it on your Sunday Meal Prep Day and store it in lunch boxes in your fridge.
Serving Suggestion
The dish is a well-rounded dish, so you won't need anything else. You can totally eat at as a whole dish thanks to this veggie loaded healthy jambalaya.
But of course, if you want to serve something with it, you can serve:
Corn Bread
Garlic Bread
Side Salad
More Vegan Rice Dishes: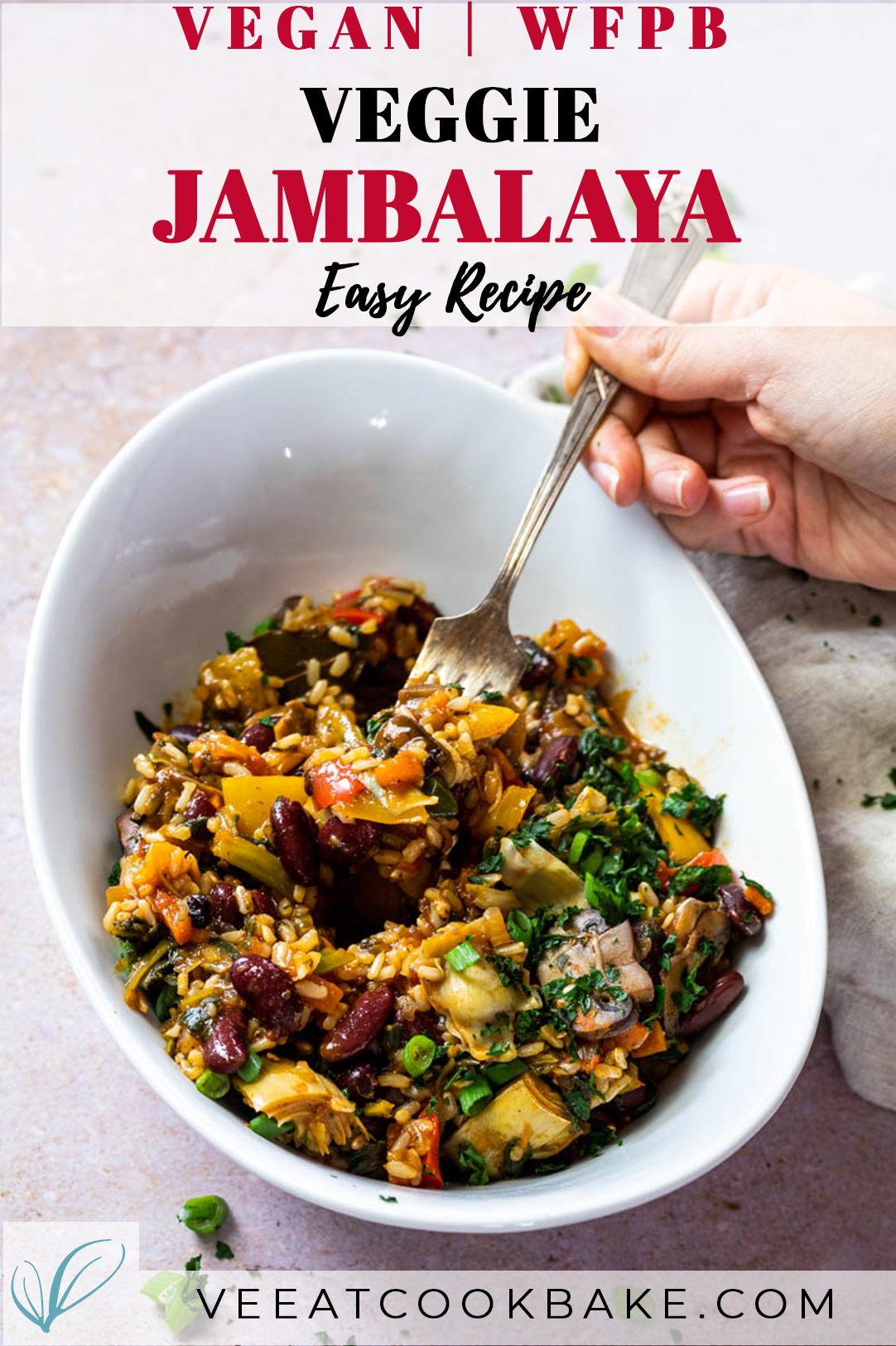 Have you tried the recipe?
If you tried the vegan Recipe, be so nice ♥ and let me know by rating the recipe and writing what you think about it in the comments. I would love to see your photo on Instagram or Facebook. To do this tag me with @veeatcookbake and my hashtag is #veeatcookbake. So that I can see your creation. Did you know you can add photos on Pinterest under the recipe Pin? I can't wait to see a photo of your creation there. You find me with @veeatcookbake.