Easy vegan potato salad without Mayonnaise according to my grandma's recipe. This simple vegan potato salad won't let you miss the original.
A great salad for potlucks and barbecues. And no one would notice that this is vegan unless you tell it. The dressing is oil-free (No Mayo), creamy and naturally gluten-free and whole food plant based friendly.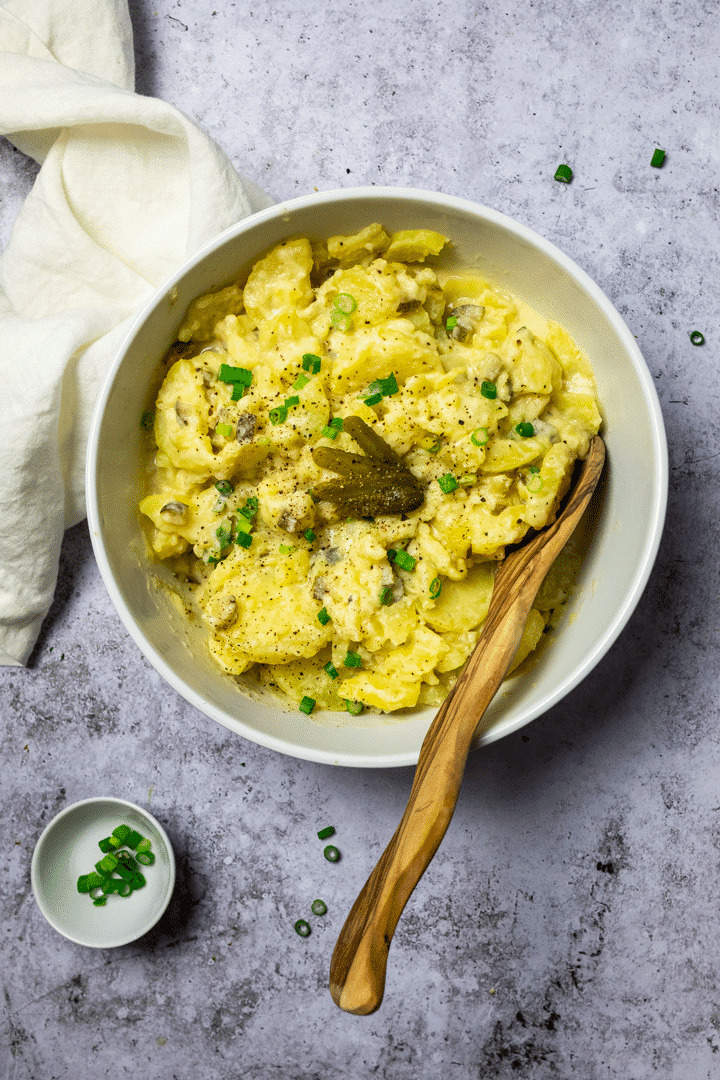 As an Amazon Associate, I earn from qualifying purchases. This post may contain affiliate links. Read More
Jump to:
This creamy potato salad is one of my favorite classic vegan potato salad recipe besides the Bavarian potato salad.
I always prepare one of the two recipes when I prepare one. I am a huge fan of potato salad and this is one I can 100% recommend! One of the best potato salad out there. 🙂
This salad is prepared in no time at all. You steam the potatoes before you take off the skin. Cooked potatoes are super easy to peel, just slide a knife over them and the skin comes off itself.
You don't have to buy expensive vegan mayo for this vegan potato salad. Just use cashews. And you even have a healthier version than the mayo with highly processed oils.
Such a potato salad cannot be missing from summer picnics and parties. Aren't potato salad, pasta salad and green salads go-to salads for such events?
Especially in the barbecue season, various salads are often prepared as a side dish and this potato salad is suitable as a great BBQ / grill side dish.
Ingredient List
A quick list of ingredients included. The exact amount can be found on the recipe card below.
Potatoes, waxy or predominantly waxy (Yellow Potatoes or Red Potatoes)
Shallots
Dill Pickles (German Brand if you can get one)
Creamy Dill Dressing Ingredients
Vegetable broth
Cashews, raw
Mustard, Dijon or yellow mustard
Pickle Juice or white wine vinegar
Smoked Paprika Powder
Substitutions
Let us take a look at how you can substitute certain ingredients.
What kind of potatoes is best?
Make sure not to use starchy potatoes, but mainly waxy potatoes like Yukon Gold Potatoes or waxy potatoes like Red Bliss or New Potatoes, these keep better in the salad.
I do not prefer white potatoes, like Russet Potatoes.
They are to soft when cooked and get mushy when you stir in the dressing.
Shallots
If you do not have shallots at home, but you got some red onion.
You can easily use some chopped red onions in this tangy potato salad.
Dill Pickles
I prefer the German Brand for the Salad. It has more flavor.
If you do not find the German brand you can easily use the American Brand and add some fresh dill to add this nice Dill flavor to it.
Or use Dill Pickle Relish if you got some at home.
Cashews
Instead of Cashews you can easily use Sunflower Seeds or Tofu to make a creamy dressing.
You can also use a vegan Mayonnaise like my Cashew Mayo Recipe that is oil free to keep it a healthy potato salad.
Mustard
I usually use Dijon Mustard, it does not contain added sugar, and it is a huge plus for me.
If you have yellow mustard at home, you can of course use this.
Pickle Juice
Traditionally in Germany we add Pickle Juice to Potato Salads and Pasta Salads, if you do not want to add that you can easily add vinegar like white wine vinegar, red wine vinegar or apple cider vinegar.
Add some fresh herbs like fresh dill to the salad to get the typical flavor. You could even add some lemon juice.
Smoked Paprika Powder
If you do not have smoked paprika powder, you can easily use liquid smoke. Just a few drops should be enough,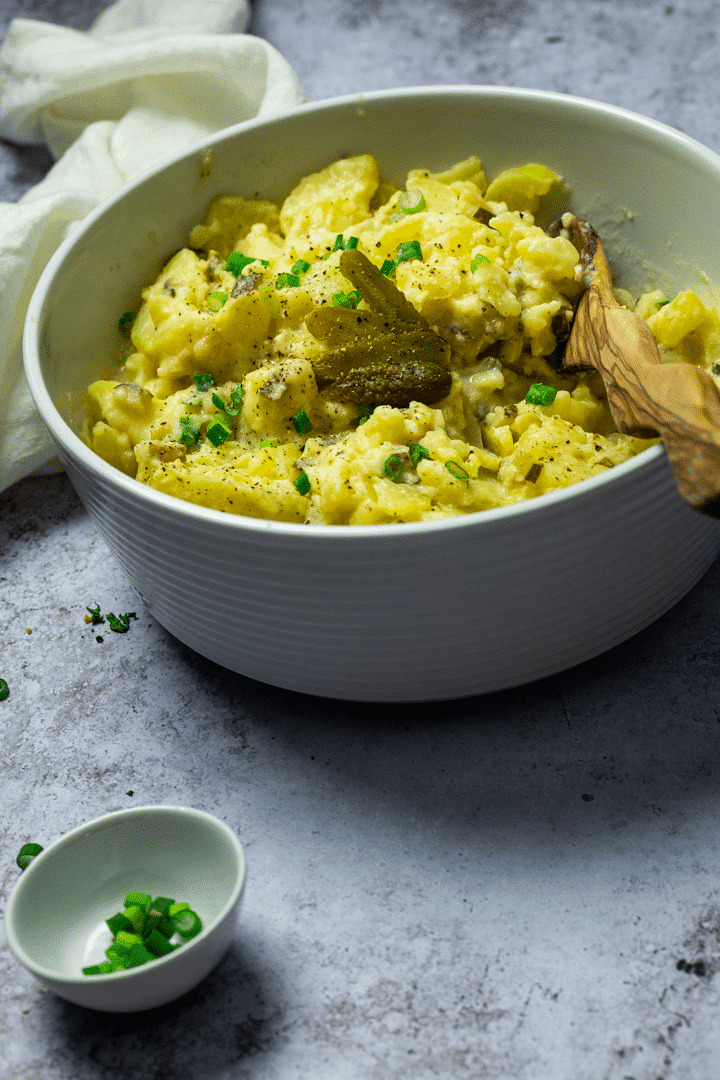 How do I prepare vegan potato salad?
First, you steam the potatoes in a steamer until fork tender. Cut larger Potatoes in half.
In the meantime, soak the cashews in hot water. And cut the shallots and pickles into small cubes and place them in a sufficiently large mixing bowl, in which the whole salad will fit afterwards.
When the potatoes are tender and have cooled a little warmer than room temperature, peel them with a knife.
Simply slide a knife over the tender potatoes and the skin will come loose. Cut the potatoes into slices and add them to the shallots and pickles.
Now drain the cashews and put them with the remaining ingredients for the dressing in a high speed blender and blend until creamy.
Taste the dressing and pour the dressing over the potatoes. Fold in the dressing and season it again briefly with pink salt and black pepper. You can sprinkle some green onions on top for some decoration.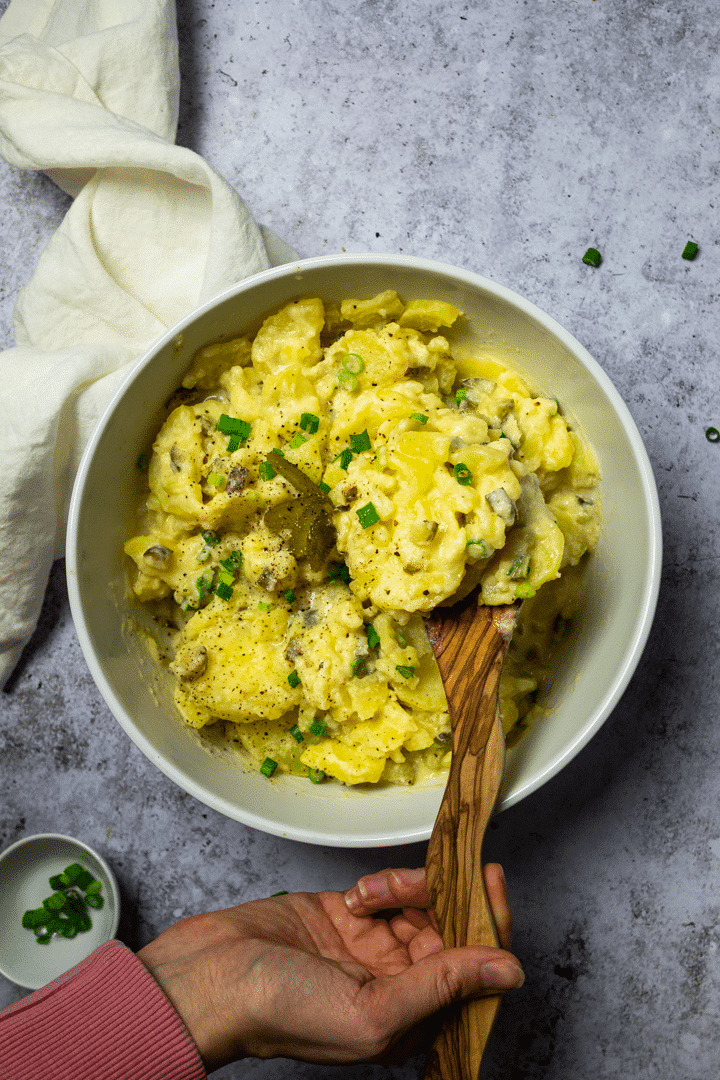 Tips
Use a knife or fork to poke the potatoes to see if they are soft.
If you take potatoes of about the same size, they will cook at the same time
Don't peel the potatoes before cooking, so the nutrients remain in the potato
Serving Suggestions
To Burgers
Salad Buffet
Grill Side Dish
Hot Dog
Summer Picnic
Family Gatherings
Can I prepare the potato salad in advance?
You can prepare the potato salad very well up to two days in advance. Simply keep the salad in the fridge.
Storage
You can store the vegan potato salad in an airtight container in the fridge. It lasts there for about 5 days.
With us, it usually doesn't get that old. I do not recommend freezing because potatoes change the taste and consistency when freezing.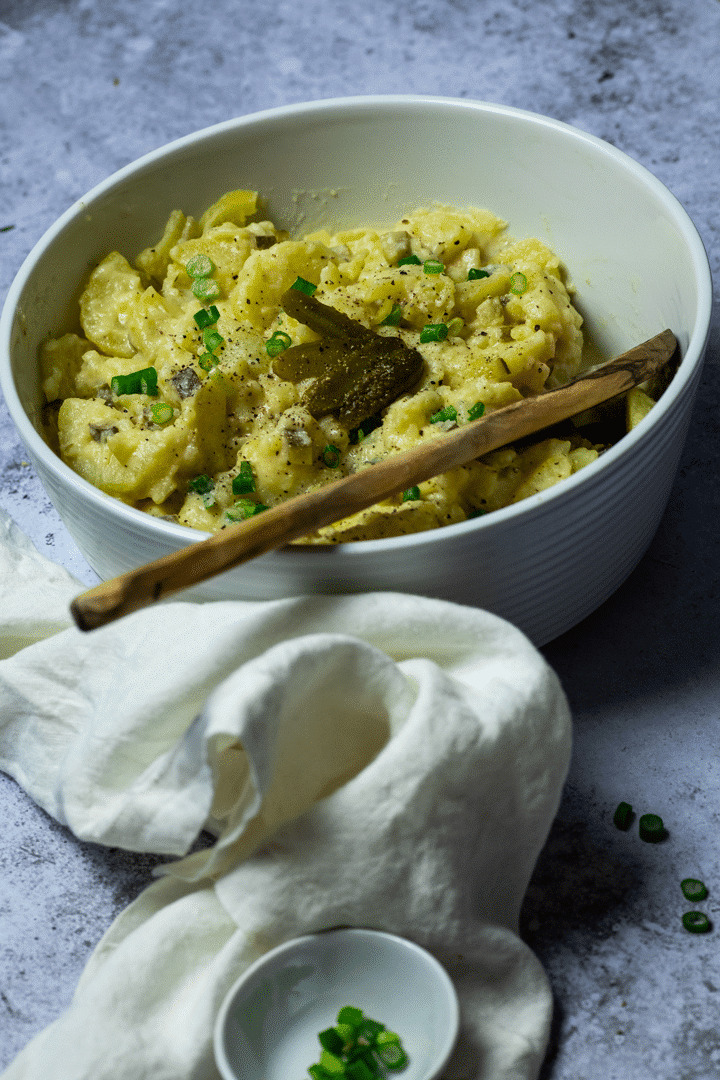 More Vegan Potato Recipes:
More vegan Salads:
Do not forget to Pin on Pinterest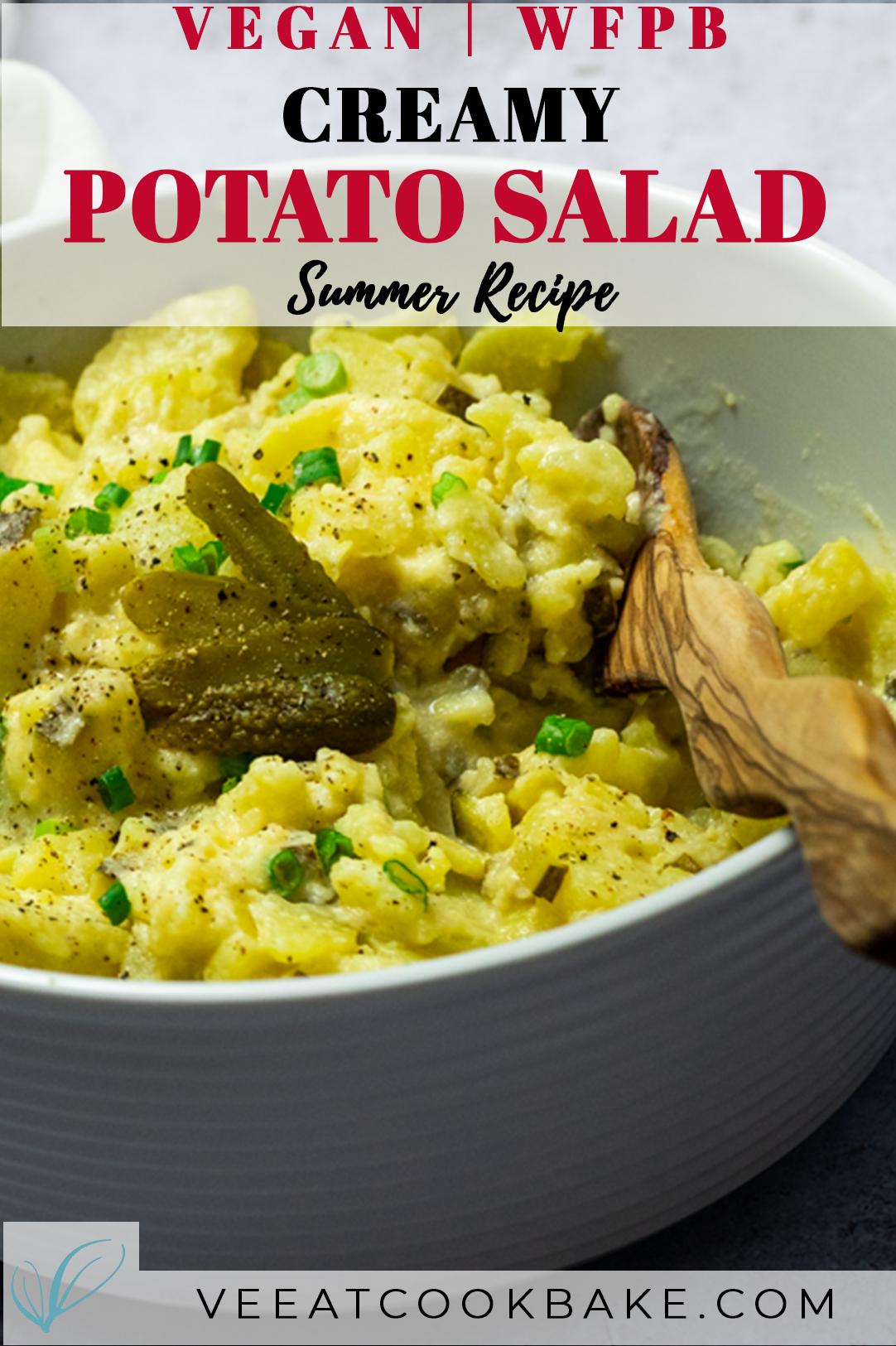 Have you tred the recip
If you tried the vegan Recipebe so nice ♥ and let me knw byrating the recipe and writing what you think about it in the comments.  I would love to see your photo on Instagram orFacebook. To do this tag me with @veeatcookbake andmy hashtag is #veeatcookbake. So that I can see your creation. Did you know you can add photos n Pinterest under the recipe Pin? I can't wait to see a photo of your creation here. You find me with @veeatcookbake