Make vegan spaetzle from scratch - here you will find a simple recipe to continue enjoying Spätzle.
These classic German egg noodles are not just fast to make without eggs, non-vegans do not even notice the difference.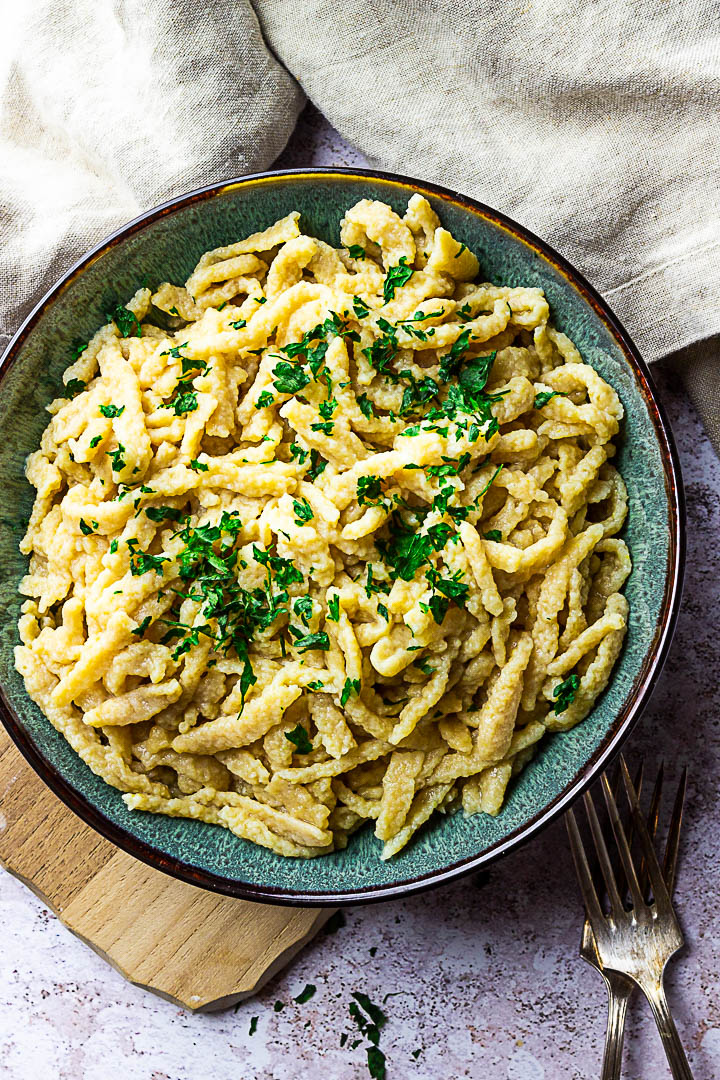 As an Amazon Associate, I earn from qualifying purchases. This post may contain affiliate links. Read More
This spaetzle doesn't just taste great with mushroom ragout, these taste great with a good cheese sauce as well.
These noodles not only look like the classic, traditional ones from Swabia, they also taste authentic and seconds are always wanted.
In my family spaetzle belonged to the tradition on the second day of Christmas. Yes, in Germany we have a second Christmas Day, it's on the 26th.
On this day we are always invited to my grandma and grandpa's for Christmas lunch.
And they always make traditional classic roulades, gravy, spaetzle and vegetable side dishes.
And as a vegan, you do not have to miss any of it. However, the spaetzle that my grandma cooked is traditionally made with eggs and therefore not vegan.
So I had to try a vegan version. And I prepared this with a whole wheat flour, which of course you can replace with a typical all-purpose flour as well.
This vegan spaetzle turned out perfect. I know self-praise stinks, but I'm still really excited about how well I've succeeded.
Previously, I always cooked so called button spaetzle with a spätzle press.
The button spaetzle also taste great, but I wanted to try for long spaetzle, the kind you can buy in stores or you often get served in Restaurants.
And you know what? I have succeeded better than I initially thought. Don't these spaetzle look really delicious?
And would you not like to reach straight into the screen and eat a portion? I'm definitely so, every time I see this great spaetzle photo.
What can you expect? A detailed explanation of how you can make the perfect spaetzle.
From the preparation of the noodles to how you cook them properly and storage, you will find everything in this guide.
Where do spaetzle come from?
The traditional spaetzle, which one knows so well, comes from the region Schwaben in Germany.
You could say a Baden Württemberg area.
This type of noodle is so well known that you even get to buy it here in the US. I can not blame it, it tastes really good.
At that time, it was the poor Swabians, rather, who were struggling with a low-yielding soil, who had created these tasty spaetzle from their cheaper food that they had enough of.
Simply kneading dough from flour, which then becomes such a well-known national dish, was not only simple but also ingenious.
Nowadays the Spätzle are internationally known.
Preparation
Let us jump right into the preparation. First I want to show you what ingredients are in these spaetzles. And then we go in the detailed instruction, cooking and more.
Ingredients
You really do not need too many ingredients for spaetzle, and if you've been vegan for some time, you've got a few ingredients like the Indian sulfuric salt Kala Namak in stock at home.
You can find the detailed ingredients in the recipe card below.
But now to the list of ingredients:
Whole wheat flour (spelt works too) or all-purpose flour
Semolina flour
Potato starch
Sea salt
Plant-based milk, unsweetened
Turmeric for the color
Kala Namak (opt)
Instruction
First of all, prepare a homogeneous dough from the ingredients. This should tear from the spoon and not be too liquid.
If the dough tears from the spoon, then you get nice long spaetzle. If it doesn't ensure the dough has enough salt.
Now boil water in a sufficiently large and wide pot with a little salt. Just like cooking other noodles.
And prepare a large bowl of hot water.
Now take the 'spaetzle press' and fill it with the dough. Now you put the press on the pot and slowly squeeze the dough into the boiling water.
Spaetzle should swim upwards relatively quickly. If the spaetzle swim up, they are cooked through.
Then you can skim the spaetzle with a trowel and put it in a bowl of hot, but not boiling, water, so the spaetzle stays warm.
You repeat this until the dough is used up.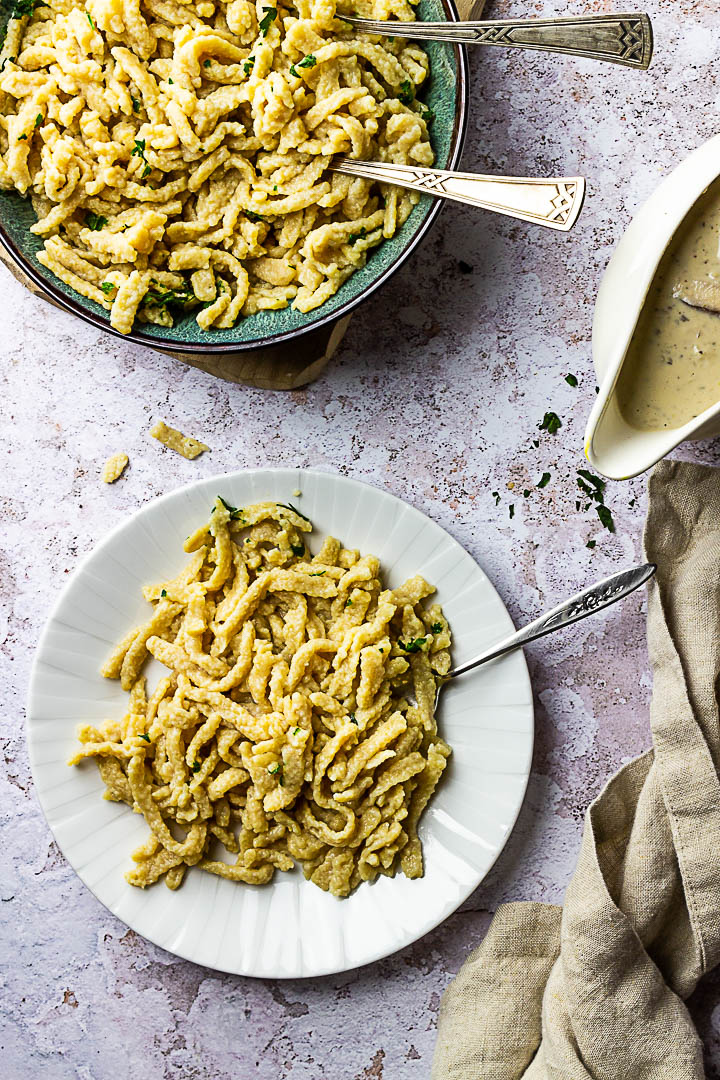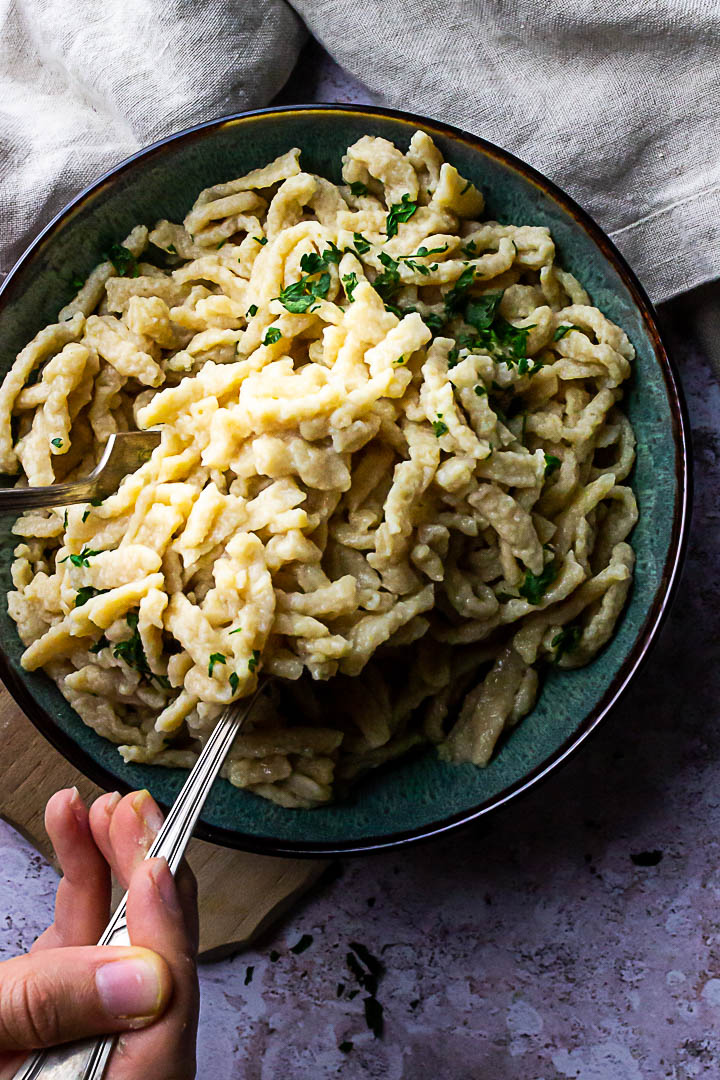 How do I cook the Spaetzle correctly?
First of all, you have to boil a sufficiently large and wide pot of salted water for the spaetzle.
It is important to pour the dough portion by portion into the water, I always put as much dough in the pot as fits into my press and only add more dough when I have skimmed off the finished spaetzle.
The water will stop bubbling when you press the dough into the water. But this is not bad at all.
The dough does not have to boil, it is enough when the water simmers.
After about half a minute the spaetzle start to float. This is your sign for skimming the Spaetzle.
Tips
I add the amount of liquid and as a rule of thumb, just look until I get the perfect dough.
For you, I measured how much I give to it. But if your dough is:
too firm: Depending on the type of flour, this can happen, then just add a little more plant milk. But make sure you slow it down before the dough gets too liquid.
too liquid: then just add some flour. Again, depending on the type of flour that the dough requires less liquid.
The most important tip to conjure long spaetzle:
The dough should stick to the spoon. If you want to lift some dough with the spoon, the dough should not run off the spoon, such as cake dough or pancake batter. But the dough should pull, or stick. Then you can make the perfect long spaetzle.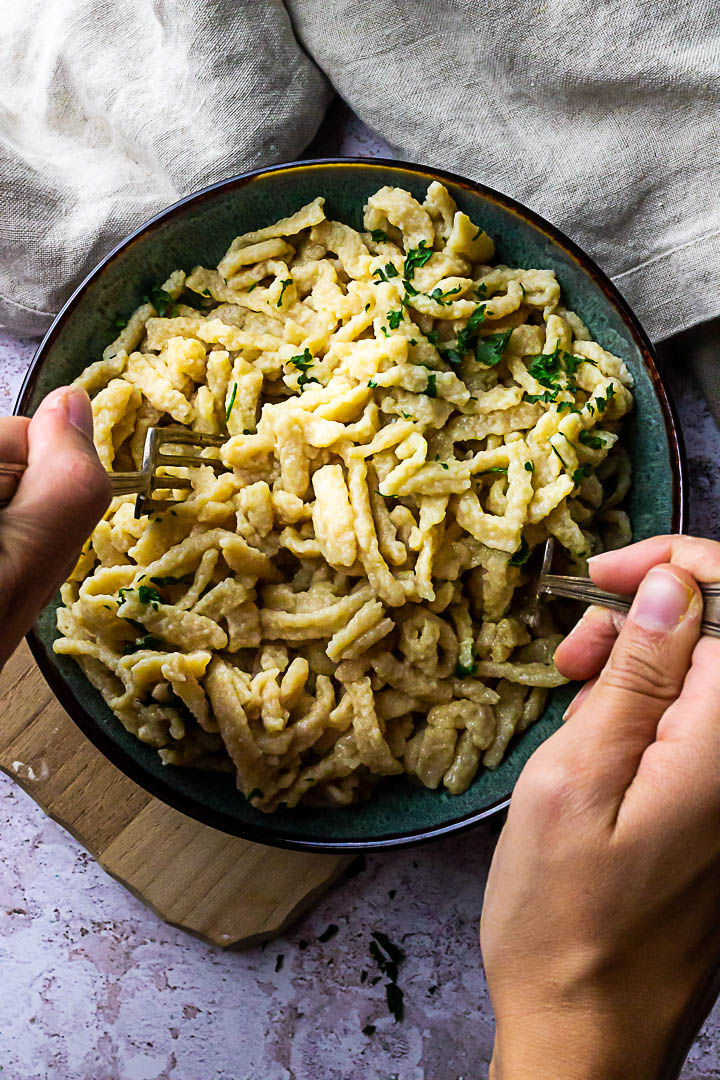 Should I rinse the spaetzle with cold water?
If you want to eat the spaetzle directly, this is not necessary. Then just put the spaetzle in hot water and keep the spaetzle warm.
However, if you want to serve the spaetzle later or store until the next day or fry it, then I recommend briefly rinsing the spaetzle with cold water.
Otherwise, it may be that the Spaetzle stick together too much, thanks to the sticky gluten in the flour.
Storage
Freezing
First you prepare the spaetzle as above and you rinse the finished spaetzle in plenty of cold water. Just swap the hot water with the cold water.
Now spread the spaetzle on a baking tray or like and put them in the freezer until the spaetzle are frozen through.
Now you can put the frozen spaetzle in containers and place back in the freezer.
This way, they will not freeze into a lump and you can take them out in portions.
If you want to make the frozen spaetzle, do not let it thaw. This can make them mushy and sticky.
Add the frozen spaetzle directly to the boiling water and wait for them to float up.
More vegan German Recipes
Do not forget to Pin on Pinterest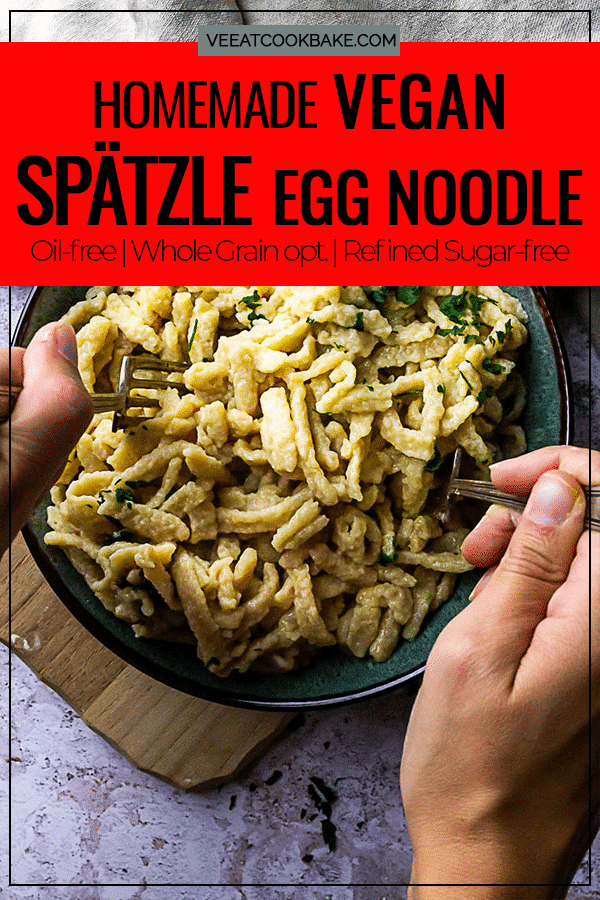 Have you tried the recipe?
If you tried the vegan Recipe, be so nice ♥ and let me know by rating the recipe and writing what you think about it in the comments. I would love to see your photo on Instagram or Facebook. To do this tag me with @veeatcookbake and my hashtag is #veeatcookbake. So that I can see your creation. Did you know you can add photos on Pinterest under the recipe Pin? I can't wait to see a photo of your creation there. You find me with @veeatcookbake.