This post is also available in: Deutsch
*As an Amazon Associate, I earn from qualifying purchases. This post may contain affiliate links. That means if you click and buy, I may receive a small commission. Please see my full policy.*
You want a soup that not only warms you from the inside, but also tastes super cheesy? Then you have found exactly the right one here. This creamy cauliflower soup does not only tastes good for people who eat plantbased, even those who want to treat themselves to a healthier alternative. Make this for a healthy Dinner or Lunch. You can freeze it, so you have always some on hand. vegan | gluten free | oil free | sugar free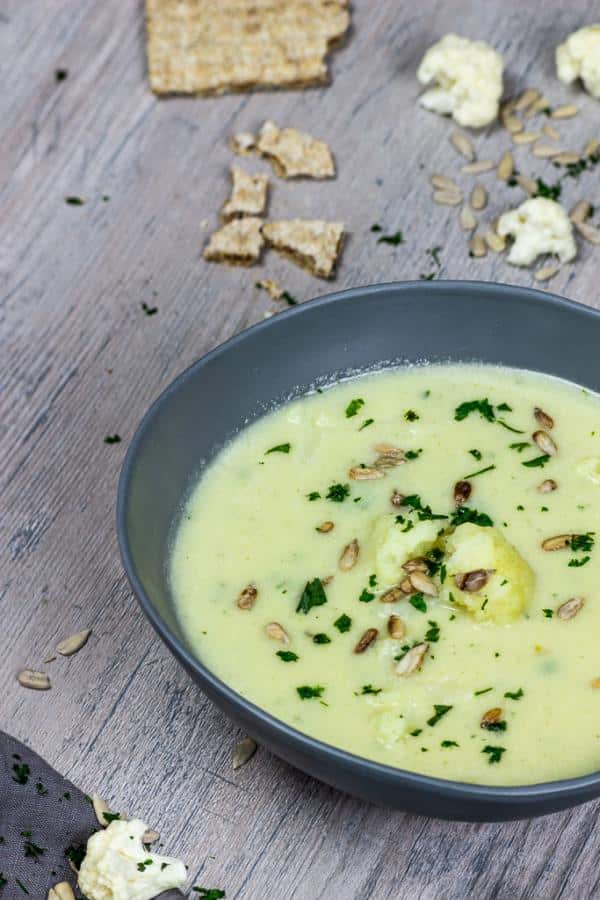 Cauliflower Soup
The cauliflower soup is perfect for the last winter days. Do you also have the feeling that this year the winter is just going on?

Also for the cauliflower season you can prepare this soup. Because it is cooked in one pot, you do not stand in front of the hot stove for long or you prepare it directly in the instant pot.
---
Did you try the recipe?
If you did it, be so nice ♥ and let me know by rating the recipe and writing what you think about it. Tag me on Instagram too. I am @veeatcookbake and my hashtag is #veeatcomforts. So that I can see your creation. Did you know you can add photos on Pinterest under the recipe Pin? I can't wait to see a photo of your creation there. You find me with VeeatCookBake.
---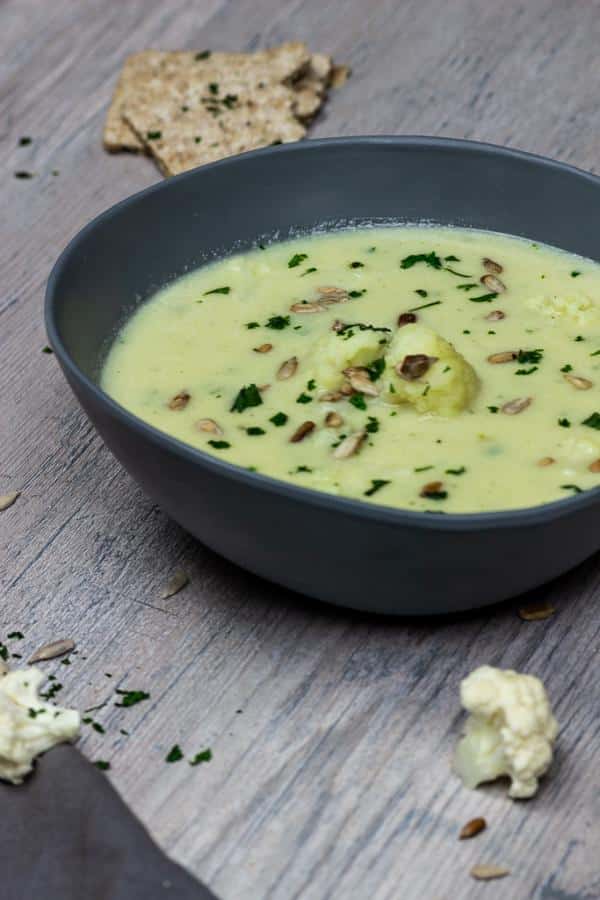 Cheezy Cauliflower soup - vegan, oilfree, dairyfree, wholefoods
This delicious cauliflower soup tastes great, not only in the cold season
Recipe type:
Soup, Dinner, Lunch
Cuisine:
vegan, plantbased, dairyfree, oilfree, soyfree
Ingredients
1 cauliflower
1 onion
2 cloves of garlic
1.5 l vegetable broth
4 tablespoons of nutritional yeast
60 g cashews, soak in boiling water for 10 min
200 ml of water
2 teaspoons tapioca starch
2 teaspoons of garlic powder
2 tablespoons of parsley, chopped
season with salt and pepper
(optional sunflower seeds)
Instructions
Dice the onion and garlic and fry with some water in the pot. If the water is overcooked, always add some water. However, only so much that jus the bottom of the pot is covered.
in the meantime, divide the cauliflower into florets and wash them. Soak the cashews in boiling water.
Add the vegetable stock to the steamed onions. Add the cauliflower and bring to a boil. Cook until the cauliflower is soft.
Blend the cashews without soaking water, 200 ml of water, yeast flakes, tapioca starch and garlic powder in a blender to a fine cream. There should not be any pieces.
Give the cream to the cauliflower.
If the cauliflower is soft, blend everything with a immersion blender.
When you have the desired consistency of soup you can add the parsley. Add salt and pepper to taste.
If you want, you can roast sunflower seeds in a frying pan. These just taste great with the soup.
Must haves:
For Pinning:
 
[:]