Need a delicious, easy-to-make dinner for busy weekdays? Vegan lemon pasta is the perfect dish! No dairy required here - we use white beans like cannellini beans and cashews to make an irresistibly creamy sauce that's flavored with zesty lemon juice. Plus, you can easily swap in gluten-free pasta if needed.
We add spinach on top of this scrumptious meal as well - it has such a refreshing taste when combined with garlic and citrus flavors! Not just popular among adults, but kids too; my children even ate two servings each time I made it! Ready in only 30 minutes... amazing vegan food doesn't get any faster than this tasty treat.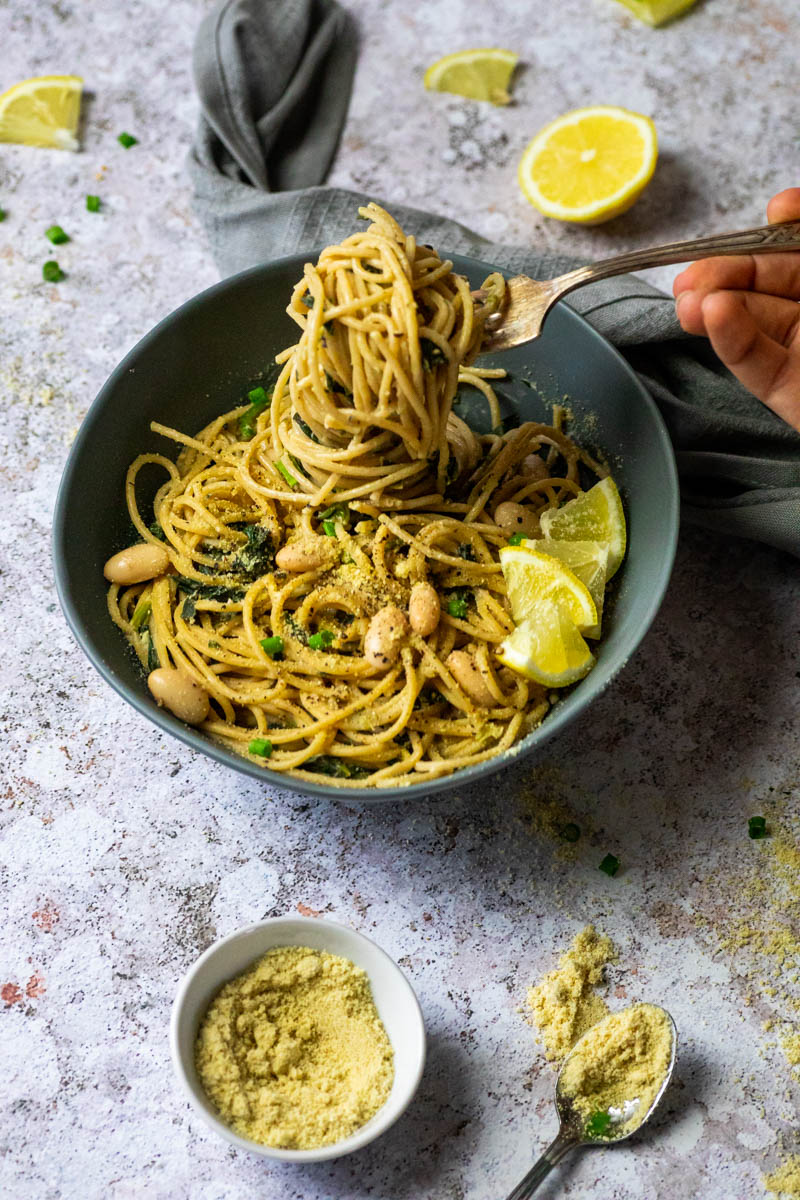 As an Amazon Associate, I earn from qualifying purchases. This post may contain affiliate links. Read More
Ingredients
A quick list of the simple ingredients you will need to make this creamy vegan lemon sauce.
You can find the ingredients with quantities and the recipe to print out on the recipe card below.
Pasta
Vegan Parmesan Cheese
Frozen Spinach or Fresh Spinach
Sauce Ingredients
Garlic Cloves
Red Pepper Flakes
Black Pepper
Raw Cashews
White Beans
Vegetable Broth
Fresh Lemon Juice
Lemon Zest
Garnish
Fresh Basil
Fresh Parsley
Pine Nuts
White Beans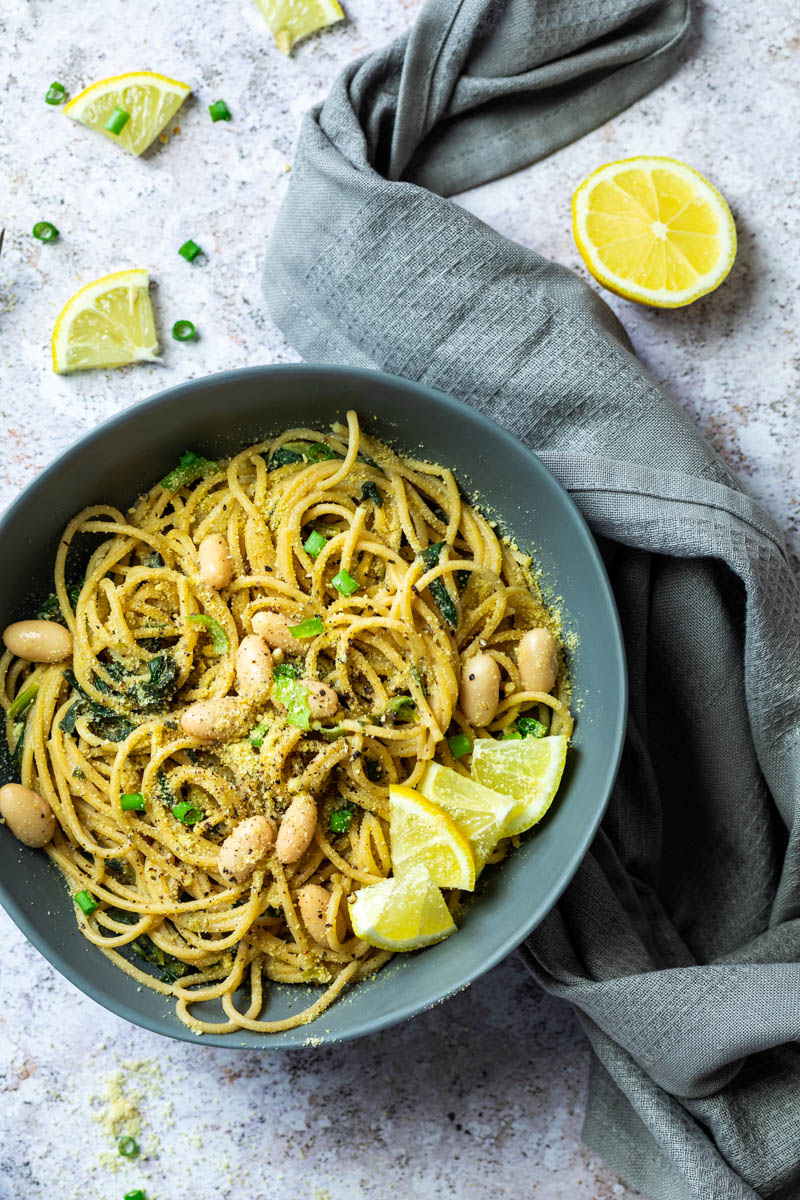 Instructions
Start soaking the cashews.
Cook your choice of pasta al dente in a large pot of salted water according to the package instructions.
Drain the cashews and add the ingredients of the sauce to a high speed blender. Blend until you get a creamy and smooth consistency. Make sure we have no pieces left.
Chop the garlic and put it in a large skillet and sauté it with a splash of water on medium heat. Add the black pepper, red pepper flakes and lemon zest and let it simmer for about 1-2 minutes. Make sure you add a dash of water occasionally. We don't want to burn the garlic.
Now add the spinach and let it collapse or thaw.
Add the sauce and stir in the vegan Parmesan cheese. Bring the sauce to a boil while stirring on medium-low heat. Season the sauce again and if you like it, add the cooked pasta. Stir them until coated with the garlic lemon sauce.
Your lemon spaghetti is now ready. I also like to serve a side salad with this creamy vegan lemon pasta. Garnish with some Lemon Slices and fresh herbs.
Substitutions
Garlic Cloves: Instead of fresh garlic, you can also use garlic powder to season your vegan lemon pasta sauce.
Black Pepper: I sometimes use white pepper for my spaghetti al limone. You can swap both.
Cashews: Instead of Cashews, you can also use sunflower seeds or pumpkin seeds. You will get with both options a cream sauce.
White Beans: I love to add some white beans for creaminess. You can either use cannellini beans, great northern beans. All white beans will work here. I also love to add some beans to the pasta. You get a protein-rich meal for busy weeknights.
Parmesan Cheese: If you do not have any vegan Parmesan cheese or do not want to make one. You can also use nutritional yeast.
Pasta: As you can see, I used spaghetti, you can use gluten-free pasta, lentil pasta, angel hair pasta. This choice is up to you. Sometimes I make this lemony pasta with zucchini noodles.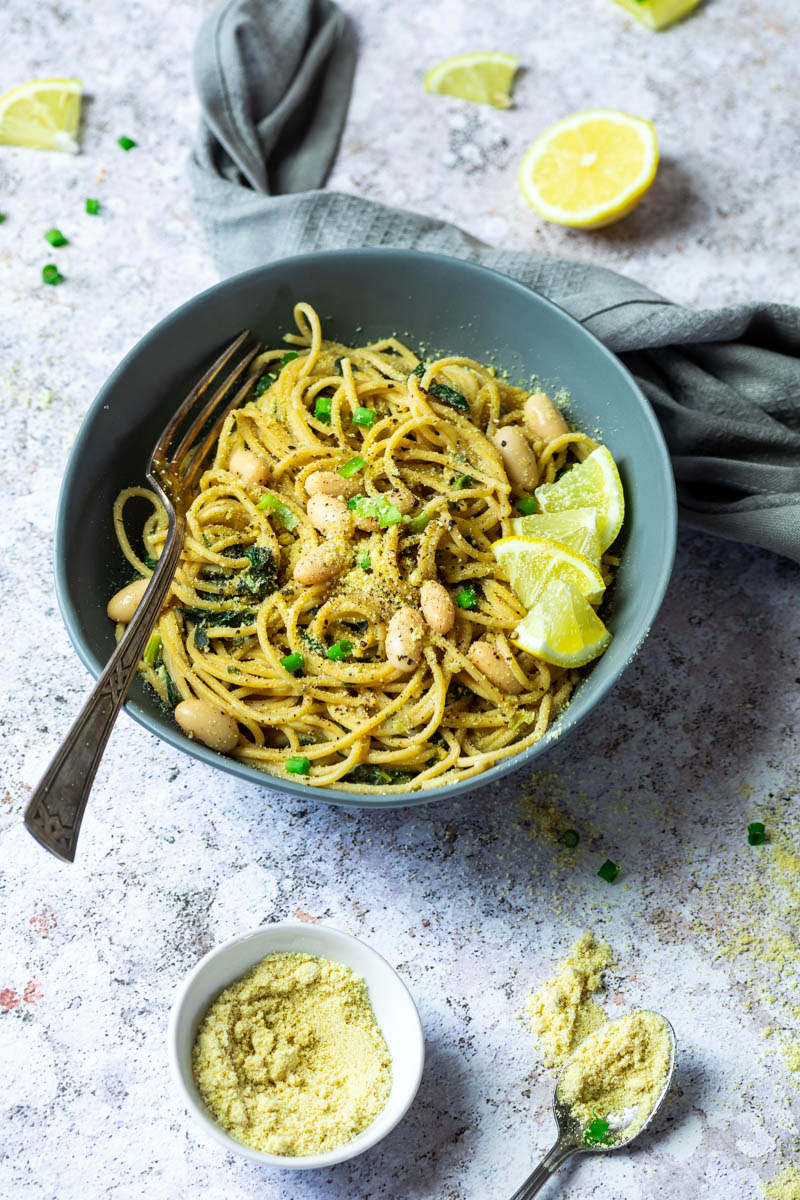 Variations
White Wine: Add some white wine to the garlic and let it reduce on medium heat. It will add a nice flavor. You can also add some white wine vinegar.
Lime: You got fresh limes instead of fresh lemons, use these. It will add a nice flavor to your delicious pasta dish as well.
Equipment
For this simple pasta recipe you do not need a lot of tools. Here are some that will help you make this creamy lemon pasta recipe.
Storage
Fridge: You can store this lemon garlic pasta in an airtight container for up to 4 days in the fridge. Just reheat the pasta in the microwave or on low heat on the stove top.
Freeze: You can also freeze this lemon sauce for up to 3 months. Just freeze it in portion size in freezer safe containers.
Meal Prep
This sauce is awesome for meal prep, just prepare it a couple of days in advance. I recommend prepping the sauce and the pasta separately and just toss them together right before serving.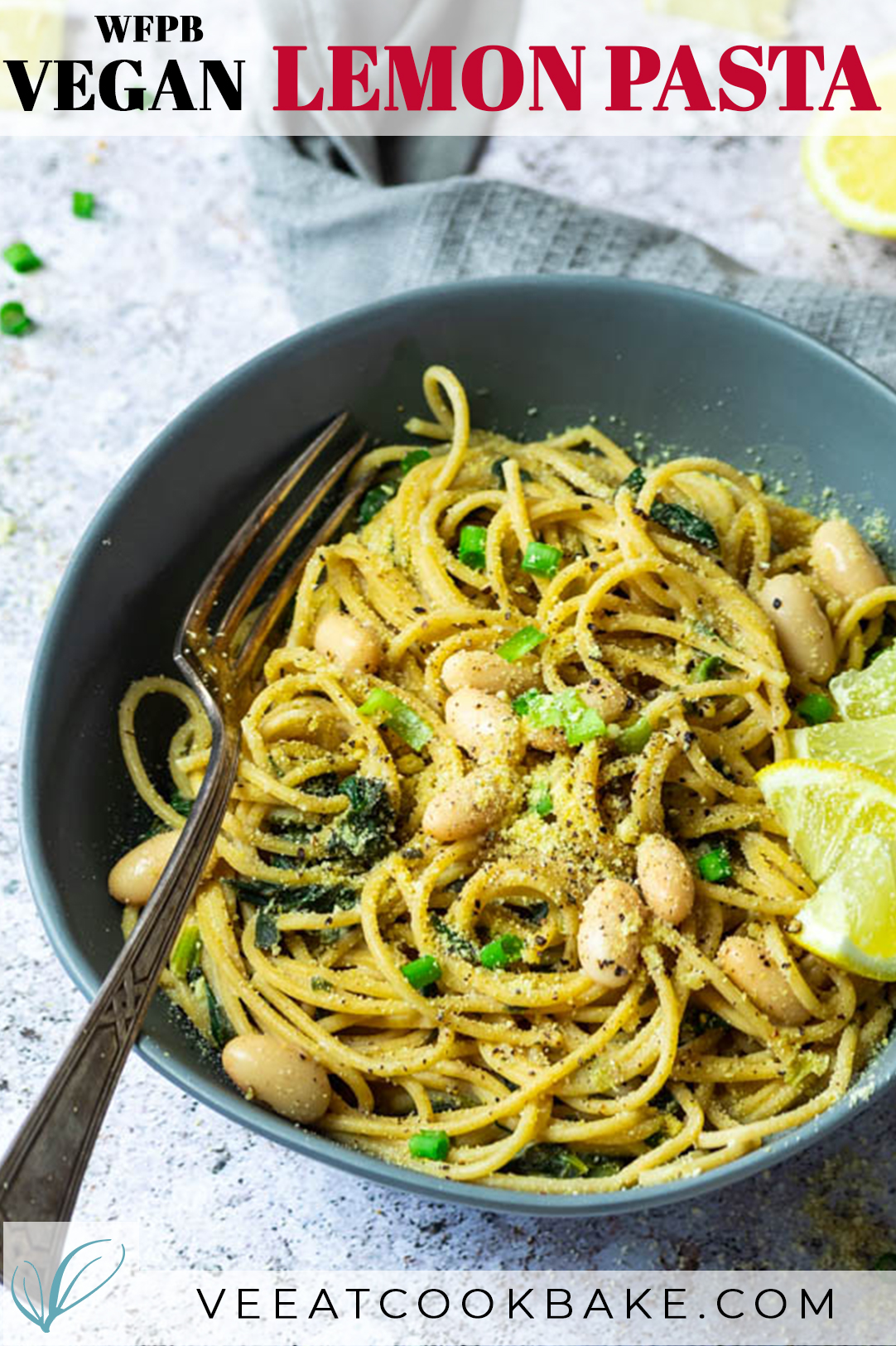 Tips
You can also prep this as a one pot meal. Just add a little more water to the sauce and add your pasta and let it cook until the pasta al dente.
Vary with the amount of vegan Parmesan and add more or less according to your own preference.