This vegan tuna salad, prepared with chickpeas and jackfruit, tastes incredibly delicious and thanks to the jackfruit, it has the perfect, fibrous structure we know from tuna salads. The chickpea tuna gets its unbelievable sea and fish taste from wakame flakes and kelp powder.
This gives your vegetarian tuna salad a great, hearty seafood taste. Prepare this no tuna salad as a vegan tuna salad sandwich or as a topping for your next salad bowl.
You simply prepare this vegan tuna fish recipe and it has a great taste so you won't miss the traditional .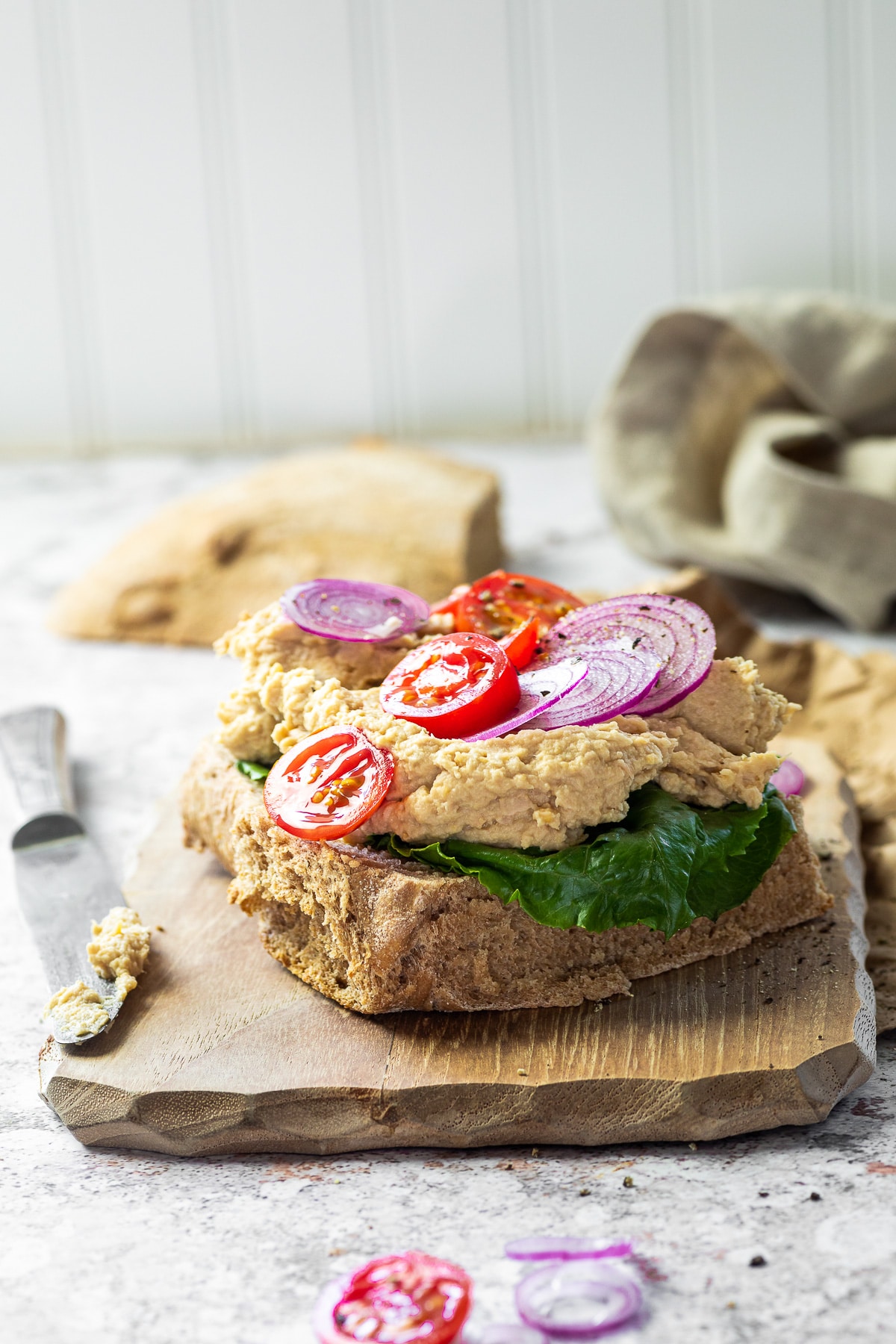 As an Amazon Associate, I earn from qualifying purchases. This post may contain affiliate links. Read More
Jump to:
I have to say, this delicious garbanzo bean salad is one of my favorite recipes for making a vegan sandwich.
Before I switched my diet to vegan, I loved the tuna sandwich at Subway. So I had to try a vegan version. I always found the taste great, and when I changed my diet, it wasn't about the fact that I just didn't like it, I just wanted a healthier diet for my family.
This is how this vegan tuna salad came about. But I didn't want to miss this fibrous texture either, so I added some jackfruit and it turned out to be perfect.
Are you now wondering why a mock tuna salad? For one thing, the oceans could be empty by 2048 if we don't change our diet. Which should give you enough incentive to minimize your fish consumption and save fish.
You don't need fish to conjure up delicious dishes. The chickpea and jackfruit salad lasts even longer.
Now, of course, I don't want to just throw you a recipe here. I will show you how to make the vegan tuna salad and you will get more tips and tricks, as well as alternative options.
First of all, let's take a look at the ingredients.
Ingredients
Here is a small overview of which ingredients are actually contained in the vegan tuna salad. You can find the exact quantities below in the recipe card.
Chickpeas
Jackfruit in brine
Aquafaba
Wakame flakes
Kelp powder
Salt
Tahini or Nut Butter
Soy Sauce or Tamari
Onion Powder
Garlic Powder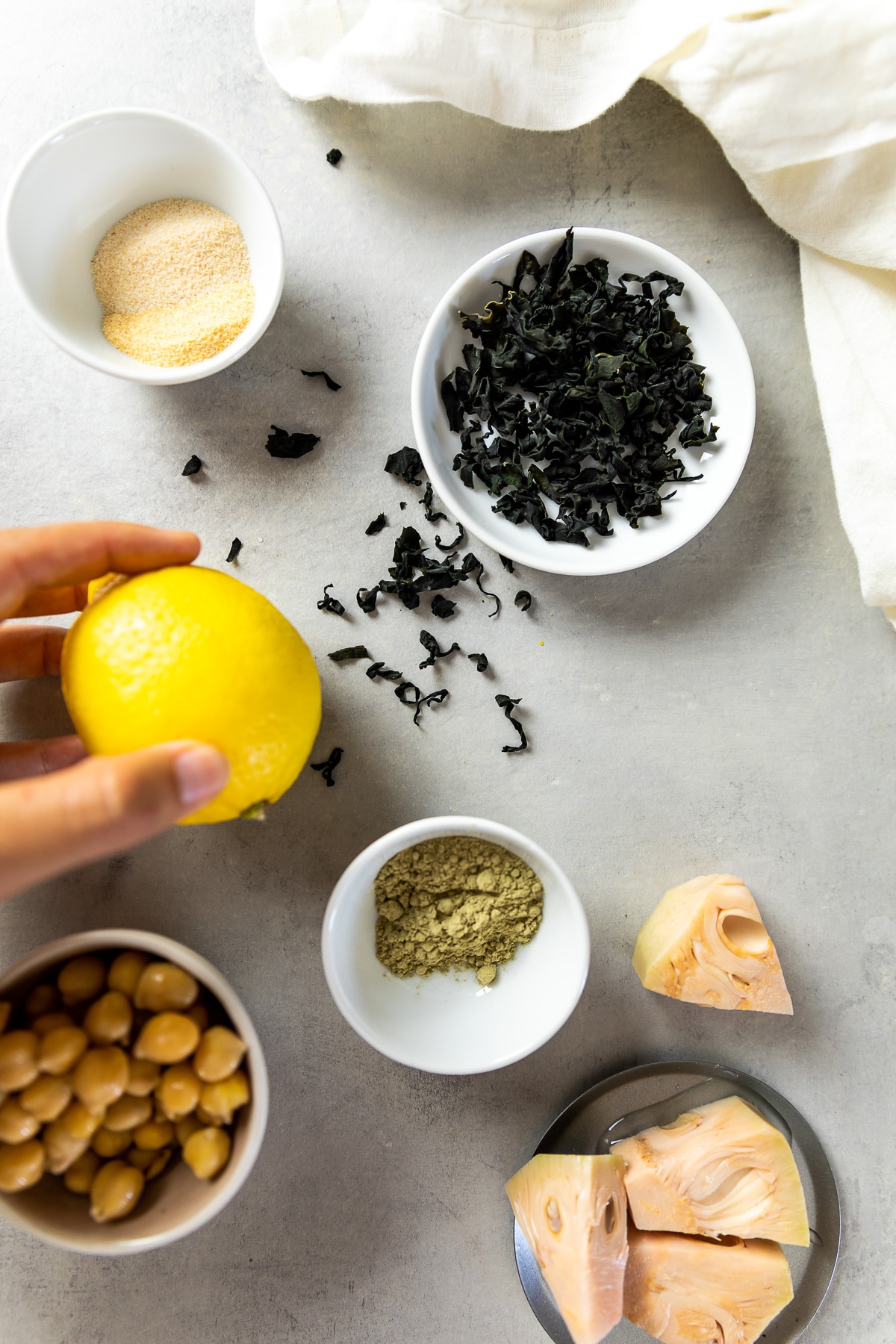 Substitutes
I would also like to show you which ingredients you can replace with other ingredients. I hope this will help you make the perfect vegan tuna salad.
Jackfruit substitute
If you don't like or can't find jackfruit, you can prepare the vegan tuna salad with more chickpeas or palm hearts.
Wakame Flakes and Kelp Powder Substitutes
You don't have to add these two types of seaweed, but they give the salad a delicious taste. If you don't want to use these, you can simply leave out the wakame flakes and kelp powder.
Tahini and nut butter substitutes
If you don't like the taste of tahini, depending on the variety, it can be a bit bitter. Or even if you don't have any nut butter on hand.
Then you can also use the same amount of raw cashews and / or sunflower seeds. Then simply mix these finely with the chickpeas so that there are no more pieces.
Soy sauce substitute
If you don't want to use soy sauce. Then you can also use the gluten-free version Tamari. You can also use the soy-free version of coconut aminos.
Variations
Here, too, I would like to show you variations, for example if you are eating gluten-free or nut-free.
Gluten free
This tuna salad is super easy to make in gluten free. The only thing that contains gluten in the recipe is the soy sauce, which can be easily replaced with tamari or coconut aminos.
Nut free
This vegan tuna salad is easy to make nut-free; instead of nut butter, you can use tahini or sunflower seeds.
Keto
Instead of the chickpeas, you can use a mixture of sunflower seeds and cashews. To do this, puree half of the sunflower seeds until creamy and add chopped sunflower seeds.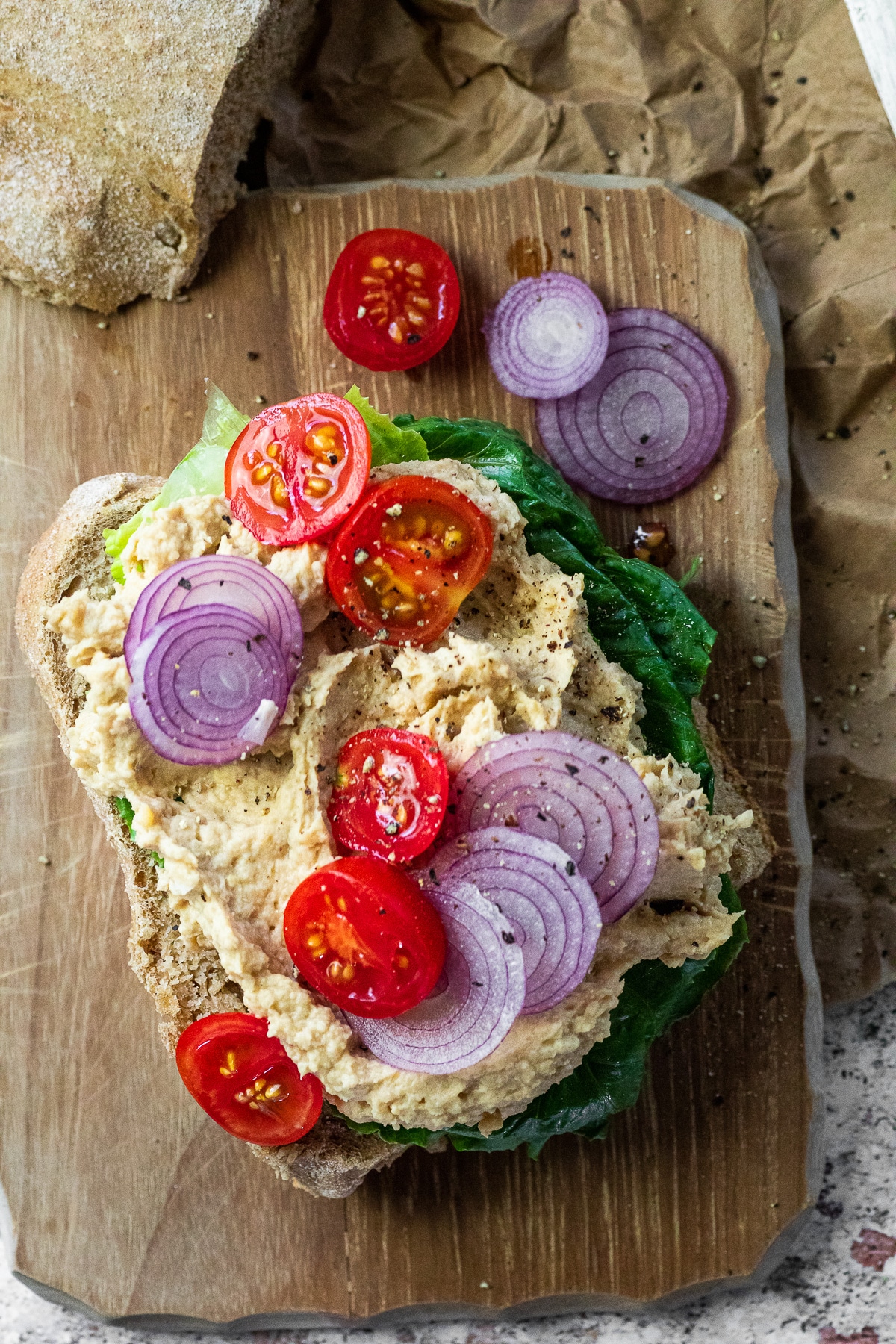 Instruction
You can start the evening before.
Wash the jackfruit and cut off the hard part.
Let the fibrous parts sit in hot water and add 3 wakame flakes or other seaweed. We need this to get the typical sea / fish taste. Let it sit for at least 2 hours or overnight.
The next day, rinse the jackfruit and remove the wakame flakes.
Now let's take the chickpeas and rinse them. It is important to catch the liquid from the can, the aquafaba. You can use it for this recipe, or as an egg or oil substitute in another recipe.
Now add half of the chickpeas, tahini or nut butter and aquafaba, freshly squeezed lemon juice in one food processor and mix until creamy.
If it's not creamy enough, add a little more aquafaba.
Add kelp powder, which is optional but adds all of the flavor, and add soy sauce, onion powder, and garlic powder. Mix it until the spices are well combined.
Add the remaining chickpeas and jackfruit and use the pulse function of the food processor.
We want to keep the texture of the jackfruit.
Season to taste with salt and pepper.
Prepare in advance
This vegan tuna salad is great as a meal prep and can be prepared a few days in advance. You can prepare it on Sunday and have it for lunch during the week.
Serving suggestion
Serve it on whole grain bread with lettuce, tomatoes, onions and other vegetables for a great hearty sandwich.
Salad wraps to have a gluten-free alternative.
Dip it in with crackers or chips. Vegetables are great too; peppers, celery, zucchini or cucumber, cut and dip with them.
Serve the vegan tuna salad on salad plates such as a vegan version of the Nice salad.
Buy tortilla wraps and serve as wraps.
Use it to prepare a toast.
Storage
How to refrigerate it?
The leftovers can be kept in a sealed container in the fridge for up to 5 days. Before you use it, stir well once.
How to freeze it?
The vegan tuna salad is easy to freeze in a freezer-safe container.
Simply freeze the salad in portions. To thaw, take them out of the freezer the evening before and let them thaw in the fridge.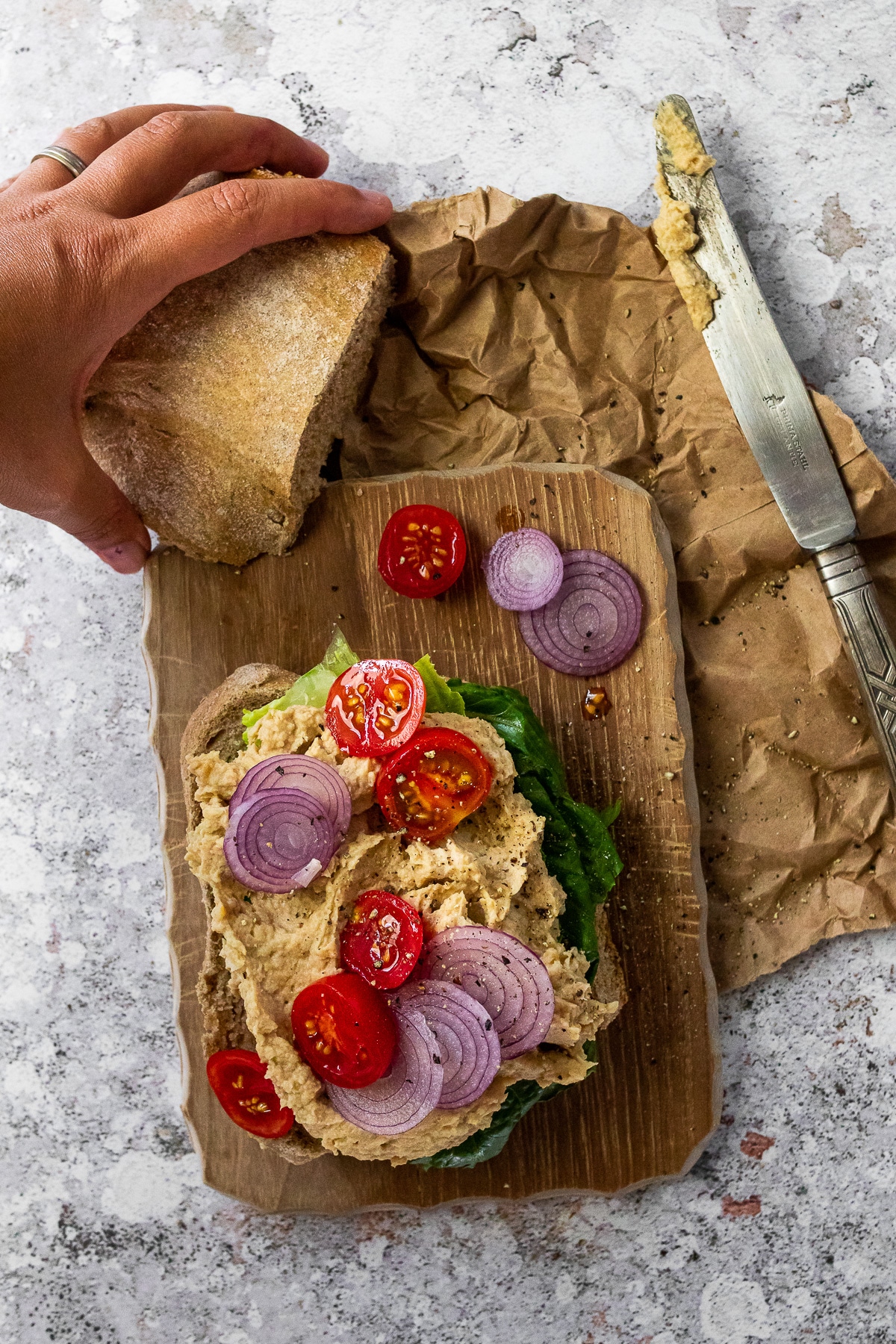 Tips
Instead of blending the chickpeas with tahini until creamy, you can also use ready-made hummus and season it.
Use nori sheets, for example if you are making sushi, you may have some available and you don't have to buy kelp powder or wakame flakes.
To get omega fatty acids, it is a good idea to add a few hemp seeds. These are full of healthy omega fats.
The recipe is ideal to make in bigger batches and then freeze.
If you are looking for a dip for your next party, this vegan tuna salad is ideal.
More vegan Sandwich Recipes:
Toast with asparagus and mushrooms