This vegan Reuben sandwich is very easy to make. The classic American sandwich is made with whole food plant based ingredients and without any oil.
We conjure up a corned beef out of tempeh that tastes so good and has the typical corned beef aromas that you can't get enough of it.
Tempeh is marinated and then grilled, with a homemade vegan "Russian" dressing, sauerkraut served in your favorite bread, typically a classic rye bread.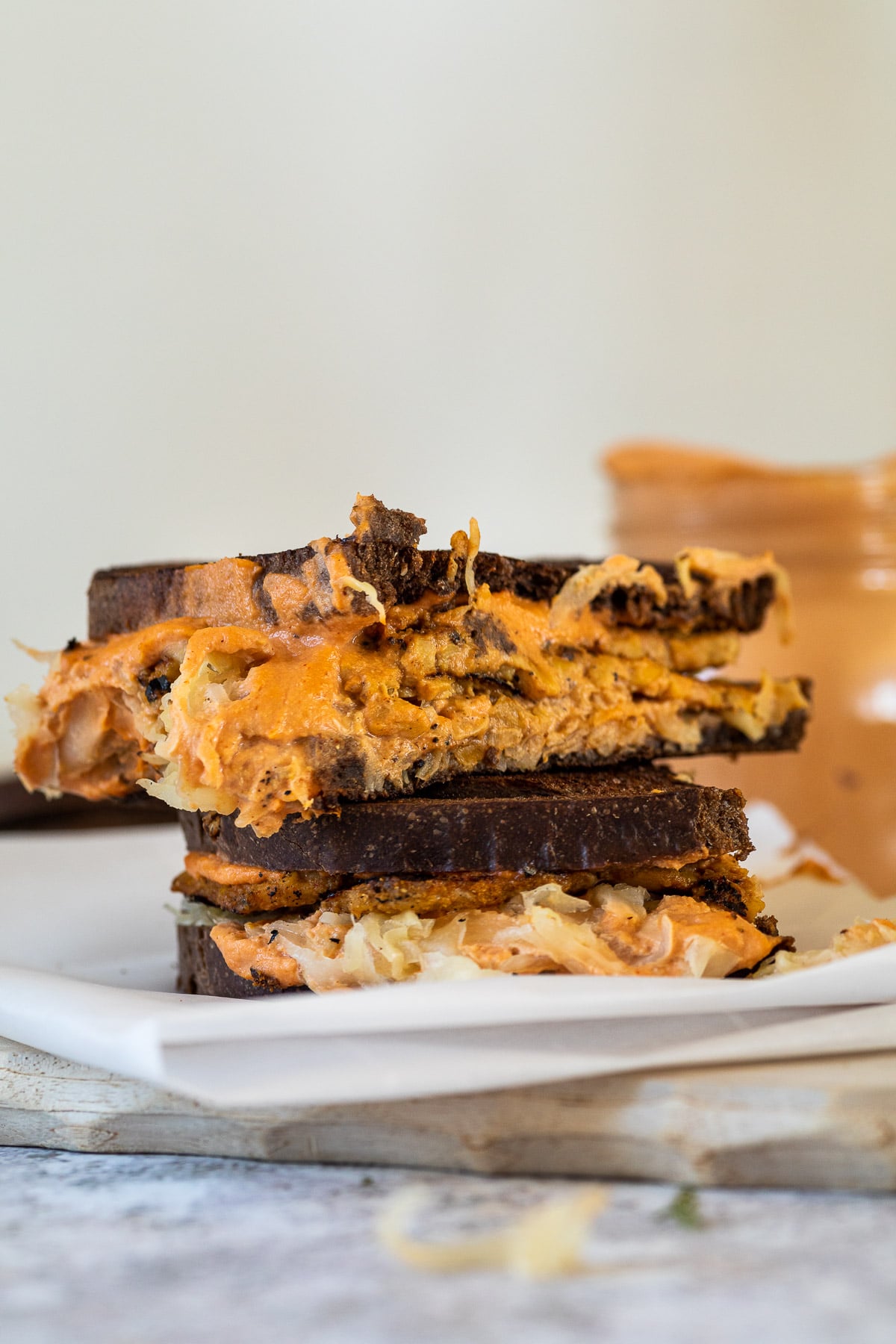 As an Amazon Associate, I earn from qualifying purchases. This post may contain affiliate links. Read More
Jump to:
You will see it becomes a real comfort sandwich that is bursting with flavors.
You won't even miss the meaty and non-vegan version made from corned beef, Russian dressing and cheese.
And with this vegetarian and dairy-free version, I can tell you that if you could have more than just one sandwich, you will take seconds.
It tastes so incredibly good that I can't even find the right words for it.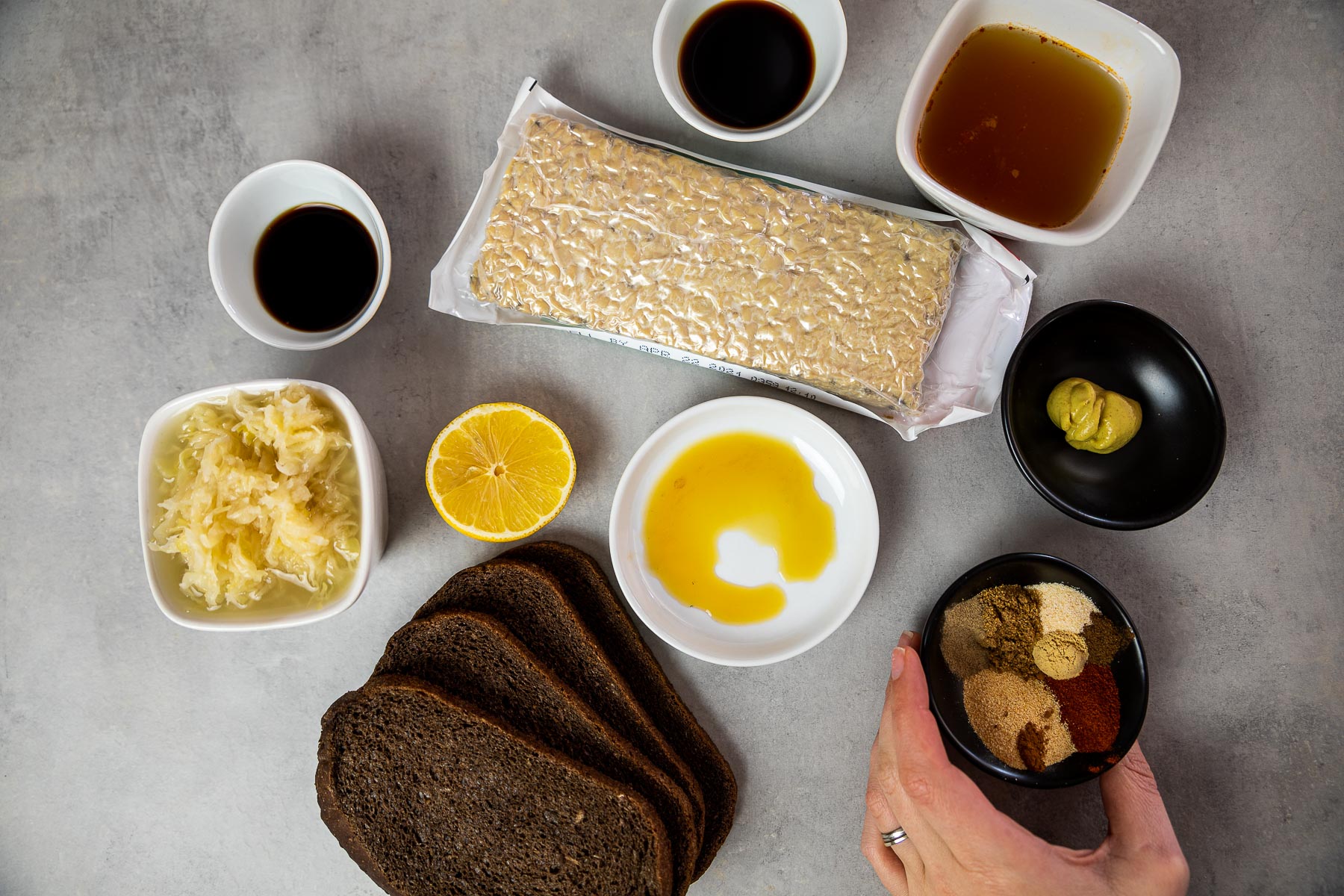 Ingredients
Is your mouth watering right now? Then let's just take a look at which ingredients are in this vegan Reuben Tempeh Sandwich.
You can find the exact quantities below.
Corned tempeh
Tempeh
Vegetable Broth
Balsamic Vinegar
Tamari or Coconut Aminos
Lemon Juice
Liquid Smoke
Onion Powder
Garlic Powder
Dijon Mustard
Coriander Powder
Aniseed Powder
Allspice Powder
White Pepper
Cinnamon
Ginger Powder
Russian Dressing
Cashews
White Beans
Vegetable Broth
Tomato Paste
Onion Powder
Garlic Powder
Paprika Powder
Horseradish
Onion
Sriracha
Tamari
Apple Cider Vinegar
Pepper
Remaining Ingredients
Bread
Sauerkraut
Cheese Sauce (opt.)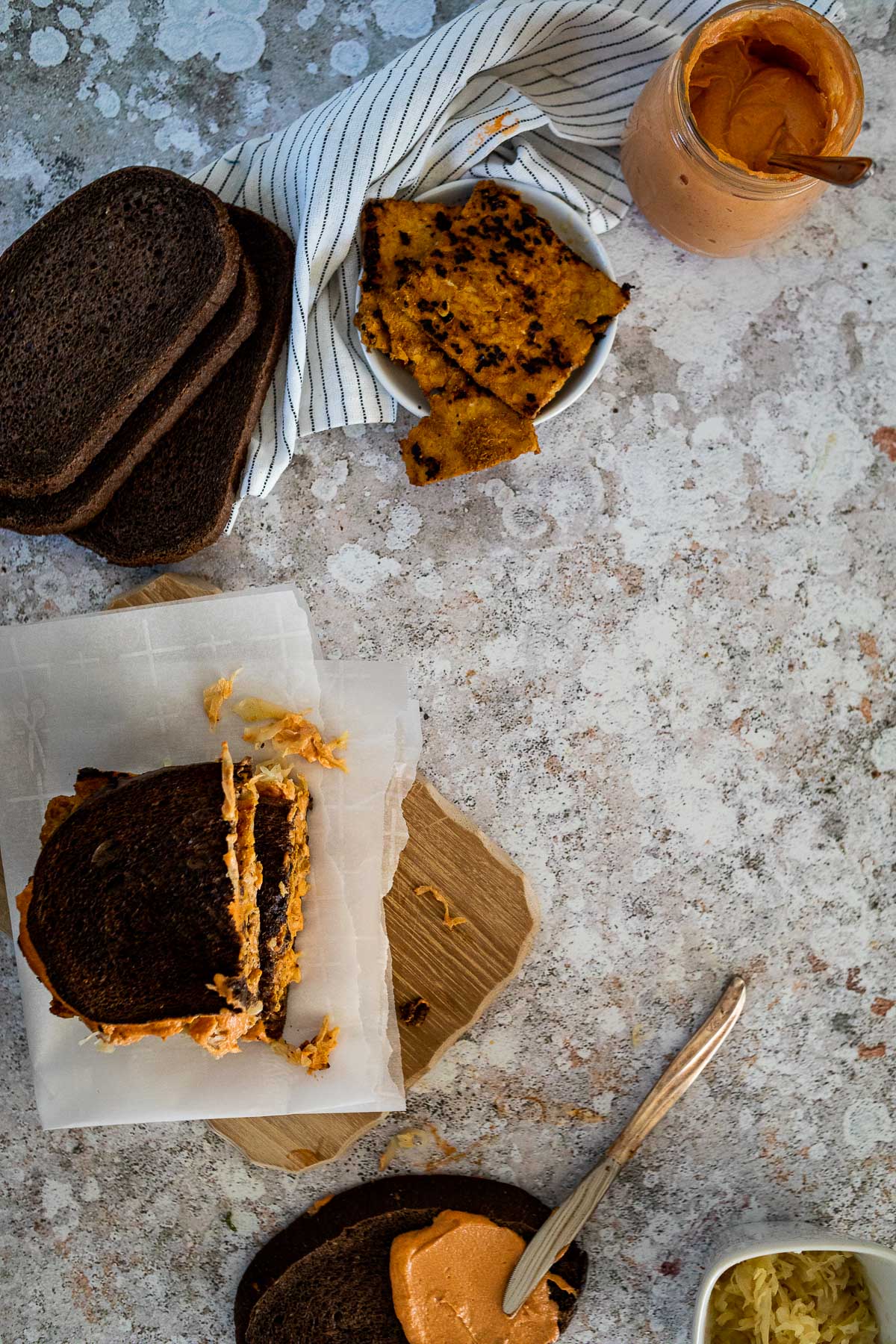 Substitutions
Let's take a look at which ingredients can be exchanged.
Tempeh
Instead of tempeh you can use tofu, for example. If you prefer a soy-free alternative, I can recommend seitan or mushrooms.
I can also imagine marinated beetroot or cauliflower would go very well.
Balsamic Vinegar
Instead of balsamic vinegar, you can also use red wine vinegar or apple cider vinegar for the corned tempeh.
Tamari
Tamari is a seasoning sauce like soy sauce. Instead of using a soy one, you can use coconut aminos.
Spices
I wouldn't exchange anything on the spices, as they give the vegan Reuben sandwich the great authentic taste.
Since I've spent a long time trying to find out which spices are actually in such a corned beef, I have adapted them to the recipe.
Cashews
Instead of cashews, you can use sunflower seeds. They're nut-free and even cheaper.
White Beans
I like to cheat white beans into my sauces, so we get even more nutrients from legumes.
You can also replace them with cashews or sunflower seeds.
Russian Dressing Spices
Again, I do not recommend changing anything in the spices, as these make up the taste of the vegan Russian Dressing.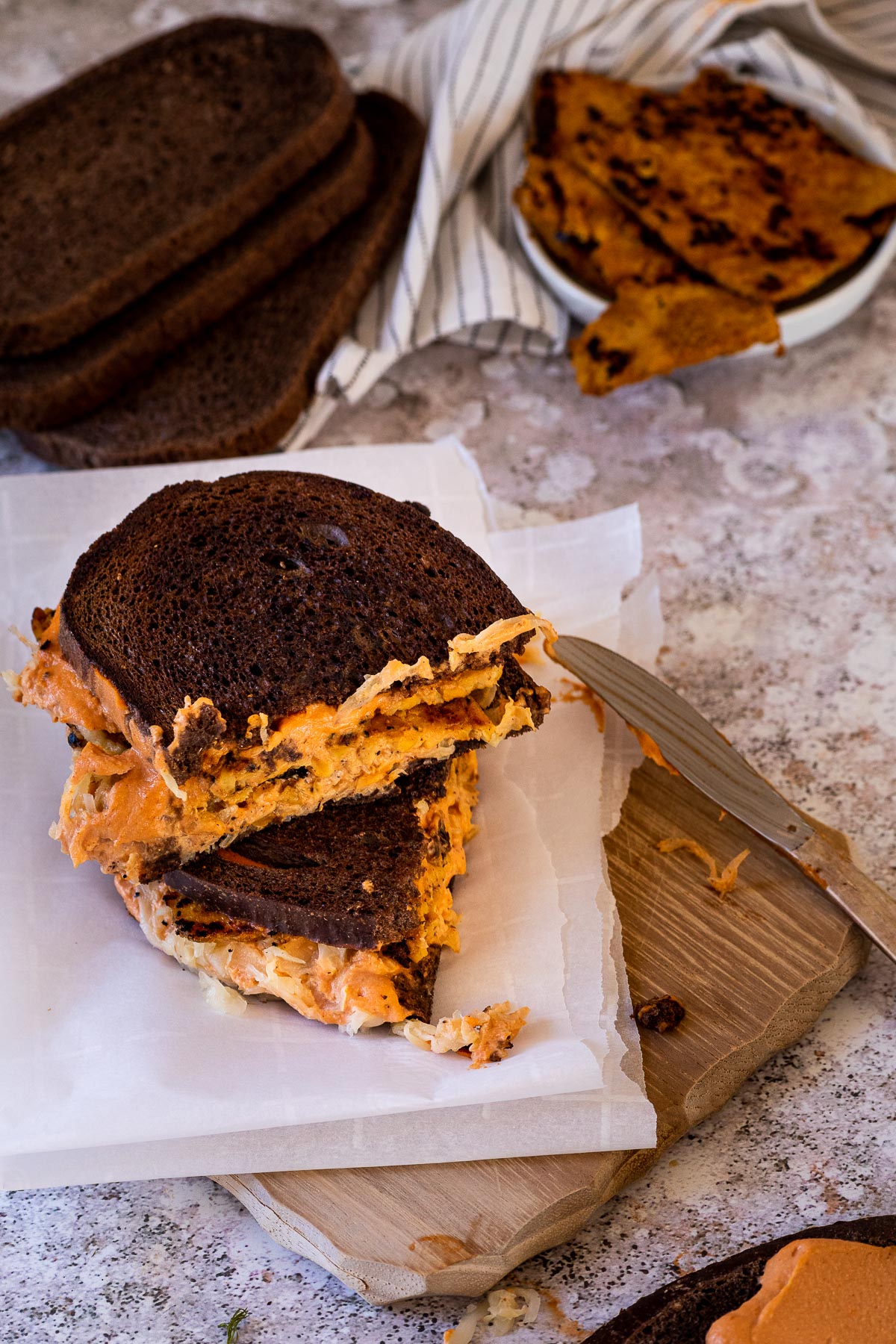 Variations
Now let's take a look at how we can adapt the dish to different diets.
Gluten free
Use a gluten-free bread. The remaining ingredients of the vegan Reuben are already gluten-free.
Keto
Use a keto-friendly bread alternative. For example, iceberg lettuce leaves could work here.
For the vegan corned beef, simply use mushrooms, which you pickle as described.
Only use cashews in the sauce and leave out the white beans.
Paleo
In principle, you can proceed here as with the keto version. So you only use paleo-friendly ingredients.
Nut free
If you use sunflower seeds instead of cashews, you have a delicious, nut-free vegan Reuben sandwich.
Soy free
If you don't want to eat soy, you can easily use an alternative such as seitan or mushrooms for the corned beef instead of tempeh.
Tamari sauce contains soy. You can also use coconut aminos here.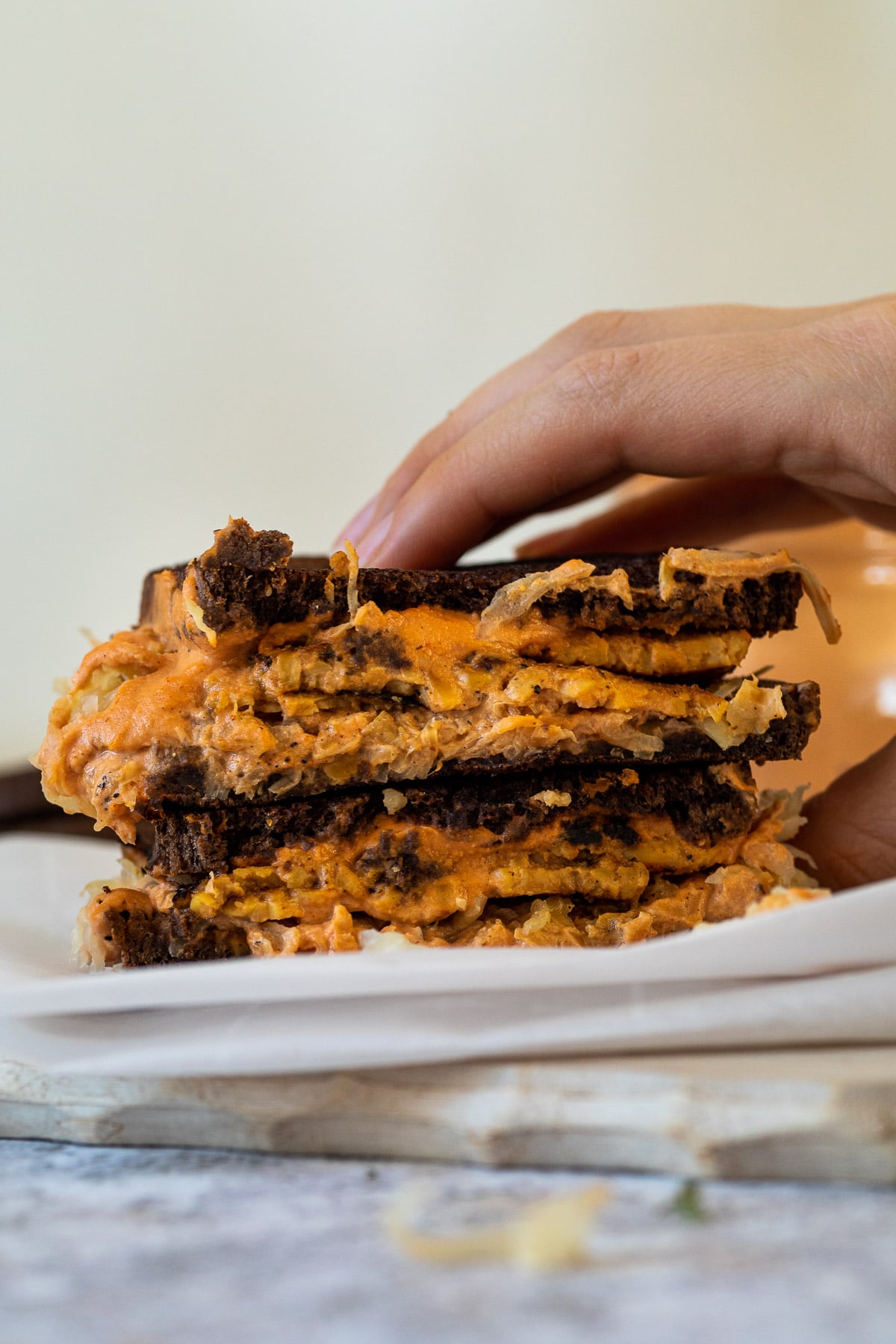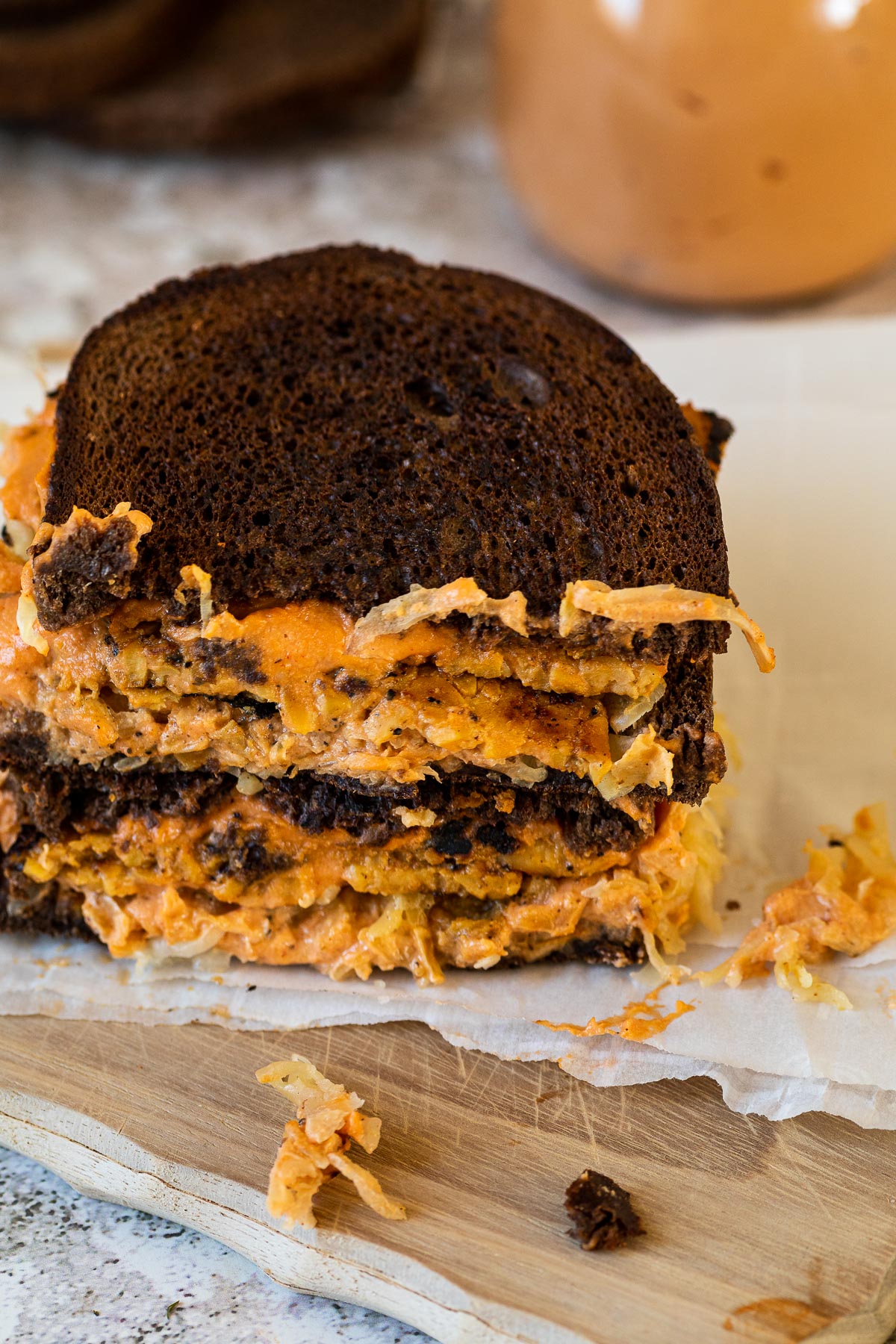 Instructions
Start by mixing all the ingredients for the corned tempeh except the tempeh in a bowl to form a marinade.
Corned beef is cut very thinly. And that's what we want for the corned tempeh too. It is therefore important that you cut the tempeh into very thin slices with a knife.
To do this, halve or third the tempeh first and then cut off thin slices. You can cut 3-4 slices from it. If you have a bread slicer at home, you can also try to cut wafer-thin slices with it.
Just try out what works best for you.
Now put the tempeh slices in the marinade and mix everything well .. So that the whole tempeh is covered in the marinade.
Now let the tempeh sit in the refrigerator for at least 1 hour or better overnight. So it gets a lot of taste.
Put the marinated tempeh in a coated pan and fry the tempeh well on both sides. If the tempeh is too dry for you put some of the marinade over it.
Russian Dressing
For the Russian dressing, put all the ingredients in a high-performance mixer and mix until you get a creamy sauce.
Assembling the Sandwich
Place two slices of bread in a pan over medium heat. Now put a few slices of your tempeh on the bread.
Depending on the thickness of the slices, several. Now put sauerkraut on your tempeh and pour a lot of dressing over it.
Cover the sandwich with the second slide and press it down lightly.
Continue with the rest of the sandwiches.
Prepare in advance
I even recommend that you prepare some in advance. Marinate the tempeh the night before to ensure it gains as much taste as possible.
And you can also prepare the dressing very well in advance.
Serving Options
You can serve the sandwich just as is, with a little extra dressing.
It is often served in the classic way.
More sauerkraut
Pickles
Storage
You have leftovers from the sandwich.
How to refrigerate it?
You can store the assembled reuben sandwich in a container in the refrigerator for up to 3 days. However, it tastes best fresh.
If you still have the corned tempeh, you can keep it for up to 5 days. Here, too, please in a closed container.
You can store the dressing in the same way.
How to freeze it?
I do not recommend freezing the finished sandwiches. I do recommend that you can freeze the tempeh and the dressing.
So you can quickly take it out and prepare it in portions.
Then you will have your vegan Reuben sandwich made in no time.
Tips
If you have a panini grill, I recommend you prepare the sandwich on it. So you can first top it and then grill in it.
Prepare the dressing in larger quantities, this makes the mixer easier and you can freeze the rest. And always have something on hand.
More vegan recipes: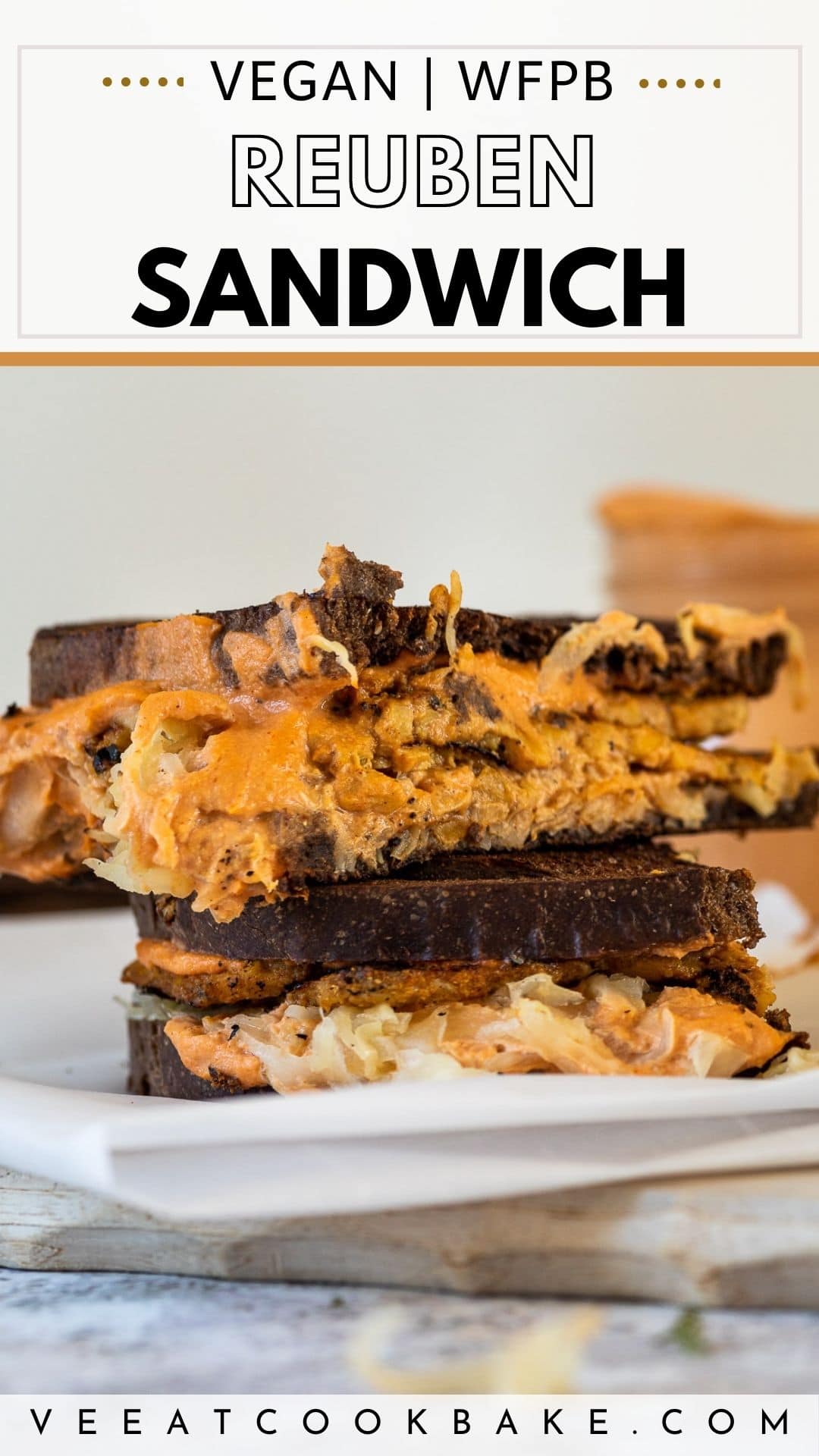 Have you tred the recip
If you tried the vegan Recipebe so nice ♥ and let me knw byrating the recipe and writing what you think about it in the comments.  I would love to see your photo on Instagram orFacebook. To do this tag me with @veeatcookbake andmy hashtag is #veeatcookbake. So that I can see your creation. Did you know you can add photos n Pinterest under the recipe Pin? I can't wait to see a photo of your creation here. You find me with @veeatcookbake