Don't settle for boring, flavorless pasta. Try this vegan-friendly tomato Alfredo sauce to tantalize your tastebuds! In 20 minutes, you can have a delicious homemade meal on the table with wholesome simple ingredients like cashews and spinach that'll make it oil-free, gluten-free (and nut– free if desired!).
The addition of sun dried tomatoes takes this creamy Alfredo sauce up a notch – trust us when we say it's an absolute must-try... no matter how devoted you are to traditional Italian sauces.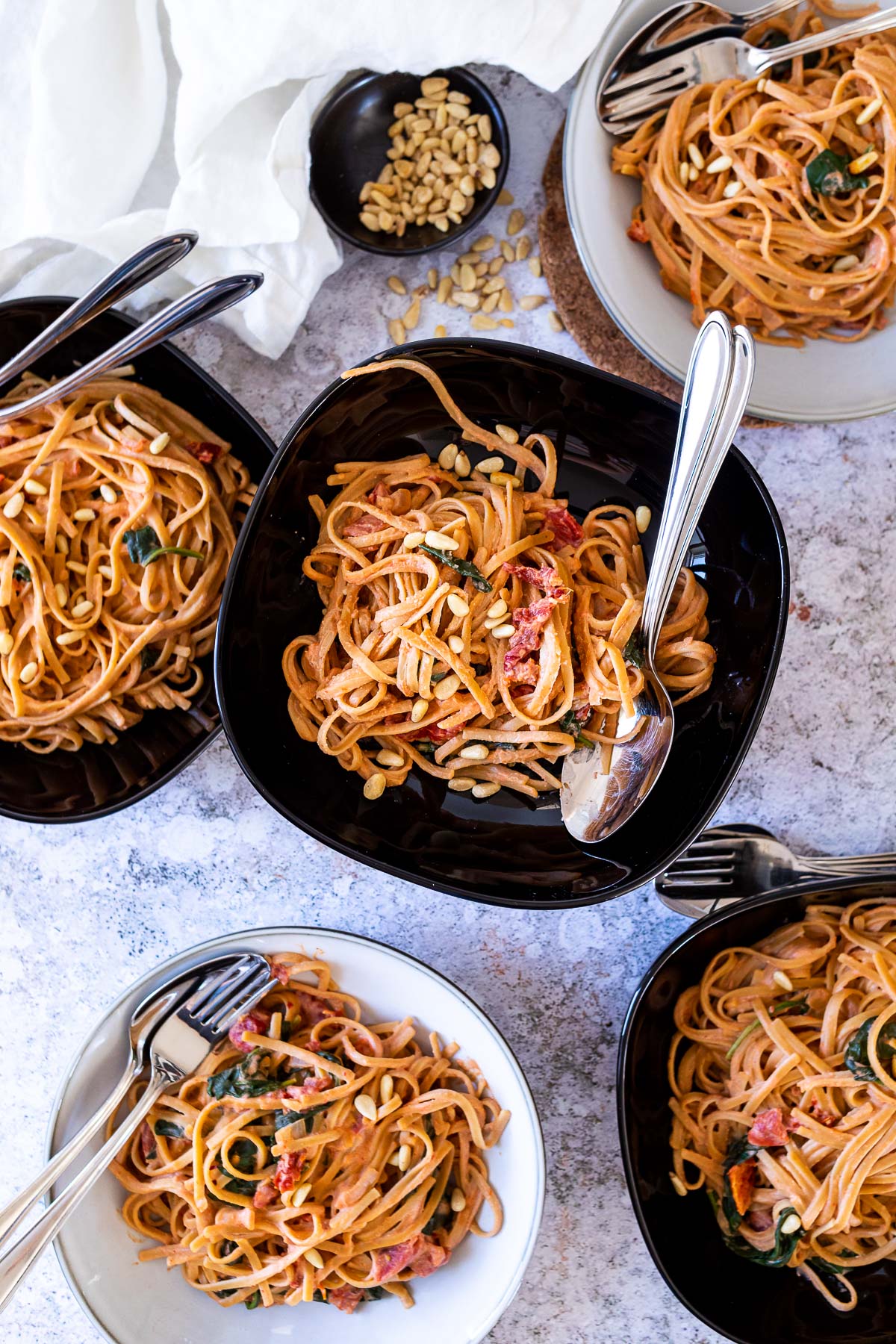 This recipe pairs well with a caesar salad, green bean salad, kale salad, bruschetta.
As an Amazon Associate, I earn from qualifying purchases. This post may contain affiliate links. Read More
Jump to: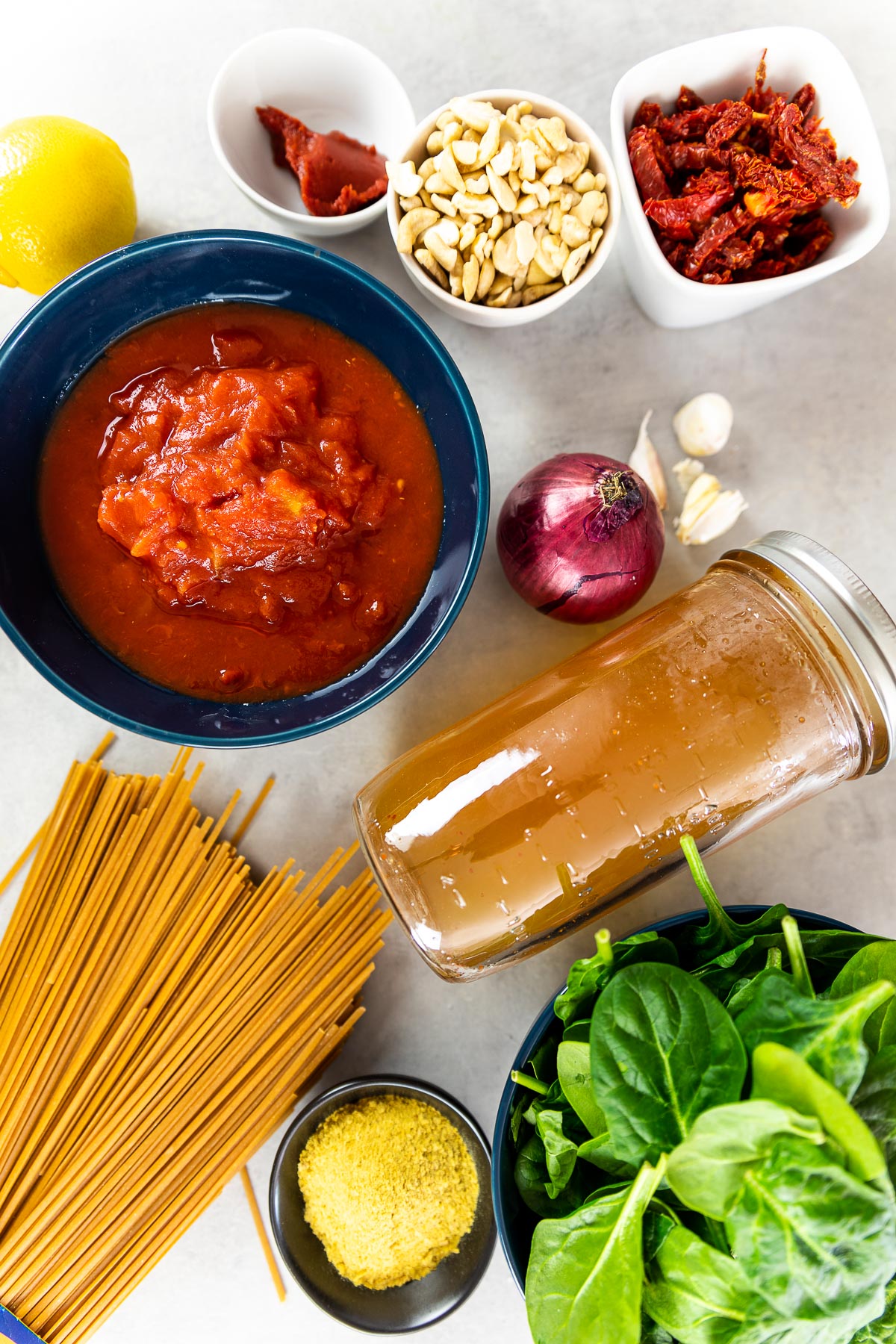 Ingredients
What is vegan alfredo sauce made of? This is a quick list of the ingredients you will need to make this creamy sun-dried tomato pasta.
You can find the ingredients with quantities and the recipe to print out on the recipe card below.
Pasta of your choice
Fresh Garlic
Onion
Sun-dried Tomatoes
Diced Tomatoes
Tomato Paste
Raw Cashews
Vegetable Broth
Sea-salt
Pepper
Fresh Lemon Juice
Nutritional Yeast
Spinach
Garnish:
Fresh Basil
Fresh Parsley
Vegan Parmesan Cheese
Fresh Grinded Black Pepper
Instructions
Cook the pasta al dente according to package instructions. Cut the sun-dried tomatoes into small pieces and soak them in hot water.
Mix the cashew nuts with the water or vegetable broth, 1 teaspoon lemon juice, ½ teaspoon salt, ¼ teaspoon pepper and 2 tablespoons nutritional yeast in a high-speed blender until you get a creamy sauce.
Dice the onion and garlic very finely and sauté them in a pan with a little water on medium heat.
Add the drained sun-dried tomatoes and sauté them with the onions. Add cashew sauce, 400 g tomatoes and 1 tablespoon tomato paste and stir well. Let it simmer, you will see the sauce thicken.
Now add the spinach and stir well. Add the cooked pasta when the spinach comes in.
You can sprinkle the pasta with pine nuts or homemade vegan parmesan. We like to have a side salad with it.
Prepare in advance
The sauce is easy to prepare and freeze in advance. So you have a great meal prep recipe for when things need to be done quickly.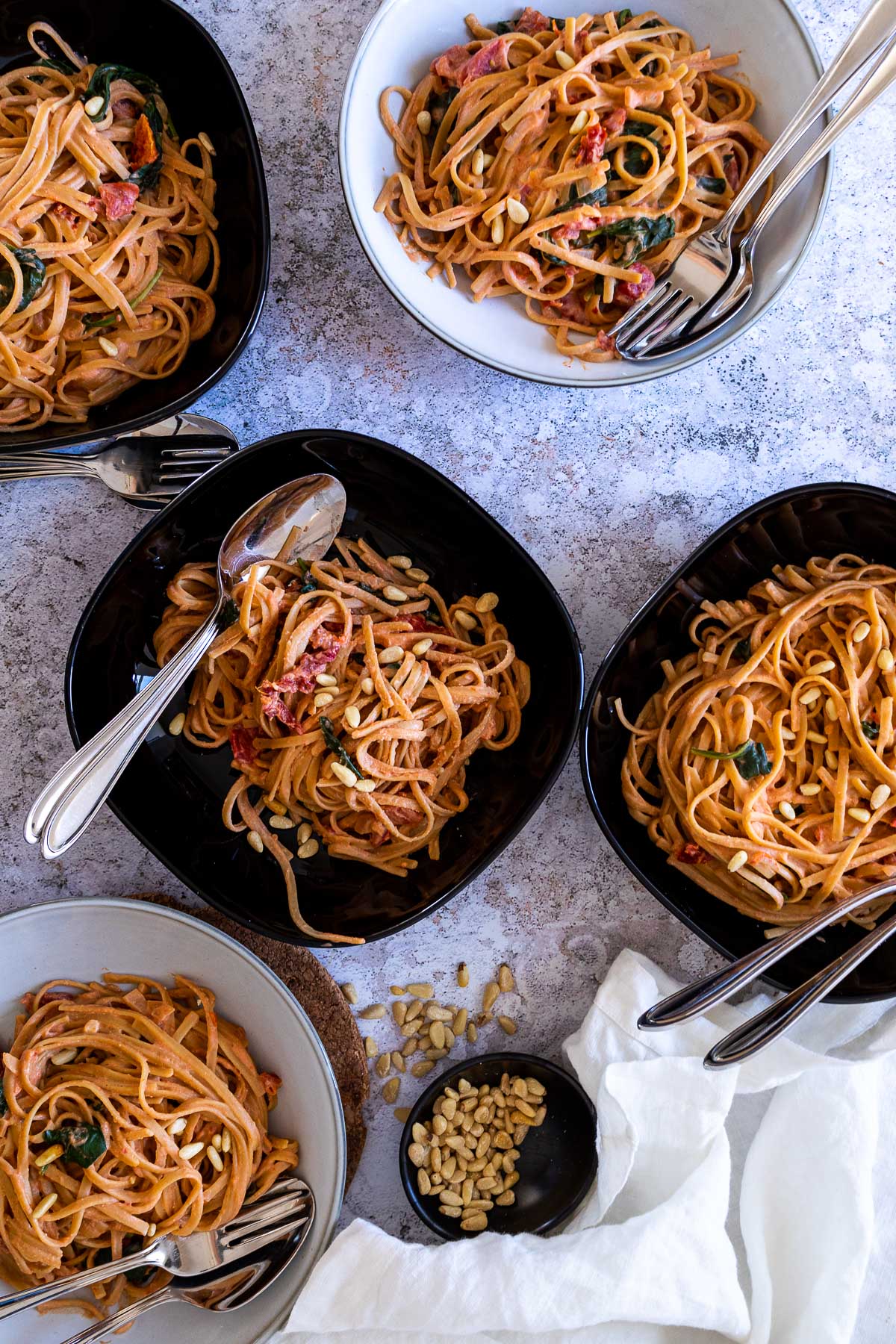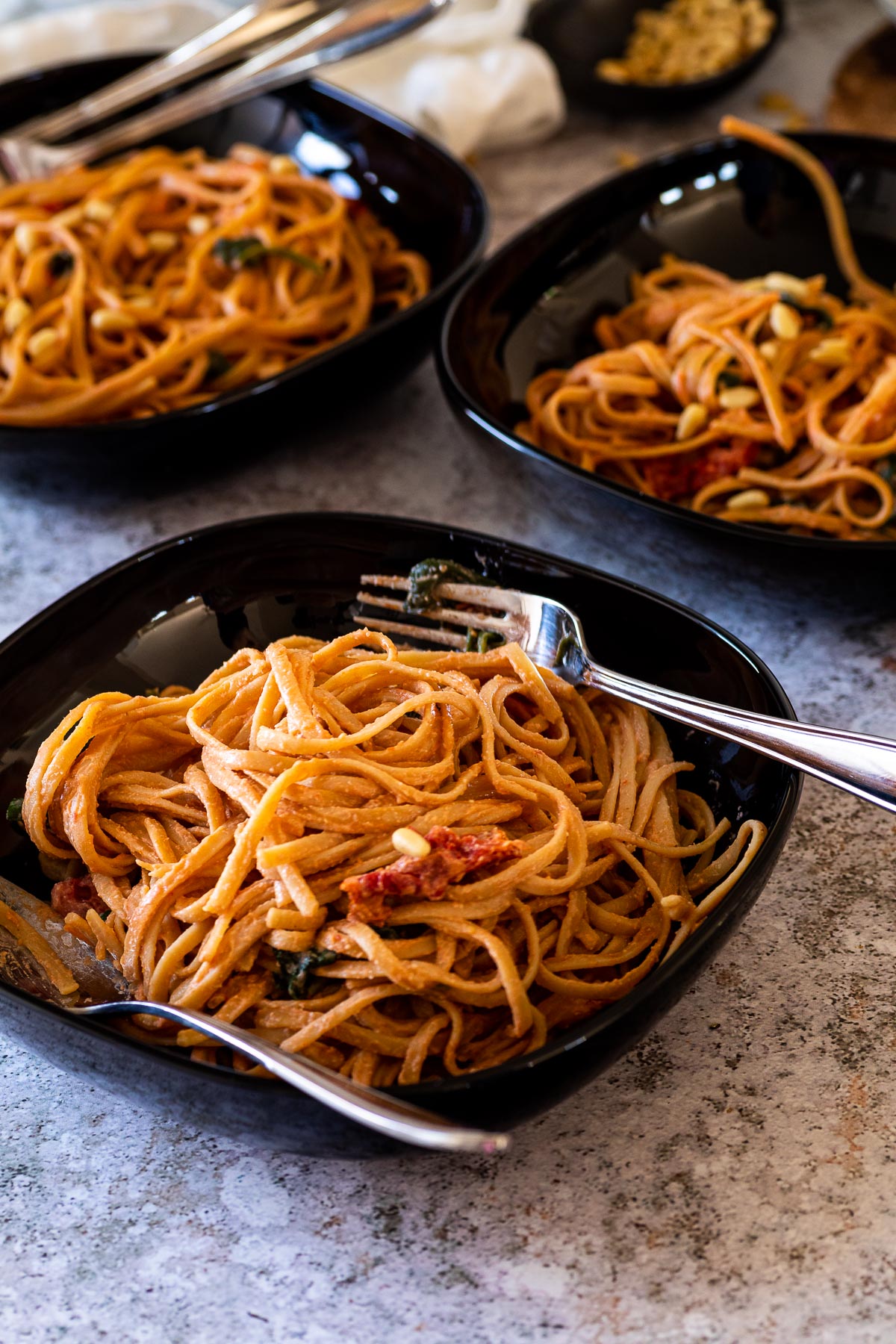 Substitutions
Pasta: Use your favorite variety here. We like to eat whole grain pasta. You can also use gluten-free pastas like lentil pasta or chickpea pasta, zoodles (zucchini noodles).
Cashews: The cashews help us to get a creamy vegan sauce. You instead of a homemade cashew cream you can make a cream with sunflower seeds. This is a slightly cheaper alternative. You can also use coconut milk.
Vegetable broth: If you don't have vegetable broth on hand, just use water. I like to use vegetable broth for vegan creamy pasta that I make myself to give it more flavor.
Spinach: You can use fresh or frozen spinach here. I prefer fresh here. You can also use other leafy vegetables like kale.
Sundried Tomatoes: I prefer the sundried tomatoes without oil, but you can also use oil-packed sun-dried tomatoes.
Variations
For a perfect weeknight dinner, you can always bring some variety in this recipe and it will never get boring.
Italian: Add some Italian seasoning to this easy pasta recipe. It will add a nice flavor.
Plant-Based protein: This recipe is great with white beans. Just add the drained cooked beans with the delicious spinach.
White Wine: Add some white wine to the sautéed onions and let it simmer until the white wine is overcooked. You will get a nice creamy white wine sauce. You can also use non-alcoholic wine.
Spicy: You want to spice up this vegan Alfredo sauce, add some red pepper flakes.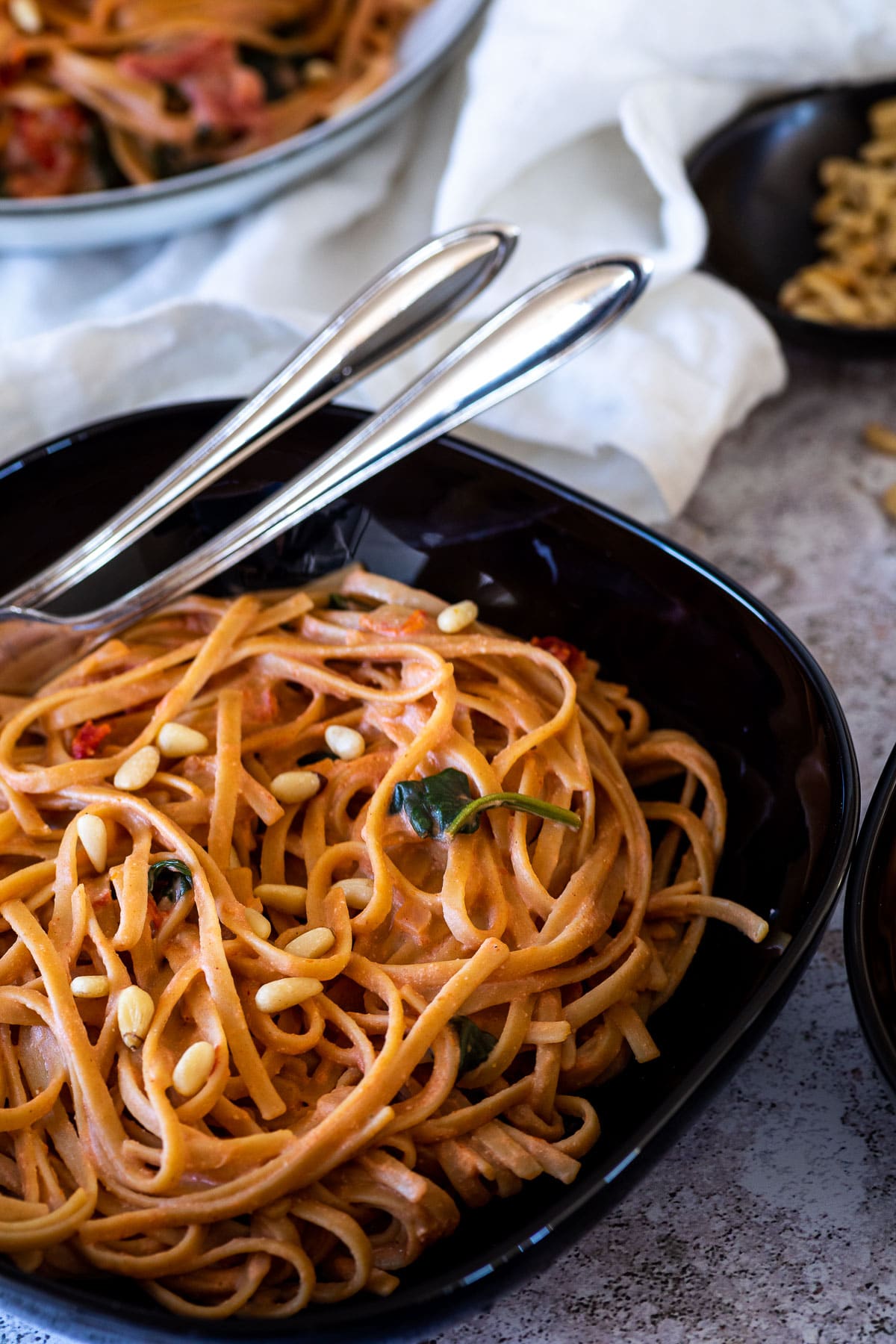 Equipment
Let's take a look at what I'm using in this recipe.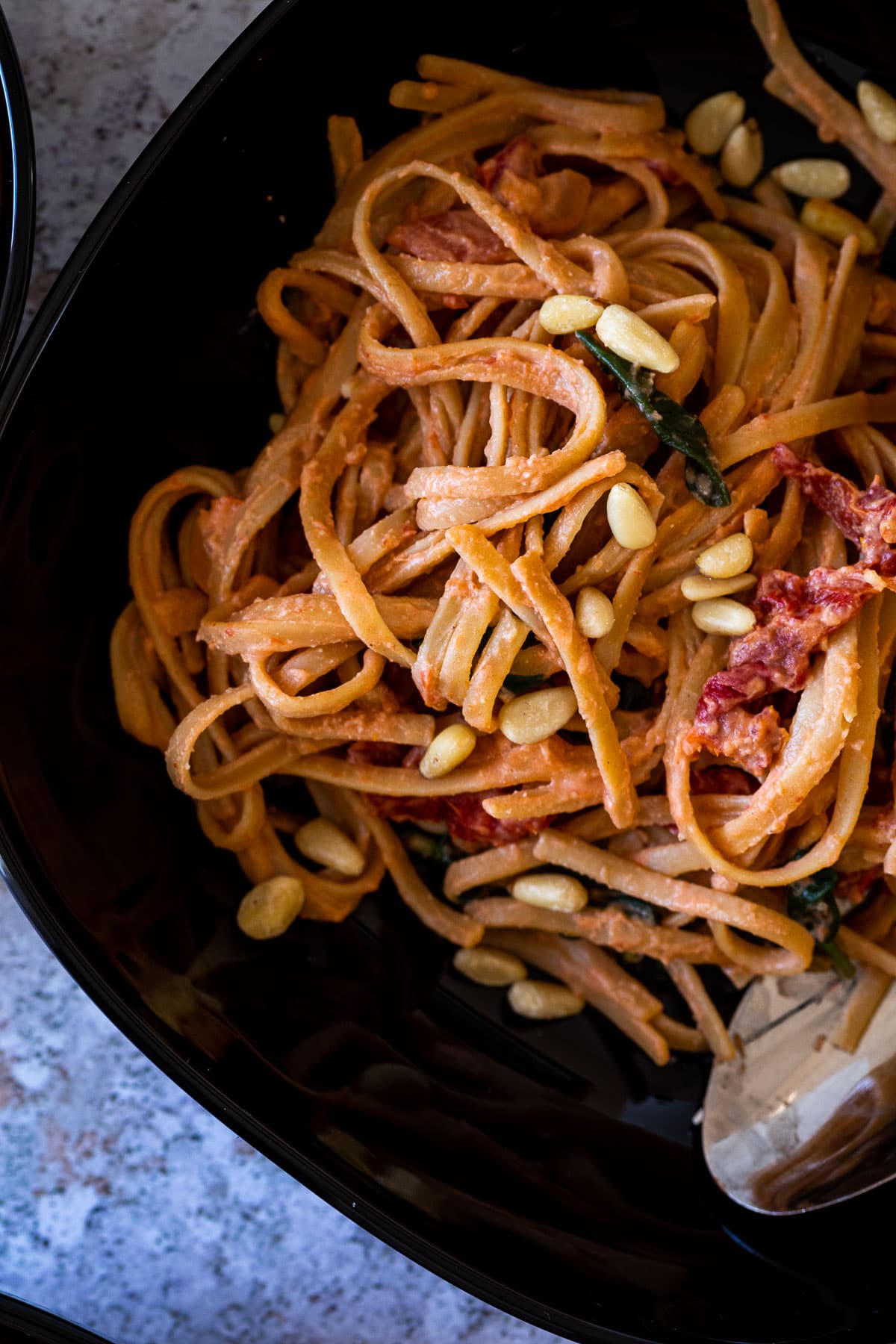 Serving options
Here are some ideas what to serve with this recipe: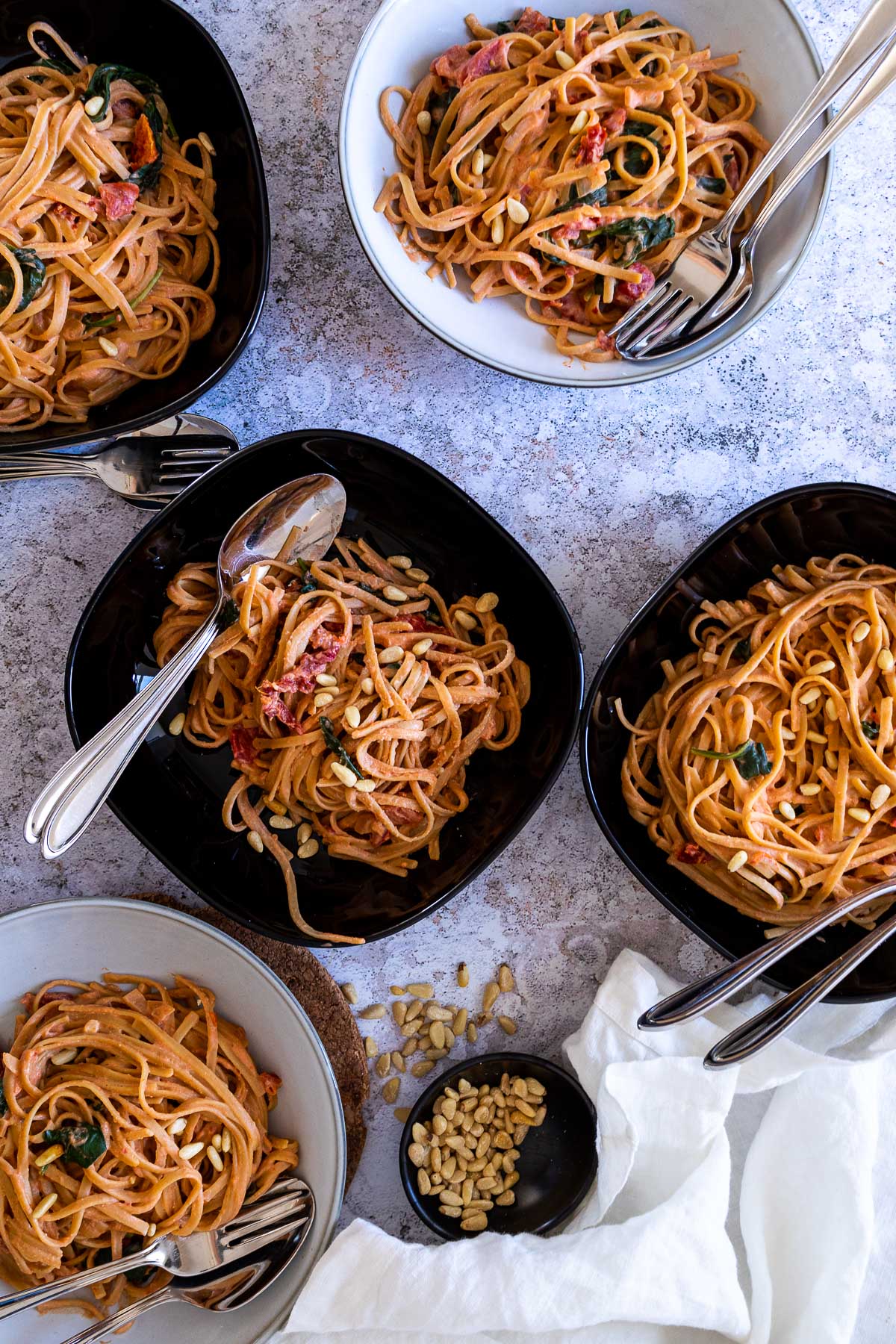 Storage
Do you have leftovers of that delicious vegan tomato alfredo pasta? No problem, leftovers are great to store.
How to refrigerate it? In the refrigerator, this dish can be kept in a sealed container for approx. 4 days. The sauce alone will keep for 5-6 days.
How to freeze it? You can also freeze the pasta and then thaw it. However, I recommend freezing the pasta and sauce separately.
How to reheat it? Warm in a saucepan on a lower heat. Add some vegan milk to make the noodles creamier again and not so dry.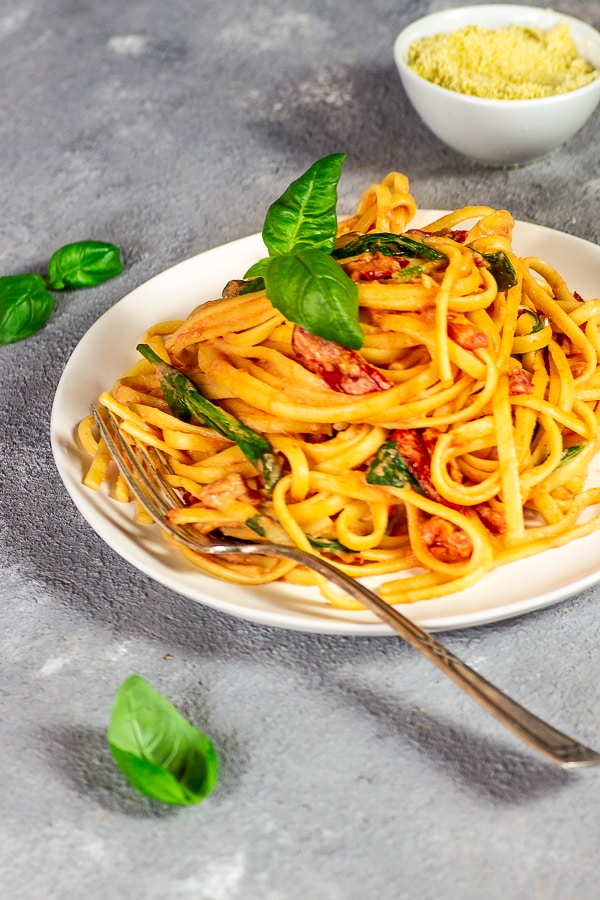 Tips
Mix the pasta with the sauce just before serving. That way they stay nice and creamy.
If the sauce is too thick for you, add a little more non-dairy milk.
If the sauce is too runny for you, let it reduce a little more. Cashews thicken well.