Vegan Tomato Alfredo Sauce with Sun Dried Tomatoes and Spinach is super creamy and on your table in 20 minutes. While your pasta is cooking, you can prepare the sun-dried tomato alfredo sauce.
We use wholesome ingredients to make a pasta sauce that can become one of your new favorite sauces. It is oil-free, gluten-free, soy-free and nut-free if desired.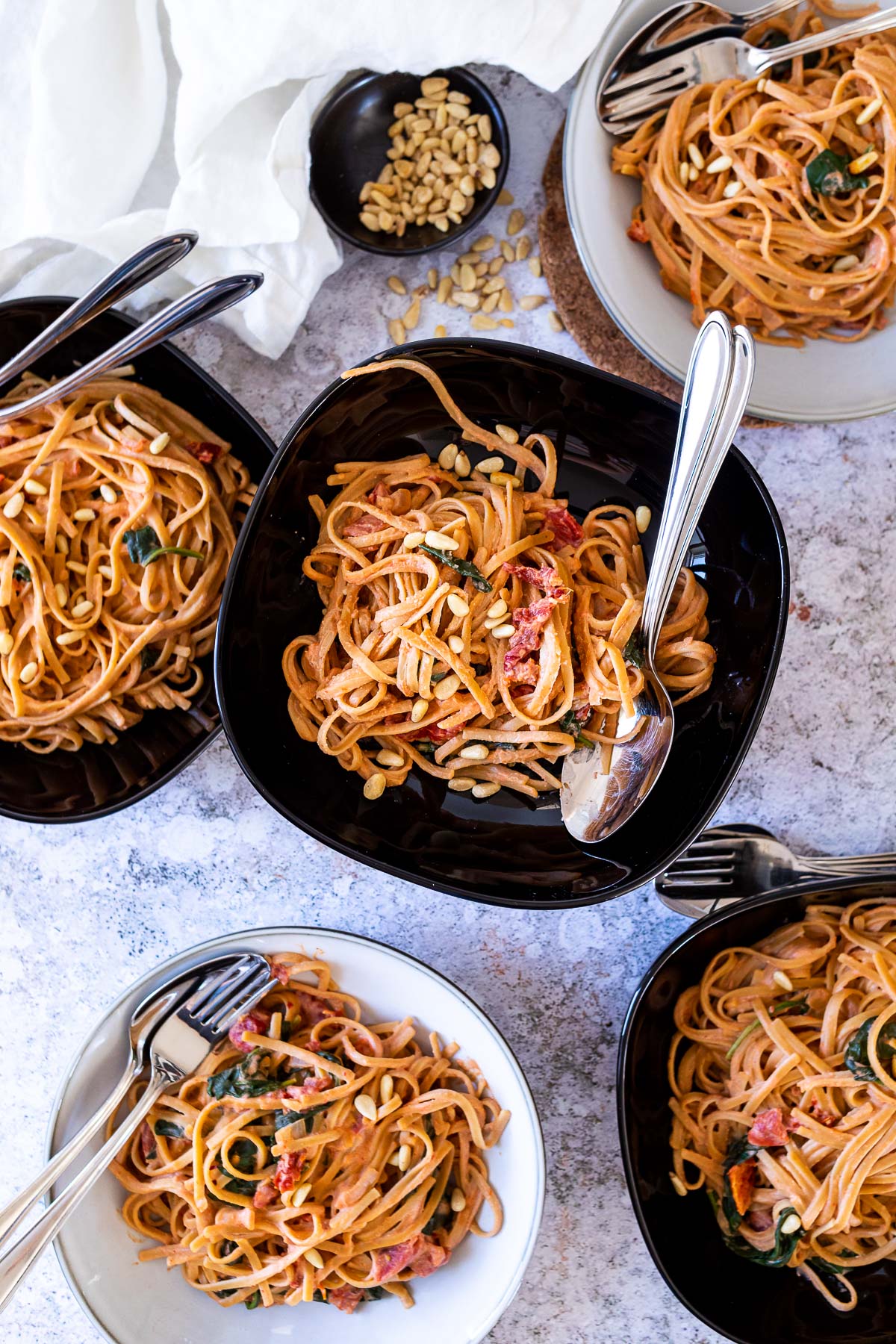 As an Amazon Associate, I earn from qualifying purchases. This post may contain affiliate links. Read More
Jump to:
A must for all pasta lovers who are still looking for a recipe for a vegan pasta dish. This alfredo tomato sauce must be tried!
The sun-dried tomatoes give this pasta sauce a great touch.
The basis of this pasta recipe are cashews, which become super creamy and thicken when heated. This is how we get a dairy-free tomato alfredo sauce without sacrificing the creaminess.
You can not only eat this great Alfredo sauce with pasta, this tomato cream sauce also tastes good with a bowl with different types of vegetables.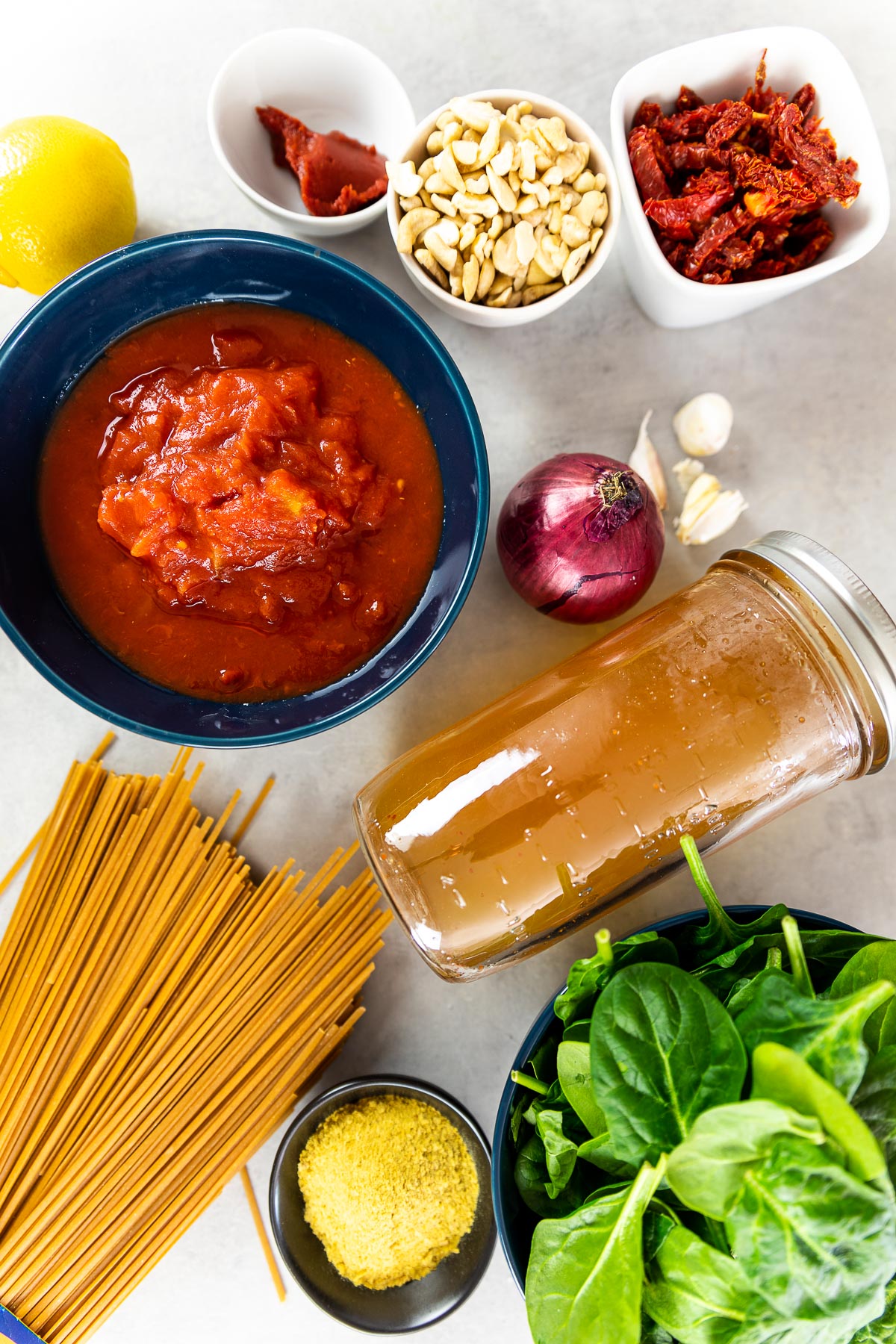 Ingredients
Now let's take a look at what exactly is in this vegan Tomato Alfredo Sauce. The exact quantities can be found below in the recipe card.
Pasta
Garlic
Onion
Sun-dried Tomatoes
Diced Tomatoes
Tomato Paste
Cashews
Vegetable Broth
Sea-salt
Pepper
Lemon Juice
Yeast Flakes
Spinach
Substitutions
You can also make a few adjustments to this dish without sacrificing flavor.
Pasta
Use your favorite variety here. We like to eat whole grain pasta. You can also use lentil paste or chickpea paste.
Cashews
The cashews help us to make the sauce ultra creamy. You can also replace the cashews with sunflower seeds. This is a slightly cheaper alternative.
Vegetable broth
If you don't have vegetable broth on hand, just use water. I like to use vegetable broth for vegetable creams that I make myself to give it more flavor.
Spinach
You can use fresh or frozen spinach here. I prefer fresh here. You can also use other leafy vegetables like kale.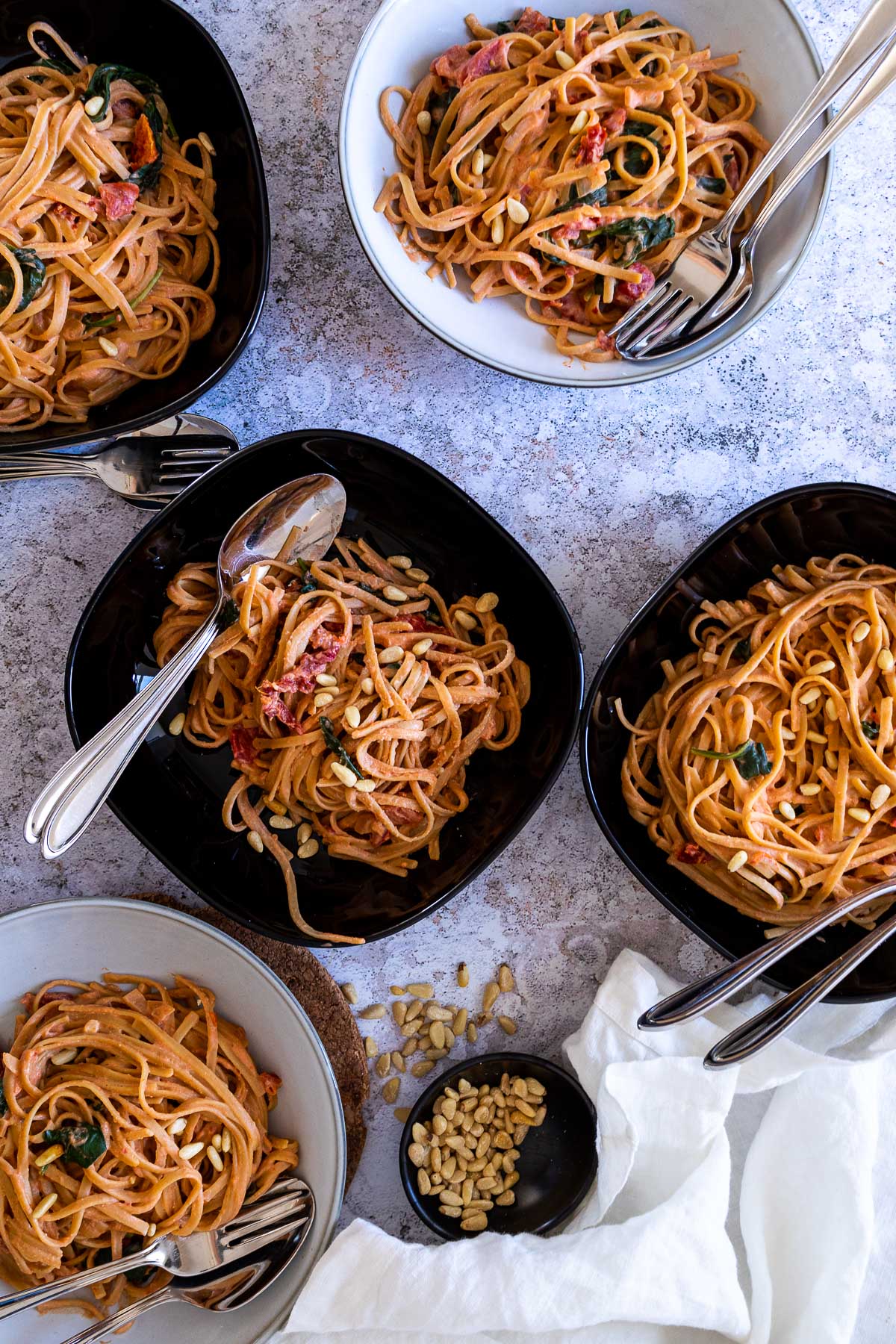 Variations
Now let's take a look at the adjustments we have to make to the vegan tomato alfredo sauce in order to meet other nutritional forms.
This dish is already oil free, sugar free and whole food plant based friendly.
Gluten-free
The sauce is already gluten-free! What you only have to do is prepare the pasta accordingly gluten-free. There is also delicious lentil pasta or chickpea pasta.
Soy free
This pasta dish is a soy-free pasta dish. You don't have to make any adjustments here.
Nut free
Since we use cashews, this Alfredo sauce is not nut-free. But you can replace the cashews.
Simply use sunflower seeds and / or white beans and you get a great nut-free cream sauce.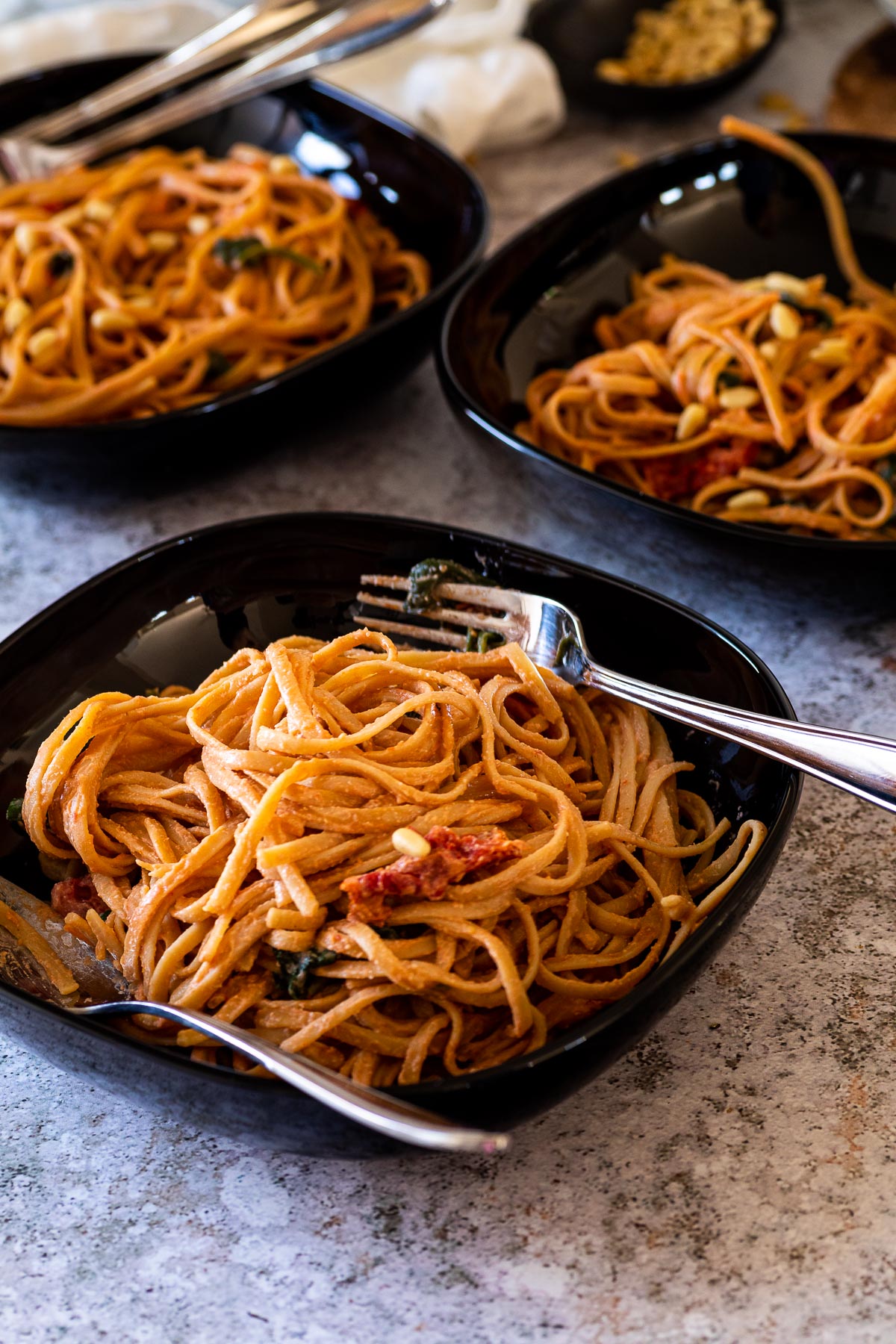 Instructions
Cook the pasta according to the package instructions. Cut the sun-dried tomatoes into small pieces and soak them in hot water.
Mix the cashew nuts with the water or vegetable broth, 1 teaspoon lemon juice, ½ teaspoon salt, ¼ teaspoon pepper and 2 tablespoons yeast flakes in a high speed mixer until you get a creamy sauce.
Dice the onion and garlic very finely and fry them in a pan with a little water.
Add the drained sun-dried tomatoes and sauté them with the onions. Add cashew sauce, 400 g tomatoes and 1 tablespoon tomato paste and stir well. Let it simmer, you will see the sauce thicken.
Now add the spinach and stir well. Add the pasta when the spinach comes in.
You can sprinkle the pasta with pine nuts or homemade vegan parmesan. We like to have a side salad with it.
Prepare in advance
The sauce is easy to prepare and freeze in advance. So you have a great meal prep recipe for when things need to be done quickly.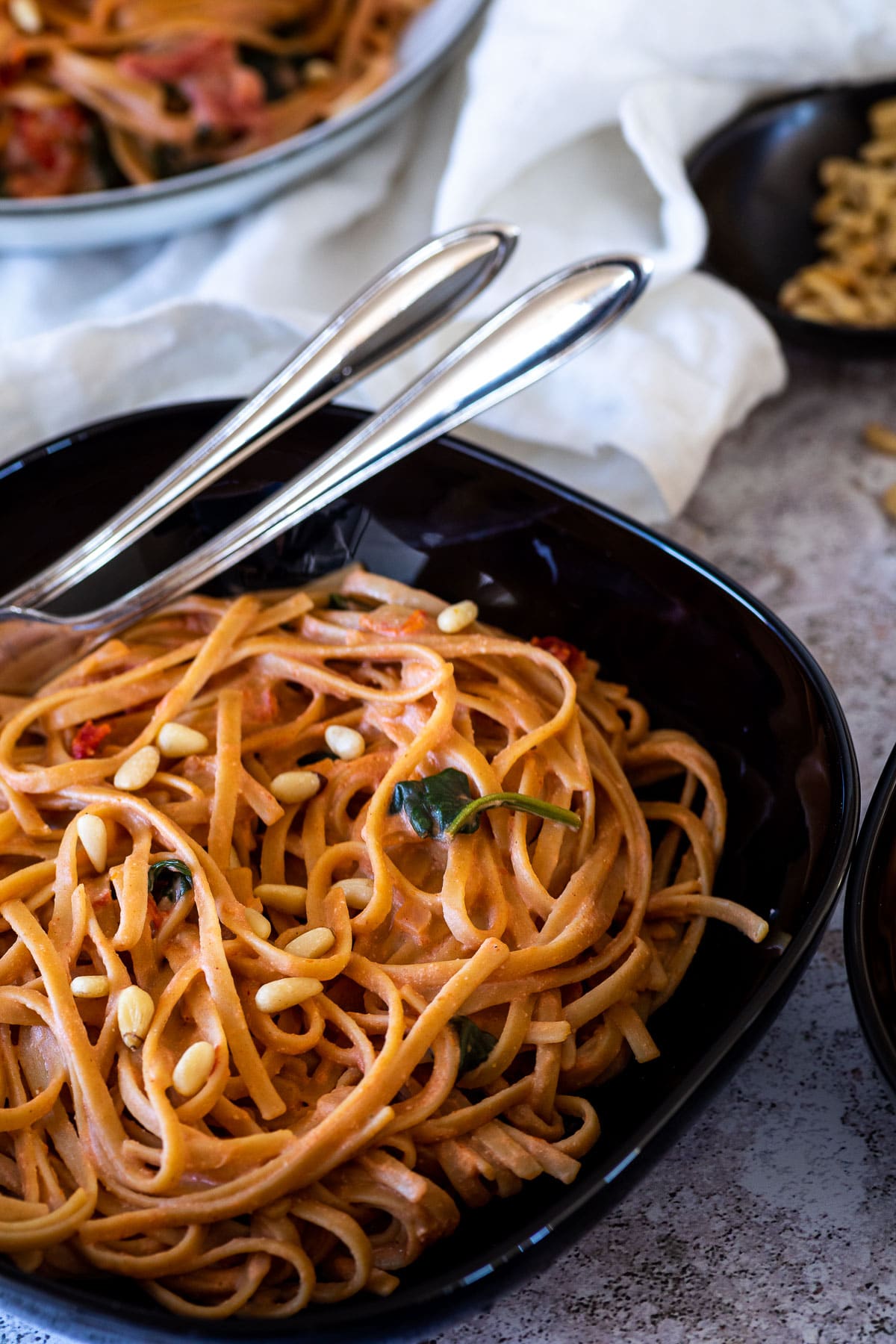 Recommended equipment
Let's take a look at what I'm using in this recipe.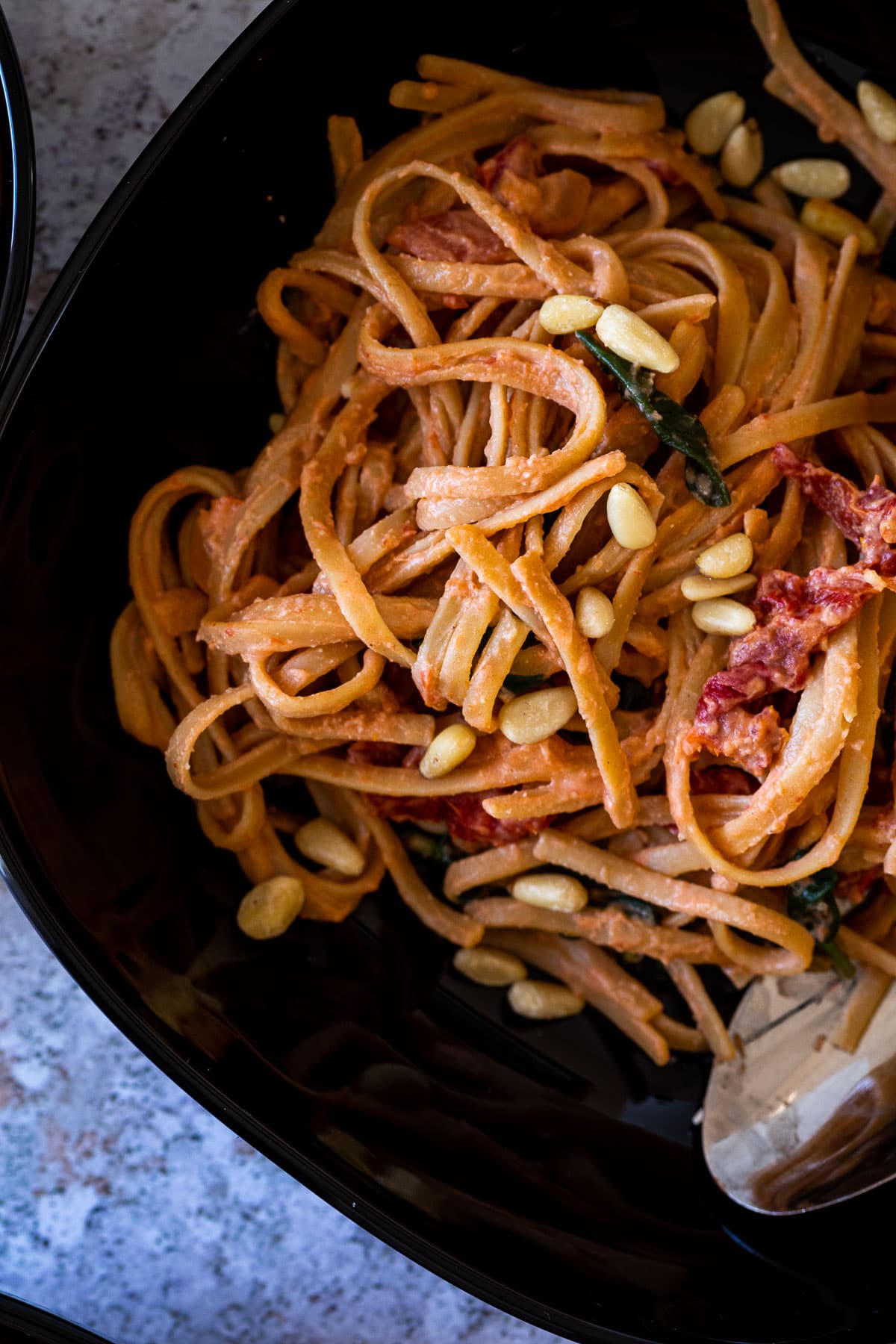 Serving options
You have the options for this sauce
Fettuccine
Zoodles
other pasta (gluten-free or whole grain)
to serve.
Side Dishes:
Storage
Do you have leftovers from that delicious vegan tomato alfredo pasta? No problem, leftovers are great to store.
How to refrigerate it?
In the refrigerator, this dish can be kept in a sealed container for approx. 4 days. The sauce alone will keep for 5-6 days.
How to freeze it?
You can also freeze the pasta and then thaw it. However, I recommend freezing the pasta and sauce separately.
How to reheat it?
Warm in a saucepan on a lower heat. Add some vegan milk to make the noodles creamier again and not so dry.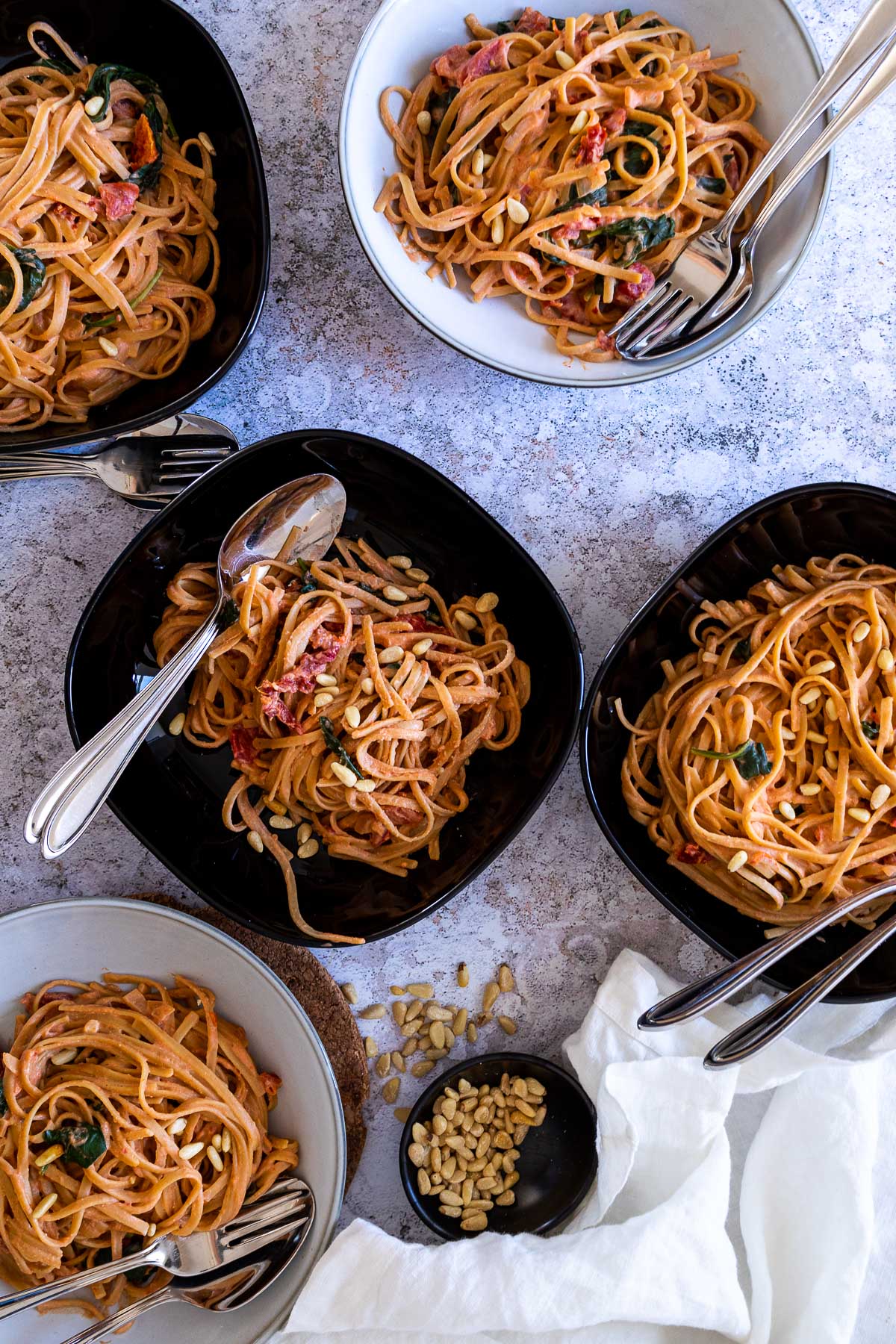 Tips
Mix the pasta with the sauce just before serving. That way they stay nice and creamy.
If the sauce is too thick for you, add a little more
Add natural milk.
If the sauce is too runny for you, let it reduce a little more. Cashews thicken well.

More vegan pasta recipes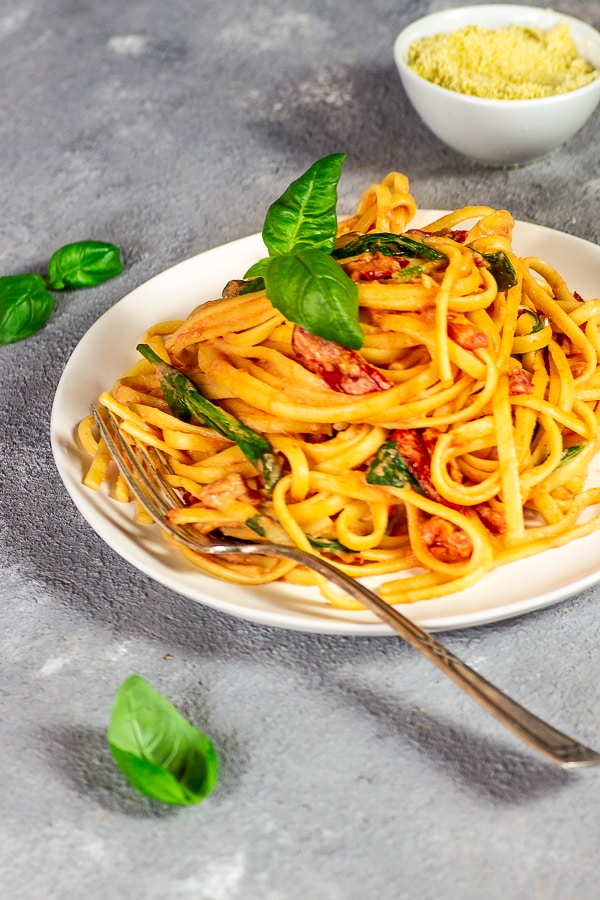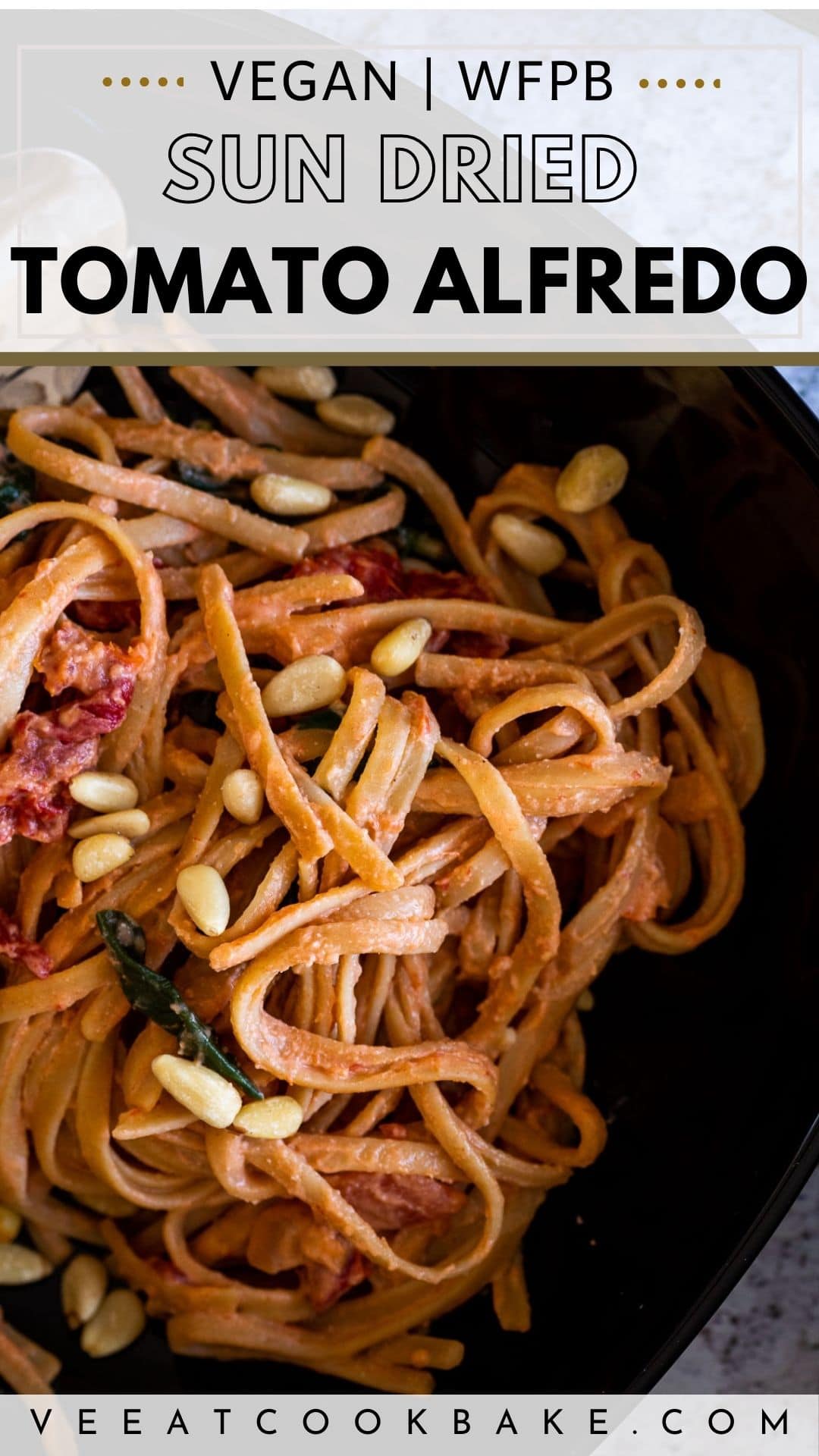 Have you tried the recipe?
If you tried the vegan Recipe, be so nice ♥ and let me know by rating the recipe and writing what you think about it in the comments. I would love to see your photo on Instagram or Facebook. To do this tag me with @veeatcookbake and my hashtag is #veeatcookbake. So that I can see your creation. Did you know you can add photos on Pinterest under the recipe Pin? I can't wait to see a photo of your creation there. You find me with @veeatcookbake.