Vegan BBQ Cauliflower Wings are baked cauliflower florets that are covered with a smoky homemade BBQ sauce. These cauliflower wings won't let you miss the real chicken wings.
With these wings you have a healthier alternative to the classic animal ones. A welcome finger food for your next party or if you want an exceptional snack.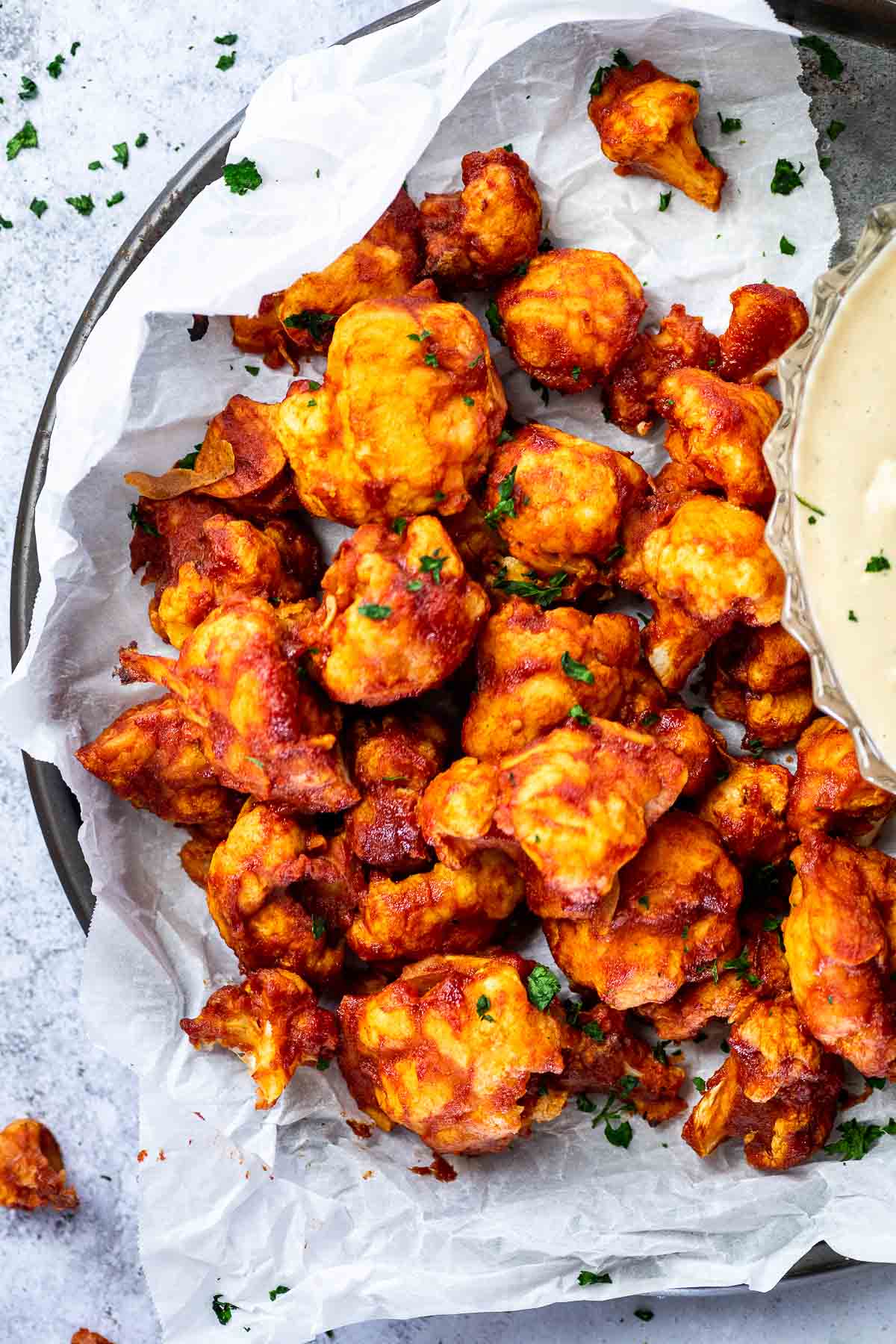 As an Amazon Associate, I earn from qualifying purchases. This post may contain affiliate links. Read More
Jump to:
These BBQ wings can also be prepared in gluten-free.
These boneless BBQ wings are made from whole foods. The BBQ sauce has a mild sweetness with an amazing smoky taste.
In addition to the Buffalo Wings, these BBQ wings are one of my favorite ways to make cauliflower wings. For me, this dish is a real comfort meal.
Have you ever tried wings like this? Chicken wings are super popular in America and can be veganized with cauliflower very quickly. And thanks to the taste of the right sauce, vegan wings are super authentic.
Cauliflower is such a great vegetable. You can make so many things with it, whether it's cauliflower steaks, breaded cauliflower florets or wings like these. Likewise, cauliflower in curry is always a great addition.
My list is endless with recipes that I want to try.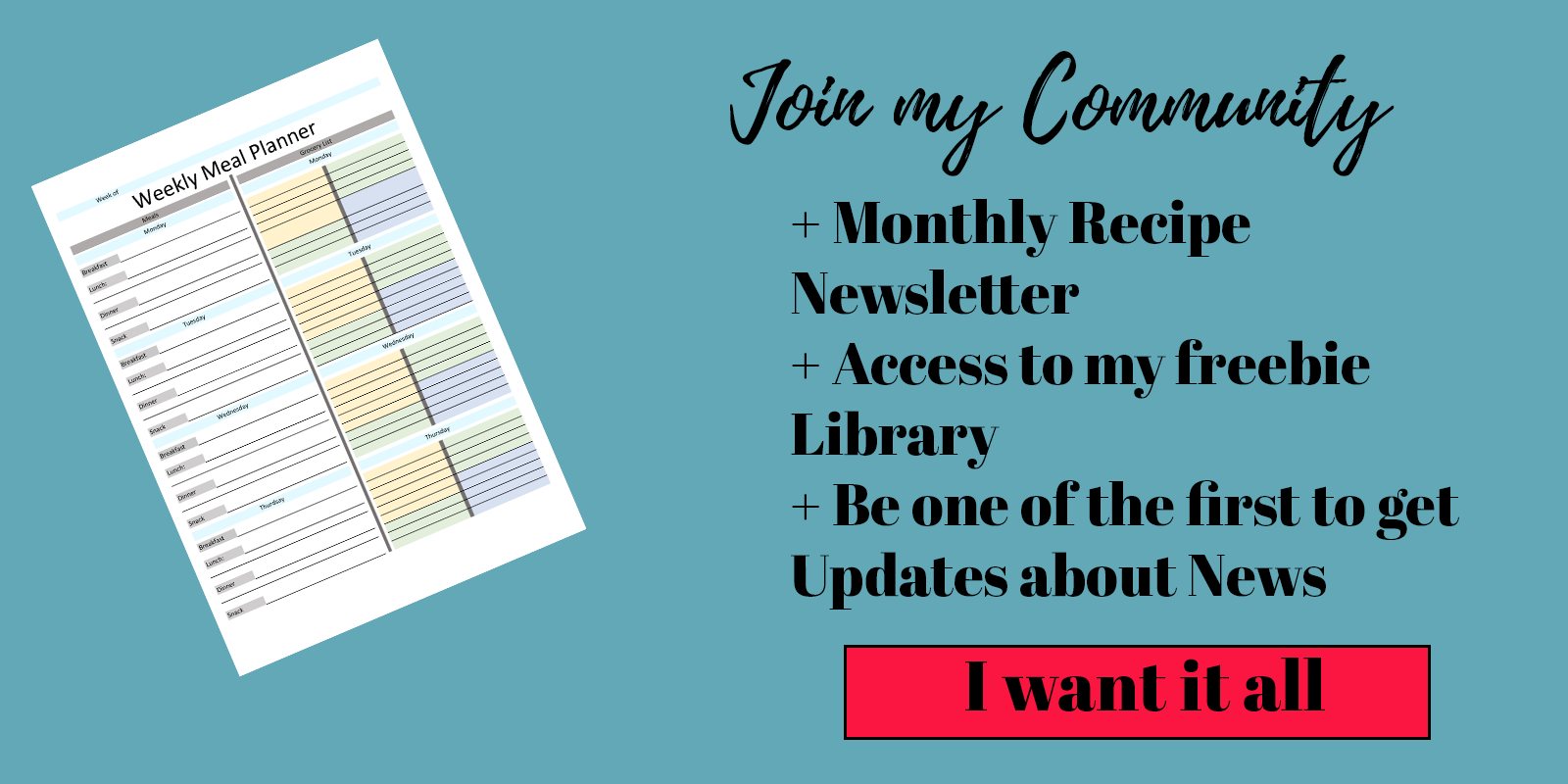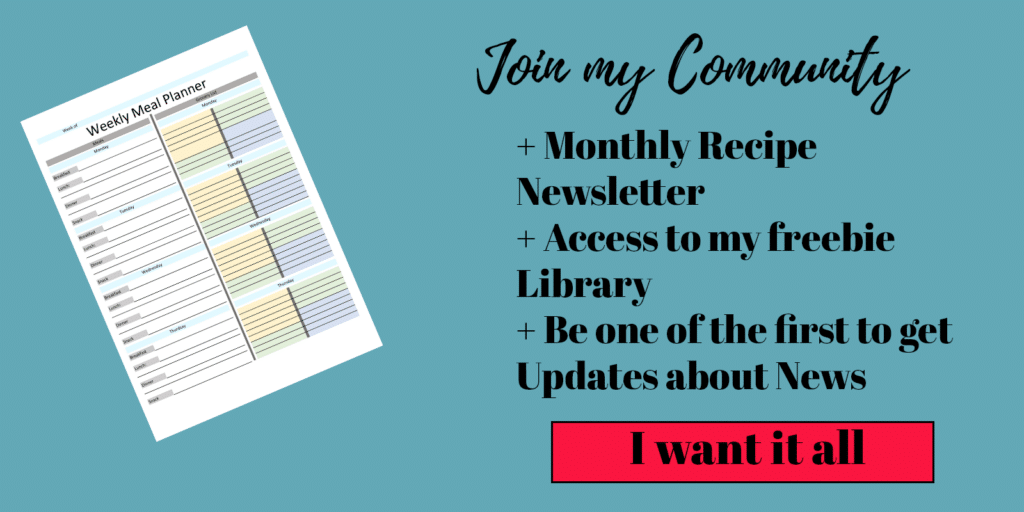 What makes BBQ cauliflower wings so special?
Cauliflower becomes soft and tender inside and nice and sticky on the outside, thanks to the sauce. With which we cover the florets and then bake them.
Cauliflower is relatively tasteless and great to season with traditional wing sauces.
Thanks to the cauliflower, this is a healthier variant of the animal-based chicken wings.
If you love BBQ sauces, these wings are for you.
These wings are super easy to prepare gluten-free.
The ideal finger food for parties, potlucks, picnics.
Ingredients
Maybe you have most of it in your pantry like we do. You don't need a lot of crazy ingredients. Here is a small overview of what you'll need.
You can find the exact quantities below in the recipe card:
Cauliflower
Water
Flour
White Pepper
Garlic Powder
Onion Powder
Sea-salt
Smoked Paprika
BBQ Sauce:
Tomato Paste
Water
Maple Syrup (or Date Syrup)
Molasses
Soy Sauce, Tamarind or Coconut Aminos
Apple Cider Vinegar
Smoked Paprika
Garlic Powder
Onion Powder
Dijon Mustard
Tabasco
Coconut Sugar
Sea Salt
Paprika Powder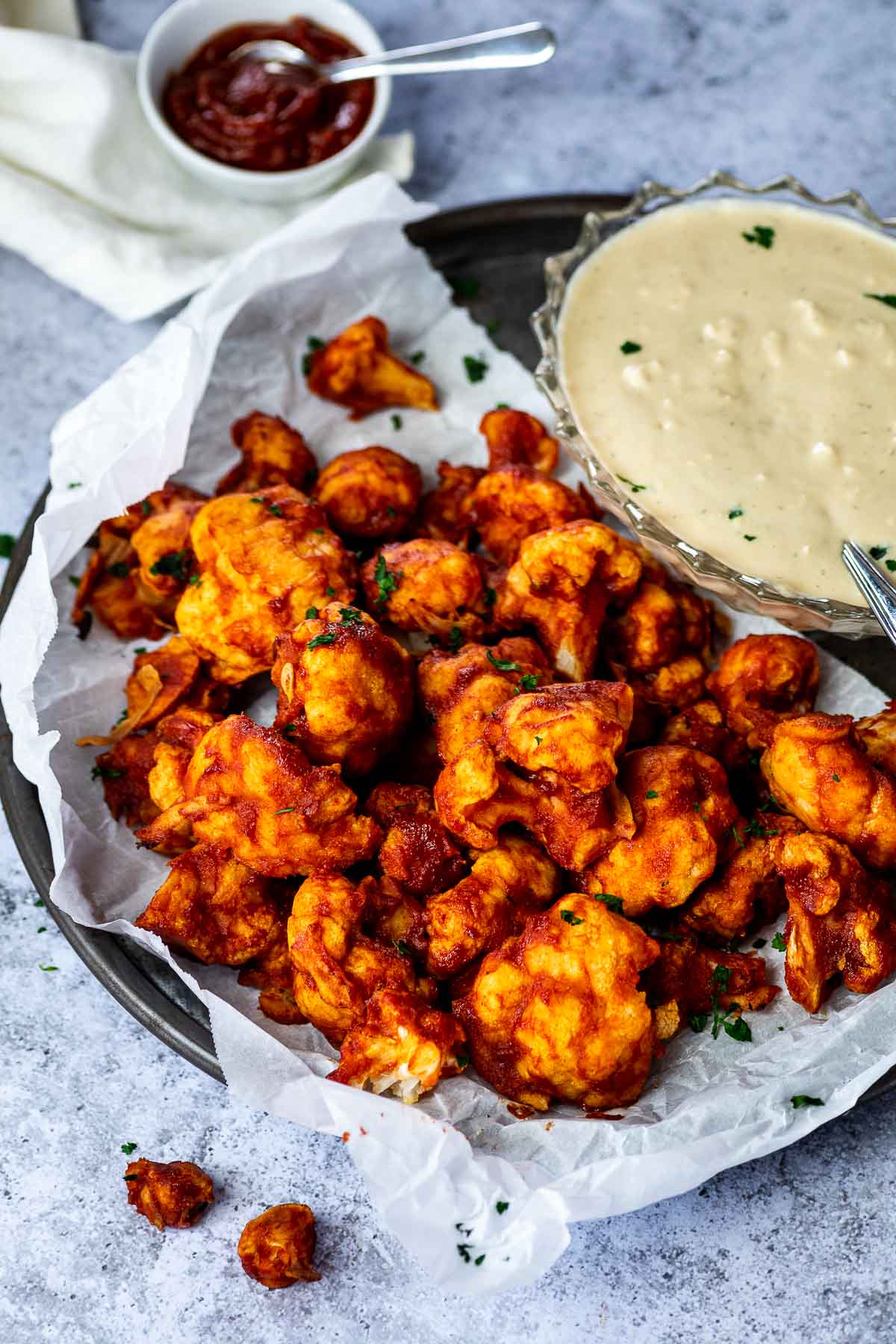 Gluten free
You can easily make the BBQ wings gluten-free by replacing the flour with a gluten-free flour mixture.
What you can also do is use chickpea flour or almond flour. Here you can of course use the gluten-free flour you prefer i.e. for baking.
Can I use purchased BBQ sauce?
You can also use purchased BBQ sauce to save a step. To do this, simply skip the step in the instructions for preparing the sauce.
Just have a look at the ingredient list of the BBQ sauce to see if it is vegan.
Instruction
Basically, the wings are prepared quickly. While the cauliflower is baking in the oven, you can stir up the BBQ sauce.
First you divide the cauliflower into bite-sized florets. You can halve or even quarter large florets here. Preheat the oven to 400°F (200°C).
Now take a mixing bowl and add the flour, water, pepper, garlic powder, onion powder, salt and smoked paprika.
Mix together to a homogeneous dough. The dough should be rather liquid so that we can knock the florets on the edge of the bowl and the excess part runs off.
Dip the florets in the dough so that they are completely covered and tap the cauliflower briefly on the edge of the bowl.
Now place the cauliflower side by side on a baking sheet lined with baking paper.
Bake the cauliflower for about 17 min. Or until the cauliflower has reached the desired color.
Now prepare the BBQ sauce while the cauliflower is baking. To do this, take all the ingredients of the sauce and put them in a bowl and stir them with a whisk.
Taste the BBQ sauce again. If you want more smoke flavor, you can also add some liquid smoke.
Now put the cauliflower florets in a bowl again and pour the BBQ sauce over the cauliflower wings. Make sure the cauliflower is evenly covered with the sauce.
I like to stir them in the bowl a few times.
Now put the cauliflower back on the baking sheet and bake for another 7 minutes. At the end you can turn on the grill function on the oven and bake in it for another 2 minutes.
Please pay attention to the cauliflower, depending on the oven it might finish faster. Just look how they look.
Now serve the wings with a dip of your choice.
How can I make cauliflower wings in the air fryer?
Place the battered cauliflower wings in a hot air fryer that is preheated to 350°F (180°C) degrees. Fry the wings for about 15 minutes. Shake the wings every so often that they bake evenly.
Only add as much cauliflower as can fit on the bottom of the fryer. Then cover the cauliflower with the BBQ sauce as described above and fry again for approx. 7 -10 min.
Repeat until you have used all the cauliflower.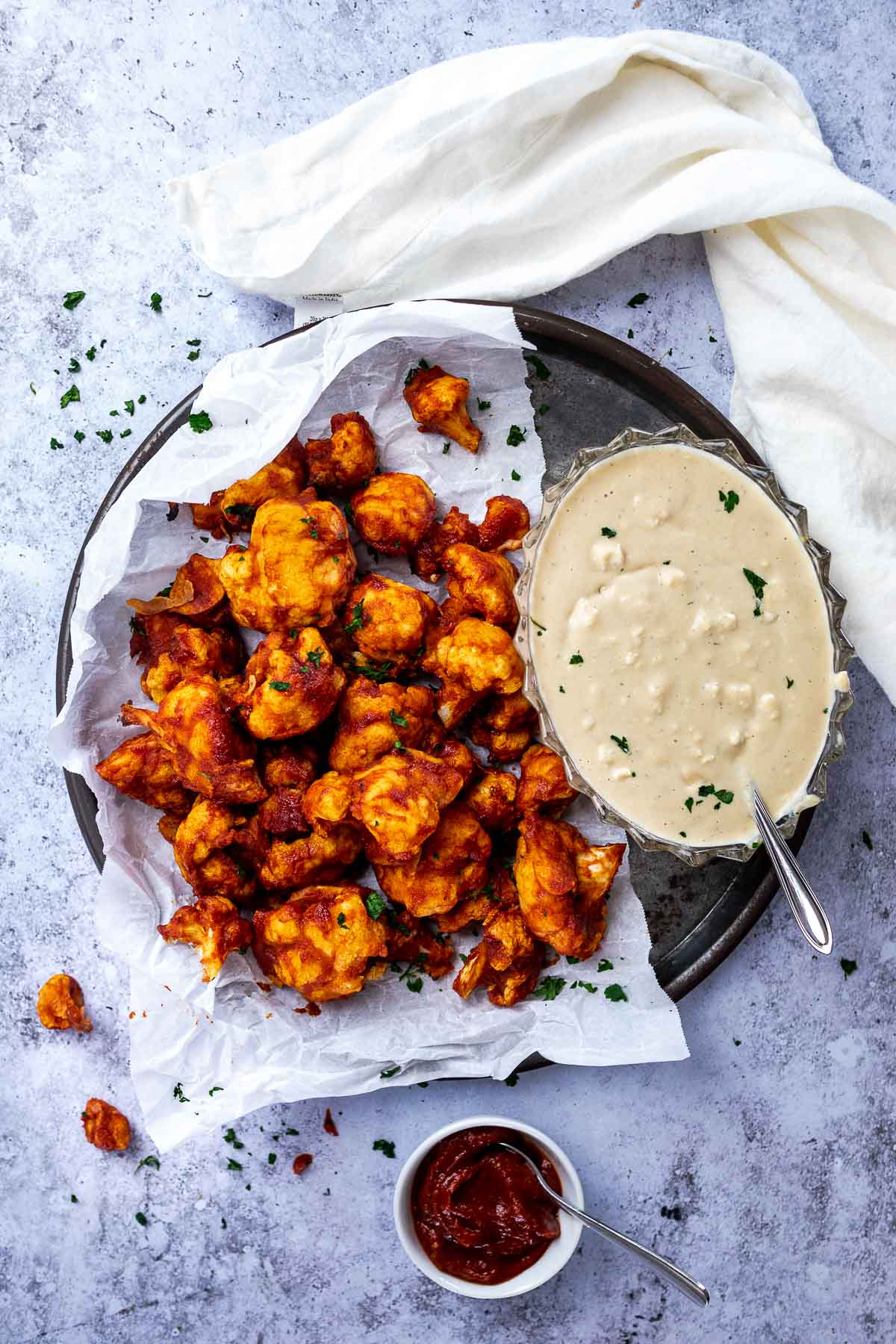 How do I best cut the cauliflower into cauliflower wings?
Take the cauliflower and remove the green and the stalk. Now divide the cauliflower into florets.
I also divide the cauliflower into somewhat larger bite-sized florets. You shouldn't cut them too small. Leave some stem on the florets so you can grab them better later.
How to serve the BBQ cauliflower wings?
Dips:
You can dip the cauliflower wings in even more BBQ sauce.
How about a vegan ranch sauce.
I can also well imagine that Aioli goes well with it
Or a vegan blue cheese dip that we have eaten which goes perfectly with these wings.
What can I make with these wings?
Prepare a wrap or sandwich with these wings, lettuce, tomatoes, avocado, cucumber, onions.
These wings would also fit wonderfully in a pita bread or flatbread and then this blue cheese dip.
I can also very well imagine that these wings would taste great in tacos.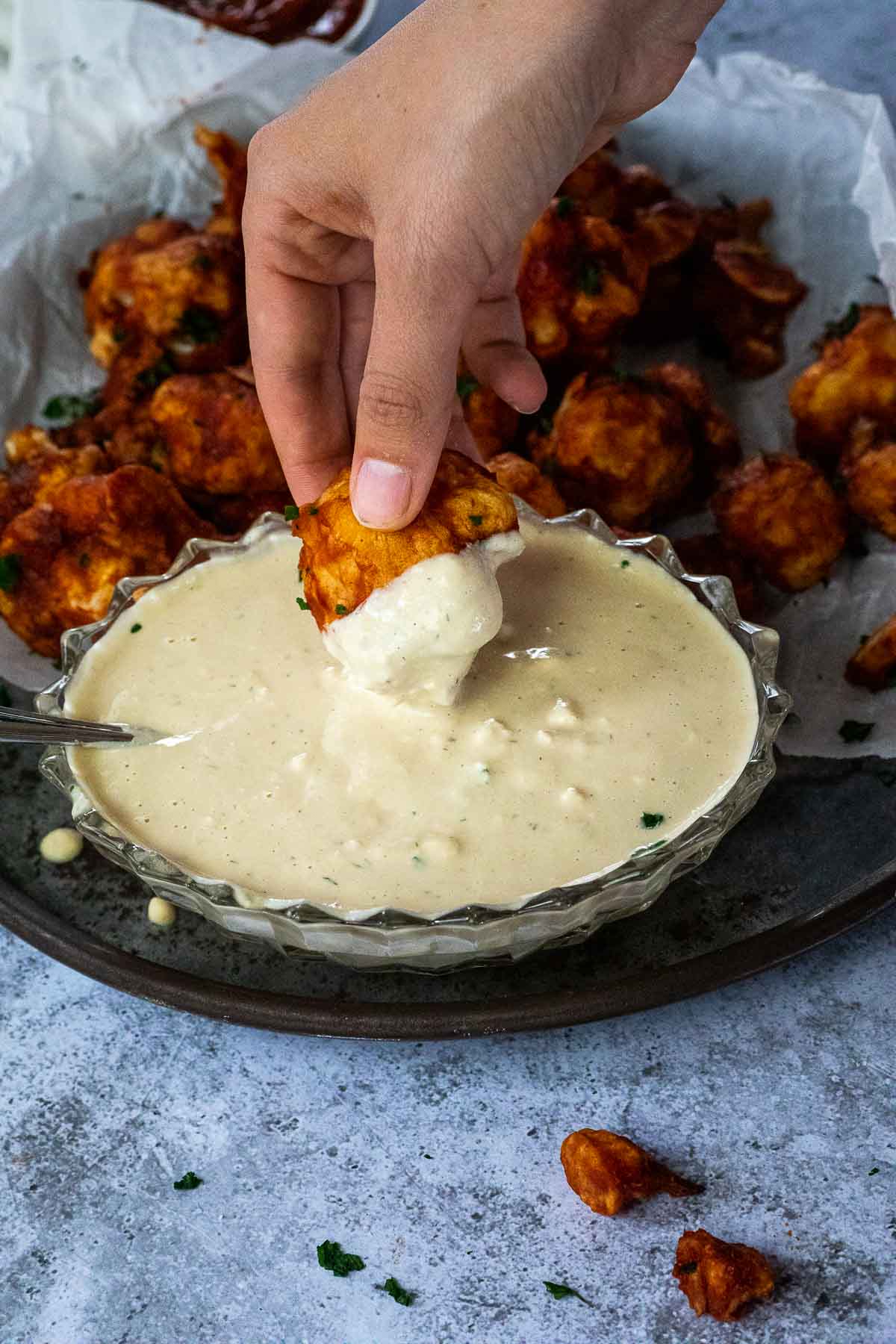 How to store
These cauliflower wings are stored in the fridge for about 3-4 days. Place the wings in a closed container.
Just warm it up again briefly in the oven before serving. So they taste like freshly baked.
Can I freeze the wings too?
You can also freeze the vegan BBQ wings. To do this, freeze the wings side by side on a sheet or pan.
When they are frozen, you can put them in a freezer friendly container. Then bake them frozen and they taste like freshly baked.
More vegan Recipes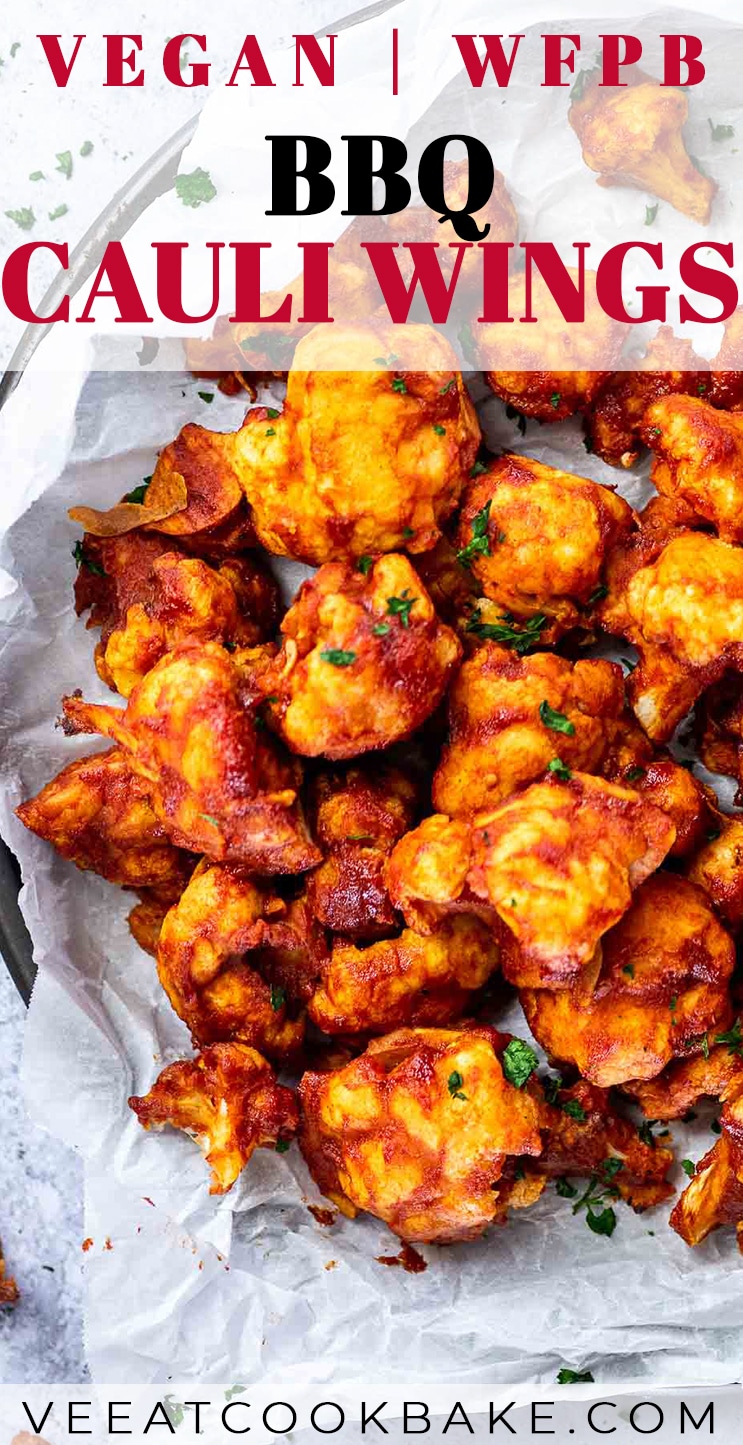 Have you tried the recipe?
If you tried the vegan Recipe, be so nice ♥ and let me know by rating the recipe and writing what you think about it in the comments. I would love to see your photo on Instagram or Facebook. To do this tag me with @veeatcookbake and my hashtag is #veeatcookbake. So that I can see your creation. Did you know you can add photos on Pinterest under the recipe Pin? I can't wait to see a photo of your creation there. You find me with @veeatcookbake.