Who says vegan cooking has to be boring? We've got a rich, creamy carbonara that'll have your taste buds singing - and it's ready in just 15 minutes! Our dairy-free take on the classic Italian dish is sure to please even diehard carnivores.
The best part? It won't break the bank either; this budget-friendly supper only needs a few ingredients for maximum flavor with no tofu required. Forget about bacon (pancetta or guanciale), egg, and parmesan – our animal product free version uses smokier ingredients so you still get all of those amazing Carbonara feels without any guilt!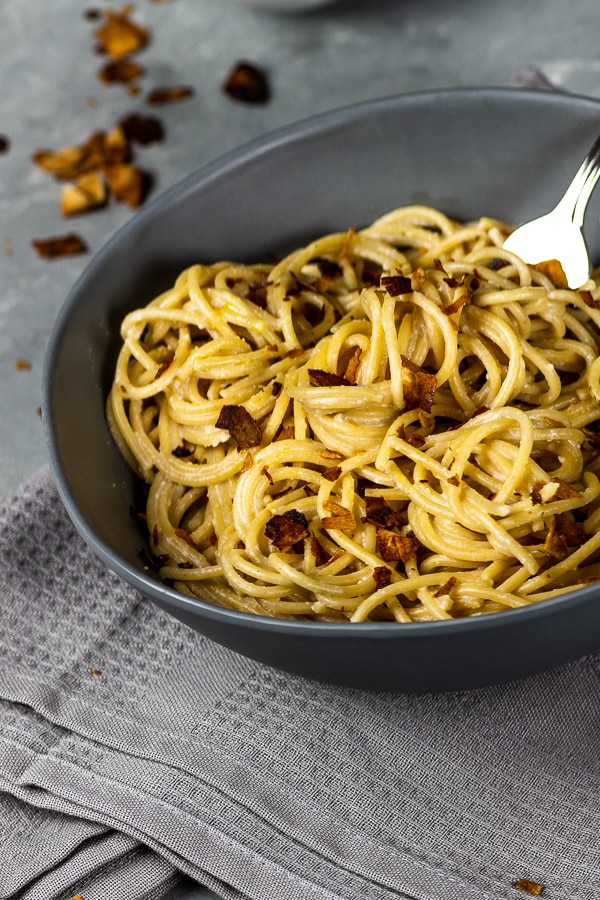 This recipe pairs well with oil free Bruschetta, Caesar Salad.
As an Amazon Associate, I earn from qualifying purchases. This post may contain affiliate links. Read More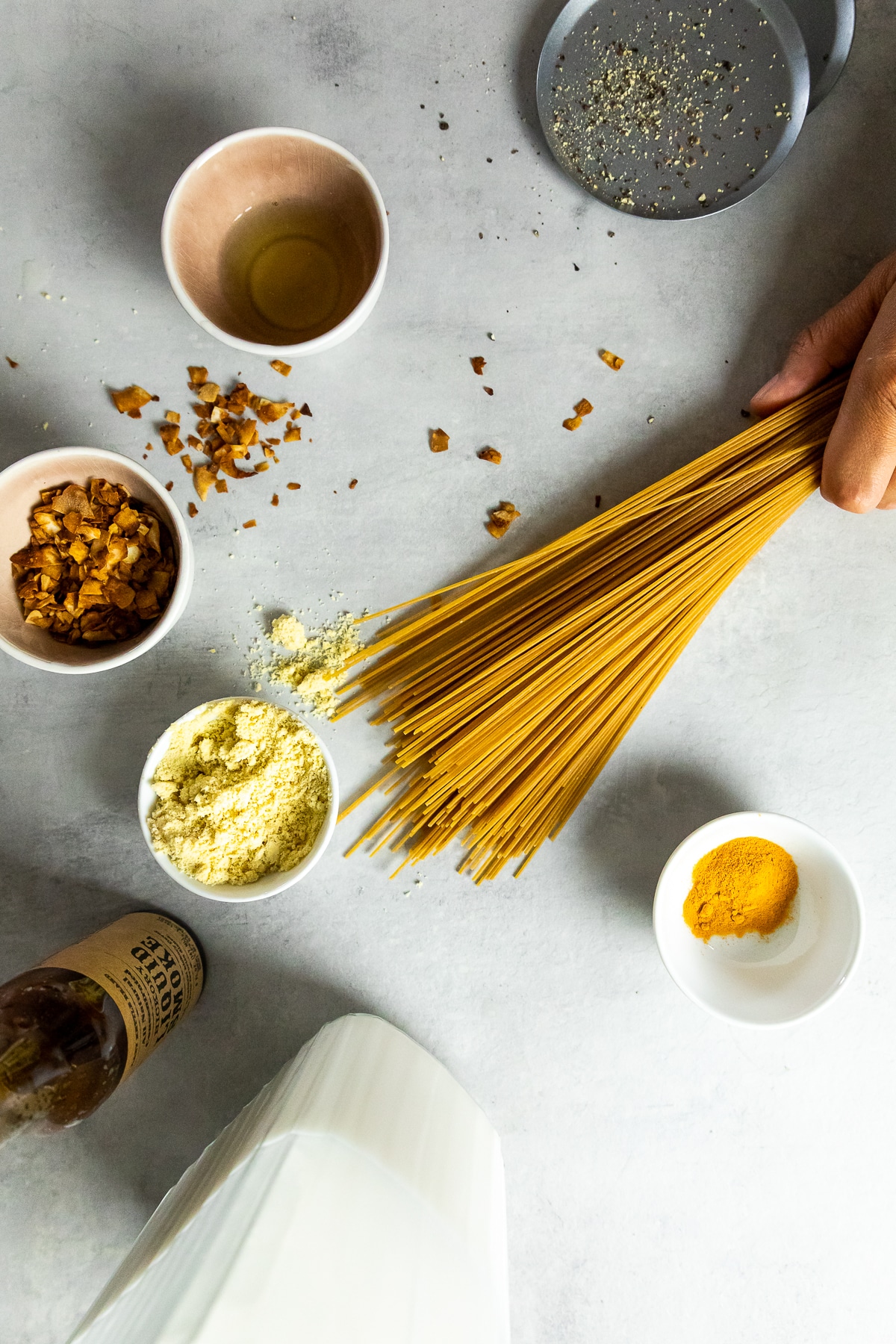 Ingredients
You will need these ingredients to make this creamy vegan carbonara.
You can find the ingredients with quantities and the recipe to print out on the recipe card below.
Pasta
Aquafaba
Coconut Bacon
Vegan Parmesan Cheese
Unsweetened Almond Milk or other vegan milk
Sea Salt and Pepper to taste
Liquid Smoke (optional)
Turmeric
Topping
Fresh Parsley
Vegan Parmesan (love my recipe with Nutritional Yeast Flakes, Onion Powder and Garlic Powder)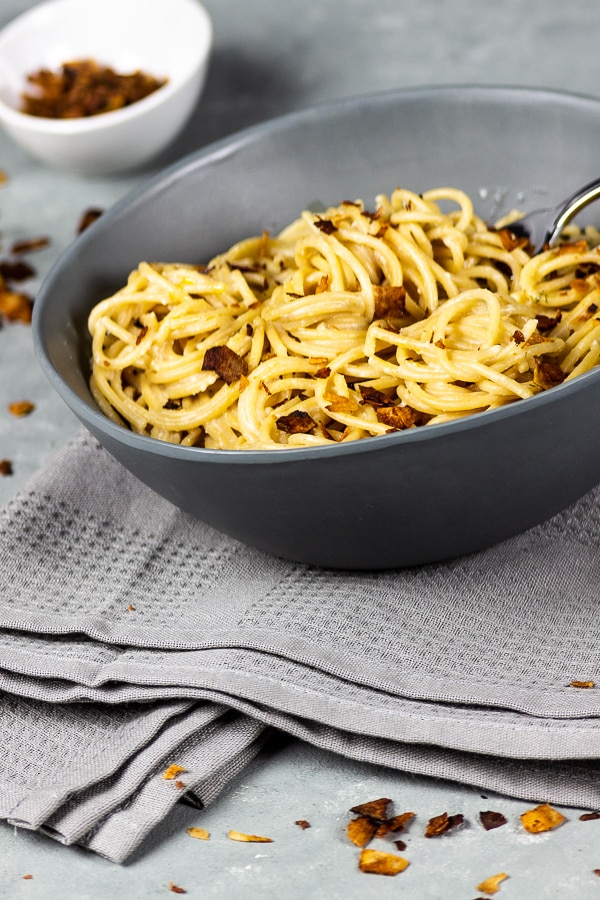 Instructions
Cook pasta in a large pot of water al dente according to the package instructions.
In the meantime, you can prepare the coconut bacon and the Parmesan.
Mix the Aquafaba with the spices and pour it over the drained and cooked pasta. Stir in the Parmesan and add some milk until you have a creamy consistency that resembles that of a carbonara.
Shortly before serving, pour some of your coconut bacon on top. I will also add some of the vegan Parmesan over the plated spaghetti.
I like to serve a green salad with the spaghetti carbonara.
Make this eggless carbonara, check out some of my other recipes like Alfredo Pasta, Marinara Sauce, Gorgonzola Gnocchi and my other easy vegan pasta recipes.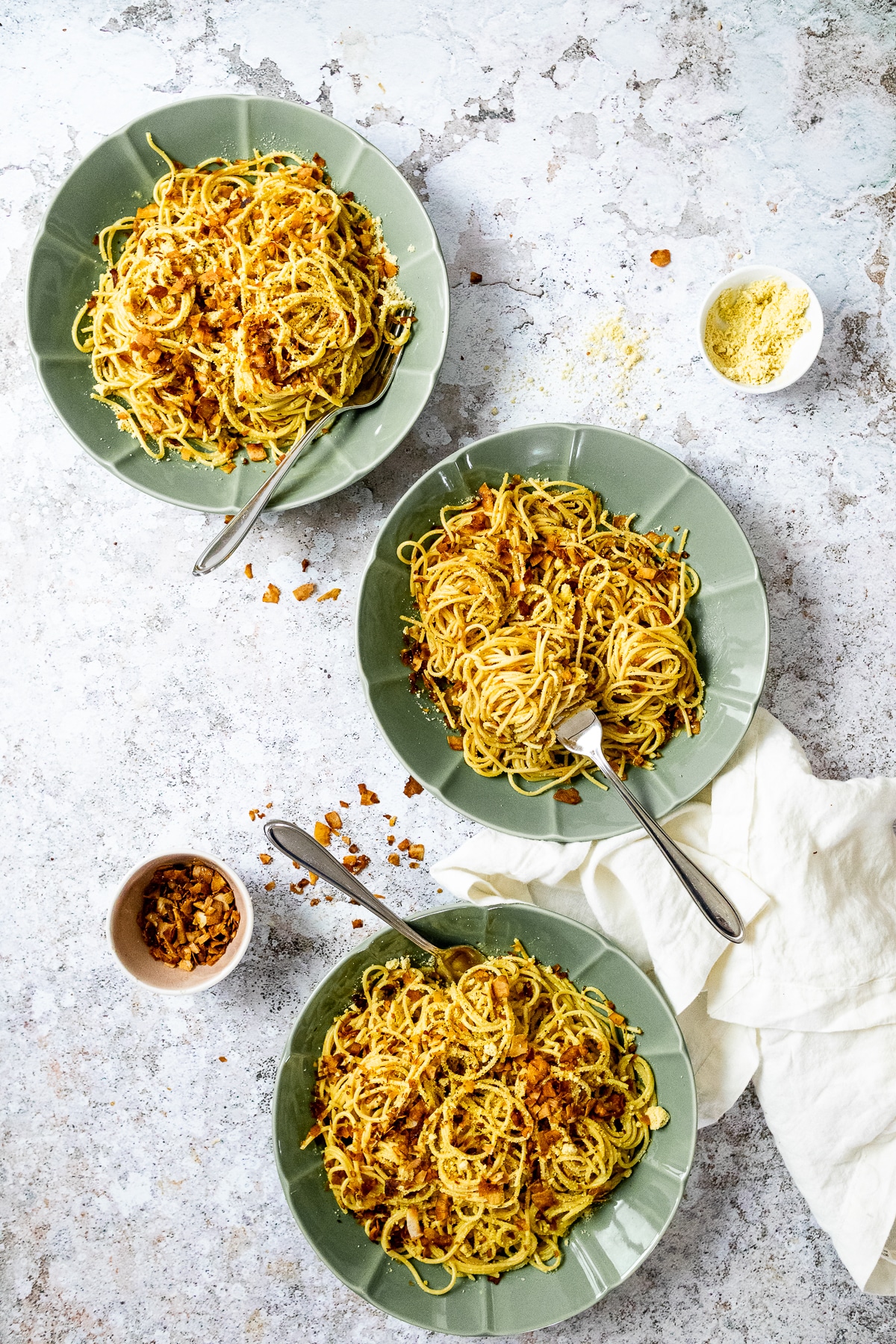 Substitutions
Aquafaba: If you don't have any chickpea liquid left and don't want to open a can of chickpeas, you can also use vegetable broth instead.
Pasta: You can either use Spaghetti, Zucchini Noodles or gluten free pasta for this easy vegan carbonara.
Coconut Bacon: I love this coconut bacon adds a nice smoky flavor and crunch. You can also add other vegan bacon like tofu bacon bits or tempeh bacon.
Vegan Parmesan: I love my homemade parmesan, but you can also use nutritonal yeast.
Non-Dairy Milk: You can also use other plant-based milk like soy milk, oat milk to make this easy vegan carbonara recipe.
Liquid Smoke: We want that smoky flavor, because we do not use pecorino romano or other bacon we will need something that adds the smokiness. You can also add smoke salt. You will be amazed how good this creamy pasta will taste, like in an Italian restaurant.
Turmeric: The turmeric is for the color, you can easily omit it.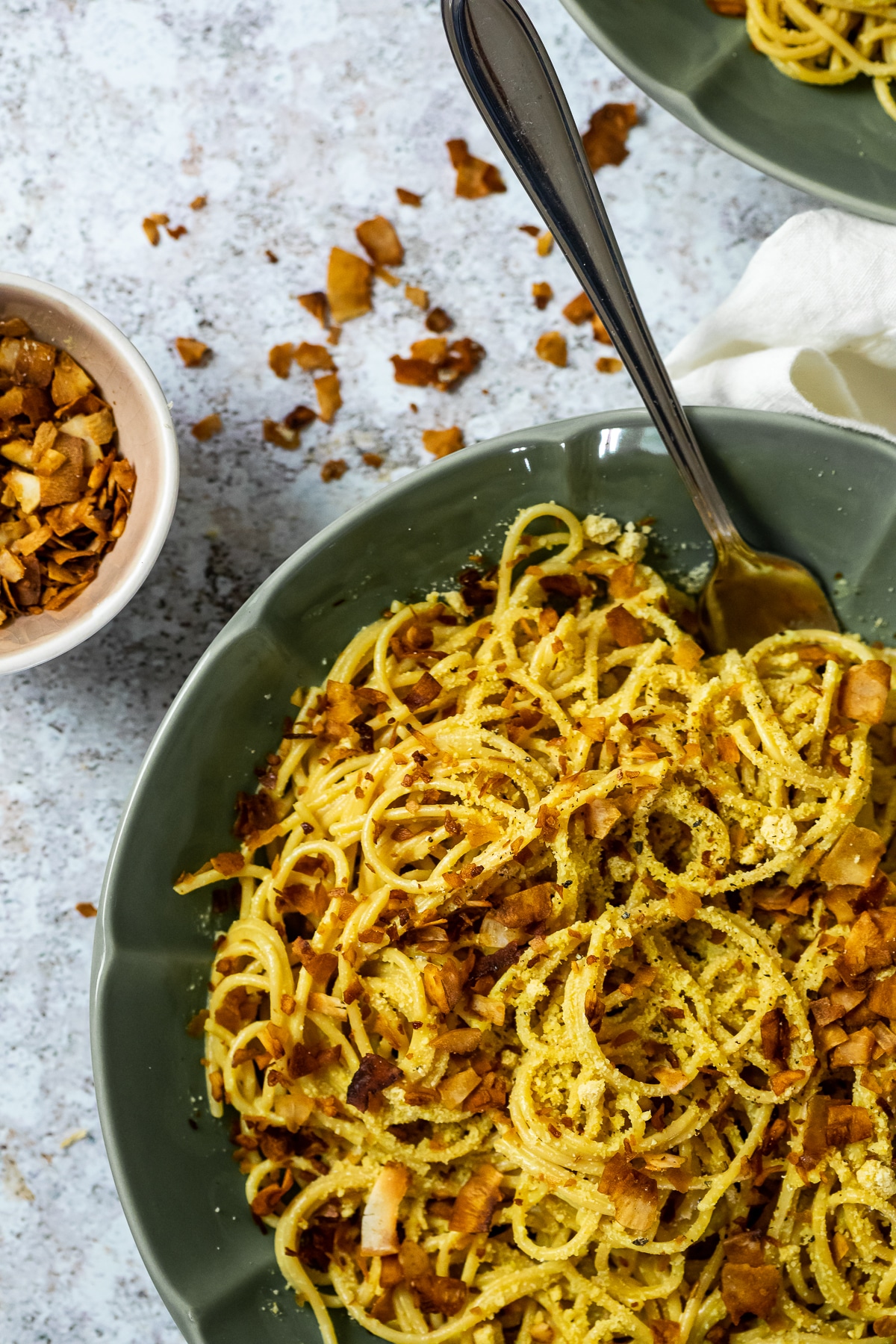 Variations
Wild Mushrooms: Sauté some wild mushrooms and top your vegan pasta carbonara.
Miso Paste: You want some tangy flavor, add some miso.
Kala Namak: You want to add an eggy flavor, the black salt will do it.
White Beans: Add some beans for plant-based protein.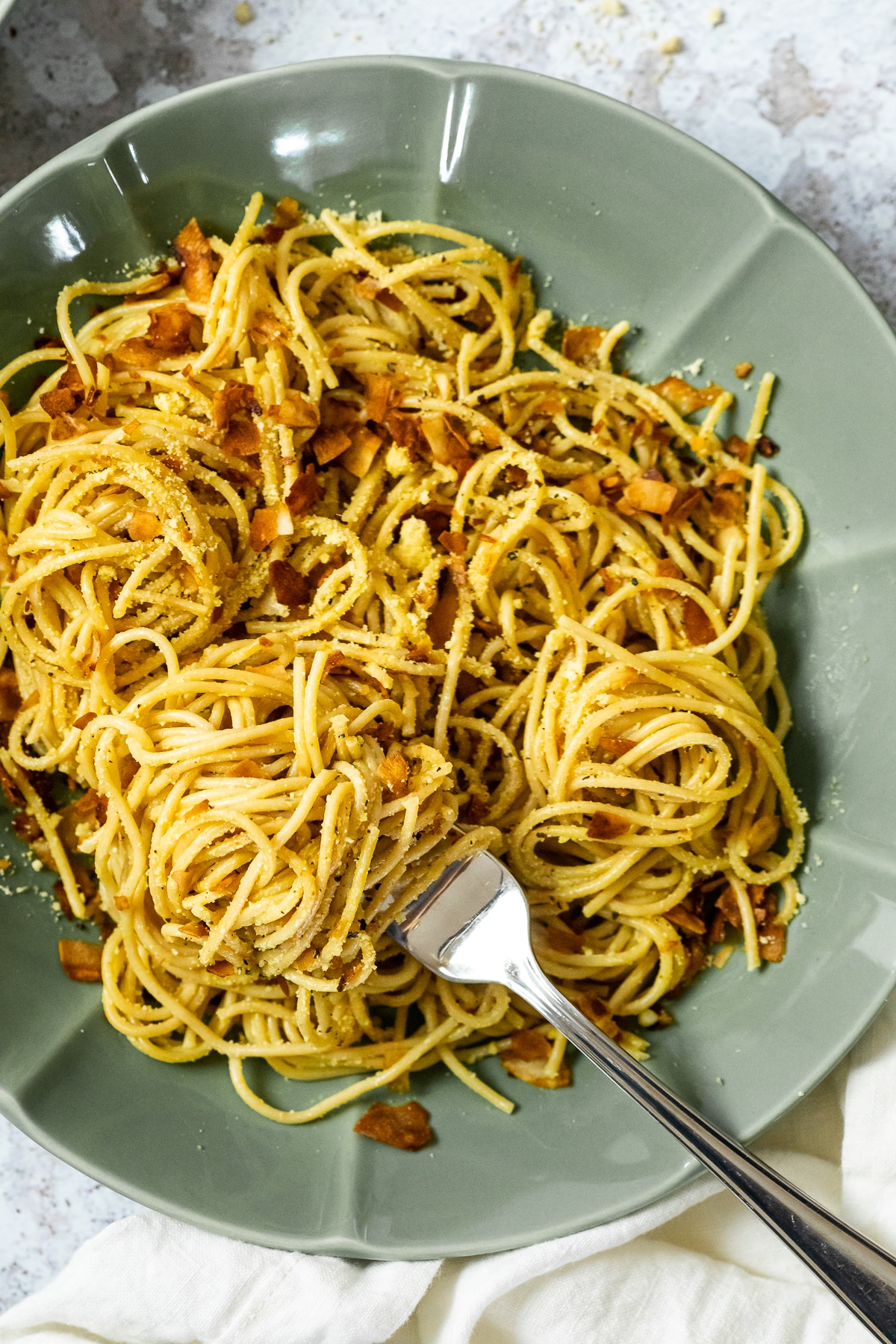 Storage
You can store leftovers in an airtight container in the fridge for up to 4 days. When you reheat the pasta, and it is a little dry, add some more dairy free milk.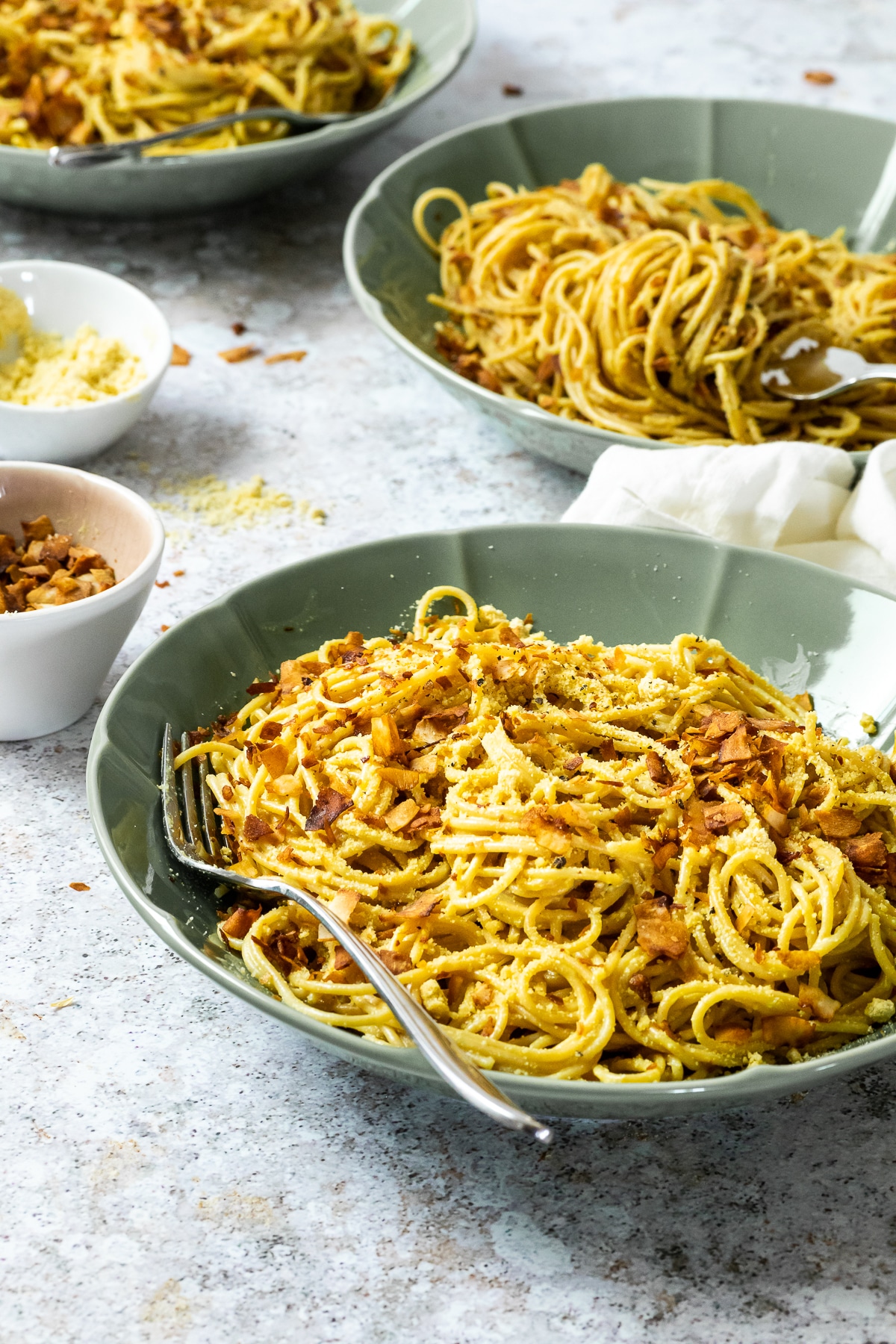 Top Tips
Like the traditional carbonara is made with no heavy cream, this recipe will not need a cream alternative to make a creamy sauce. Instead, we achieve the texture with some plant based milk and the cheesy flavor with vegan Parmesan. To get the best results, I recommend making the recipe as it is.
FAQ
What is carbonara?
If you don't know Carbonara, Real Carbonara is a pasta dish with pasta, guanciale (air-dried bacon) or pancetta, eggs, pepper and Parmesan cheese. This Italian dish comes from the Lazio region, central Italy.
Who invented the carbonara?
Alla carbonara means something like collier (coal miner) style. According to a legend, during their lunch break in Apennia, colliers cooked penne with bacon and eggs. This is how the first version of the Carbonara known today was created.
The current version of the Carbonara was only found on recipes / receipts after 1944. After the Allies conquered Rome, after US soldiers combined their eggs and bacon rations with the Italian culinary culture. After the post-war period, recipes for the alla carbonara were found.