Traditional carbonara is made with egg, parmesan and pancetta. And let's be honest who did not love Spaghetti Carbonara?! So I just had to try a vegan spaghetti carbonara. Not only did I manage to veganize the carbonara in taste, but also conjured up a quick and easy vegan carbonara recipe. vegan | dairy-free | egg-free| lactose-free | opt. gluten-free | oil-free | whole foods plant based
Vegan carbonara without milk substitute ?!
I do not know if you feel the same, I always thought a carbonara is made with cream / milk. My mom (hello mom;)) used to always like to cook spaghetti with a creamy sauce and we always called this carbonara. In terms of taste, my mum's food has always convinced, let's face it Moms and grandmas are simply the best chefs. Do you see it the same way? However, I found out a few years ago that the traditional, Italian carbonara is cooked without milk / cream. And since then, we make only the Italian carbonara and we love it. However, the recipe is anything but vegan, so I put myself in my kitchen and tried a vegan carbonara and I have to say I really made it and we just can not get enough of this delicious, lightning fast recipe.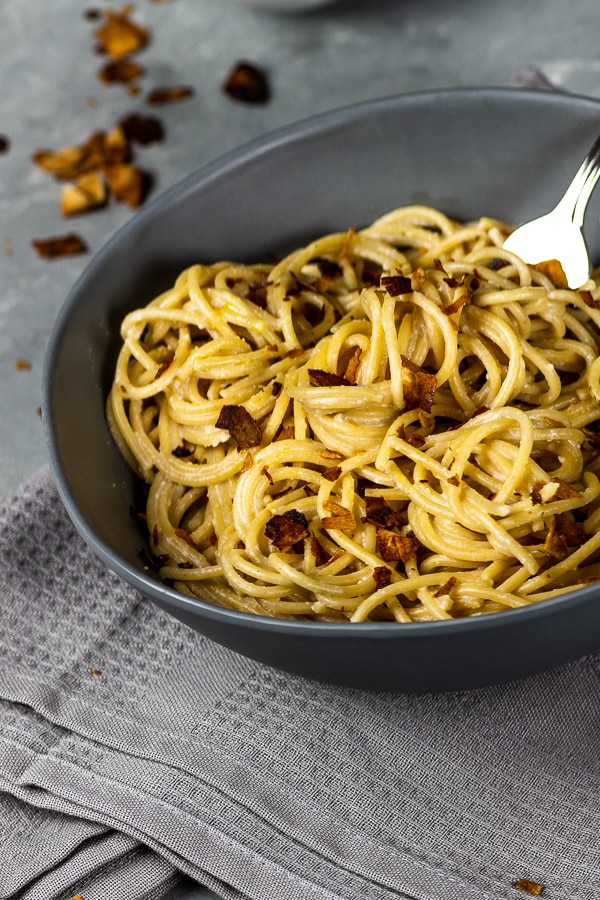 What serves as an egg substitute for my vegan spaghetti carbonara
You've probably already noticed that I simply love Aquafaba (Drain water of chickpeas). And here with the vegan spaghetti carbonara I thought for a long time what I should take as an egg substitute. Since you need just egg yolk and not the whole egg, I thought pretty long what could serve as a substitute. Silken Tofu was out of the question for me, this I prefer to use as egg substitute for a whole egg such as in quiche or my onion tart recipe. And since we like to eat chickpeas (like in my vegan tuna salad), we always have Aquafaba left, which I like to process into recipes. So I tried it in my vegan carbonara. I have created a carbonara that is perfect for me, which is in no way inferior to the traditional carbonara.

I hope you like the vegan carbonara. It is:
cheesy
prepared quickly
easy
smoky
full of flavor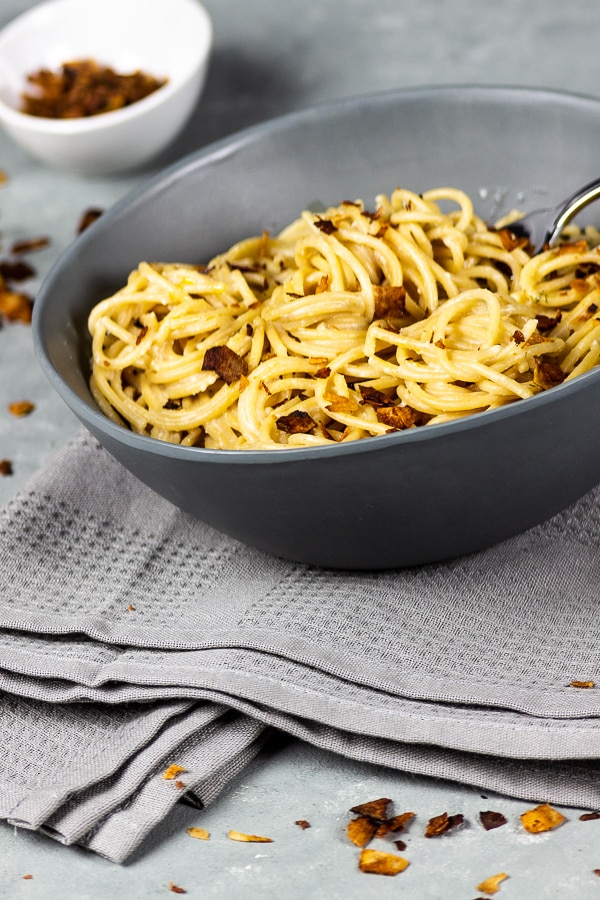 You really like Vegan Spaghetti Carbonara, then you might also like:
---
Did you try the recipe?
If you did it, be so nice ♥ and let me know by rating the recipe and writing what you think about it. Tag me on Instagram too. I am @veeatcookbake and my hashtag is #veeatcomforts. So that I can see your creation. Did you know you can add photos on Pinterest under the recipe Pin? I can't wait to see a photo of your creation there. You find me with VeeatCookBake.
---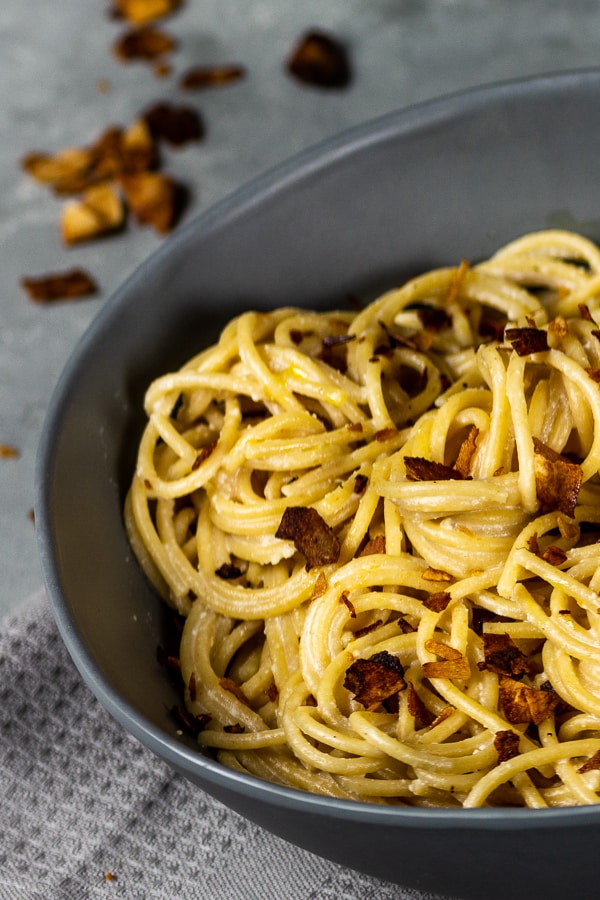 But now finally to the recipe of the vegan spaghetti carbonara:
---
---