Vegan carbonara - super light, rich and creamy. We prepare this vegan spaghetti carbonara in about 15 minutes, just as long as your spaghetti cooks. A perfect midweek dinner.
The best thing about this dairy-free and lactose-free carbonara, which has been inspired by traditional Italian carbonara dishes, is that it is a budget-friendly and frugal dish.
You only need a few ingredients and with this vegan pasta carbonara you create a real, wholesome comfort meal with a smoky taste without any tofu.
Let's take a look at a classic Carbonara Sauce recipe. This is made from bacon (pancetta or guanciale), egg and parmesan.
At first glance, we see that a carbonara sauce is anything but vegan. Now a spaghetti carbonara is one of the most famous dishes in Italian cuisine.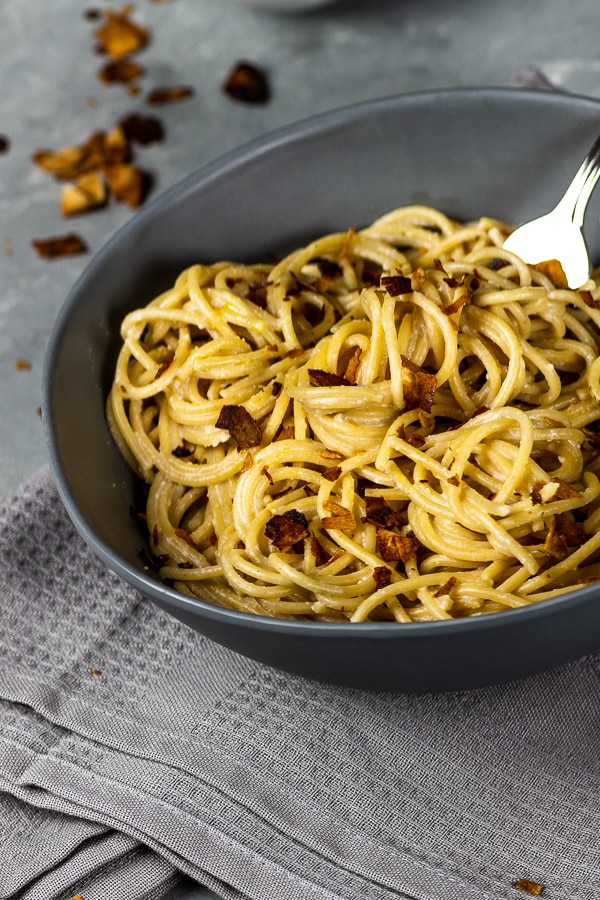 As an Amazon Associate, I earn from qualifying purchases. This post may contain affiliate links. Read More
Jump to:
And maybe you are like me, that you enjoyed eating them before you decided to eat vegan.
It was time for me to try veganizing the carbonara without eggs, cheese and without resorting to vegan cream, which has no place in a traditional carbonara.
And I have to say, this eggless carbonara recipe is tasty and looks totally authentic.
As a vegan pancetta substitute, I decided to use my favorite vegan bacon, namely coconut bacon. Not just made super quickly, it also tastes incredibly tasty and smoky.
Now I have put you through enough torture and now I will give you a recipe for how to make vegan spaghetti carbonara and you will not only get a quick dish, you will also find tips and tricks for making it here.
Jump to:
What is carbonara?
If you don't know Carbonara, Carbonara is a pasta dish with pasta, guanciale (air-dried bacon) or pancetta, eggs, pepper and parmesan cheese. This Italian dish comes from the Lazio region, central Italy.
Who invented the carbonara?
Alla carbonara means something like collier (coal miner) style. According to a legend, during their lunch break in Apennia, colliers cooked penne with bacon and eggs. This is how the first version of the Carbonara known today was created.
The current version of the Carbonara was only found on recipes / receipts after 1944. After the Allies conquered Rome, after US soldiers combined their eggs and bacon rations with the Italian culinary culture. After the post-war period, recipes for the alla carbonara were found.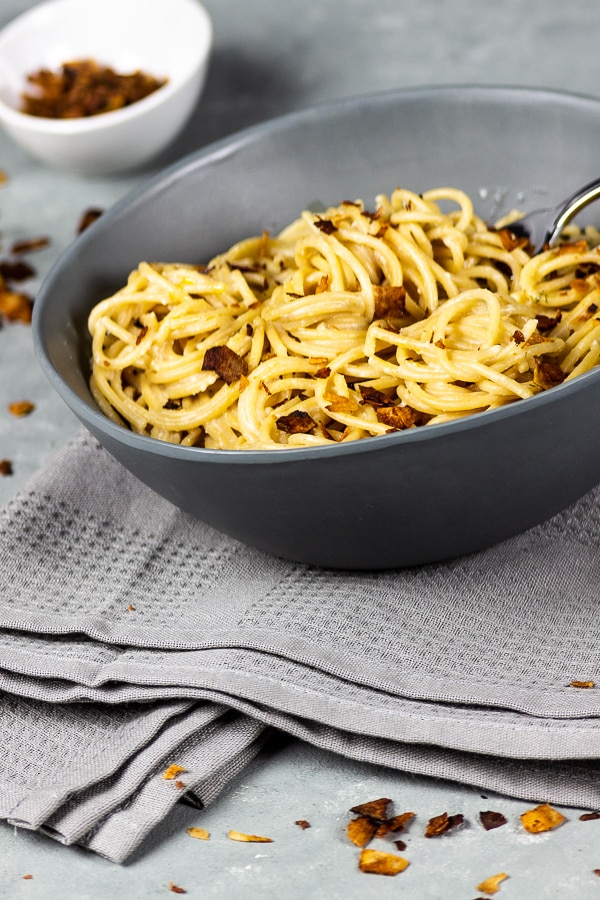 Ingredients
Now let's see which ingredients I use for my vegan Carbonara. You can find the exact quantities below in the recipe card.
Spaghetti, Zoodles or gluten-free spaghetti
Aquafaba
Coconut Bacon
Vegan Parmesan
Unsweetened Almond Milk or other vegan milk
Sea Salt and Pepper to taste
Liquid Smoke (optional)
Turmeric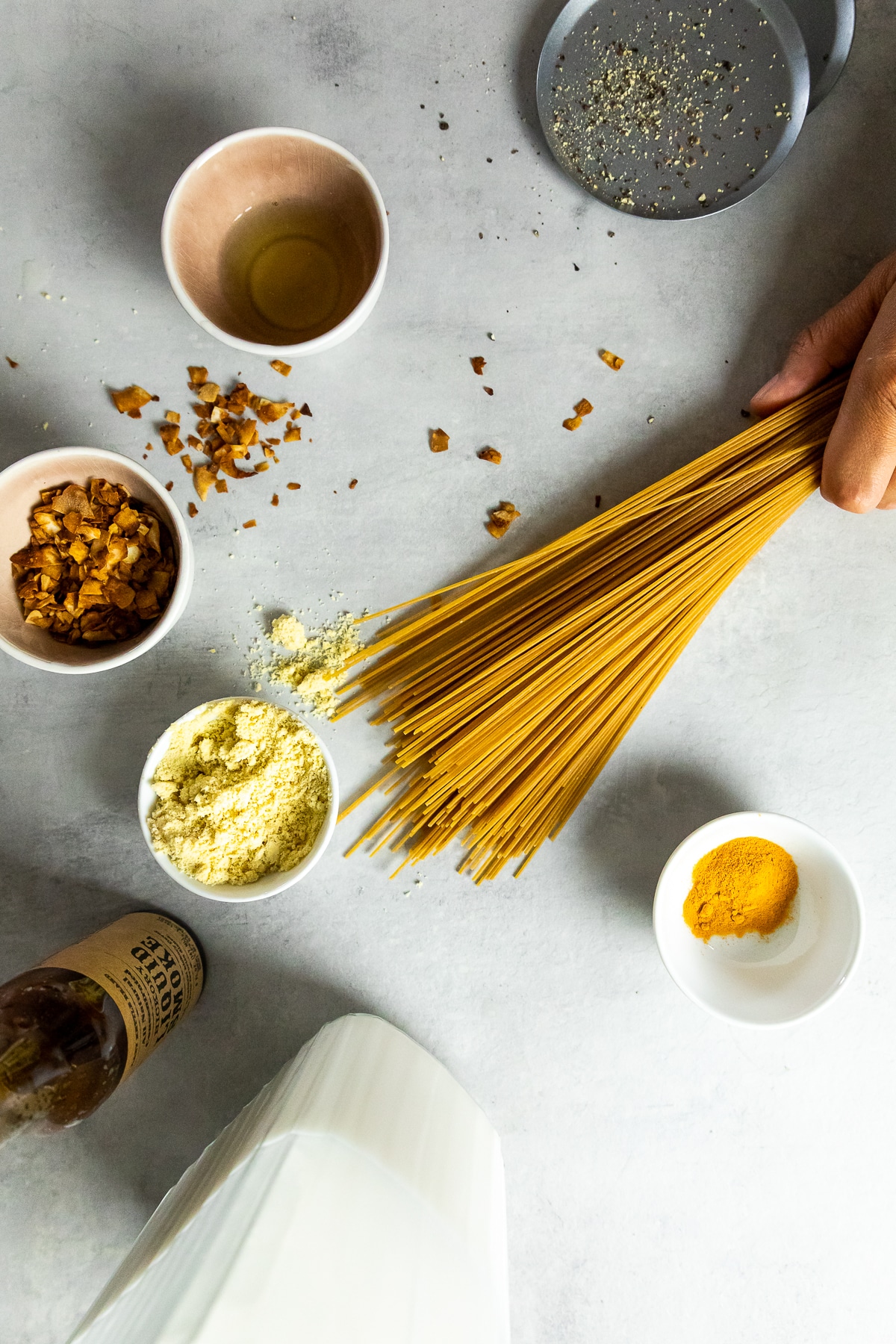 As you can see, you don't need a lot of ingredients. The coconut bacon and parmesan can be prepared super quick. If you want to make them yourself, I have linked the recipes.
Aquafaba Replacement
If you don't have any chickpea liquid left and don't want to open a can of chickpeas, you can also use the liquid from a white bean can.
If you don't want to use beans or don't eat them, you can use vegetable broth instead.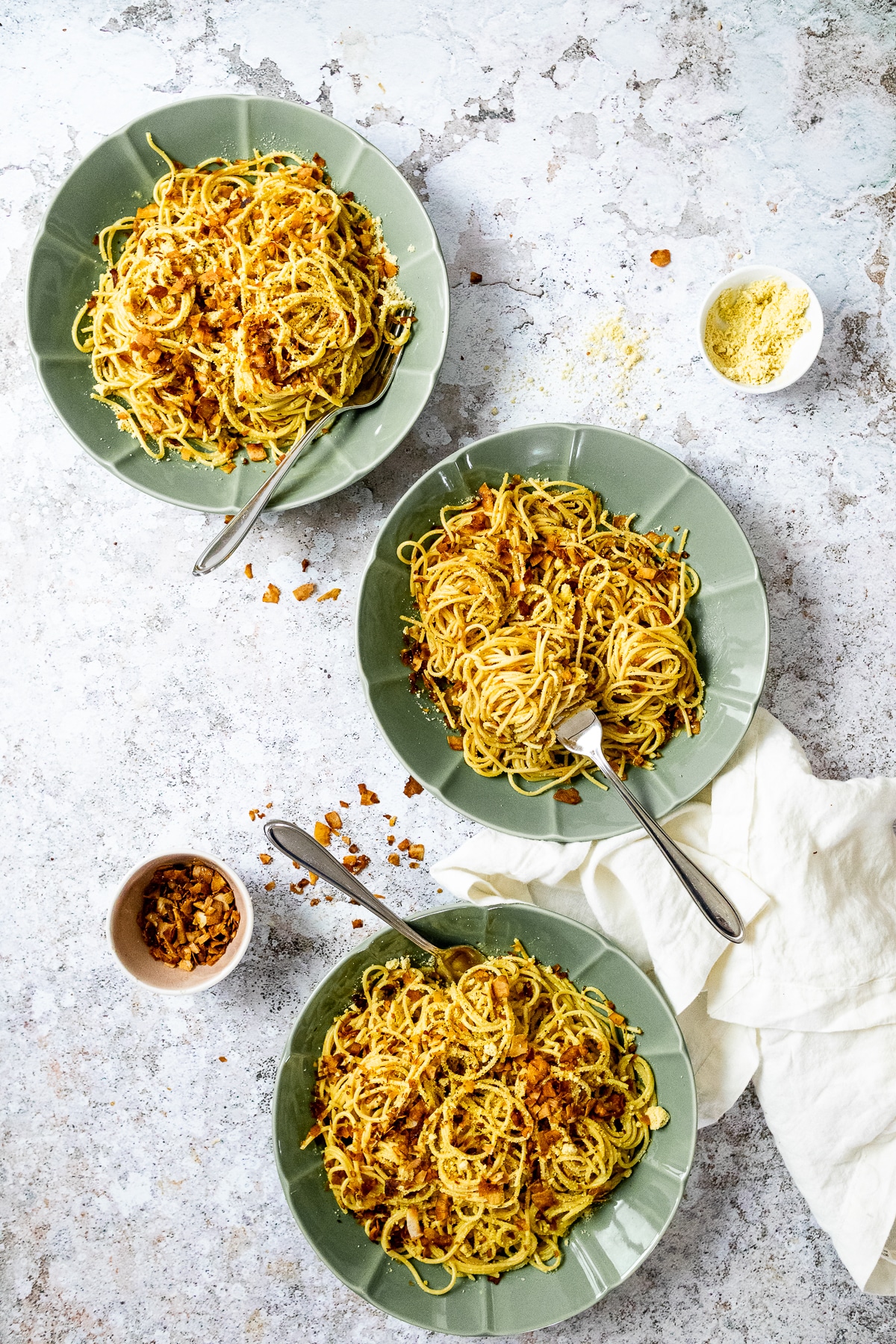 Gluten-free
As you can see, the sauce is already gluten free. Now it only depends on whether the pasta is gluten-free. You can use gluten-free spaghetti here, or zoodles (spiralized zucchini).
When you prepare the coconut bacon, make sure that you use a gluten-free soy sauce (Tamari) or coconut aminos.
Nut-free
Instead of almond milk, you can also use other dairy free milk for the vegan carbonara, e.g. soy milk or rice milk. I do not recommend oat milk here because it is sweet and you can taste the oats.
If you make the Parmesan, you can also make it with hemp seeds or with other seeds such as sunflower seeds instead of cashews.
Instructions
Start with boiling a pot of water for the pasta.
In the meantime, you can prepare the coconut bacon and the parmesan.
When the water boils, you can cook your pasta according to the package instructions.
Now mix the Aquafaba with the spices and pour it over the drained and cooked pasta. Stir in the parmesan and add some milk until you have a creamy consistency that resembles that of a carbonara.
Shortly before serving, pour some of your coconut bacon on top. I will also add some of the vegan parmesan over the plated spaghetti.
I like to serve a green salad with the spaghetti carbonara.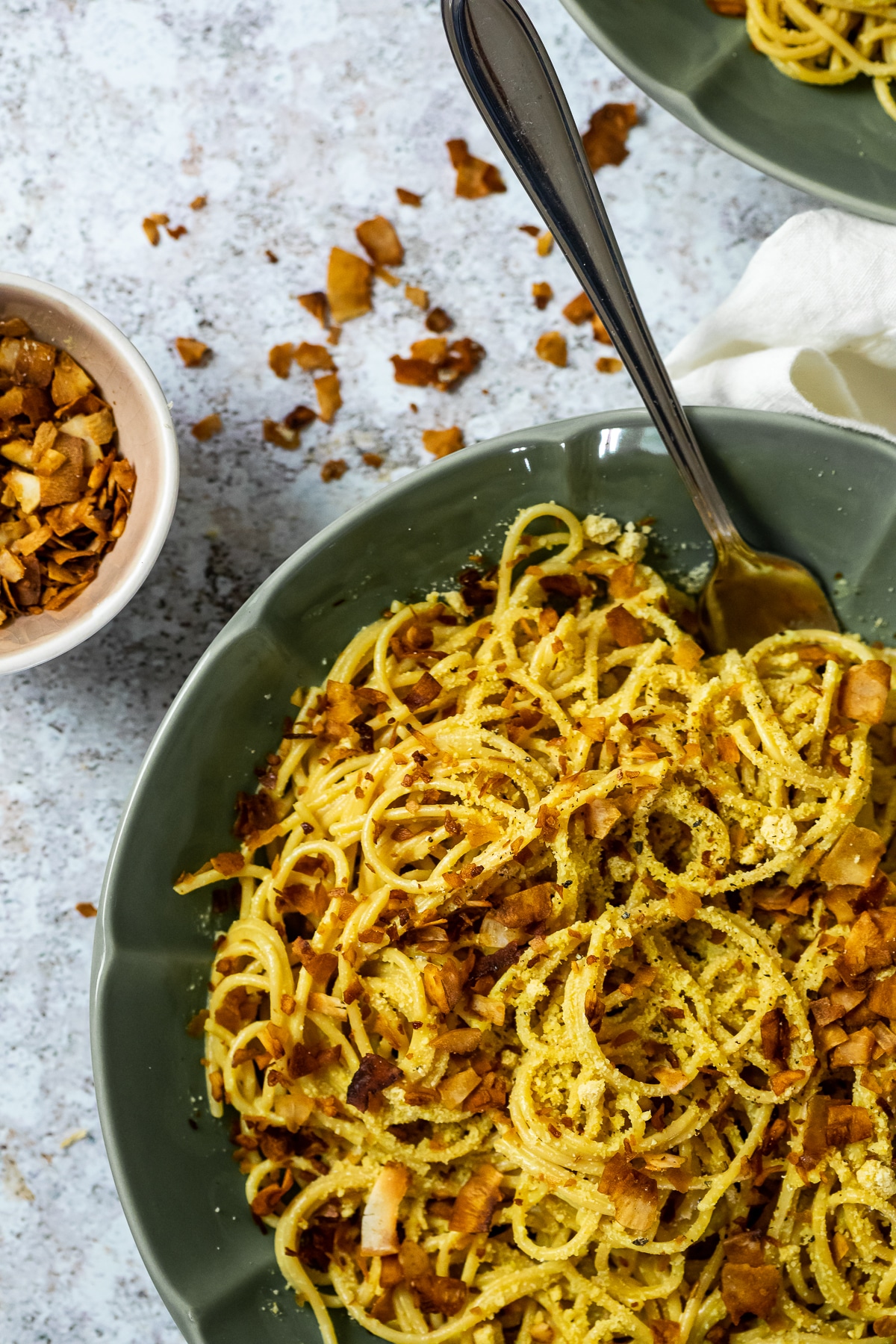 Prepare in Advance
As you can see, the carbonara is prepared really quickly.
What I like to have in my fridge is vegan parmesan and coconut bacon, then you have fewer steps to complete when you cook the plant based carbonara.
Serving Suggestions
As a side dish for vegan spaghetti carbonara, I can recommend the following:
Brussel Sprouts with Balsamic Vinegar
Green Salad with a Light Italian Dressing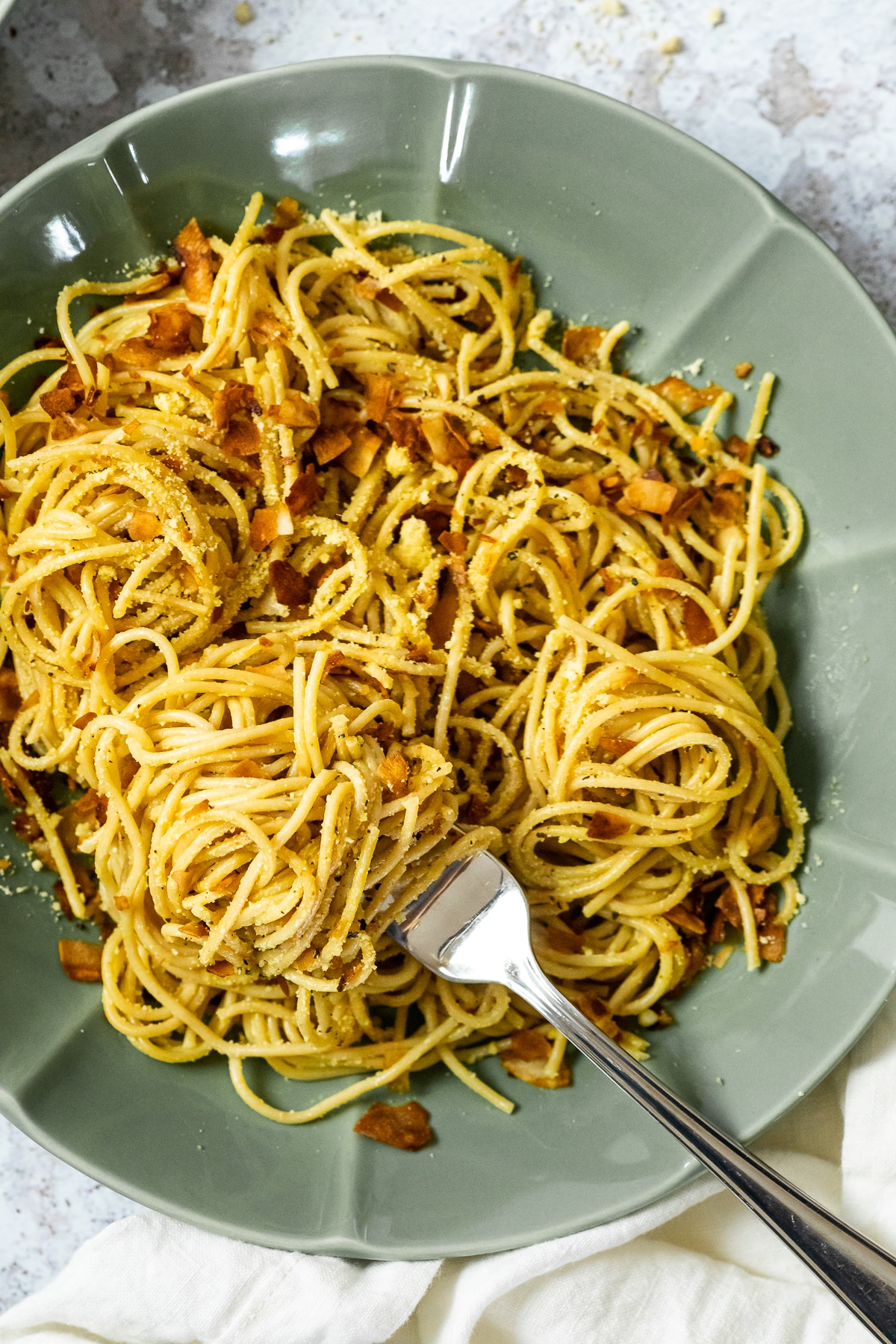 Storage
The vegan carbonara is great in the fridge. Here it lasts in a closed container for about 4 days. If you warm it up and it becomes too dry for you, add a little more of the almond milk.
I recommend adding coconut bacon to your serving of alla carbonara just before serving, so that it is crispy.
Tips
If you are missing the egg taste in the carbonara, then you can use some of the miracle salt Kala Namak that gives your dishes a great egg taste.
I have to confess, I don't use it because I don't really think that a carbonara tastes like egg. If you want to use it, you can use ¼ - ½ teaspoon.
I only use turmeric in the recipe for coloring. If you don't like turmeric, you can of course leave it out.
You can of course use any other milk you prefer.
When making coconut bacon, make sure you use unsweetened coconut flakes.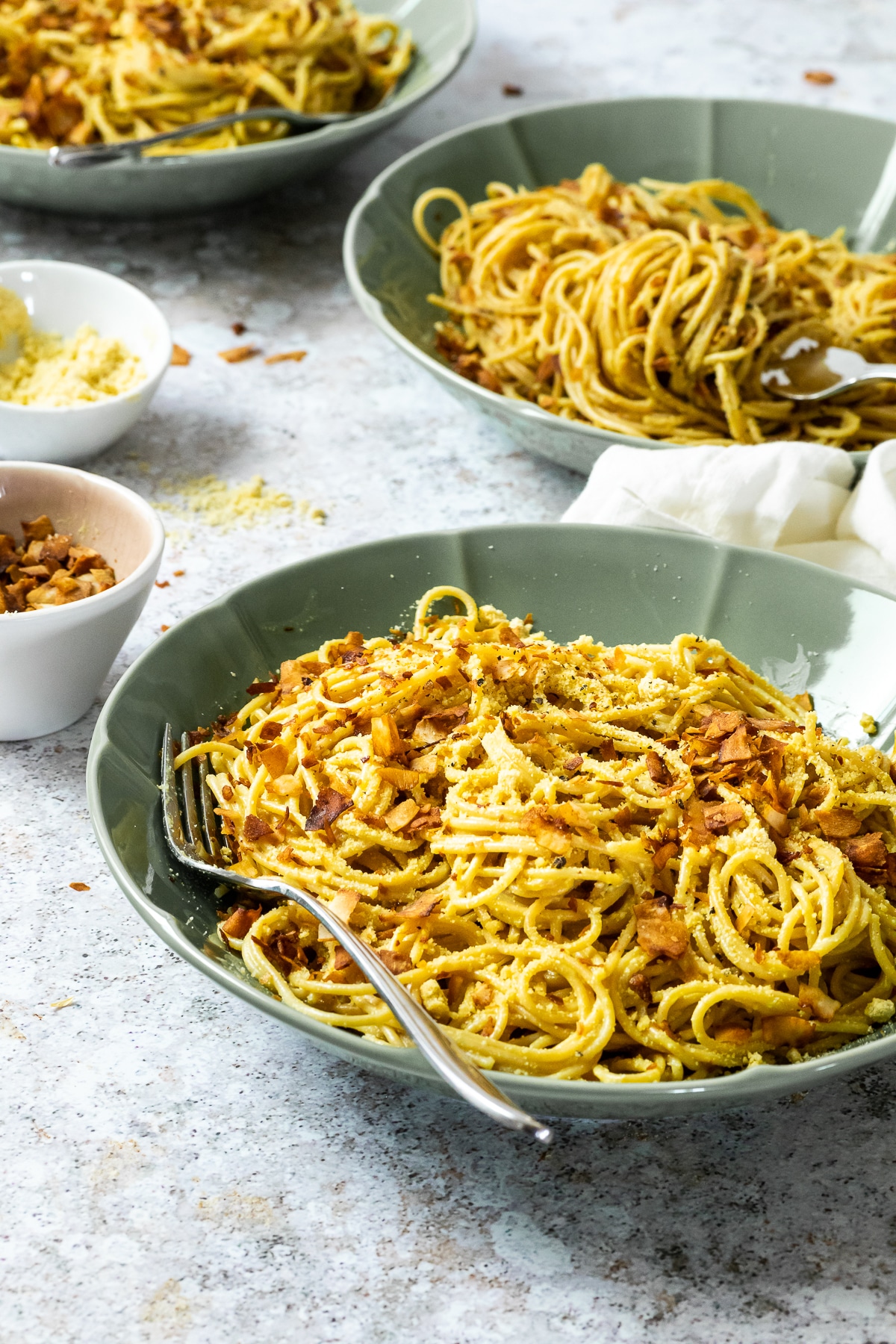 More vegan Sauce Recipes: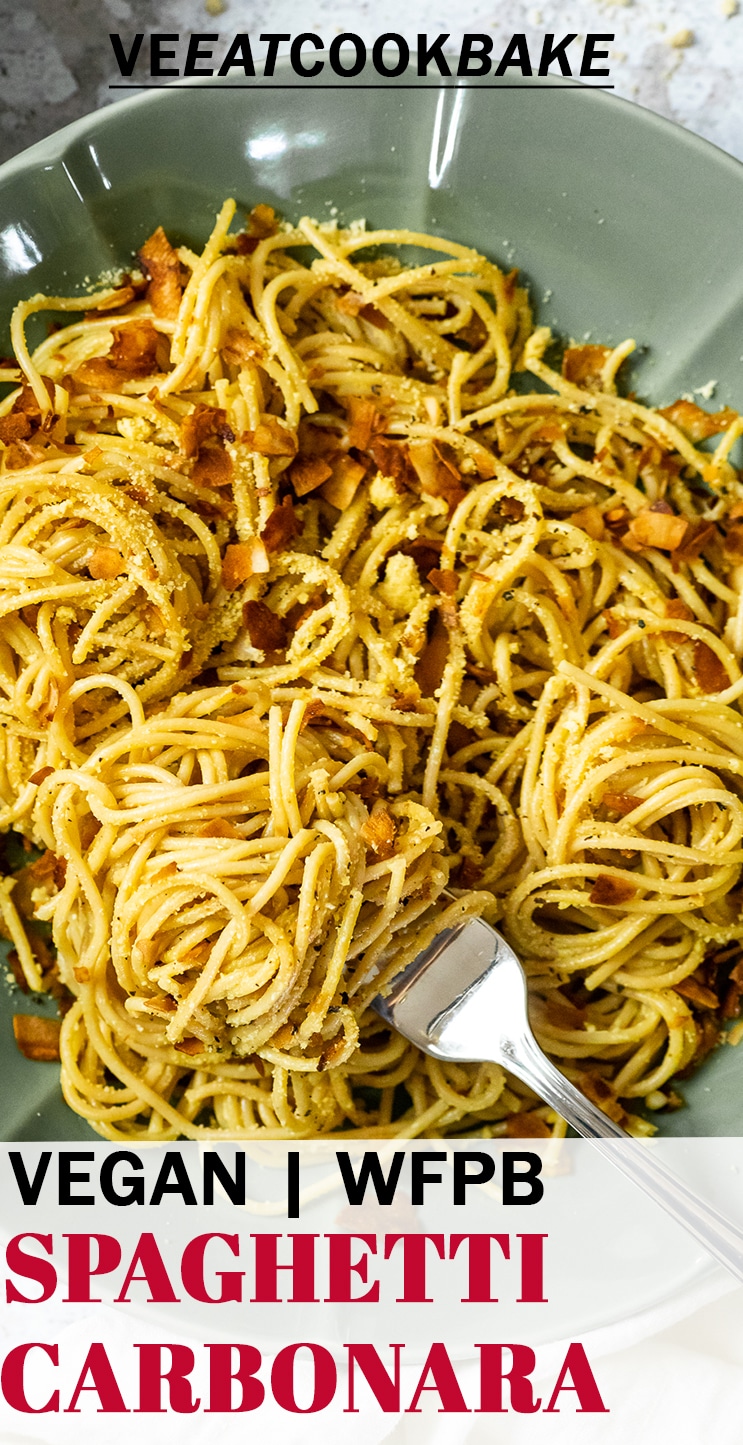 Have you tried the recipe?
If you tried the vegan Recipe, be so nice ♥ and let me know by rating the recipe and writing what you think about it in the comments.  I would love to see your photo on Instagram or Facebook. To do this tag me with @veeatcookbake and my hashtag is #veeatcookbake. So that I can see your creation. Did you know you can add photos n Pinterest under the recipe Pin? I can't wait to see a photo of your creation here. You find me with @veeatcookbake.

Jump to: