With this delicious vegan tomato soup, you will forget all about the canned stuff. This creamy, flavorful recipe takes only 30 minutes to whip up, and is filled with seared onions and garlic for an enriching taste. Not a fan of dairy?
No worries! It doesn't contain any milk or butter thanks to its secret ingredient: cashews. Plus, it's WFPB friendly - what more could you ask for? A summer veggie dinner that can also be used as a starter or side dish later on in the season – don't miss out on making your own tasty homemade tomato soup!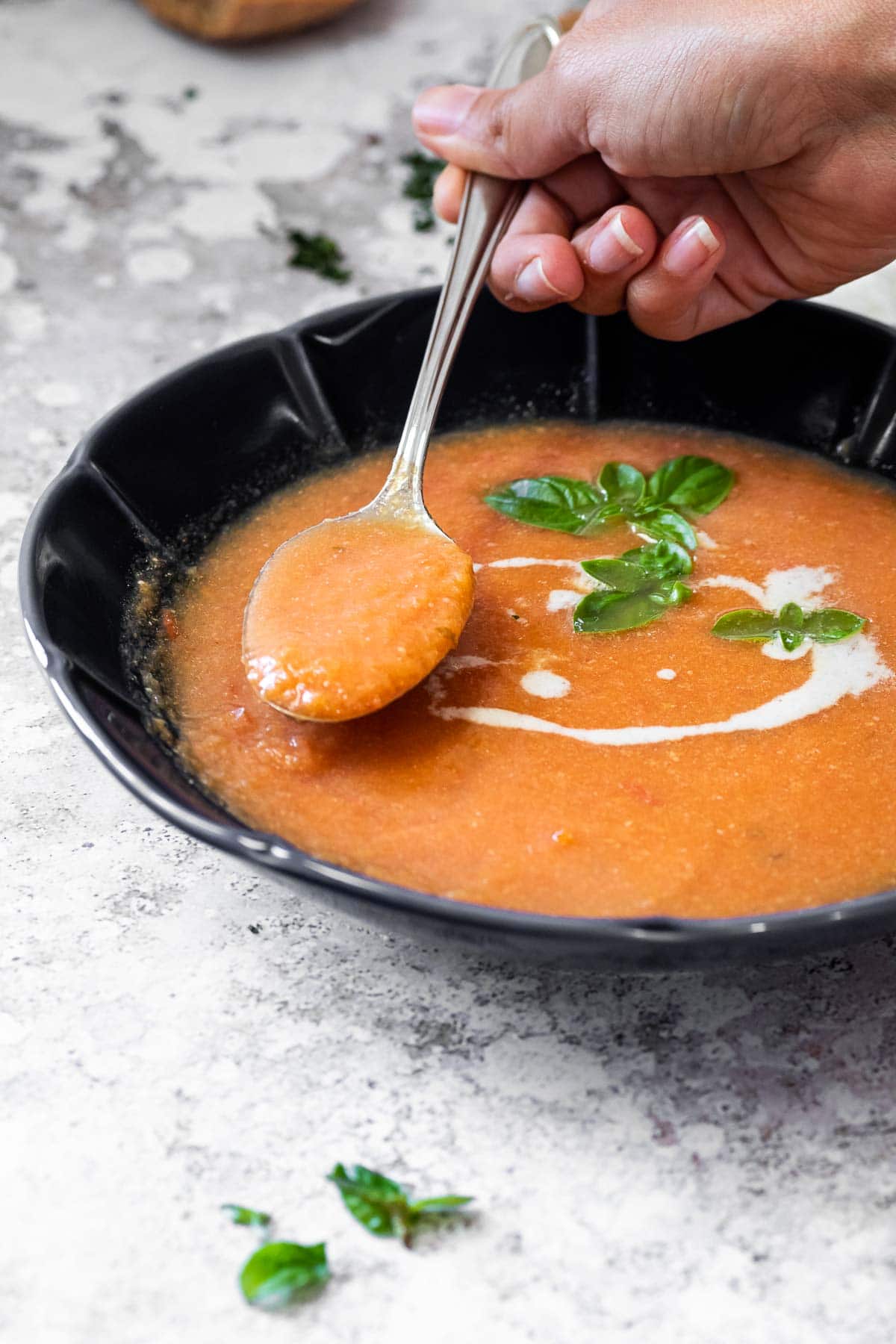 This soup pairs well with crusty bread like a crispbread, spelt bread, buckwheat bread for a gluten-free alternative.
As an Amazon Associate, I earn from qualifying purchases. This post may contain affiliate links. Read More
Jump to: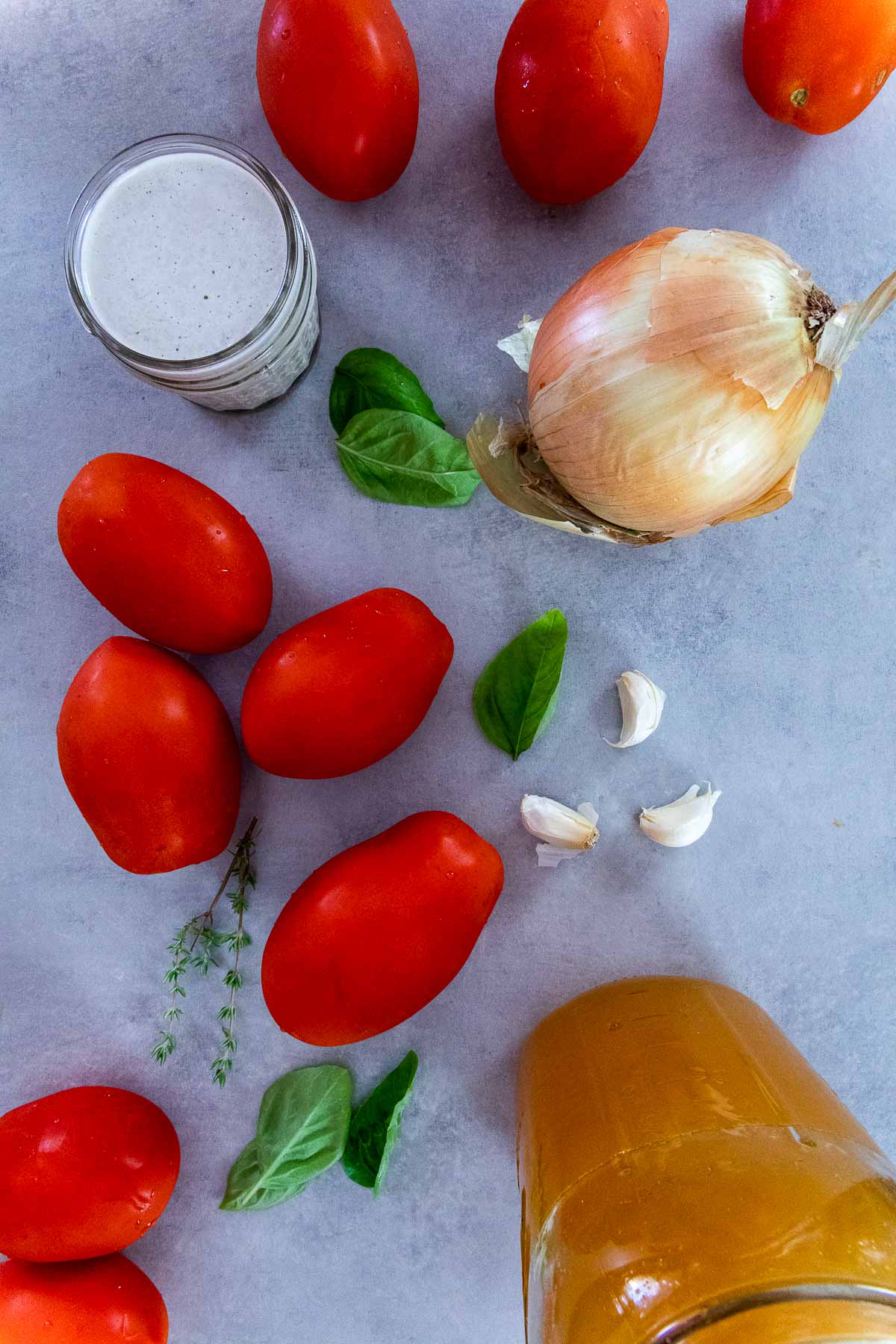 Ingredients
Let's first take a look at the ingredients in this easy vegan tomato soup recipe.
You can find the ingredients with quantities and the recipe to print out on the recipe card below.
Yellow Onions
Garlic Cloves
Whole Tomatoes
Vegetable Broth
Basil
Thyme
Smoked Paprika Powder
Raw Cashews
Black Pepper
Instructions
Start by chopping the onion and garlic cloves.
Now cook the chopped onion and minced garlic cloves in a large pot. Now and then, add a sip of water so that the onions don't burn.
While the onions are sautéing, chop the tomatoes. And prepare the cashew cream, blend the cashews and veggie broth.
Now add the tomatoes and vegetable broth, thyme, basil and smoked paprika.
Let the tomatoes simmer over medium heat for about 10 minutes, or until they are soft.
Blend the soup with an immersion blender or high speed blender.
If the soup is too watery for you, depending on the used tomato variety add a little more tomato paste.
Season the soup with pepper and sea salt.
You can decorate the soup with fresh basil and a spoonful of cream. To do this, mix more cashews as indicated in the recipe.
Peel Tomatoes
You can also peel the tomatoes if you wish. It's super easy. Cut the tomatoes crosswise on the underside and then place them in boiling water for about 1 minute.
Now, it is important that you rinse the tomatoes in cold water. To do this, put the tomatoes in cold water. You should now be able to easily peel the skin off.
It is not absolutely necessary for the soup. Because you blend them and blend the skin. I always try to save work steps so that a dish is on the table faster.
Make this tomato soup, check out my other soups like beet soup, red cabbage soup, green bean soup and my other vegan soup recipes.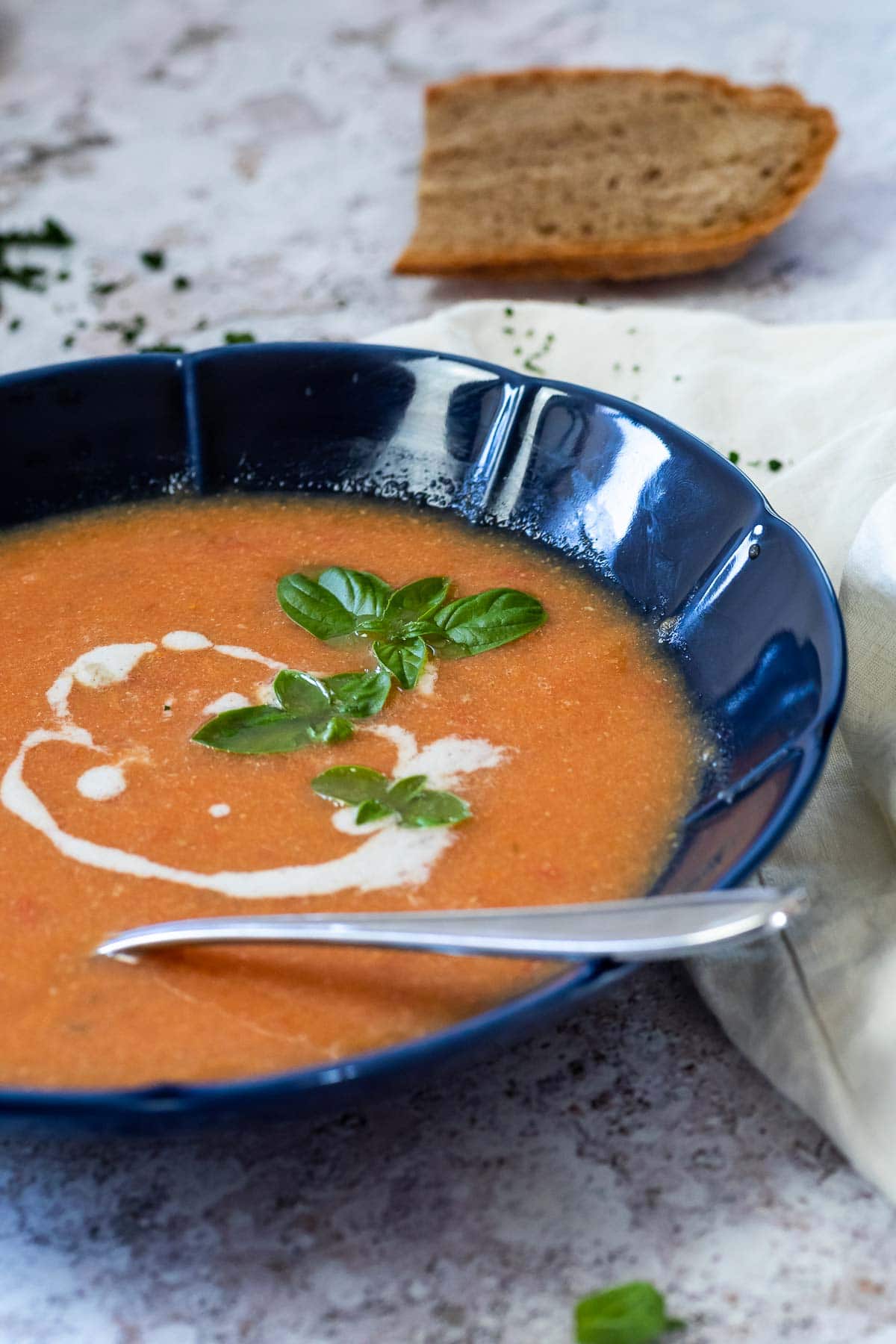 Substitutions
Onion: Instead of sautéing onions, I can very well imagine that chopped red onion or leeks tastes good with it. Simply sauté the leeks like the onion in a pot.
Garlic: The garlic gives the whole dish a special touch. If you don't like garlic, you can just leave it out for this fresh tomato soup. If you have wild garlic or garlic chive on hand, for example, you can also use some of it here. Simply add the wild garlic or chive to the soup later.
Fresh tomatoes: Fresh, sun-ripened tomatoes in summer give it a rich tomato flavor. Instead of fresh tomatoes, you can also use canned peeled tomatoes, tomato puree or diced canned tomatoes., I prefer sun ripened tomatoes they have the most tomato flavor. And you will create the best tomato soup.
Basil and Thyme: If you don't want to use basil or thyme, you can also use oregano. Oregano gives the tomato soup a great taste and is somewhat reminiscent of pizza.
Cashew Cream: For those who don't tolerate cashews or want a cheaper alternative, I recommend using sunflower seeds instead of cashews. It is important to ensure that the sunflower cream does not thicken as much as the cashews do when they are cooked. You can also use store-bought soy cream, rice cream, or even light coconut milk for a creamy texture. Adjust the amount of vegetable stock here.
Variations
I love to have some different flavor options to make my homemade vegan tomato soup in different ways.
Italian Seasoning: This will add a great Mediterranean flavor.
Cheesy: You love a cheesy flavor, add some nutritional yeast to your own taste.
Spicy: If you like spicy, add some hot sauce, cayenne pepper, red pepper flakes and the like to this vegan tomato basil soup.
Tomato Pepper Soup: Add 1 Red Bell Pepper to your soup, I love this combo very much.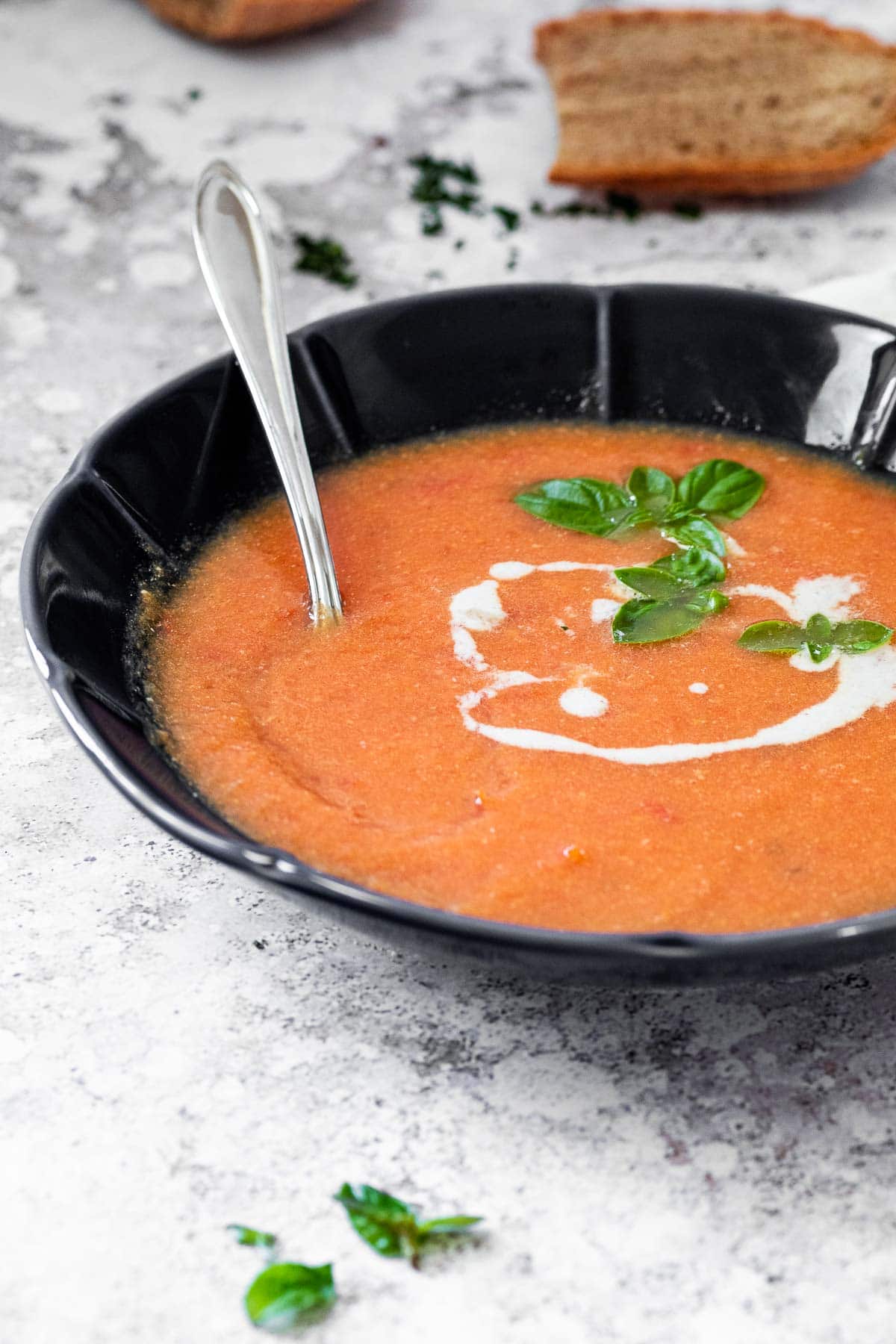 Cooking Time
The onions are sautéed for about 3 minutes and the tomatoes only need 10 minutes. As a whole, the tomato soup cooks for about 15 minutes.
Serving Options
With the soup you can serve baguette, crispbread or delicious grilled cheese sandwiches, which is often served with a creamy tomato soup in the USA. You can also serve this soup with brown rice or white rice. Top the soup with homemade vegan croutons or crispy chickpeas.
Storage
How to refrigerate it? The tomato soup can be stored in the refrigerator for about 5 days. Store them in an airtight container.
How to freeze it? You can freeze the soup in a freezer-safe container for about 3 months. I recommend you to freeze the soup in portions. So you can always take them out in portions as you need them.
How to reheat it? Let the soup thaw in the refrigerator. To do this, put them in the fridge the evening before. You can heat the vegan tomato soup on the stove over medium heat or briefly put it in the microwave. This tomato soup also tastes great cold. Like the Spanish tomato soup gazpacho. Gazpacho is served classically cold, which is a great, refreshing soup, especially in summer.
Meal Prep: You can prepare this soup, for example, as a meal prep on Sunday for the week. It's also great for freezing and has a quick meal at hand.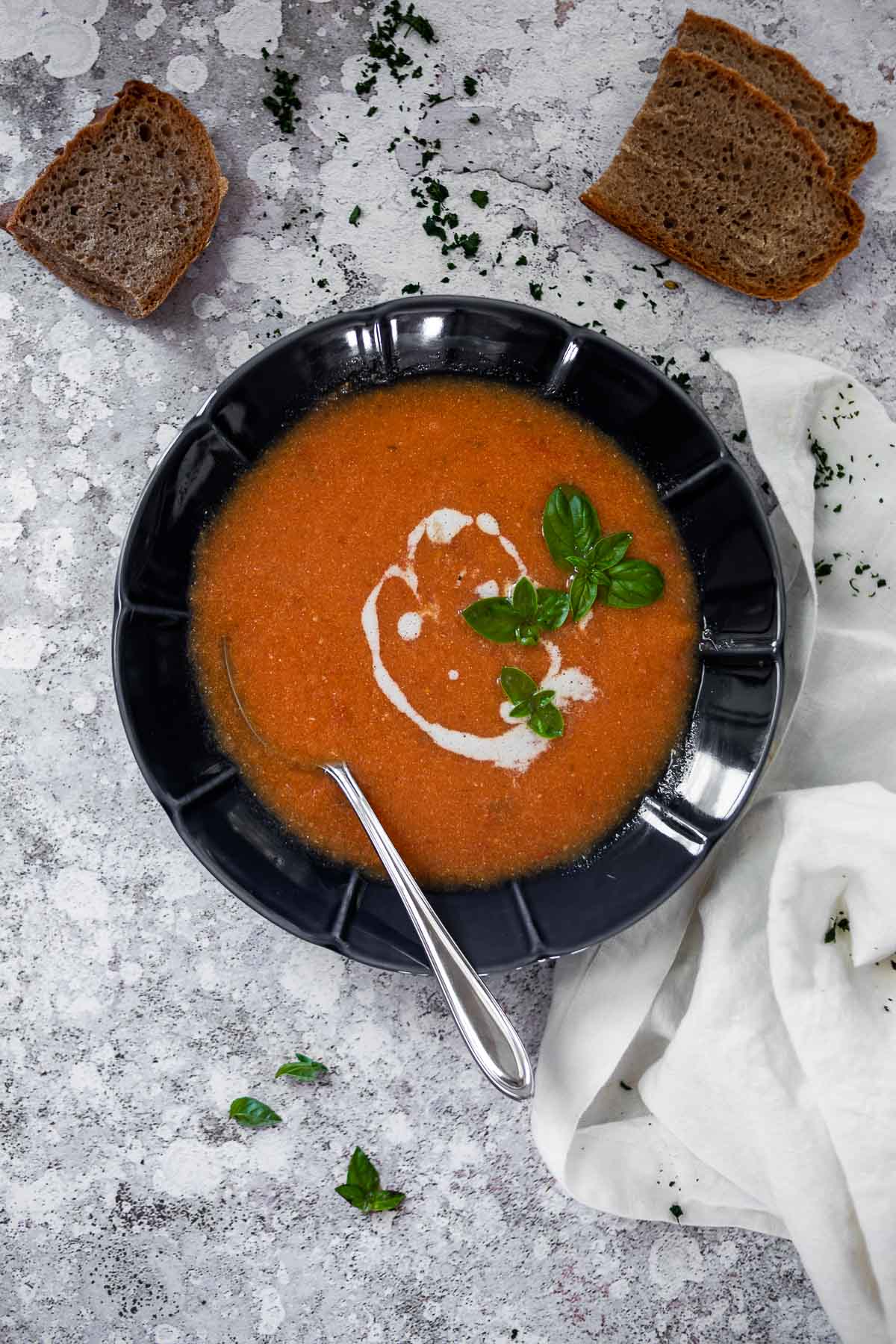 Tips
If you want the soup to be thicker, add half of the vegetable stock first and add a little more later if necessary.
You can also add more cashew cream if you want the soup to be even creamier.
Use fleshy tomatoes to make this creamy vegan tomato soup.
If the soup is not tomatoey enough for you, add 1-2 tablespoons of tomato paste