This delicious, hearty vegan split pea soup made from split peas, potatoes, carrots, leeks, celery and the right aromatic herbs and spices is a real taste experience.
This pea soup recipe is gluten-free, plant based, oil-free, wfpb and can be prepared in no time.
With this vegan split pea stew, I'll show you cooking methods for a slow cooker, pressure cooker (Instant Pot) and normal pot.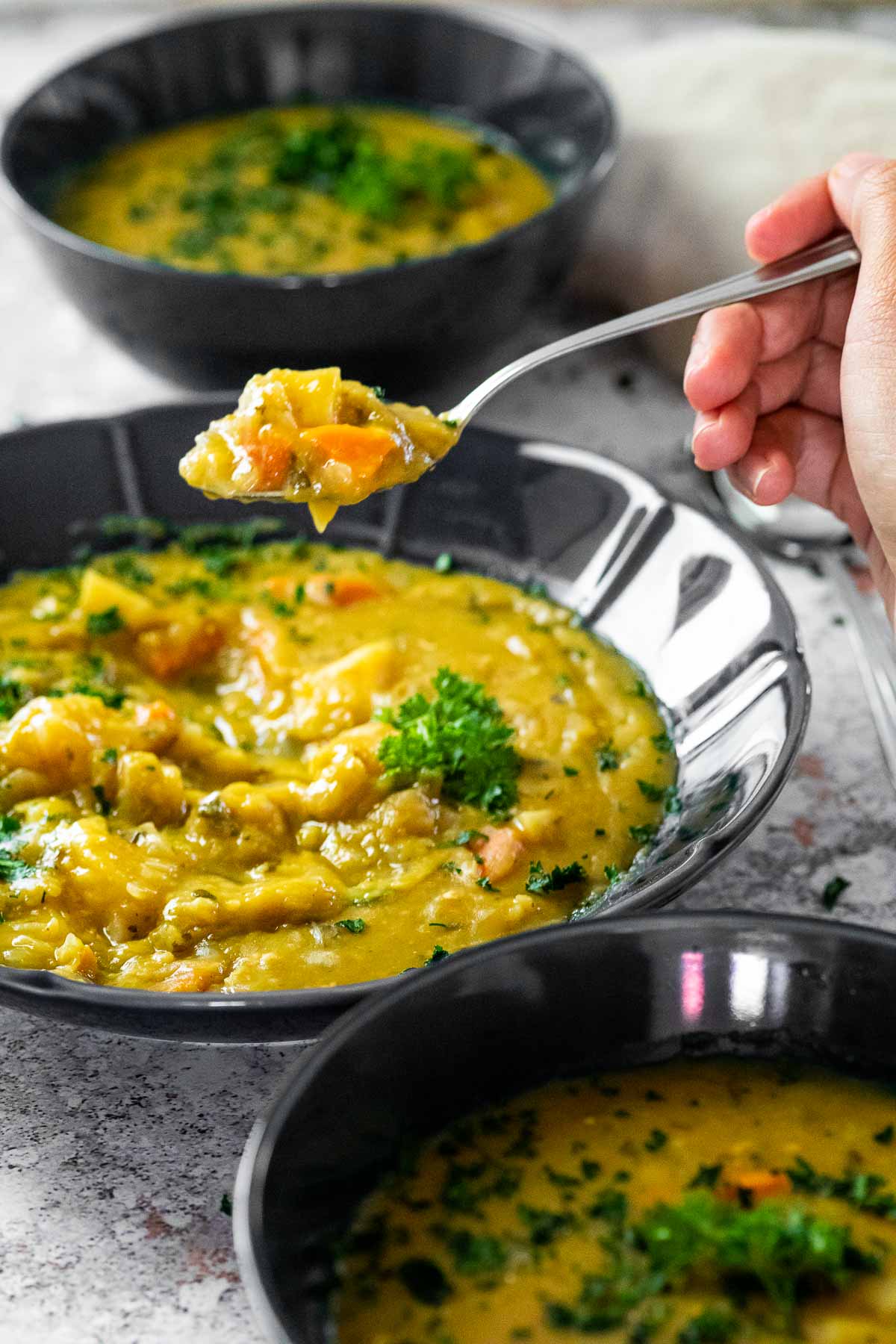 As an Amazon Associate, I earn from qualifying purchases. This post may contain affiliate links. Read More
Jump to:
This vegetarian split pea soup has a full, smoky taste, which is suitable for a cozy dinner.
You have found a vegetarian split pea soup recipe here, which is prepared without bacon. And yet you don't have to miss the smoky taste.
Especially in the cold season, I can't get enough of warming stews like this one. And I'm happy when I can prepare such a soup in no time at all. I prefer to use the pressure cooker or slow cooker method.
With this recipe I would like to show you how to make a vegan split pea soup and show you tips and tricks as well as substitution options.
Let's take a look at which ingredients are actually contained in the pea soup before I go into substitution options.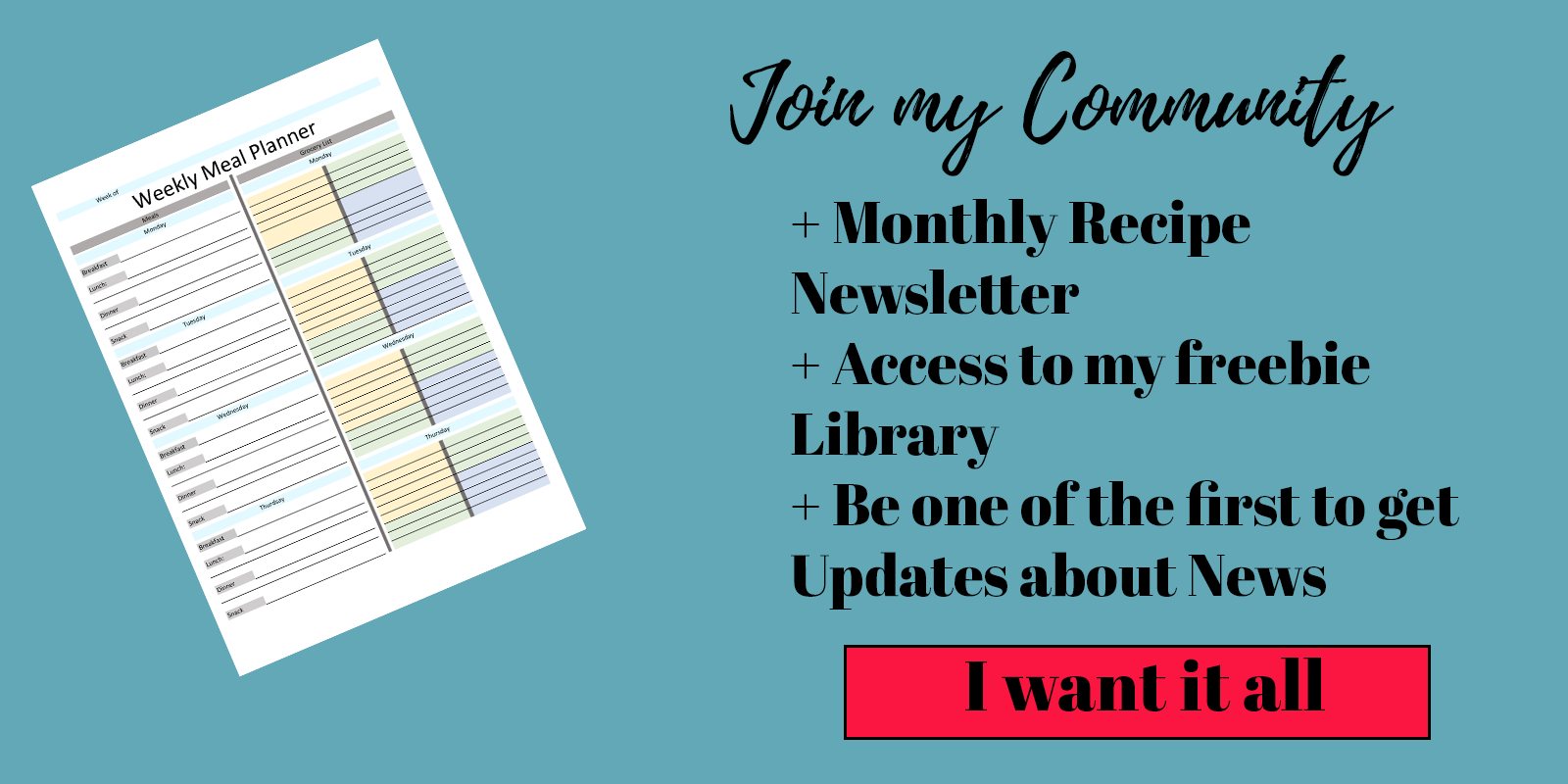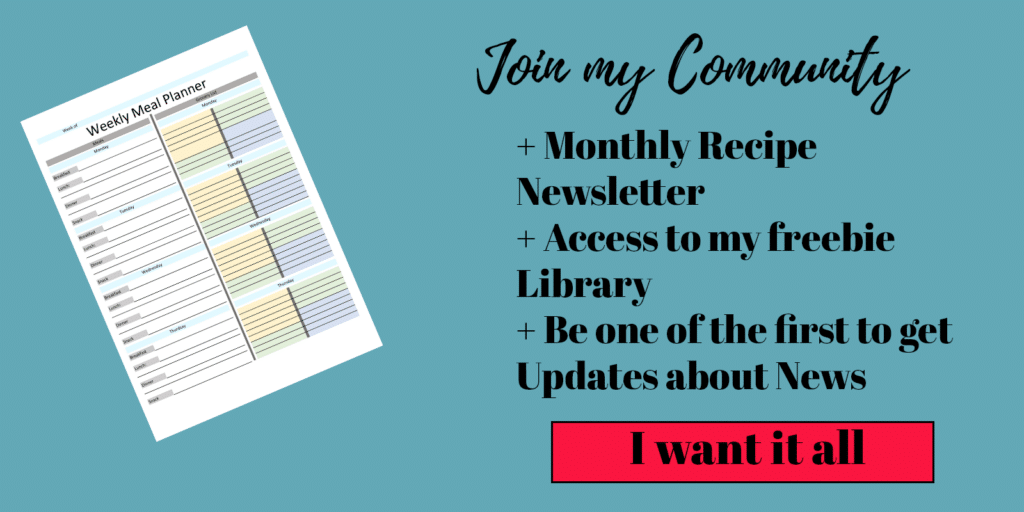 Ingredients
This vegan pea soup consists of the following ingredients. You can find the exact quantities below in the recipe card!
Split Peas
Celery Root
Carrots
Leek
Onions
Potatoes
Marjoram
Parsley
Smoked Paprika Powder
Vegetable Broth
White Pepper
Apple Cider Vinegar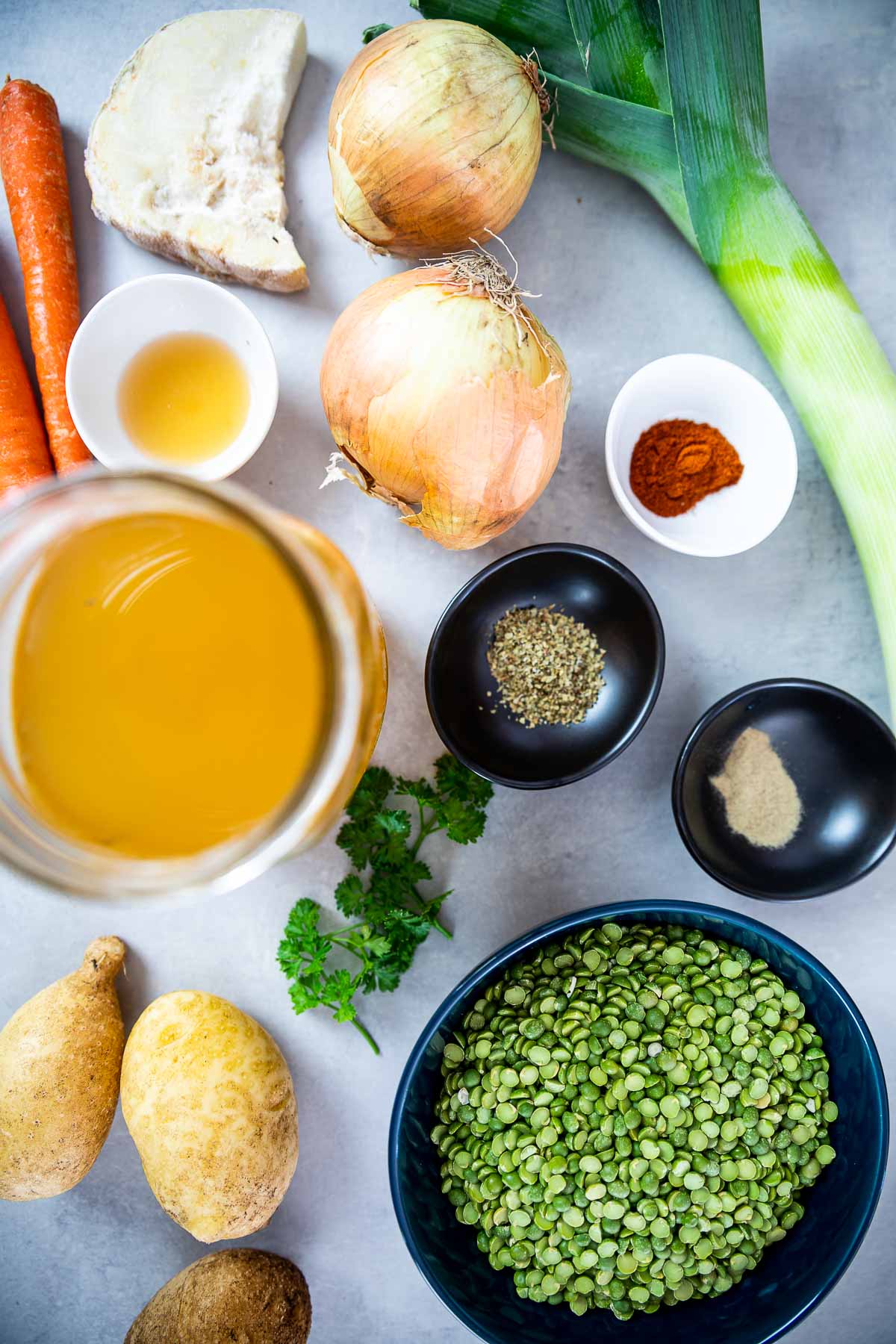 Substitutions
Here I would like to show you which ingredients you can replace or leave out.
Celeriac Substitute
If you don't have celery root at home, you can use celery. Here you can then use 2 celery stalks and dice them into small cubes.
Leek
You can omit the leek or replace it with onions. The leek gives the soup a special taste.
If you can only buy the leek in bundles, I can recommend that you cut all leeks and freeze them. Then you always have leeks at hand.
Potatoes
I haven't tried it yet, but I can also imagine that pumpkin, butternut or Hakkaido, or sweet potatoes, taste good.
Apple Cider Vinegar
If you are not using vinegar, you can also use lemon juice or lime juice here. This gives the soup a great taste.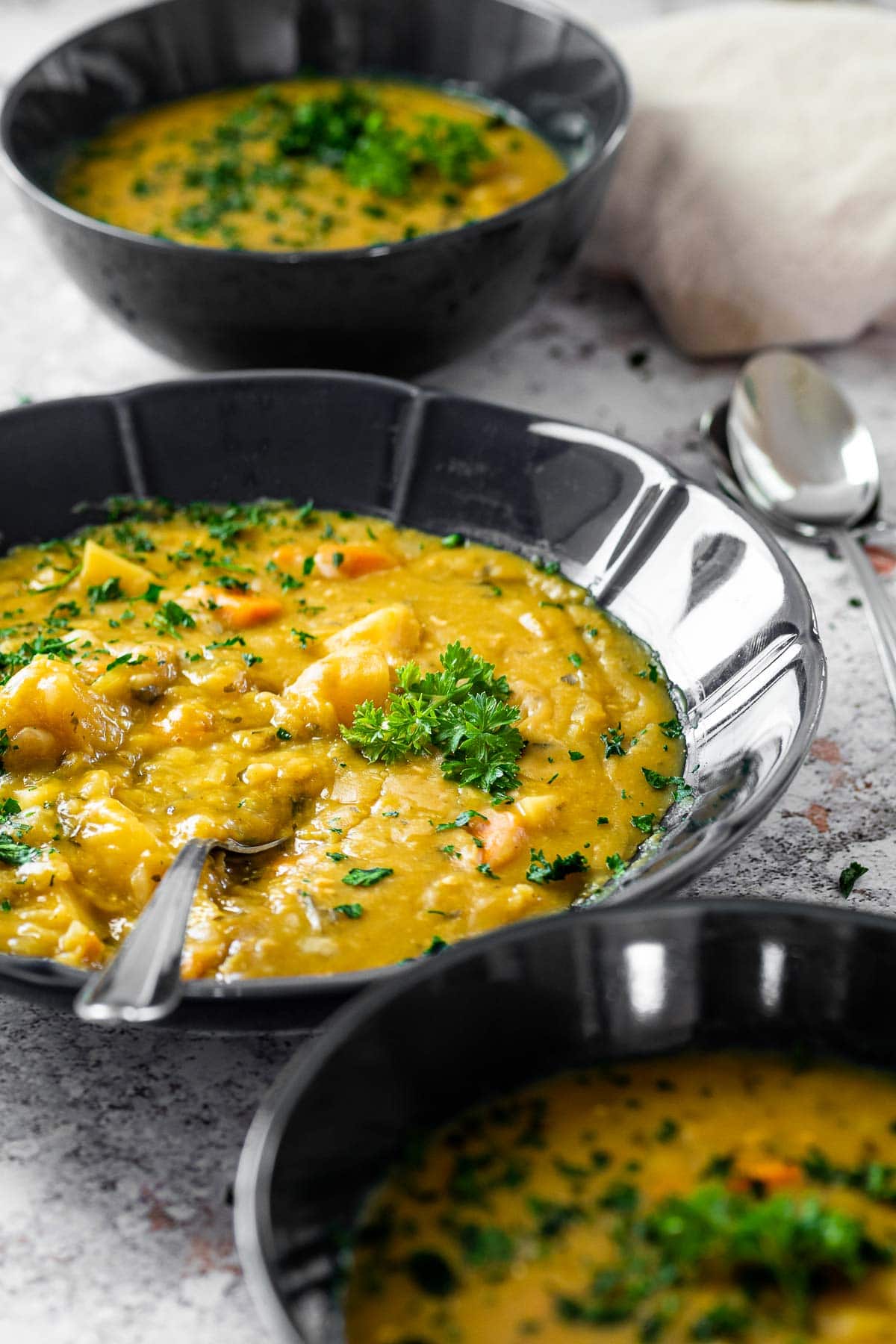 Variations
Now let's take a look at different diets and how you can adapt the vegan split pea soup.
Gluten free
This vegan soup is already gluten-free. You don't have to adjust anything here. You have a great gluten-free vegan split pea soup that you can also prepare in large quantities.
Paleo
After my research, it's up to you whether you want to eat the peas or not. Dried peas have a higher phytate content than fresh ones.
You could also use fresh peas, these will probably not be as creamy as with split peas.
Keto
Peas are relatively high in carbohydrates, so even if these are healthy they are not keto friendly.
Since this soup consists mainly of peas, I cannot recommend a substitute.
But if you feel like a soup now, I can recommend this cauliflower soup or this green bean soup, for example.
Instruction
Finely dice the celery, carrots, and onions. Cut the leek into slices.
Fry the vegetables, celery root, carrots, onions and leeks in a sufficiently large saucepan.
Add some water and add a little more when it starts to turn brown. Repeat until the onions are lightly brown in color.
In the meantime, dice 3 potatoes.
Add the split peas, vegetable stock, diced potatoes, marjoram, chopped parsley, white pepper, smoked paprika.
Let it cook on medium heat for about 1 hour. Keep stirring every now and then.
Season the pea soup with apple cider vinegar, sea salt and pepper.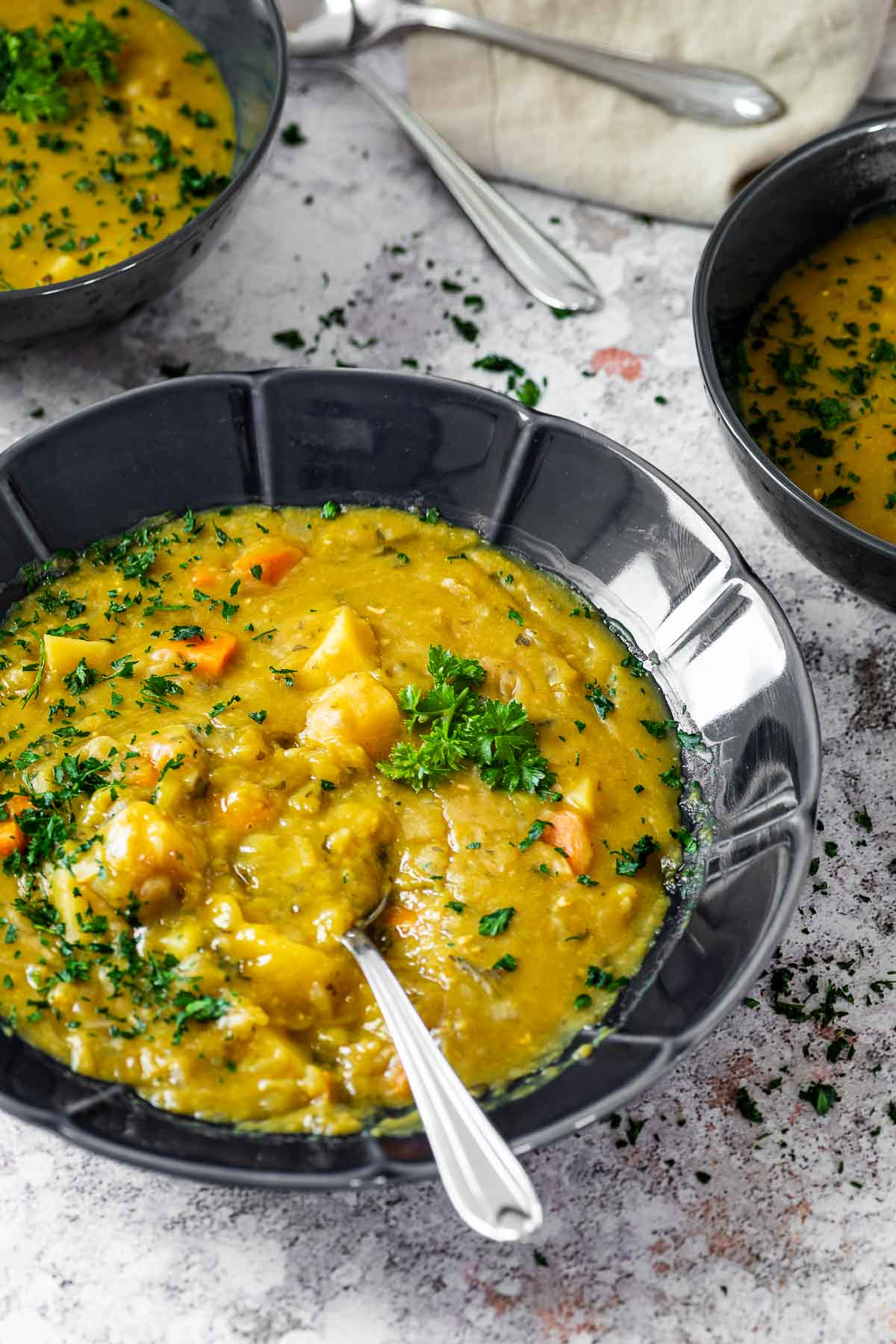 Pressure Cooker Method (Instant Pot)
Proceed as described above. Only the cooking time changes here.
If you are using a pressure cooker, let the soup boil under pressure for about 30 minutes. Then release the pressure naturally for 10 minutes.
To do this, take the pressure cooker off the stove or leave the lid of the instant pot closed. After ten minutes, slowly release the remaining pressure until you can open the pressure cooker again.
Slow Cooker Method
Set the slow cooker to the highest setting and first saute the onions, leeks and celery as described in the instructions.
Now add all the remaining ingredients and let it cook on low for about 8-10 hours on low setting. You can saute the onions the evening before and throw everything into the slow cooker the next morning and your soup is ready in the evening.
You could also let the soup cook overnight and then you'll have a great lunch without a lot of work.
Then season the split pea soup to your own taste buds.
Advance Preparation
You can also prepare the soup in advance. It can be frozen and can be stored in the refrigerator. The vegan pea soup is suitable as a meal prep.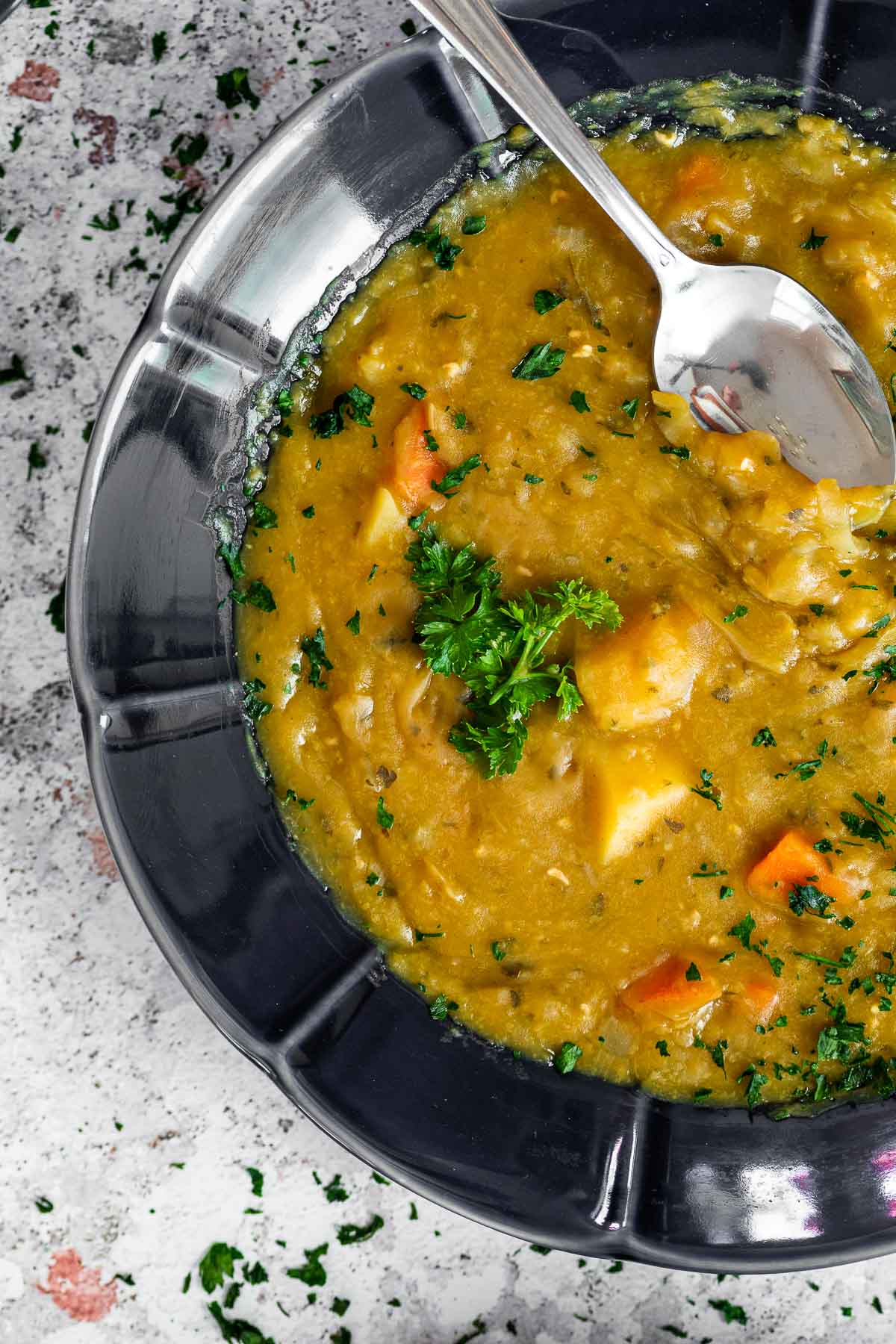 Serving Options
Basically, you don't have to serve anything with the soup. This pea soup is a complete meal. But if you want to serve something with it, I recommend the following.
Bread: You can serve the soup with bread, baguette, crispbread or flatbread or soft American Dinner rolls, for example.
Topping: Top the soup with crispy kale chips, crispy chickpeas, coconut bacon or croutons.
How to Store
How to refrigerate it?
Leftovers of the pea soup can be kept in a sealed container in the refrigerator for about 5-6 days.
How to freeze it?
This soup is great to freeze. Use freezer-friendly containers and freeze in portions. The soup will last for about 2-3 months. I recommend freezing them in portions, so you can always thaw what you need.
How to reheat?
Let the soup thaw in the refrigerator overnight and heat it in a pot over medium heat.
Or heat the soup in the microwave. And stir with both methods from time to time so that the soup becomes evenly hot.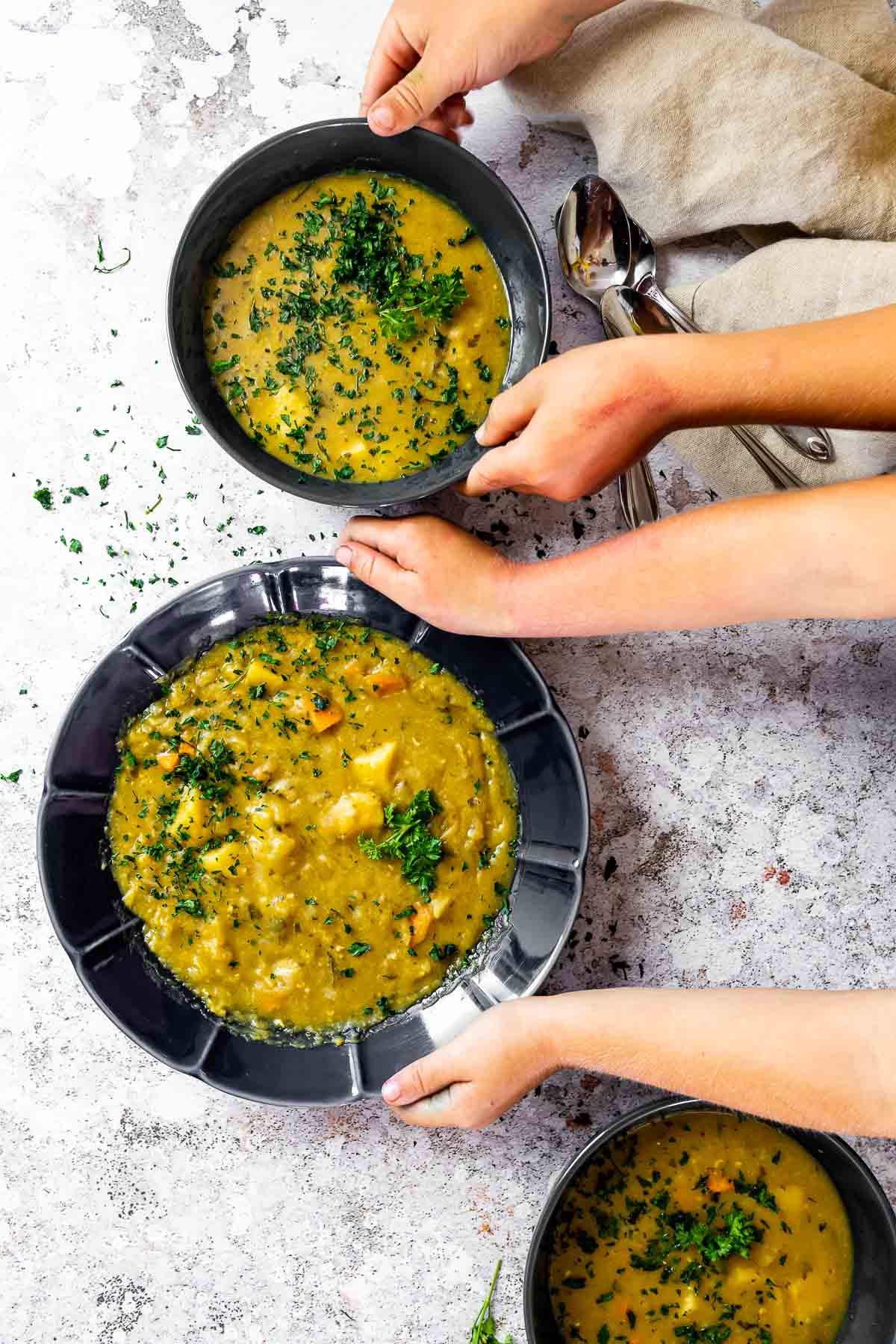 Tips
If you want the soup creamier, use a hand blender and roughly puree.
You can also add smoked salt or smoked tofu to make it even smokier.
Prepare larger quantities and freeze some of them so that you can quickly have healthy food on hand, especially when things have to go quickly.
You can serve this vegan pea soup as a main course or as a starter.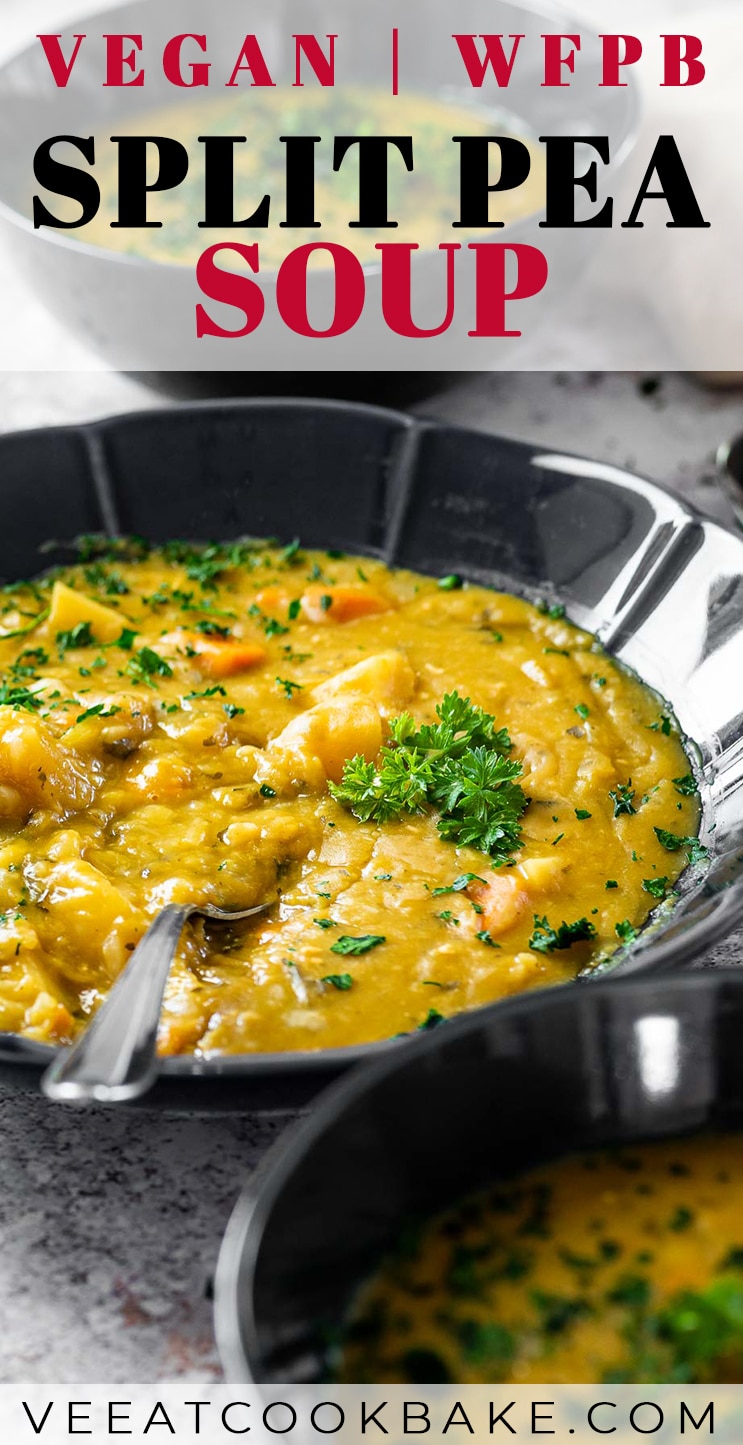 Have you tried the recipe?
If you tried the vegan Recipe, be so nice ♥ and let me know by rating the recipe and writing what you think about it in the comments. I would love to see your photo on Instagram or Facebook. To do this tag me with @veeatcookbake and my hashtag is #veeatcookbake. So that I can see your creation. Did you know you can add photos on Pinterest under the recipe Pin? I can't wait to see a photo of your creation there. You find me with @veeatcookbake.