A vegan aromatic soup that tastes like Hungarian goulash. With the right spices, we get an authentic goulash, also known as gulyás, that is hearty, warming, and perfect for a weekday dinner.
Especially in the cool fall and winter, this vegetarian goulash recipe is the perfect dish for warming up. This light goulash is oil-free, naturally gluten-free and really super easy to prepare.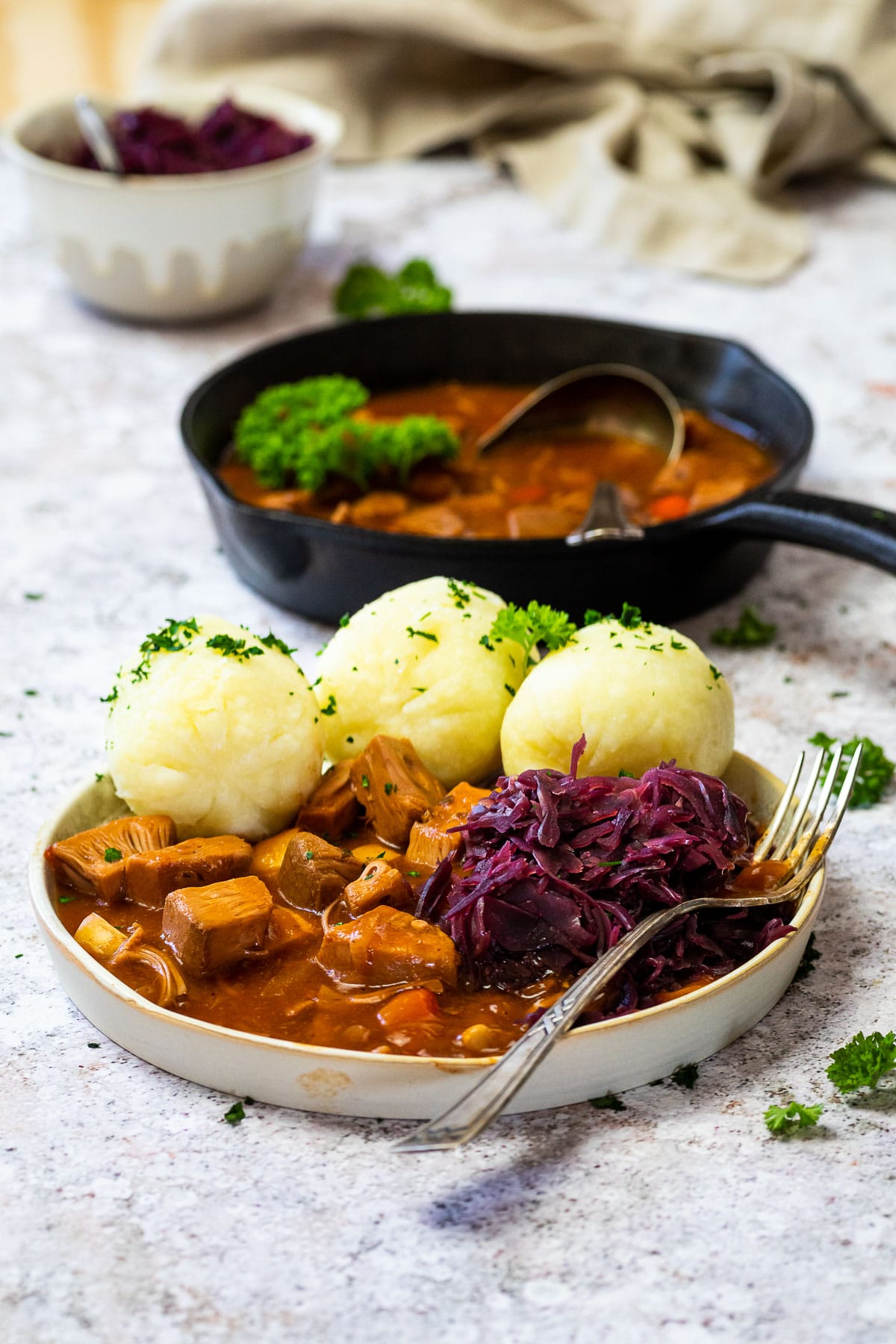 As an Amazon Associate, I earn from qualifying purchases. This post may contain affiliate links. Read More
Jump to:
The recipe is:
varied with various side dishes.
the perfect Sunday lunch or Thanksgiving/ Christmas dinner.
just super delicious.
You can find an herbal version of the classic Hungarian meat stew here. This ragout dish, originating in Hungary, is prepared in a pot and a stew that the whole family will love.
But it's not that easy, I will show you here what the goulash makes so special, how the stew unfolds its full taste.
I promise you, the recipe is totally easy to prepare and once everything is in the pot, it only needs to simmer.
Jump to:
Classic goulash
The basis of classic goulash is made from fresh bell peppers, onions, garlic, pork or beef and goulash-typical spices such as marjoram, thyme, paprika powder, and chipotle powder.
In Hungary, the gulyás is served as a goulash soup.
With coordinated spices and the right meat alternative, we can create a vegan goulash that tastes tasty and hearty.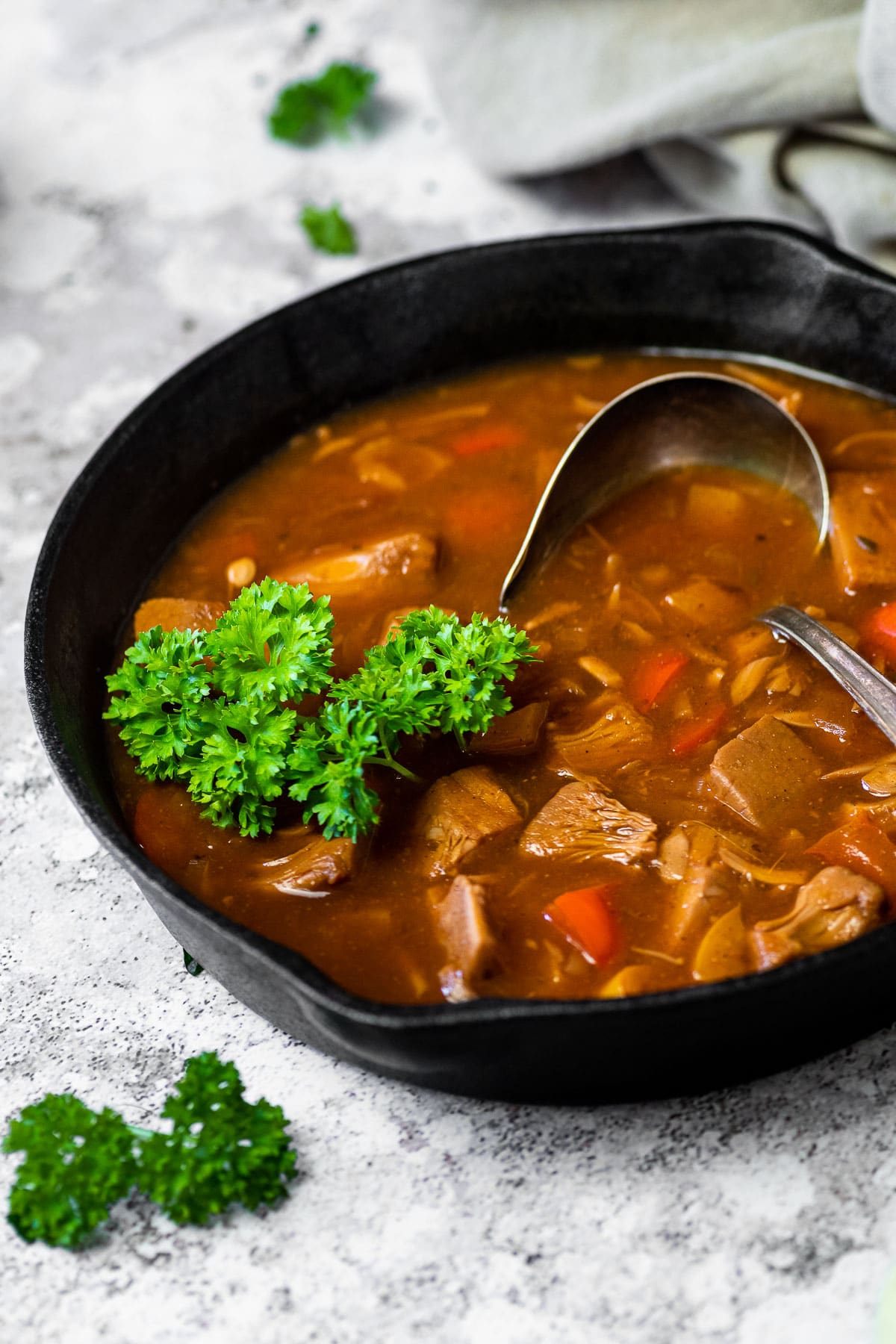 American Goulash vs. Hungarian Goulash
Have you ever heard of American goulash and maybe asked what the difference is?
I have to say that when I am talking about Hungarian goulash, most Americans with whom I am talking think that it is a ground meat dish.
And this is exactly one of the biggest differences between the two dishes. American goulash is a pasta dish that is traditionally made with ground meat and a tomato sauce and is cooked in one pot.
With the Hungarian goulash, pieces of meat are braised and a kind of gravy is prepared with paprika, which is then eaten as a stew in Hungary.
In Germany e.g. we often serve it with pasta, potatoes or potato dumplings.
The most important part is coming and I would like to explain to you in detail how we prepare the Hungarian goulash.
With a few tips and tricks and alternatives you can conjure up a great hearty vegan goulash.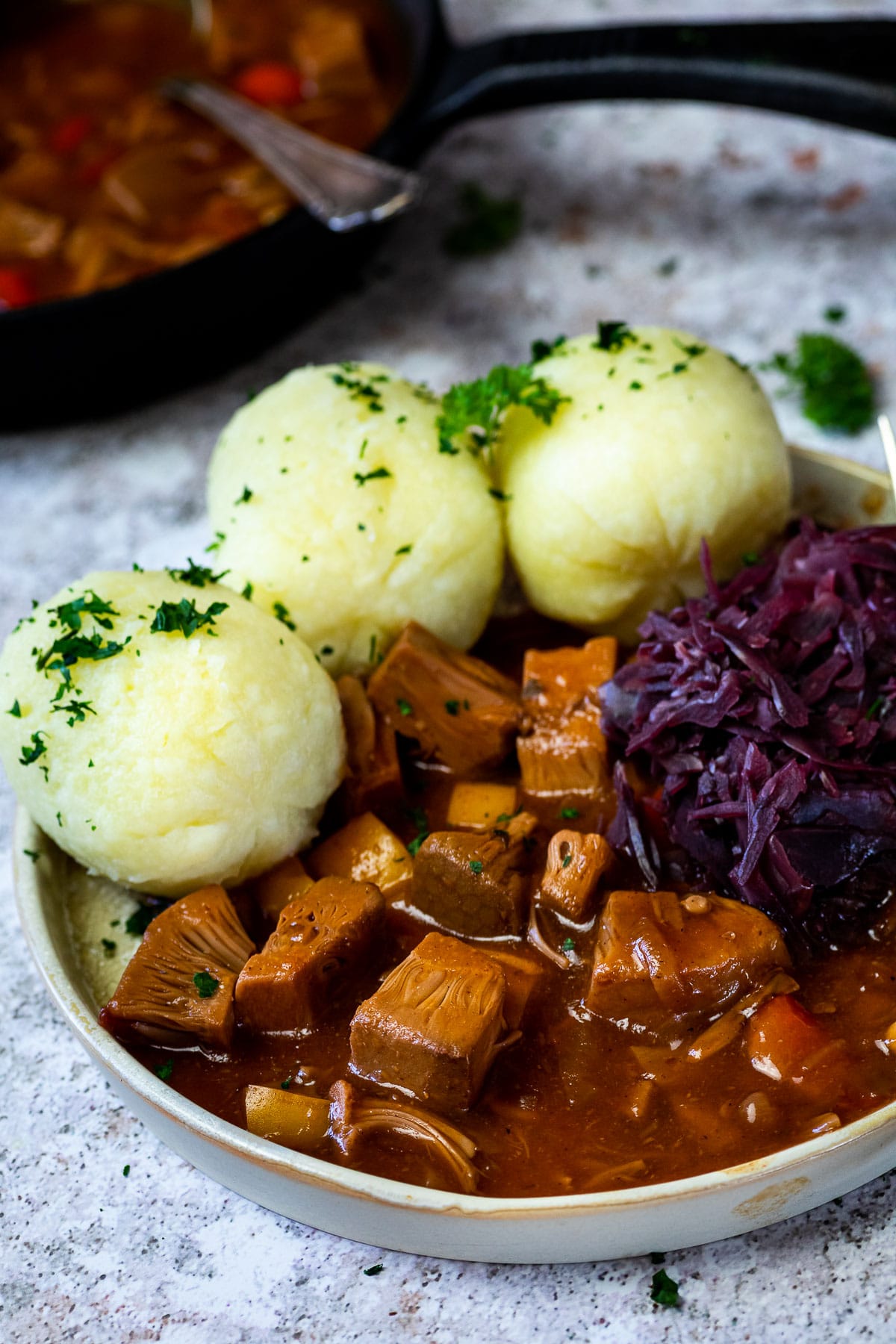 Ingredients
Are you curious and want to know what's in this delicious stew? Here I show you a brief overview.
You can find the exact quantities of the individual ingredients further down in the recipe card.
Jackfruit in brine
Onion
Garlic Cloves
Peppers
Red Wine
Vegetable Broth
Soy Sauce
Tomato Paste
Onion Powder
Garlic Powder
Caraway Seeds
Lemon Zest, grated organic
Sweet Paprika Powder, Hungarian
Bell Pepper, hot
Nutritional Yeast
Thyme
Marjoram
Rosemary
Lemon Juice
Smoked Paprika
Salt, to season
Potato Starch
Water
Don't be put off by the long list of spices. We need these to get the full flavor experience.
Despite the many spices, the dish does not become more complex. In principle, the spices are all added at once, making it even easier.
Substitutions
Jackfruit
Do you not like jackfruit or don't find jackfruit where you live? No problem. Here I also have an alternative for you.
Buy king oyster mushrooms and cut them into rough cubes. You can also shred a few with a fork and get fibers like overcooked goulash, which is soft and falls apart.
King oyster mushrooms have this great feature, because the stem is nice and thick and can be easily torn apart with a fork.
What you can do if you don't have enough jackfruit at home, replace some of the jackfruit with these mushrooms.
Red Wine
You don't want to use red wine? No problem. I have to say that red wine gives a really great taste and makes this vegan Hungarian goulash so incredibly hearty.
You can also replace the red wine with about 4 tablespoons of balsamic vinegar. Only add this towards the end. It does not have to extinguish the goulash.
If you don't want to use red wine because of the alcohol, an alcohol-free red wine might be the right thing for you to quench the dish.
By extinguishing with red wine, the jackfruit or the mushroom gets a super great dark color that makes the Hungarian goulash so authentic.
Potato Starch
The potato starch is used to thicken the goulash sauce. If you don't want to use starch, I recommend finely mash overcooked, floury potatoes, like mashed potatoes and fold them in.
Here I would start with a small potato.
Starchy potatoes have a lot of starch, which bind the sauce and make it thicker.
Soy Sauce
For example, if you don't want to use soy and some soy sauces contain gluten, you can use tamarind for a gluten-free alternative.
Use coconut aminos for a soy-free alternative. Here you can replace 1:1.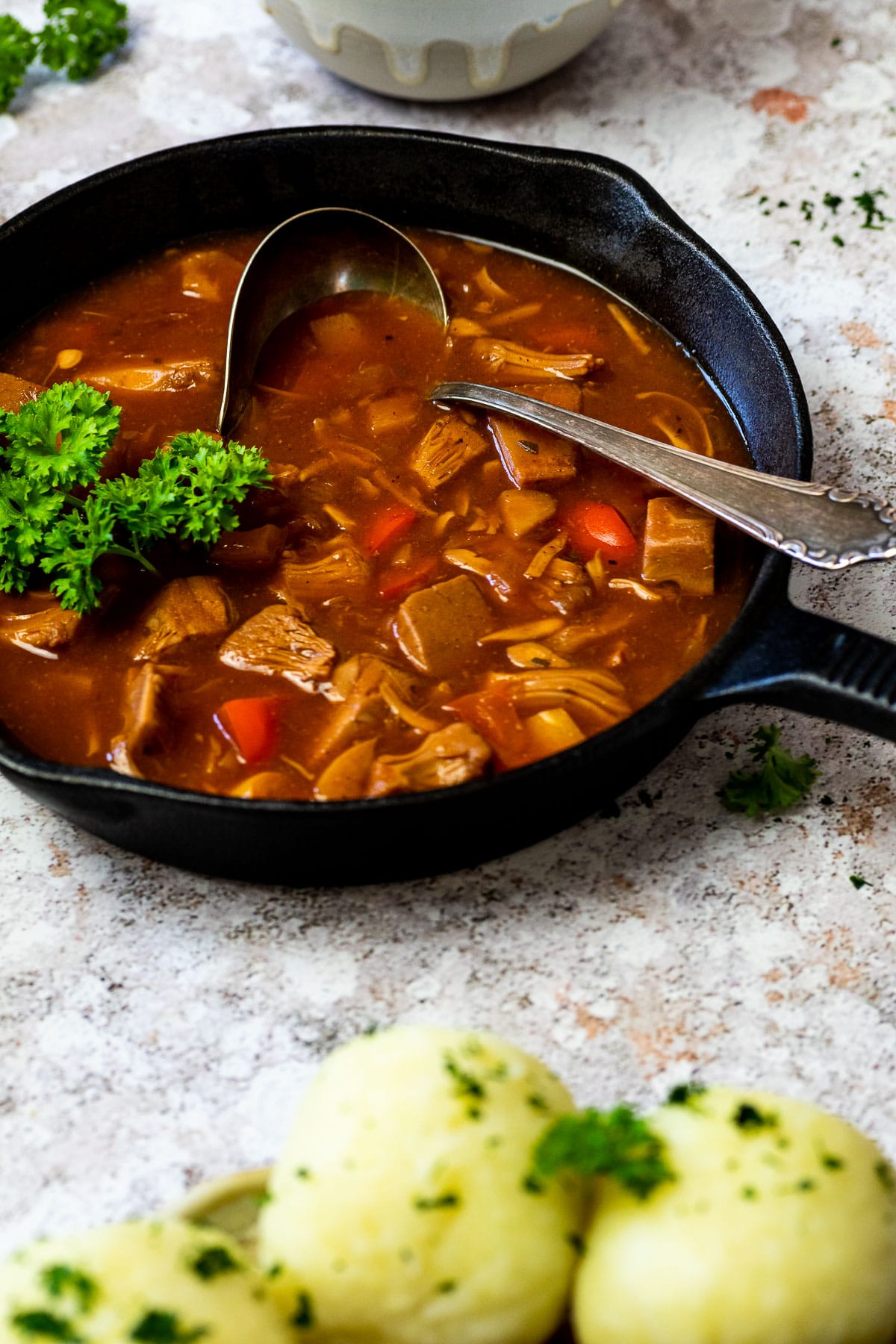 Instruction
Start rinsing the jackfruit and remove the hard core. Cut the jackfruit into bite-sized pieces.
Now cut the onions into fine cubes, as well as the garlic.
Stew the onions and garlic in a pan. Add a sip of water every now and then. When these turn brownish, add the jackfruit. Add the spices and let the jackfruit braise until they get a nice color on the outside.
Now glaze the jackfruit in sips with red wine. Take the red wine and add so much that the bottom of the pan is just covered.
When it is cooked off, add a little red wine again. You do this until the red wine is used up.
In the meantime, cut the peppers into coarse cubes that are bite-sized. Add this to the jackfruit after the red wine has been used up and briefly fold it in and let it simmer for about 2 minutes.
Now add the vegetable broth and soy sauce and let them simmer on medium heat for about 1.5 hours.
Season the sauce again. If necessary, add a few spices.
Stir the potato starch into the 60 ml of water and slowly add it to the sauce. Stir the goulash constantly. It should thicken immediately.
Pressure Cooker Variant:
Proceed as described in the recipe above. Instead of cooking for 1.5 hours, you can cook the goulash under pressure for 25 minutes and then take it off or turn it off.
Wait until the pressure is gone before opening the pot.
Little anecdote. I once cooked soup in a pressure cooker and opened the pot too early and the whole hot soup came towards me and burned my hands. That was not fun. But I was lucky it wasn't that deep.
If you use a pressure cooker on the stove, make sure that the valve is down and if the lid does not open easily, wait a little longer.
With the instant pot (electric pressure cooker), you should also make sure that the pressure is gone before you open the lid.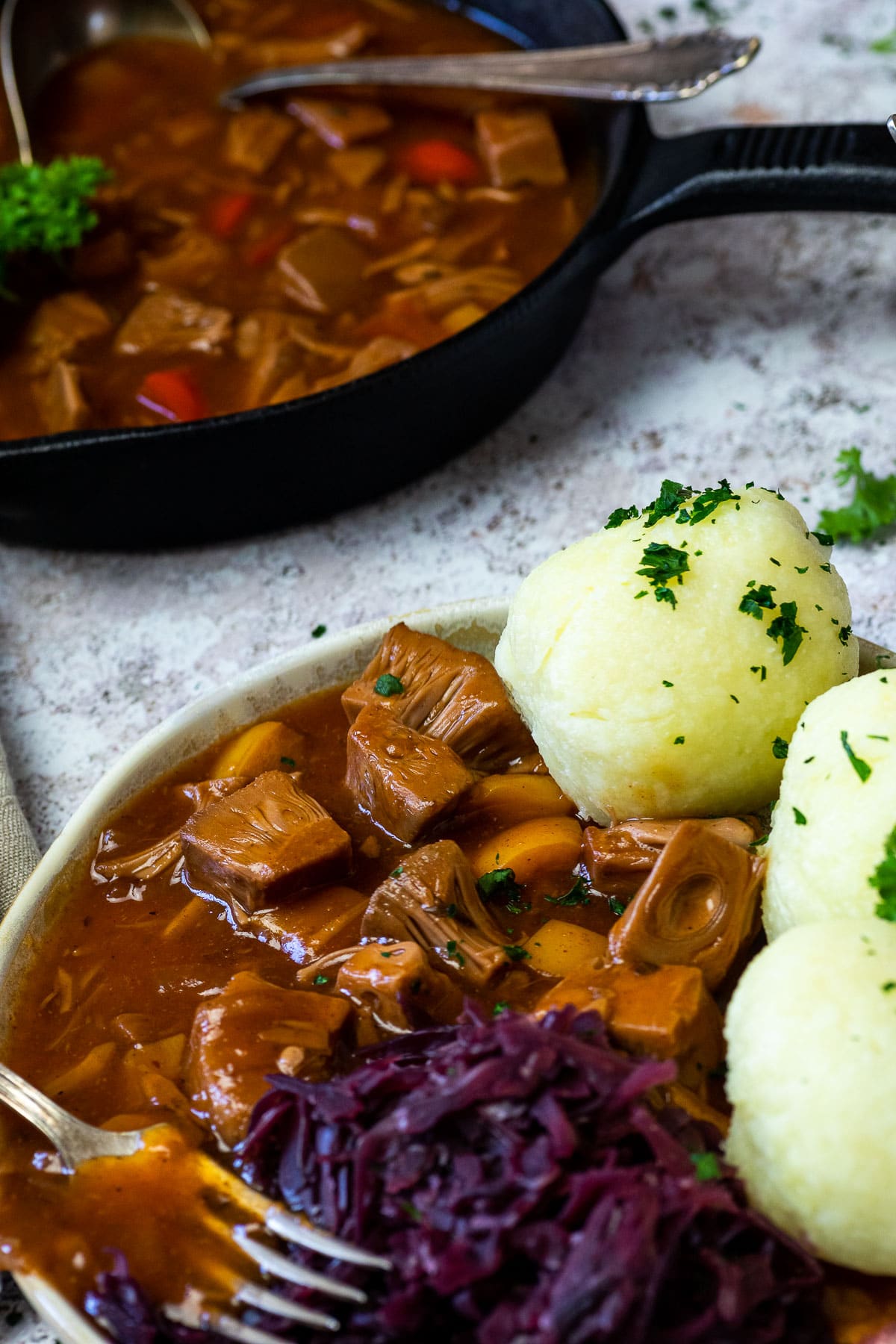 Serving Options
There are various side dishes that you can use to serve your vegan goulash.
Vegetable Side Dish:
Red Cabbage, German Rotkraut
Steamed Carrots, Peas and Cauliflower
Side Salad
Other Sides
As you can see, a goulash can be very varied.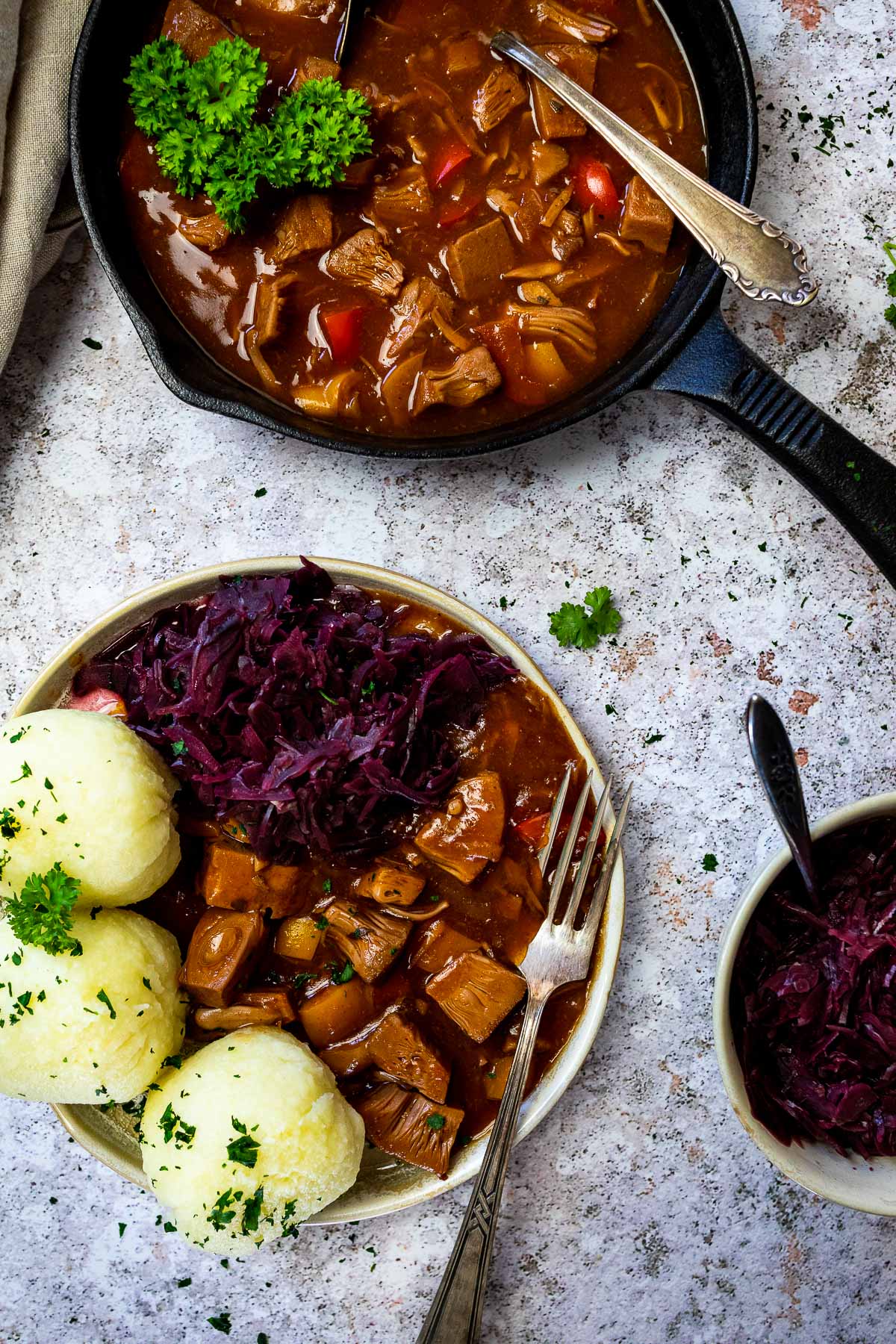 Storage
I will show you here storage options if you have leftovers or you have cooked in large quantities.
Fridge
The vegan Hungarian goulash is great to store in the fridge, just put the goulash in a closed container and put it in the fridge when it cools down, and the goulash will keep for 4-5 days.
Reheat
You can either slowly reheat your goulash in a saucepan on the stove. Or you can heat it in the microwave.
Freeze
You cooked too much to eat within 4-5 days. Then freeze your vegetarian goulash in portions. To do this, let it cool in small containers and then freeze it.
Thawing and Reheating
Just take the goulash out of the freezer an evening before and let it thaw in the fridge. So you can warm it up as above.
You can also put it frozen in a saucepan and then slowly thaw it on a low heat, then warm it up.
More Vegan Recipes:
Have you tried the recipe?
If you tried the vegan Recipe, be so nice ♥ and let me know by rating the recipe and writing what you think about it in the comments.  I would love to see your photo on Instagram or Facebook. To do this tag me with @veeatcookbake and my hashtag is #veeatcookbake. So that I can see your creation. Did you know you can add photos n Pinterest under the recipe Pin? I can't wait to see a photo of your creation here. You find me with @veeatcookbake.
Jump to: