Are you looking for a hearty and delicious vegan chili recipe with loads of flavor without sacrificing time in the kitchen? Look no further! This Vegan White Bean Soup recipe is quick, creamy, full of texture and bursting with flavor.
It's also oil-free and gluten-free, making it a great option for anyone following an oil-free diet or needing to stick to a gluten-free meal plan. Plus, this soup only takes about 30 minutes from start to finish, so you can easily enjoy comfort food anytime - even on busy nights!
So grab your favorite pot and let's get started cooking up this mouthwatering one-pot white bean chili.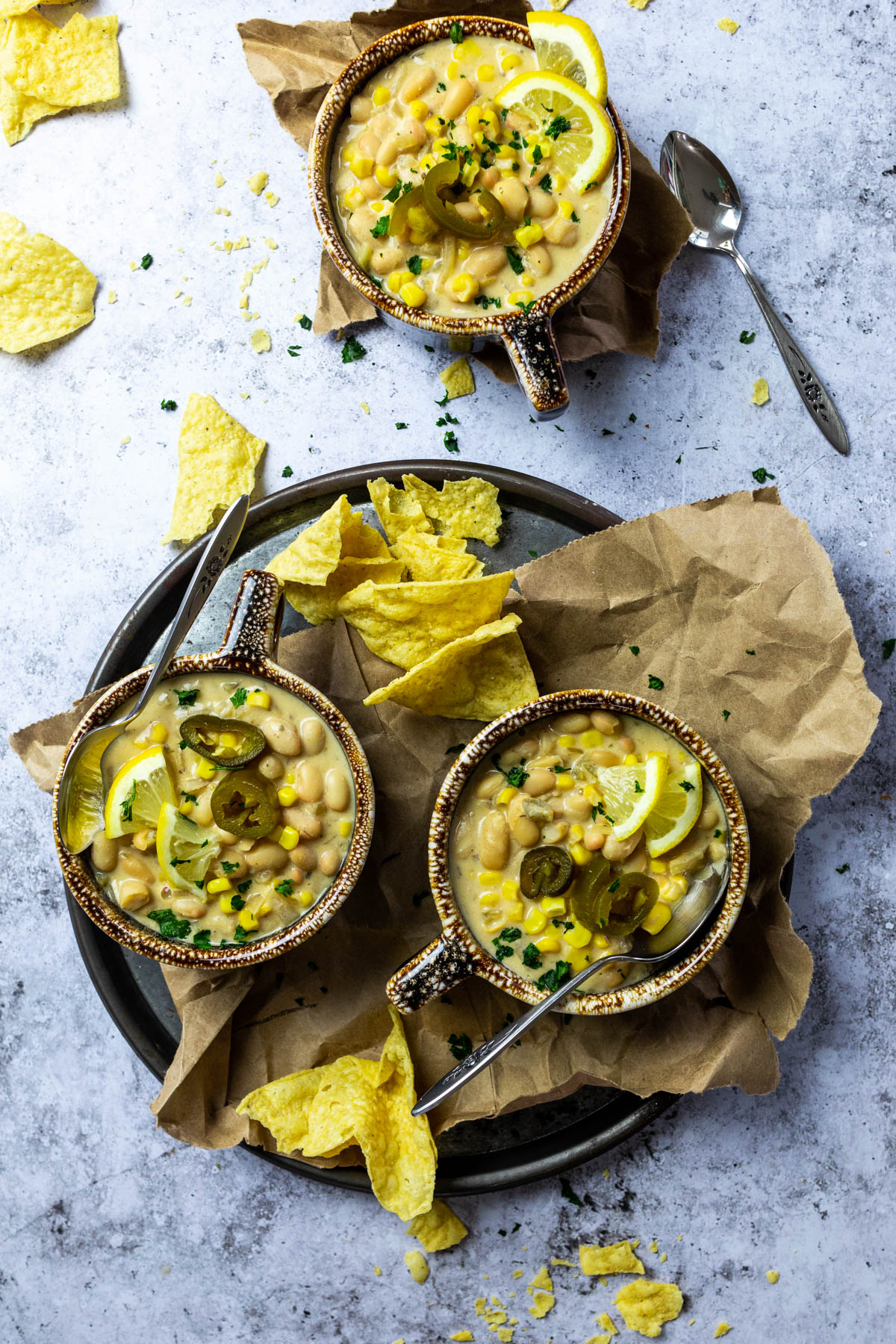 This recipe pairs well with corn bread, potato wedges, pretzel bites as a side dish.
As an Amazon Associate, I earn from qualifying purchases. This post may contain affiliate links. Read More
Ingredients
Here is a quick list of the simple ingredients we will need to make this one-pot recipe.
You can find the ingredients with quantities and the recipe to print out on the recipe card below.
Medium Yellow Onion
Garlic Cloves
Celery
White Wine
Great Northern Beans
Cannellini Beans
Vegetable Broth
Chopped Jalapeño Peppers (green chiles)
Sea Salt
Ground Cumin
Sage, dried
Nutritional Yeast
Rosemary, dried
Smoked Paprika
Bay Leaf
Juniper Berries
Dried Oregano
White Pepper
Cayenne Pepper
Raw Cashew Nuts, soaked
Water
Sweet Corn
Fresh Lime Juice
Favorite Toppings:
Tortilla Chips, optional
Sliced ​​Jalapeño Pepper, optional
Fresh Cilantro
Green onion
Lime Wedges
Avocado Slices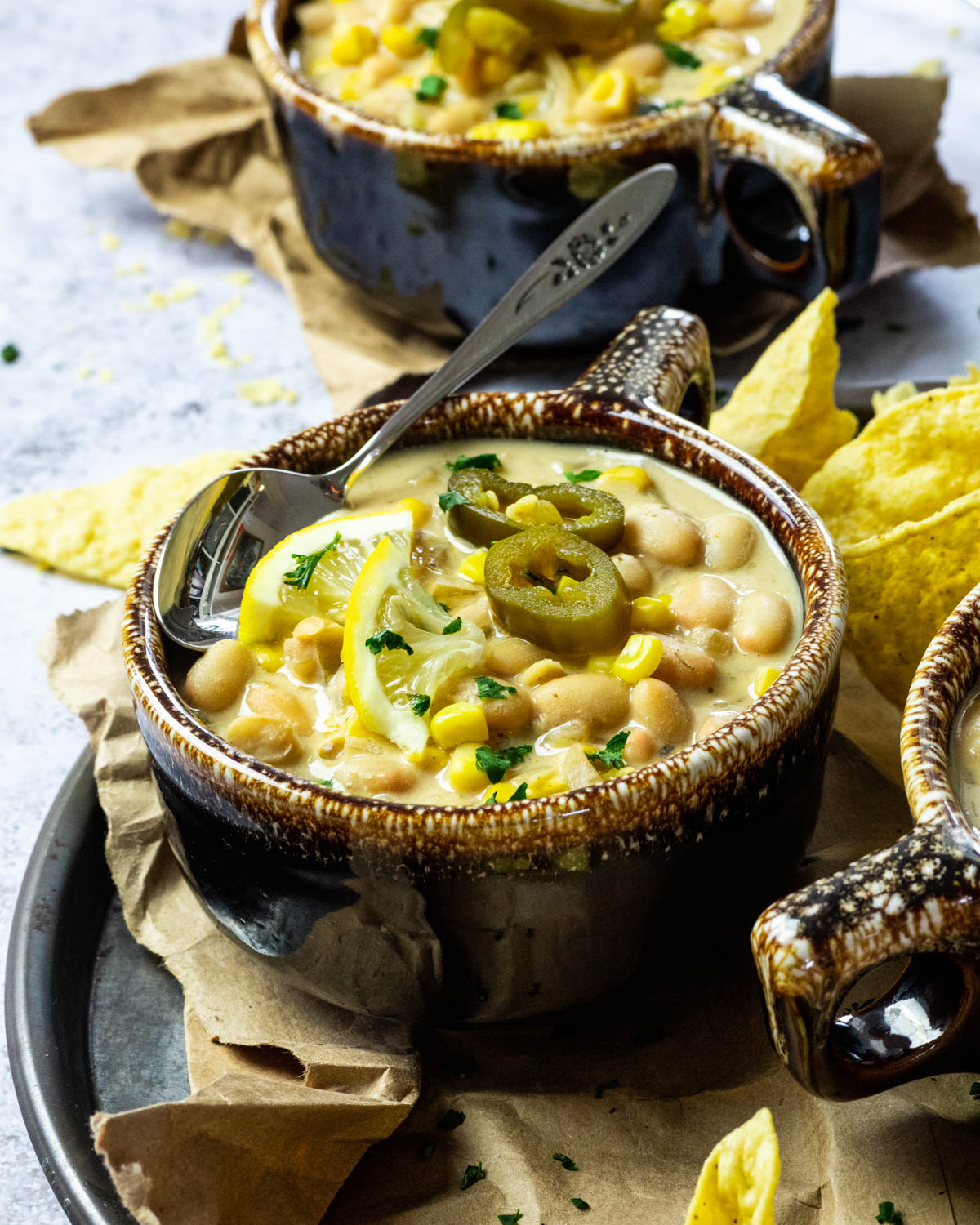 Instructions
To make this creamy chili, start with sautéing the chopped onions and garlic vigorously in a pan on medium-high heat. I always add a sip of water so that nothing burns. Add the chopped celery and braise it with the onions.
Take the soaked cashews and water and mix it in a high speed blender to a creamy consistency.
Deglaze the onions with the white wine.
When the white wine is cooked off, add the remaining ingredients and the cashew cream and stir. Let it simmer on low heat for about 20 minutes. So that the taste of the spices unfolds. Remove the bay leaves and juniper berries.
Garnish the soup with green chilies and tortilla chips and herbs.
Hint: If you can't find them, don't worry. Just pay attention to it while eating.
Make this recipe, check out my other soups like serbian white bean soup, chili sin carne, green bean soup and my other vegan soup recipes.
Slow Cooker
To make the slow cooker version, you will add all the ingredients to the slow cooker and let it cook on low heat for about 6 hours. You can also sauté the onion and garlic first to get all the flavors.
Instant Pot
Put all the ingredients in your pressure cooker, give it a good stir. Let it cook under pressure for about 10 min and release the pressure.
Substitution
white wine: If you want to make the recipe without wine, just add about 2 tablespoons of white balsamic vinegar or white wine vinegar later. So you get more flavor in your vegan white chili. You could also use apple cider vinegar instead.
Beans: I love to use different kinds of white beans. Here it is up to you. Can either us great northern, cannellini or navy beans. All of them are filled with plant-based protein. Baby lima beans are a great option too. There are so many varieties of beans.
Tortilla Chips: You can also make your own tortilla chips. I love to bake corn tortillas until crispy. Easy oil free tortilla chips.
Cashews: Instead of cashews, you can also use coconut milk or almond milk to get a creamy broth.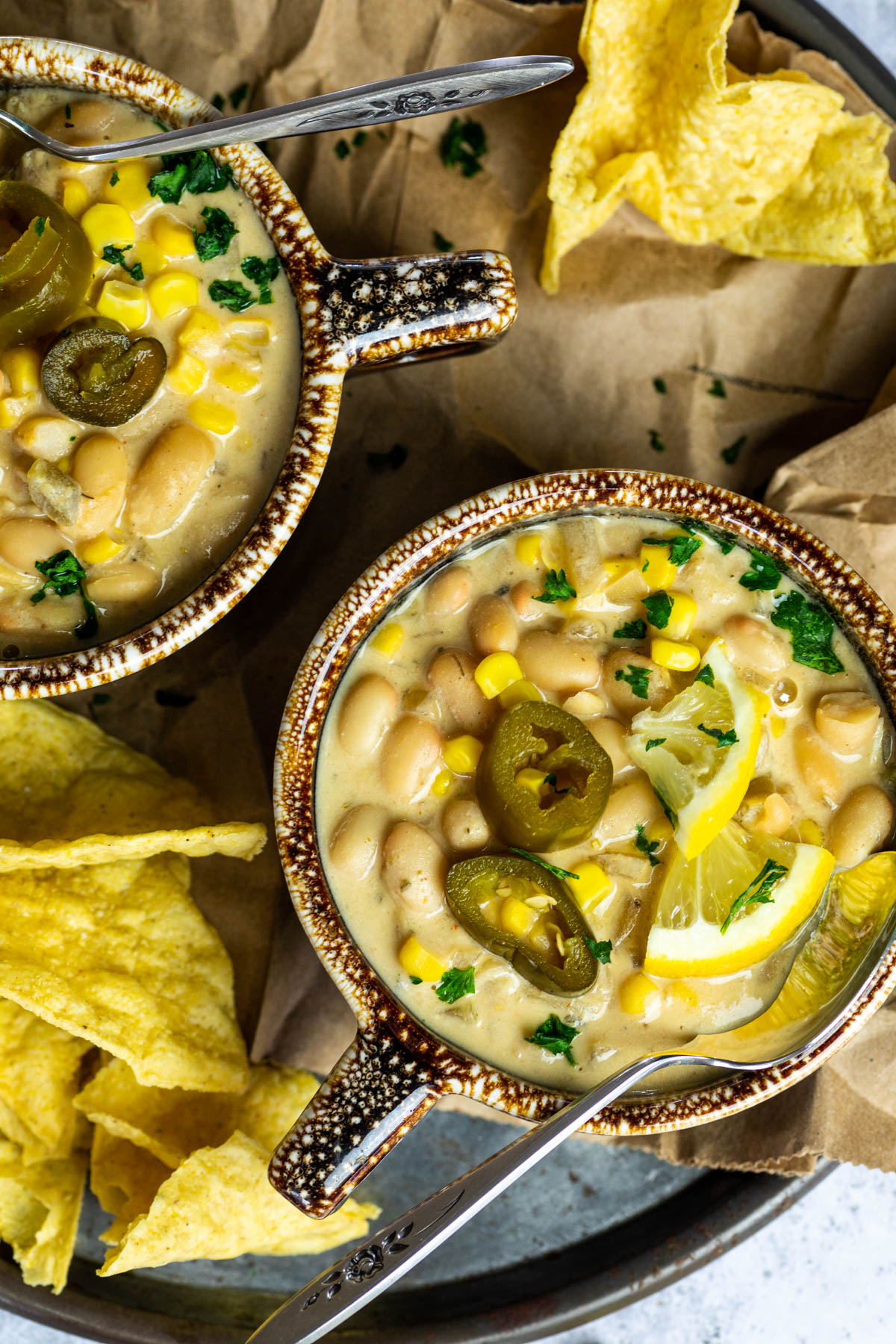 Variation
Soy Curls: Add some soaked soy curls to the soup to add some meaty texture.
Spicy: If this isnt spicy enough for you, you can always add more green pepper chiles, chili powder or red chili.
Storage
You can store this hearty vegan chili in the fridge in an airtight container for about 4-5 days. In a freezer-safe container, this creamy white chili will last for about 4 months. Just let it cool to room temperature before you put it in the freezer or fridge. To serve, let it thaw overnight in the fridge.
Meal Prep
Because we use pantry staples, and it lasts quite long in die fridge and freezer, this vegetarian white chili recipe is easy to prep in advance for meal prep.
Leftover use
You can easily make loaded nachos with this white chili by adding other veggies such as olives, red bell pepper, corn, tomatoes, tortilla chips, Salsa Verde for an easy dinner.