Spice up your mealtimes with this deliciously aromatic vegan red cabbage soup! Packed with nutrient-rich ingredients like beetroot, apple, carrot and potato - not to mention the warming spices bay leaf, ginger and cumin - you'll have a hearty gluten-free veggie dish that even fussy eaters will love.
The vibrant color of purple is sure to captivate children as its creamy texture oozes flavor without any dairy thanks to coconut milk. according To one happy taster, 'it tastes like delicious purply goodness!' What could be better?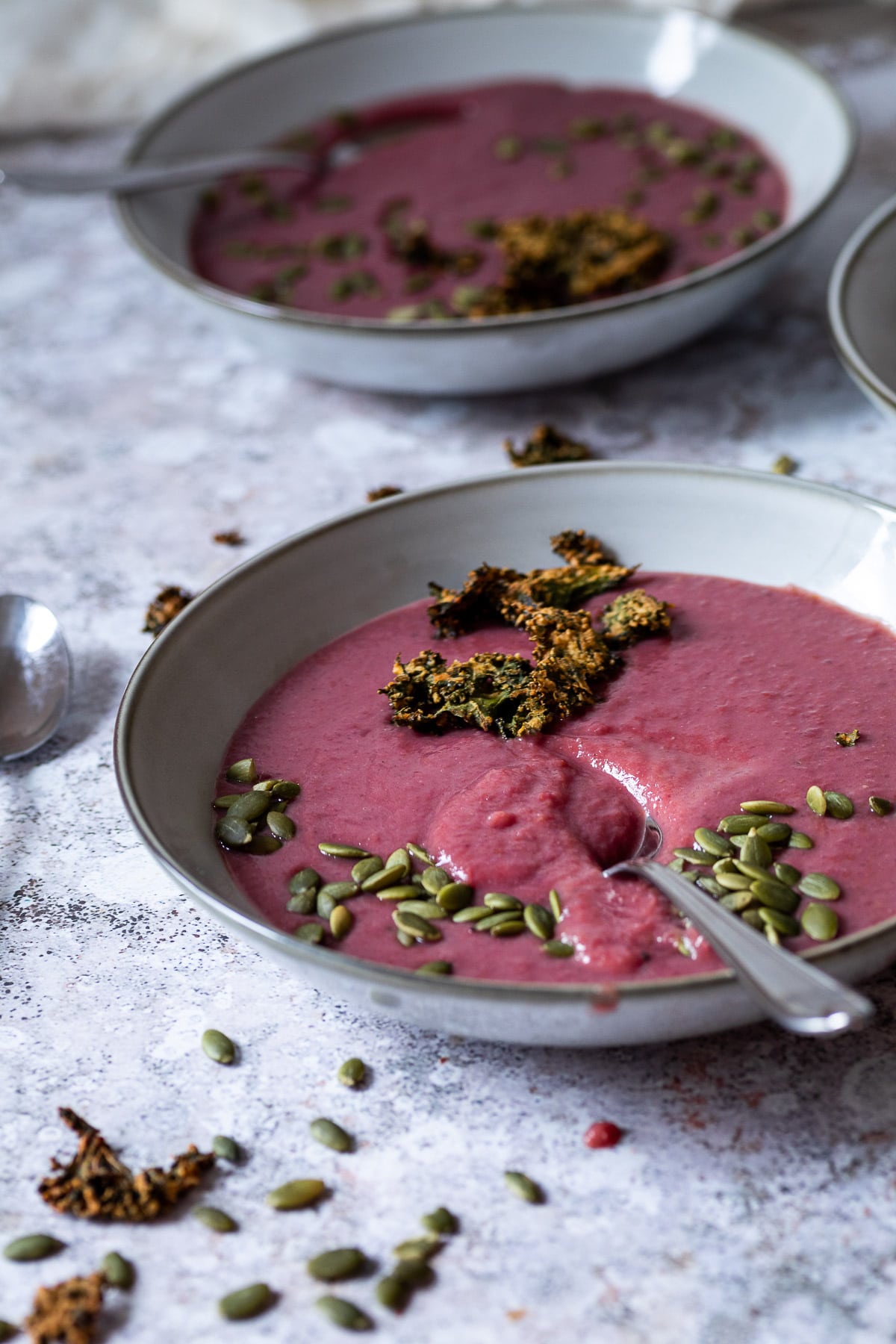 This soup pairs well with crispy oil free kale chips, pumpkin seeds, crispy chickpeas, homemade bread, baguette.
As an Amazon Associate, I earn from qualifying purchases. This post may contain affiliate links. Read More
Jump to: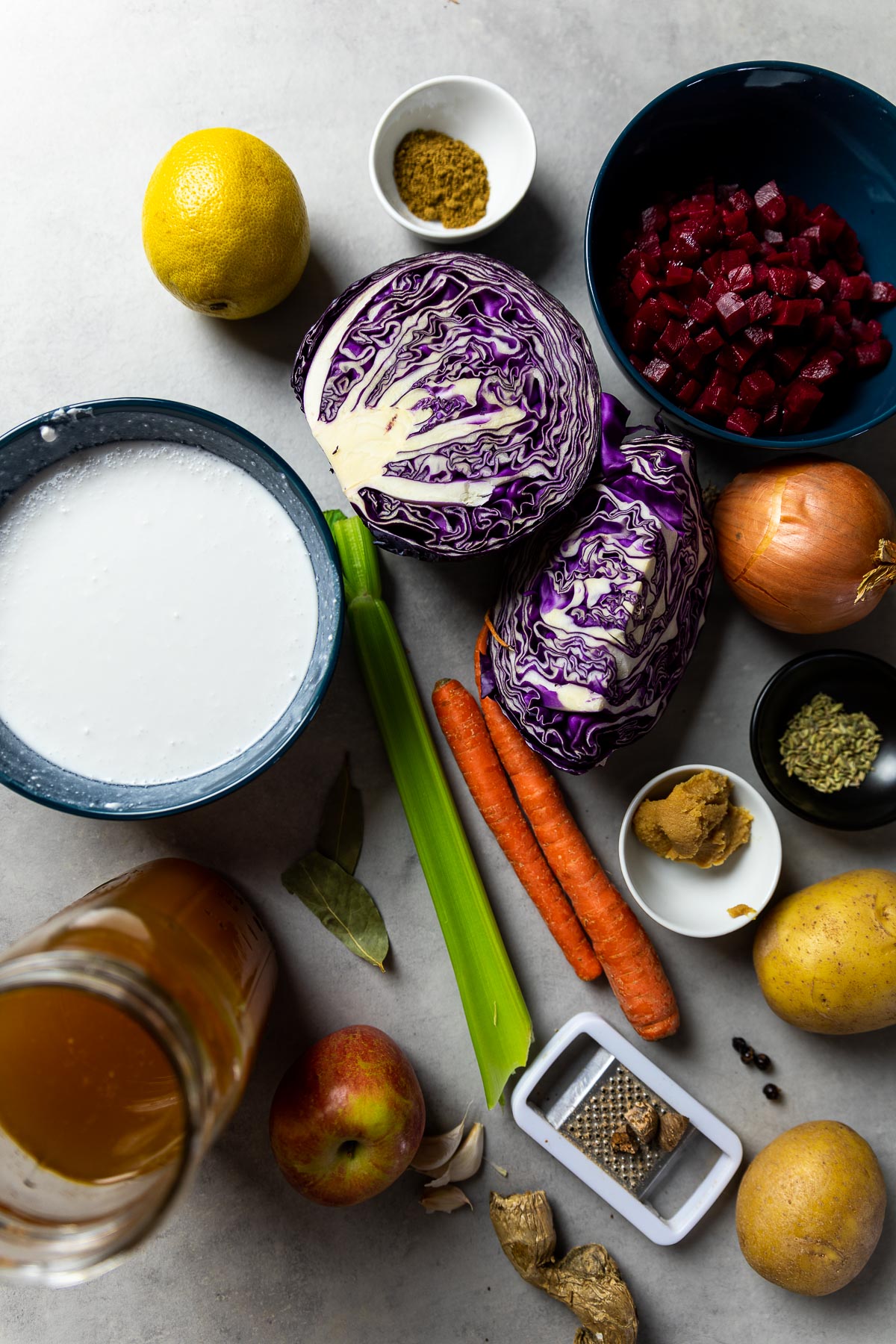 Ingredients
Now let's take a look at the ingredients in this great vegan red cabbage soup.
You can find the ingredients with quantities and the recipe to print out on the recipe card below.
Onion
Garlic
Ginger
Beetroot
Red Cabbage
Apple
Potato
Carrot
Celery
Nutmeg
Cumin Seeds
Fennel Seeds
Vegetable Broth
Juniper Berry
Bay Leaf
Coconut Milk
Miso Paste
Lemon Juice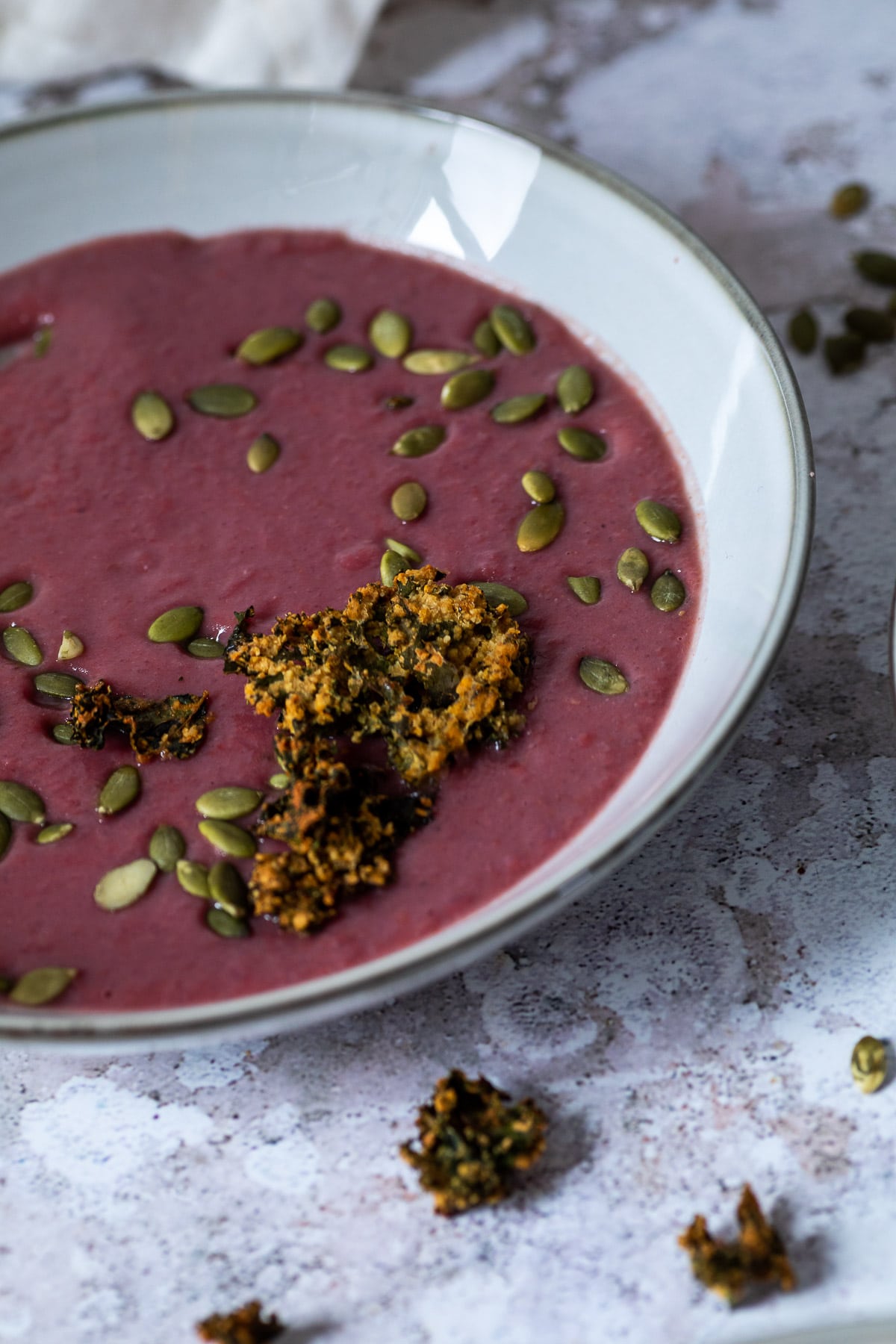 Instructions
Stove Top Method
Dice an onion, garlic cloves, a thumb-thick piece of ginger, celery and 2 carrots super fine.
Sauté the cut vegetables in a little water on medium-high heat. Use a large soup pot big enough to hold the whole soup.
In the meantime, cut the red cabbage into strips and dice an apple.
Add the red cabbage, apple, and cooked beetroot. As well as vegetable broth.
Add nutmeg, cumin, fennel seeds, bay leaves, and juniper berries to the soup.
Give it a good stir and let it cook until the cabbage is tender. It takes about 30-40 minutes. It depends on how thinly you cut the cabbage.
Use an immersion blender to blend the soup until creamy. Add coconut milk and optionally miso paste and lemon juice.
Season the soup with some freshly ground black pepper and sea salt.
Serve the soup with oil-free kale chips or pumpkin seeds.
Slow Cooker
You can also prepare the soup in the slow cooker.
To do this, simply prepare everything as described. And let the soup cook on a lower setting.
Pressure Cooker (Instant Pot)
You can also prepare the purple soup in a pressure cooker, simply add everything to the pot and let it cook under high pressure for about 10 minutes. Of course, let the pressure diminish for 10 minutes before releasing the remaining pressure through the valve.
Make this red cabbage soup, check out my beet soup, cabbage stew, lentil stew, sauerkraut soup and my other vegan soup recipes.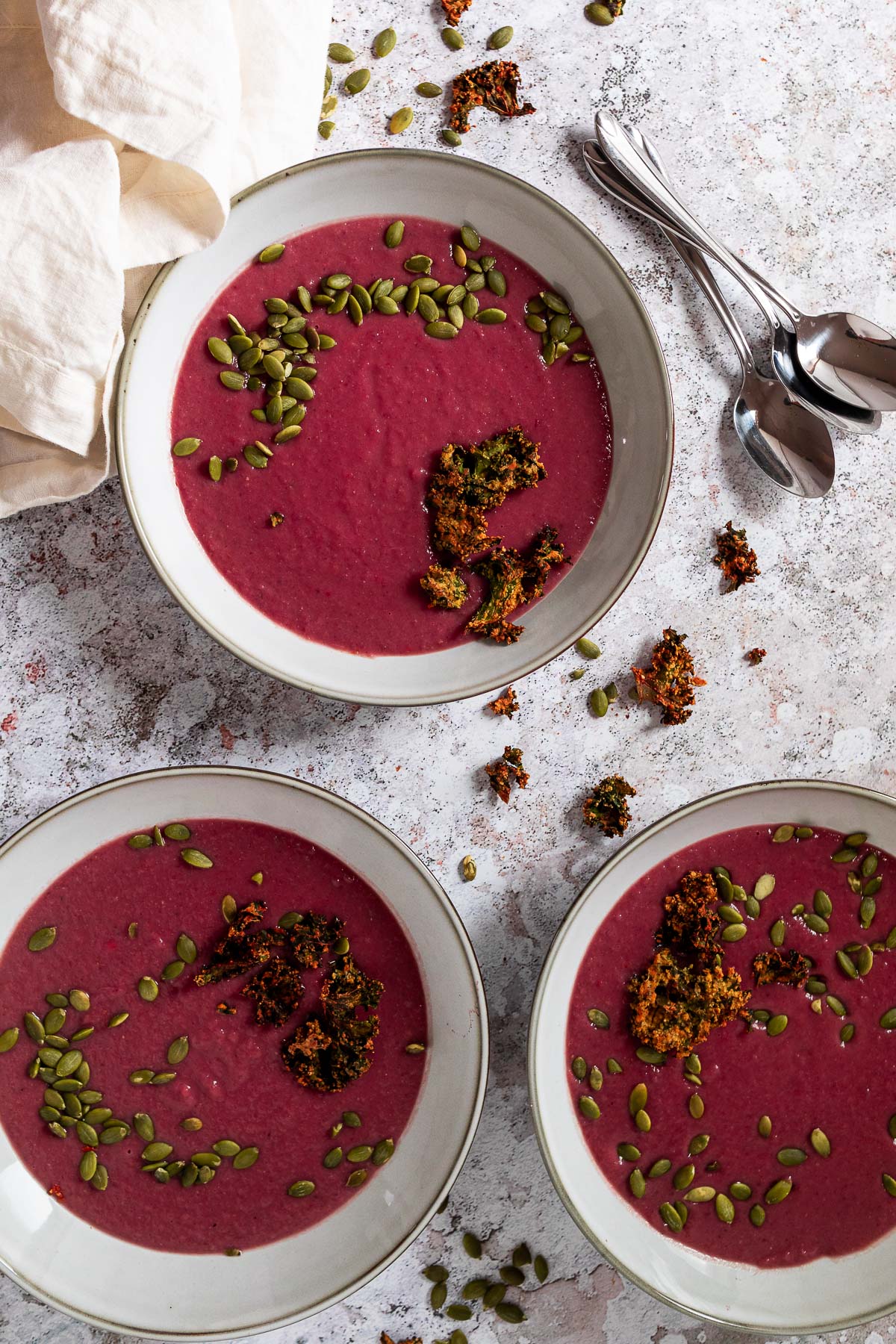 Substitutions
Now let's take a look at what ingredients you can substitute.
Red Cabbage: You can also replace the red/ purple cabbage 1 to 1 with green cabbage or napa cabbage. However, the color is not so nice and intense.
Celery: Here you can either use celery or celeriac. Both work great.
Juniper Berry: If you don't have juniper berries at home, you can leave them out. The taste won't be as intense. Juniper adds a hearty touch to dishes.
Coconut Milk: If you don't want to use coconut milk or coconut cream, I can recommend using cashew milk. This is creamy and gives the vegan red cabbage soup a great creaminess.
Miso Paste: The miso paste is tangy and gives the soup that certain something. If you don't have one at home or don't want to use soy, you can just leave this out.
Variations
Fresh Herbs: Add some fresh dill to add some extra flavor.
Plant-Based Protein: Add after blending some white beans, brown lentils, for a filling soup.
Italian Seasonings: Italian Seasoning is pretty much amazing on everything.
Sour: You love a sour cabbage soup, add some lemon juice, apple cider vinegar or red wine vinegar for sour flavor.
Spicy: Add some red pepper flakes or cayenne pepper to the creamy cabbage soup.
Bell Peppers: I love the taste of roasted, cooked bell peppers, add 1 bell pepper and some lime juice.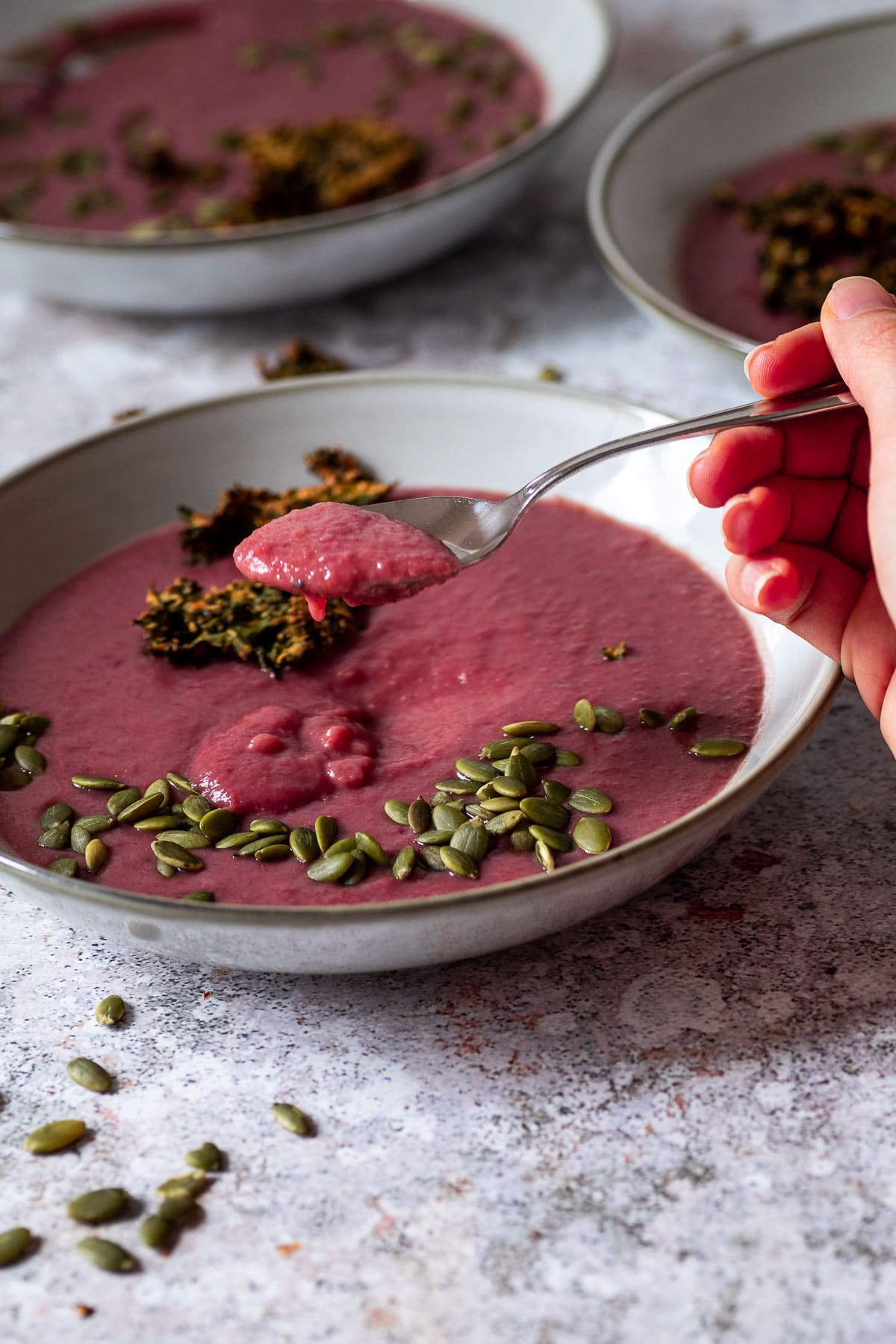 Storage
Second helping is guaranteed, but if you got some left, you can easily store this vegetable soup in freezer or fridge.
How to refrigerate? The soup can be stored in the refrigerator for up to 5 days. Simply put the leftovers of the vegan red cabbage soup in an airtight container and let it cool to room temperature before putting it in the refrigerator.
How to freeze? You can also freeze the soup. Simply put in portions in freezer-safe containers. Let the soup cool to room temperature first and then you can freeze it. It lasts there for approx. 3 months.
Meal Prep: You can prepare the soup in advance. So the cabbage soup is suitable as a meal prep.
Serving Options
You can enjoy this hearty soup as a light dinner or starter.
I also like to serve oil-free kale chips and pumpkin seeds.
You can serve the following with the soup:
Tips
To intensify the color, you can first sauté the cabbage with the onions. Add a tablespoon of vinegar to this. This will help give the cabbage a nice color.
You can also make cashew milk yourself. To do this, blend approx. 60 g cashews with 500 ml water in a high speed blender until creamy.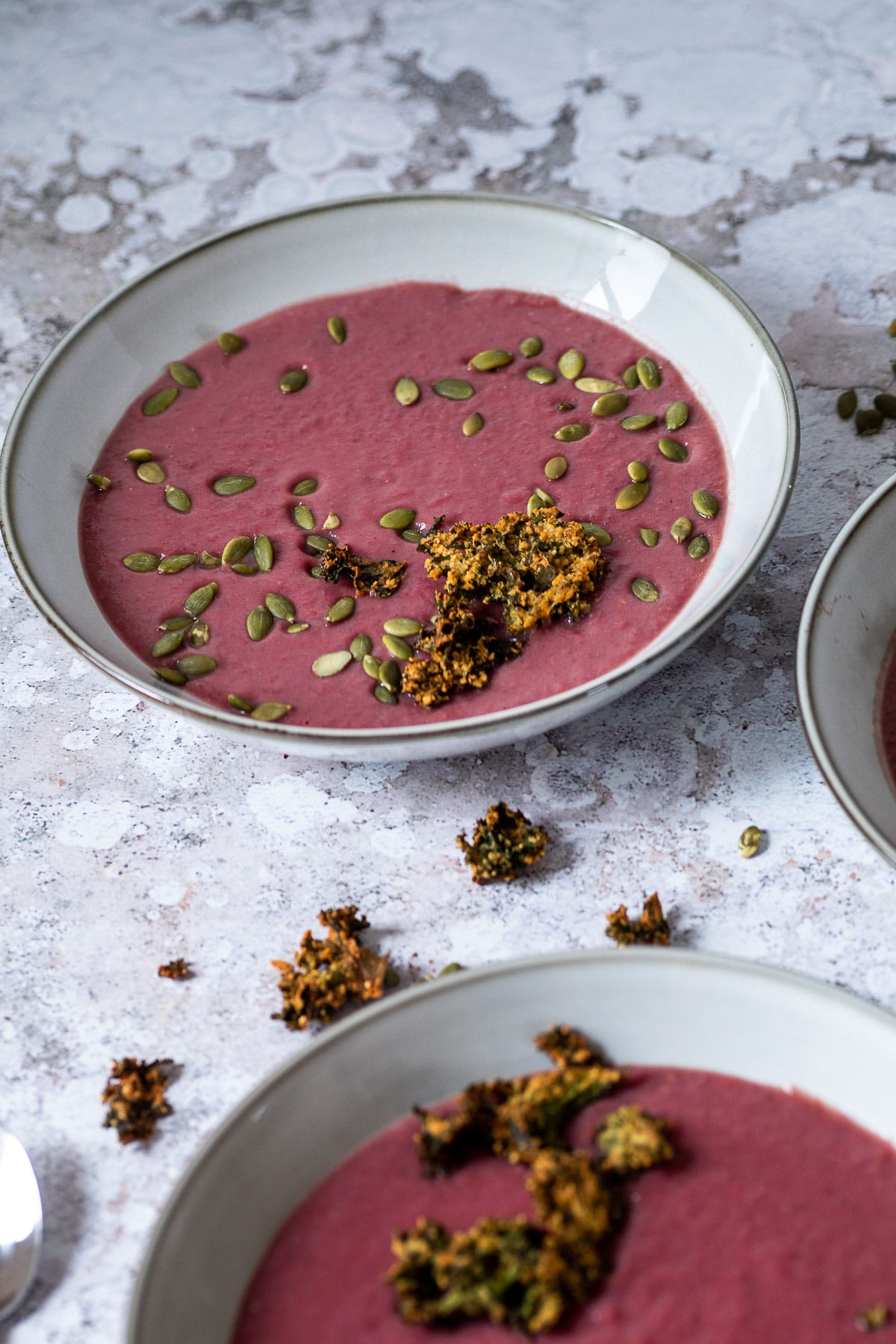 FAQ
Is red cabbage healthy?
Cabbage has some great health benefits. As the name suggests, red cabbage belongs to the cabbage family. Regardless of the form you prepare it, it is full of fiber and helps to stimulate digestion.
The indigestible carbohydrates are said to protect against colon cancer.
Red cabbage should also protect against aging and environmental influences and strengthen our eyesight.
Red cabbage is also a great supplier of iron. You can find more about red cabbage here.
So let's include more red cabbage in the diet. For example with this great red cabbage salad or fish tacos with red cabbage salad.
Differences Between Red and Green Cabbage
Let's start with that both types of cabbage taste very similar. Whereby it is said that red cabbage has a slightly more intense taste. Personally, I don't really notice it. If we now look at the nutrients, we see that red cabbage "wins" in many ways. White cabbage is also bursting with nutrients and is healthy. White Cabbage is bursting of Vitamin K.
You can find more information here.