Vegan Buffalo Wings - Do you like the spicy hot taste of Buffalo Wings, but have no idea how to make it in vegan?! Then check out these delicious cauliflower bites, which are bursting with flavor. For the vegetarian wings, you'll need a red hot sauce, tahini, maple syrup and serve with a herbal ranch dip. This dish will be a great appetizer for your next Superbowl, Gameday or topping for your next salad.
vegan | vegetarian | whole food plant-based | wholesome | healthy | vegetable | oil-free | sugar-free | dairy-free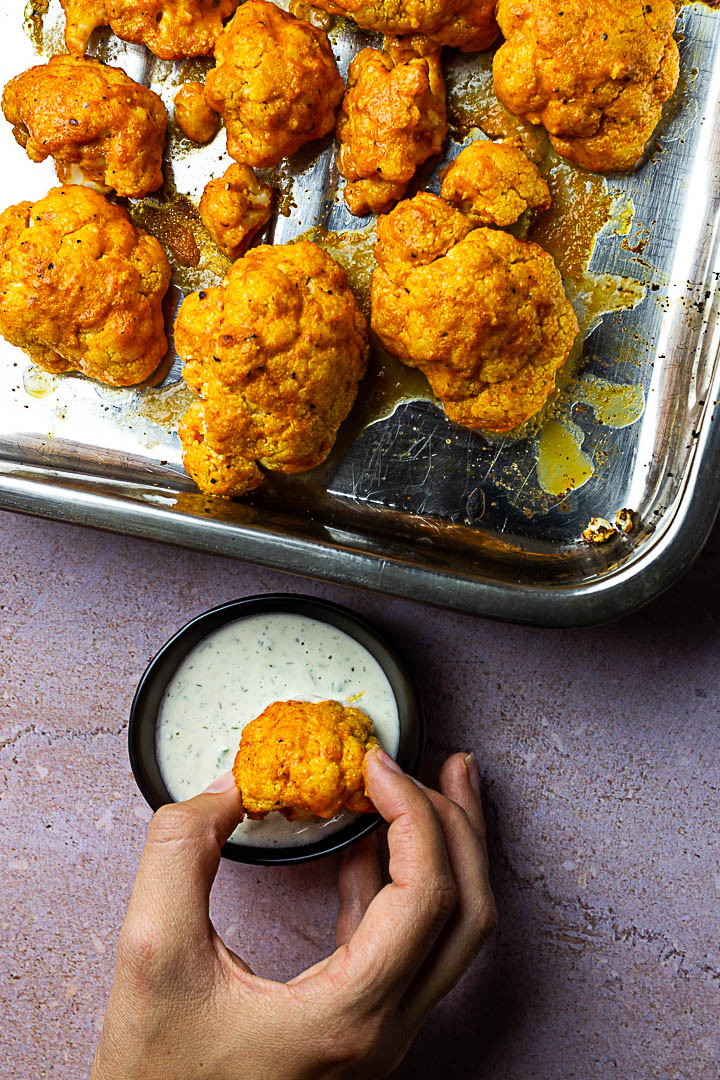 The vegan cauliflower wings with the authentic buffalo sauce are popular with both vegans and meat eaters. The taste is the same, as with so many dishes, with the right spices and preparation. You will not have to miss the classic chicken with these vegan wings with ranch dip.
A great comfort food for those who love spicy food. These Cauliflower Bites are so spicy and thanks to the cauliflower, so much healthier than the animal-based chicken wings.
The vegan buffalo wings are tender and soft inside and sticky outside, just like the original.
Cauliflower does not mimic chicken 100%, but thanks to the spicy sauce that makes the appetizer so authentic, you do not need highly processed substitutes.
These hot wings are easily made gluten-free. To match this, we serve these Wings with Ranch to reduce the sharpness in the mouth.
What do you need for vegan Buffalo Wings?
Cauliflower
Marinade
Garlic powder
Wholegrain flour or gluten-free flour mixture
Ground almonds
Tomato paste
Onion powder
Smoked paprika
Water
Hot sauce:
Hot sauce (like Cholula)
Maple syrup
Tahini or cashew butter
Water
Ranch dressing, to serve:
Cashews
¾ cup of water
Dried dill
Dried parsley
Dried chives
Granulated garlic or garlic powder
Granulated onion or onion powder
Sea-salt
Black pepper
3 teaspoons of fresh lemon juice or white vinegar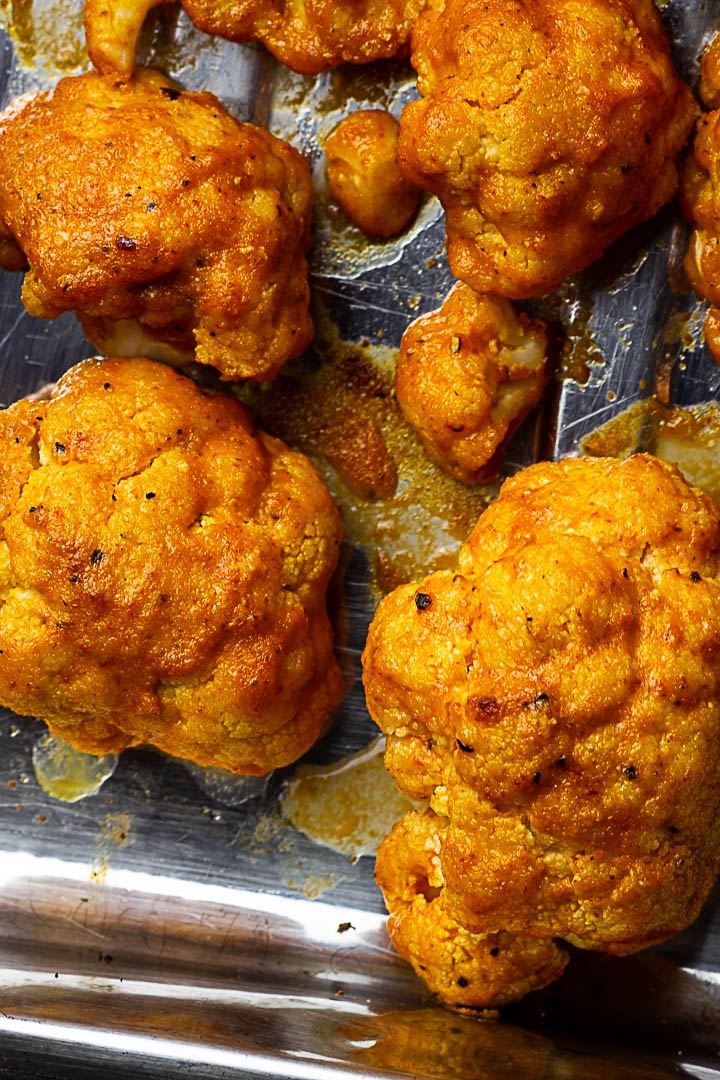 How To Make Healthy Buffalo Wings:
Preheat the oven to 400 °F (200 °C). Divide the cauliflower into small florets and mix the marinade. Now mix the cauliflower with the marinade and place it on a baking tray lined with baking paper. Bake the cauliflower for about 30 minutes or until the desired color is achieved. Halfway through, you can turn the cauliflower.
In a small pot, mix together all the ingredients for the hot sauce until creamy and bring to a boil. Now let the sauce simmer for about 2 minutes, it should be slightly reduced.
Put the cauliflower in a bowl and pour over the buffalo sauce and stir well until all the florets are covered with the sauce. Now put it back on the baking sheet and set it to broil and bake for about 3 minutes until the sauce is caramelized. Serve the Buffalo Wings with ranch dressing.
Ranch dressing:
Mix the soaked cashews and the water in a high-performance mixer until creamy. Put the cashew cream in a bowl and mix with the remaining ingredients.
Season the ranch sauce with sea salt and pepper to your taste.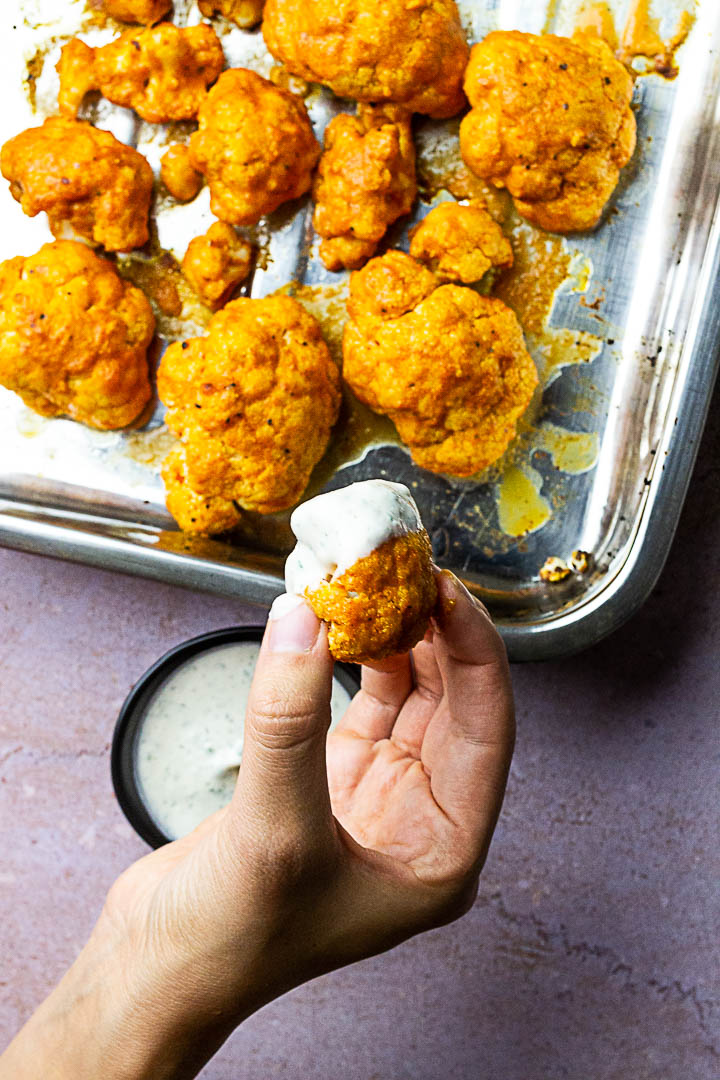 CAN I MAKE THIS GLUTEN FREE?
You can make these vegan buffalo wings gluten-free. Simply use a gluten-free flour mixture. You could also try to use almond flour completely.
How to Serve Vegan Buffalo Wings?
Just eat it with the ranch dip as a snack or appetizer
Make Buffalo Tacos
Salad topping
How spicy are these vegan buffalo wings?
These are very spicy/ hot. My husband liked to eat them. It was too hot for the children. I could only eat them with a lot of ranch sauce, otherwise they would have been too hot for me as well. If you do not like it so hot, you can use less hot sauce. But the classic Buffalo wings are very spicy.
More vegan Recipes you might like:
Do not forget to Pin on Pinterest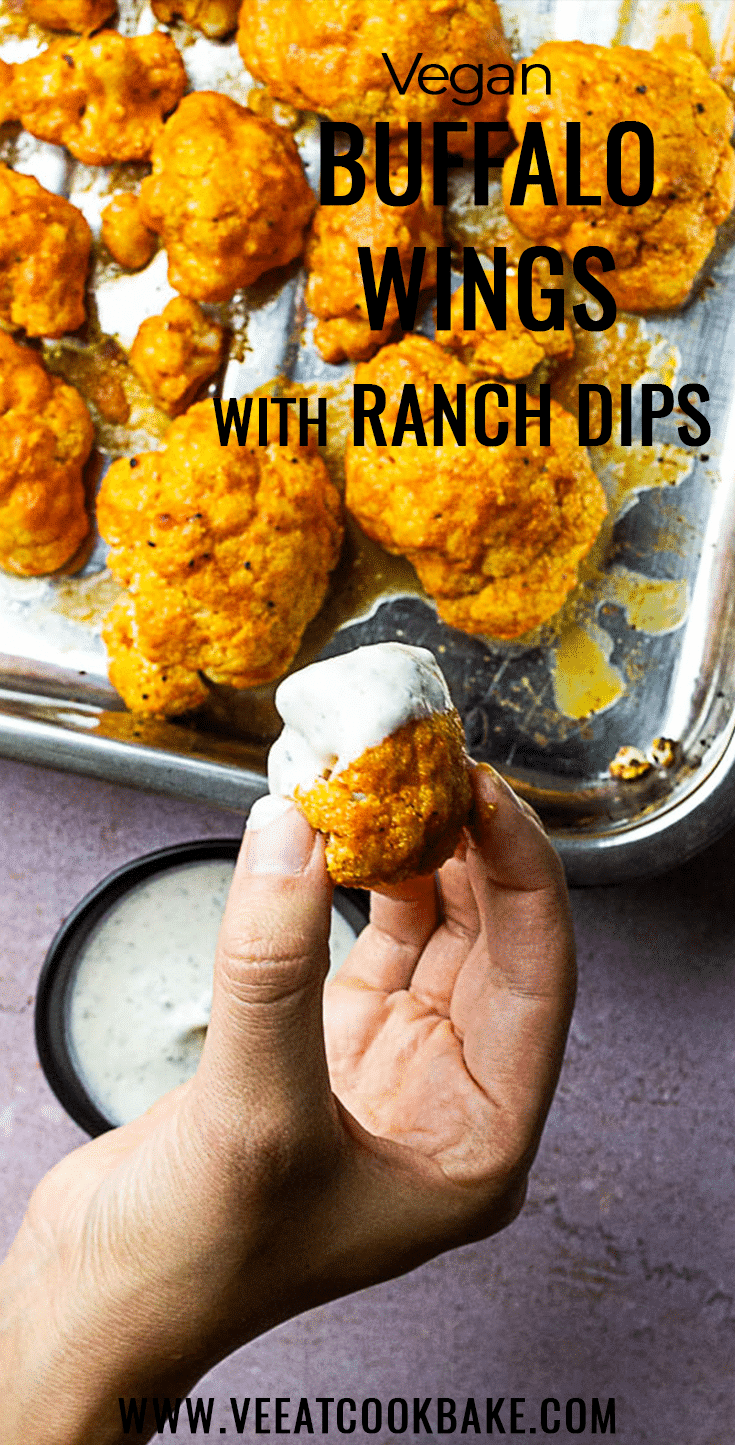 Have you tried the recipe?
If you tried the vegan Buffalo Wings, be so nice ♥ and let me know by rating the recipe and writing what you think about it in the comments. Tag me on Instagram too. I am @veeatcookbake and my hashtag is #veeatcookbake. So that I can see your creation. Did you know you can add photos on Pinterest under the recipe Pin? I can't wait to see a photo of your creation there. You find me with @veeatcookbake. I also would love to hear your feedback, so I can share it on my social media channels.

This post may contains affiliate links and I may receive a very small commission if you buy through these links at no extra cost. Thank you very much for supporting Ve Eat Cook Bake! More information can be found here.
---