Are you in the mood for a delicious whole wheat baguette that is so authentic that you feel like you're at a French bakery? Or you do not want to go to the next Panera and buy some whole grain baguette? Then you should definitely try this crispy and delicious French baguette recipe made from whole wheat (or spelt) flour. This homemade baguette bread comes without sourdough and with only 3 ingredients. The crust becomes crispy, crunchy and the crumb soft and tender. Exactly how a classic baguette should be.
vegan | vegetarian | egg-free | sugar-free | dairy-free | wholesome | healthy | wfpb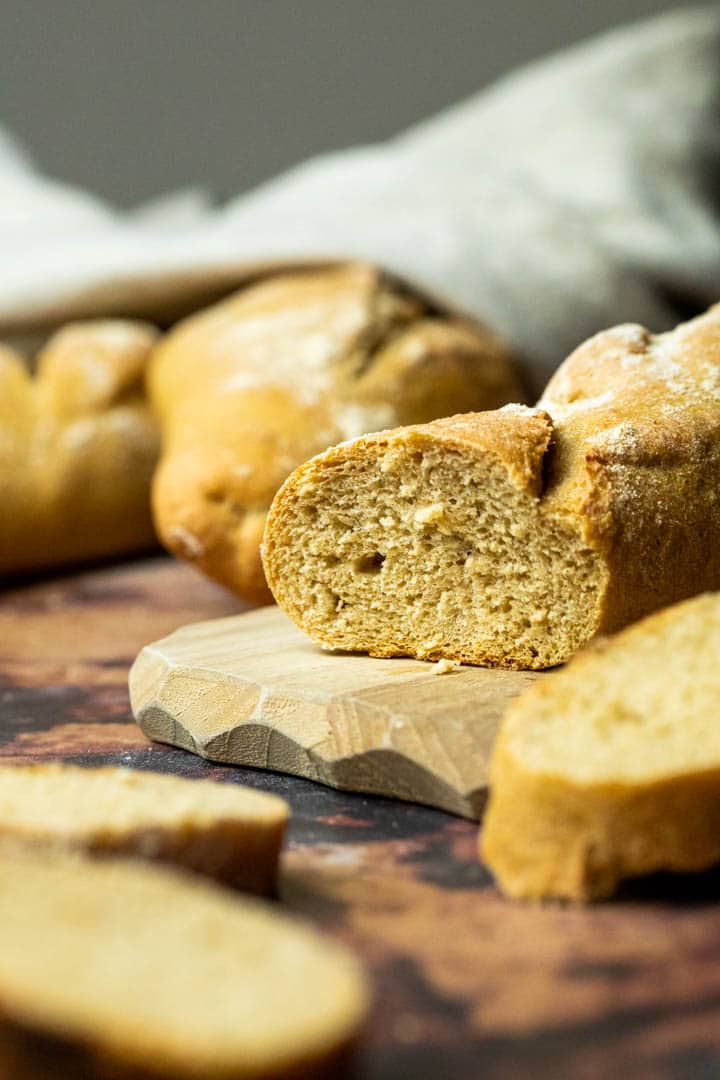 There is nothing like the smell of freshly baked bread. With this baguette recipe your house will smell delicious, so that you can hardly wait until the baguette is baked.
Here in the USA I bake more and more. It is hard to find authentic artisan bread here and I have to say that baking is fun, relaxing and when it comes out with such a delicious whole wheat baguette, the anticipation is even greater. And you know exactly what is in your bread.
A few years ago I bought a baking stone and it is not just good for stone oven pizza, it also helps when baking bread to achieve the perfect crust and crumb like artisan breads.
If you have a baking stone, you should definitely try baking this delicious French baguette on it. If not, you can still bake a delicious baguette, it just won't get as crispy and authentic as on a baking stone.
How I bake this baguette recipe depends on my mood, whether I use the stone or just bake it without in the oven. It is important in both variants that you bake with steam.
What baguette ingredients do I need to bake this crispy bread?
For this simple recipe you need 3 ingredients and you can create a delicious baguette.
Whole Wheat flour (or Spelt)
Yeast
Sea salt
Water (which I didn't count as an ingredient)
How to make an authentic french whole wheat baguette?
Put all the ingredients in a bowl and knead the dough for about 10 minutes. I use a stand mixer with a dough hook. The dough should no longer stick to the bowl, but should be slightly damp and sticky. If the dough is too dry, add a little more liquid. If it is too sticky, add a little more flour. Now let the dough stand for 90 minutes covered with a damp tea towel.
Knead and fold the dough every 30 minutes (3 times in total). After each kneading, lay the dough with the fold down and cover the dough again.
Now put the dough with the tea towel in the fridge and let it stand for about 12-15 hours.
Take the dough out of the fridge and let it warm up to room temperature.
Now divide the dough into 3-4 equal parts. Shape the dough into cylinders, roll out the dough rectangularly and start folding from the long side towards the center, you repeat until a cylinder is formed. Cover the 4 dough cylinders and let them rise for approx. 60 min.
Now we shape the baguettes. To do this, I take a cylinder and start shaping on the long side of the cylinder so that you touch the countertop, you do this the entire length. Now slowly roll the baguette with the hands from the middle to the ends. It gets thinner toward the ends. Place the finished baguette on a parchment paper with the fold up. Cut the baguette with a sharp knife along the length or 3 diagonal incisions. Make a quick and firm cut. Dust the baguettes with some flour to make it more authentic. Cover the finished baguettes and let them go for 60 min. Preheat the oven to 500°F (250°C). You can now optionally use a baking stone or baking sheet big enough for the baguettes.
Place a bread pan of hot water on the lowest rack.
Open the oven and make sure that you don't get burned on the steam. Now slide the baguettes onto the stone or slide the baguettes onto the baking sheet with parchment paper.
Close the oven and set the temperature to 475°F (240°C) and bake for 15 min.
Remove the bread pan with the water and set the temperature to 450°F (220°C) and bake for another 10-15 min. Please monitor the baguettes, when they are golden brown they are ready.
Let the baguettes cool on a wire rack.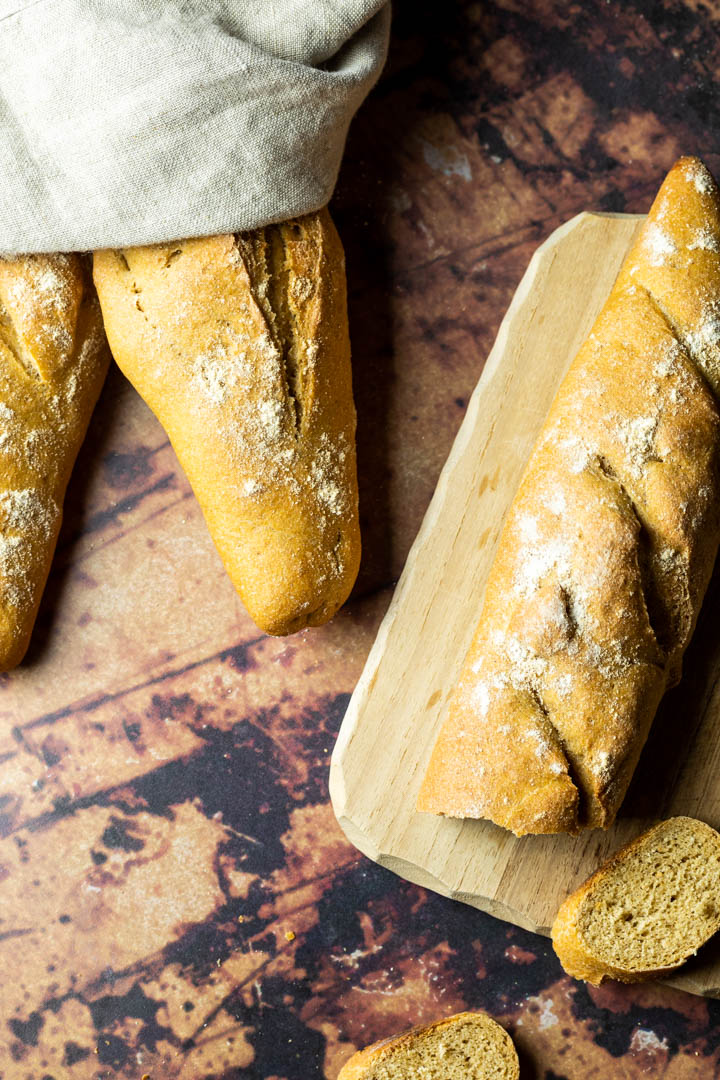 Which yeast is best for this?
I use active dry yeast because it is difficult to get fresh yeast here in the USA. So I always have yeast in stock and can bake spontaneously. If you are using fresh yeast, use 25 g of fresh yeast instead of the dry yeast.
When should you start preparing whole grain baguettes?
It is best to start the evening beforehand. So the dough can rest overnight for the specified 12-15 hours.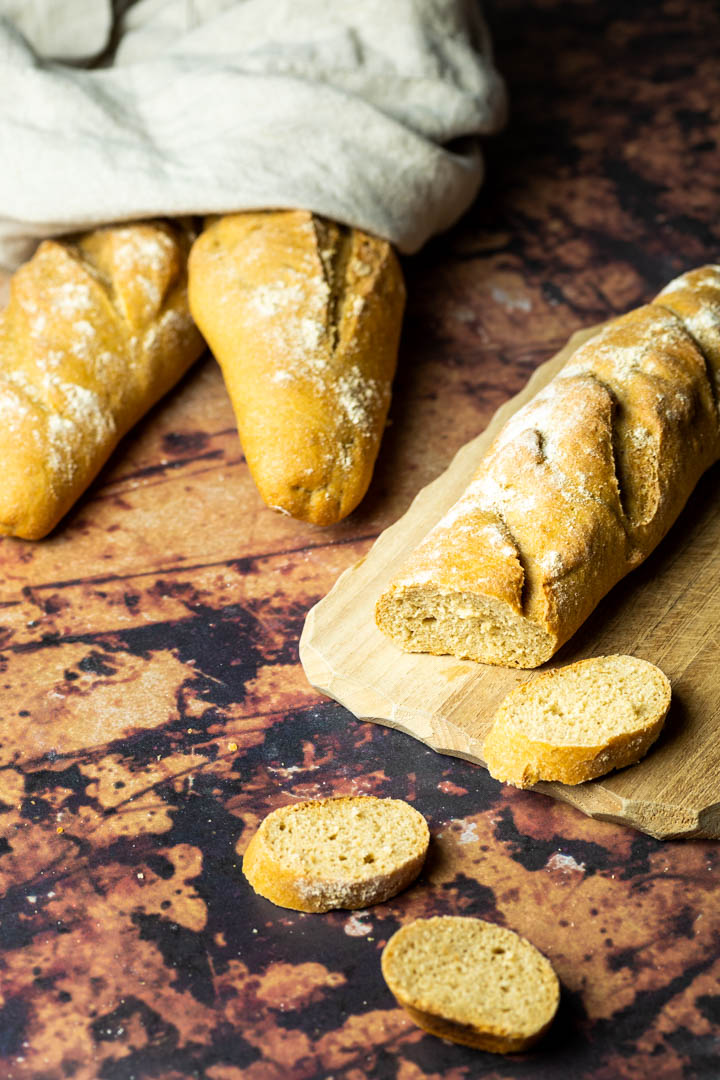 Scale vs Cups?
When you want an accurate recipe and you have a scale at home, you should definitely weigh the ingredients. Most scales are switchable between metric and oz.
What is the best way to steam the baguettes?
Steaming is the addition of water vapor when baking bread. You can do this as in the instructions with a bread pan filled with water or with ice cubes that you put on the bottom of the oven.
How do you store leftover whole wheat baguettes?
If you have any leftover and you want to eat them the next day, just put them in a bread box and briefly bake them again, so they taste fresh from the baker.
If you have more leftover, just freeze a few. Just bake the baguettes briefly and they taste like freshly baked. The baguettes are ideal for preparing in large quantities, so you always have them on hand.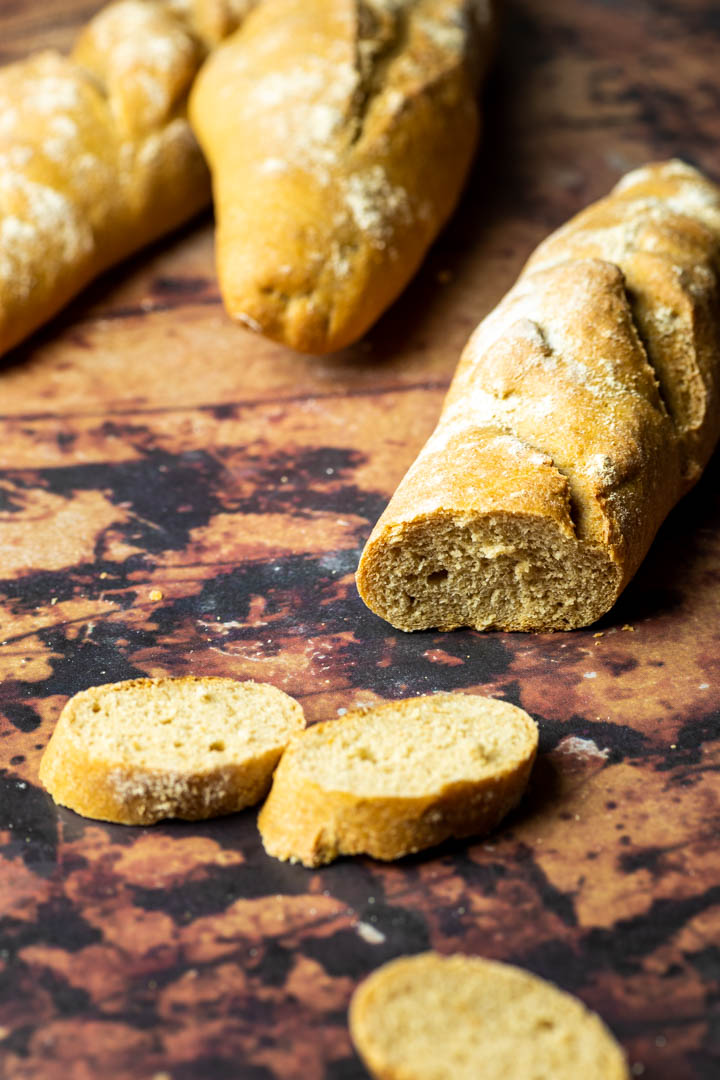 Whole wheat flour: facts and information
More fiber than the extract flour, since parts of the grain are removed from the white flour. White flour has only about 1.3g of fiber per 60g of flour. Whole wheat flour has about 6.5g to 60g of flour. Advantages: Prevents constipation, lowers cholesterol levels and can help you lose weight

Bread has a full taste.

Longer filling

Contains folic acid, riboflavin, vitamins B1, B3 and B5.
Are baguettes vegan?
If the baguettes are traditionally made, with only flour, water, salt and yeast, then they are vegan.
How to serve whole grain baguettes?
More bread recipes:
Do not forget to Pin on Pinterest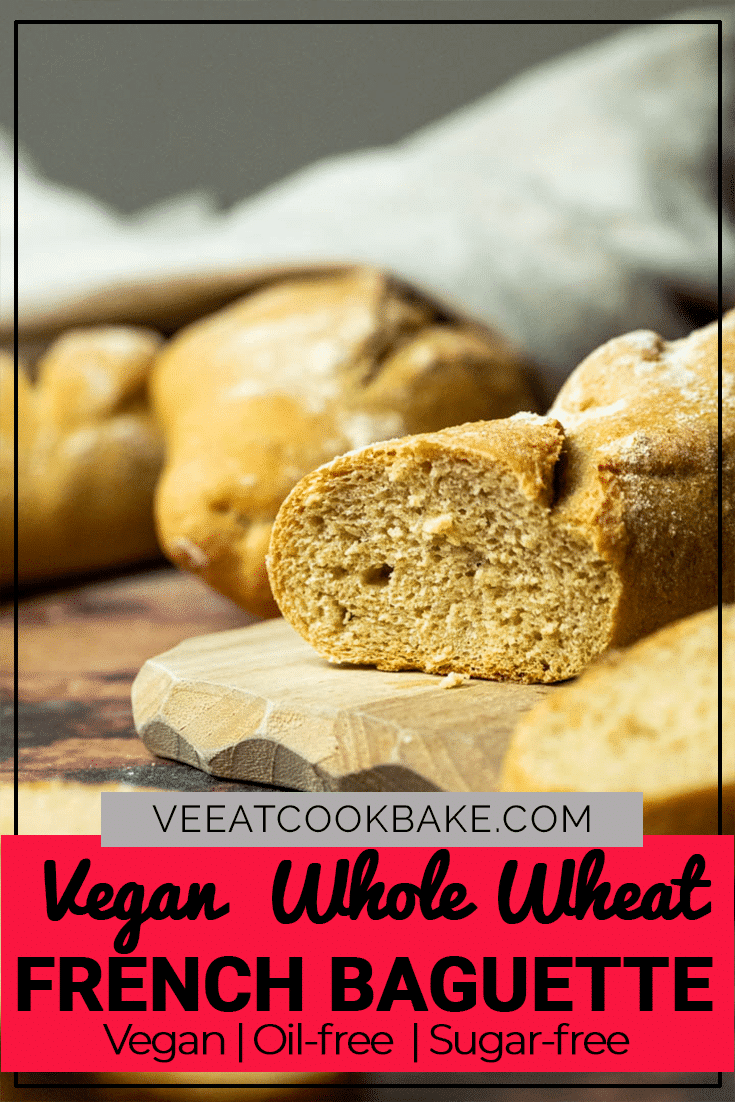 Have you tried the recipe?
If you tried the Whole Wheat French Baguette, be so nice ♥ and let me know by rating the recipe and writing what you think about it in the comments. Tag me on Instagram too. I am @veeatcookbake and my hashtag is #veeatcookbake. So that I can see your creation. Did you know you can add photos on Pinterest under the recipe Pin? I can't wait to see a photo of your creation there. You find me with @veeatcookbake. I also would love to hear your feedback, so I can share it on my social media channels.

This post may contains affiliate links and I may receive a very small commission if you buy through these links at no extra cost. Thank you very much for supporting Ve Eat Cook Bake! More information can be found here.
---