Massaged kale salad with sweet potato, apple, and pecans. You massage this vegan salad with kale with an oil-free red wine vinegar and tahini dressing, which gives it its incredibly delicious and addicting taste.
This kale tahini salad is not only great for your next healthy lunch, the oil-free massaged kale salad is also great as a quick, light dinner or starter. It is not only gluten-free but is also suitable for a whole food plant-based diet.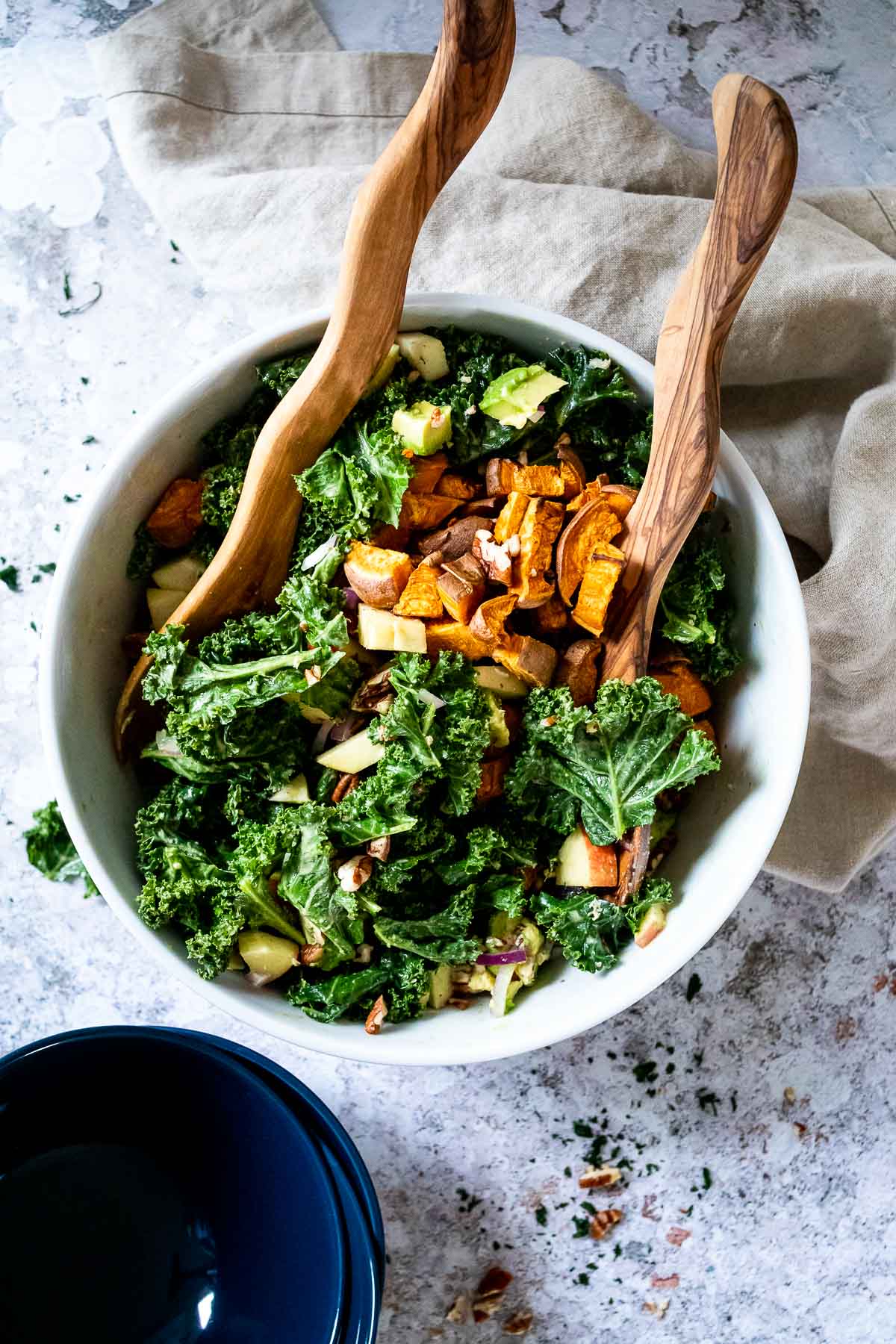 As an Amazon Associate, I earn from qualifying purchases. This post may contain affiliate links. Read More
Jump to:
If you are looking for a delicious party salad that is vegan, dairy-free and completely without processed ingredients, then this great winter salad is just right for you.
Benefits of Kale
You've probably heard that leafy greens are the most nutritious food on earth, and kale is way up there.
The cabbage is not just low in calories, it is also full of nutrients, rich in vitamin A, vitamin C, vitamin K, and a great plant based source of calcium.
The kale can be easily integrated into your diet. For example, you can eat the kale as a salad like this winter kale salad.
Or add it to casseroles, curries, soups. So you always have an extra portion to meet your daily requirement for greens.
Kale Types
Now let's take a look at the types of kale. Here I will briefly show you the most famous types of kale.
Curled Kale: this is one of the most popular types of kale. This is probably the kale you think of. You can usually find this variant in the supermarket. The wavy, curly, curled edges give a great crispy structure. This kale is great for salads and sautéed dishes.
Tuscan Kale (Dinosaur Kale or Lacinato Kale): This kale is a more tender and softer variant. You can use this kale in soups and mixed salads.
Red Kale: Except for the color, the kale is very similar to the curled one. The kale can be deep red or purple. Thanks to its great color, this kale is also ideal as a salad.
Baby Kale: This is nothing more than a young version of the curly kale. The baby kale is only harvested earlier. With the salad it is advisable to use it as a mixed salad, you can often find this in salad mixes in the supermarket.
You can use your favorite kale for this recipe. Near us, I only find the curled one and have used this in the kale salad.
Why massage it?
I don't know if you've heard of it before, but kale should be massaged in salads. If you touch kale, you will notice that it is rather firm, stiff in its texture.
That makes it rather awkward to chew. If you massage the kale now, its texture will turn into soft, tender leaves and the bitterness will also go away as it absorbs the taste of the dressing.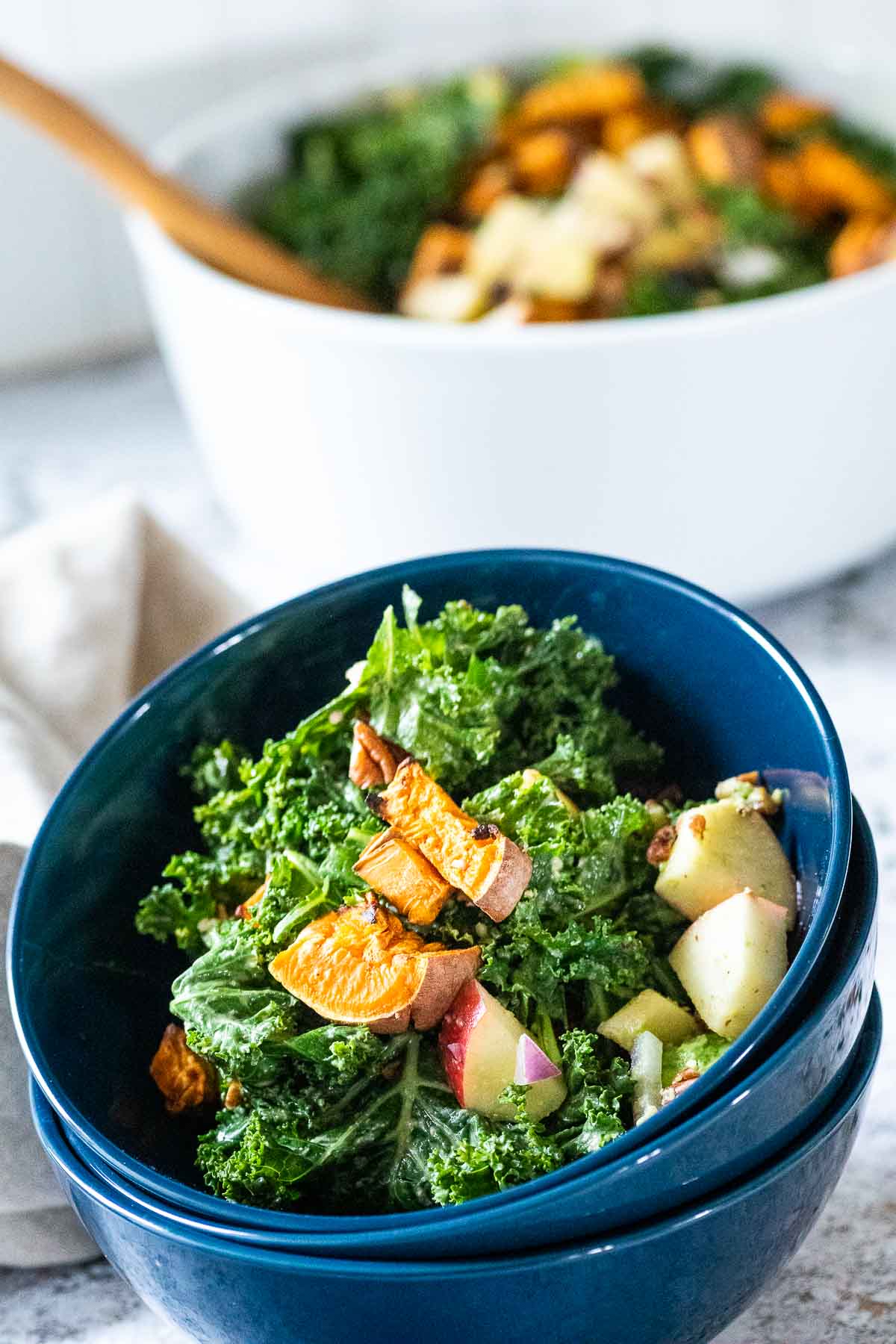 How to massage it?
It is important that you pluck the leaves off the stems. Simply tear the leaves off the stem with your hand. Make sure that you pluck into bite-sized pieces.
Then put the kale in a large bowl. Pour the dressing over it and massage the kale with your hands.
It is important that you massage the kale with your hands for about 2-3 minutes. You will notice that its texture changes. You see, the kale is covered in dressing and is starting to wither. The volume is reduced by approx. 20-30%.
You don't want to massage the kale too long either, or it will look like lettuce floating in dressing for too long.
When it's hard to tell if it's massaged enough. Try a leaf. Is it still too hard to chew? Then massage a little more. You want a light crunch!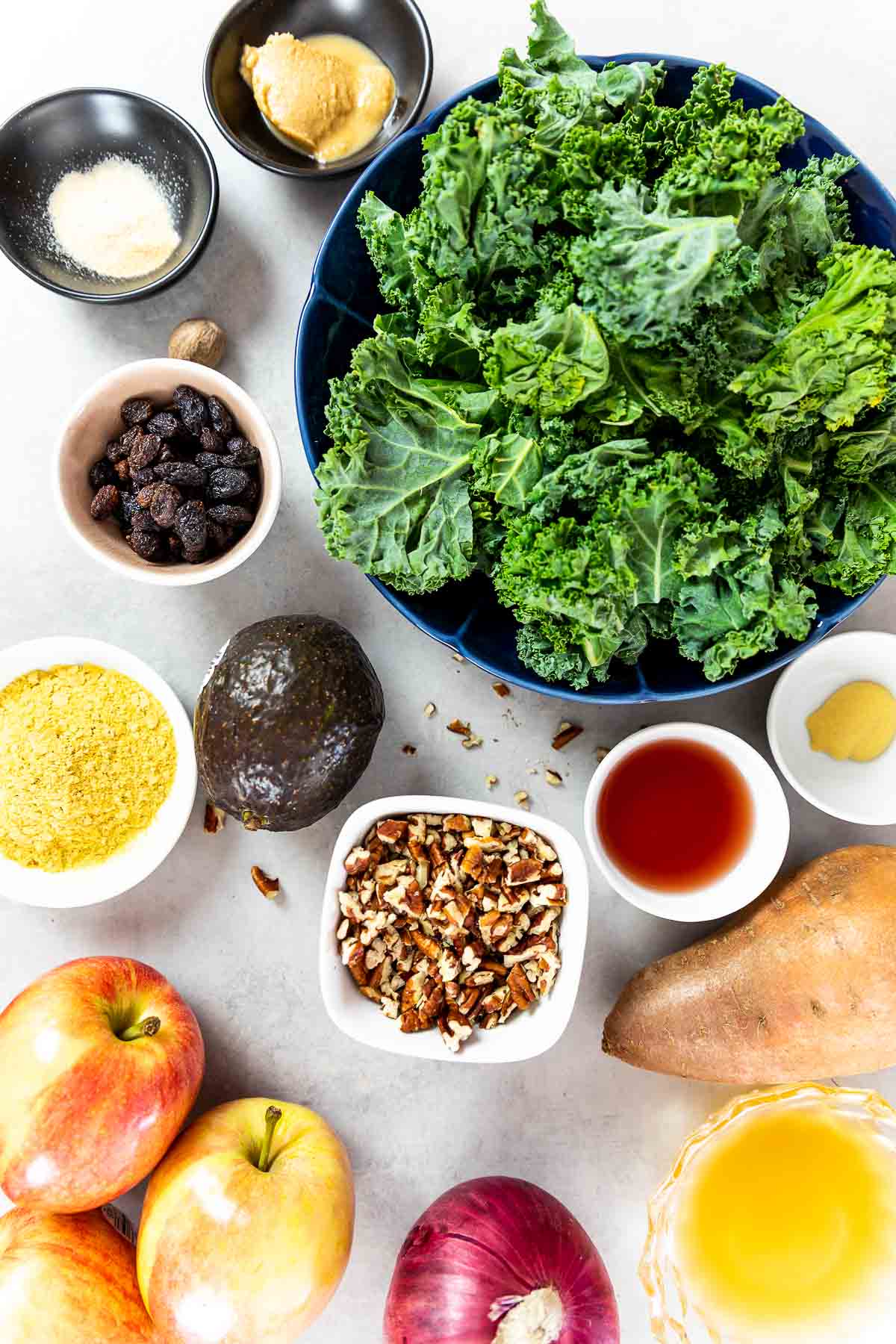 Ingredients
Now let's see what's in this vegan massaged kale salad. You can find the exact quantities below in the recipe card.
Kale
Apples
Pecans
Sweet Potato
Avocado
Raisins
Red Onion
Dressing:
Red Wine Vinegar
Mustard
Vegetable Broth
Tahini
Garlic Powder
Onion Powder
Nutmeg
Nutritional Yeast
Substitutions
Let's take a quick look at how you can replace certain ingredients with other ingredients in the kale salad.
Pecans
You can replace the pecans with walnuts, for example. Replace it in equal amounts. If you don't like nuts or can't eat them, consider using seeds. I could very well imagine pumpkin seeds here.
Sweet Potato
You can use diced butternut squash instead of sweet potato. This gives a tasty note. Proceed as with the sweet potato.
Raisins
Some people like raisins, while others hate the shriveled grape. If you're not a fan of raisins, you can use other dried fruits as well. For example, dried cranberries and diced dates are ideal. I can also imagine that freshly cut, filleted oranges taste very good.
Red Wine Vinegar
Instead of red wine vinegar, you can also use other vinegar, e.g. white wine vinegar, apple cider vinegar, or any other favorite.
Tahini
You don't want to use tahini? No problem. Just use a different nut butter. For example almond butter or cashew butter.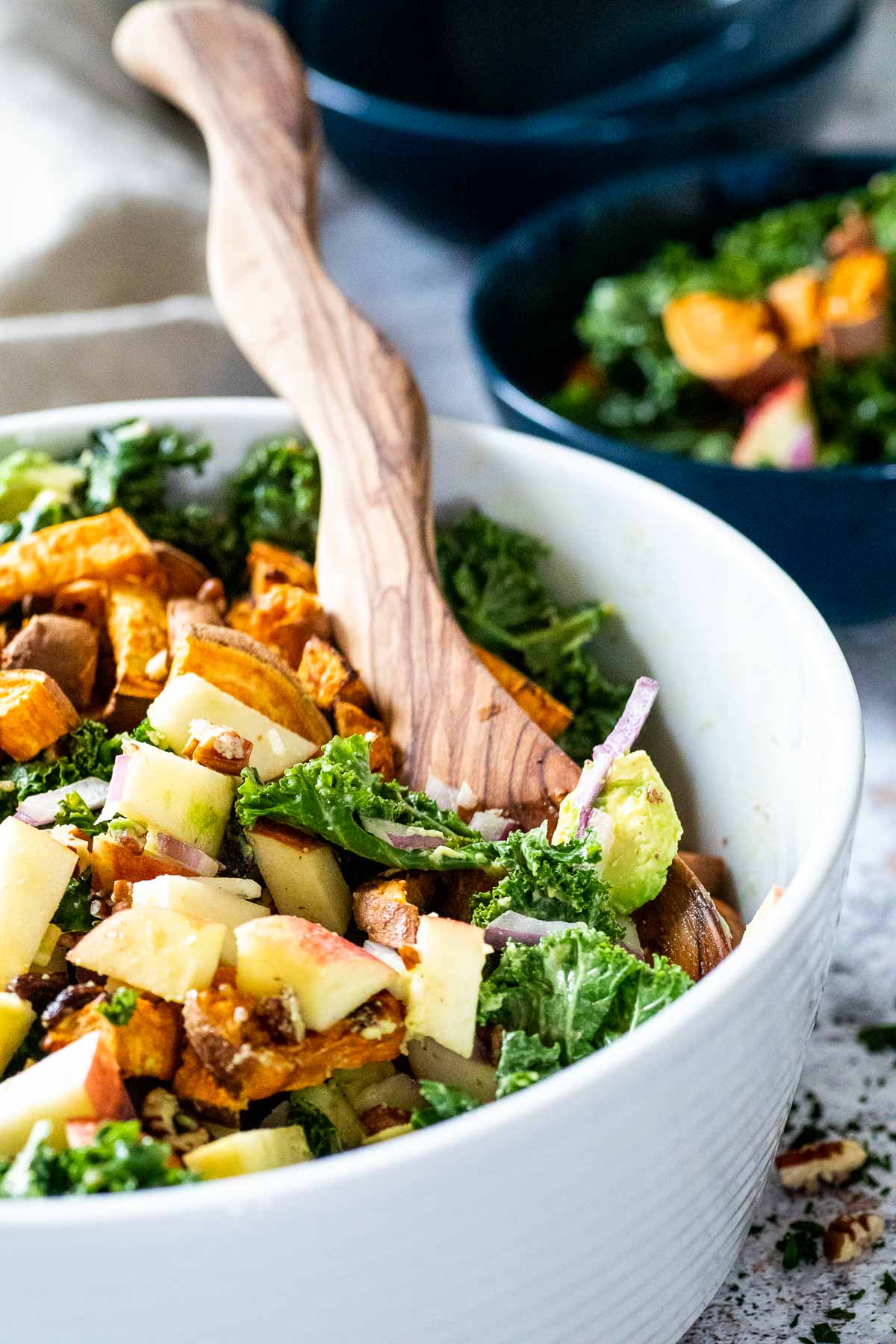 Variations
With this recipe, I would like to go into other forms of diets and how you can adapt the salad.
Gluten free
This massaged kale salad is naturally gluten free. So you don't have to adjust anything.
Paleo
This kale salad is also suitable for a paleo diet.
Keto
To make the kale salad keto, we need to replace the sweet potato with a pumpkin or squash. Since sweet potatoes are high in carbohydrates, they should not be consumed on a keto diet.
Apples and raisins should also be rented on a keto diet. Here I recommend just leave out apples and raisins or replace them with berries.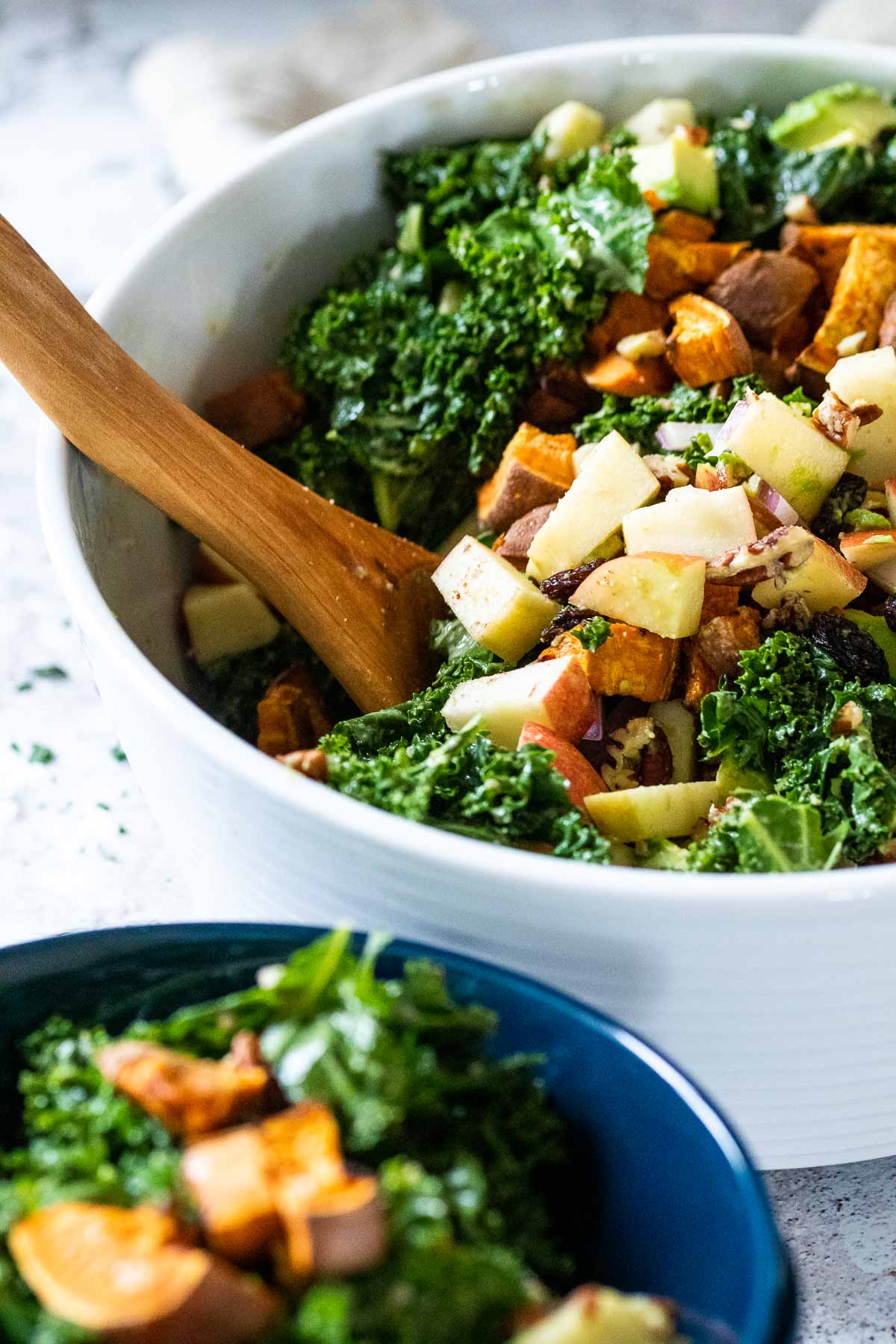 Instructions
Preheat the oven to 425°F or 220°C. Cut the sweet potato into cubes and bake them with 2 tablespoons of vegetable stock for 30-45 minutes. Check that the sweet potato is cooked through by poking it with a knife.
Meanwhile, prepare the dressing. To do this, put all the ingredients for the dressing in a high speed blender and blend until it is creamy.
Pluck or chop the kale and place in a large bowl. Massage the kale with the dressing and your clean hands for about 2-3 minutes.
Dice 2 apples without seeds and add to the kale.
Add chopped pecans, diced avocado, raisins.
Dice a small red onion. Add the onion to the salad.
Mix everything with the kale.
Now add the sweet potato and stir it. Serve in small salad bowls and top with a few more nuts.
Prepare in Advance
You can prepare the salad dressing in advance and cut the vegetables. However, I recommend preparing the kale salad just before serving.
Cooking Time
The sweet potatoes need to bake for about 30 minutes.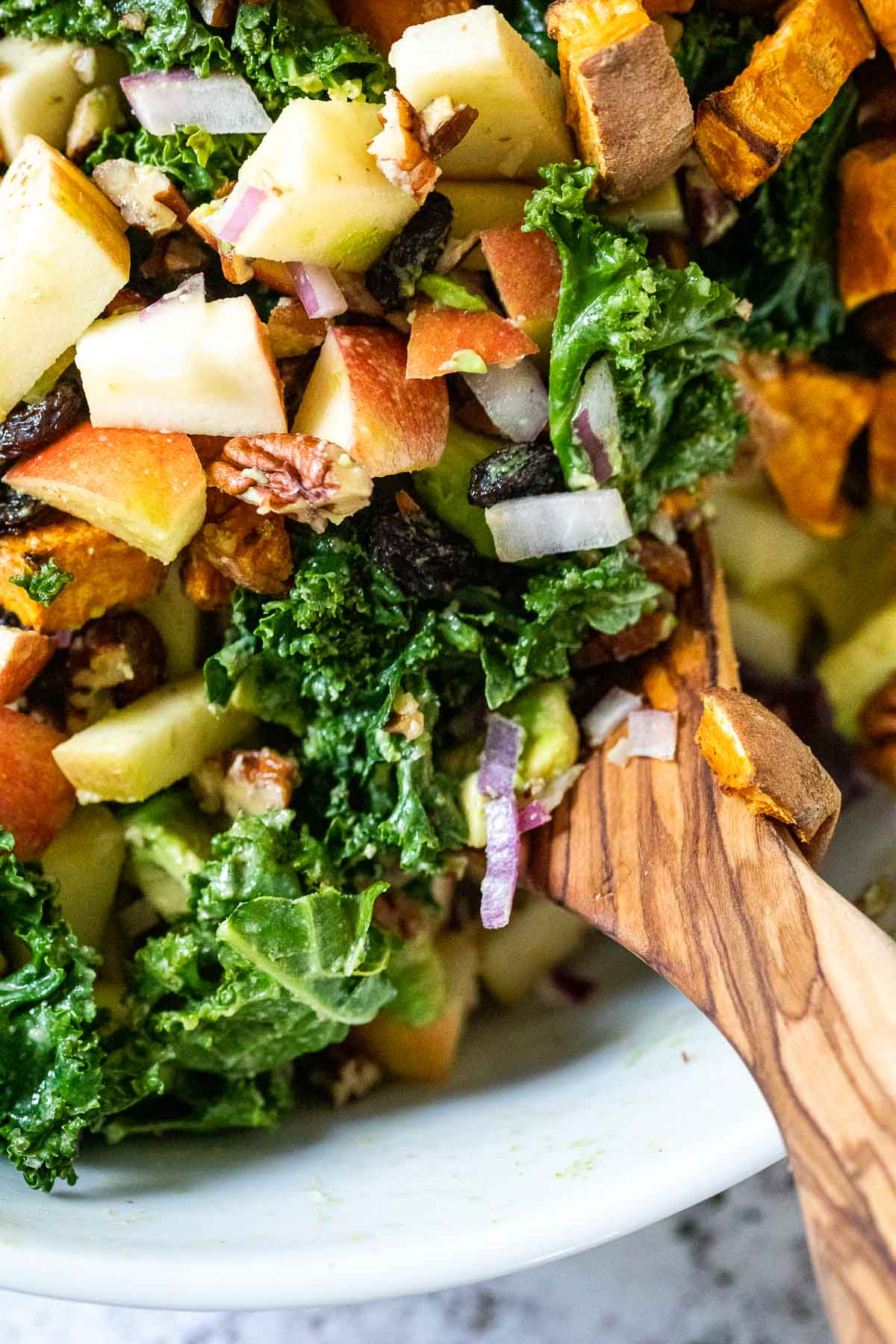 Serving Options
I think the kale salad is a complete dish. For example, you can serve bread with the kale salad.
Storage
You can store the leftovers in an airtight container. However, I recommend eating the salad the next day at the latest.
Tips
Add other toppings. For example, roasted chickpeas will taste great on this salad.
More vegan Recipes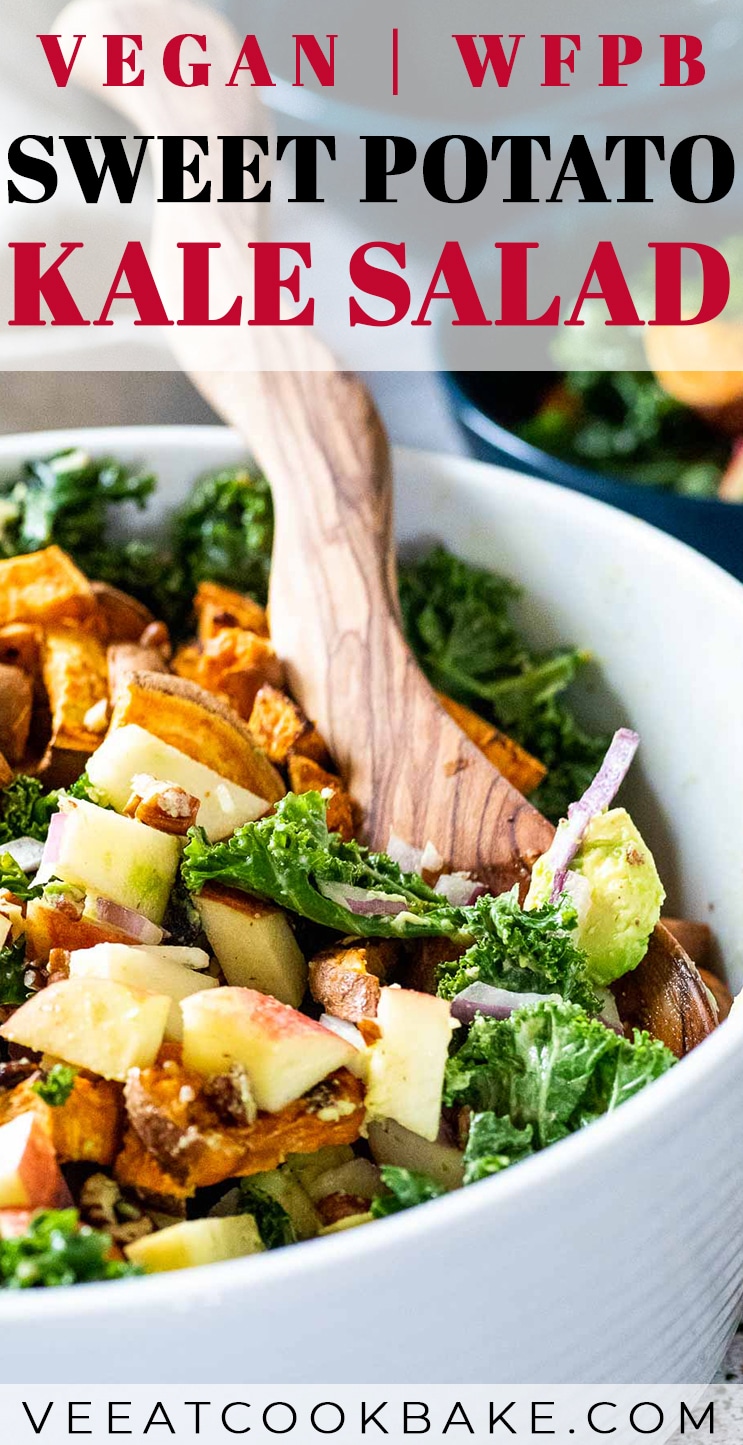 Have you tred the recip
If you tried the vegan Recipebe so nice ♥ and let me knw byrating the recipe and writing what you think about it in the comments.  I would love to see your photo on Instagram orFacebook. To do this tag me with @veeatcookbake andmy hashtag is #veeatcookbake. So that I can see your creation. Did you know you can add photos n Pinterest under the recipe Pin? I can't wait to see a photo of your creation here. You find me with @veeatcookbake