Prepare a recipe for gluten-free buckwheat bread super quick and easy. If you like the taste of buckwheat, this gluten-free bread recipe is for you. It's airy and tender, just like you know it from the bakery. Only that it gets by without any wheat or other cereals containing gluten.
This buckwheat bread is great as a supper, sandwich or simply eaten with a plate of soup.
Prepared with yeast, it becomes light and airy and has a great crust.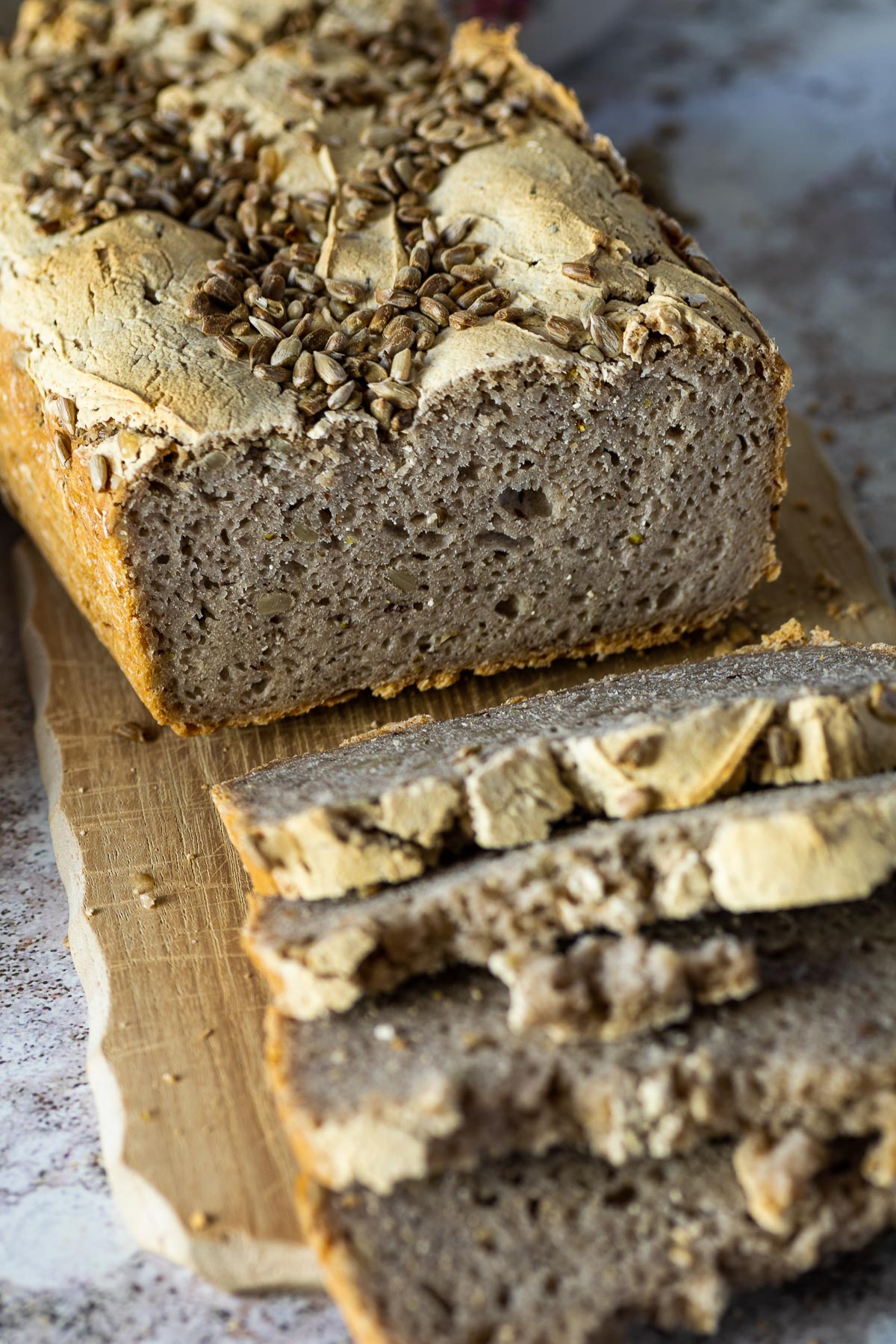 As an Amazon Associate, I earn from qualifying purchases. This post may contain affiliate links. Read More
Jump to:
We provide extra nutrients with flax seeds and sunflower seeds, which make this bread your new favorite bread.
Many buckwheat breads are made with baking powder and oil. Unfortunately, I never liked the consistency of baking powder buckwheat breads. Often they were too oily for me and just didn't have the crumb you know from bread.
So I tried my hand at this buckwheat bread recipe, and I succeeded very well. I am still thrilled with how good this gluten-free bread tasted. Not only is it gluten-free, it's also oil-free, nut-free, soy-free.
You can also dry the bread and make gluten-free breadcrumbs from it.
Ingredients
Now let's take a look at the ingredients that go into this great gluten-free bread. You can find the exact quantities below in the recipe card.
Buckwheat Flour
Sea-salt
Active Dry Yeast
Water
Tahini
Linseed
Sunflower Seeds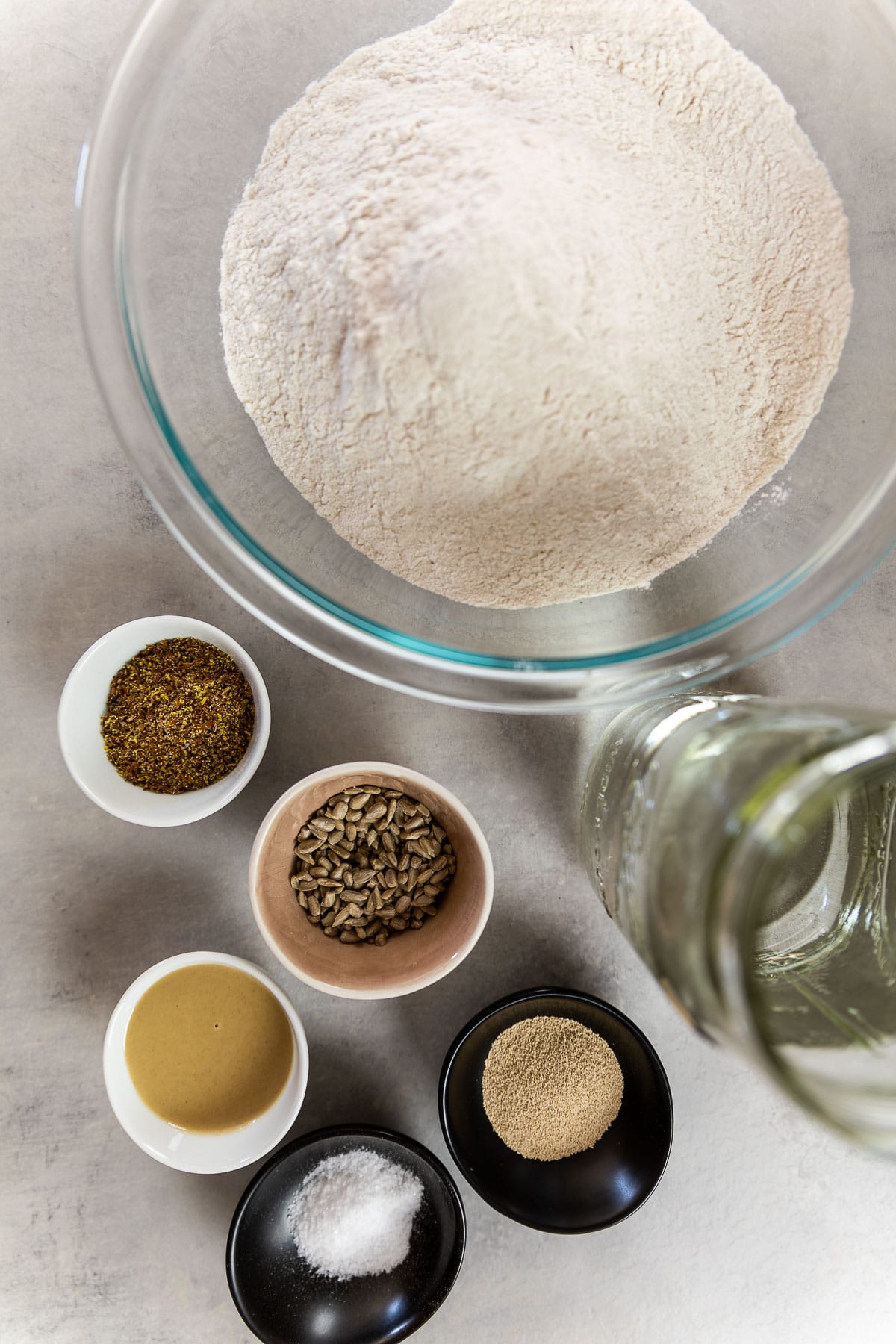 Substitutions
Let's look at which ingredients you can replace so that you can still bake the great bread.
Active-Dry Yeast
You can also use fresh yeast instead of dry yeast here. Simply use ½ cube of fresh yeast.
Tahini
If you don't want to use a tahini, just use a nut butter or sunflower seed purée.
Flax Seeds
You can replace the flax seeds one-to-one with chia seeds. You don't have to grind chia seeds.
Sunflower Seeds
You can also use other seeds here. Pumpkin seeds, for example, are great for this buckwheat bread.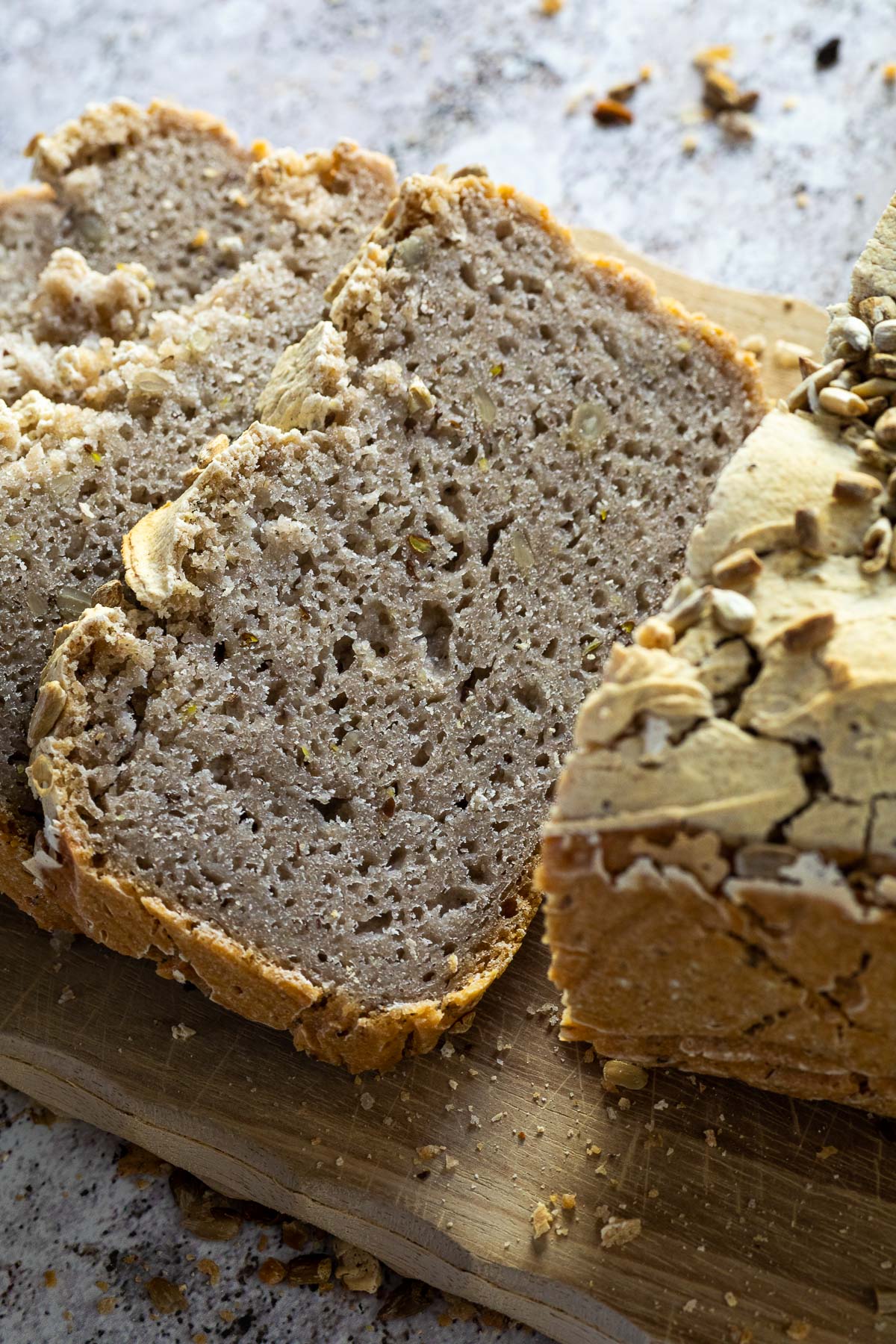 Variations
Here, too, I would like to go into different forms of nutrition.
Paleo and Keto
Buckwheat is not actually a grain, but a pseudo-grain. Therefore this bread does not fit into these diets.
Nut free
Buckwheat bread is already a nut-free bread.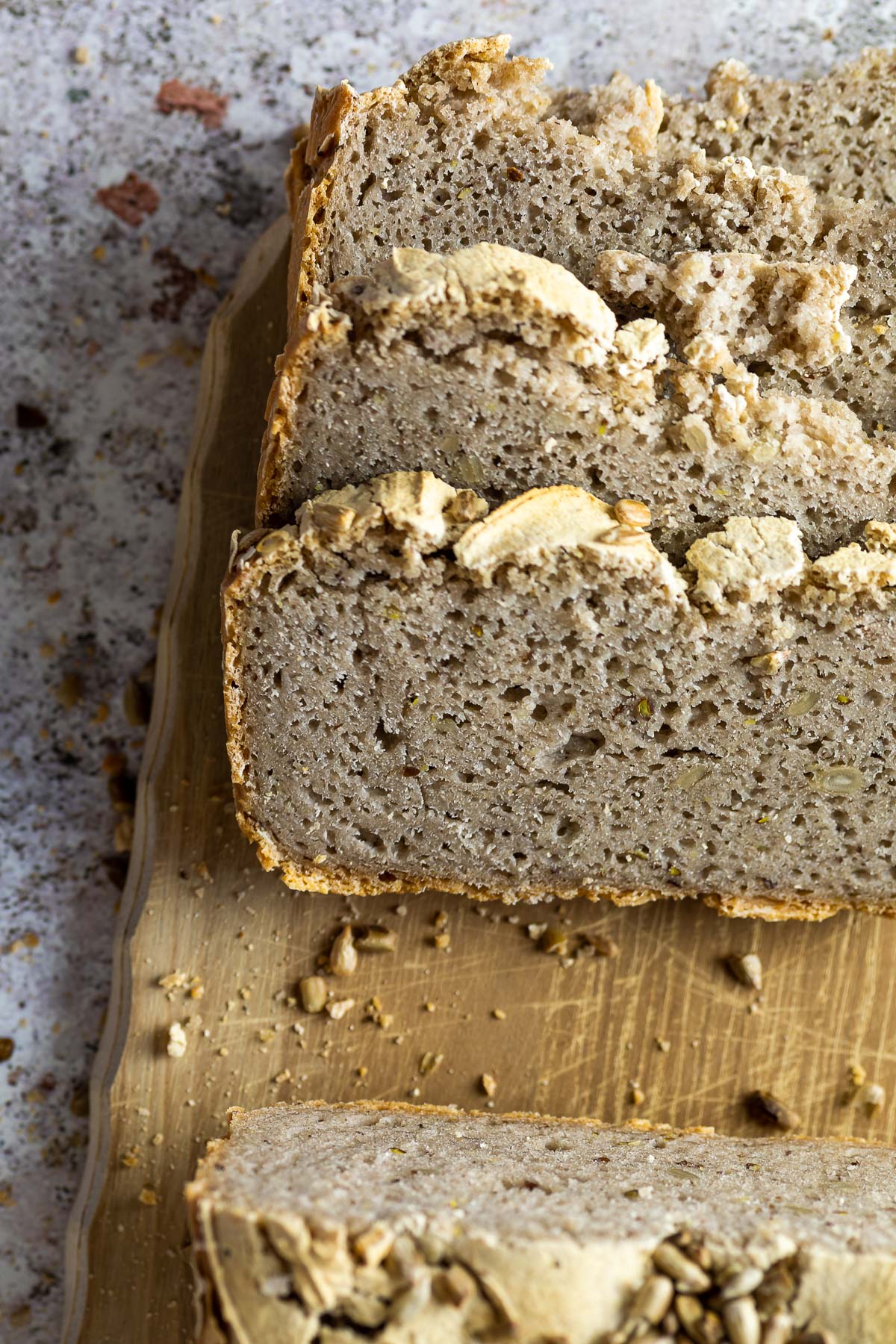 Instructions
Mix the water and tahini in a small container and stir in the yeast. Let stand for 5-10 minutes. In the meantime, mix 750g buckwheat flour, ground linseed and 2 tablespoon sunflower seeds in a mixing bowl of a food mixer.
Now knead the yeast mixture with a dough hook on a low setting. Let this knead for about 5 minutes. If necessary, press down the dough every now and then, make sure that all the flour is kneaded.
Now add the salt and knead on medium level for about 2 minutes.
Cover and let the dough rise in a warm place for about 60 minutes.
Take a loaf pan and line it with parchment paper. Now briefly knead the dough and put it in the loaf pan.
Cover the loaf pan and let the bread rise for another 40 minutes. In the meantime, preheat the oven to 425°F (220°C) and place an ovenproof bowl in the oven. It's best to place it on the bottom.
Now cut into the bread and sprinkle with a few seeds if desired.
Place the bread in the oven and switch directly down to approx. 390°F (200°C) and bake for approx. 50-60 minutes. Check the color every now and then, depending on whether you like it darker, you can let it bake a little longer.
Once baked, lift the bread out of the loaf pan and let it cool on a wire rack.
Before you cut it, let it cool down completely. We like to cut it with a bread slicer.
Prepare in advance
The bread is great to prep in advance. It will keep for a few days in a bread basket. I have to say, it gets drier the older it gets. But that's normal, isn't it?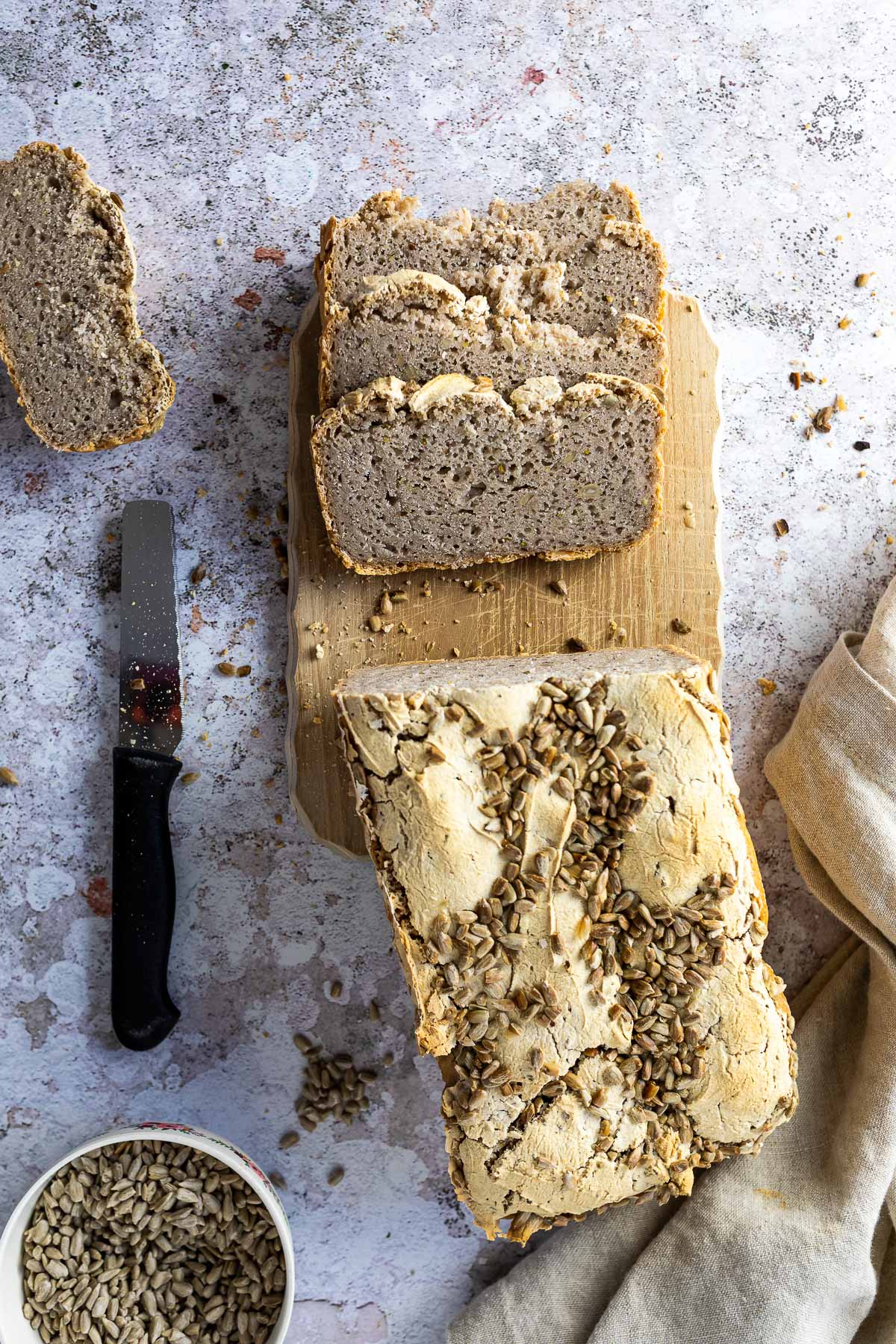 Serving options
This gluten-free buckwheat bread is great as a sandwich bread or, as we say, Klappschmier. You can also top it as dinner. We also like to eat it with a bowl of soup.
Let it dry and grind it into breadcrumbs.
Storage
The bread is great to store in a bread basket at room temperature. Here the bread will keep for about 5 days. So far it hasn't gotten that old with us. It just tastes too good.
How to freeze it
Cut the gluten-free bread into slices and freeze it. The best thing to do is to put a piece of baking paper between the slices so that they don't freeze together and you can remove them in portions.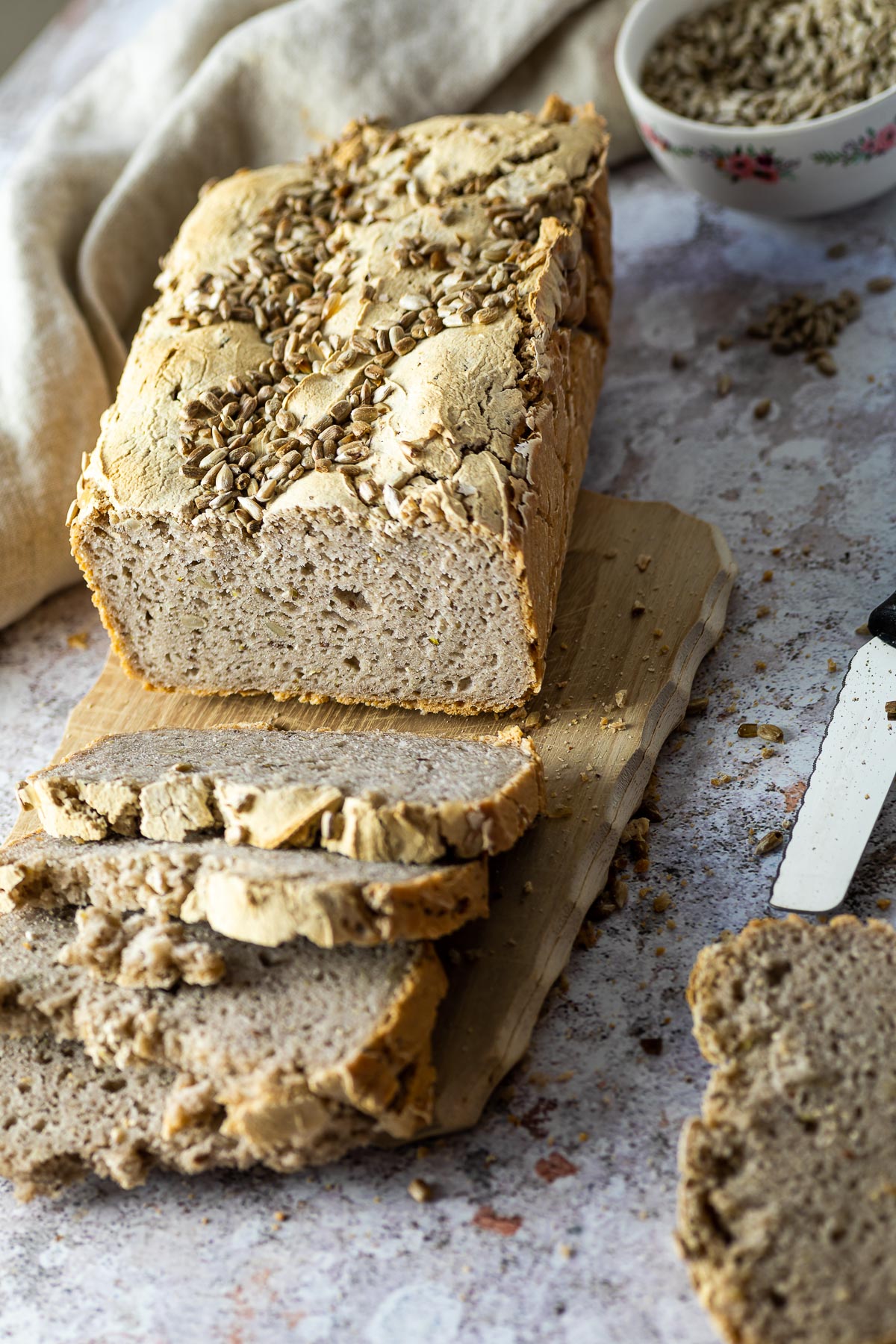 More vegan recipes:
Spelt Bread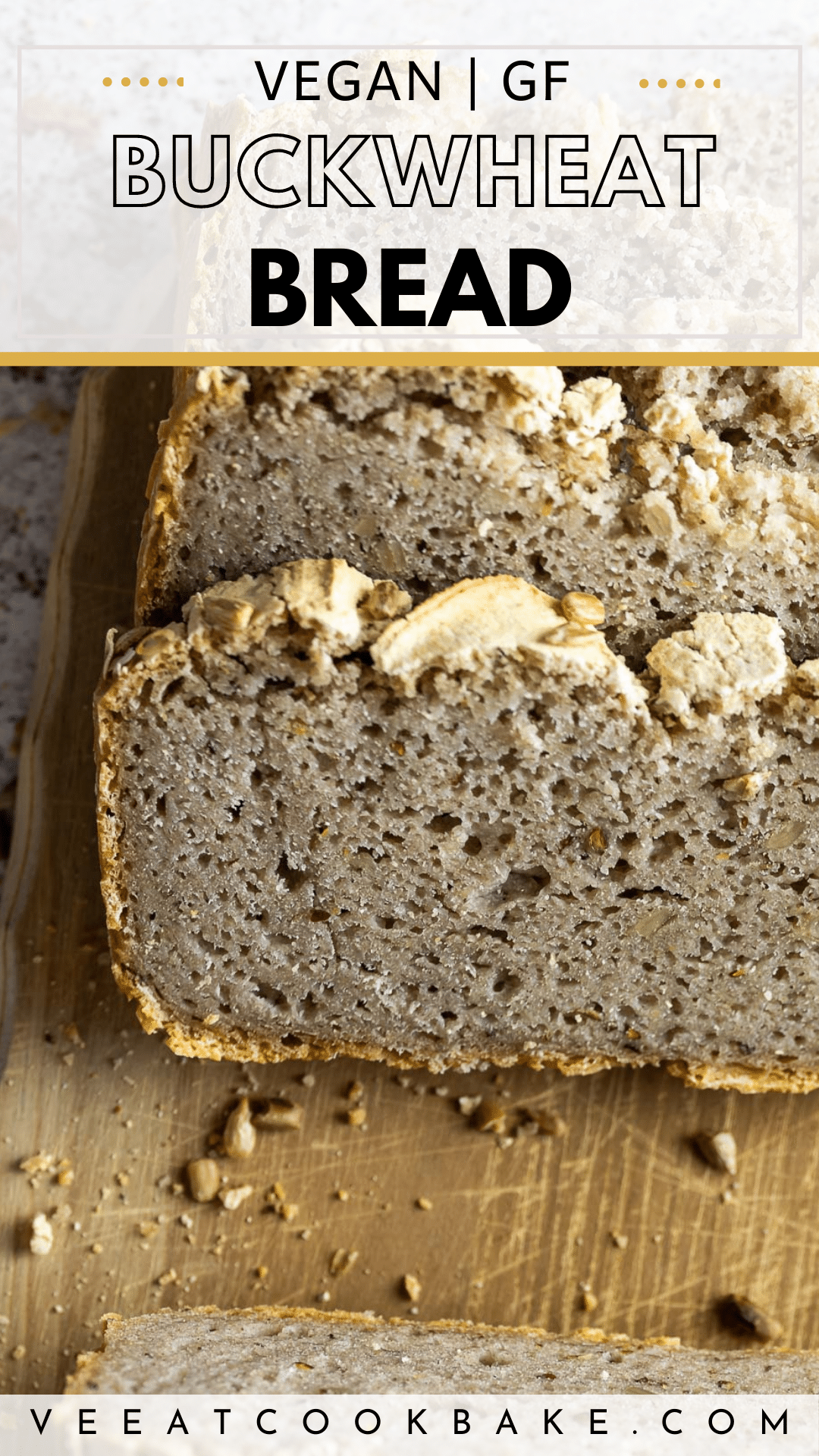 Have you tred the recip
If you tried the vegan Recipebe so nice ♥ and let me knw byrating the recipe and writing what you think about it in the comments.  I would love to see your photo on Instagram orFacebook. To do this tag me with @veeatcookbake andmy hashtag is #veeatcookbake. So that I can see your creation. Did you know you can add photos n Pinterest under the recipe Pin? I can't wait to see a photo of your creation here. You find me with @veeatcookbake