This simple spelt bread recipe made from 100% whole spelt flour with various seeds is a great bread for sandwiches and easy if you want to make some toast.
It doesn't take much effort to prepare this bread. About 2 hours in which you can devote yourself to other things while the dough is rising. Really it is just about 10-15 minutes active time where you have actual stuff, the rest is rising and baking time.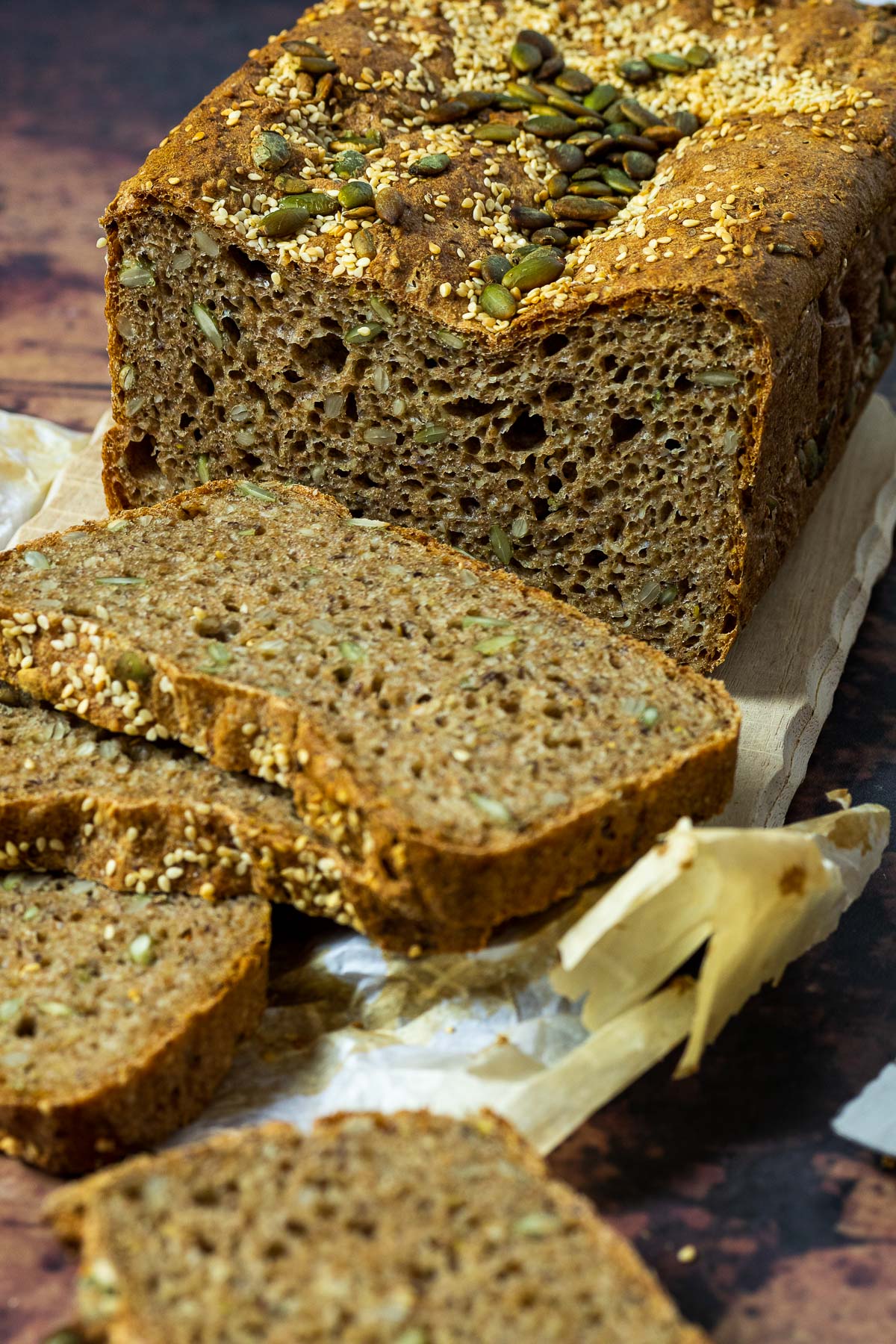 As an Amazon Associate, I earn from qualifying purchases. This post may contain affiliate links. Read More
Jump to:
Simple spelt bread with the perfect twist. You can even bake a great bread from whole grain flour, which is not too firm in the crumb, but as soft as we know it from the bakery.
With the addition of sunflower seeds, pumpkin seeds and flax seeds, this oil-free whole grain bread with spelt becomes even more nutritious.
Have you ever baked bread and the first cut of the bread brings out such tension, and when you see that the bread has turned out awesome, you are just overjoyed and could jump in a triangle? I feel like that often.
And not to mention the smell of freshly baked bread from the oven. A sandwich bread that we bake from spelt flour.
In addition to my oat-seed-wheat bread and my gluten-free buckwheat bread, this bread is one of my go-to breads that I bake weekly.
A sandwich packed with good things is ideal for a quick lunch.
Homemade bread is not as complicated as you might think, and I just want to show you that you can bake bread without additives or leavening agents (except yeast). In the video you can see step by step how I prepare the bread.
You don't have to resort to milk, whey, eggs, oils and the like for bread. Basically you only need flour, salt, yeast and water for a good bread and I like to add seeds as well. I love good whole grain breads.
For my bread, I recommend that you use a scale to determine the exact quantities. I will also give you the cup details. But cups are very imprecise and the results may vary.
Enough talk now, let's take a closer look at the recipe.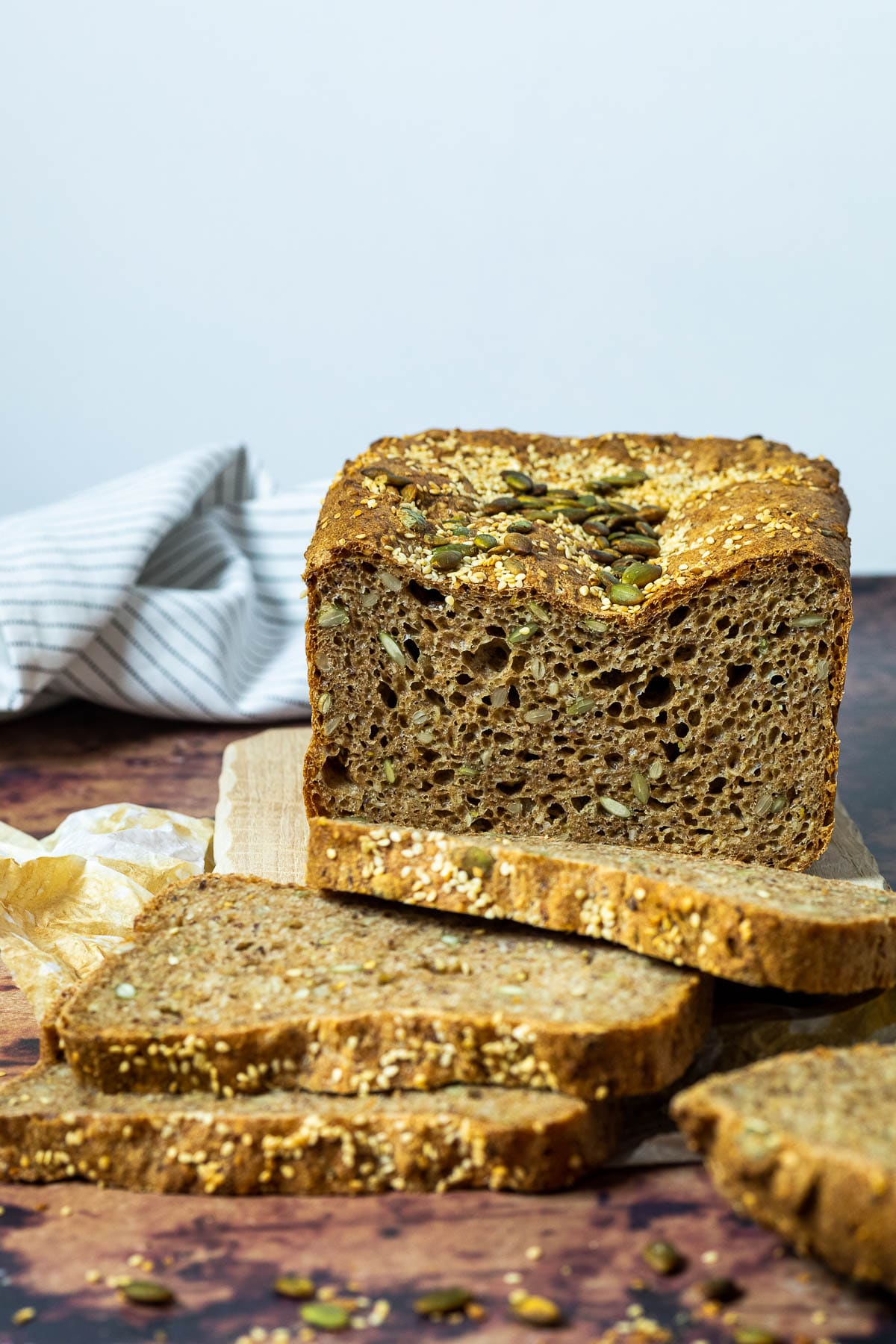 Spelt vs. Wheat
Is Spelt better than Wheat? Spelt and wheat are very similar in nutritional content. The main difference is that spelt contains less gluten than wheat. The wheat gluten is stronger and more elastic. Therefore, spelt breads will never rise as high as wheat breads.
It is also said that people with wheat intolerance can often tolerate spelt. But always get medical advice here. I am not an expert on this.
You can substitute spelt and wheat 1:1. When you do this, always add the amount of liquid slowly. As a rule, spelt needs a little less liquid than wheat.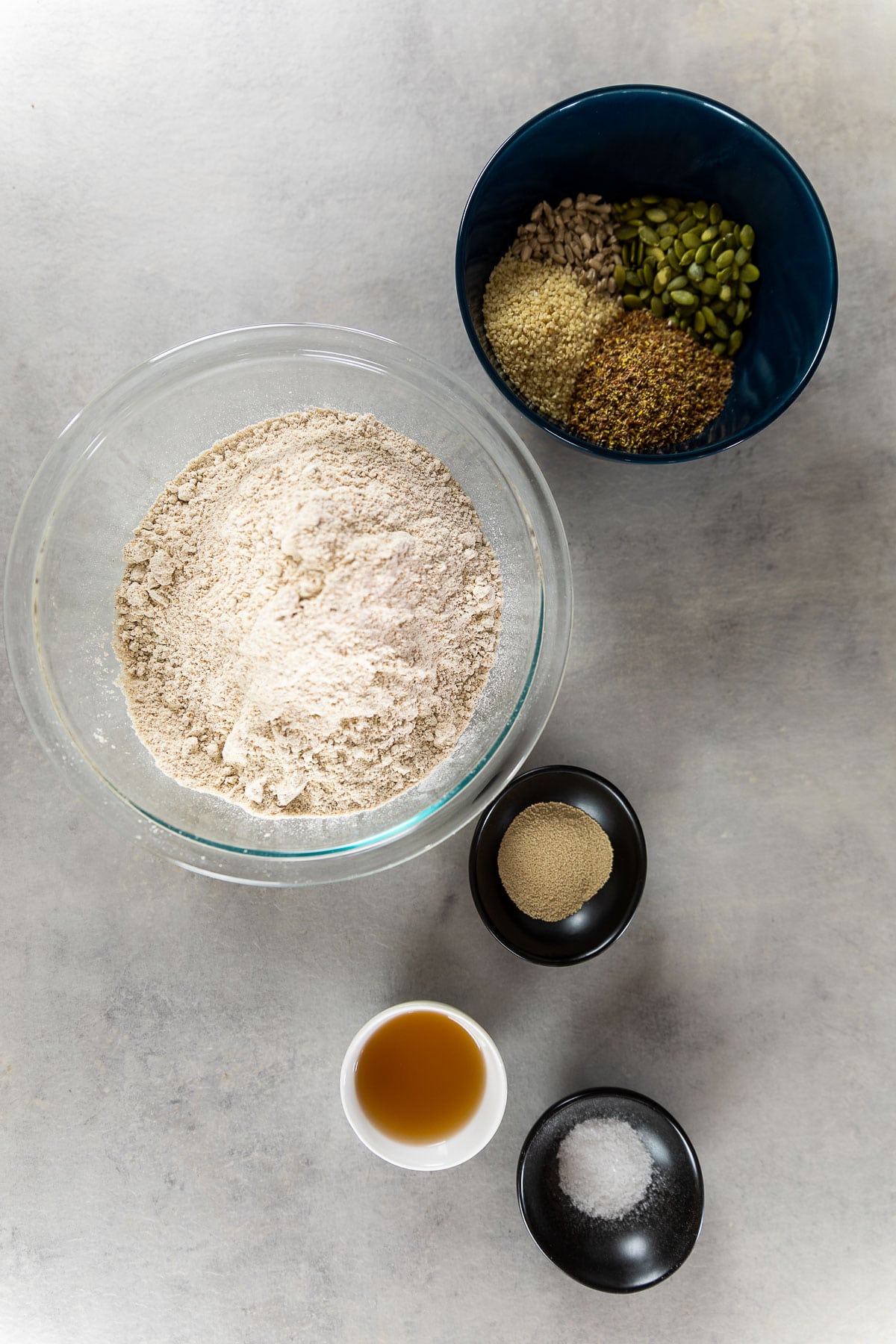 Ingredients
Now let's take a look at the ingredients in this great wholemeal spelt bread. As always, the exact quantities can be found below in the recipe card.
Spelt Flour
Sunflower Seeds
Pumpkin Seeds
Flax Seeds
Sesame
Salt
Apple Cider Vinegar
Yeast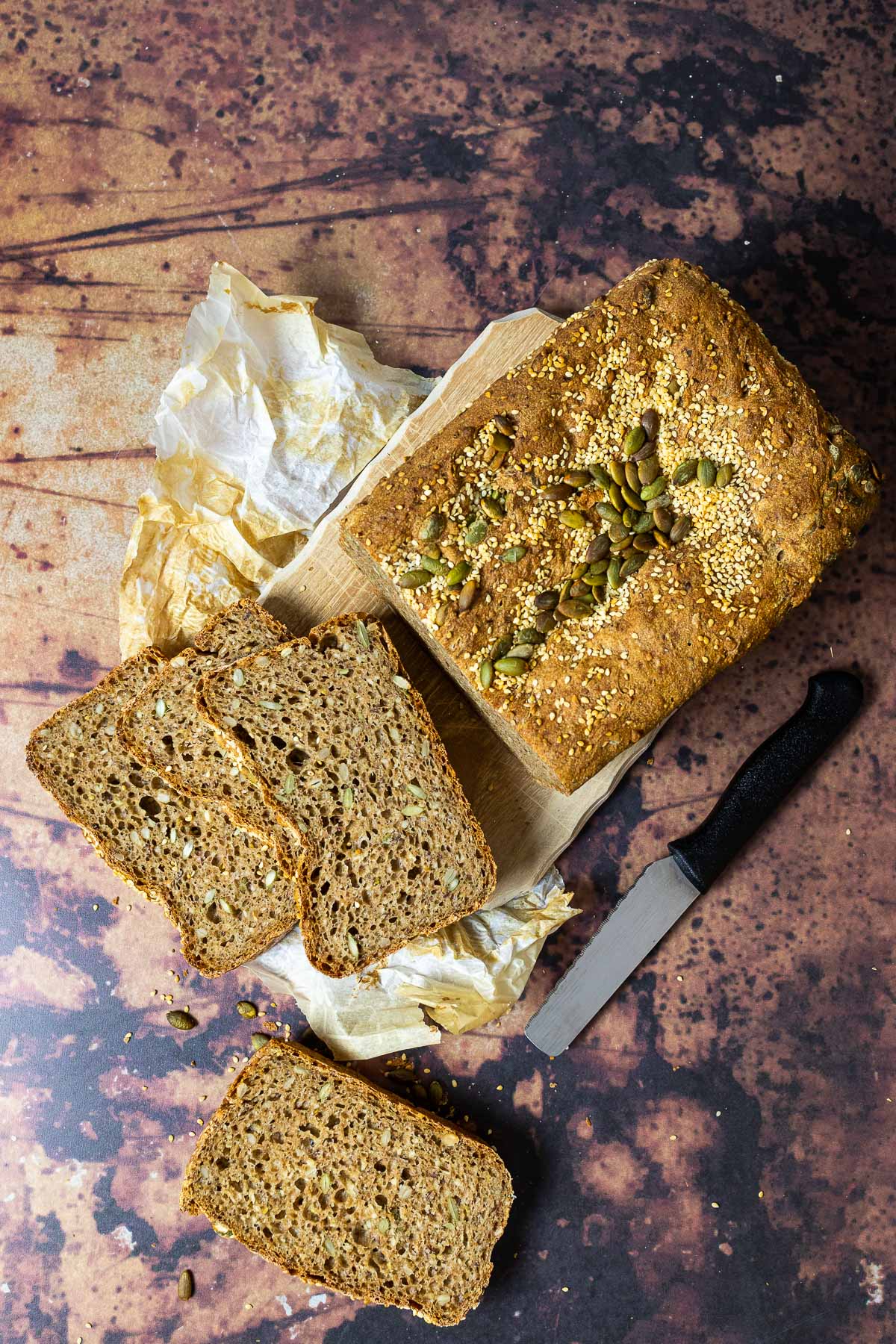 Substitutions
Now let's take a look at which ingredients you can replace with which ingredients.
Flour
If we replace the spelt flour, then it is basically no longer a spelt bread.
But if you now feel like baking that bread and you have no other flour than whole wheat flour, then use that. You can replace spelt and wheat one to one. You may need to add a little more water.
Seeds
You can of course exchange the seeds with each other. For example, only use sunflower seeds. You can also add nuts, hazelnuts, almonds, or walnuts.
Vary here and you will always get a new bread.
Yeast
I use dry yeast in the recipe. But also simply for the reason that there is no fresh one here in the USA.
If you want to use fresh, I recommend using half a cube of fresh.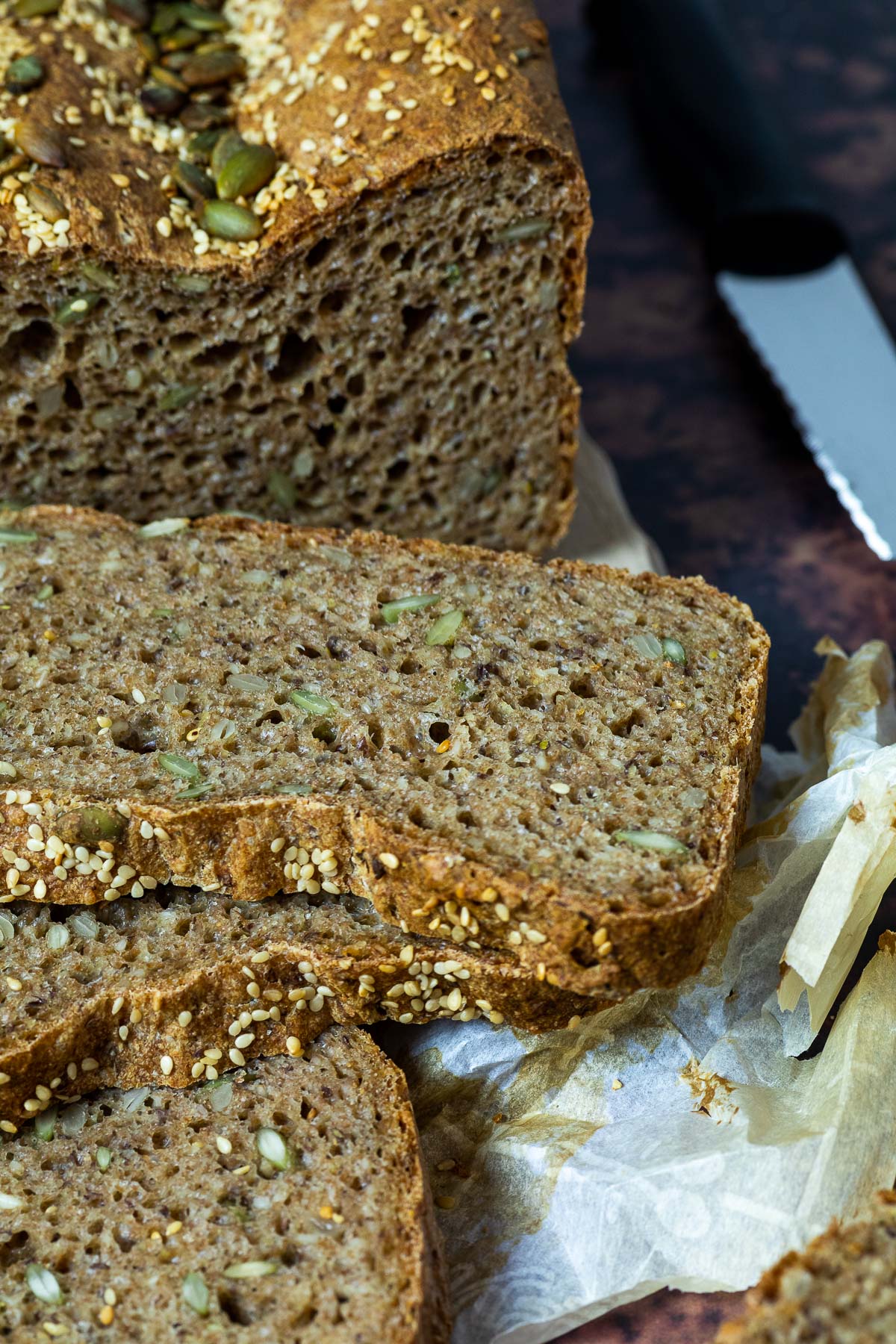 Variations
With the recipe, too, I would like to discuss variations of the bread with you in order to adapt it to different diets.
Gluten free
For example, you could replace the bread with a gluten-free flour mixture. But since it's a spelt bread, I haven't tried it yet.
Soy free
We do not use any soy-containing foods in our bread and are therefore soy-free.
Nut free
We only use seeds and grains for the whole spelt bread, and it is therefore a nut-free whole grain spelt bread.
Salt free
You can either use less salt or omit the salt entirely and add 1-2 teaspoons more apple cider vinegar. This is how you have a low-sodium spelt bread made from whole grain.
Instructions
Place the flour, seeds, and yeast in a mixing bowl of a stand mixer. Mix it briefly until the yeast is mixed with the flour.
Add the water and knead the dough on a low level for about 4 minutes.
Now add the salt and apple cider vinegar and knead for another 2 minutes.
Sprinkle some flour over the dough and cover it with a cloth. Let it rise in a warm place for 1 hour.
The dough should now have twice the volume. Take parchment paper and use it to line a loaf pan. Put a few seeds on the bottom of the loaf pan. Briefly knead the dough and put it in the loaf pan. Let the dough rise for an additional hour. Preheat the oven to 430°F (220°C).
Sprinkle a few more seeds on the bread and put it in the oven. Set the oven to 400°F (200°C) and bake for 45-60 minutes.
Let it cool completely before you cut it.
Prepare in advance
I usually bake the bread in advance and freeze it. You can freeze it slice by slice or whole.
So you always have something ready for a sandwich.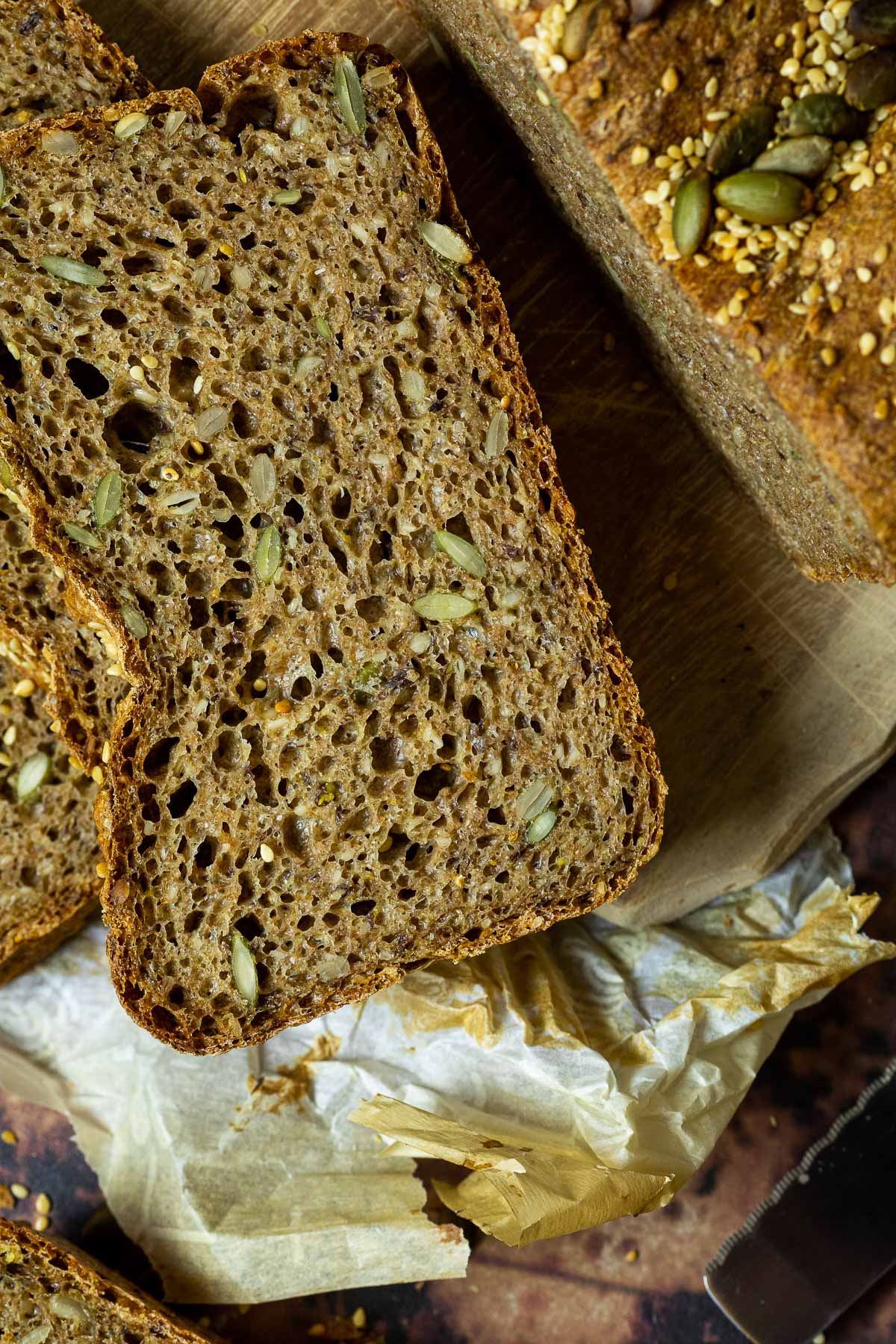 Recommended equipment
What you now need for the vegan whole grain spelt bread is a loaf pan and a stand mixer.
Serving Suggestion
What can you spread on the bread? Here are some vegan suggestions:
Chicken Salad
Storage
The bread can be stored in a bread box. It stays there for about 4 days. It gets a little dry the longer you keep it.
I like to toast it in the end.
How to freeze it?
You can freeze individual slices by simply placing a piece of baking paper between the slices and freezing it.
So you can always take out as many slices as you need. I usually cut the bread in half and freeze the halves. We usually eat half a bread within 2-3 days.
How to thaw it?
Simply take out the bread the day before and let it thaw. To do this, I put the bread on the counter.
If you need the spelt bread at short notice, you can bake it up briefly in the oven, so the crust is crispy and freshly baked.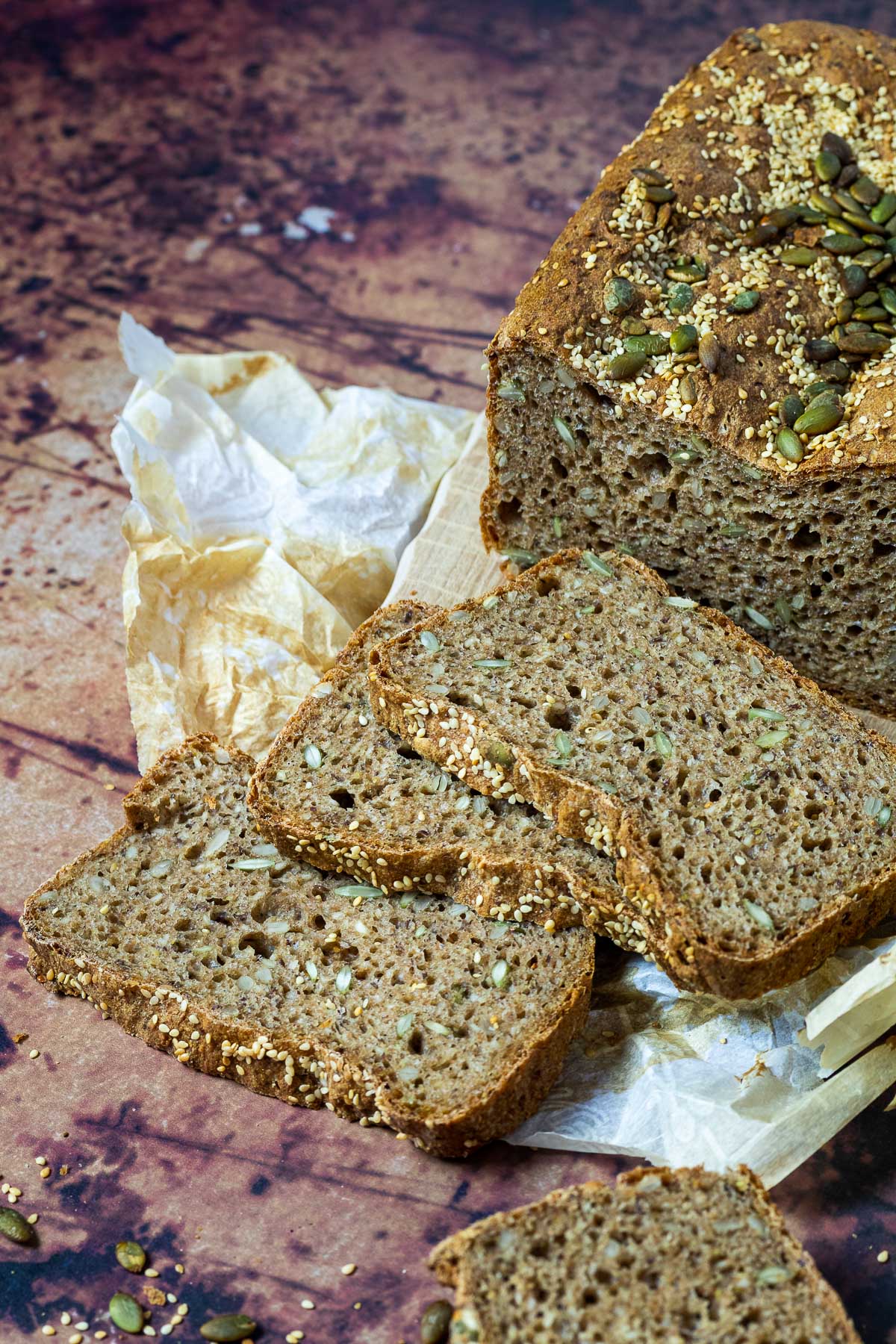 Tips
Try out different types of grain like kamut or unicorn.
Here, too, the kneading time is important to loosen up the bread. Knead it for between 6 and 9 minutes.
If your bread has not risen noticeably after 1 hour, let it stand a little longer. We want the yeast to work properly so that the bread rises nicely when baking.
More vegan bread recipes: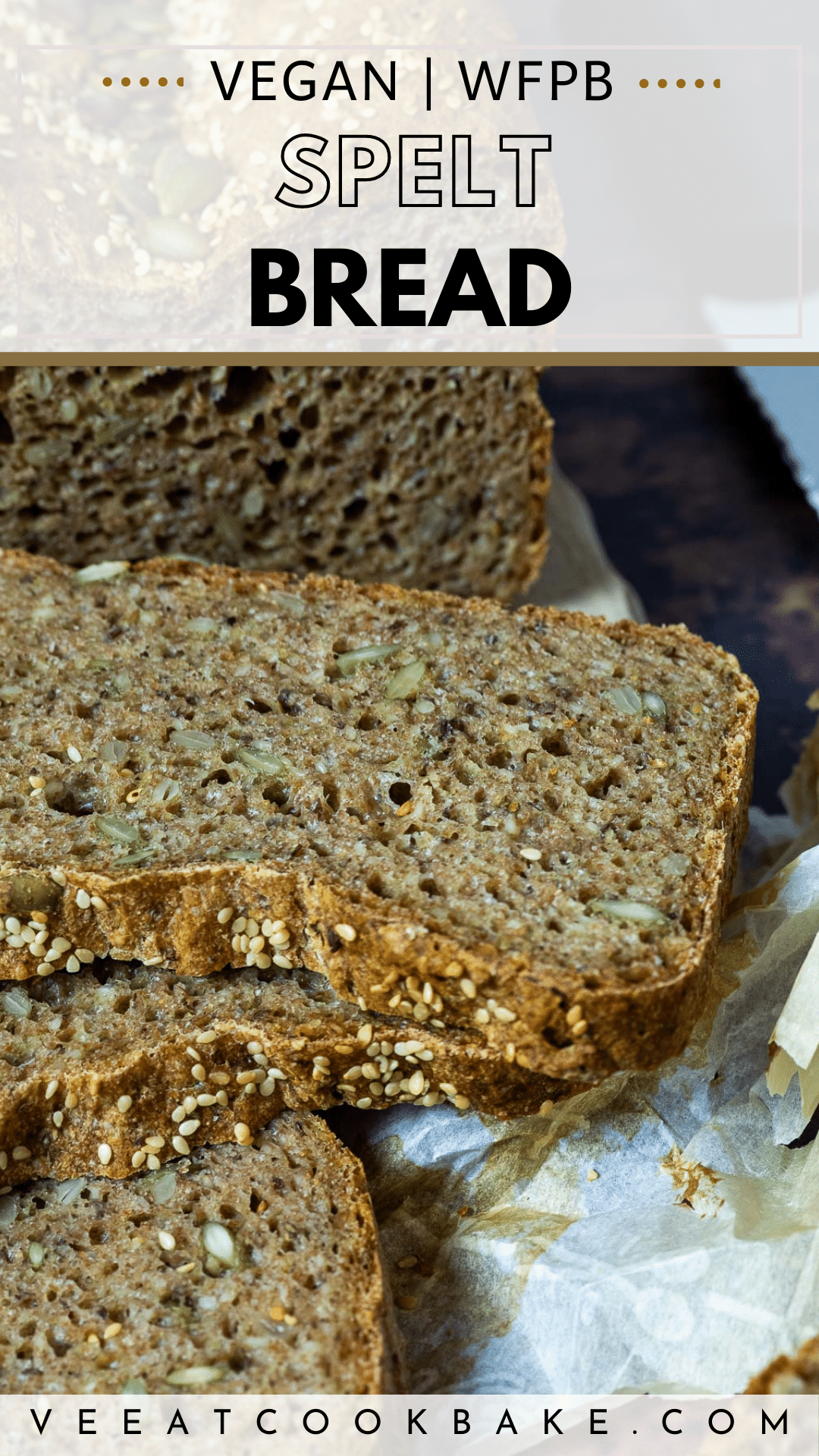 Have you tred the recip
If you tried the vegan Recipebe so nice ♥ and let me knw byrating the recipe and writing what you think about it in the comments.  I would love to see your photo on Instagram orFacebook. To do this tag me with @veeatcookbake andmy hashtag is #veeatcookbake. So that I can see your creation. Did you know you can add photos n Pinterest under the recipe Pin? I can't wait to see a photo of your creation here. You find me with @veeatcookbake