Are you a fan of the earthy flavor and crunch of asparagus? If so, then you're going to love this delicious vegan asparagus soup.
This amazingly flavorful dish is loaded with potatoes, delicate chunks of fresh asparagus and curry-infused nut topping that will tantalize your taste buds!

Nothing says comfort food quite like a hearty bowl of steaming hot soup - especially when it's made using veggie-packed ingredients. Whether you're vegetarian or simply looking for an easy plant-based meal, this tasty treat is sure to be enjoyed by everyone!
So get ready to add some wholesomeness into your kitchen – let's make some Vegan Asparagus Soup with Potatoes and nut curry topping!
A great healthy soup for cooler nights and will keep you warm. Serve it as a Main Course or a light Appetizer. This soup is not just gluten-free and low-carb, it is also whole foods.
This creamy soup was inspired by my Wild Garlic (Garlic Chive) Soup. It pairs well with some fresh baked Baguette and some home-baked Spelt Bread.
I have used white asparagus for the soup to get that nice contrast to the green decorating asparagus.
As an Amazon Associate, I earn from qualifying purchases. This post may contain affiliate links. Read More
Jump to:
Ingredients
A quick list of ingredients to see what you will need to make this soup.
You can find the ingredients with quantities and the recipe to print out on the recipe card below.
asparagus (white, green)
green asparagus for decoration
yellow onion
potatoes
dry white wine
vegetable broth
raw cashews
lemon juice and zest
nutmeg
fresh herbs for garnish (eg parsley, chive blossom or my nut topping)
Curry Nut Topping
cashews
hazelnut
sesame
curry powder
sea salt
Instruction
Sautee the diced onion in a little water on medium heat.
Deglaze with white wine and wait until it is overcooked.
Peel the asparagus (if you use white), trim asparagus, cut off woody ends and dice, peel and dice the potatoes and add to the onions, add with the vegetable broth and lemon juice and simmer until the potatoes are tender.
Cook a few green asparagus spears in an extra pot, cut off the woody ends first.
Now blend the soup with an immersion blender. Blend the Cashews with the remaining water in a high speed blender until creamy.
Season with pepper, nutmeg and salt.
Cut the green asparagus stalk into pieces and decorate your bowl of soup with it.
For the nut topping:
Roast cashews, hazelnuts and sesame in a non-stick pan and crush in a mortar. Now add the spices and stir.
Hint: You can also use just a high-powered blender, add the soup and the cashews and blend everything together. Be careful the soup is hot.
Make this asparagus soup, check out some of my other blended soup recipes like potato soup, beet soup, cauliflower soup and more of my vegan soup recipes.
Substitutions
Some ingredients are easily to substitute.
Asparagus: As I mentioned above, I have used white asparagus for this soup. You can use either green or white. There is even some purple asparagus on the market. The choice is up to you. All Asparagus varieties work here just fine.
White Wine: If you do not want to add white wine, then just use some white wine vinegar or regular vinegar. Add this when your vegan cream of asparagus soup is cooked, and taste to your own preference.
Raw Cashews: I love to add a creamy texture to my plant-based soups with blending cashews. But you can also use sunflower seeds, pumpkins seeds instead. Coconut Milk will also work. Dairy-free milks are usually not creamy enough to add creamy consistency to a simple soup. Thanks to the cashews and the potatoes there is no need for heavy whipping cream or half-and-half to make this creamy hearty spring soup.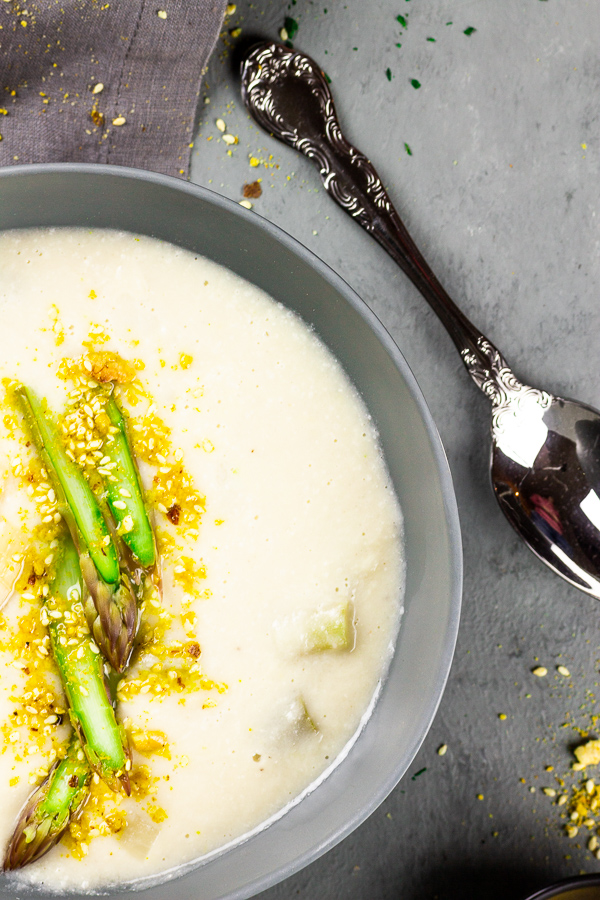 Variations
Let's see how you can bring in some variations:
Roasted Asparagus: Before you add the asparagus to the pot, roast it in the oven. You will even have a more depth of flavor.
Cheesy: To add a cheesy flavor to your creamy vegan asparagus soup, add some nutritional yeast.
Curry: Add a little bit of curry powder to your soup.
Spicy: You like spicy foods, add some red pepper flakes to get a little kick.
Italian: Add ½ cup tomato puree anad white beans to this creamy asparagus soup.
Veggies: Load it up with frozen or fresh veggies like brussel sprouts, broccoli. I'd add those after blending.
Storage
In an airtight container, the soup will last for 4-5 days in die fridge. Let it cool completely to room temperature before you put it in the refrigerator.
Vegan Asparagus Soup freezes well. Keep it in an airtight container for up to 3 months. Let it thaw first and reheat it on the stove top while stirring.
Top Tip
I love to use fresh asparagus. It got so much more flavor in the asparagus season. The season is in early spring. You might even find some at your farmer's market.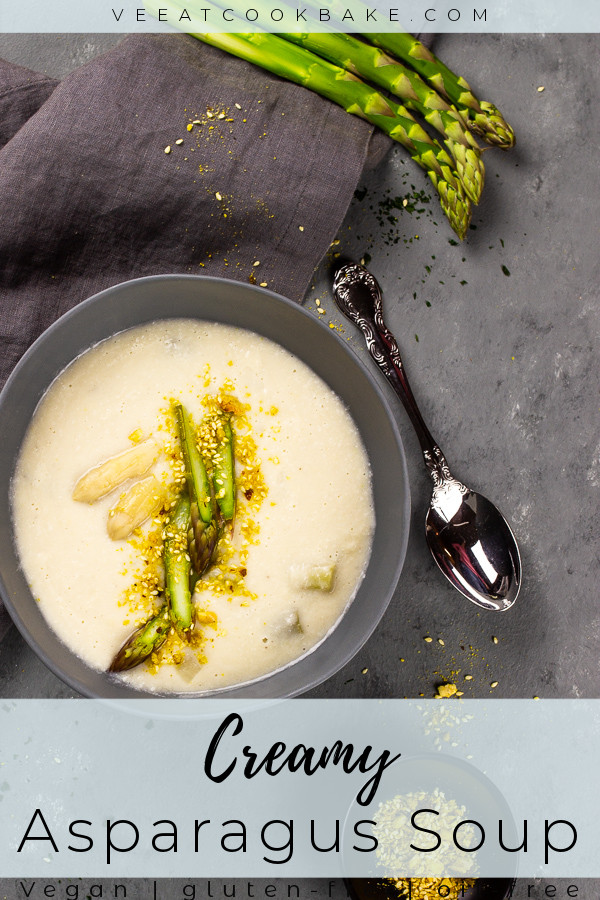 FAQ
What are the health benefits of Asparagus?
If you're curious about the potential health benefits of adding asparagus to your diet, rest assured, it packs a punch. Not only is this vegetable low in calories and high in fiber—it's also an excellent source of vitamin K, antioxidants that support cellular protection and contain just 20 calories per half-cup!
Plus, by increasing potassium levels within our bloodstreams, asparagus can even help us achieve balanced blood pressure. So why not give it a try? Your body (and taste buds) will thank you for it!
Which asparagus is best for the vegan asparagus soup?
I like to eat white as well as green asparagus. Here in the US, unfortunately, I find very rarely white asparagus, so I love it all the more when I find white asparagus, but it is totally overpriced and mostly imported.
But there are green asparagus like sand of the sea and pretty cheap. But now how do you decide which asparagus you want. I prepared this soup with white asparagus and cooked some green asparagus to snip it into the soup.
The green asparagus is simply a great eye catcher and also makes perfect as a decoration on the soup for example for birthdays or other festive matters.
You can find violet asparagus, I have not found it here in the US, but that would make great decoration too.
You can make this soup with both asparagus varieties, you can use white or green asparagus.
When you use green, the cream of asparagus soup will be more greenish than white.
How do I thicken the vegan asparagus soup?
You do not need anything extraordinary to bind soups. I like using like in this vegan asparagus soup potatoes and / or cashews.
The potatoes and cashews make the asparagus soup very creamy and simply tastes delicious. Simply purée the potato with the asparagus.