This quick version of the popular Indian Curry is made vegan.
Instead of the Butter Chicken we prepare a Butter Cauliflower Curry, which not only tastes incredibly delicious, it also tastes better than the takeout and is a lot healthier and makes a quick dinner during the week.
You can have this vegan buttered cauliflower ready in 15 minutes and is whole food plant based friendly.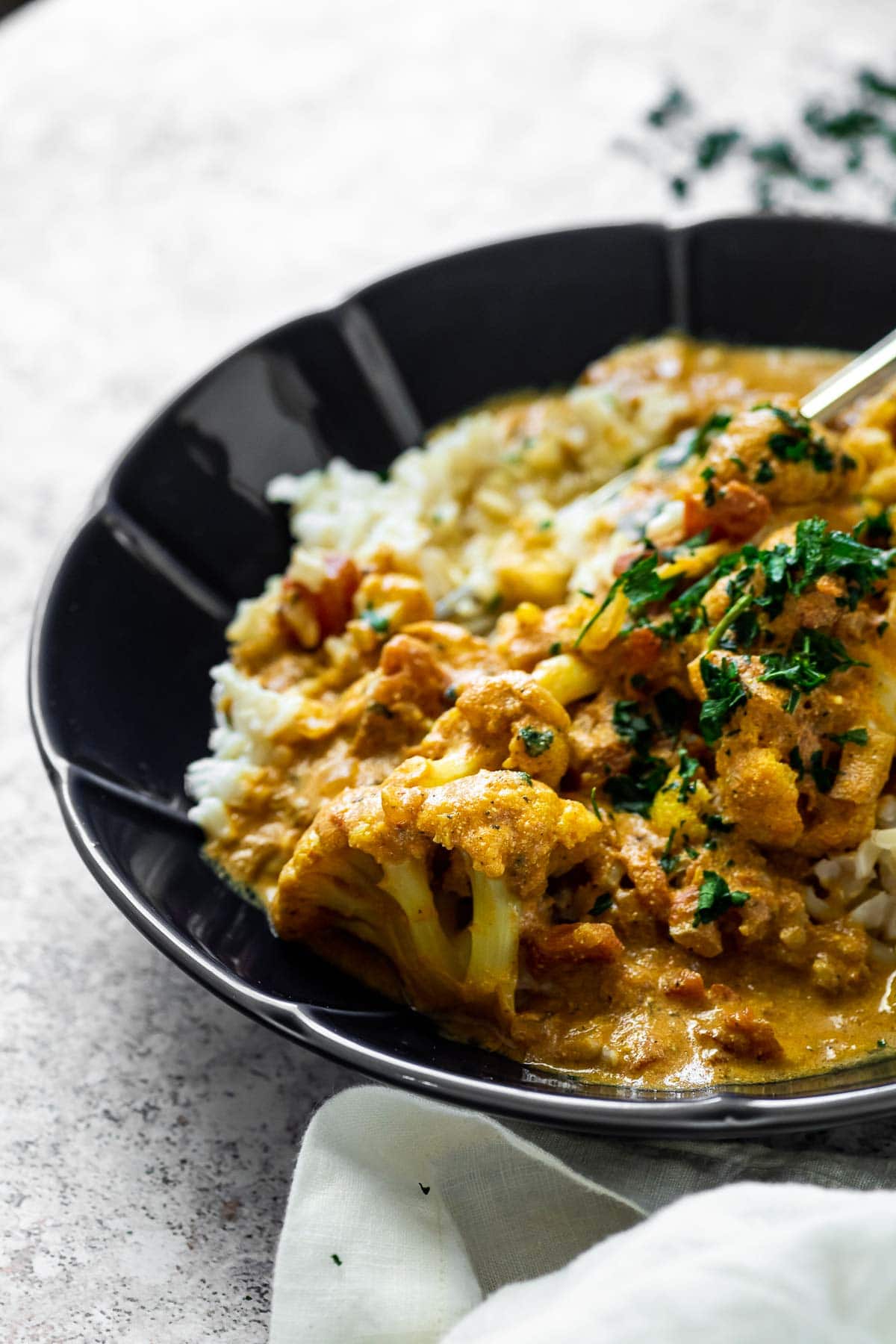 As an Amazon Associate, I earn from qualifying purchases. This post may contain affiliate links. Read More
Jump to:
We don't need tofu to make a delicious vegetarian Butter Chicken. And you have a very quick soy free dinner.
The cauliflower is smothered in a delicious vegan Butter Chicken Sauce or also known as murgh makhani.
Butter Chicken is a very popular Indian dish with its spicy creamy tomato sauce that makes this meatless curry dish a quick comfort meal for your next vegan dinner.
It's easy to make in big quantities to feed a crowd.
Usually such a tomato and Butter Sauce is made with cream, butter and chicken. We provide a gluten-free and dairy-free Butter Chicken Sauce that you can serve with cauliflower.
You can also easily conjure up a Butter Chickpea Curry.
Let's take a look at how to make Indian Butter Cauliflower in this post. And I'll show you great alternative options to adapt it to your diet.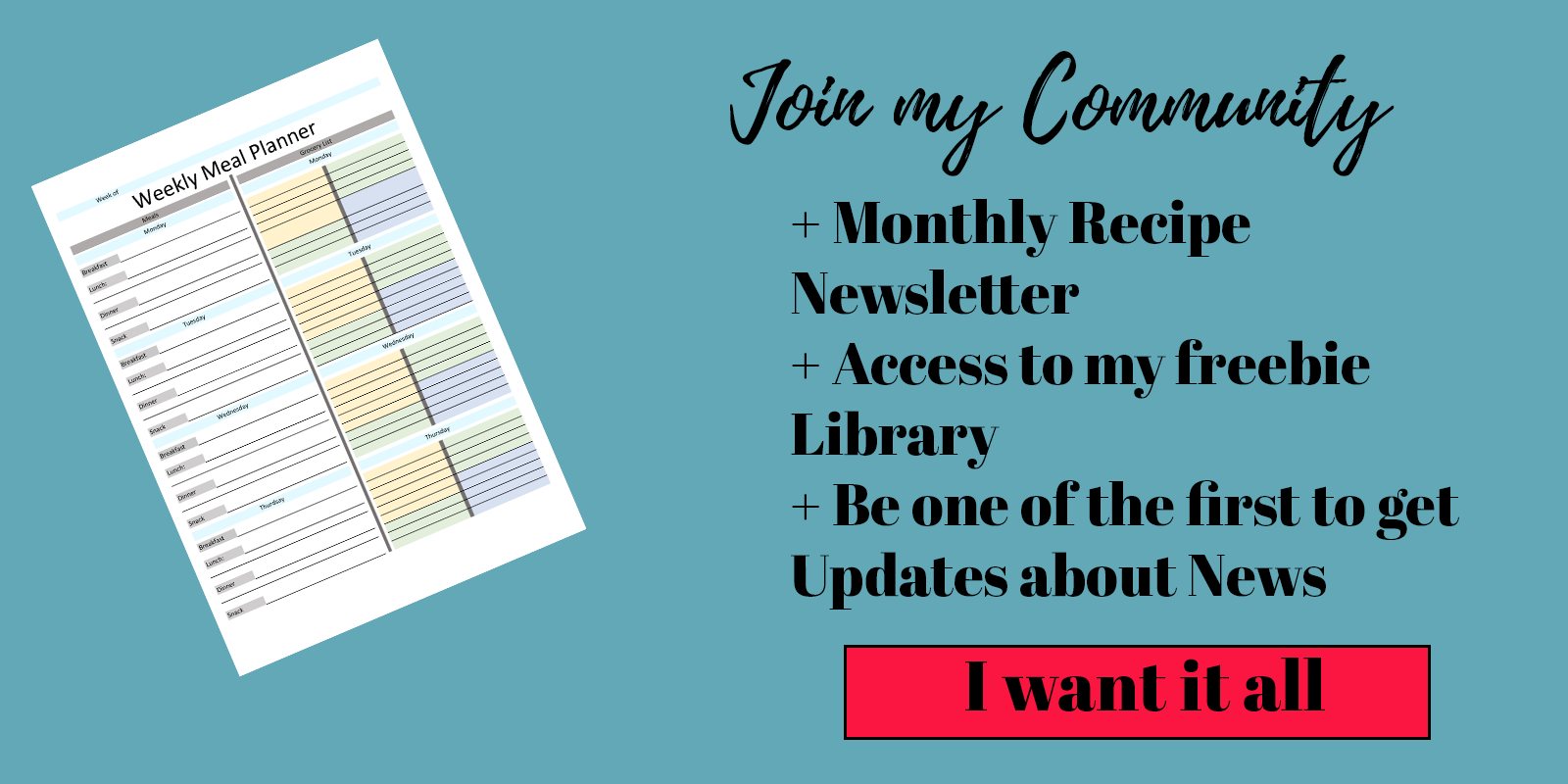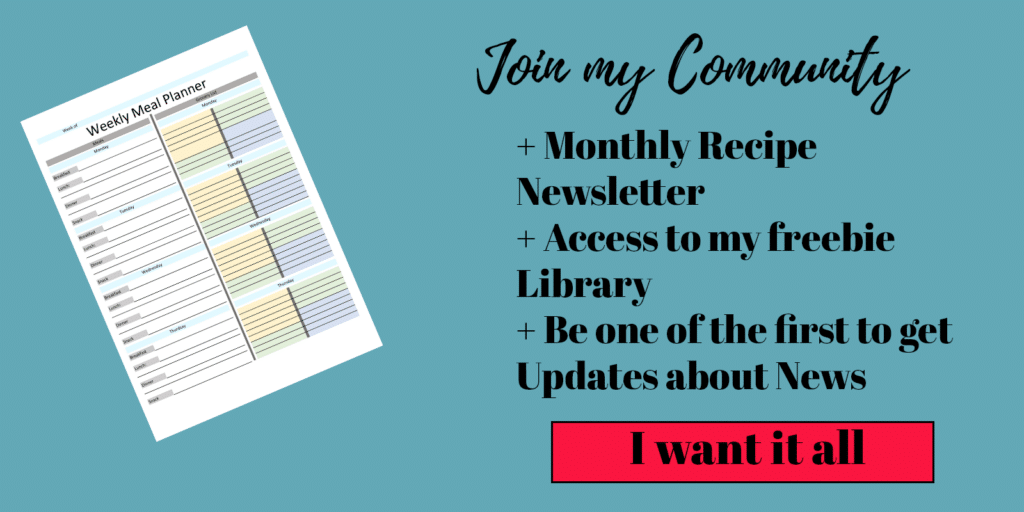 Ingredients
Before we go into the vegan Butter Chicken recipe. Let's take a look at what's actually in this recipe.
The exact quantities for the ingredients can be found below in the recipe card.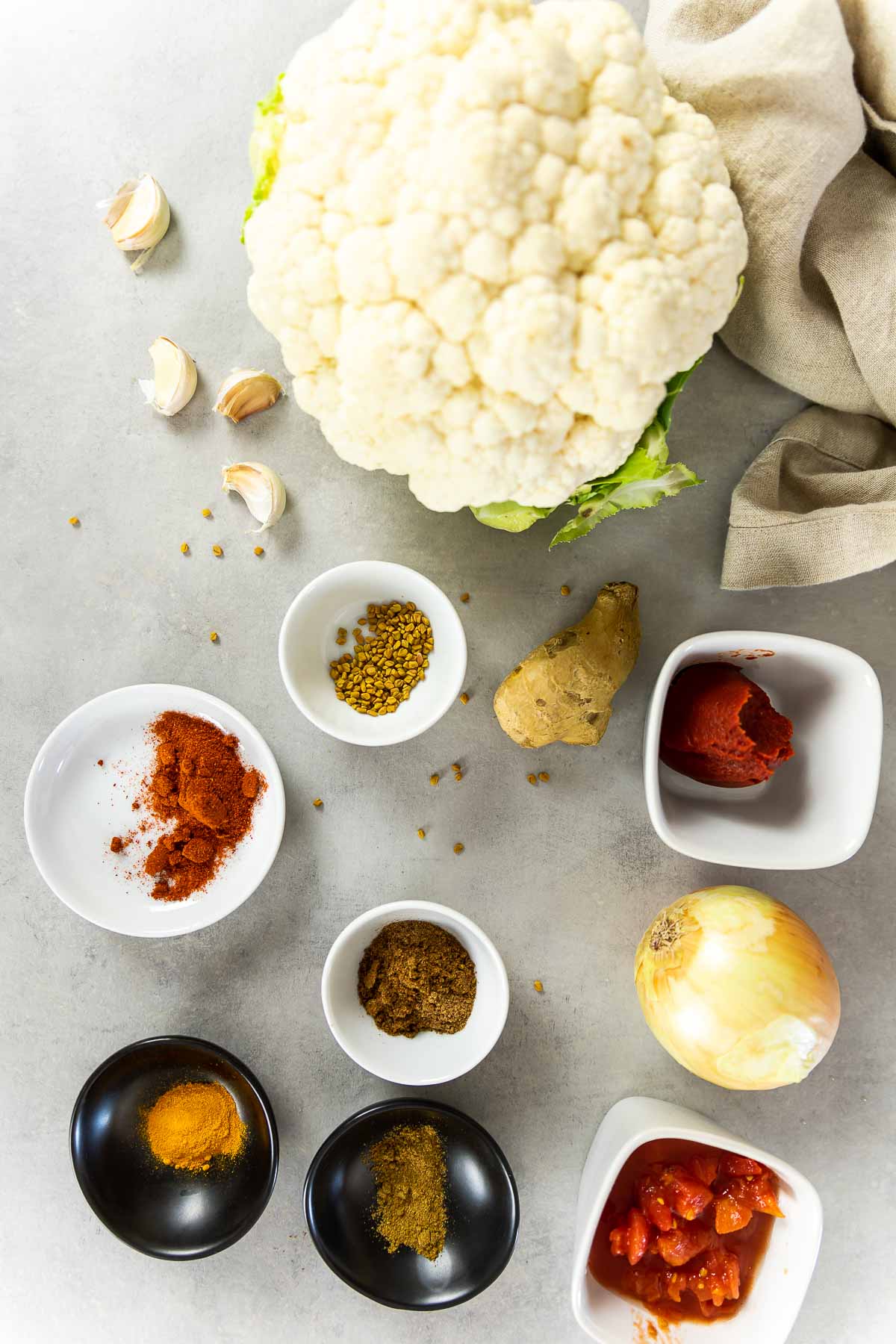 Cauliflower
Onion
Garlic
Ginger
Garam Masala
Sweet Paprika
Turmeric
Fenugreek Seeds
Cumin
Diced Tomatoes
Tomato Paste
Coconut Milk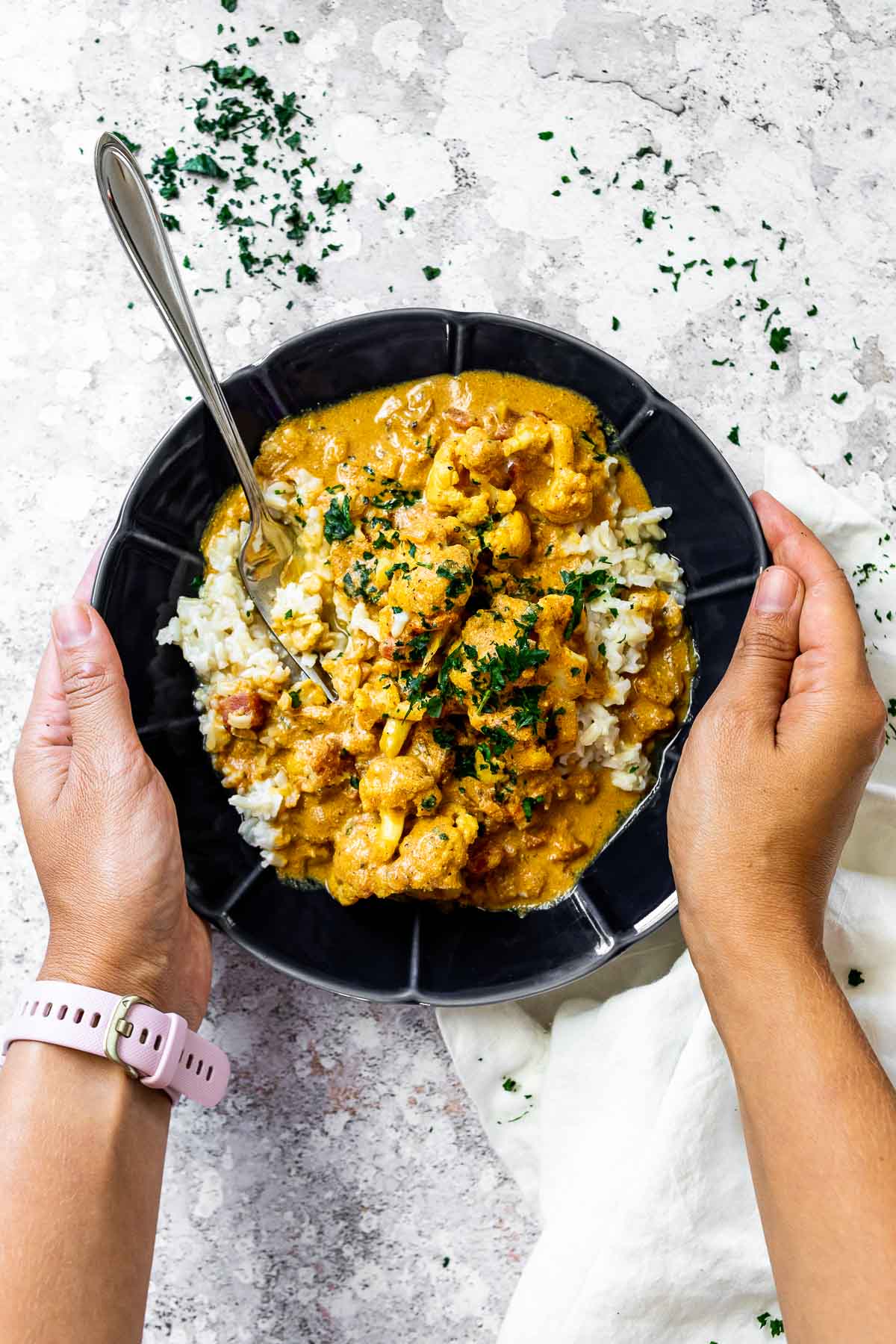 Substitutions
Here I want to show you options that you can replace. Depending on what ingredients you have at home, you may be able to substitute a few ingredients.
Cauliflower
We're preparing a vegan Butter Chicken with cauliflower here. If you don't have cauliflower on hand, you may have chickpeas or tofu instead.
Then of course you can also use this Butter Sauce with chickpeas or tofu. I recommend roasting the chickpeas and tofu in the oven.
Ginger
If you don't have fresh ginger on hand, you can use ginger powder as well. Simply add ½ -1 teaspoon ginger powder with the other spices.
You can also omit the ginger, which gives the Curry a special flavor.
Fenugreek Seeds
In theory, you can leave out the fenugreek seeds in the vegetarian Butter Chicken. But, Fenugreek is a typical curry spice.
If you've ever smelled fenugreek, the smell might remind you of curry. So if you have the opportunity to buy fenugreek seeds I recommend you do this.
You might now wonder what to do with the remaining seeds. You can let these sprout and eat them as little sprouts, for example on your next toast or sandwich.
Tomatoes
I have to say I haven't tried replacing the tomatoes yet. But I could imagine that you can use pumpkin puree instead of tomatoes.
The taste changes a little, but the sauce should still taste delicious.
Coconut Milk
The coconut milk is used to make this curry sauce so incredibly creamy and full of flavor. Instead of coconut milk, you can also use cashew milk or sunflower seed cream.
Depending on how it thickens, you need a little more or less.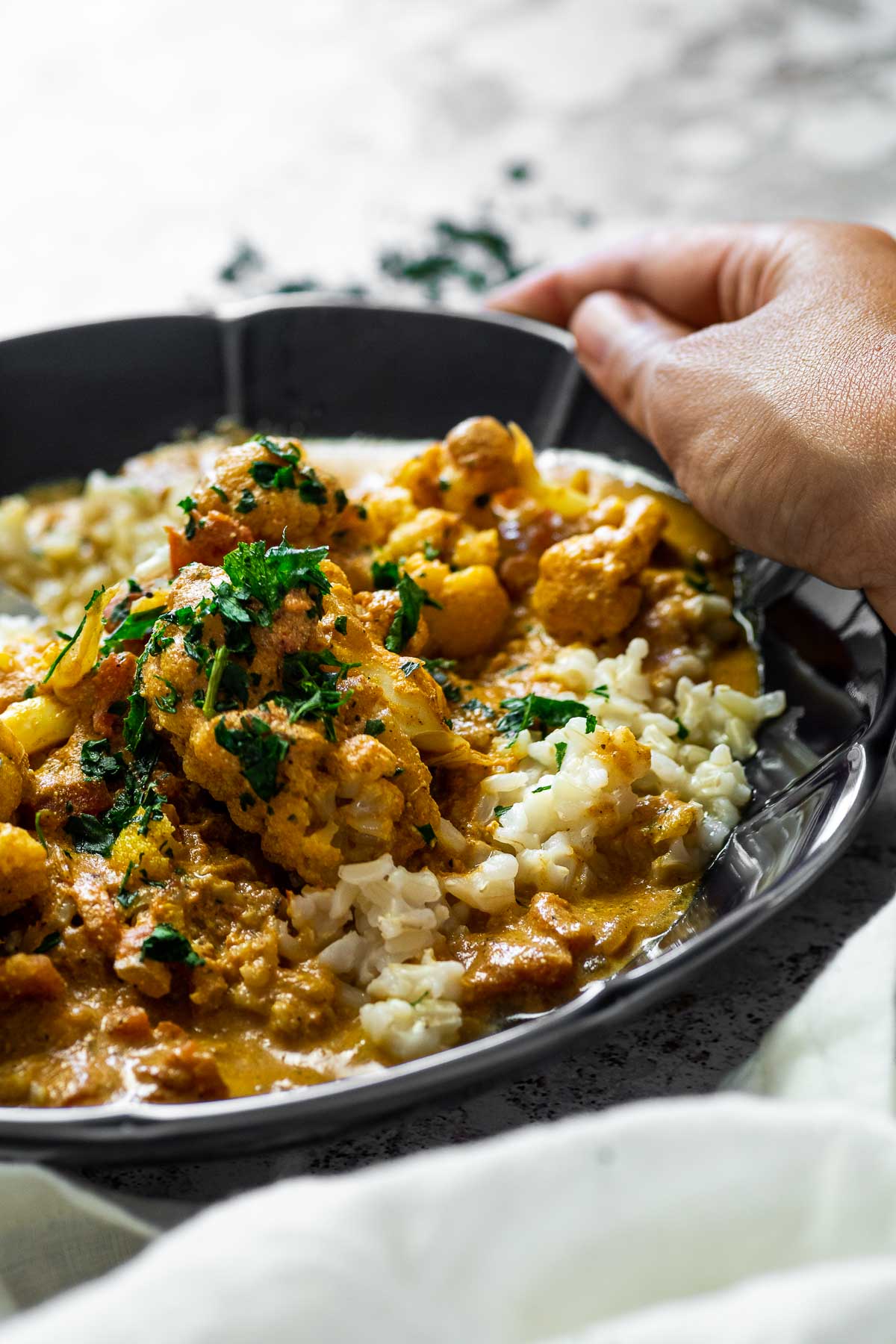 Variations
Let's take a look at different diets and how you can adjust the Butter Chicken if necessary.
Gluten free
This recipe is a naturally gluten-free dish. Just pay attention to what you eat as a side to your Butter Curry. For example, Naan is not gluten-free.
Nut free
If you want the butter chicken not only vegan but also nut-free. I recommend replacing the coconut milk with sunflower seeds. Mix ¼ cup of sunflower seeds with 1 cup of water. Take a volume of 250 ml.
Paleo
Because we don't use legumes or tofu for this dish. You can cook this vegan Butter Cauliflower for a paleo diet.
Keto
A ketogenic diet is a high-fat but low-carbohydrate diet. Cauliflower is one of the few vegetables that are allowed in the keto diet.
So you can confidently prepare this dish if you are on a keto or keto vegan diet.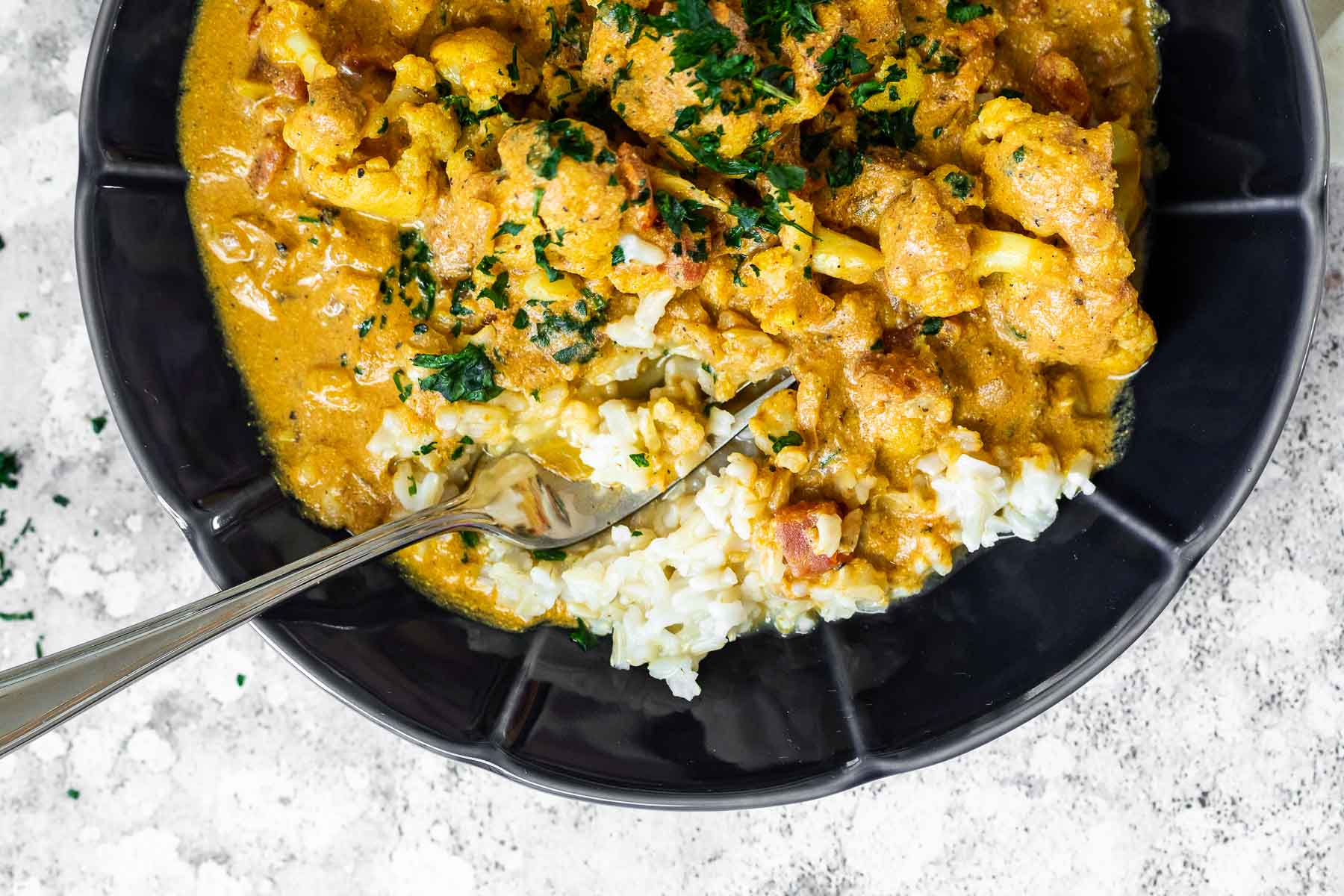 Instructions
To start, chop the onion, garlic cloves, and peeled ginger.
Next, fry the onion, garlic and ginger in a non-stick pan with a little vegetable stock. When the onions start to stick to the pan, add a sip of the vegetable stock or water. Repeat this step until the onion is slightly brown.
While the onions are steaming, you can divide the cauliflower into bite-sized florets.
Add to the onion, the spices with crushed fenugreek seeds. And fry them over medium heat for about 1 minute.
Now add the diced tomatoes, tomato paste and coconut milk. Stir everything vigorously so that you get a creamy sauce.
Add the cauliflower florets and let it simmer covered for about 10 minutes. Pierce the cauliflower with a knife and check that the cauliflower is soft but not crumbling.
If necessary, add a little more coconut milk or vegetable stock to have enough sauce for the cauliflower. Depending on the size of the cauliflower, you may need a little more.
Prepare in Advance
This vegan butter chicken is recommended as a great meal prep. You can prepare it 2-3 days in advance and then only heat it up briefly. You can also just prepare the sauce and freeze it.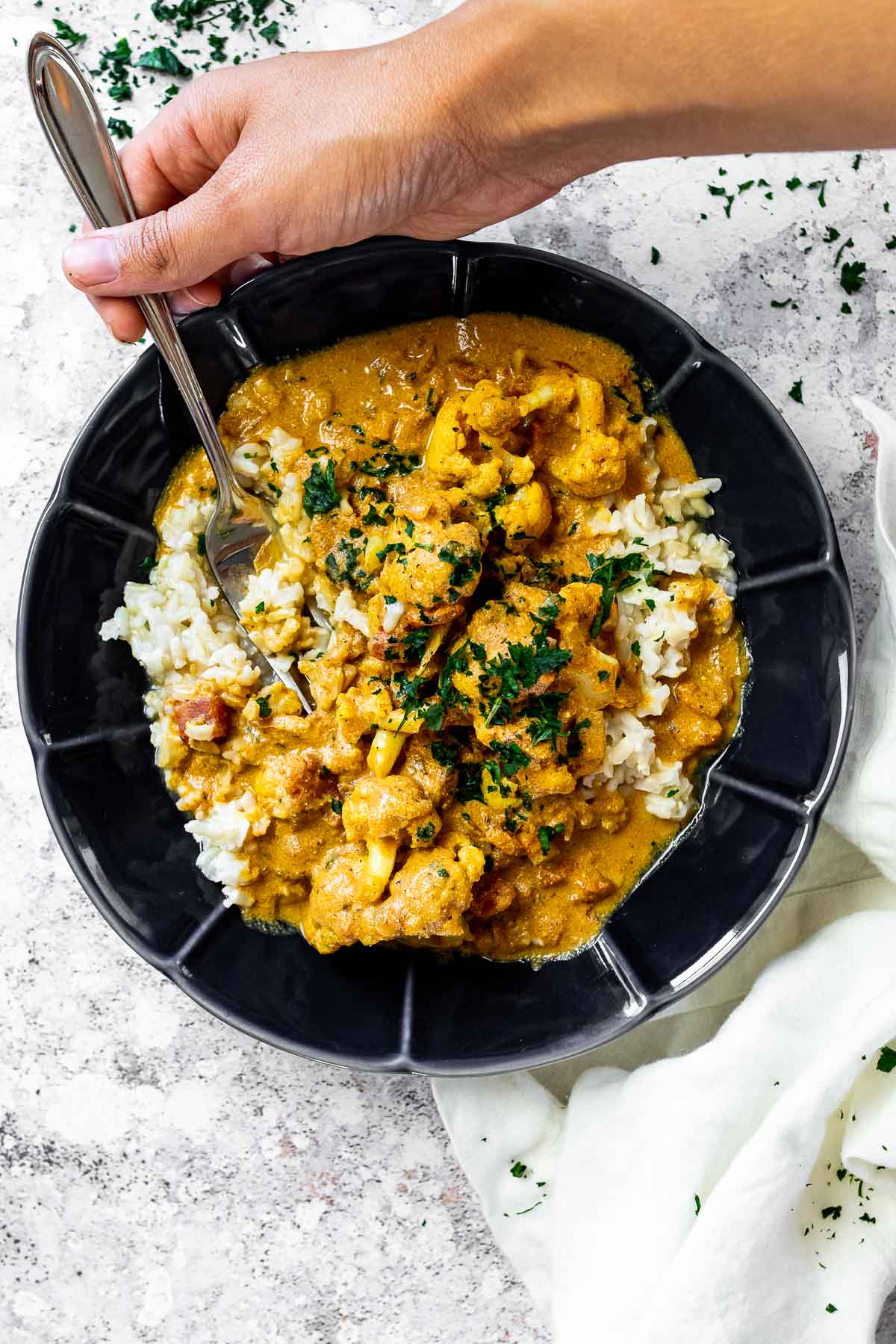 Cooking Time
The cooking time here is around 15-20 minutes. Depending on how much cauliflower is in your pan.
Serving Options
Let's take a look at what you can serve with the vegetarian butter chicken.
As a side dish:
Naan Bread
Rice
Storage
Do you have leftovers? And you don't really know how to store it? Here I'll show you what you can do with it.
How to refrigerate it?
You can store the butter cauliflower in a sealed container in the refrigerator for about 4 days.
How to freeze it?
You can freeze the cauliflower with the sauce. Depending on how soft the cauliflower is, the cauliflower may get mushy when heated.
Or you can freeze just the sauce. I have to say, I prefer to freeze just the sauce, it will last about 3 months in the freezer.
How to thaw it?
To thaw the sauce, put it in the fridge the night before and let it thaw there. You can now heat the butter chicken sauce in a saucepan and let the cauliflower simmer until the cauliflower has reached the desired consistency.
If the cauliflower is frozen, you can warm it up briefly in the microwave.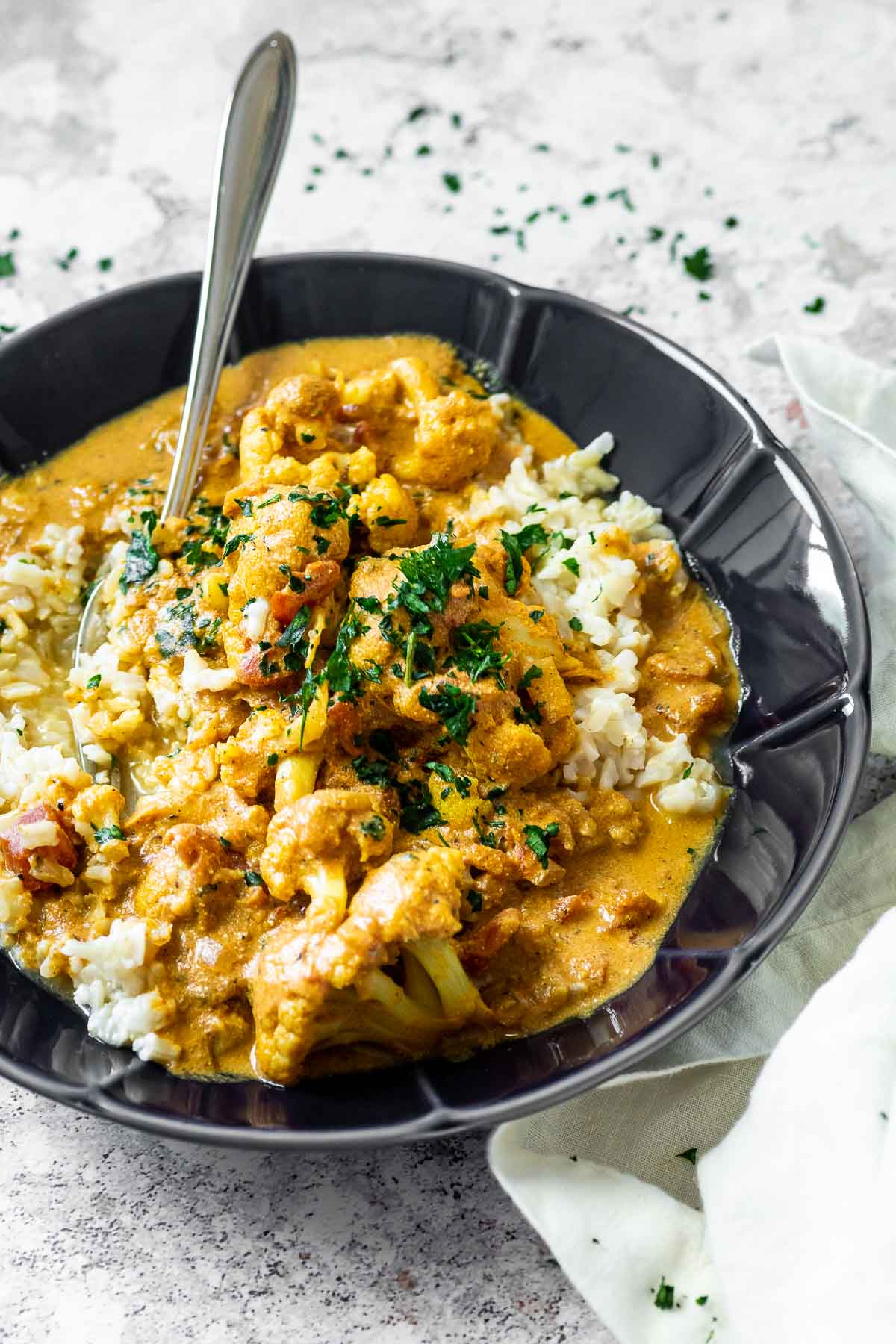 Tips
If you've bought a large cauliflower, I recommend making double the amount of sauce. We usually buy a small to medium-sized cauliflower.
To grind the fenugreek, I recommend using a small electric coffee or spice grinder. That works in no time at all.
To peel the ginger, I recommend that you use a spoon and scrape over the ginger, the peel will almost come off by itself.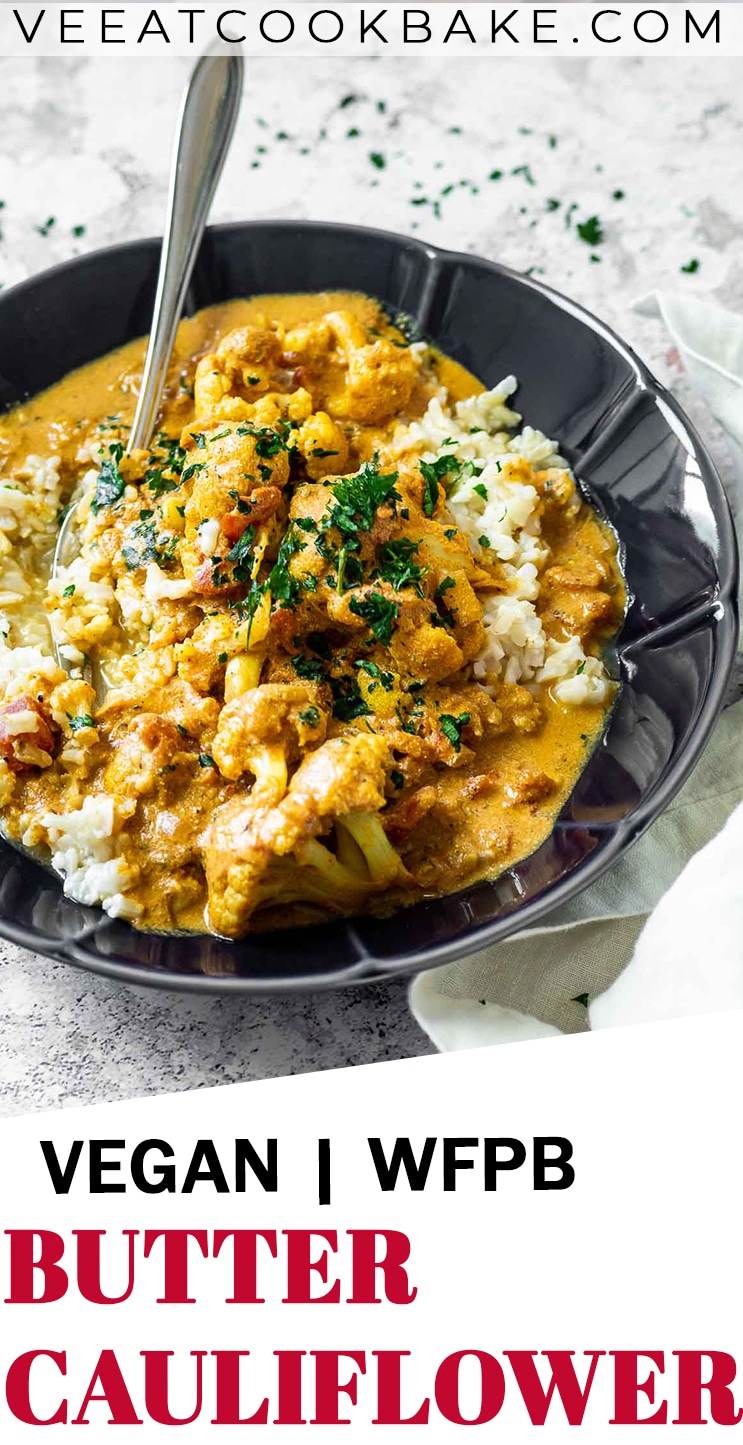 Have you tried the recipe?
If you tried the vegan Recipe, be so nice ♥ and let me know by rating the recipe and writing what you think about it in the comments. I would love to see your photo on Instagram or Facebook. To do this tag me with @veeatcookbake and my hashtag is #veeatcookbake. So that I can see your creation. Did you know you can add photos on Pinterest under the recipe Pin? I can't wait to see a photo of your creation there. You find me with @veeatcookbake.