This tasty seed-nut-whole grain bread baked with spelt (opt. whole wheat) is not just made completely without milk and whey, this vegan everyday bread is also great prepared an evening before. So you can enjoy fresh homemade bread the next day. It is not just full of fiber but also thanks to the seeds and nuts, full of minerals.
Vegan | Vegetarian | lactose-free | dairy-free | Whole grain | healthy | wheat-free | refined sugar-free | whole food plant-based (wfpb)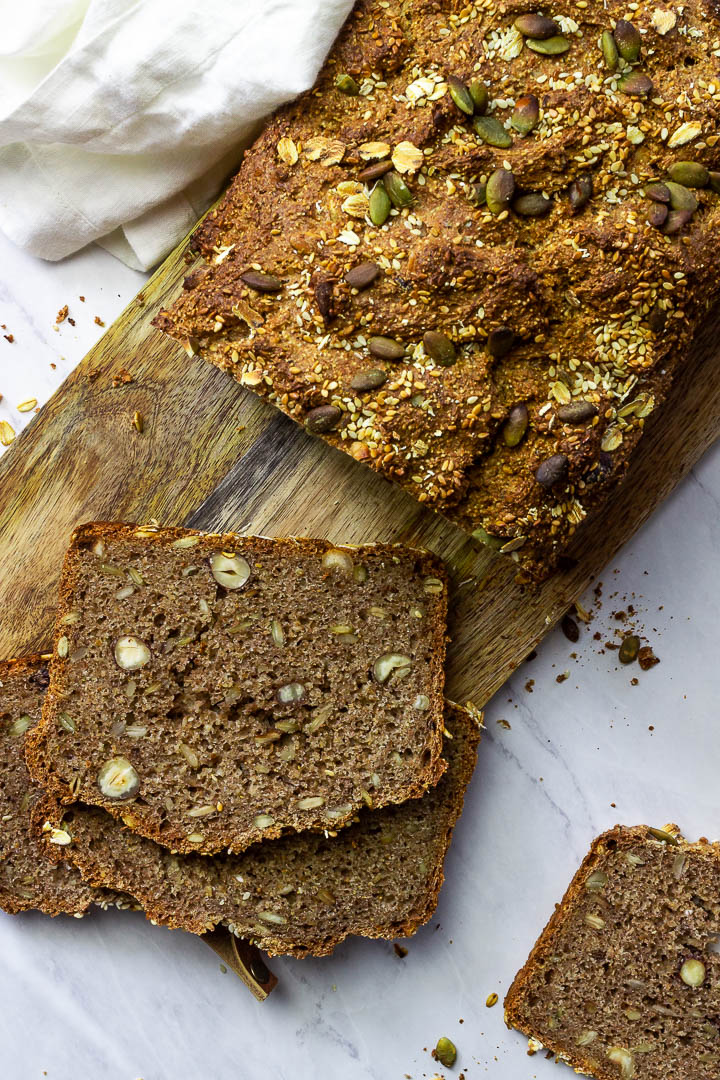 Bread always played a big role in my childhood. Mostly, it was the go-to dinner / snack and we often made a sandwich for school, work or day trips.
I am still a huge bread lover. When we do not know what we should eat, I will serve some bread. And to be honest, who doesn't love a yummy sandwich?
As you probably already noticed, I love to bake from scratch. Whether pretzels, baguettes or other doughs. And of course I love to bake my own bread. And the smell of fresh baked bread is one of the best smells ever, isn't it?
Since we live in the US, we prefer to eat an Artisan bread (German-style bread), not just those soft toast-bread breads. At least in the area where we live, we rely on home-baked bread. And therefore, it is great to have a quick and easy recipe for a Seed-Nut-Whole-Grain-Bread on hand, which you can prepare in no time.

What do I need to bake such a seed - nut - whole grain bread?
You do not need many ingredients to bake such bread and if you have a well-stocked pantry, you may even have most of it at home.
How do I prepare the most delicious everyday bread?
First, mix the water with the yeast and maple syrup. Now, grind the oat flakes. For this I just use my high speed blender. Now add the spelt flour or wheat flour with oat flour and add the water and yeast mixture and let it knead for about 3 minutes with the dough hook of a food processor. Remove the mixing bowl and cover the bowl with a damp dishcloth.
Now take the seeds and nuts and roast them briefly. Pour over a little water. Seeds do absorb a relatively large amount of water.
Let it stand for about 30 minutes, let the dough rise in this time.
Now pour off the excess water and add the seeds and nuts to the dough with the salt and knead it for about 7 minutes.
Put the bread dough in a bread baking pan and cover it. Preheat the oven to 400F (200C). The dough should have risen well by now. This can take a while. Sprinkle the bread with some seeds and oatmeal. Put the bread dough into the oven and bake for about 50 minutes. Remove the bread from the pan. Remember the pan is hot! Bake the bread again for about 10-20 min without the pan.
[ezcol_1half]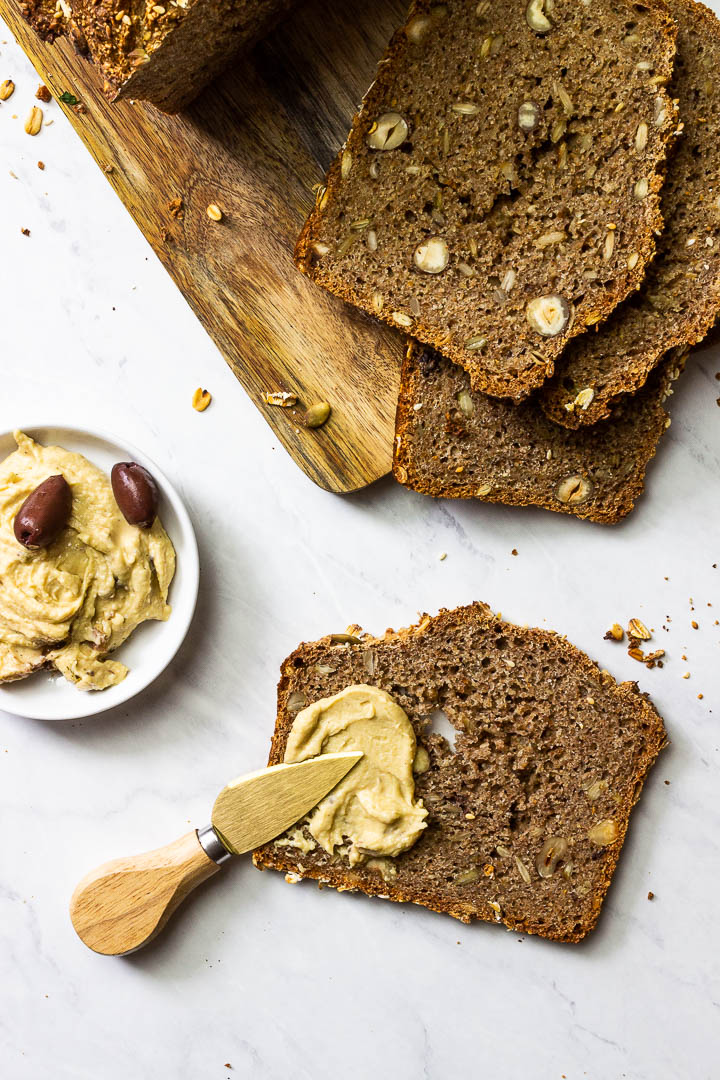 [/ezcol_1half] [ezcol_1half_end]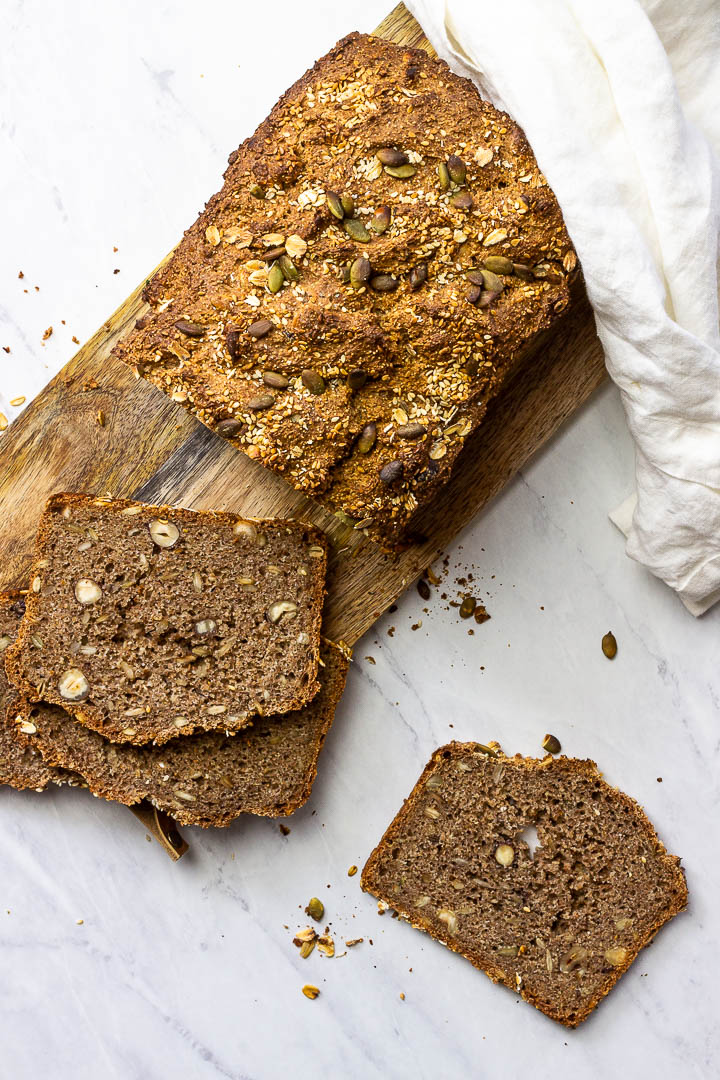 [/ezcol_1half_end]
What if you do not have all the seeds or nuts on hand?
Then just use other seeds or nuts. I often just take what I have in my pantry. You can also use hazelnuts, walnuts, pecan nuts and others. You can totally omit the nuts and just use some more seeds of your choice.

How do you store the bread?
We always put it in a bread storage box. Please note that a pure whole grain bread will dry faster than a bread with white flour. I like to freeze some of the bread and take it out when we eat it. You can then bake the bread for a couple minutes and it tastes like freshly baked bread.
Pro tips for baking bread
Do not add salt until you have kneaded the dough with yeast. The salt can prevent the yeast from merging with the grain

Let the dough knead for at least 10 minutes, so the gluten is formed and the dough is beautifully elastic.
Remember to soak the seeds and nuts in some water beforehand, otherwise the bread may become too dry.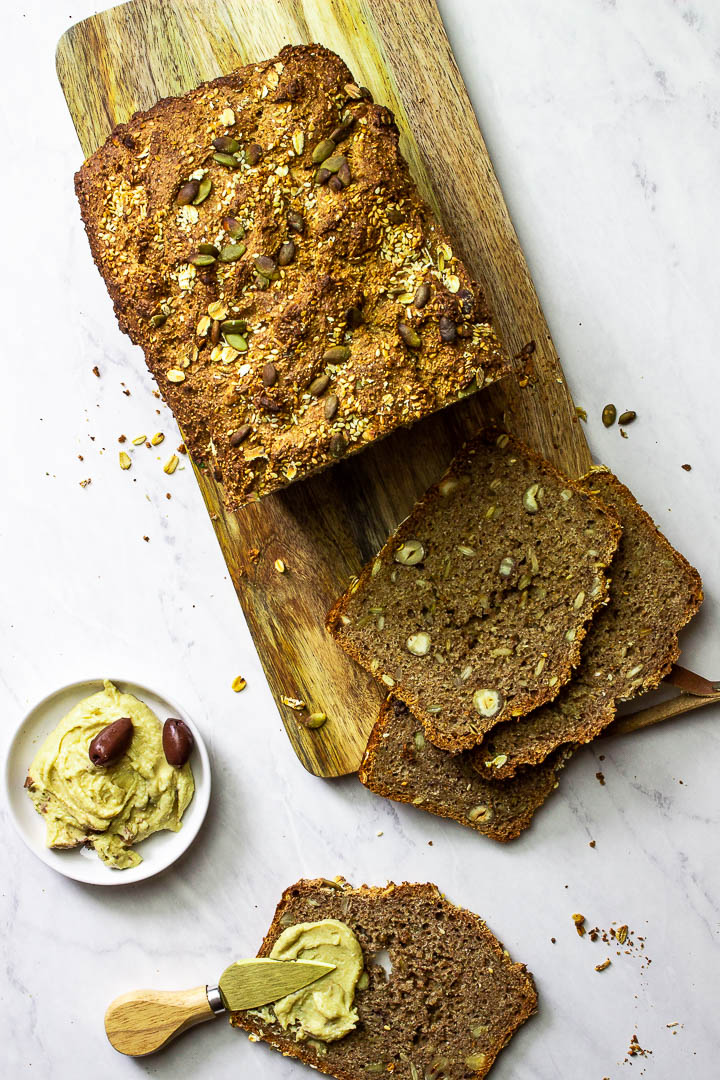 Do I need a bread baking pan for this bread?
The bread dough is quite "liquid" and sticky and this dough is best for a bread pan. If you do not have any, you can try to shape a loaf.. And then bake in a pot. To do this, take an oven-safe pot like a dutch oven or cast-iron. Preheat the pot in the oven for around 30-45 minutes before using
Put the bread in the pot and put a lid on it. Now you can bake the bread for about 50 minutes in the pot.
More vegan Breakfast Recipes:
Do not forget to Pin on Pinterest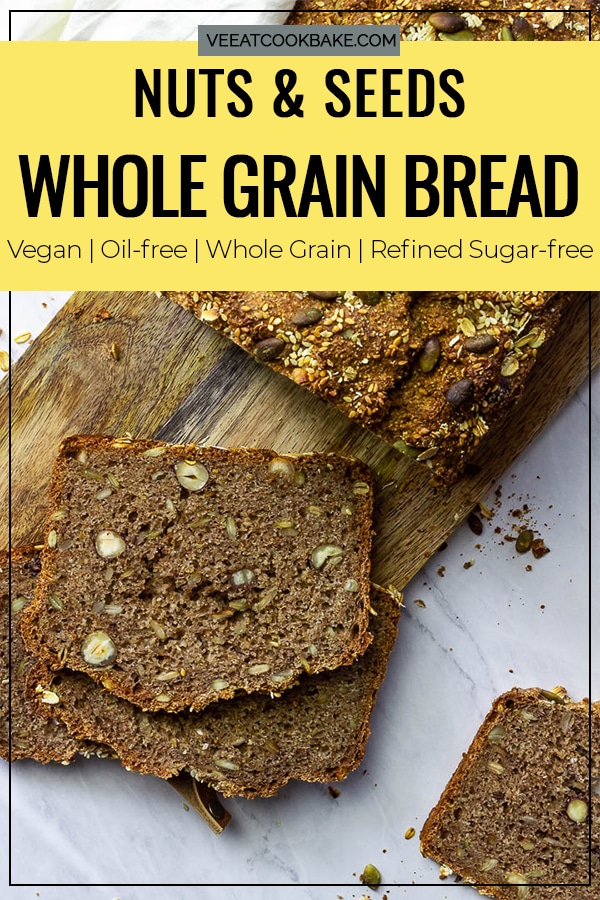 Have you tried the recipe?
If you tried the vegan whole wheat bread, be so nice ♥ and let me know by rating the recipe and writing what you think about it in the comments. Tag me on Instagram too. I am @veeatcookbake and my hashtag is #veeatcookbake. So that I can see your creation. Did you know you can add photos on Pinterest under the recipe Pin? I can't wait to see a photo of your creation there. You find me with @veeatcookbake. I also would love to hear your feedback so I can share it on my social media channels.

This post may contains affiliate links and I may receive a very small commission if you buy through these links at no extra cost. Thank you very much for supporting Ve Eat Cook Bake! More information can be found here.
---