These vegan chicken wings are tender on the inside and crispy on the outside. Instead of the world-famous Buffalo Chicken Wings, we serve these crispy cauliflower bites with a delicious vegan honey mustard sauce.
We prepare this great dairy-free honey mustard sauce with maple syrup instead of honey to make it plant based.
Vegetarian chicken wings are easy to make and packed with nutrients. They don't just taste good as vegan appetizer finger food, make a vegan chicken wing sandwich or serve the baked cauliflower wings with fries and a delicious green salad.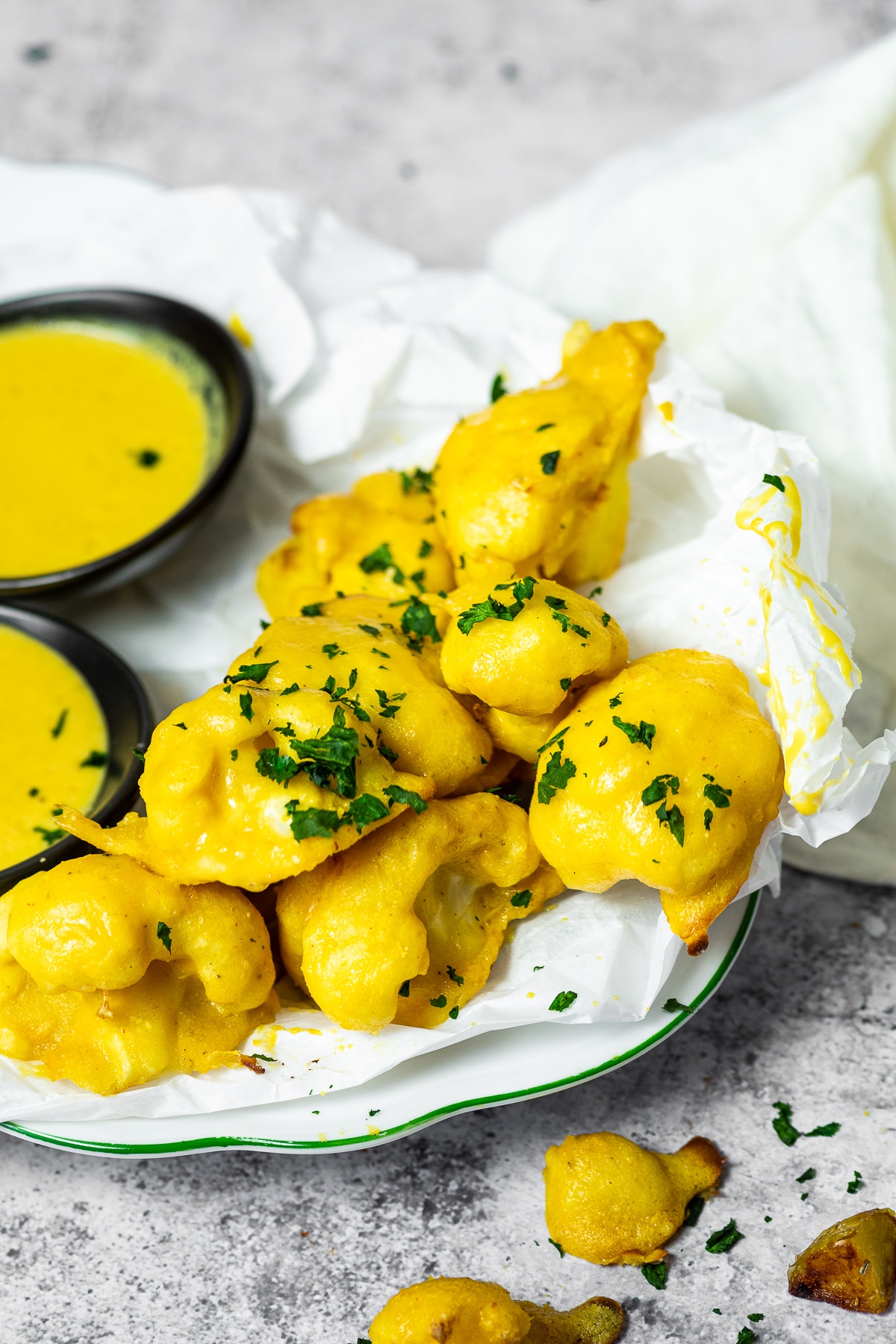 As an Amazon Associate, I earn from qualifying purchases. This post may contain affiliate links. Read More
Jump to:
This baked cauliflower makes a great vegan finger food for a game night and other parties, for example.
Maybe you have already seen my other Chicken Wing recipe? We love baked cauliflower like the vegan Buffalo Chicken Wings to complement these vegan honey mustard cauliflower wings, especially if you like it a little hotter.
Our children love such cauliflower wings, and I am always looking for new flavors to prepare them.
So I came up with the idea of ​​wrapping these wings with a maple mustard sweetness and baking them in them. And I have to tell you, they turned out perfect.
You can also try tofu instead of cauliflower. Although I have to say, I prefer the cauliflower version.
Now let's take a look at how you can prepare these vegan honey mustard cauliflower chicken wings. In addition to how to make them, I'll show you tips and tricks and alternative options.
Benefits of Cauliflower
The nutrients found in cauliflower are pretty impressive. Cauliflower is low in calories and full of vitamins and minerals. Cauliflower contains vitamin C, folate, magnesium and more.
With approx. 130g (1 cup) of cauliflower, you have already covered 10% of your daily fiber intake. Fiber is important for your health and can reduce your risk of diseases such as heart disease, cancer, and diabetes.
Cauliflower is even full of antioxidants. These are supposed to slow down the growth of cancer cells.
Ingredients
Now let's look at the ingredients that we need for these vegan honey mustard chicken wings. You can find the exact quantities below in the recipe card.
For the Wings
Cauliflower
Water
Flour
White Pepper
Garlic Powder
Onion Powder
Yeast Flakes
Salt
For the Honey Mustard Sauce
Mustard
Sriracha
Cashews
Water
Maple syrup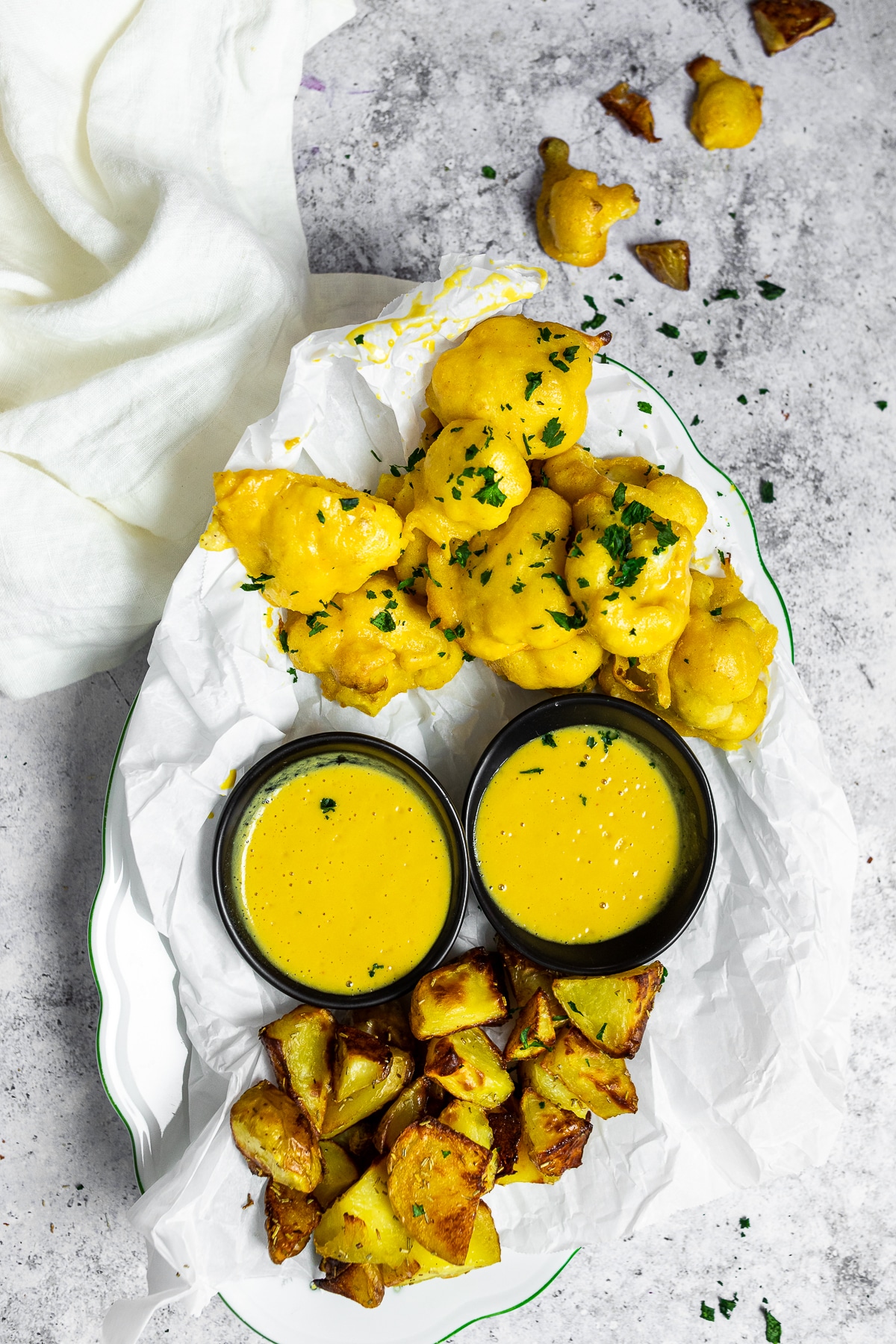 Substitutes
Also here with the recipe I would like to show you alternative options.
Cauliflower Substitute
Do you want to try something different for vegan chicken wings? Proceed as described in the recipe and use seitan, tofu or broccoli. You can also bake various vegetables in the batter and then coat them with the sauce.
Flour Substitute
I used whole wheat flour for the recipe, if you want to use other flour, you can also use it, normal all-purpose flour, gluten-free flour mix or almond flour.
Cashew Substitute
Instead of cashews, you can also use a cheaper alternative, e.g. Sunflower seeds.
Maple Syrup Substitute
We use the maple syrup here as a honey substitute for the honey-mustard sauce. You can also use date or agave syrups.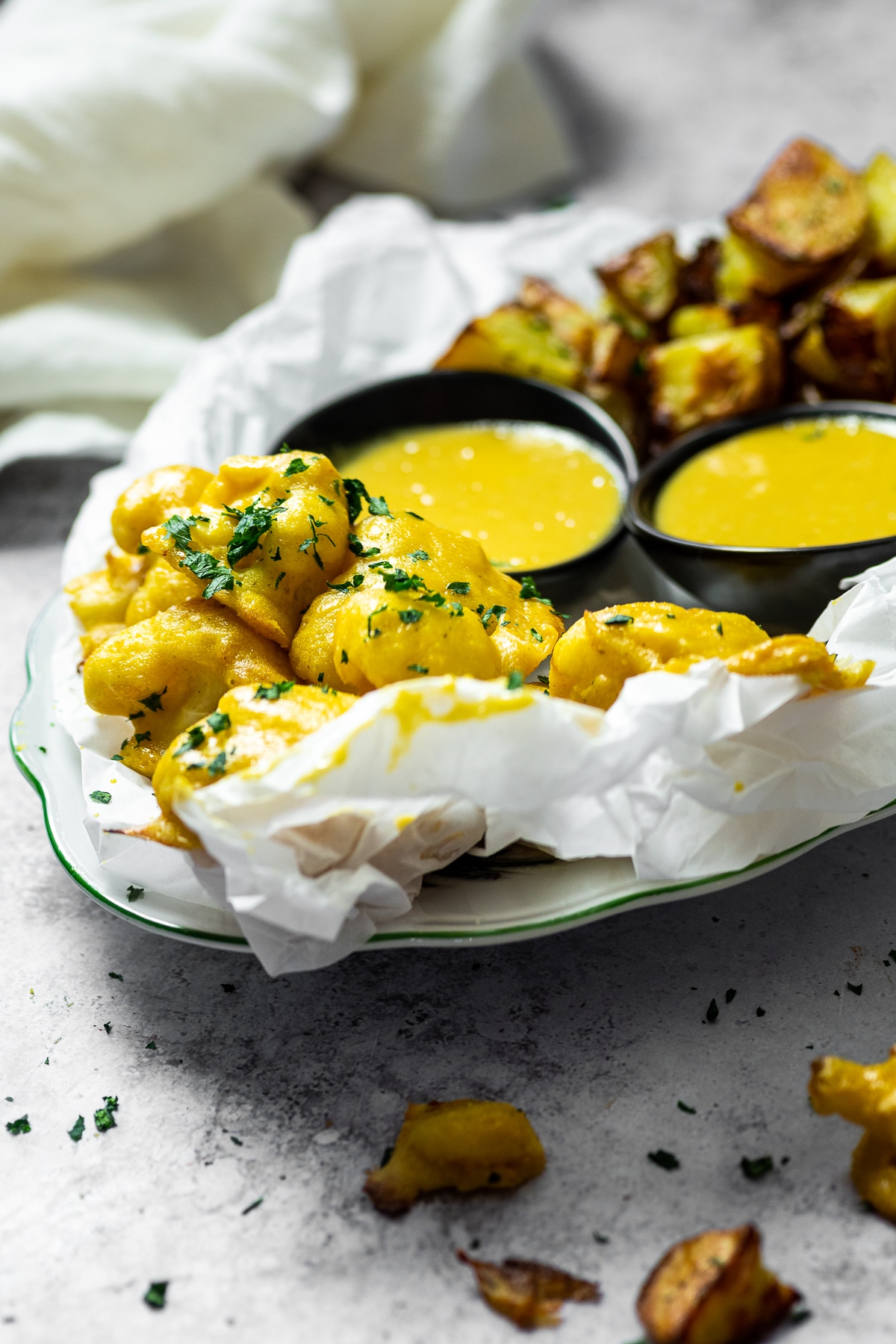 Variations
Do you have certain dietary guidelines keto or gluten-free? Here I would like to show you a few alternative options.
Gluten-free Vegan
These wings are super easy to prepare gluten-free: Instead of normal flour, just use gluten-free or almond flour. The remaining ingredients are all gluten-free.
Keto Vegan:
Cauliflower is a great keto vegetable. To make your vegan chicken wings in keto, you'll need to replace the ingredients that contain carbohydrates and sugar.
For one, start by replacing the flour with almond flour. If you've been on keto for a while, you may know which types of mustards are keto. As far as I have researched on the Internet, e.g. Dijon mustard should be keto friendly. Always have a look at organic mustard, these are often without sugar.
Instead of maple syrup, use your favorite sweetener, e.g. B. Stevia or Erythritol. You may need to add a little more water.
Nut-free:
To make these vegan chicken wings nut-free, all you have to do is replace the cashews. And you can replace them 1:1 with sunflower seeds.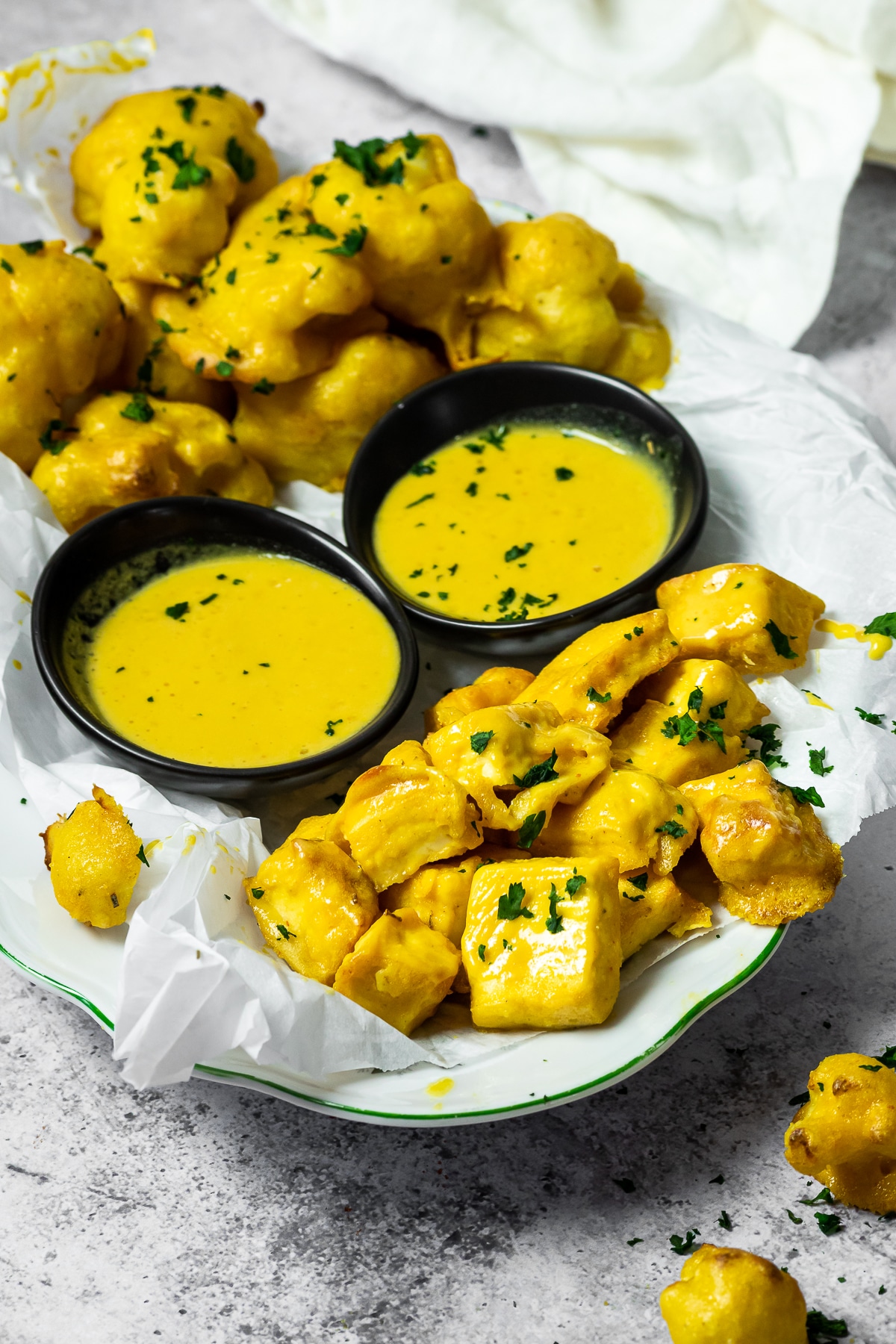 Instructions
Preheat the oven to 400°F (200°C) and prepare a baking sheet with parchment paper. Now you can divide the cauliflower into bite-sized florets.
For the wings, mix all the ingredients like water, flour and spices into a dough that is relatively runny.
Now dip the cauliflower into the batter and tap each floret on the edge of the bowl a little so that excess batter drains off.
Now place the florets on the baking sheet and bake the cauliflower for about 15-20 minutes.
In the meantime, prepare the vegan honey mustard sauce. To do this, put all the ingredients in a high speed blender and blend until you get a creamy sauce without pieces. This can take up to 1 minute, it always depends on the high speed blender you are using.
Now take the cauliflower wings and add them to the sauce. Fold the sauce under so that the wings are completely covered with the sauce.
Return the wings to the baking sheet and bake for another 15 minutes. Here I like to set the oven to 420°F (220°C).
If you have anything left of the sauce, keep it, you can serve the wings with the sauce.
Prepare in Advance
You can also prepare some of these wings in advance. Steps you can prepare a day in advance:
Divide the cauliflower into bite-sized florets.
Prepare the batter in a bowl.
Prepare the maple mustard sauce in another bowl.
Just before serving, you can bake them as described above.
Storage
How to refrigerate?
I recommend keeping leftovers in the fridge. These last in a sealed container for about 4 days. To serve, reheat them in the oven. If you still have some of the sauce, serve it with the sauce
How to freeze?
We haven't frozen them yet as they always quickly run out. If I were to freeze them, I recommend freezing them on a baking sheet first.
When the wings are frozen, you can put them in a container and take them out in portions.
Bake them again frozen so they taste like freshly baked. Just be careful not to bake them for too long, or the cauliflower may get too mushy.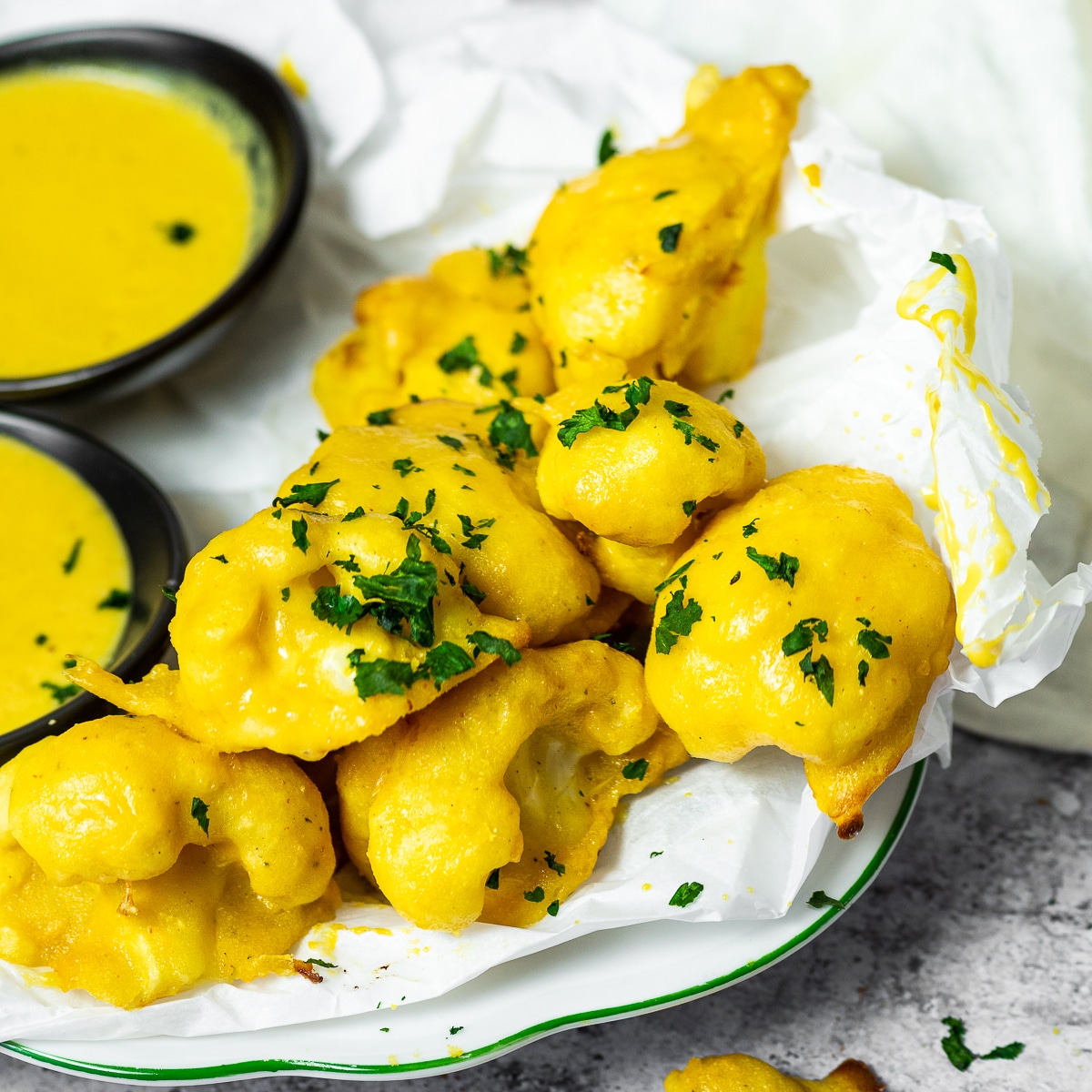 Tips and Tricks
Do you have a grill function/ broil function on your oven? Then I recommend that you use this for the last 2- 5 minutes, so the cauliflower will be really crispy.
Adjust the amount of maple syrup to suit your taste. For example, I like it less sweet, always taste the sauce to your own taste.
More Vegan Finger Food Recipes
Buffalo Wings
Pizza Pinwheels
Artichoke Spinach Buns
Garlic Knots
Pigs in Blanket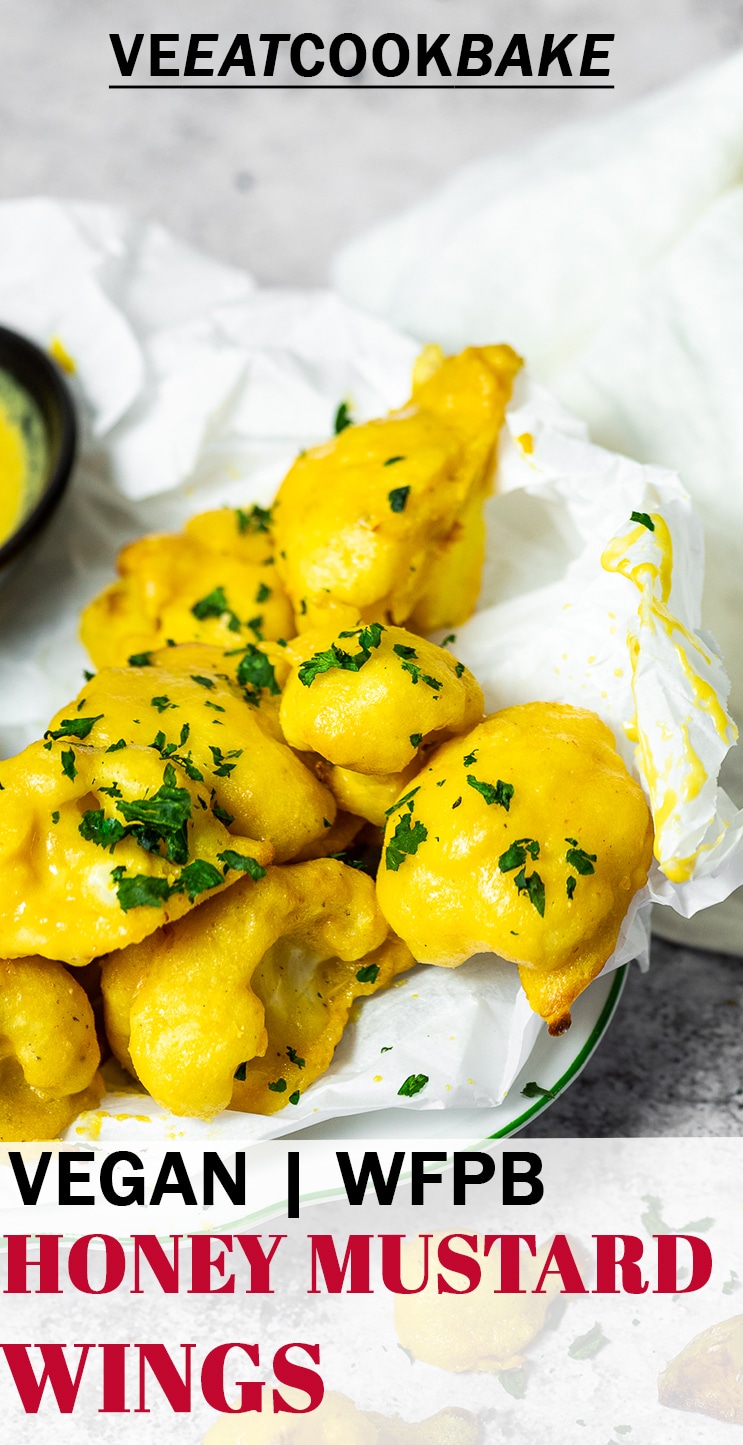 Have you tred the recip
If you tried the vegan Recipebe so nice ♥ and let me knw byrating the recipe and writing what you think about it in the comments.  I would love to see your photo on Instagram orFacebook. To do this tag me with @veeatcookbake andmy hashtag is #veeatcookbake. So that I can see your creation. Did you know you can add photos n Pinterest under the recipe Pin? I can't wait to see a photo of your creation here. You find me with @veeatcookbake