Oil-free crispy chickpeas are not just addictive. Roasted crunchy chickpeas without oil are a super quick and easy snack recipe, which can be prepared very well and is therefore suitable as a meal prep. Play with the spices you like the most and get the perfect snack or soup topping for your next dinner.
vegan | gluten-free | grain-free | dairy-free | oil-free | wfpb | sugar-free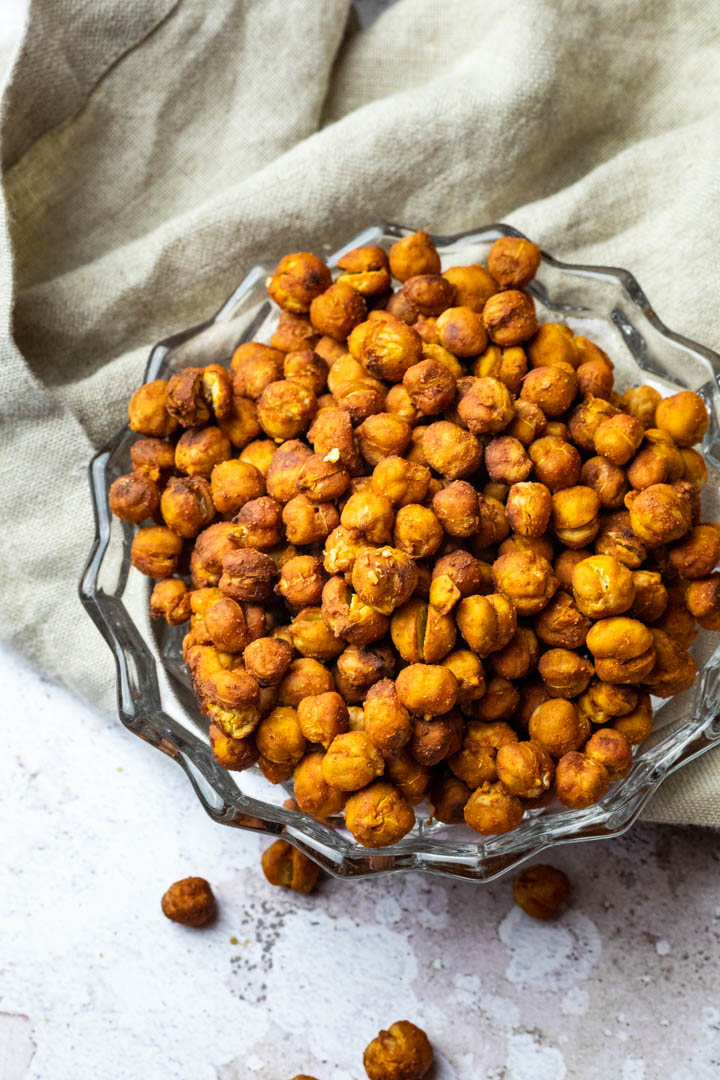 We love to eat roasted chickpeas as a snack and, like a bag of chips, you can only stop when they are empty. So that these great crispy chickpeas don't get mushy, they first have to be roasted before doing anything to them.
We have long been used to buying crispy chickpeas from the store. However, they are full of oil and therefore I had to try an oil-free version and I have to say that it is very well-received by my children. And that's definitely a win for me.
When baking the chickpeas you have to be careful not to leave them in the oven for too long, they quickly turn black and dark.
And if you are like us, you always have canned chickpeas in stock at home, this snack can be prepared in no time.
What do you need to prepare crispy chickpeas?
Canned chickpeas
Aquafaba
Seasoning mixes
How to make crispy chickpeas
Preheat the oven to 350°F (175°C).
Drain the chickpeas in a sieve and rinse the chickpeas well. Please collect the drained water of the chickpea can, we will need this later.
Now dry the chickpeas with a clean cloth. Roll the cloth back and forth with your hands.
You can peel the chickpeas to get even crispier chickpeas or you can leave them as they are.
Place chickpeas on a baking sheet and bake them for about 30 minutes.
In the meantime, mix the Aquafaba with the spices.
Place the chickpeas and the Aquafaba in a mixing bowl and mix well.
Now put the chickpeas back on the baking sheet and bake for another 20-30 minutes.
Now let the chickpeas cool, they become crispier when they are cold.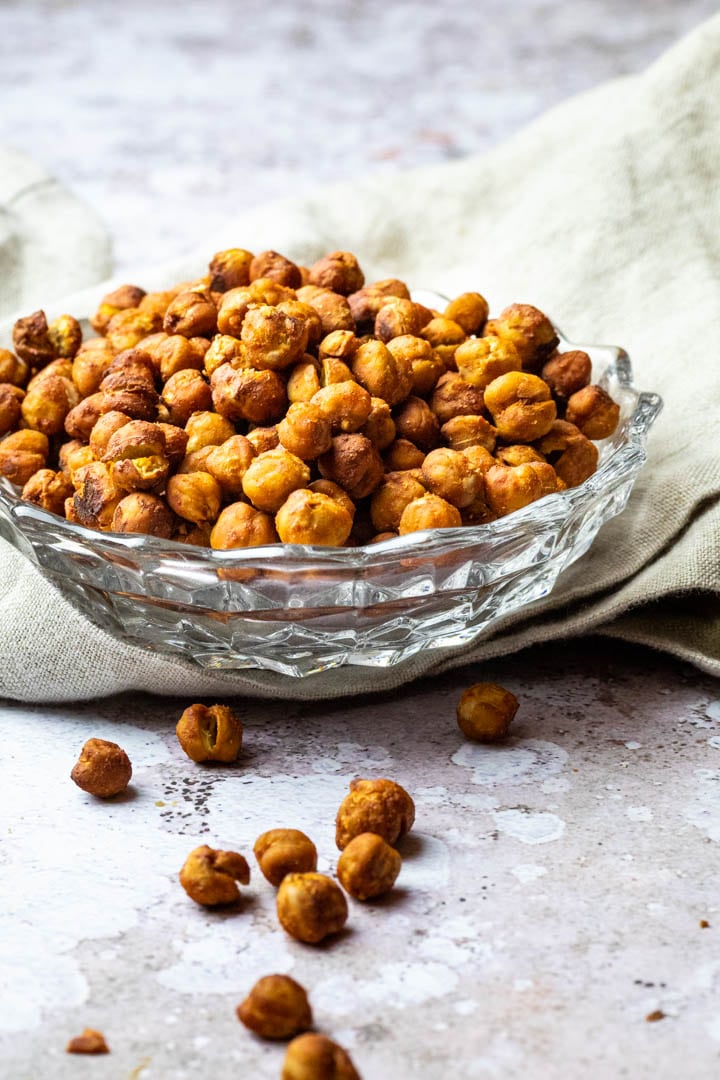 Tips for perfectly roasted chickpeas:
Oven-roasted chickpeas are easier than ever - you don't even need oil to roast.

First dry the chickpeas as much as possible to make them crispier.

Bake the chickpeas first, otherwise the spices may burn and taste bitter.

Roast the chickpeas at 350°F (175°C). They burn faster at higher temperatures.

Store the chickpeas without the lid completely closed, otherwise they may become soft.
How can you season the crispy chickpeas?
I only mention spice mix in my recipe card here because the chickpeas are so versatile. And season them with all kinds of spice blends.
You can e.g. Use curry mix or a chilli mix, BBQ mix, Pizza Blend.
Or season with fresh herbs and lemon peel.
BBQ: smoked paprika powder, celery salt, garlic powder, ground mustard, pepper

Ranch: dried dill, dried parsley, onion powder, garlic powder, some vinegar

Cheese: yeast flakes, garlic powder, onion powder, lemon peel
How can you store crispy roasted chickpeas?
Let the chickpeas cool completely before putting them in a bowl. For storage, do not close the bowl completely and store it for a few days. So far ours have not been older than 1 week. I'm sure they would last longer.
Do not forget to Pin on Pinterest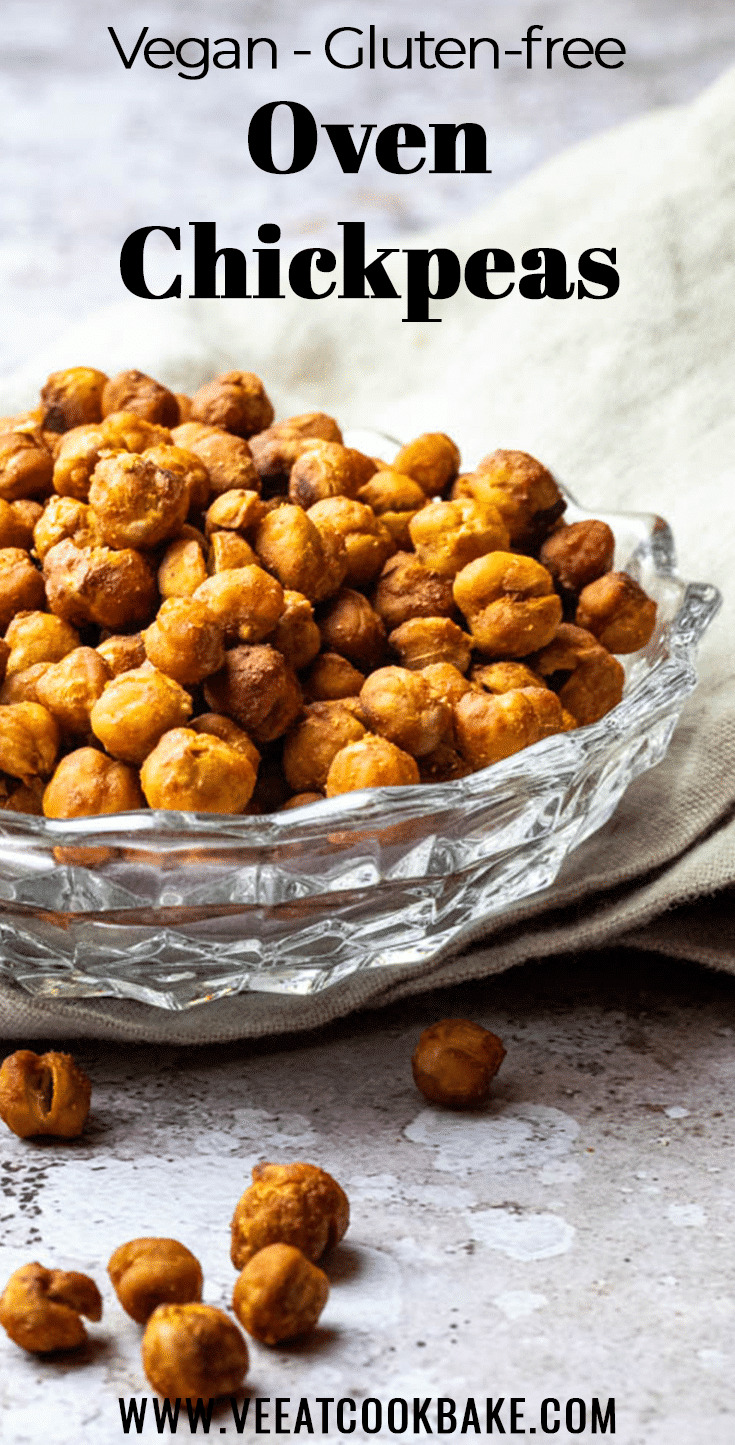 Have you tried the recipe?
If you tried the oil-free crispy chickpeas, be so nice ♥ and let me know by rating the recipe and writing what you think about it in the comments. Tag me on Instagram too. I am @veeatcookbake and my hashtag is #veeatcookbake. So that I can see your creation. Did you know you can add photos on Pinterest under the recipe Pin? I can't wait to see a photo of your creation there. You find me with @veeatcookbake. I also would love to hear your feedback so I can share it on my social media channels.

This post may contains affiliate links and I may receive a very small commission if you buy through these links at no extra cost. Thank you very much for supporting Ve Eat Cook Bake! More information can be found here.
---