Vegan parmesan garlic knots are a classic Italian pizza snack. These garlic rolls are baked from yeast dough that is tied into a knot and sprinkled with garlic and parmesan.
The combination of cheese and garlic is a great taste experience and is perfect as finger food for your next party.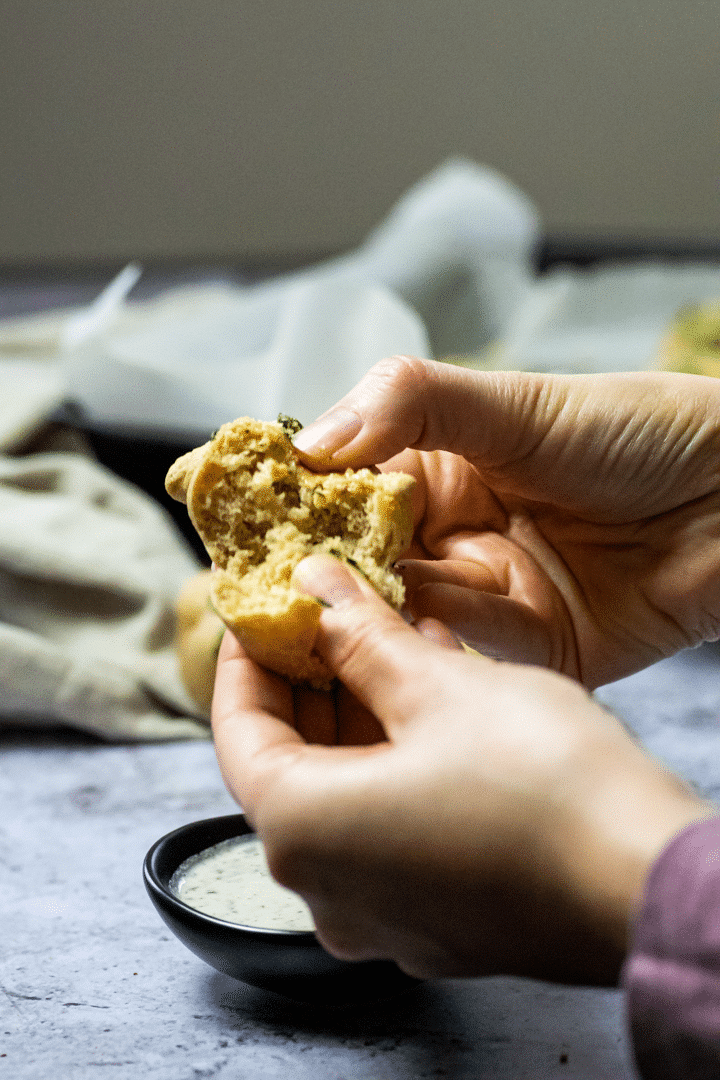 I really love finger food and love such quick dough bites like pizza pinwheels or spinach artichoke pinwheels. These garlic knots are ideal as a quick snack or starter. I like to serve them with a herb cream dip with sunflower seeds.
Do you like to invite people but you don't know what to serve? How about these great vegan garlic knots sprinkled with vegan parmesan and garlic?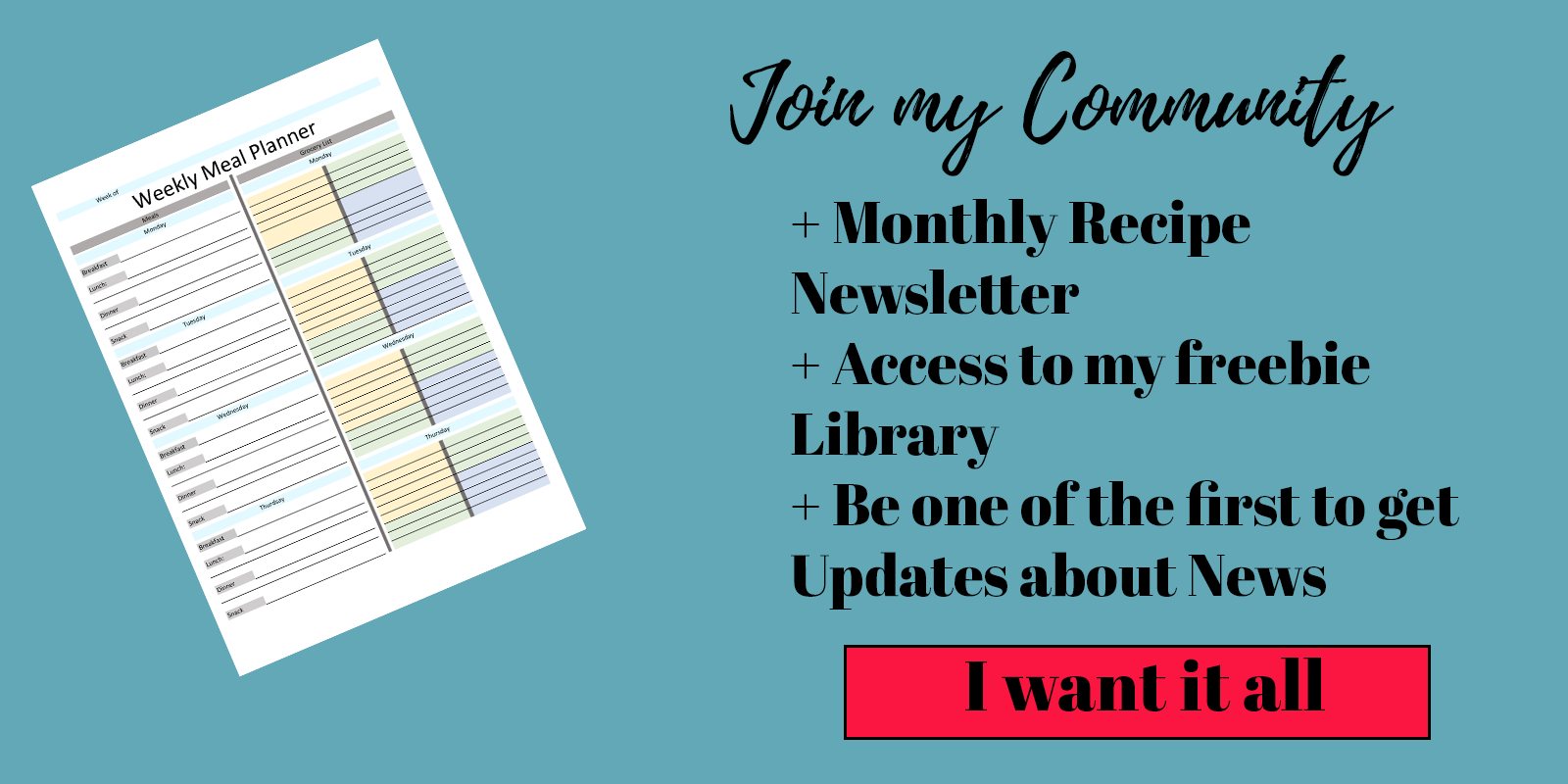 What do I need to prepare vegan garlic knots?
For the dough:
Whole wheat flour (for example white wheat)
Maple syrup
Active dry yeast
Sea-salt
Lukewarm water
Tahini
For garlic dressing:
Aquafaba or olive oil, if you don't do without oil.
Cloves of garlic, chopped
Fresh parsley, chopped
Garlic powder
Freshly ground sea salt
Vegan Parmesan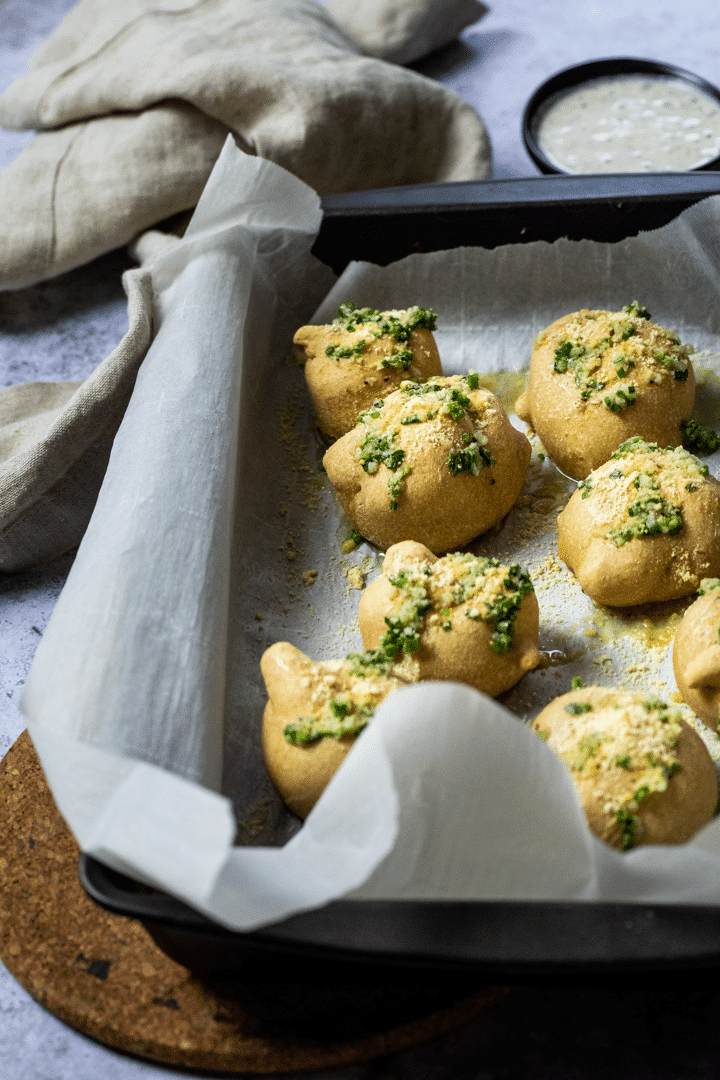 How do I prepare vegan Parmesan Garlic Knots?
Mix the dry ingredients except the salt in a mixing bowl of a stand mixer. In a small bowl, stir the water with the tahini until creamy.
Add all the ingredients to the mixing bowl and knead the dough until it is smooth and comes off the edge of the bowl but is still slightly sticky. This can take about 7-10 minutes. Add the salt after about 3 minutes.
Leave the dough covered in a warm place for about 90 minutes. Beat the dough once after 45 min.
Now place the dough on a lightly floured work surface. Divide the dough into 4 equal parts. And each cut part in 2 parts again, so that you have 8 parts.
Now roll out each dough part into a snake and tie it into a knot.
Place the knots on a baking sheet lined with baking paper. And let it rise covered for 30 min. In the meantime, preheat the oven to 450°F ( 220°C).
Bake the knots for about 20 minutes or until they are golden brown.
While the garlic knots are baking, you can start making the garlic coating.
To do this, fry the garlic in a pan for about 1-2 minutes. Add the aquafaba or olive oil and add the remaining ingredients and remove from the stove.
When the garlic knots are ready, brush them with the coating and sprinkle the vegan Parmesan over them.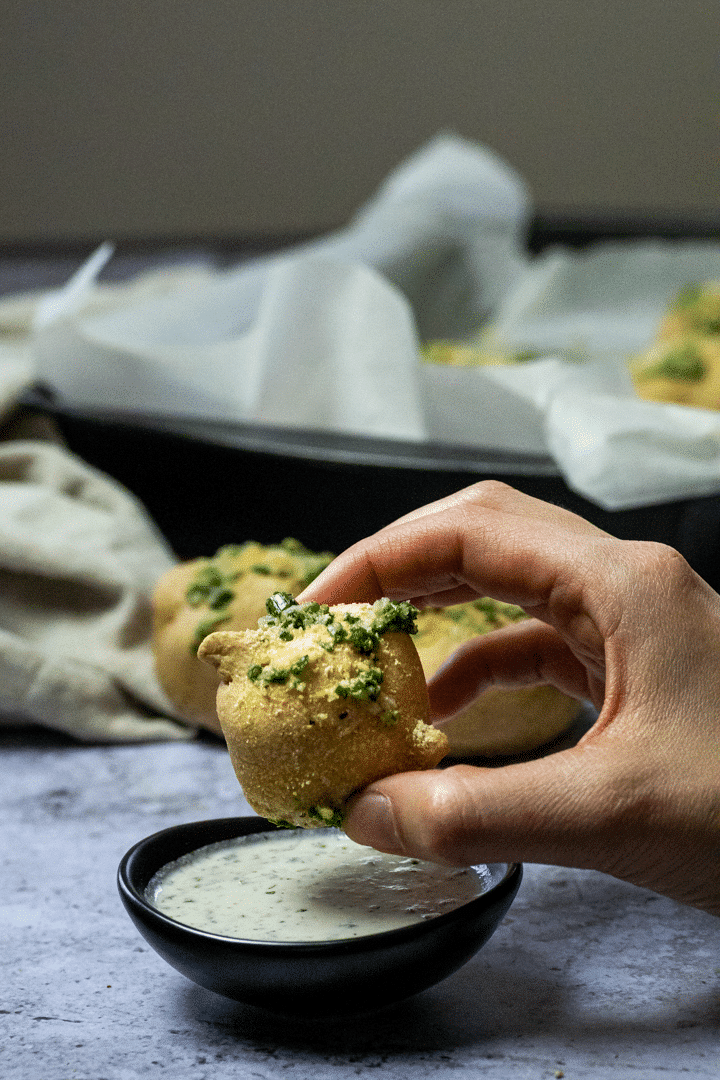 What is the key to making whole grain garlic knots so fluffy?
On the one hand, the kneading time is the key to an airy yeast dough. It is important that the gluten develops properly and this helps to make the dough so elastic.
Furthermore, it also helps dough that you only add the salt later. The salt can limit the binding of the yeast to the flour.
Can I prepare the vegan Parmesan garlic knots in advance?
You can prepare the yeast dough one evening beforehand and leave it covered in the fridge overnight. And the next morning you just have to shape and bake the yeast dough.
You can also prepare the garlic coating beforehand as well.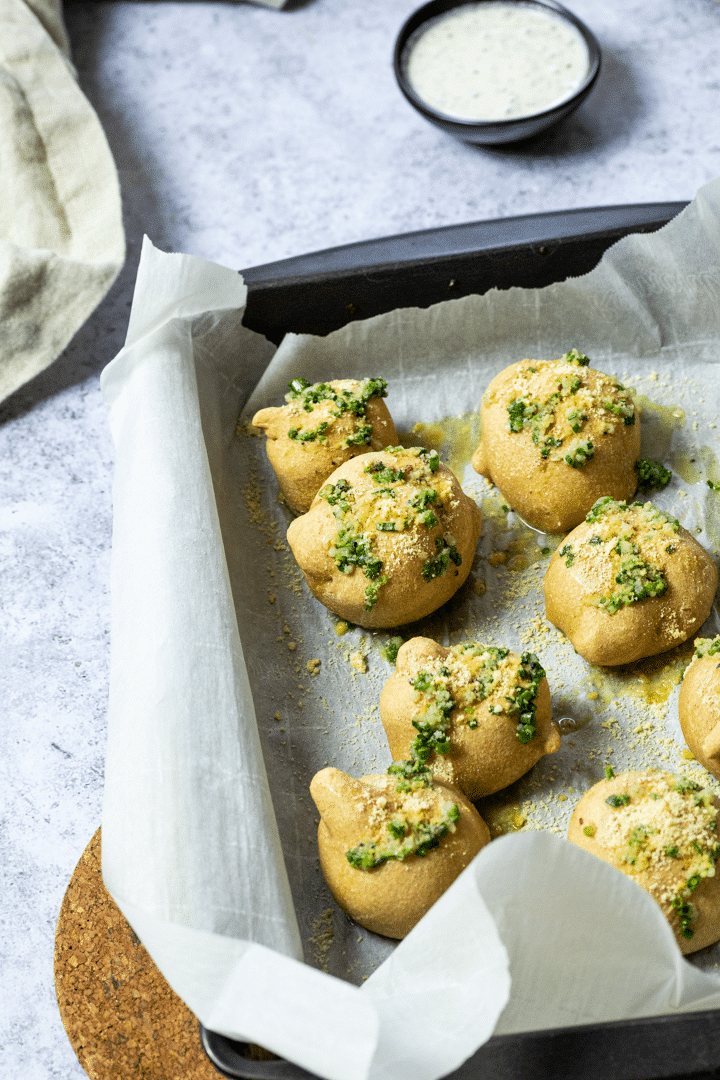 Other vegan party recipes:
Do not forget to Pin on Pinterest
Have you tried the recipe?
If you tried the vegan Garlic Knots, be so nice ♥ and let me know by rating the recipe and writing what you think about it in the comments. Tag me on Instagram too. I am @veeatcookbake and my hashtag is #veeatcookbake.
So that I can see your creation. Did you know you can add photos on Pinterest under the recipe Pin? I can't wait to see a photo of your creation there. You find me with @veeatcookbake. I also would love to hear your feedback, so I can share it on my social media channels.

This post may contains affiliate links and I may receive a very small commission if you buy through these links at no extra cost. Thank you very much for supporting Ve Eat Cook Bake! More information can be found here.
---