This vegan tahini dressing is creamy, oil-free and very easy to prepare. It only takes 5 minutes and your tahini salad dressing is ready. You can eat it with almost anything; salads, bowls, dipping sauce.
This red wine vinegar tahini sauce recipe is one of my favorite salad dressings. Completely without dairy products and without oil.
Thanks to the creaminess, your next salad will be a real taste experience. You can even add some fresh herbs to add different flavors to it.
As an Amazon Associate, I earn from qualifying purchases. This post may contain affiliate links. Read More
Jump to:
I firmly believe that a salad stands or falls with the dressing. And a good dressing can make your salad so incredibly delicious.
That's why I'm always happy about quick and delicious dressing recipes that are super easy to prepare. If you do not know what Tahini is, it is basically ground sesame seeds.
This dressing is a great alternative to a mayo-based dressing.
No matter how you want to use it, whether in a salad such as the Cobb salad or as a spread, veggie sauce or simply as a dip. Some might think creamy Tahini have a bitter taste, but with a good tahini (I am using the linked one) you will not taste the bitterness. You can even make homemade tahini.
Just put some roasted sesame seeds in a food processor and process until you get a paste.
Tahini Sauce Ingredients List
Now let's take a look at exactly which ingredients are in this dairy-free tahini dressing. As always, the exact quantities can be found below in the recipe card.
You will need simple ingredients that you probably have in your pantry.
Fresh Lemon Juice
Garlic
Salt
Pepper
Substitutions
Let's take a look at which ingredients we can exchange. Many ingredients are not included, so the substitution options will be smaller.
Red Wine Vinegar
If you have another vinegar at home, such as white wine vinegar, apple cider vinegar, raspberry vinegar, etc., you can use that one too.
It tastes so delicious with other types of vinegar, and it never gets boring.
Salt
For example, if you don't want to use salt now, but you want more flavor in your dressing, I recommend using vegetable broth.
Garlic
You can use garlic powder instead of fresh garlic. First add ½ teaspoon and then taste.
Lemon Juice
Instead of lemon juice you can even use lime juice. I used already both in my recipe.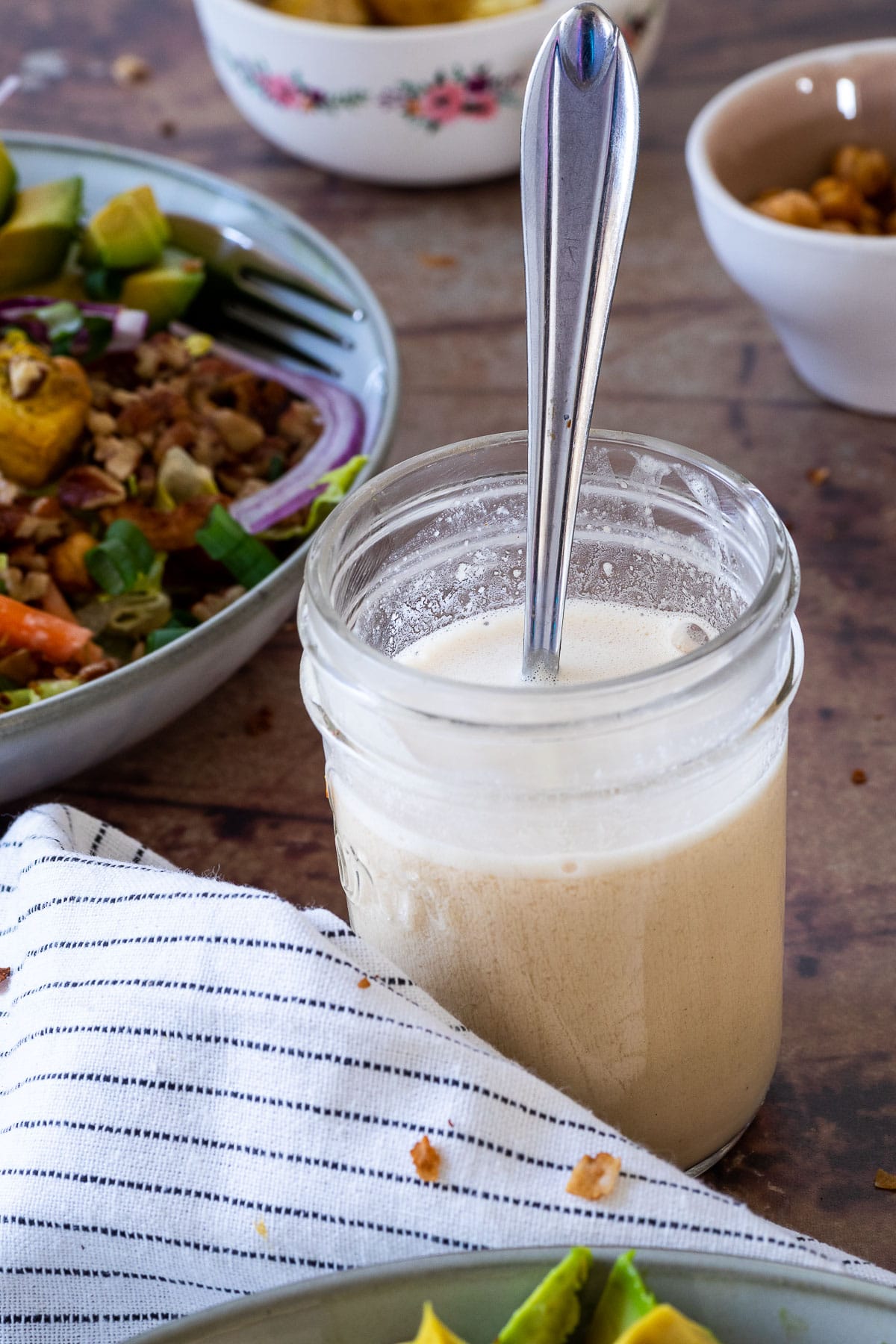 Variations
Now let's take a look at how you can adapt the recipe so that you can adapt it to different diets. This vegan tahini dressing with red wine vinegar is already gluten-free, soy-free, nut-free and oil-free.
If you want it to be salt-free now, I recommend adding a little lemon zest and adding herbs such as dill and celery powder to taste.
How to make lemon tahini dressing
Watch my video how I make this Tahini Sauce really quick.
Put the tahini, water, red wine vinegar, lemon juice, Dijon mustard, garlic clove, ¼ teaspoon white pepper in a high speed mixer and mix until the dressing is super creamy.
Season with a little sea salt and white pepper to your own taste.
Prepare in advance
This tahini dressing is ideal for preparing in large quantities.
This is how you have a salad dressing ready to serve. Shake the dressing just before you use it.
Recommended Equipment
You really don't need a lot for the salad dressing. The dressing becomes super creamy in the high-performance blender.
And then you require glasses (Weck or Mason Jar) for storage.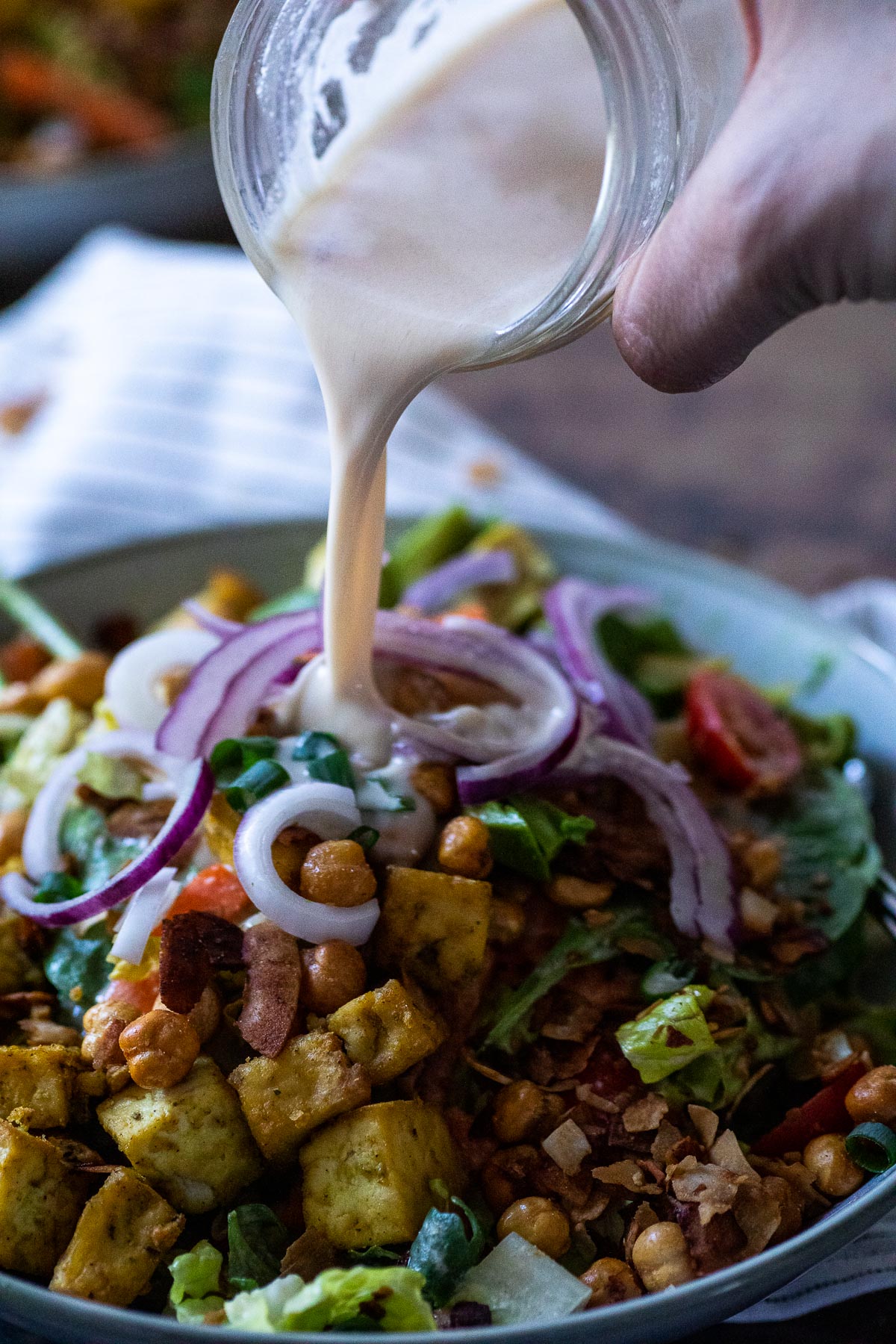 Serving Suggestions
You can use the dressing as an oil-free salad dressing or simply as a sauce for your next grain bowl, sandwich sauce, spread.
Simple Green Salad
Chickpea Salads
Sweet Potatoes
Storage
Are you wondering how long the tahini dressing lasts?
How to refrigerate it?
The tahini red wine vinegar dressing can be kept in the refrigerator in an airtight container like a Mason Jar for up to a week. We usually use it up within a week.
How to freeze it?
You can also freeze the dressing super great and then simply thaw it.
So you can freeze it in portions in ice cube trays. So you can portion it well and defrost it.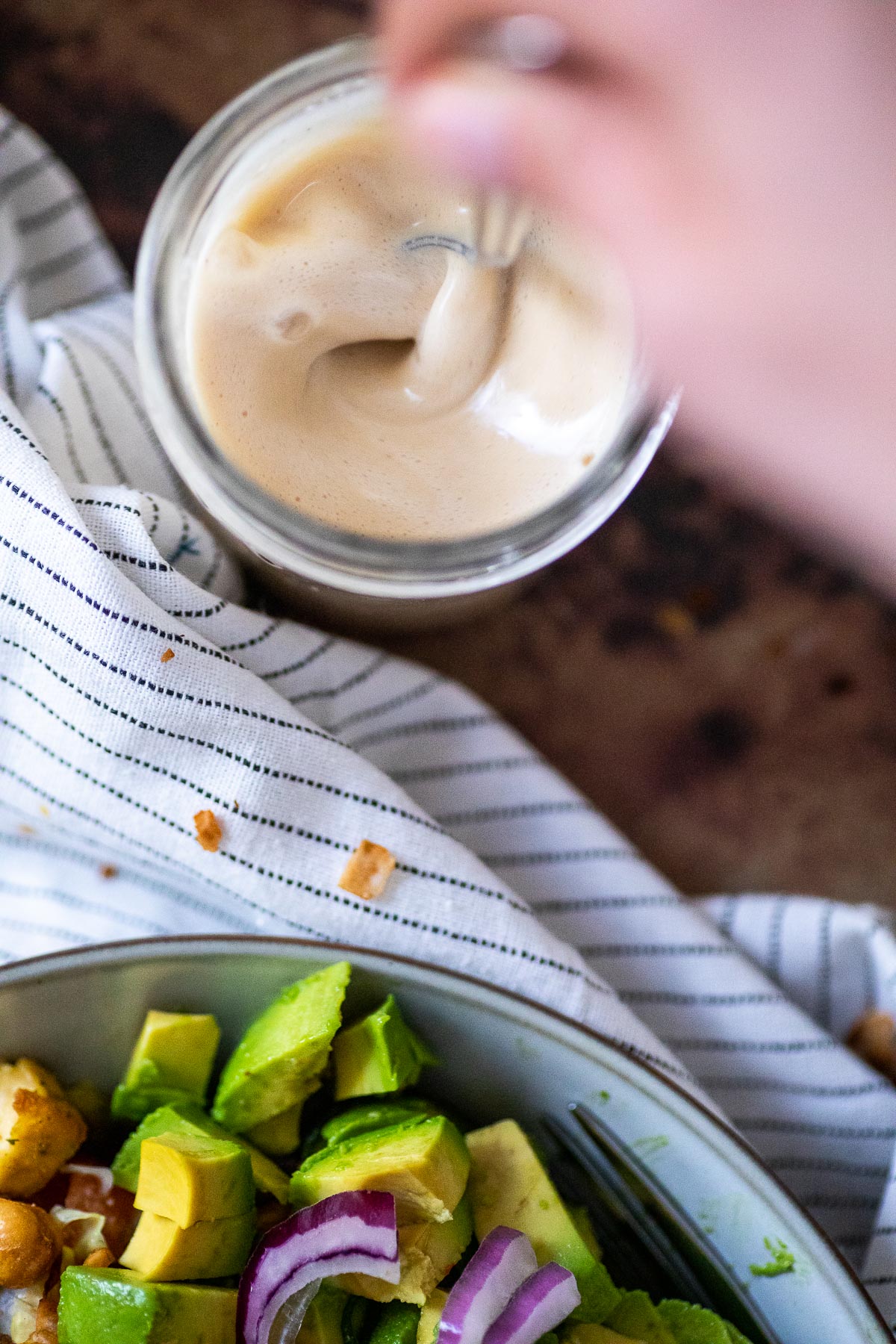 Tips for the best Tahini Dressing
You can of course also use a different nut butter, but then it is no longer a tahini dressing.
You can add more or less water, if you prefer a thinner or thicker consistency.
Depends on the Tahini you are using you might taste a hint of bitterness. I prefer this simple tahini.
Pay attention to the quality of the tahini. I use the above linked tahini. It is oil-free and consists only of sesame seeds.
Use cold water instead of warm water to make it super creamy.
If the dressing is a bit too bitter for you, which may be depending on the tahini used, add a little more vinegar to balance it out.
More Vegan Recipes:
Asian-Style Salad Dressing by ellie likes cooking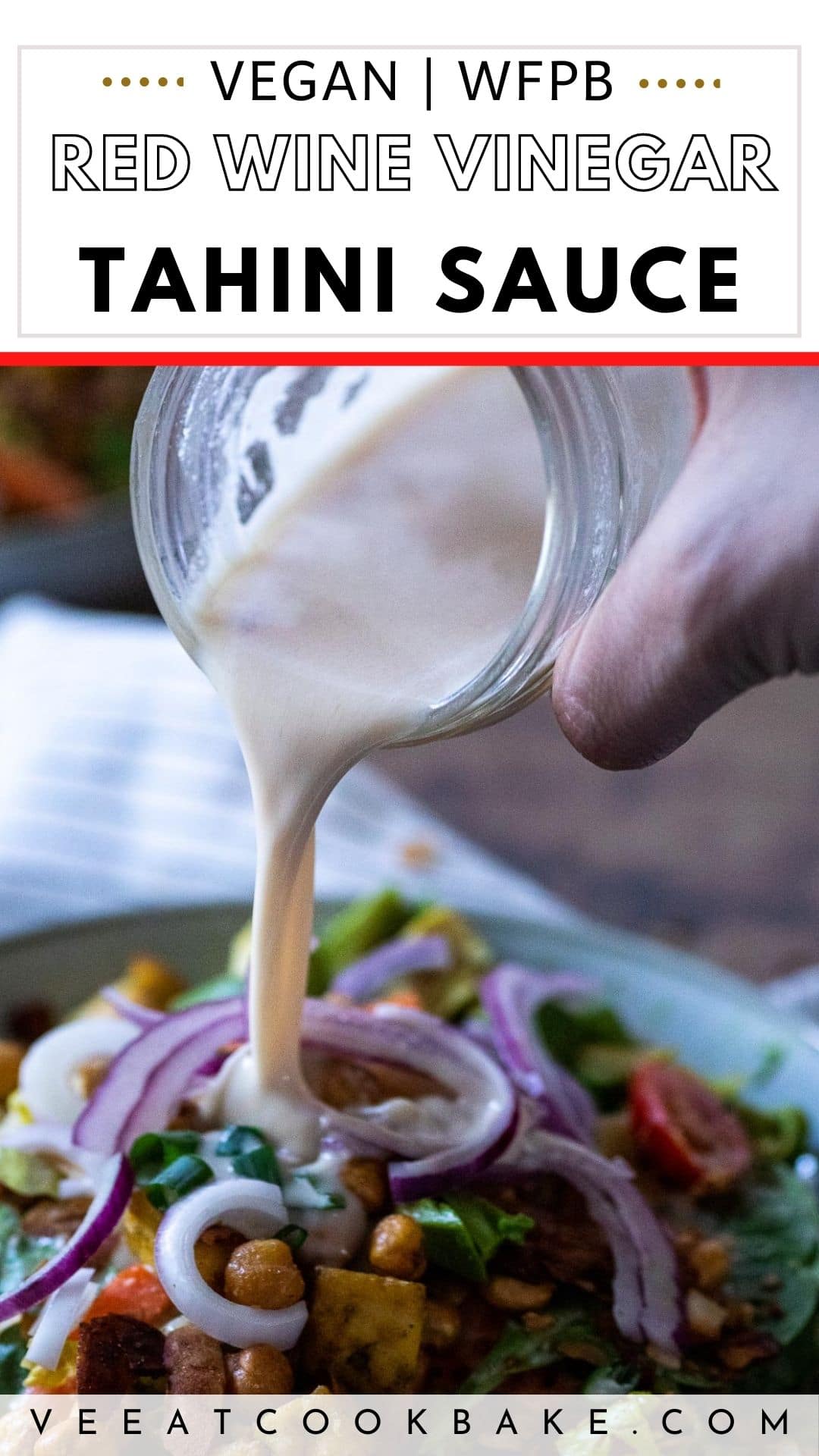 Have you tred the recip
If you tried the vegan Recipebe so nice ♥ and let me knw byrating the recipe and writing what you think about it in the comments.  I would love to see your photo on Instagram orFacebook. To do this tag me with @veeatcookbake andmy hashtag is #veeatcookbake. So that I can see your creation. Did you know you can add photos n Pinterest under the recipe Pin? I can't wait to see a photo of your creation here. You find me with @veeatcookbake