Vegan spinach artichoke pinwheels are prepared from a creamy artichoke spinach dip on an airy, tender yeast dough. The dough is rolled and then cut into slices and baked in a small pie pan.
These rolls are a great party snack or as an accompaniment to a delicious salad plate.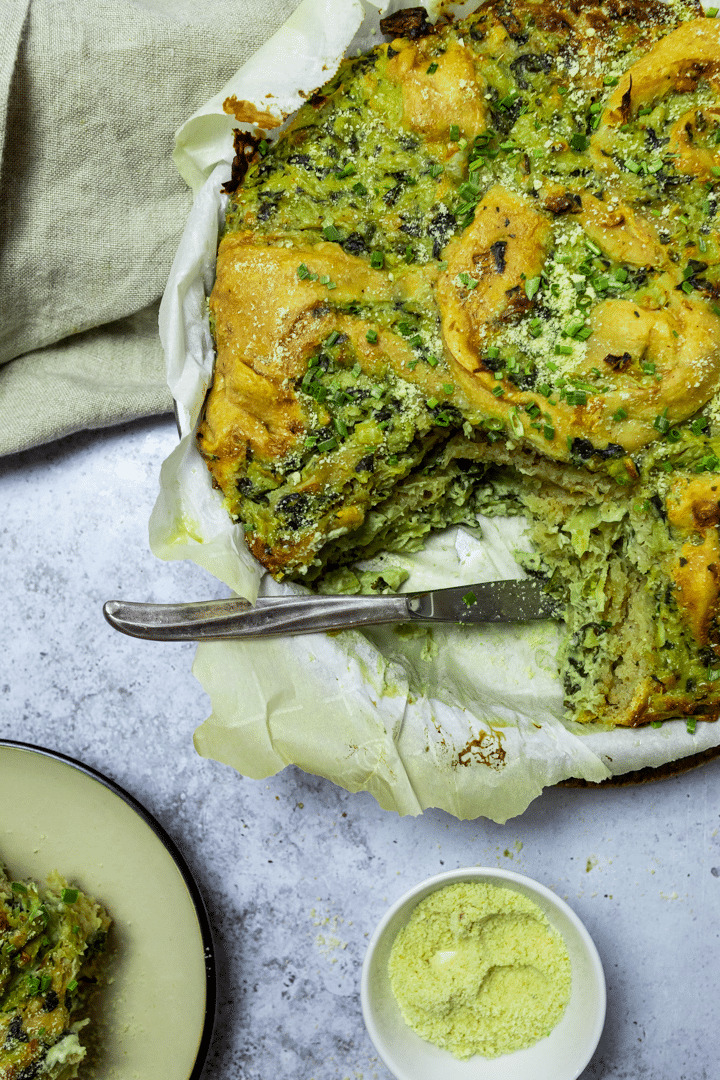 This post may contains affiliate links and I may receive a very small commission if you buy through these links at no extra cost. Thank you very much for supporting Ve Eat Cook Bake! More information can be found here.
These hearty dough rolls with yeast dough, cashew cream, spinach, and artichoke hearts are not just tasty and super quick, they will also be a hit with your guests.
You could also just prepare the filling as a dip and serve it with a delicious baguette or crackers.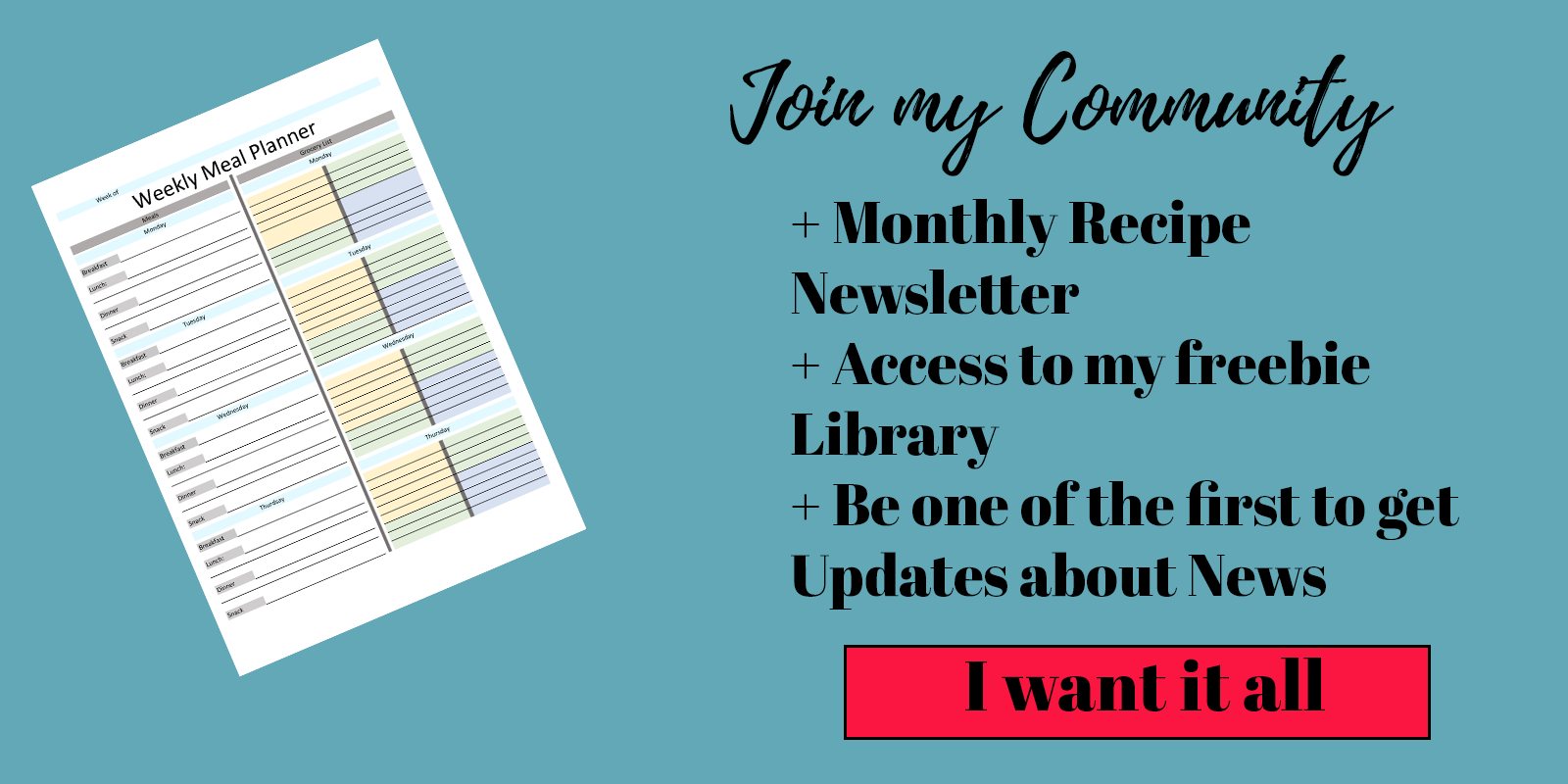 What do I need to make these vegan spinach artichoke snails?
Same dough as the garlic knots
1 Small Onion
Artichoke Hearts
Baby Spinach, chopped
Cream:
Raw Cashew Nuts
Water
Tapioca Starch
Psyllium Husk (optional)
Lemon Juice
Yeast Flakes
Garlic Powder
Onion Powder
Sea Salt and freshly Ground Black Pepper to taste
Vegan Parmesan
Brush and topping
Aquafaba
Vegan Parmesan
Chopped Fresh Parsley Leaves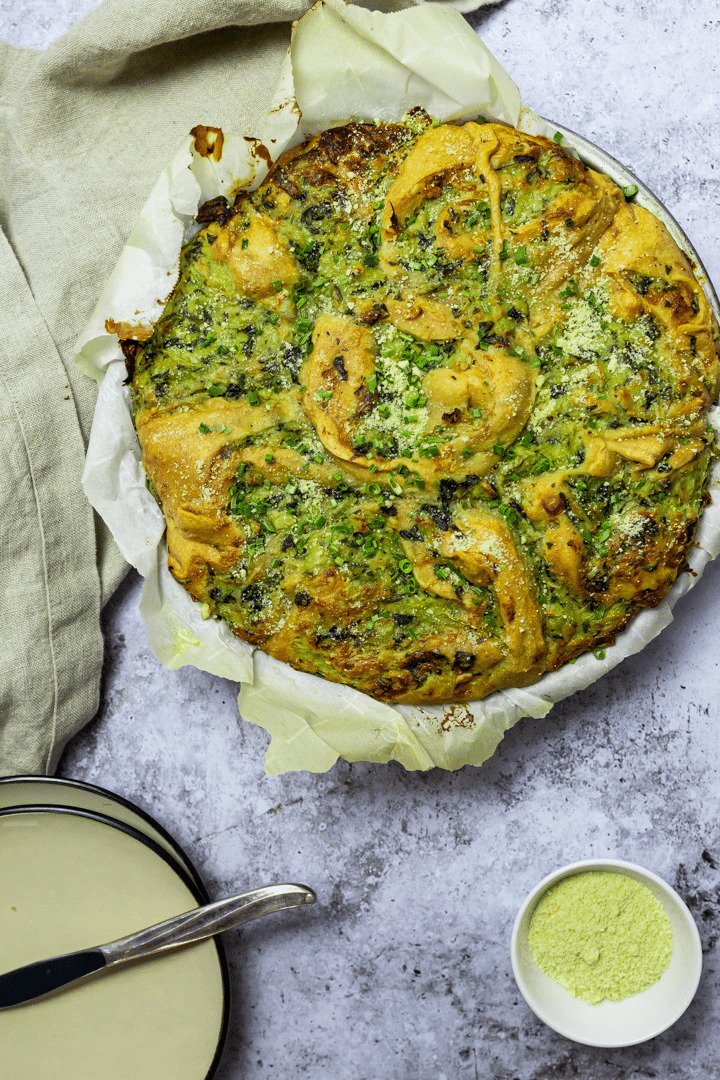 How do I prepare the vegan spinach artichoke snails?
Prepare the pinwheels completely the evening before.
First you prepare the dough according to the instructions from the garlic knots.
Soak the cashews in water. In the meantime, braise the finely chopped onion in a pan with a little water. When these turn brownish, add a little water and the spinach and let it crumble.
Now put all ingredients for the cream in a high speed blender and blend until a creamy consistency is obtained. Add the chopped artichoke hearts and the cream to the spinach and bring to a boil while stirring.
Now the cream should thicken. Let the cream cool a little, so it can be spread on the dough better.
Now take the dough and roll it out into a rectangle. Now spread the cream on top and roll up the dough from the short side. You should get around 7-8 rolls.
Line a 20 cm springform pan with baking paper and place the pinwheels on it, first on the edge than in the middle. Now let the snails rise covered at room temperature for about 1 hour and place them covered in the refrigerator overnight.
The next day, take out the rolls and let them stand at room temperature for about 2 hours. Preheat the oven to 350°F (180°C). Brush the pinwheels with Aquafaba and bake the snails for about 15-20 minutes.
Sprinkle the spinach artichoke snails with some vegan parmesan and freshly chopped parsley.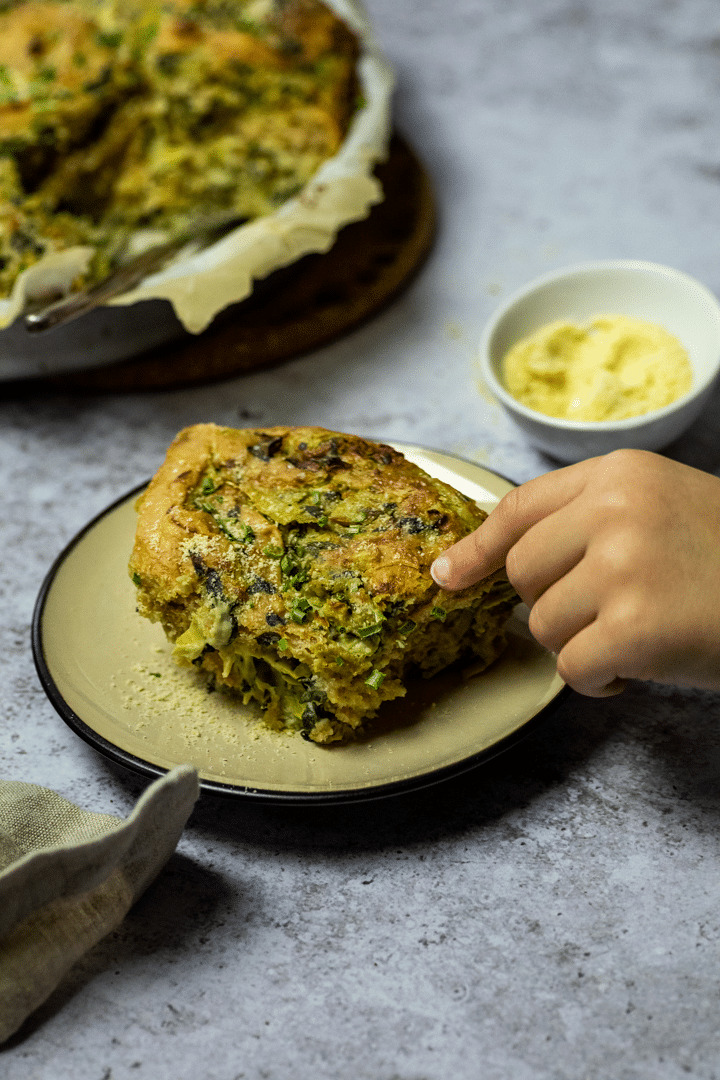 Can I prep it in advance?
I have designed the recipe so that it is completely prepared the evening before. Of course, you can also prepare them on the same day, but let the pinwheels double their size before you bake them.
I think the dough becomes softer and fluffier when it is left in the fridge overnight.
What can I use instead of a homemade dough?
If you don't want to make the dough yourself, you can also use puff pastry or finished pizza dough. If you use purchased dough, it does not have to go into the fridge overnight and the puff pastry does not have to rise at all.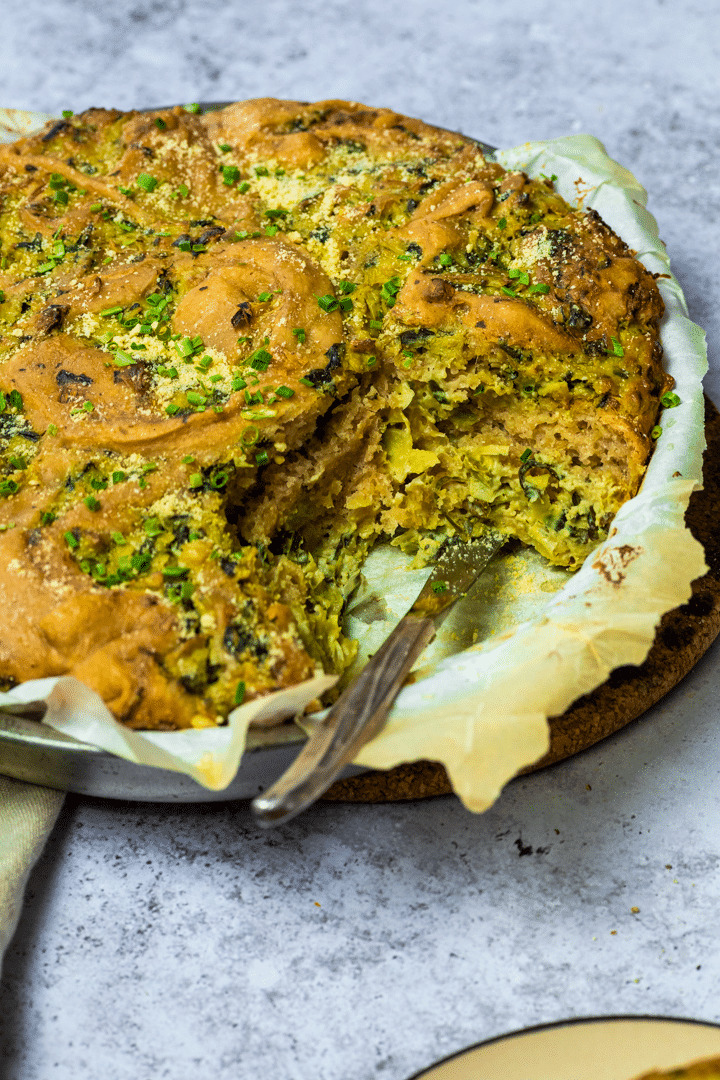 How do we get this ultra fluffy whole grain dough?
The key to an airy whole grain dough is the rising time and the long kneading. When kneading the yeast dough, the gluten develops properly and becomes elastic. When the dough rises, the dough becomes airy.
That's why I like to prepare my whole wheat dough with a pre-dough or it can rest in the fridge overnight.
How can I store leftover pinwheels?
Store them in an airtight box in the fridge and bake them again just before serving. You can also freeze them and then bake them again, so they taste freshly prepared.
Other vegan party recipes:
Vegan Buffalo Chicken Dip from Nora Cooks
Gyros Soup
Do not forget to Pin on Pinterest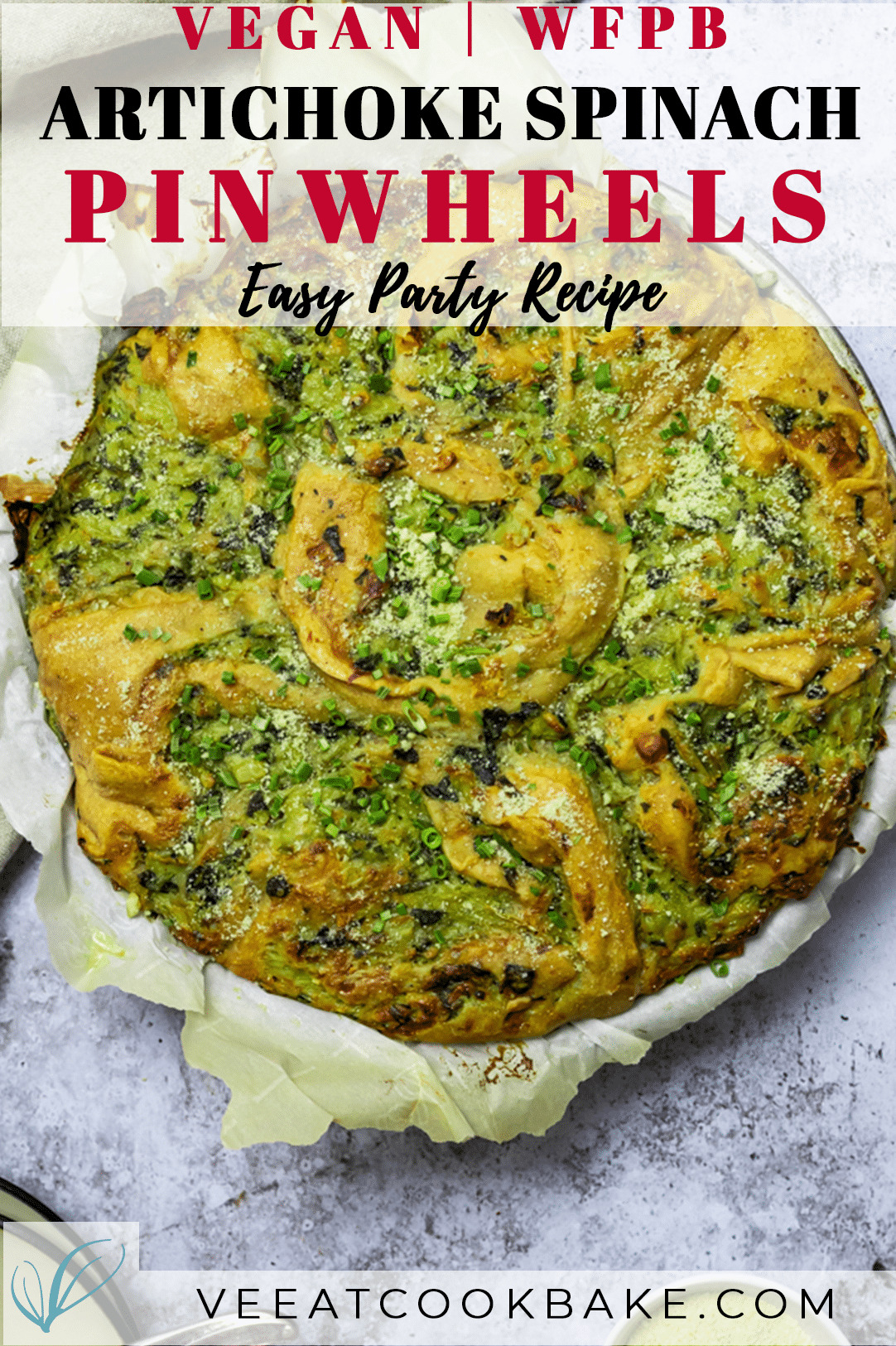 Have you tried the recipe?
If you tried the vegan Artichoke Spinach Pinwheels, be so nice ♥ and let me know by rating the recipe and writing what you think about it in the comments. Tag me on Instagram too. I am @veeatcookbake and my hashtag is #veeatcookbake. So that I can see your creation. Did you know you can add photos on Pinterest under the recipe Pin?
I can't wait to see a photo of your creation there. You find me with @veeatcookbake. I also would love to hear your feedback, so I can share it on my social media channels.